iRacers Lounge Podcast – Conversation Topics
12/10/2020 – FU F1 – Episode 0258
Brought to you by:
Opening Audio Clip -"Your listening to the iRacers Lounge Podcast where we discuss everything iRacing, in a casual setting, enjoy."`
READ THIS AT THE TOP OF EACH SHOW!!!
Welcome to the iRacer's Lounge, I am your host "XXX". iRacer's Lounge is a podcast for the iRacer, where we talk all things iRacing in a casual setting.
Joining me are the usual characters, ————
---
---
TITLE SPONSOR READ:
Grid Finder is your go to source for finding your next sim racing league. Currently home to over 500 leagues across all gaming platforms and across 10 different racing sims including over 100 iRacing leagues.
Grid-Finder has teamed up with the sim racing community to create a sim racing calendar in support of men's mental health charity "CALM". 100% of the profits will be going to CALM.
Visit www.grid-finder.com to purchase a calendar to keep track of all your races and support a great charity!
---
---
Topics
---
Week 5 Lernerville [Brian]
Monday night marked the half way point of the NOS iRacing World of Outlaws Sprint Car series at Lernerville Speedway with Hayden Cardwell holding a narrow 5 point lead over Alex Bergeron.
Series rookie Logan Rumsey wins the first heat and grabs the pole for the feature race with Cardwell finishing second. Alex Bergeron wins heat number 3 and starts on the inside of row two for the feature.
When the feature starts Bergeron gets by the pole sitter Rumsey early, but on the opening laps Cardwell goes over the banking of the track and brings out an quick caution when he returns, damaging several cars, but he turns out to be ok and kept his position on the track.
When racing resumed Bergeron is able to hold off Cardwell until Kendell Tucker gets into the mix and Bergeron checks out to claim his third win in 5 races with Tucker grabbing second and Cardwell dropping to third.
With the win Bergeron reclaims a slim two point series lead over Cardwell as they pass the half way mark of the season. Next up is Weedsport Speedway, followed by Cedar Lake, which was just announced during the broadcast. Neither track has yet to host a Sprint Car Championship race.
https://members.iracing.com/membersite/member/statsseries.jsp
---
---
Snowball VIP Giveaway [Hall]
Steve Myers posted on Twitter that he would give away an iRacing VIP account at the Snowball Derby if either Ty Majeski or Ryan Luza win their respective races, or 5 total VIP accounts if they both won. He gave Matt Weaver, Motorsports Editor of Autoweek, who was attending the event, the decision as to how the prizes would be given out.
Ty Majeski takes the win in the 53rd Snowball Derby!!! [Hall]
Luza P16 [Brian]
Luza P16
Coke Series driver Ryan Luza finishes a self described disappointing P16 after running much of the night in 5th-6th.
---
– Sponsored by School Yard Setups
Struggling to crawl into the top ten in Road To Pro, always in the back of the Xfinity Series or can't find that extra tenth to compete for wins in the Nascar iRacing Series? Visit Schoolyardsetups.com to get race ready setups for the Nascar A, B, and C Series each week. Enter referral code: Lounge, when you sign up to let them know you heard about them from the iRacers Lounge Podcast. Don't get bullied around on the race track again. Get your sets today Schoolyardsetups.com
---
---
League Announcement for listener Jeff Marble [Greg]
FastTrack Sim Racing. Mondays 9pm EST.Cup cars, open sets.Full Nascar NIS schedule. 50% length. NIS tire limits Playoffs
Looking for a title sponsor to offset server costs and to pay drivers at end of the year.
Season starts on Monday Feb 15th
We are holding recruiting races throughout the winter.
Prefer A license and irating 2000 and up. But we'll look at all drivers because we know league racers tend to avoid official races.
Links for your show notes:
https://www.facebook.com/FastTrackSimRacing/
https://members.iracing.com/membersite/member/LeagueView.do?league=5859
---
---
BMW M4 GT3 Early Release Coming to iRacing [Tony]
Kevin Bobbit announced in the forums an early release of the BMW M4 GT3 which is a pre-release version of the BMW M4 GT3 that will be made available to iRacing members in the weeks after the 2021 Season 1 build. The car succeeds the BMW Z4 GT3 as the second BMW to join iRacing's GT3 offerings and is part of iRacing's renewed focus on GT3 content.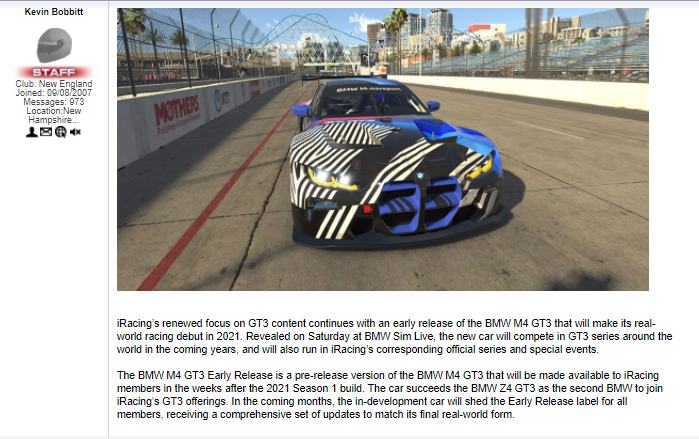 https://www.iracing.com/bmw-m4-gt3-early-release-coming-to-iracing/
https://members.iracing.com/jforum/posts/list/3778879.page#12298864
---
---
NEW CONTENT // Cedar Lake Speedway [Mike]
iRacing dropped an introduction video on Youtube to their newest oval Dirt Track, Cedar Lake Speedway, a three-eights of an mile track located in New Richmond, Wisconsin. The track was constructed in 1956 and it hosts a weekly NASCAR racing program consisting of Late Models, Modifieds, Super Stocks, and Midwest Modifieds and has seen drivers such as Kenny Wallace, Tony Stewart, Travis Kvapil, Greg Biffle, Sterling Marlin and Paul Menard race at the track
---
---
NEW CONTENT – New Rallycross Configurations [HAll]
iRacing has added Rallycross configurations to two existing tracks, Brands Hatch and Charlotte Motor Speedway. Brands Hatch combines new and old, mixing the original 1980s and 90s turn 1 with some newer ideas in Graham Hill Bend and a dirt Joker inside of McLaren/Clark Curve. Charlotte is raced in the interior roval area with areas of dirt covered asphalt, and a quick offroad area bridging two sections of the track.
---
Rallycross Champion [Brian]
Congratulations to Yohann Harth of the Apex Racing Team for winning the 2020 iRacing Rallycross World Championship
In further Rallycross news Greg Hill announced in a forum post that in few short months we'll be continuing our Dirt Road expansion with Barcelona RX. Something that was hinted at a few weeks ago when the mentioned a few new Rallycross configurations were in the works.


https://members.iracing.com/jforum/posts/list/3776336.page#12299792
---
---
Email From Listener [Greg]
Podcast listener and European road racer Dannis Pearl letting us know some information regarding the Scottish Knochill Racing Circuit, one of the four premier road courses iRacing has planned for 2021, describing it as a small, twisty circuit similar to Lime Rock, great for Skippy's and GT3's
Hey guys
European road racer here. Love the pod – you've converted me to turning left.
Just to say – you are going to love Knochill. Small, twisty – think Lime Rock – great for Skippies and GT3 pile ups. Loved in Scottish motorsport. Everyone – yes everyone – who ever races there has history at the track. Was the best thing on Project Cars 2 in the Formula Rookie (Skippie type car).
The Euro circuits are massive news here (even more so that the imaginary oval
)
Dennis Pearl (please use this name on air if you mention, not my weird email)
PS – keep up the road content. Your man who talks road is great, but do tell him Nurburgring is where they have the race tracks. Nuremberg is the place they had the post World War II war crimes trials. They are different.
---
---
NTM on IndyCar – Ohhh, multiple Tire Compounds [Tony]
iRacing posted a short, 9 second clip, of an Indy car hitting the wall at Long Beach with two possible clues. for one, it seems as though the Indy car has the new damage model and two, the tires appear to have the red lettering indicating mutiple tire compound options.
https://members.iracing.com/jforum/posts/list/25/3779096.page#12302452
---
---
Introducing the The Dallara IR-01 [Mike]
iRacing has apparently been secretly colaberating with Dallara to build fron the ground up a new vehicle cames the Dallara iR-01. The Dallara iR-01 is a blend of modern technology and classic grand prix heritage exclusively built for the iRacing sim. With it's V10 900hp motor along with it's low weight and absence of modern driving assists, the Dallara iR-01 is meant to be made to challenge drivers and make for better racing.
https://www.facebook.com/48224116084/posts/10159104966181085/
https://members.iracing.com/jforum/posts/list/3778763.page
https://www.iracing.com/iracing-and-dallara-team-up-to-build-dallara-ir-01/
Early Prediction [Hall]
ON October 20,2018 a racer named Finn Sim, predicted that iRacing would have a car designed by Dallara for iRacing that would only exist n the virtual world. Kodos Finn Simm.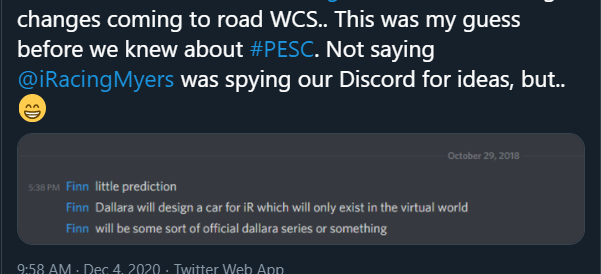 https://twitter.com/FinnSim/status/1334874660488568832
Some iRacers Reactions [Brian]
From Rob Crouch
Decoupling the top tier open wheeler (and the WCS) from a real life series is a very smart move. This side steps the issues we've seen in the past where the title sponsor gets bored, or the real series folds, or cancels the contract and works with another company to create a competing product. It also removes the pressure of having to update the car on a timetable that is completely outside of iRacing's control. I notice there's no branding on the tyres, so they've got free rein there too.
https://members.iracing.com/jforum/posts/list/300/3778763.page#12297865
From Beano Van Rensburg [Greg]
I'm with you on this, Jim, can't wait to test-drive this. This is a motorsport simulation after all, very glad iRacing has the balls (and vision) to move in this direction. Why is it it that we think real-life Motorsport should be driving innovation in simulators?
I can see a time coming when it will be the opposite, iRacing has taken that first step. Well done, Devs. Often, in the business world, it takes courage to be creative, to be different, with many naysayers along the way. Some won't like what you are doing here, that's ok, many more however, appreciate the efforts. Keep at it.
Now let this beast loose and let's have some fun.
Cheers,
Beano
https://members.iracing.com/jforum/posts/list/125/3778773.page#12299531
Greg West confirmed that this car was not designed to race on ovals. The series will only run on road courses. But he didn't say you can't try…

https://members.iracing.com/jforum/posts/list/25/3778785.page#12297918
Coke Series Driver Casey Kirwan [Tony]
Posted a Meme describing his thoughts
iRacing posted an onboard video of the iR-01 in action at the New Long Beach track and Silverstone.
---
---
2021 Season 1 – Release Notes [Mike]
iRacing has posted the Season 1 Release Notes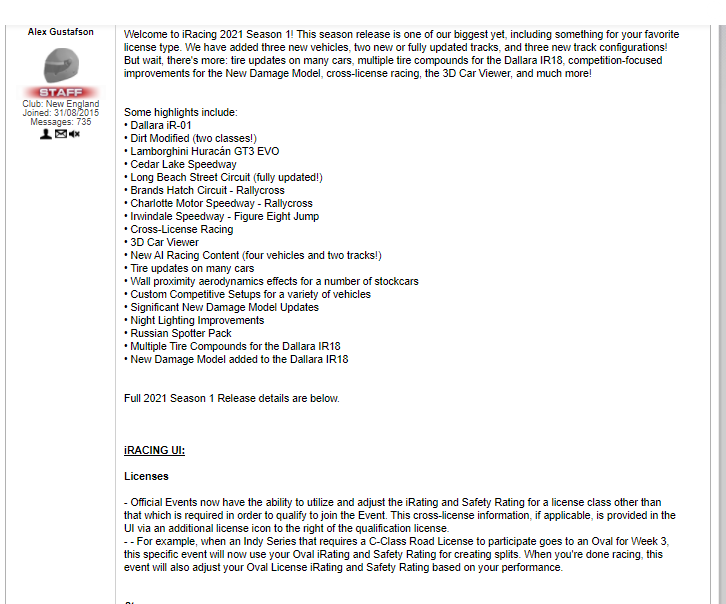 https://members.iracing.com/jforum/posts/list/3779269.page
---
---
2021 eNASCAR Road to Pro [Hall]
Tyler Hudson has announed the new format for the 2021 eNASCAR Road to Pro Series. They will be moving to Thursday nights and will consist of 2 rounds.
Round 1 will consist of 8 races open to everyone holding an Oval Class A 2.0 License or higher. (Pro/WC Licenses Ineligible) 35 car max split size, splits based on iRating.
Round 2 will be 7 rounds. The top 70 overall in points from the first round are eligible. Must maintain at least an Oval A Class 2.0 to participate. Round 2 is roster based with snake splits. (2 races going off simultaneously)
Points will completely reset for round 2 for the eligible 70 drivers.
Both rounds will include 1 drop week.
The top 20 in points after round 2 will be eligible for the eNASCAR Pro Series to be ran in the winter of 2021 on Tuesday Nights.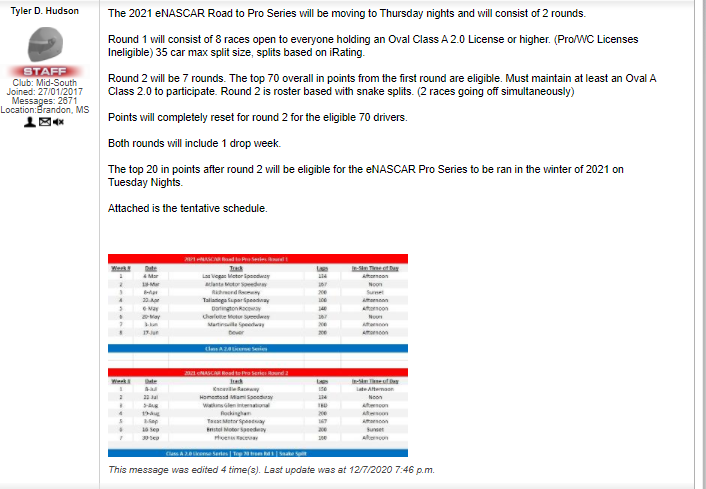 https://members.iracing.com/jforum/posts/list/3779175.page#12302730
---
---
Championship Trophy [Brian]
Nick Ottinger posted a picture of his iRacing 2020 Coca Cola Series Championship trophy …and it's beautiful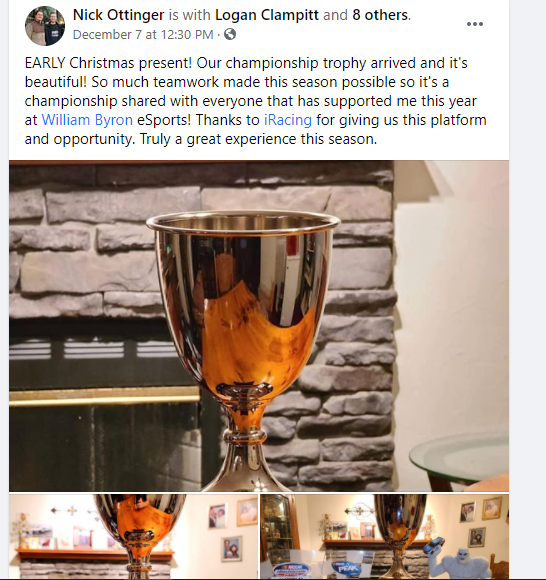 https://www.facebook.com/100001158718471/posts/3521834097865179/?d=n
---
---
For Sale [Greg]
Timothy Roman is selling a mint condion neon Heusinkveld sign in the forums. Sensd your bid via PM and buyer pays shipping out of Belgium.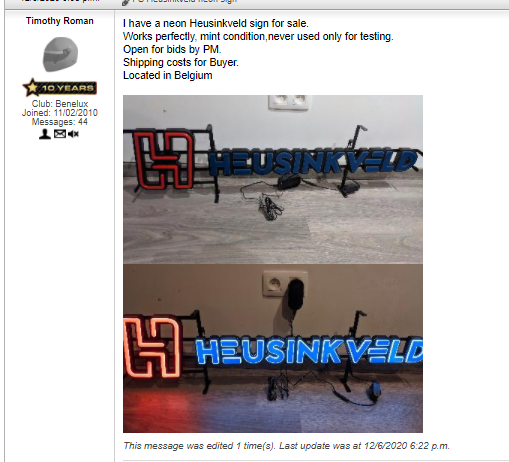 https://members.iracing.com/jforum/posts/list/3779042.page#12300846
---
---
Minimum iRating per Division [Tony]
Jake Johannsen posted in the forums the minimum iRating for each division with division 1 having a 3500 minimum.

https://members.iracing.com/jforum/posts/list/3778718.page#12296443
---
---
Cheat Sheet From VRS [Mike]
Coke Driver and Virtual Racing School instructor Keegan Leahy has developed a Class A Cup Car setup guide for free on the VRS website. It goes over several different conditions from loose to tight, to just plain slow and how to make setup adjustments to correct these issues.
https://virtualracingschool.com/enascar-setup-guide/
https://members.iracing.com/jforum/posts/list/3778710.page#12296387
---
---
Sets Provided Pro 2 [Hall]
Tyler Hudson announced in the forums that beginning with 2021 Season 1, the provided iRacing default setups for the Pro 2 Trucks will be the highly requested setups built by Mike Budzein and Corry "CAL" Lewis.

https://members.iracing.com/jforum/posts/list/3778704.page#12296263
---
---
Credit Time [Brian]
Staffer Tony Gardner let everyone know in the forums that whoever owned the Long Beach tech track, will get a $5 credit in the build.

https://members.iracing.com/jforum/posts/list/50/3778688.page#12296052
---
---
2021 Season 1 Schedule [Greg]
Tyler Hudson posted the 2021 Season 1 Schedule with a couple of key notes including the Centipedal Circuit being placeholders for Cedar Lake in Dirt Oval and Long Beach for road. Plus two new Dirt Oval Series, iRacing 358 Modified Series (Dirt Oval D License)
and Big Block Modified Series (Dirt Oval C License). Also the Dallara Formula iR )Road C License Class)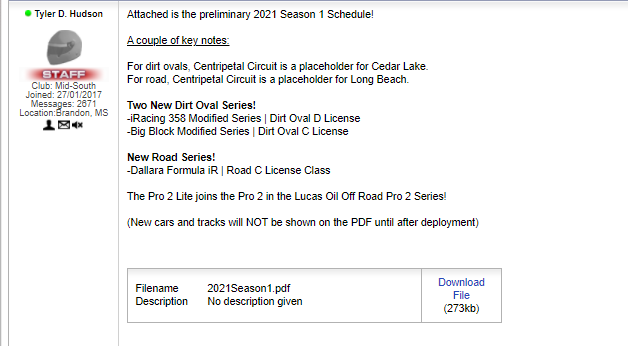 https://members.iracing.com/jforum/posts/list/3779263.page#12303719
---
---
Post Release Activities [Tony]
Beau Albert on Twitter asked if he gets a prize for being the first person to land his car in the circle fountain at the New Long Beach track and posts a picture to prove it!
---
---
Super Dirtcar Series Big Block [Mike]
The Super Dirtcar Series shows off the iracing intro to the world of the Big Bock Modifies.
---
---
Long Beach Comparisons [Hall]
Gary Weaver and Beau Albert both compiled Long Beach comparisons between the new, fully detailed version and the previous tech track versions.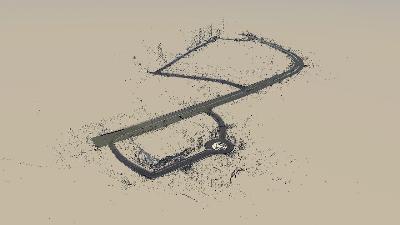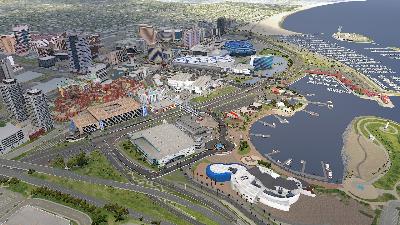 https://members.iracing.com/jforum/posts/list/3779838.page#12307871
---
---
iRacing Custom Competitive Setups [Brian]
Greg West posted that they have added setups that should allow for racers to be top split competitive. While different drivers will have different styles, each setup built also now takes full advantage of the "notes" tab on the setup menu to give recommended adjustments if you are looking for a specific behavior change.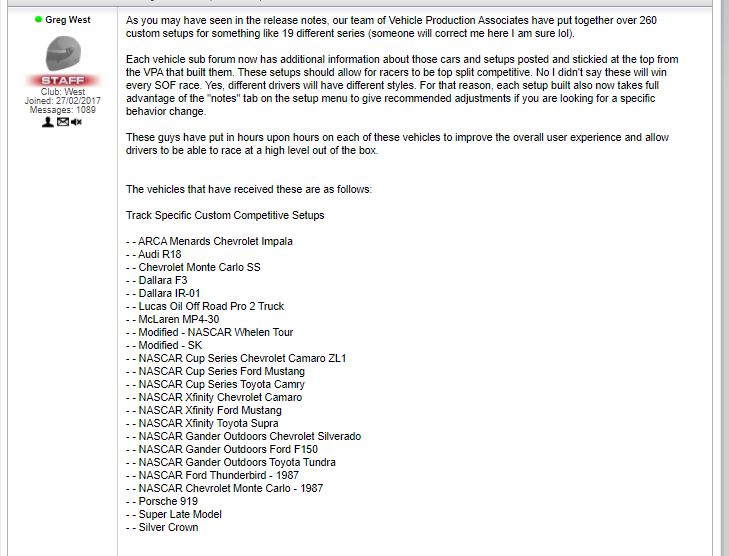 https://members.iracing.com/jforum/posts/list/3779500.page#12306295
---
---
What Changed in the NASCAR's This Build [Greg]
Christian Chaliner exactly what has been changed for the Nascar cars this build

https://members.iracing.com/jforum/posts/list/3779910.page#12310125
Could the announced updates made byMatt Holden for the Nascar A class cars make for the racing we've been looking for?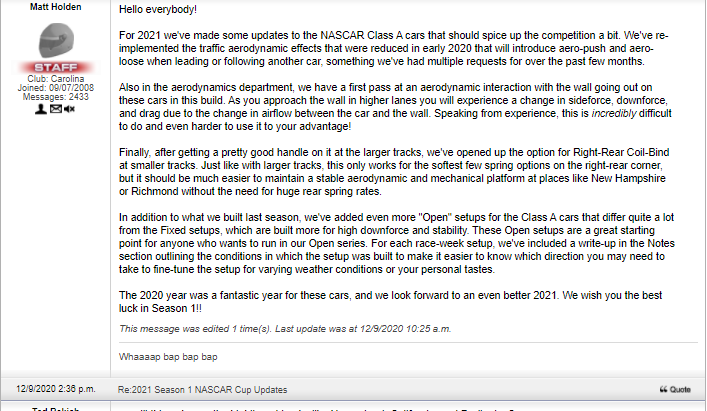 https://members.iracing.com/jforum/posts/list/3779484.page#12306271
user manual [Tony]
iRacing announced their new User Manual Page which will explain how to get the most of your new iRacing cars.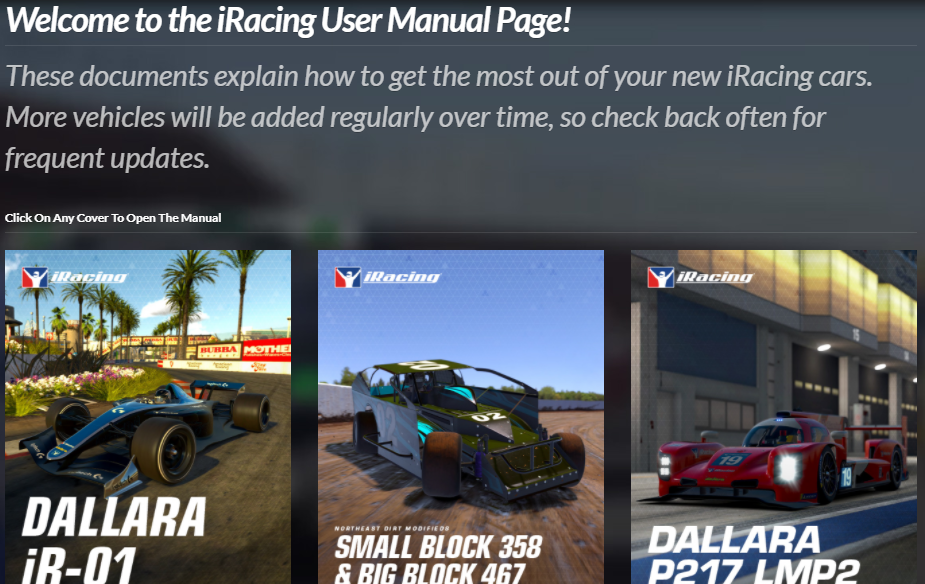 https://www.iracing.com/user-manuals/
---
---
Raja Rim Riding
Raja Caruth sows off in a video his progress in learning how to ride the rim at Homestead Speedway.
---
---
Road Racing Changes [Mike]
With the release of so much new content, Greg West announced updates to multiple series on the road side.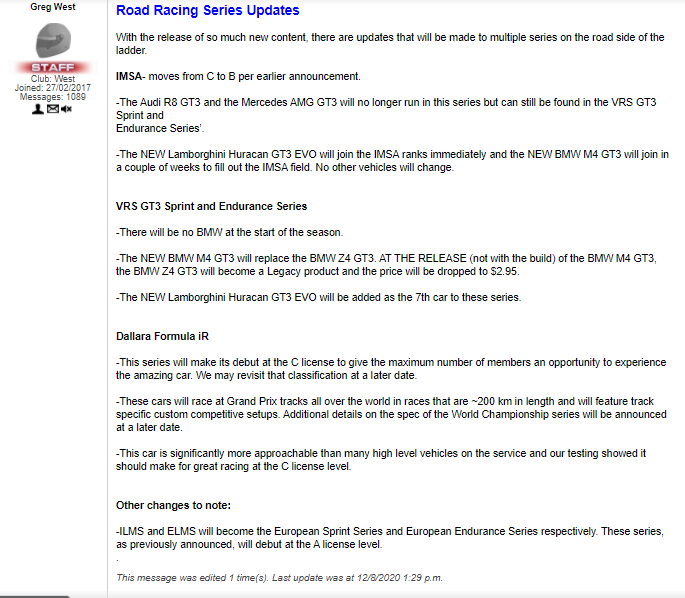 https://members.iracing.com/jforum/posts/list/3779320.page
---
---
GT3 Overhall [Brian]
For 2021S1 the entire GT3 class has been overhauled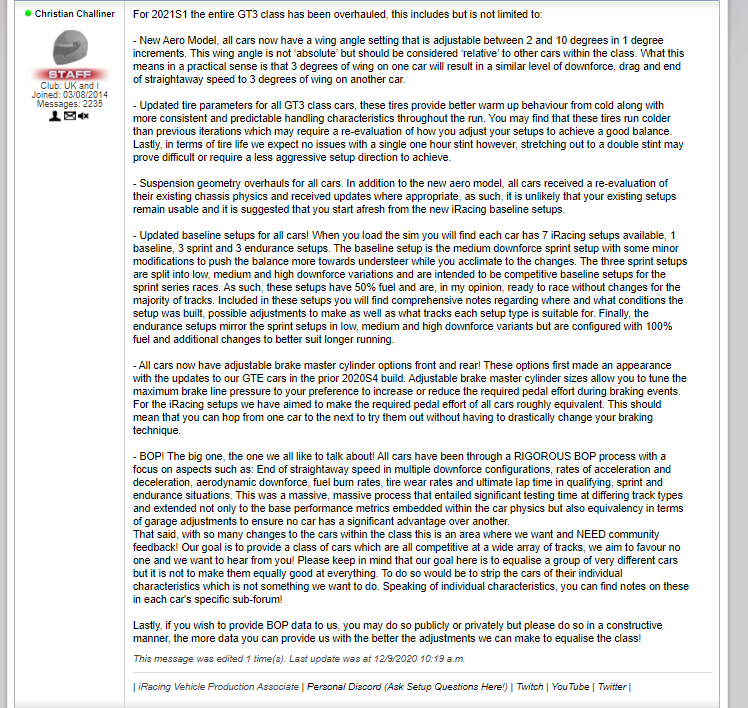 https://members.iracing.com/jforum/posts/list/3779474.page
---
---
Porsche eSports Sprint is Done Greg
Porsche eSports Sprint Challenge to end
Tyler Hudson announced in th forums that Porsche and iRacing have made the joint decision to retire the Porsche Esports Sprint Challenge for 2021.
https://members.iracing.com/jforum/posts/list/3778446.page#12293805
---
---
DMoody goes eSports [Tony]
NEWS: @DGodfatherMoody makes his eSports debut and will be apart of the MNR broadcast Monday night on @PodiumeSports from @MISpeedway.
---
---
BMW Winner [Mike]
The move that got the job done in the end from last nights #BMWSIMLIVE event! It's safe to say I'm still buzzing after that
---
---
Special Event Fund Raiser [Hall]
Excited to announce the Inaugural Never Quit Classic 500 in memory of our friend L Bryce Whitson Jr. All money raised will be donated to Be The Match.
https://www.facebook.com/107765504402812/posts/173888137790548/?d=n
---
---
---
Podcast Housekeeping
CHECK OUT THE AFTERMATH WITH CHRIS AND THE 2 TONYS
New Script and Website
*More listener involvement – we want you guys to help us with content, email us links to stuff you find to iracerslounge@gmail.com – keep it simple, no explanation, just shoot us the link via email from your phone…
We are on all podcast platforms, that I know of, consider that a challenge if you can find a podcast platform out there that we're not on, let me know.
---
We are in the regular rotation… (Mike)
https://performancemotorsportsnetwork.com/
---
---
---
Hardware/Software
---
Returning My G2 [Brian]
Danny Davis posted in the forums that he is returning his HP Reverb G2 citing several issues that he is not happy with
https://members.iracing.com/jforum/posts/list/3777940.page#12289340
---
---
Listener Email – Rig Reivew [Greg]
Listener Email – (Rig Review) [Greg]
Listener Joe Hanson-Gates emailed the show with his review of his DOF Reality P6 Motion Rig. He mentioned that it was delivered in two weeks (they said it could be up to 6) and was built in roughly 4 hours. He says that it performs brilliantly for ovals and needs some tuning to get roads right because the pitch under heavy braking and acceleration is too pronounced. He also notes that, as a commercial pilot it performs very close to the Level D simulator used at his workplace and overall is very pleased with it.
Mike, great racing with you in the Carb Cup yesterday, it's fantastic when you guys recognize loyal listeners.
I purchased a DOF Reality P6 motion sim from DOF Reality in the Ukraine. Ordering was easy, shipping was quicker than I thought. I had heard it could take up to six weeks, I received two large, heavy boxes in about two weeks.
Building it took about four hours, stretched out to five because I kept taking coffee breaks. Wasn't hard to put together, Barry Rowland's video helped a bit, but as he was upgrading from the H3 to the H6, things were a bit different for him. My kit came mostly put together, especially the motor assemblies.
The sim has six motors and moves in six degrees of freedom.
The rig needs to be balanced, so weight is a little bit of an issue. The P6 is a "professional-grade" setup over the H6 which is more "consumer-grade", the P6 can handle a bigger weight load with its more powerful motors.
I've installed my Simucube 1 direct drive wheel, my HPP JBV pedals, Thrustmaster Warthog flight sim controls and a button box. I race in VR, so no monitors are mounted to the rig. Buttkickers are added below the seat and I'll be adding a Sim Racing Studio Shake Plus which adds 6 small pucks to the seat for additional shakers.
As far as how it performs, in flight sim it's absolutely brilliant. I'm a commercial pilot and it's very close to the Level D (meaning FAA approved for takeoff and landing currency) Simulator we use at work. For iRacing I have a lot of tuning to do to get it perfect. For road racing, the acceleration and braking effects are too pronounced, the sim throws you around, I'm still working to reduce those effects. For oval, it's absolutely brilliant. I feel the car pushing me to the right in the corners, I can feel the rear end start to break loose and correct it immediately. I'm still coming to terms with it, my times are slower until I get used to the movement, it's going to change the way I drive, I'm going to have to be smoother in my control inputs.
Overall, I'm very pleased with it. It's a little tough to climb into, but once you're in, it's fantastic!
Joe Hanson-Gates
---
---
VRS DirectForce Pro Pedals Review [Hall]
VRS posted a set of teaser pics of their new DirectForce Pro Pedals with info like pricing, release date and more coming soon.
https://www.facebook.com/1319734528040583/posts/5202759689738028/?d=n
---
---
Cube Controls QRX QR Review [Mike]
Barry Rowland reviews the Cube Controls QRX Quick release system
---
---
Trak Racer TR8 [Tony]
Trak Racer TR8 [Tony]
Track Racer introduces the TR8 Mach 3 Cockpit with monitor Stand and GT style seat and are now taking pre orders.
---
---
Cube Controls GT-X Wheel Review
Barry Rowland at The Sim Racing Garage reviews the Cube Controls GT-X formula wheel
---
---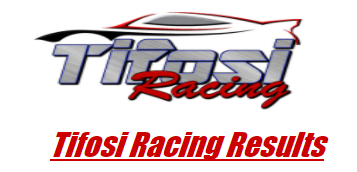 NASCAR iRacing Series
---
---
Official Series
NASCAR C Trucks Bobby – 1st race since beginning of sept, qual. 5th, finished 1st.

---
---
League / Hosted Races
OBRL ARCA Series The Glenn P4 stayed relatively clean and moved up from an 8th place start
Unofficial – Mike –
Winter League- -.

Mike – p
Mike – 87s?-Winter League- -. Wrecked out. good first run much better on tires this time on the first run ended up a lap down but got the lucky dog a guy wrecked and came back up and I had nowhere to go and wrecked me out.
Mike – p
Mike – Cup -p13- Best finish in the league so far, I got caught on pit road when a caution came out which put me down two laps. Then played tire strategy at the end staying out on old tires while others pitted move me up from like 25th to a nice finish!
David – p7 at Dover. 3 in a row. Was slow enough to not blow out my RR
Scales –

Groves-
Brian- P
Rochette P18 fun car was doing ok til had a car got me out of turn 1 waited last 20 laps for the hood to flap in my face

OBRL Truck Series Brian P11 slow on long runs used up tires
OBRL Cup Series TEXAS

Scales P11
Rochette P15 hate that wall
Brian
Groves
OBRL XFINTY TEXAS

Rochette P15 I hate new Texas and hate that tri oval wall
Scales P7

Sim Auto Racing:
UCORA Spotlights Snowball Series

Hall –.p3 ran top 5, cars in front mis timed restart to cause last caution. These guys usually run clean, they struggled in a setting where the cars weren't completely stuck to the track.
Ellis – pwrecked out?

Chris – P
Tony – P
ISCA –
---
---
Final Thoughts
---
---
---
Words Spoken in Closing Audio Clip -""Thank you for listening to the iRacers Lounge podcast make sure to go subscribe to us on iTunes, SoundCloud, or Google Play, Facebook & Twitter, See You On The Track ."
TITLE IDEAS
FU F1
.
.
Description
It's build week folks, and that means lots and lots of topics! We go through all of newly released content including a first in iRacing with the development of the Dallara IR-01. New cars, new tracks and track configurations, and a slew of new updates. So strap in and try to keep up with us on the iRacers Lounge Podcast.
iRacers Lounge Podcast is available on iTunes and Apple's Podcasts app, Stitcher, TuneIn, Google Play Music, Spotify, Soundcloud, Podbean, Spreaker, Podbay, PodFanatic, Overcast, Amazon, and other podcast players.
Sponsors:
www.grid-finder.com
www.schoolyardsetups.com Promo Code – Lounge
Hosts:
Mike Ellis – twitter.com/MikeDeanEllis
Tony Groves – www.twitch.tv/SirGroves
Chris Scales – twitter.com/JediMcfly
David Hall – www.twitch.tv/mixmage
Greg Hecktus – twitter.com/froozenkaktus – www.twitch.tv/froozenkaktus
Tony Rochette – twitter.com/TonyRochette
Adam Josselyn- twitter.com/Jossad83
Nick Williams – facebook.com/NDWRacing
Brian Maccubbin – www.twitch.tv/MacRubbinsRacin
Tom Dreiling –
Links:
Old Show Notes – bit.ly/2CFeArM
Facebook – www.facebook.com/iRacersLounge/
Twitter – twitter.com/iracerslounge
Instagram – instagram.com/iracersloungepodcast/
Web (New Show Notes) – iracerslounge.com/
Feedback?
Drop us a line at iracerslounge@gmail.com. You can also rate us in Apple Podcasts or recommend us to help more people discover the show!