10/13/2022 – Stuttering – Episode 0352
Brought to you by:

Opening Audio Clip -"Your listening to the iRacers Lounge Podcast where we discuss everything iRacing, in a casual setting, enjoy."`
READ THIS AT THE TOP OF EACH SHOW!!!
Welcome to the iRacer's Lounge, I am your host "XXX". iRacer's Lounge is a podcast for the iRacer, where we talk all things iRacing in a casual setting.
Joining me are the usual characters, ———— 
---
---
Show Introduction
On the show this week, we will review the Coke series race at Homestead leading up to the Championship Race at Phoenix. We look at which F1 drivers are sim racers and what their race rigs look like. We'll revisit the conversation about iRacing protests after another prominent streamer is involved in an incident, and we'll check out some top level wheels in hardware.
And remember you can follow along with us on your PC or mobile device in real time as you listen to the show and see for yourself all of the great topics and products we'll discuss by visiting iracerslounge.com and selecting show notes. Hope to see you there..
---
---
TITLE SPONSOR READ:
SimCoaches offers the realistic sim racing equipment you need to win more races online…. It is designed for real racers… Hydraulic construction makes them feel just like the real thing. High-Quality Construction, 100% Leak Proof, and Lifetime Warranty are the key features with these pedals. And, they look absolutely amazing… Check out simcoaches.com and use the coupon code IRACERSLOUNGE to get 10% off your purchase. Simcoaches.com is your ticket to feel like your actually sitting behind the wheel of a car. Drive harder and stay on the limit longer…
https://simcoaches.com/?fbclid=IwAR1pJASM3C_nV3wFACEHJrHitf8TOQWro4yp-Etaio1zU8Enbojap2Xff5w
---
---
---
---
Topics
---
---
eNASCAR CocaCola Series – LIVE FINALE EVENT TICKETS
The final race of the eNASCAR CocaCola iRacing Series will be held at the NASCAR Hall of Fame in Charlotte on the night of October 25th.
This event will feature the Final 4 Playoff drivers racing LIVE from the HOF. in front of a live audience.
Steve Letarte, Alan Cavanna and Evan Posocco will broadcast LIVE from the event with Dale Earnhardt Jr presenting the championship trophy.
There will be a limited seating opportunity to attend the event. Anyone interested in attending should send a request to tickets@iracing.com with Subject Line: CocaCola HOF TICKETS and include the following:
Name
Email Address
iRacing Member ID
# of tickets (max of two)
Email requests must be received by 5pm EDT on Monday, October 17th.
Ticket requests will be handled on a First-Come / First Serve basis.
A confirmation email will be sent by 5pm EDT Wednesday October 19th with detailed instructions if you have been granted tickets.
Doors will open at 7pm
PreShow begins at 8pm
Race starts at 9pm.
Read the full release here: https://www.iracing.com/enascar-coca-cola-iracing-series-championship-held-live-at-nascar-hall-of-fame/
https://forums.iracing.com/discussion/30330/enascar-cocacola-series-live-finale-event-tickets
Great prerace interview w Dale Earnhardt Jr talking about his 1st win in the coke series… How competitive this series actually is, and some discussion about his current coke drivers….
NEWS: The #eNASCAR Coca-Cola @iRacing Series championship trophy will now be known as the "Dale Earnhardt Jr Championship Trophy"
And Willie Byron to give the command…
When the green flag drops Casey Kirwain and Vicente Salas lead the field into turn 1
There's early trouble for Graham Bowlin and Michael Conti. Bowlin gets into the wall and Conti has nowhere to go.
They both save it, but the 48 has some damage for sure.
On lap 6 Matt Bussa moves his way into the top 10
On Lap 11 he is joined in the top 10 by Keegan Leahey and Zach Novac
By lap 12 Matt Bussas has moved his way into the top 5 and is looking good.
Up front Kasey Kirwan continues leading with 12 laps in and 88 to go.
Lap 16 brings out the first caution as Darik Bourdeau and Jimmy Mullis make contact.
Bourdeau gets spun around, but gets no big damages
Malik Ray will lead the field back to green because he didn't pit, with Casey Kirwan alongside.
They go three wide for the lead on the restart with a new leader on lap 22, Steve Wilson
On lap 31, Mitchel deJong makes his way into the top 5, until… the next caution on lap 34
Three years ago, Zach Novak and Kegan Lehey had a memorably clean finish for the championship,
but this race they can't avoid contact collecting Bobby Zalenski, Whitt and LaPradd, but no one with serious damage.
Seven cars stay out and the rest pit.
After the restart we see Dylan Ault and Bobby Zalenski battle at the top with Zalenski getting the jump and the lead at Homestead.
On lap 42 champion hopeful Steve Wilson makes his way back into the top 5
At this point Graham Bowlin is the lowest running playoff driver, but he also has the best drop-race to fall back on with an 11th place finish at Bristol
By lap 45 Steve Wilson has done a great job driving his way to the top of the field
Mithchel deJong is not giving up easily, and retakes the lead from Wilson as they go side-by-side on lap 52.
With 40 laps to go there's a possibility of this becoming a fuel milage race the the end.
With 33 to go, green flag pit stops begin
After the pit cycle the top running order is
Steven Wilson
Casey Kirwan
Colin Keetster
Michal Conti
Mitchel deJong
Femi Olat
Malik Ray
Vicente Salas
Michael Guest
With the laps counting down to 25 to go, Steven Wilson continues to show the way as he looks to win his way itno the championship finale, if he can hold on.
But with 20 to go it's a new leader as Casey Kirwan Grabs the top spot.
Michael Guest is moving forward and into the third with 11 to go.
With 8 to go Graham Bowlin get by Michael Conti as we watch the live points change in real time until a caution hits with 7 to go, changing everything.
Parker Retzlaff hit the wall on his own, slides down to the infield and brings out a mysterious caution.
Everyone comes to pit road, but Steven Wilson wins the race off pit road after taking 2 tires.
So with the late restart we have the leaderboard as follows…
Steven Wilson
Casey Kirwan
Michael Guest
Collin Keester
Graham Bowlin
Nick Ottenger
Mitchel deJong
Femi Olat
Dylan Duvall
Matt Bussa
The race is all bunched up with a natural GWC to close out the race.
A caution comes out right after the restart with Garrett Lowe and Corey Vincent getting involved when Derek Justis went to block and pushed a driver all the way to the apron and got turned and back up into traffic
The playoff picture looks like this, Conti needs to beat Bowlin by eight spots to advance – and it needs to be a third place or better as Bowlin has the 11th place drop in his pocket.
Wilson, Kirwan, Guest and Bowlin lead for GWC#1
Good jump for Wilson on the next restart and trouble comes out again!
Logan Clampitt and Vicente Salas are involved! The 5 went low on Clampitt to make it 5 wide caused him to move up into the guy above, and they pile up
We also now have Nick Ottinger in the mix – If Nick finishes second and Bowlin loses a spot here, he can be in.
GWC number 2 and Wilson gets a good jump again.
We finally get the white flag and Guest tries to run down Wilson, but can't get to him, Steven Wilson is your race winner! His series best 4th win of the season! Punching his ticket tot the finale at Phoenix
Grahm Bowlin crashes in 4 on the white flag lap when Nick Ottinger runs out of gas into Turn 3 – Graham Bowlin gets knocked out…
BUT he has a P11 to fall back on – He was eight points ahead of Michael Conti – Conti got 6th, he'll miss by three points The Drop did have an effect.
If there was no drop, Conti would have been in and Bowlin would have been out.
---
---
Which Current F1 Drivers Are Involved in Sim-Racing?
A Youtube video from TraxionGG explores which current drivers are involved in Sim Racing and their Set-Ups.
https://www.youtube.com/watch?v=zYXf1TOiEAc
---
---
The Tweet That is No More
A Tweet by iRacing's Steve Myers has gone A-Wall. Myers Tweeted a link to Mercedes F1's Youtube video titled, "What do F1 Simulators Drivers Do?" In the tweet, Myers mentions they have received another "batch" of W13 data. Could this be the cause of the Tweet delete?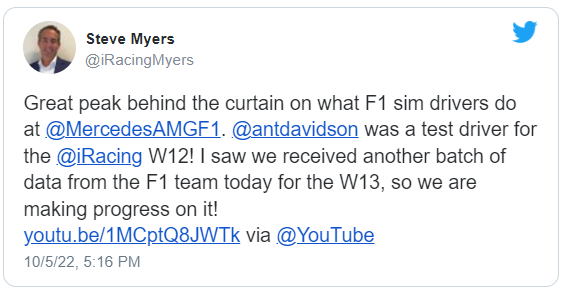 https://twitter.com/iracingmyers/status/1577815123619729409
https://www.youtube.com/watch?v=1MCptQ8JWTk
---
---
World's Biggest Sim Racing Show
ADAC SimRacing Expo announced via Twitter that tickets are now on sale for the world's biggest Sim Racing show. The event is scheduled to take place on December 1st thru the 4th in Germany.
https://twitter.com/SimRacingExpo/status/1578067924291670019
---
---
Petit Server Crash
Chris Brunnemer2 Posts:
session 615 just now. tons of people got booted all at once. some from AU, Europe, east coast, and west coast at minimum. def not a ISP issue. seems to have been up to 20 people got booted. For myself and teammate it was a hard lock up on the screen followed by about 60s of locked up. 3rd teammate didn't get booted and he hoped in after tow. no car damage.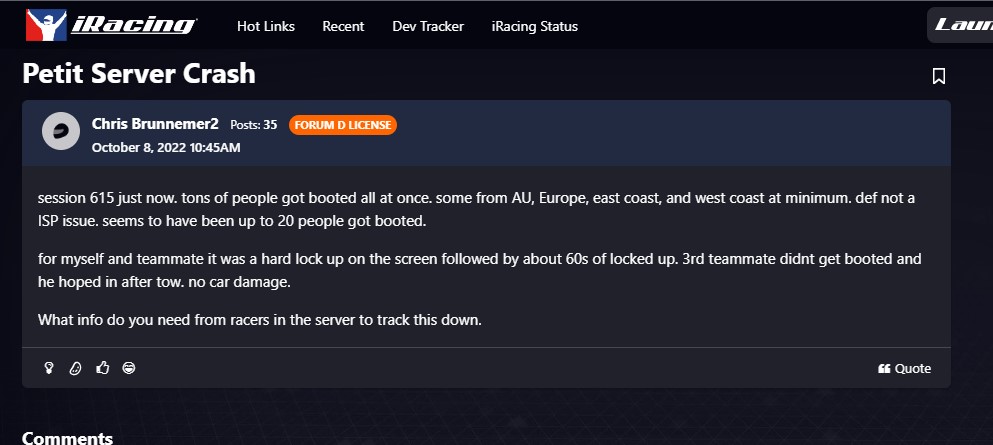 https://forums.iracing.com/discussion/30395/petit-server-crash
https://forums.iracing.com/discussion/comment/242952#Comment_242952
---
---
Stack em Up
Another Dirt Late Model win by iRacing's Tyler Hudson. Tyler Hudson tweeting the following:
https://twitter.com/tdhudson001/status/1579474273843888128
---
---
Dan Suzuki Doesn't Get It
And the same discussions are happening in the forums too based on DaveCam's video from a couple of weeks ago…
https://twitter.com/DanSuzukiTV/status/1579361406717427712
https://forums.iracing.com/discussion/30232/whats-your-take-on-this-protest-video-from-dave-cam/p1
---
---
A Serious Discussion: iRacing And The Situation In Ukraine.
Robin Truswell Posts:
In a difficult and terrifying time, I don't want this to turn into a political debate or a debate about "right" and "wrong".
I just want to check up on those on the service who have been affected by recent events.
I just want to make sure you're alright, both mentally and physically – in addition to your family, relatives and friends.
My Personal Messages (on IR) are always open if you want to talk, or for someone to confide in.
No matter who you are, or how you've been affected, feel free to contribute to this thread – just keep it respectful – you have no idea who's sitting around the world or what they've been through.
https://forums.iracing.com/discussion/30475/a-serious-discussion-iracing-and-the-situation-in-ukraine
---
---
Riverside Unlikely To Be Scanned, According to Junior
On this past weeks Dale Junior Download. Junior was asked if iRacing could re-create a track from the past that is no longer around. Riverside was brought up as an example. His answer was yes, but indicated iRacing would most likely not do it.
---
---
iRacing Highlights of the Week
iRacing releases the top highlights for the week of October 11th
https://www.youtube.com/watch?v=EZfhITdPRVA
---
---
Team UI or Team Website
Which Team are you?
---
---
Driven // Rajah Caruth
iRacing released a video of Driven featuring Rajah Caruth on their YouTube channel
---
---
Protested for Flashing!
Charlie Lord posted on the iRacing Drivers World that he was protested and given a warning that he was using his flashers in an inappropriate way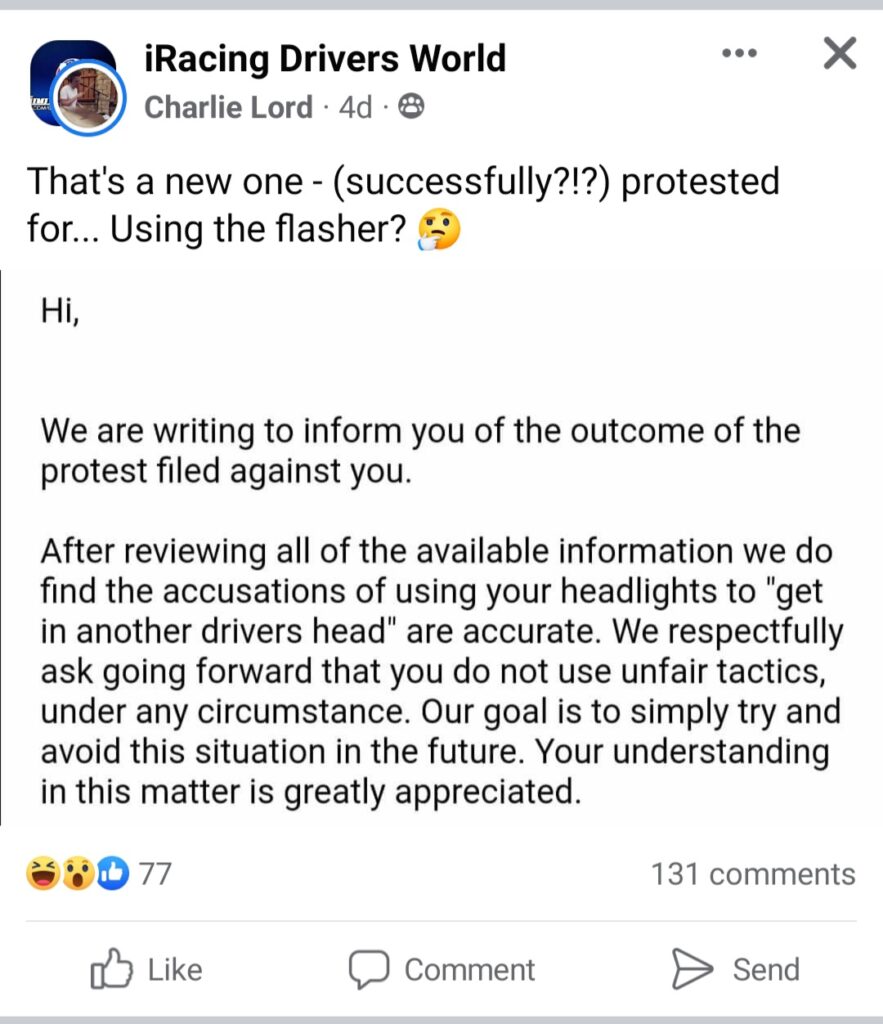 https://www.facebook.com/groups/Iracingdriversworld/permalink/10159529711054205/
---
---
IMSA Global Championships
The IMSA Esports Michelin Global Championship kicks off this Sunday at Road Atlanta.
---
---
Season 4 Patch 2 Release notes
iRacing releases the notes for the newest Season 4 patch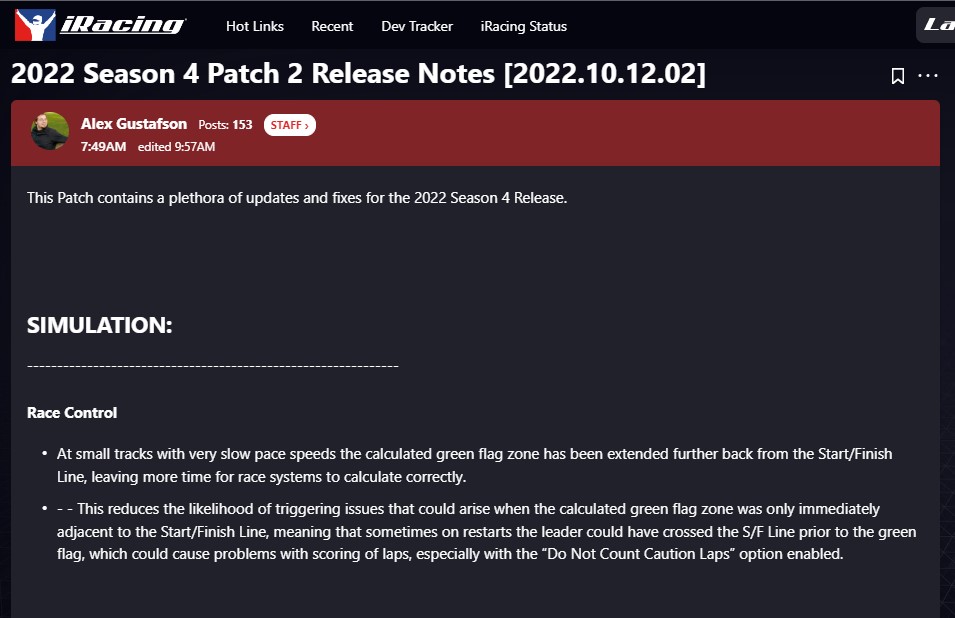 https://forums.iracing.com/discussion/30575/2022-season-4-patch-2-release-notes-2022-10-12-02
---
---
D-BOX Nascar International iRacing Series
Virtual Daytona race to be livestreamed at ADAC SimRacing Expo in Nuremberg, Germany
Daytona Beach, FL (October 11, 2022) – The eNASCAR International iRacing Series returns with a five-race schedule, including a virtual race livestreamed at the ADAC SimRacing Expo in Nuremberg, Germany on December 6. D-BOX Technologies and Digital Motorsports continue as series partners with drivers across the NASCAR Whelen Euro Series, NASCAR Mexico Series, NASCAR Pinty's Series and NASCAR Driver for Diversity Driver Development program all scheduled to compete.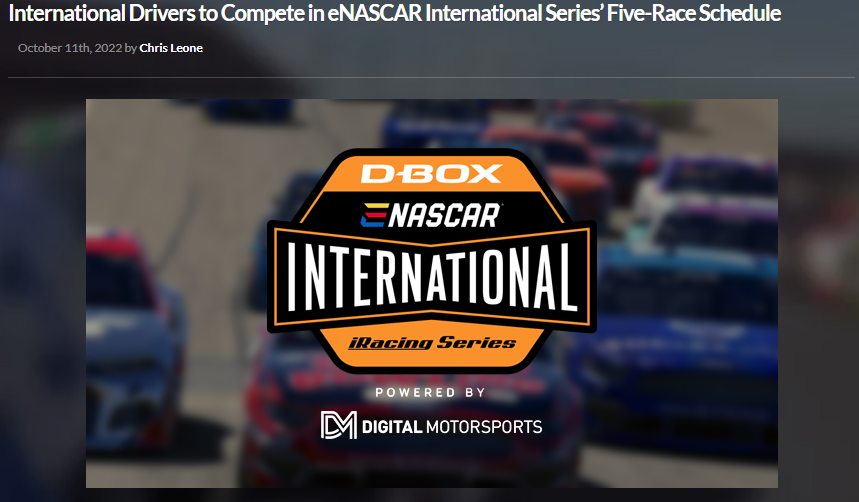 ---
---
The Road to the World of Outlaws is Underway!
https://twitter.com/iRacing/status/1579598399045013504
---
---
Have You Set a Fast Lap Yet?
https://twitter.com/iracing/status/1579497320751955968
https://www.iwc.com/gb/en/specials/iRacing-Esports-sim-challenge.html
---
---
Toys-4-Tots Jingle Jam
The Sim Racing Channel is happy to announce that we will be hosting the ARCS Racing Toys-4-Tots Jingle Jam charity race, LIVE on the Channel December 17th! Look for more details coming soon!
https://twitter.com/TSRConRokuTV/status/1579561162181840896
---
---
2022 Crandon Championship
https://forums.iracing.com/discussion/30065/iracing-presents-2022-crandon-championship#latest
---
---
iRacing SCCA Runoffs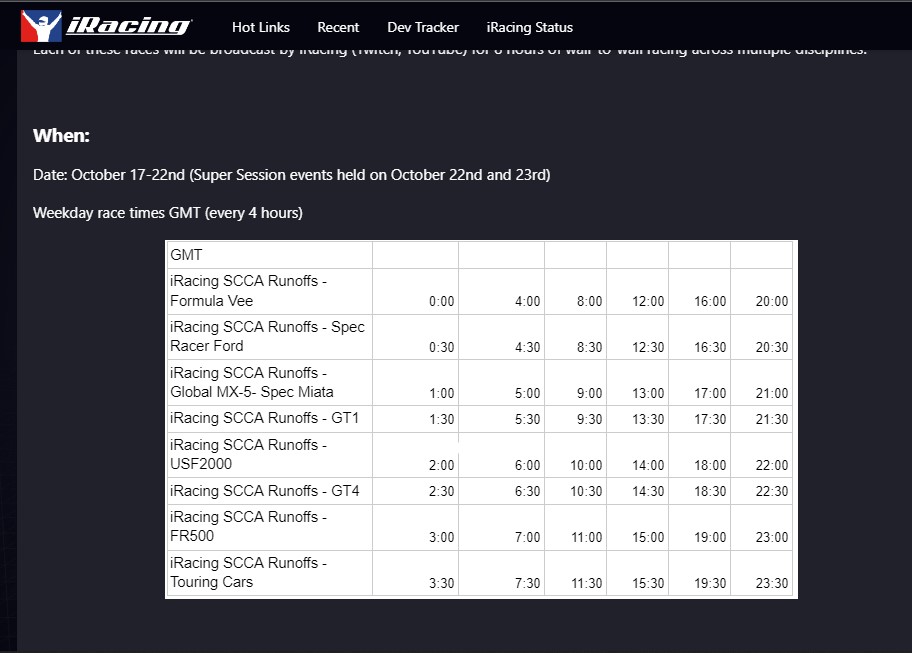 https://forums.iracing.com/discussion/29978/iracing-scca-runoffs-presented-by-sim-lab
---
---
Podcast Housekeeping
Leave us a review on your favorite podcast platform to make it easier for more listeners to find the podcast. Mention the podcast to your fellow drivers so they don't miss out, we would appreciate it.
Check out our Discord https://discord.gg/rvRas4DDqF
New Website – Leave Comments https://www.iracerslounge.com/
---
We are in the regular rotation… (Mike)
https://performancemotorsportsnetwork.com/
https://channelstore.roku.com/details/9d27a1e9dd15b92535d7cfe85407288e/the-sim-racing-channel
https://thesimracingchannel.com/watch-live/
Fantasy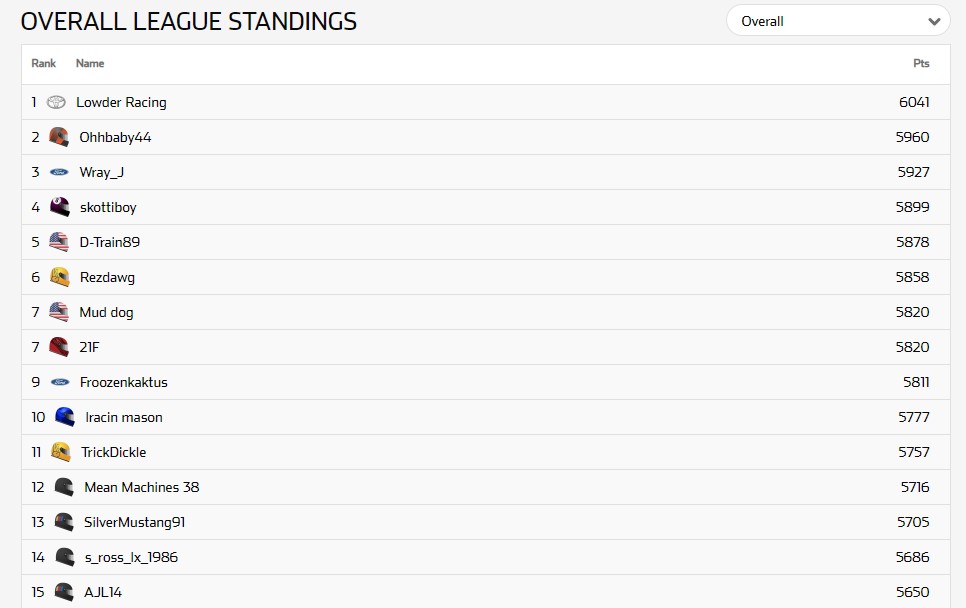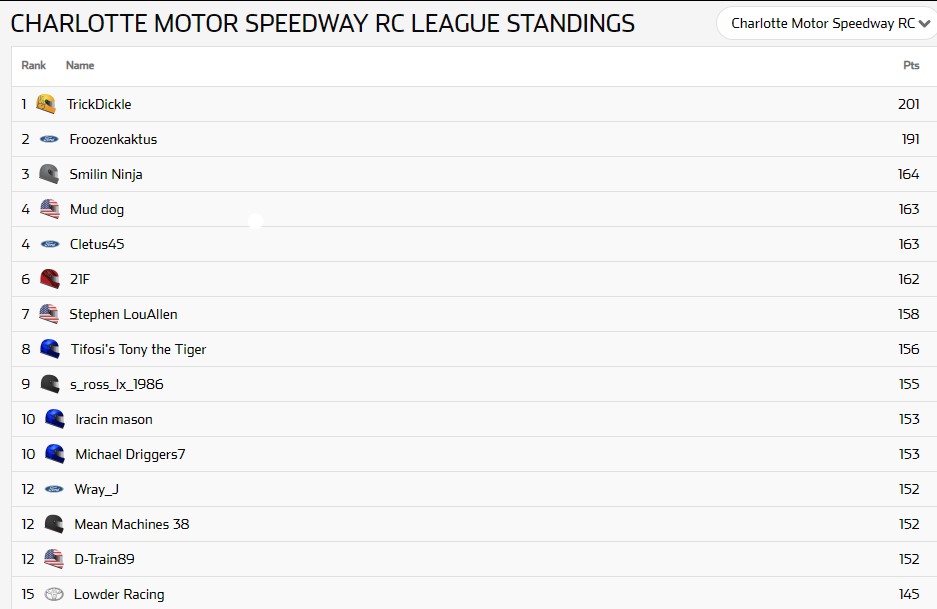 ---
---
Hardware/Software
Brought to you by: SUPREME 3D Printing

Are you looking for that next Sim Rig upgrade, or maybe your man cave needs a little more style, or is your wife wanting to redecorate your home? Well, we here at Supreme 3D Printing have you covered. We create and print tons of different and useful items that is sure to fit everyone's style and budget. If you don't see what you're needing, then feel free to contact us for your needed item.
Check us out Etsy at https://www.etsy.com/shop/Supreme3Dprinting.
---
---
Coming This October
A Tease from VPG Wheels via their Instagram.
https://www.instagram.com/p/Ci7–gVNc5v/
https://vpgsim.co.uk/products.php?category=10
---
---
P1 Sim Arnage About to Ship
https://www.instagram.com/p/CjaPIv1NVn5/?igshid=MDJmNzVkMjY%3D
---
---
More About the 4090
An Instagram Video from NVIDIA GEGORCE and a Youtube video from Gamers Nexus provide more detail about the RTX 4090 Founders Edition.
---
---
Cube Controls CSX3 Review
Youtuber Laurence Dusoswa provides his review of the CC CSX3 Wheel.
https://www.youtube.com/watch?v=FdRS9QvdxHo
---
---
A Few Front Mounts for a SimuCube Wheel Base
---
---
Complex Sim Works Dash Component
https://www.instagram.com/p/CjYAa_SOzqM/?igshid=MDJmNzVkMjY%3D
https://www.etsy.com/listing/1298265426/simtac5-sim-racing-display
---
---
3D Printed Wheel from HTek
https://www.instagram.com/p/CjXLYyuNreb/?igshid=MDJmNzVkMjY%3D
---
---
Rig Review
https://www.instagram.com/p/CjdEEsfN2Y2/?igshid=MDJmNzVkMjY%3D
https://www.instagram.com/p/CjchXSGoMMs/?igshid=MDJmNzVkMjY%3D
---
---
Next Level Racing GT ELITE Review
https://www.youtube.com/watch?v=IIb-aeIgZYw
---
---
Results
Brought to you by: SIMWRAPS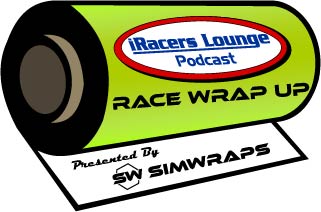 In need of a identity? A wrap is more then vinyl on car, it's you and your teams identity on track, so standout not blend in. SIMWRAPS can design not only race vehicle, but fire suits and helmets as well. SIMWRAPS can work with any budget to make sure you do standout in a crowd field. Make sure to pull in for a pit stop and check out our work at www.SIMWRAPS.com or your typical social media sites like facebook and Instagram.
NASCAR iRacing Series
Friday Open: ROVAL
Hall – p9, first half of race was more fun as I had close by drivers

Greg -wrecked out

Mike – qualified p4. Eventually cycle to the lead through Green flag stops. I ended up spinning on my own once and lost about eight seconds of track position and fell back to P5. I gradually made my way back up to P2 at that point he was 10 seconds ahead of me. I drove up to within six seconds of the Leader by the end, P2.
Wednesday Open:
Hall – p wrecked in un avoidable now down from 4000 to 3300 irating
Kyle P – P5 started 7th and fell back fast. Fought a loose car until about lap 70 and then the missile came alive and it was just on rails. Worked my way back from mid 20's to finish a top 5.
Tony R – P shitty race. Had a horrible set was just loose all over. With 25 to go my car wasnt the only thing that was loose. Stomach was a rumbling and just couldnt hold it so pitted and got out of the rig in record speed. That was fun
Mike-p13 – super super loose. The first run ended up spinning and running dead last eventually caught a caution, but still struggled on every runs route. The race where I would spin it falls is the last car in the lead loud with some carnage at the end, I ended up getting a few more spots up to pee 13. the set certainly did not agree with me.
Thurs Open

Ellis – p11- ran a totally different set and it was completely stable. Much better. We had only one caution it loud 13 I decided to stay out and try to save a set of tires, but then we had no cautions from that point forward I got shuffled at one point back to 24th. Drove it back up to 11th before the first green flag stop. stayed consistent through the second run and ended up running fourth before I had a pit again with 15 to go for fuel and right side only. car was really fast with just two tires and I drove it back up to 11 from 21st. got screwed on the fuel strategy kicking myself for that for sure.
Adam –
Steve –
Rochette – P6 ran a better set and made sure i went to the bathroom before i raced. Led laps early but thightness settled in before the first pit stop. Made adjustments and was just cruising when a dumbass decided he wanted to turn right across my nose and me in the wall. Little bit of damage hindered me being up front so il settle with a 6th
---
---
Official Series
Ellis – Chris Maguire hosted Kia Optima at Daytona P2.
87 cars with the Porsche rough cup at Talladega, wrecked out
Carof tomorrow at Talladega – wrecked

SPIKER – Nascar B Open – Las Vegas P18
---
---
League / Hosted Races
---
---
Final Thoughts
---
---
Words Spoken in Closing Audio Clip -""Thank you for listening to the iRacers Lounge podcast make sure to go subscribe to us on iTunes, SoundCloud, or Google Play, Facebook & Twitter, See You On The Track ."
TITLE
Stuttering
Description
On the show this week, we will review the Coke series race at Homestead leading up to the Championship Race at Phoenix. We look at which F1 drivers are sim racers and what their race rigs look like. We'll revisit the conversation about iRacing protests after another prominent streamer is involved in an incident, and we'll check out some top level wheels in hardware. So sit back, relax and join us on the iRacers Lounge Podcast.
iRacers Lounge Podcast is available on iTunes and Apple's Podcasts app, Stitcher, TuneIn, Google Play Music, Spotify, Soundcloud, Podbean, Spreaker, Podbay, PodFanatic, Overcast, Amazon, and other podcast players.
Sponsors:
Hosts:
Mike Ellis – twitter.com/MikeDeanEllis
David Hall – www.twitch.tv/mixmage
Greg Hecktus – twitter.com/froozenkaktus – www.twitch.tv/froozenkaktus
Brian Maccubbin – www.twitch.tv/MacRubbinsRacin
Kyle Pendygraft – twitter.com/LoudPedalGaming
Tony Groves – www.twitch.tv/SirGroves
Adam Josselyn- twitter.com/Jossad83
Tony Rochette – twitter.com/TonyRochette
Tom Dreiling –
Donnie Spiker –
Bobby Jonas –
Links:
Facebook – www.facebook.com/iRacersLounge/
Twitter – twitter.com/iracerslounge
Instagram – instagram.com/iracersloungepodcast/
Web (Show Notes) – iracerslounge.com/