9/30/2021 – Gen 6 Whimpers Away
iRacers Lounge Podcast – Conversation Topics
Brought to you by:

Opening Audio Clip -"Your listening to the iRacers Lounge Podcast where we discuss everything iRacing, in a casual setting, enjoy."`
READ THIS AT THE TOP OF EACH SHOW!!!
Welcome to the iRacer's Lounge, I am your host "XXX". iRacer's Lounge is a podcast for the iRacer, where we talk all things iRacing in a casual setting.
Joining me are the usual characters, ————
---
---
Introduction
On the show today, we review the penultimate round of the NASCAR iRacing Coke Series Championship and find out who makes the final four for the championship race at Texas. And in hardware, I (Mike) will review all of his final choices for his big time rig upgrade and much more.
And remember you can follow along with us on your PC or mobile device in real time as you listen to the show and see for yourself all of the great topics and products we'll discuss by visiting iracerslounge.com and selecting show notes. Hope to see you there..
---
---
TITLE SPONSOR READ:
Grid Finder 2.0 is bigger and better than ever with more ways to narrow your search for your next sim racing league. Featuring over 1000 leagues from over 25 racing sims across every platform, Your place on the grid is just a couple clicks away.
Visit www.grid-finder.com to find a league, or to upload your own!
Grid Finder – "The home of online sim racing leagues"
---
---
Topics
---
---
Coke Race – Talladega
PreRace w Bowyer
GREEN FLAG: @vicente_salas14 and @JakeNichols73 lead the field into turn 1.
"Yeah, there's a car there," says @rayalfalla to @MGuest33 as the first caution flies as the field completes lap 1.
Things are still aggressive as the drivers attempt to find the bottom lane but we've made it to lap 12 now.@JakeNichols73 leads!
LAP 23: Green flag pit stops are underway. @MikeConti5, @NickOttinger, @BBryant53 and others pit. Joining @MikeConti5, @NickOttinger, and @BBryant53 on pit road were john_gorlinsky, @LoganClampitt_, @mbussa75, and @bdavies_88
LAP 27: @MGuest33 leads a group of 9 cars onto pit road.
@vicente_salas14 slid through his box and had to back up
LAP 29: @CaseyKirwan23 leads another 8 cars onto pit road.
PENALTY: @CaseyKirwan23, speeding on pit road.
LAP 32: @KeeganLeahy, @MitchelldeJong1, @bobbyzalenski, and @cshearburn pit.
The Team Conti / Drill Aisle alliance will lead the field by a BUNCH when everyone finally pits. @NickOttinger leads the train!
LAP 38: @FemiOlat_ and @swilson3_ pit.
"WOWZA! Good save, I don't know why it was going to turn you, but good save," said @MathesonRacing as he clips @GarrettLowe_6 who was trying to get in line.
https://twitter.com/SteelHorseLive/status/1443031031179776005
Halfway at @TALLADEGA. The gap from the first group to the second group in a little over 9 seconds.
36 to go: @NickOttinger, @MikeConti5, @john_gorlinsky, @LoganClampitt_, @mbussa75, @bdavies_88, and @BBryant53 pit.
PENALTIES:@lyonschoice and @MalikRayTTV, speeding on pit road.
Another nearly flawless pit execution by this group. @NickOttinger continues to lead it. @MikeConti5 won the race off of pit road but the two @WBeSports_ teammates got back around on the BS. @john_gorlinsky had to come back down a few laps later.
Pit stops have cycled.25 laps to go.
Now with 12 laps to go, the second pack (Coanda trio, Salas, Manes, Wilson) is within six seconds of the lead pack, but they'll still need a yellow to catch back up.
WHITE FLAG! @MikeConti5 goes to the outside! He's on his own!
https://twitter.com/NASCAR/status/1443043116039213061
Ottinger wins.Clampitt and deJong advance.
The finish at Dega. @WBeSports_ finish 1-2. @NickOttinger becomes the 14th different winner in 17 races in 2021 and locks his place above the relegation line. @LoganClampitt_ in second will race for a championship at Texas.
https://twitter.com/KishRM/status/1443051204519464966
https://twitter.com/justinmelillo/status/1443060953814376452
https://www.enascar.com/standings/
---
---
Caruth at Martinsville
Nascar development driver and iRacer Rajah Caruth competed at the Valley Star 300 Late Model Race at Martinsville this week.
https://twitter.com/revracin/status/1441402108859731984?s=11
---
---
Mt Washington Drift
iRacing member Parker Bland posted a video that was picked up on iRacing's Twitter account of him drifting around the turns on his way to the top of Mt Washington in a Nascar Cup car.
https://twitter.com/iracing/status/1441435550129418249?s=11
---
---
iRacing RX Recap
iRacing Tweeted a recap video of RX World Championship race 1 at Daytona including one of the closest finishes of the year,
https://twitter.com/iracing/status/1441790718591348738?s=11
---
---
Mail Bag
Orz Akdemir – Hey boys. It's me Orz from Downunder here again

Just listening to your latest podcast and I got an idea
I think it would be good for you guys to have a Discord for the community where discussions can be had in regards to topics from the podcast.
For example, I am literally frothing at the mouth with the Mercedes W12 news. I have a few immediate questions.
-As you guys discussed, yes the mandatory tyre change of compound during a race should be implemented.
-Also, hopefully we will have the correct DRS zones and detection of being within 1sec of the car in front for DRS to be enabled?
-Also, another key thing with Formula 1 is Safety Cars and Virtual Safety Cars! I'm going that iRacing does this whole Formula 1 thing properly and the best they possibly can and give us these safety cars also?
At least make it an option in Leagues if they think it would just turn into a Safety Car fest in officials. One solution could be for officials to not have the safety car come out within say a minimum of 5laps of the previous SC or something like that
.
I think having a Discord community will also provide discussions topics for upcoming episodes etc directly from your listener base and fans.
Just a few thoughts. Keep up the great work guys. Look forward to the show every week.
---
---
Dallara Lockdown
Dallara juggling two LMDh OEMs in locked down, controlled environment at Italian headquarters
https://sportscar365.com/lemans/wec/dallara-bmw-cadillac-lmdh-projects-very-separate/
---
---
No Downtime Maintenance – Possible Increase in Response Times – September 28
Staffer Nicholas Bailey Posted in the forums that iRacing is performing some backend maintenance which may result in increased response times when logging in, registering, and navigating on both the web site and iRacing UI. There is no expected downtime with this maintenance and all race sessions will remain online.
This is expected to last 15-30 minutes.
Downtime:
Test Drive:
---
---
2022 NASCAR Schedules
The Nascar Camping World Truck and Xfinity schedule for 2022 has been announced for next season.
https://twitter.com/nascar_trucks/status/1443240664536387592?s=11
https://twitter.com/nascar_xfinity/status/1443240411628191747?s=11
---
---
Force Dynamics Dallara World Championship Round 2
Michele Constantini takes round 2 of the Force Dynamics Dallara World Championship Round 2 at Spa least week. Week one winner Maarten Van Loozenoord holds on to the championship point lead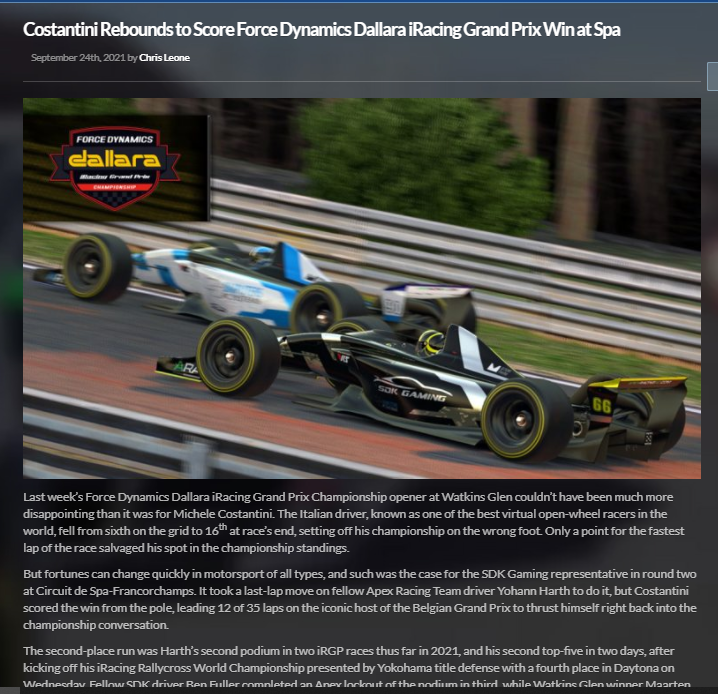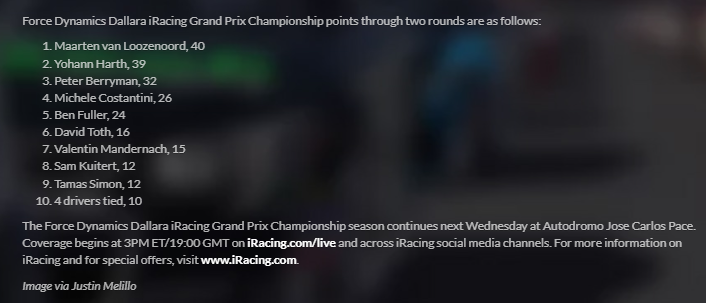 ---
---
BenQ MOBIUZ Cup of Nations, presented by VCO
The VCO BenQ Mobiuz Cup of Nations returns on December 5th but you can register now to receive all of the information about the qualifying process and represent you country
---
https://twitter.com/vcoesports/status/1443198881450192908?s=11
---
iRacing Presents 2021 Crandon Championship
Tyler D. Hudson posts the information regarding the iRacing Crandon Pro 4 Championship special event in October 11th to the 17th.
iRacing Presents 2021 Crandon Championship
The Crandon Championship is an iRacing Special Event held at Crandon International Raceway using the Pro 4 Off-Road Racing Trucks.
Date: October 11th – October 17th
Monday through Friday 1 timeslot at 9pm ET each day (01:00 GMT)
Saturday Super Session taking the top 20 in overall points from the race week.
Timeslots – Saturday at 1pm ET (15:00 GMT) and Saturday at 9pm ET (01:00 GMT Sunday)
Track: Crandon International Raceway
License – D 4.0 Dirt Road
Sim Date (Time of Day Setting): October 16th, 2021
Sim Start Time (Time of Day Setting): Noon
Session Formats for ALL nights
Split Sizes of 20
Practice – 5 Minutes (Track 0%)
Qualifying – 7 Minutes, 2 Laps
1, 6 lap heat race, 20 drivers, finishing order determines main race line-up.
3 – Minute Warmup
Feature Race, 10 laps, 20 drivers
Splits By iRating | Saturday top 20 in race week points. Supersession Points Winner = 2021 iRacing Crandon Championship Champion
Good luck & have fun!
https://forums.iracing.com/discussion/9228/iracing-presents-2021-crandon-championship
---
---
iRacing Presents Petit Le Mans powered by VCO
https://twitter.com/iracing/status/1442915638062706688?s=11
Date: October 1-3
Timeslot #1 – Friday 22:00 GMT
Timeslot #1 – Saturday 07:00 GMT
Timeslot #2 – Saturday 12:00 GMT
Timeslot #4 – Saturday 16:00 GMT
https://forums.iracing.com/discussion/7859/iracing-presents-petit-le-mans-powered-by-vco
---
---
MASCAR
Hey Mike
This is John this is the info for my new league. The name of the new league is call MASCAR. We will be doing a Dirt Series that will be starting on the 8 of November. To join there is a $10 fee. We will be running two different cars. We will rotate cars each week. The two cars are the Pro Late Models and the 358 Modified. We will be running fix setups has well. The dirt series will run on Monday nights practice starts at 8:30pm eat. I am working on getting a broadcast to do all 10 weeks. We will also run the Cup Cars next year when the new season starts. We will follow the nascar schedule. These races will be on Thursday nights and also will have a $10 fee. So please check us out I will put the website down below. I did the website myself so not the best but I try
. Anyway thanks for all your help man we appreciate it a lot.
Website- https://mascar2021.wixsite.com/league
Facebook Page- https://www.facebook.com/Mascar-League-100473672386018/
Twitter- @mascar2021
---
---
Podcast Housekeeping
Aftermath Podcast – Get it!
New Website – Leave Comments https://www.iracerslounge.com/
We are now on FACEBOOK PODCASTS!
---
We are in the regular rotation… (Mike)
https://performancemotorsportsnetwork.com/
"OK TONY LETS TALK FANTASY…."
Fantasy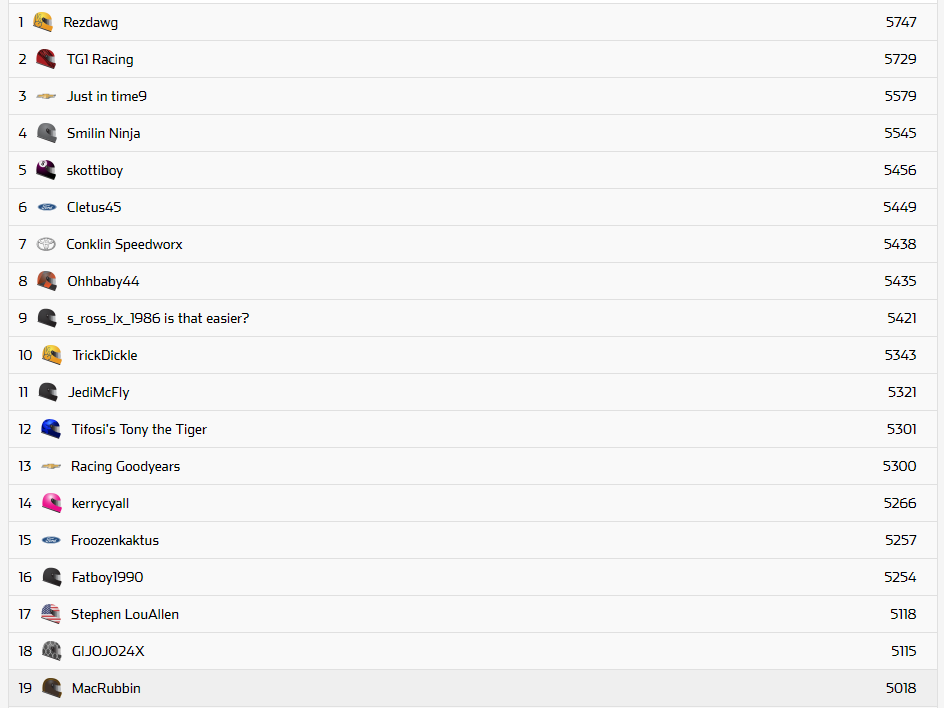 ---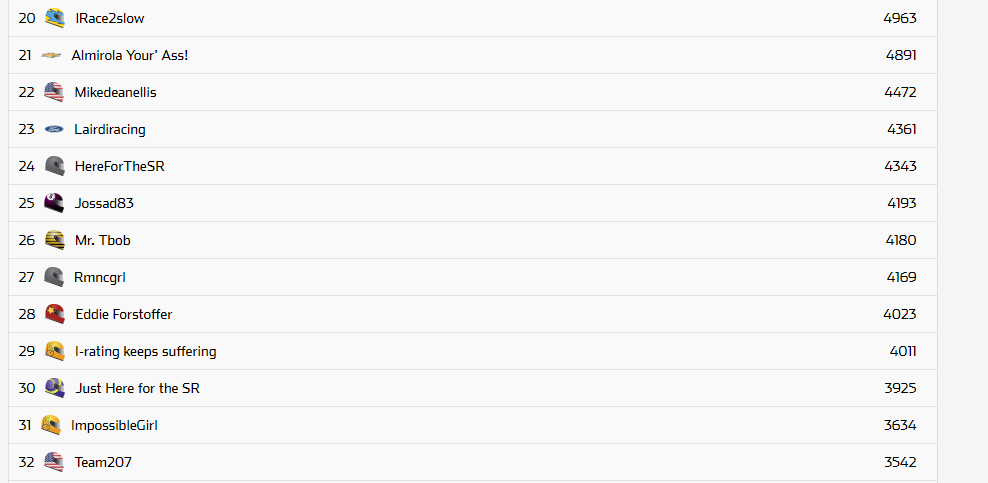 Las Vegas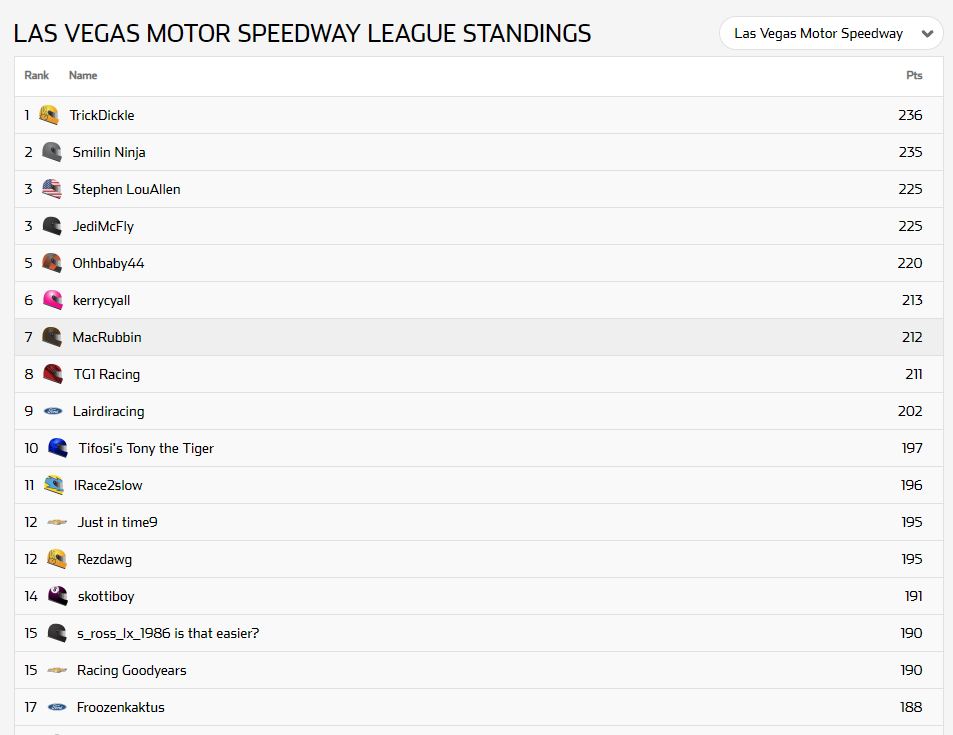 ---
---
Hardware/Software
---
My New Cockpit Build Thread – The iRacers Lounge Edition
Mike Ellis Posts:
I have been around a while and have had the Obutto Revolution cockpit with triple monitor mount, and the MPCC SimPedals inverted, for quite some time now. The triple mount has been bad as the monitors move about if touched. The seat is not quite stable, left side leans back a bit, and the wheel has flex, up and down, not a lot, but I am at the point of I am tired up it, it is time to upgrade.
I thought I would document my journey in this thread, to give people ideas, to see what my thought process is.
As the host of the podcast, iRacers Lounge, we have talked about hardware every week for 6 years, so I feel like I know a lot about what is out there.
First I was seduced by the sleek lines of the iRacing branded Next Level Racing rig. The release of this rig is really what got me going on this project. There was a while, I was dead set on it. But I did my researched, I watched videos, and found the the flex in the wheel area is not much better than what I currently have. I also realized it is overpriced compared to other offerings so I let it go…
Next I looked at Trak Racer 160. Why there, not too sure, teammates have gotten stuff there with success, they are US based, etc… But again, the flex I saw in the wheel on a DD1 mount was more than I want… I was even eyeballing the Advanced Sim Racing rigs with their cool colors, like the royal blue, but same flex as the Trak Racer.s
So, tried and true it is, I have settled on the Sim-Lab's p1x with integrated quad monitor mount. Advanced Sim Racing computer tray, NRG Blue Alcantara seat, with 6 point red harness. 4th monitor, 27″ flat to match my other 3. Videos I have seen of flex being tested with SimLab's DD side mount, it is impressive. A significant amount of less flex then the others I have seen… And SimLab's new magic monitor adjustment thingies, the brand all lines up.
Everything is essentially purchased and en-route and should start arriving this Friday. Still outstanding is how to mount these pedals. My team and I are working a design based on some ideas we got in the forums, basically a rectangle of aluminum extrusion that these cross bars hang off of. I will convert the existing pedal tray into a heal tray basically. There will be a platform above the pedals the computer sits on. Once I figure out the measurements, I have found a local place that can cut and sell me what I need I think to do this part… I understand @Marcus Lindsey has designed this before I have been trying to reach him.
Going to put the whole thing on large casters, with all wiring self contained where you only run a power cord, and a ethernet cable to it. This makes it easier to keep things in the room and the floor clean and tidy.
The chair, well if I am not getting the SimXperience G-Seat, then I will get the best dang seat I can find. The one that caught my eye, and was a reason I had postponed this project for so long, is the one on Max Papis website saying coming soon… Drives me crazy it has been there forever and they just won't put it up for sale. I finally sat down and emailed the company and point blank said take my money. They indicated it is not for sale and no ETA…
My heart was set on that look, but I have to move on. I did an extensive search but seemed to always end back with NRG seats due to the lower price then other real racing seats. I narrowed it down to two. The white one, is their new 'SIM' seat, not sure what makes it sim, but it looks nice. The blue alcantara one, was my gut reaction pick, and I ended up getting the blue alcantara with marbled base chair with a NRG Seat Slider.
Of course with the color I want red belts to hold me down so I don't flop around like a fish… Again, tons of research and ended up with some of the most expensive ones they got. I like the yellow loops and black pull down straps…
And I got a 4th monitor for above the triples, went with same brand and size, flat, as my current monitors…
That's it for now, everything has been purchased that can be, I still need parts to build a mount for the pedals, but feeling good about the direction of this build as well as the overall look it will have!
I will follow up this post with build pictures as I go through it.
https://forums.iracing.com/discussion/9126/my-new-cockpit-build-thread-the-iracers-lounge-edition/p1?new=1
Today's update, well I did hear from @Marcus Lindsey about his design to mount the pedals, thank you Marcus! And he did let me know he kept it simple for his build it was just 12 inch 40×40 from McMasterCarr basically.
So ordered 4 12″ aluminum extrusions 40×40.
2 24″ long ones – This is what is different the what Marcus did, these will be the uprights for the brake 'rectangle' nearest monitors, and the computer table will afix to it above the brakes.
8 endcaps, 4 Shaft Collars, 4 Bearing Housings, some dropin spring loaded ball nut (m8), and m8 bolts. The corner gussets were like 10 each I am like no freaking way, so I ordered those separately from Amazon. Along with some zip ties, and canned air for the computer.
I do believe this completes the purchasing except for wiring, wiring management type stuff if needed. I thought about getting mounted power strips but I am first going to try to use what I have…
I still will want to get a button box but I am not going to think about that until the build is done, so I can determine where and how big…
As for deliveries I got the 5″ caster wheels today via amazon, first item, starting from the ground up as they say… Has 4 wholes and I ask my bud Tony, how did you mount these? He says just 2 fasteners, but use the diagonal holes right on the very corners of the rig. (2 of the 4)…
And so it begins stuff it started to arrive I got the McMaster Carr order the parts for the pedal mount. I cheaper out on the corner brackets and got them on Amazon and the little tabs won't break off like I've seen in the videos ugh.
Then I got the fourth monitor of the triples.
I was also surprised to get an email from UPS asking for $54 in import fees. I don't think I was expecting this I never saw anything on the grid engineering say about it… Surprise!
---
---
ASR 1 Cockpit Review Part 1 "The Build"
Barry Rowland reviews the Advanced Sim Racing ASR 1 profile cockpit
https://www.youtube.com/watch?v=3GfgVf7VBfw
---
---
Pimax 8KX Review!
Karl Gosling reviews the Pimax 8KX on his Youtube Channel
https://www.youtube.com/watch?v=C5FOnf-Mt6w&feature=youtu.be
---
---
P1Sim Eau Rouge
Sim Solutions Designs offers it's $970 P1 Sim Eau Rouge Formula Wheel
https://www.instagram.com/p/CURH2SHtC81/?utm_medium=share_sheet
https://www.simsolutiondesigns.com/store/p_2705767/p1sim-eau-rouge-wheel
---
---
Carvangoes Pedals
After three years and a thousand hours of development Carvangoes is ready to offer their new load cell pedal system
https://www.instagram.com/p/CUSo3kANCgq/?utm_medium=share_sheet
https://www.instagram.com/p/CUXdOZrtno9/?utm_medium=share_sheet
---
---
Lusomotors
Lusomotors unveils their first images of their sim rig prototype
https://www.instagram.com/p/CUSiNKytWng/?utm_medium=share_sheet
---
---
Best Buy GPU restock rumoured for Nvidia RTX 30-series Founders Editions this Friday
Nvidia is rumored to having a resupply at Best Buy stores this Friday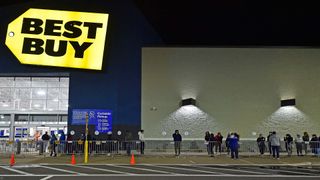 https://www.pcgamer.com/best-buy-gpu-restock-rumoured-for-nvidia-rtx-30-series-founders-edition-this-week/
---
---
Results
NASCAR iRacing Series
Fri open: Vegas
Ellis – p10 – Was minorly involved in an early wreck but very little damage – Had another deal where out of 4 i came up into a guy – man i feel bad about that. – then gf stops – caution came 13 later i cycled to lead – couldnt hold it though and fell back, another gf run later made it back to top 10 – i will take it
Hall – P wrecked, a car starts blinking and the turned up and just puts me in the wall. 5 bad NIS outings in a row now
Sunday Open

Rochette- P8 Back from a nice vacation in the wilderness, ran wrong steering Ratio and absolutely sucked in turning. Also for giggles ran HDR in VR and that sun over the front stretch almost wrecked a couple of times

Hall – p 20 only caution was lap 1, late in first run I got myself loose and had to go through the grass to prevent a major accident. That caused me to the loose the draft, and then long run speed just didn't seem to be there this time. At least the wrecked out streak is over.
Tom D – p6. Still getting into the swing of things. One caution after green flag stops. I'll take a top 10
Sunday fixed

Tyler – P-idoit. Apparently the engine blows up if you go from 3rd to 2nd. DNF as I gernaded myself while getting the wave around under caution. On to DEGA!
Wed Open:

Hall –p7, recovered after an unlucky restart where another guy that started at the front seemed to want to drop back, caught me out 3 wide and just had to fall to back. But even with nose damage on the green flag stop, managed to climb back up to 7th with a small pack that worked well together.
Ellis – p1 – We come into this race not really knowing what set we have or don't have, no practice… Single file goodness the whole way through with literally no racing. The outcome of the race was based on fuel mileage. Tom and I were 1 short going into the final stop, even though Tony had 1 more than us. They blew pit entry so I was great I am on my own. I had a good get away, and got in front of a couple of cars. We pulled out and a pair that pitted prior came blowing by and I slotted into third the rest of the way home. About 4 to go they peeled off, but I was lucky to just catch a lap car and i kept him in front of me so I could continue to save. Still a guy behind me that could make it and he had help from a lapper too, but they never got a good run and the track position paid off, i couldn't even make the donuts as I ran out on the backstretch. My 77th career win, I win both Tally's this year, Richmond, and the Southern 500.

Kyle P – **P1** Started out 12th and just slowly worked my way through the field. Rand top 10 all night and once we started getting down to the end. I decided to push a little harder. Final restart was with 2 to go and i was sitting 3rd and knew i had to get the jump on 2nd. Did that and just hung on the back bumper of 1st until 1 to go coming out of Turn 2 i backed off a second and caught a big draft and had 3rd on my bumper and got pushed into 3 with the lead and had to defend out of 4 and won the race by .018 of a second. My first ever NIS win. Feels like I wont the real race.
Rochette P14 -I Rochette'd pit road @Tom Dreiling followed me… dont follow me, I wasnt watching my speed entering and braked too late
Rochette P7 missed a few good wreckes but got alittle right front damage that hindered me a bit on the last long run
---
---
Official Series
A Open

Scales – P1 Got a win racing a late night/early morning practice race Sunday night for Mondays race. I was the 3 car in a single split race. Normally there's a Rachel Hunt or some other alien to ruin my day, but I caught them sleeping and snuck one in.
---
---
League / Hosted Races
FastTrack Sim Racing League –
David – p4 4th place speed
Mike – pwrecked out in first caution
Tony- Pwrecked in the same wreck that Mike and Adam were in
Stephen –
Scales-P6- Great, clean, race other than an early caution. I tried hard to run down Jeff Marble for a top 5. I ran him down on old tires, but I couldn't get around him. I was happy just to be able to run him down. He blew my doors off on the second stint. I sucked in the mid area of the race. It was a blast getting to race with my teamates. HUGE thanks to Jeff for letting me drop in on the chase. Also, I didn't wreck Rochette this time! Win!
OBRL ARCA Series

Brian Nashville SS P24 Blinded by a menu
OBRL Aftermath Truck Series Talladega
1.Andrew Hess
2.Dwayne Mcarthur
3.Al Turner
Brian P22 Crashed with one to go in the top 8 three wide. I drifted up into the high line and with a little netcode help turned the car above me.
---
---
Final Thoughts
---
---
Words Spoken in Closing Audio Clip -""Thank you for listening to the iRacers Lounge podcast make sure to go subscribe to us on iTunes, SoundCloud, or Google Play, Facebook & Twitter, See You On The Track ."
TITLE IDEAS
Gen 6 Whimpers Away
.
.
Description
On the show today, we review the penultimate round of the NASCAR iRacing Coke Series Championship and find out who makes the final four for the championship race at Texas. And in hardware, Mike will review all of his final choices for his big time rig upgrade and much more. So strap in and try to keep up with us on the iRacers Lounge Podcast.
iRacers Lounge Podcast is available on iTunes and Apple's Podcasts app, Stitcher, TuneIn, Google Play Music, Spotify, Soundcloud, Podbean, Spreaker, Podbay, PodFanatic, Overcast, Amazon, and other podcast players.
Sponsors:
www.grid-finder.com
Hosts:
Mike Ellis – twitter.com/MikeDeanEllis
Tony Groves – www.twitch.tv/SirGroves
Chris Scales – twitter.com/JediMcfly
David Hall – www.twitch.tv/mixmage
Greg Hecktus – twitter.com/froozenkaktus – www.twitch.tv/froozenkaktus
Tony Rochette – twitter.com/TonyRochette
Adam Josselyn- twitter.com/Jossad83
Brian Maccubbin – www.twitch.tv/MacRubbinsRacin
Tom Dreiling –
Kyle Pendygraft – twitter.com/LoudPedalGaming
Links:
Old Show Notes – bit.ly/2CFeArM
Facebook – www.facebook.com/iRacersLounge/
Twitter – twitter.com/iracerslounge
Instagram – instagram.com/iracersloungepodcast/
Web (New Show Notes) – iracerslounge.com/