1/20/2022 – Sim Cabin – Episode 0314
iRacers Lounge Podcast – Conversation Topics
Brought to you by:

Opening Audio Clip -"Your listening to the iRacers Lounge Podcast where we discuss everything iRacing, in a casual setting, enjoy."`
READ THIS AT THE TOP OF EACH SHOW!!!
Welcome to the iRacer's Lounge, I am your host "XXX". iRacer's Lounge is a podcast for the iRacer, where we talk all things iRacing in a casual setting.
Joining me are the usual characters, ————
---
---
Show Introduction
On the show tonight, more Coke Series Drivers find their homes for the season, including a driver return to the Joe Gibbs team. Will iRacing scan some of the most iconic cars in the history of Nascar and we review this weeks wild World of Outlaws race at Faibury.
And remember you can follow along with us on your PC or mobile device in real time as you listen to the show and see for yourself all of the great topics and products we'll discuss by visiting iracerslounge.com and selecting show notes. Hope to see you there..
---
---
TITLE SPONSOR READ:
SimCoaches offers the realistic sim racing equipment you need to win more races online…. It is designed for real racers… Hydraulic construction makes them feel just like the real thing. High-Quality Construction, 100% Leak Proof, and Lifetime Warranty are the key features with these pedals. And, they look absolutely amazing… Check out simcoaches.com and use the coupon code IRACERSLOUNGE to get 5% off your purchase. Simcoaches.com is your ticket to feel like your actually sitting behind the wheel of a car. Drive harder and stay on the limit longer…
https://simcoaches.com/?fbclid=IwAR1pJASM3C_nV3wFACEHJrHitf8TOQWro4yp-Etaio1zU8Enbojap2Xff5w
---
---
Special Guest
Guest Name
General Questions:
What brought you to iRacing and how did you hear about it?
Which series do you normally run?
What type of hardware do you use? (Wheels, Pedals, ect.)
Software

What gear did you use when you first started iRacing?

Do you run Monitors or VR?

How many monitors?
What VR headset are you running?

Are you part of a team?
Do you participate in any leagues or is it just official racing?
What is your most memorable iRacing moment?
Guest Specific Questions:
---
---
Topics
---
---
Coke Series Update
More Coke Series drivers announcements this week starting with Williams eSports signing Vicente Salas and Donovan Strauss
https://twitter.com/williamsesports/status/1482065043269341193?s=11
William Byron eSports returns with the same lineup as last year with past series champion Nick Ottinger and final 4 driver from last year Logan Clampitt
https://twitter.com/wbesports_/status/1482092750082347011?s=11
Xset returns to the series with past champion Ryan Luza and fan favorite Casey Kirwan
https://twitter.com/xset/status/1483501521786580996?s=11
The newly named eRacer.gg team announced the signing of drivers Darik Bourdeau and Collin Bowden
https://twitter.com/eracr_gg/status/1483550280251813893?s=11
Joe Gibbs comes out of the box strong with Ray Alfalla and a return to the number 18 Interstate Batteries car Bobby Zalenski
https://twitter.com/joegibbsracing/status/1483598149415587842?s=11
---
---
Holy Shitballs Batman
Petty's Garage posted on their facebook page that Petty Motorsports has pulled down their iconic Richard Petty Stock cars, including the '71 Plymouth Roadrunner and '74 Dodge Charger, and wrote, "Alright iRacing, we pulled these out of the Petty Museum for you, come work your magic! There's a lot of people out there that would love to sit in the same seat as Richard Petty and blast through the tri-oval at Daytona…"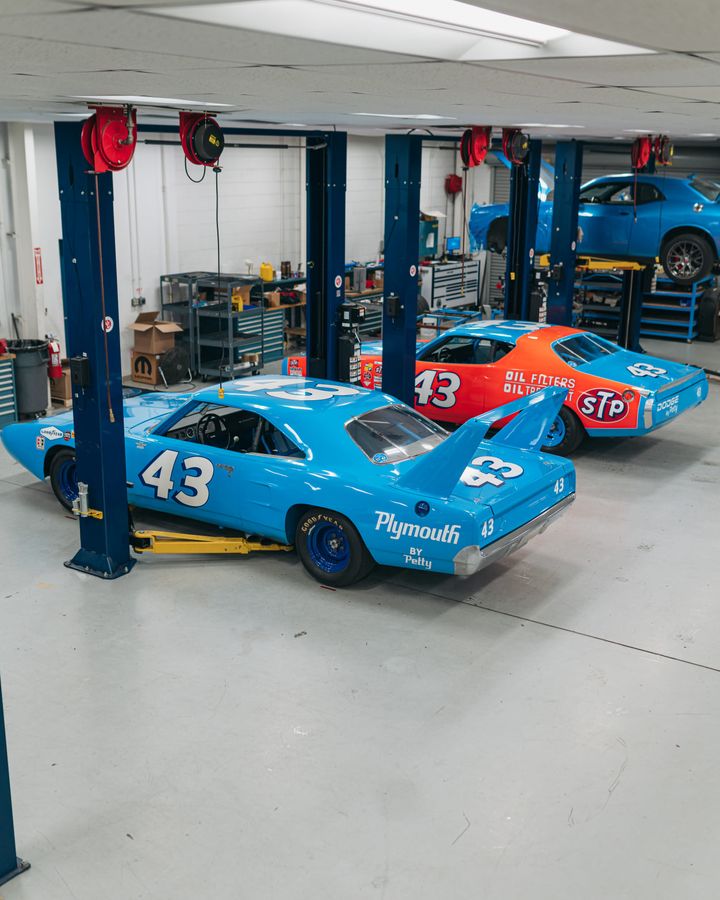 https://www.facebook.com/382265150160/posts/10166226694780161/?d=n
---
---
Winner winner, chicken dinner
Maarten van Loozenoord won the Logitech G challenge EMEA Open Wheel Championship
https://twitter.com/r8g_maarten/status/1482729187941171204?s=11
---
---
iRacing Top 10 Highlights – December 2021
iRacing posted the top 10 highlights for December 2021 on their YouTube channel
https://www.youtube.com/watch?v=rTAzzN2_nR4
---
---
iRacing To Add Multiple Dirt Tracks
iRacing announced multiple dirt tracks that will be added to the service including the Federated Auto Parts Raceway at I-55 to be followed later in the year by Wheatland, Missouri's Lucas Oil Speedway and Pennsylvania's Port Royal Speedway. Announcements on multiple additional dirt ovals set to join iRacing will be made in the coming months. Alongside the upcoming dirt oval releases, Lucas Oil Speedway's off-road track will also join the iRacing service in a future build.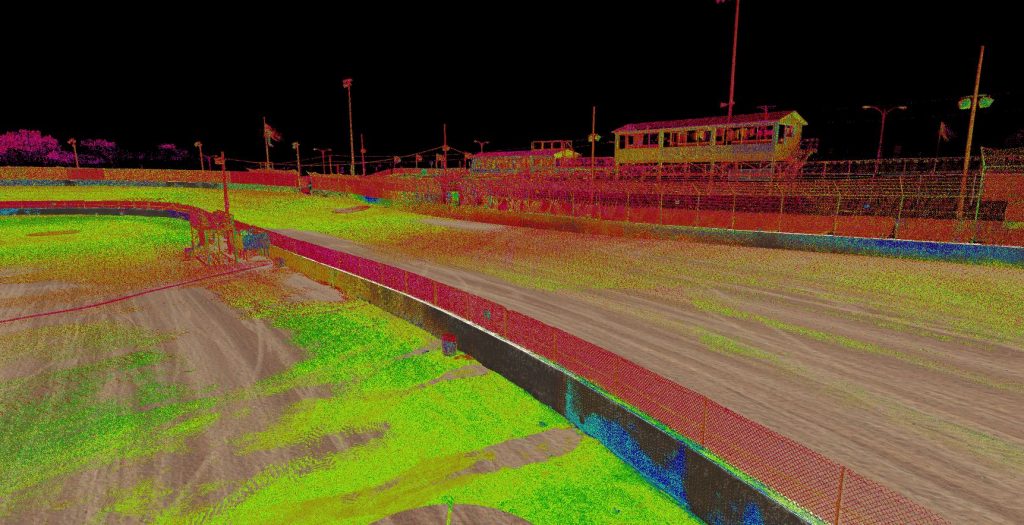 https://www.iracing.com/iracing-to-add-multiple-dirt-tracks-in-coming-builds/
---
---
TikTok ProTips
Callum Races posted on their TiKToc page a guide of how to use RaceLabs in order to see which car might be the quickest in multiclass sessions
https://www.tiktok.com/@callumraces/video/7053043369412545798
---
---
iRacing > rFactor2
Maxime Brient Tweeted that his team was kicked off th4 server in rFactors 2's Virtual Le Mans Series in his opinion proving "why iRacing remains the best sim"
https://twitter.com/maxdaytona/status/1482691546935926792?s=11
---
---
Sending Well Wishes
YouTube Streamer Annie Rabbets posted an emotional video describing her health issues over the past 12 years as she battled an undiagnosed case on Endometriosis.
https://www.youtube.com/watch?v=Ldmb5SVw4t8
---
---
WoO SprintCars
The Nos Energy Drink World of Outlaws Sprint Car Series competed at the 1/4 mile track at Fairbury Speed way on Monday night with an insane night of racing. Evan Seay was fast qualifier and went on to win the first heat of the night, collecting the pole position for the feature event.
Alex Bergeron started side by side in row number 2 with rival Hayden Cardwell in the second heat. Cardwell took the lead in the heat ripping the high line, but made a rare mistake hitting the wall and crashing out of the race with Bergeron finishing second.
Cameron Merryman who started the race second, just 8 points behind Bergeron, also finished second in his heat meaning they both would start near each other in the feature.
Alex Bergeron had a great start from row 3 and was in third place and hunting down the leaders when a caution came out on lap 9. While pacing before returning to green Bergeron loses internet connection, and would finish P16, 15 laps down leaving, a huge opportunity for Merryman.
Merryman takes huge advantage of Bergeron's misfortune by taking the race lead. He maintained a comfortable lead going into the final laps of the race. Merryman was in turn 4 coming to the white flag when he inexplicably hits the wall and crashes out of the race.
Polesitter Evan Seay takes advantage of all of the carnage and takes his second win of his rookie season. After all shakes out, Merriman finishes 2 places ahead of Bergeron allowing Alex to hold a narrow 4 point lead into week nine at another bullring, Weedsport Speedway.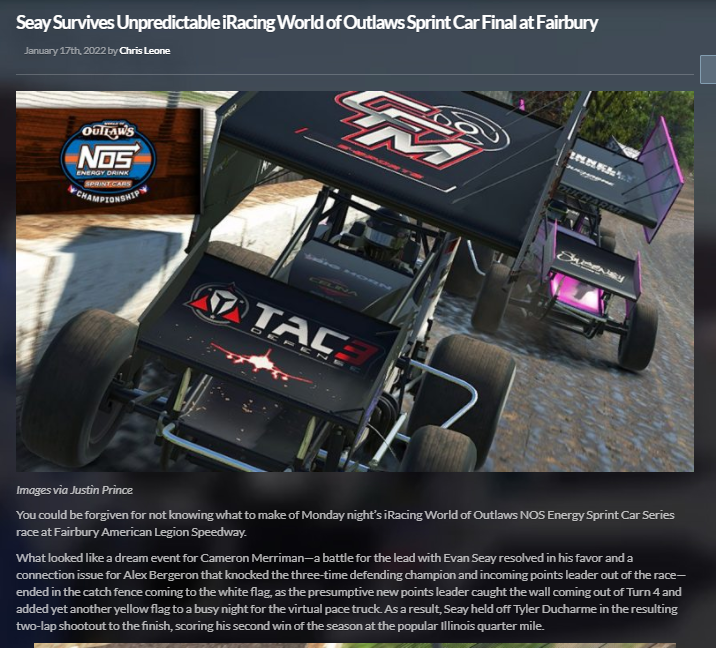 https://twitter.com/justinpsports/status/1483270941056634885?s=11
---
---
iRacing at the Chili Bowl
Christopher Bell falls one position short of winning his fourth Chili Bowl Nationals in his iRacing Midget behind Tanner Thorson in last weekend's event.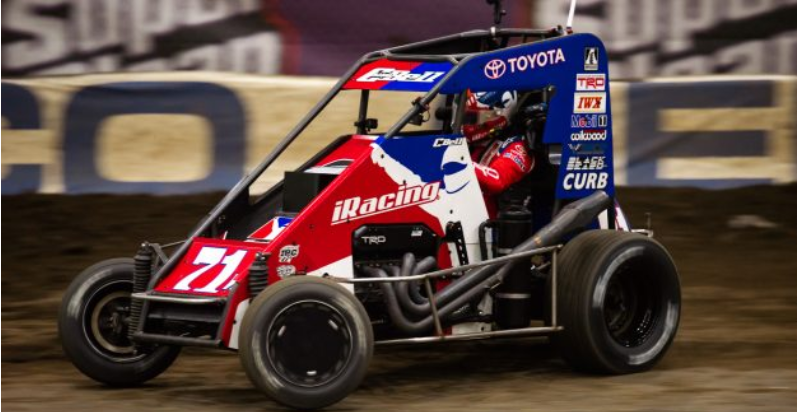 https://www.chilibowl.com/news/?i=103221
---
---
2022 eNASCAR iRacing Road to Pro Qualifying Series
iRacing announced the schedule and details of the 2022 eNascar Road to Pro Qualifying Series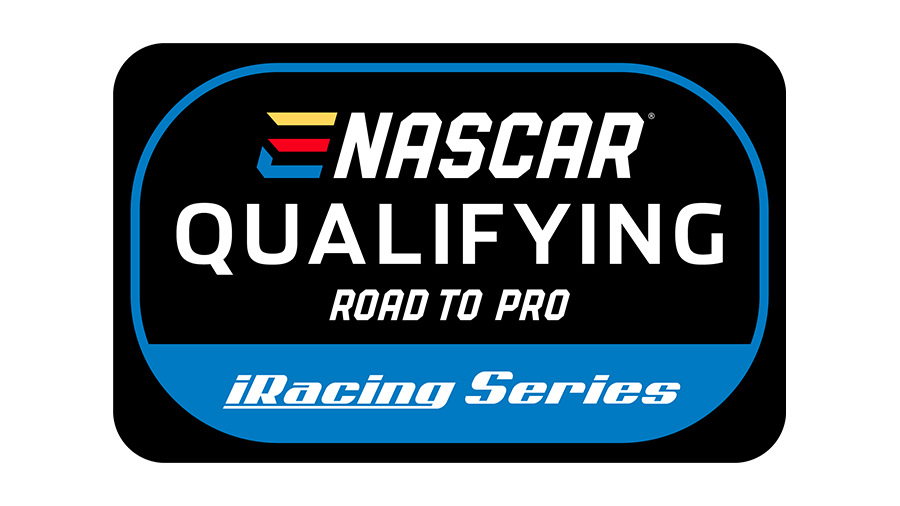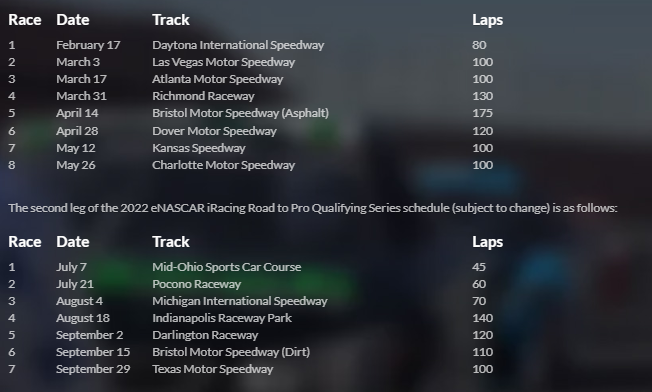 https://www.iracing.com/2022-enascar-iracing-road-to-pro-series-schedule-announced/
---
---
Nascar Director of Gaming and eSports
Nascar has a job posting on their website looking for a Director of Gaming and eSports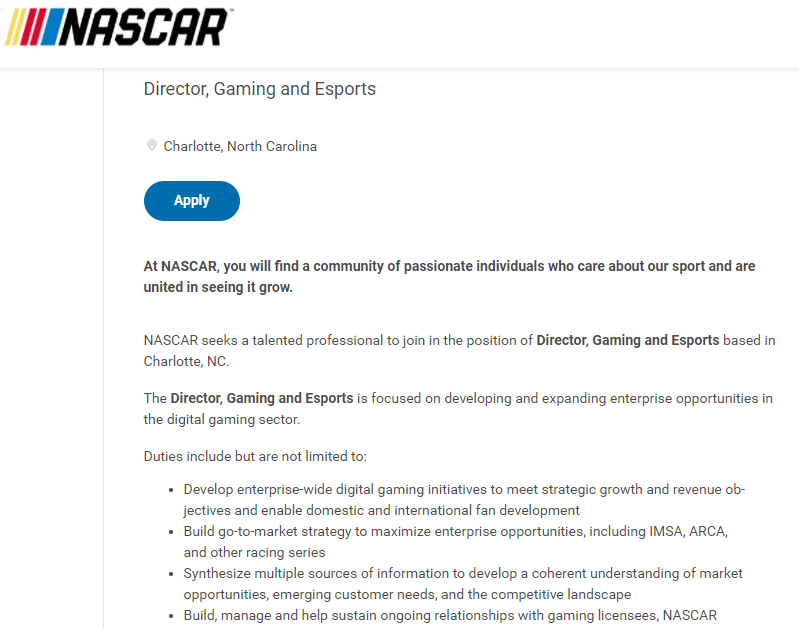 https://nascar.wd1.myworkdayjobs.com/en-US/NASCAR/job/Charlotte-North-Carolina/Director–Gaming-and-Esports_JR10900?fbclid=IwAR3jyEbVgK-5kNeqBM2Rq-oPkdttUsQeFv3fTuxcNw-hH6cxET2wKyF6SJc
---
---
Prelude to the Daytona 500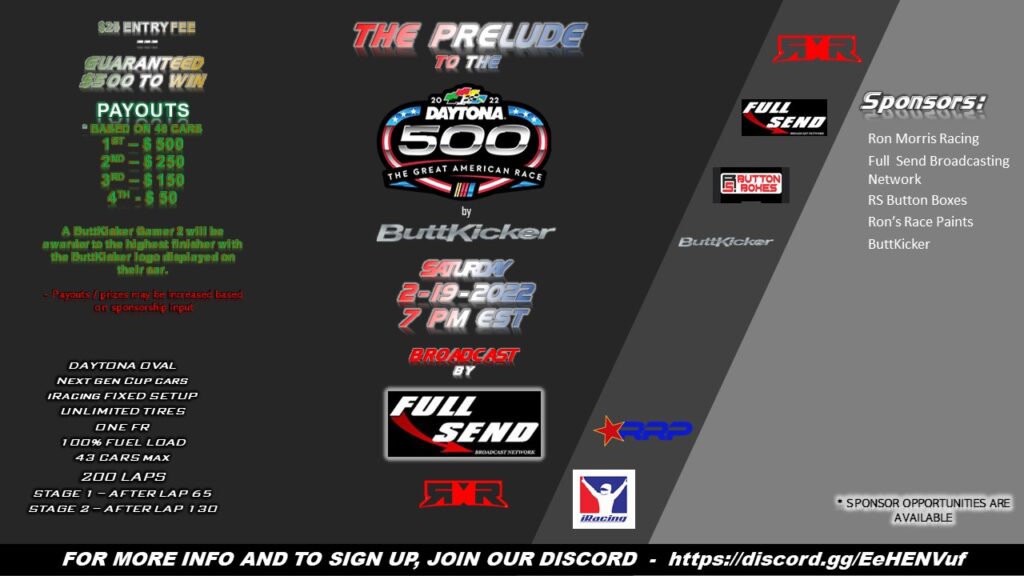 ---
---
2022 iRacing Daytona 24 – Broadcast Information
RaceSpot TV is proud to be broadcasting the Saturday 12:00 GMT top split of the 2022 iRacing Daytona 24!
BROADCAST INFORMATION
Coverage takes place on Saturday 12:20 PM GMT on iRacingLive and RaceSpot TV.
Live Timing & Scoring will be available at racespot.tv/timing.
You can also stay in touch with us through our Discord server.
Join the conversation on Twitter using #iRacingDaytona24
https://forums.iracing.com/discussion/16054/2022-iracing-daytona-24-broadcast-information
---
---
Drag Racing on iRacing
Robby Swan III explained how they do drag racing on iRacing.
include whatever information you like, but I should explain how exactly we did drag racing on iRacing. We did an open practice at Sonoma, using the drag strip. The car choices were 87 cup cars or Asphalt Legends. We have pre-registration to ensure an even bracket. Every admin spammed "clear all penalties" so drivers could do a U turn out of pit road. People waited in the "parking lot" area in between pit road entrance and pit road. I controlled the bracket, called drivers to the line, and called whoever is next to the staging area(little behind the start line). It was my job to watch an overhead camera of the start line, directing drivers how to line up evenly. Another admin named Max Wong was parked between both lanes in an LMP2 car. I called out "live on the lights" then 3-5 seconds later max would flash the headlights of the LMP22 car to signal the start of the race. James Batzer is the gentleman who runs MDiTV, he will be broadcasting every event.Every class is put in a bracket, everything is single elimination until its down to the last two. Then the final two guys do best 2 out of 3.
This first event went super well. Almost everyone who participated asked when the next event would be, and many watching commented asking how they could enter the next one. So we're looking to keep this going and do every other sunday at 9pm. Going to stick with the two car classes until we start really growing, would love to soon add a third division. I think this could really gain steam and catch iracings attention if it grows popular enough. Maybe one day we will see a drag racing configuration at Sonoma. Or even a proper drag car/strip and official races added to the sim! Also were working on sponsors, hopefully will be able to offer payouts to class winners.
People should follow the MDiTV Facebook page and/or join the MDiTV discord for upcoming announcements on drag racing events
I hope to see your names registered for the next one. Thank you for helping promote this with your podcast. I really appreciate it guys. Keep killing it.
---
---
Podium 500
The Podium 500 returns with the next gen cars on Feb 13th
https://twitter.com/podiumesports/status/1479815153076084740?s=11
---
---
OBRL Metro Cup
The OBRL is gearing up for their Metro Ford 40 week cup series starting in February. They've added two new sponsors, KIMBOWL and Victory Lane Sports to help make it possible for a $3000 prize pool for the season . There's the Manufacturers Cup ( $500 ) – Top 10 positions Payout ( $1500) – Safety First Award 8 Positions paid ( $700 ) – Hard Charger Award ( 10$ per race for positions gained ) – Rookie of the Year ( $100) – Ride the pole Award ( 100) . The winner of the safety award pays almost the same as winning the championship which is a really cool message. And if you like seeing your car in a TV style show, they're singed up for a full year with their broadcasting partner Team Goon Squad.
---
---
Podcast Housekeeping
Aftermath Podcast – Get it!
Submitted to Speedsport Podcast Network to see if we can get added there… https://www.speedsport.com/podcasts/
New Website – Leave Comments https://www.iracerslounge.com/
Discord: https://discord.gg/fEmQ2Awaps
---
We are in the regular rotation… (Mike)
https://performancemotorsportsnetwork.com/
---
---
Hardware/Software
---
Thrustmaster Direct Drive
Thrustmaster's new Direct Drive wheelbase details emerge in the first in a series of Twitter announcements. First was that all of the add-ons will be compatible with their DD wheel base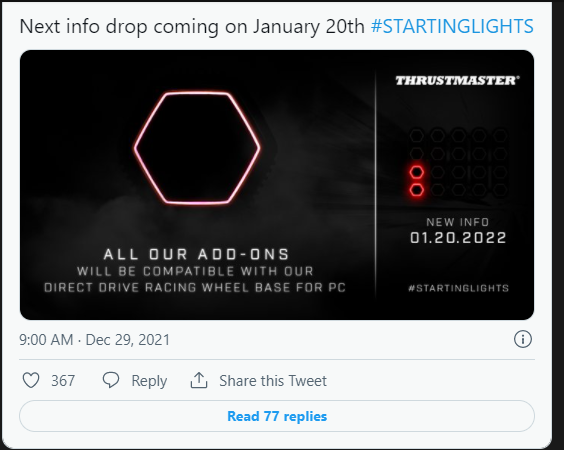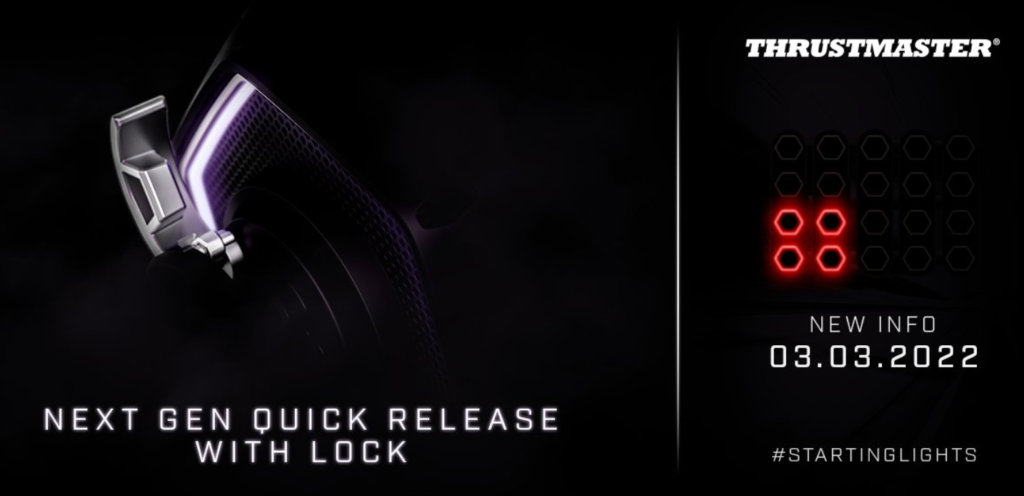 https://traxion.gg/thrustmaster-direct-drive-racing-wheel-base-details-emerge-in-new-startinglights-campaign/
https://www.gtplanet.net/thrustmaster-teases-direct-drive-wheel-20211229/
---
---
iRacingAssistant : Gary Tall's App
Gary Tall posted i the forums a link to his App that's primary function is to ensure iRacing is started with the graphics, black box positions, reference lap and button bindings for the car I want to drive together with the support programs I want for that car (e.g. Crewchief, iSpeed, JRT etc)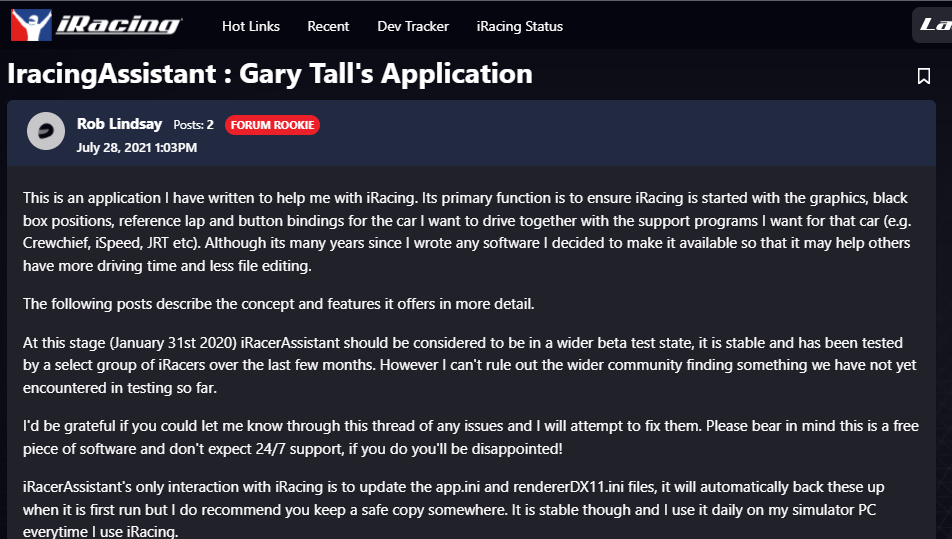 https://forums.iracing.com/discussion/4994/iracingassistant-gary-talls-application#latest
---
---
Drive-X
It brings you a sense of exhilaration like sitting in a cockpit of an actual Racing car.
The simulator is beautiful with a streamlined body and Electric actuators accurately replicate the vehicle behavior.
https://www.instagram.com/drivex_sim/p/CYaKdXmvxb-/?utm_medium=share_sheet
https://drivex-sim.com/en/top-en/
---
---
Sim Cabin
John Watts posted pictures of his 'VR and Sim Racing Cabin'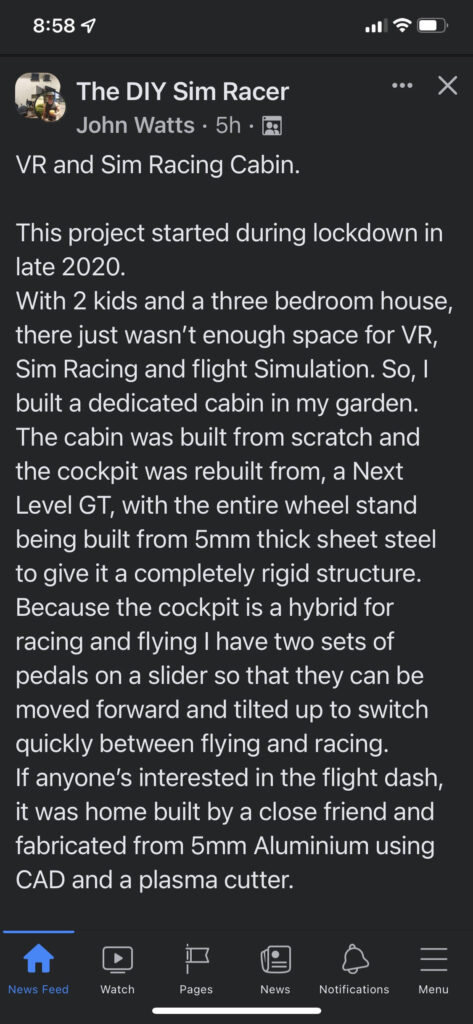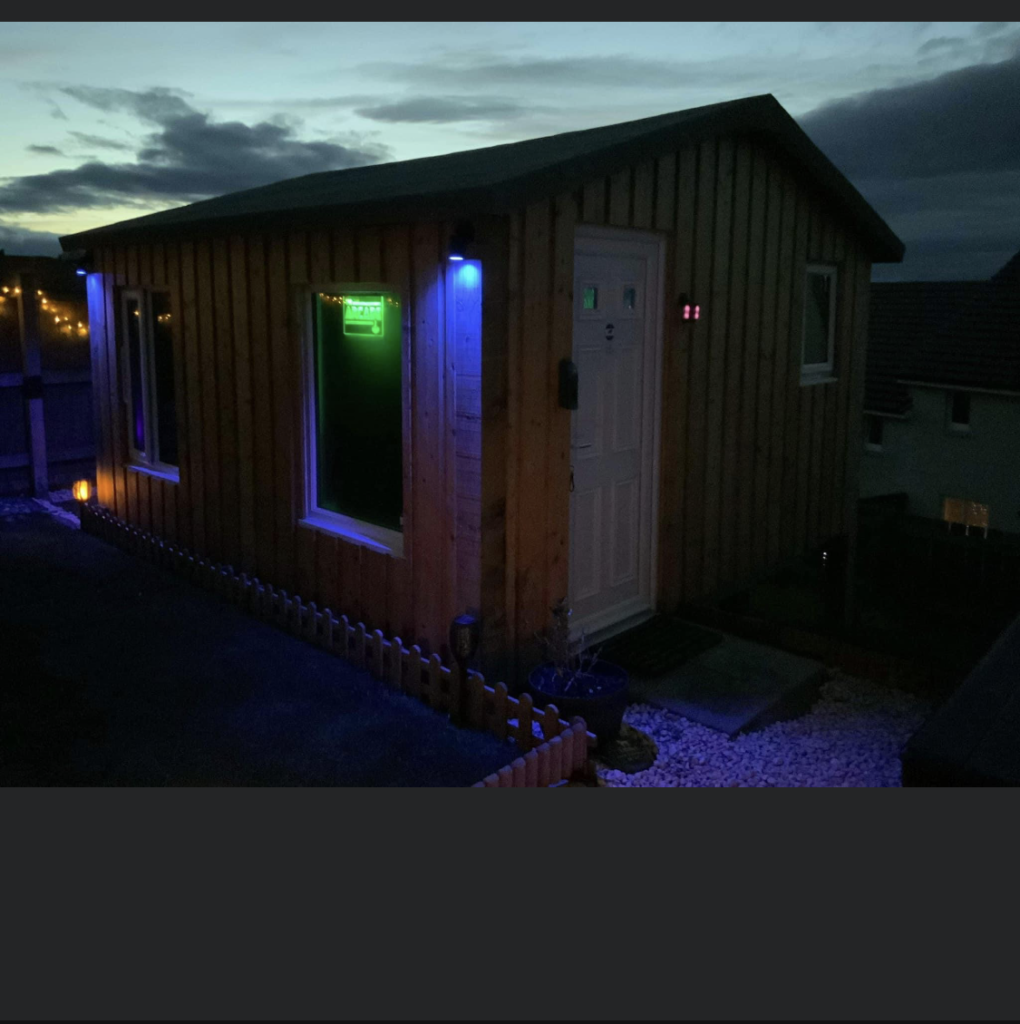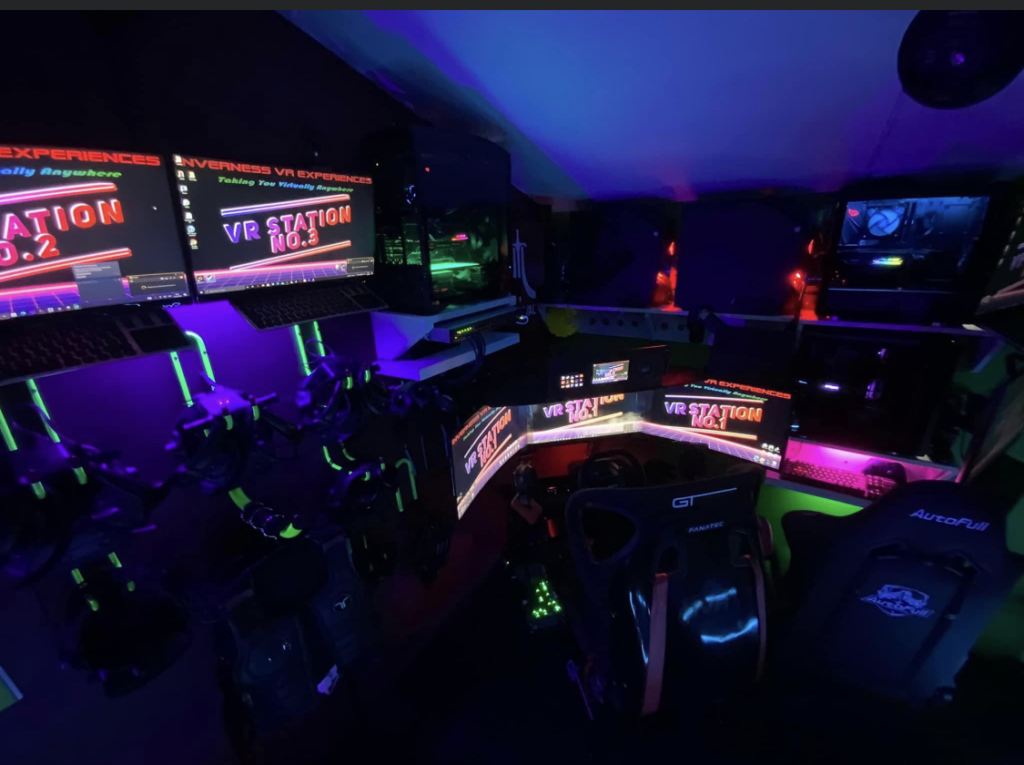 ---
---
HUGE GPU Price DROP Coming in 2022?
PC Builder speculates pricing for GPU's in the upcoming year.
https://www.youtube.com/watch?v=MgmsB8fWyes
---
---
Rexing GT TIMUN wheel
Rexing Steering Wheels released their new TIMUN GT Wheel.
https://www.instagram.com/p/CYJSoqqNcZr/?utm_medium=share_sheet
https://rexing.eu/rexing-gt-wheel-timun/
---
---
Windowed borderless
I think I have this correct and still couldn't comprehend all this windowed mode, windowed borderless, full screen to windowed but not back to full screen with active app focus. Anyway no one has been able to answer this for me. Lets say I'm in Windowed borderless that appears to be full screen but want to access another app and then return. Can someone please tell me what buttons to hit to get it to go back and forth. I'm new to PC gaming. Alt+Tab Alt+Enter ? Both, only one? It's very frustrating.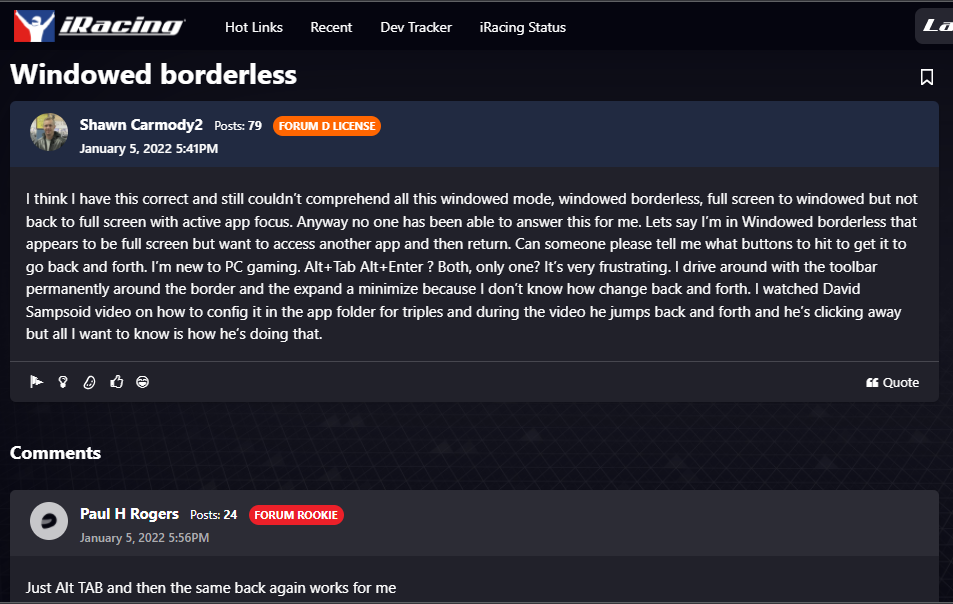 https://forums.iracing.com/discussion/15209/windowed-borderless#latest
---
---
DIY RUMBLE PEDALS
AMStudio posted a YouTube video of DIY instructions for rumble pedals for Logitech, or any other pedals
---
---
Ex-Rimac Engineer Built His Own Simulator!!
Misha Charoudin, an ex-Rimac Engineer posted a video on his YouTube channel of his own motion racing sim
https://www.youtube.com/watch?v=QC48eiXM0W0
---
---
The Fanatec CSL DD Meets The Hype — But There's A Catch
Jalopnik reviewed on their website the Fanatec CSL DD wheel base mentioning that it meets the hype, but with a catch that the 8NM upgrade is strongly recommended.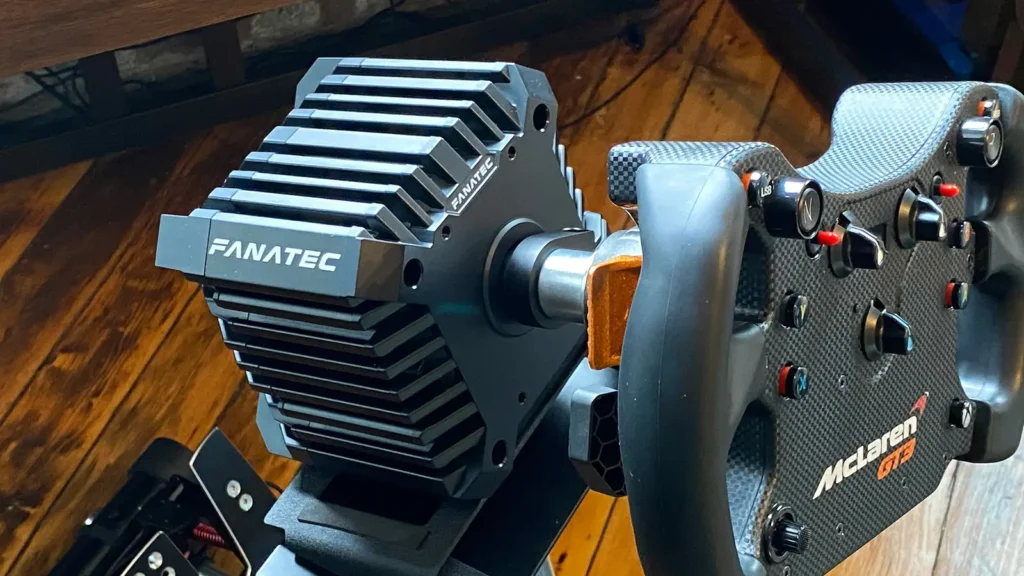 https://jalopnik.com/the-fanatec-csl-dd-meets-the-hype-but-theres-a-catch-1848338523
---
---
Results
---
---
Official Series
Ellis – Carb cup –
Delara – at Texas P3.
IMSA

Ellis – p22 – Had error code 1 while loading in at the 90% mark 3 times. I ended up rebooting and getting in with 30 seconds left on grid – moved from p24 up to 13th but on lap 7 hit the curb coming out of the busstop and spun it – now in the back – i ended up spinning a second time off of the curb but never wrecked the car… fastest lap 145.6
Hall – P1 at Watkins Glen
---
---
League / Hosted Races
Winter League

Ellis – p15- First Ron took it easy didn't try to pass a single car in an attempt to save tires yet failed miserably and fell to P 30 dead last by the end of the first run eventually caught a caution got a wave around and back on the lead lap. With attrition I got a nice respectable finish of 15th.
Hall – p 10, a late caution hurt my cause, but a lot of people late had trouble, kind of balancing it out. After the first 20 laps on the last run couldn't pass a sole underneath. Will not miss this package.
Man Cave After Dark Thursday Night Truck League

Mike – Quit the race at halfway running dead last I couldn't get the truck to turn it was super tight at New Hampshire
Hosted – Ellis

Ran Kia Optima at several super speedways then we ran the 87 at Talledega and I won!
Then gen 5 no plate at tally. Most powerful fendered car on the service
Then Indy at Michigan p4.
OBRL ARCA Series

Brian-Watkins Glen expected cup, but got the boot P7
OBRL Aftermath Truck Series
---
---
Final Thoughts
---
---
Words Spoken in Closing Audio Clip -""Thank you for listening to the iRacers Lounge podcast make sure to go subscribe to us on iTunes, SoundCloud, or Google Play, Facebook & Twitter, See You On The Track ."
TITLE
Sim Cabin
Description
On the show tonight, more Coke Series Drivers find their homes for the season, including a driver return to the Joe Gibbs team. Will iRacing scan some of the most iconic cars in the history of Nascar and we review this weeks wild World of Outlaws race at Faibury. So sit back, relax and join us on the iRacers Lounge Podcast.
iRacers Lounge Podcast is available on iTunes and Apple's Podcasts app, Stitcher, TuneIn, Google Play Music, Spotify, Soundcloud, Podbean, Spreaker, Podbay, PodFanatic, Overcast, Amazon, and other podcast players.
Sponsors:
Hosts:
Mike Ellis – twitter.com/MikeDeanEllis
David Hall – www.twitch.tv/mixmage
Greg Hecktus – twitter.com/froozenkaktus – www.twitch.tv/froozenkaktus
Brian Maccubbin – www.twitch.tv/MacRubbinsRacin
Kyle Pendygraft – twitter.com/LoudPedalGaming
Tony Groves – www.twitch.tv/SirGroves
Adam Josselyn- twitter.com/Jossad83
Chris Scales – twitter.com/JediMcfly
Tony Rochette – twitter.com/TonyRochette
Tom Dreiling –
Links:
Old Show Notes – bit.ly/2CFeArM
Facebook – www.facebook.com/iRacersLounge/
Twitter – twitter.com/iracerslounge
Instagram – instagram.com/iracersloungepodcast/
Web (New Show Notes) – iracerslounge.com/