3/30/2023 – Smilin' Like I'm Stoned – Episode 0376

iRacers Lounge Podcast – Conversation Topics
---
---
Opening Audio Clip -"Your listening to the iRacers Lounge Podcast where we discuss everything iRacing, in a casual setting, enjoy."
READ THIS AT THE TOP OF EACH SHOW!!!
Welcome to the iRacer's Lounge, I am your host "XXX". iRacer's Lounge is a podcast for the iRacer, where we talk all things iRacing in a casual setting.
Joining me are the usual characters, ———— 
---
---
Show Introduction
On the show today we will Review the eNascar Coke Race at Richmond and how two Coke drivers made some big impacts in the real racing world. We get a first sneak peak at what's coming up in the next build in June, talk road course track limits and which Tifosi Teammate won the week in Nascar Fantasy?
And remember you can follow along with us on your PC or mobile device in real time as you listen to the show and see for yourself all of the great topics and products we'll discuss by visiting iracerslounge.com and selecting show notes. Hope to see you there..
---
---
Topics
---
---
Coke Racing – 2 Big News Stories
Coke series driver Vicente Salas gets a real world big win at Hickory Motor Speedway this week with a nice crossover move… Congratulations to Vicente!
Shoutout to Alan Cavanna and Justin Mellilo for reporting on this next story…
In Victory Lane, Reddick credited the work done by one of his 23XI Racing teammates for his speed throughout the event. No, he wasn't talking about Bubba Wallace or the former Kurt Busch, or even his Team Owner Denny Hamlin. Reddick was speaking about his iRacing' compatriot's Keegan Leahy, the 2021 eNASCAR Coca-Cola iRacing Series champion.
"Keegan really helped me shave off some more time in the simulator, and it really paid off when we got here, it correlated very well," said Reddick to SiriusXM NASCAR Radio after the race.
Hamlin went on his podcast and spoke about the work that Leahy was already doing for the team, revealing that the top sim driver was more than just one of their iRacers on the team, but also a hired employee of 23XI Racing for this year. "We just recently hired him at our team to work with us, and I know that him and Tyler have worked together quite a bit in preparation for COTA. I was actually there, and I was surprised, I walked into the sim and I'm like, 'oh, hey Keegan, what's up? What are you doing here?' and he was like 'oh, I'm moving here in a month'."
Mike Conti said about the situation, "That COTA performance from Reddick, that whole team showed that you can take somebody out of not only just Coke series, but top tier iRacing as a whole, and if they've got great knowledge of the garage, and great ability to drive a car to its limit, you can take them throw them in the manufacturer sim, and they can extract just as much, if not more than a real Cup driver that isn't doing a sim session every day."
Coke Race – Richmond
@bobbyzalenski survived the onslaught of late-race cautions to pick up his 12th-career
@NASCAR Coca-Cola @iRacing Series win tonight at @RichmondRaceway, tying him with @KeeganLeahy for 5th on the All-Time Wins List.He's the only driver to win in each of the last 7 seasons.
---
---
iRacing Fix The Track Limits at COTA
Track limita at COTA in no way reflect the real series. Can/should iRacing make these changes?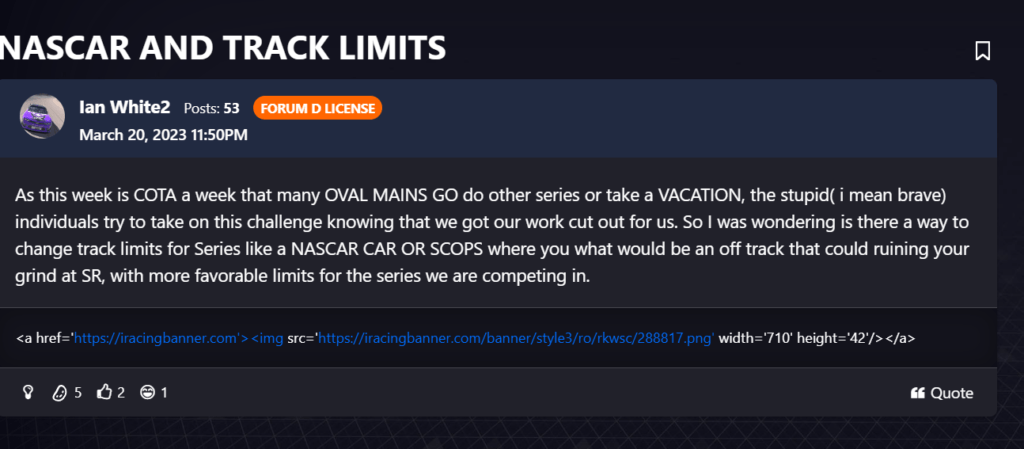 https://forums.iracing.com/discussion/39294/nascar-and-track-limits
---
---
MSG Keeps Stackin Up the Wins
In response to a request for comment, RACER received the following statement from INDYCAR:
"Motorsport Games has reported that they continue to make strides in their development efforts but they do not believe they will be in a satisfactory position to release an INDYCAR game this year.
"We are evaluating this information and remain thoroughly committed to bringing the best quality video game products to the INDYCAR community."
https://forums.iracing.com/discussion/39547/force-majeure-for-2023
https://capedge.com/filing/1821175/0001493152-23-008879/MSGM-8K/file/2?fbclid=IwAR3KhVMnPlPIGyBEgLceTz84QO6PgWgy4L8744T3lGn1X8XIvrmjyuQZSuY
Skip over the bad news of a more-than-four-million-dollar net loss in Q4 of 2022 alone. And you'll arrive at the announcement that a total 2022 revenue of $10.3 million led to net losses in excess of $36 million.
Given the studio doesn't have a successful and current title to rely on, Motorsport Games is in a difficult situation. Negative cash-flow means they are spending more money than they can make. To top off the bad news for Indycar, BTCC, Le Mans Virtual and NASCAR fans, the financial document states the company currently holds around $6 million in cash. The company goes on to mention that "we do not believe we have sufficient cash on hand to fund our operations for the remainder of 2023" and that further investment is needed.
https://www.racedepartment.com/news/motorsport-games-delays-indycar-title-past-2023.994/?fbclid=IwAR3WryroWGcd8qF6iD7SCJHdvW0-TlUch8Z591ohz-gn9-Tnx_FYWYM9ar4
---
---
Backwards Challenge Part 2
Luguna Seca is the venue for Moopar's next backwards racing challenge
---
---
iRacing Sneak Peak
iRacing Tweeted a first look at the Ligier JS P320 LMP3 which is planned to debut on iRacing in June.
https://forums.iracing.com/discussion/39766/the-lmp3-is-coming#latest
---
---
Highlights of the Week
---
---
Drive Simulations
Drive Simulations in Concord, CA is the latest in Sim Racing experiences. By default, your experience will include ACC. However, if you are a member of their Apex Club, you can choose from over 20 simulators, including:
Assetto Corsa Competizione (ACC) and legacy Assetto Corsa, iRacing, RFactor 2, Automobilista 2, Dirt Rally 2, BeamNG, Forza, Truck Simulator, CLEAR, and many more.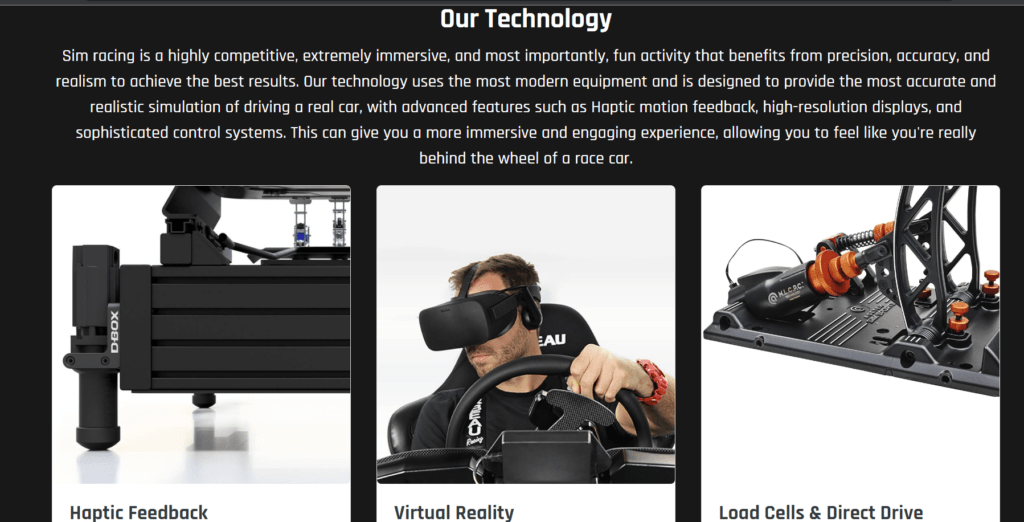 ---
---
Sim Racing Chicago
Next up, Sim Racing Chicago, which is a professional driving simulator studio that features 10 fully built simulators. These simulators are designed to showcase the best of what sim racing has to offer. Our studio is available for any events that you may be organizing. Each of our simulators runs on iRacing's software and is configured slightly differently to provide unique experiences. With every simulator we offer, you can expect a new and exciting experience.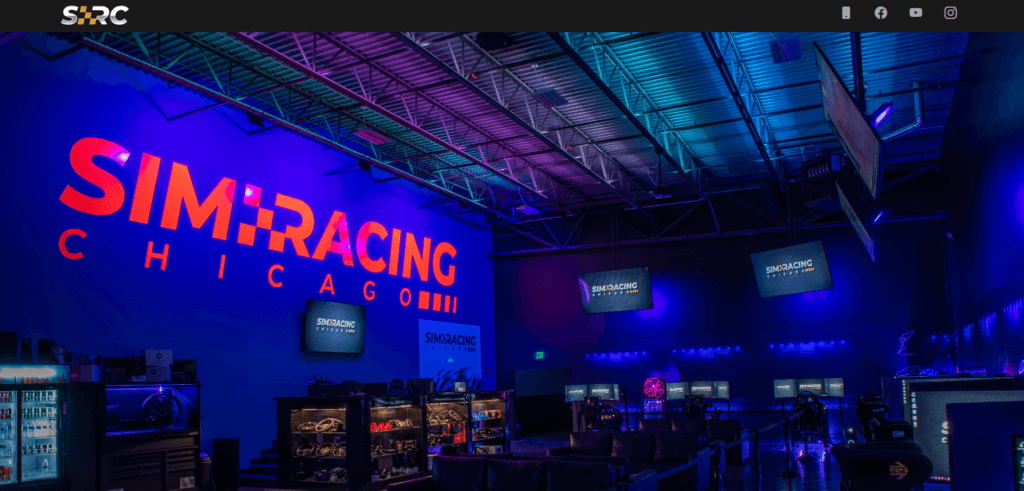 https://www.simracingchicago.com/
---
---
Just Asking as a Favor
Tobias Kantert posted in the forums that a driver asked him to block or wreck the leader with 2 laps to go before Bortolotti takes the win. We are talking about Topsplit.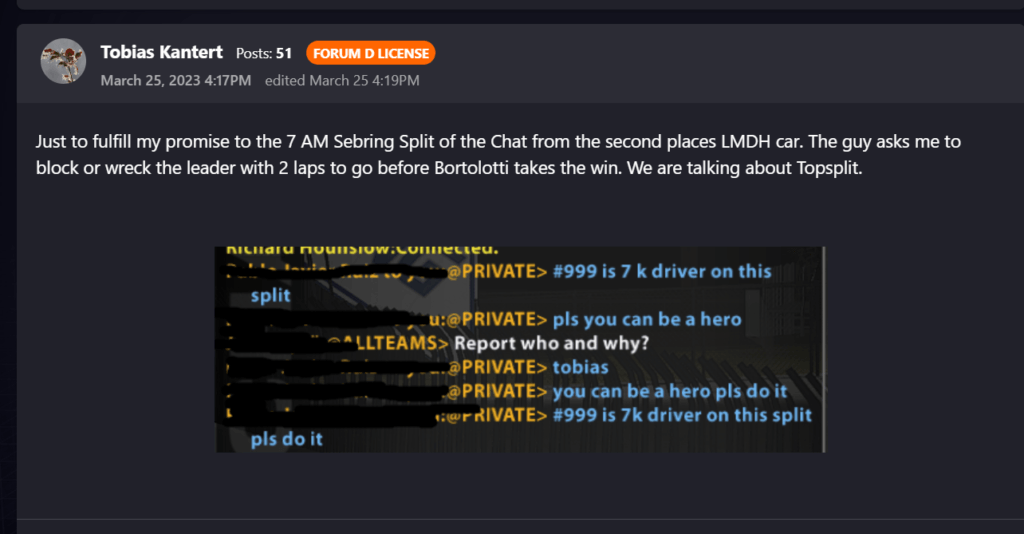 https://forums.iracing.com/discussion/comment/324945#Comment_324945
---
---
12 Hours of Sebring Recap
Some drivers were having difficulty getting into their session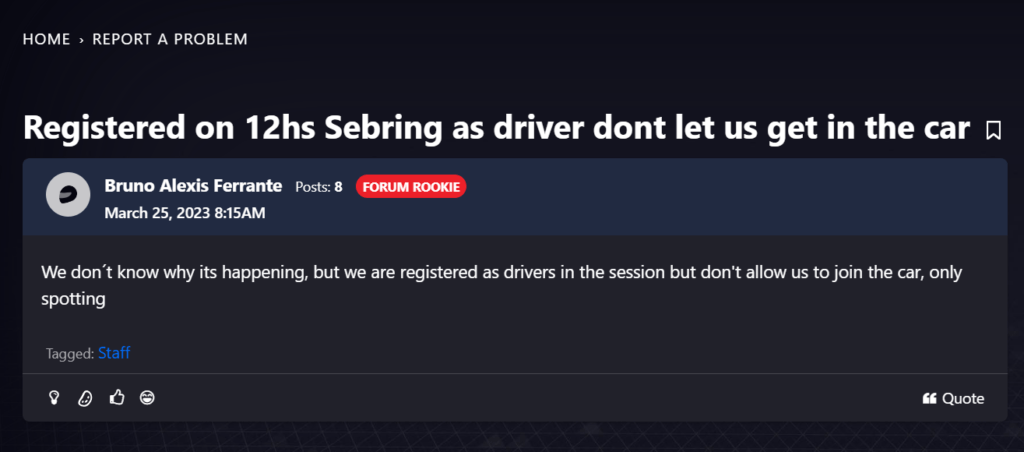 https://forums.iracing.com/discussion/39560/registered-on-12hs-sebring-as-driver-dont-let-us-get-in-the-car/p1
Staffer Nicholas Bailey posted that they will be looking into the problem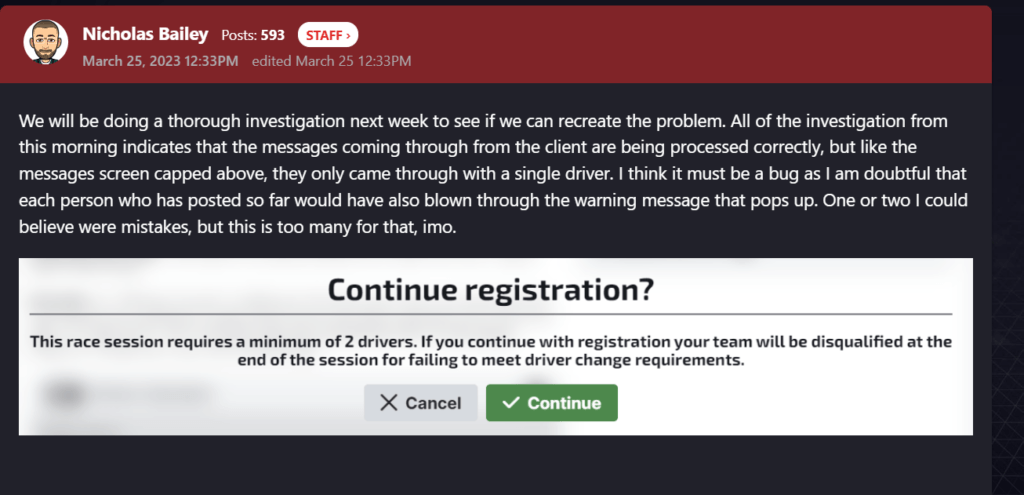 https://forums.iracing.com/discussion/comment/324841#Comment_324841
---
---
Road America 500
The Road America 500 is a throwback event paying homage to the analog days of racing. With the event's roots dating back to 1950, it has seen many different names and formats in the 73 years since under banners such as the SCCA, ALMS, and IMSA. The iRacing event will be a 500 mile affair that is able to be run solo or as a team. It will feature both the Nissan GTP ZXT and Audi 90 GTO.
Break out your H pattern shifter (or don't) and go back to a time where turbo lag reigned supreme. We look forward to seeing you on track for the Road America 500!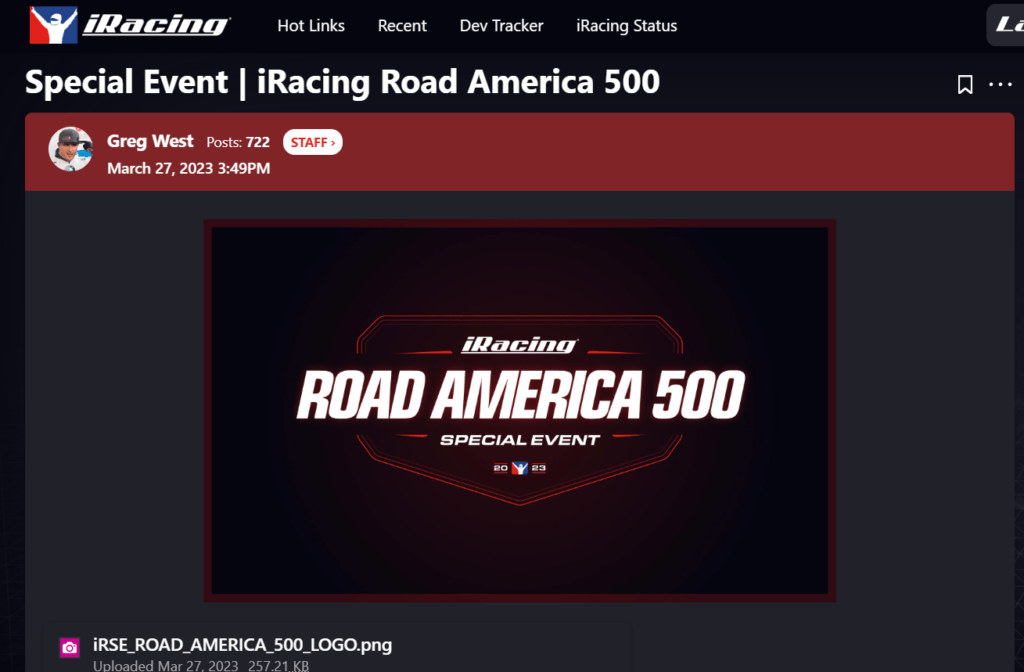 https://forums.iracing.com/discussion/39685/special-event-iracing-road-america-500
---
---
Podcast Housekeeping
Leave us a review on your favorite podcast platform to make it easier for more listeners to find the podcast. Mention the podcast to your fellow drivers so they don't miss out, we would appreciate it.
Check out our Discord https://discord.gg/rvRas4DDqF
New Website – Leave Comments https://www.iracerslounge.com/
---
We are in the regular rotation… (Mike)
https://performancemotorsportsnetwork.com/
Fantasy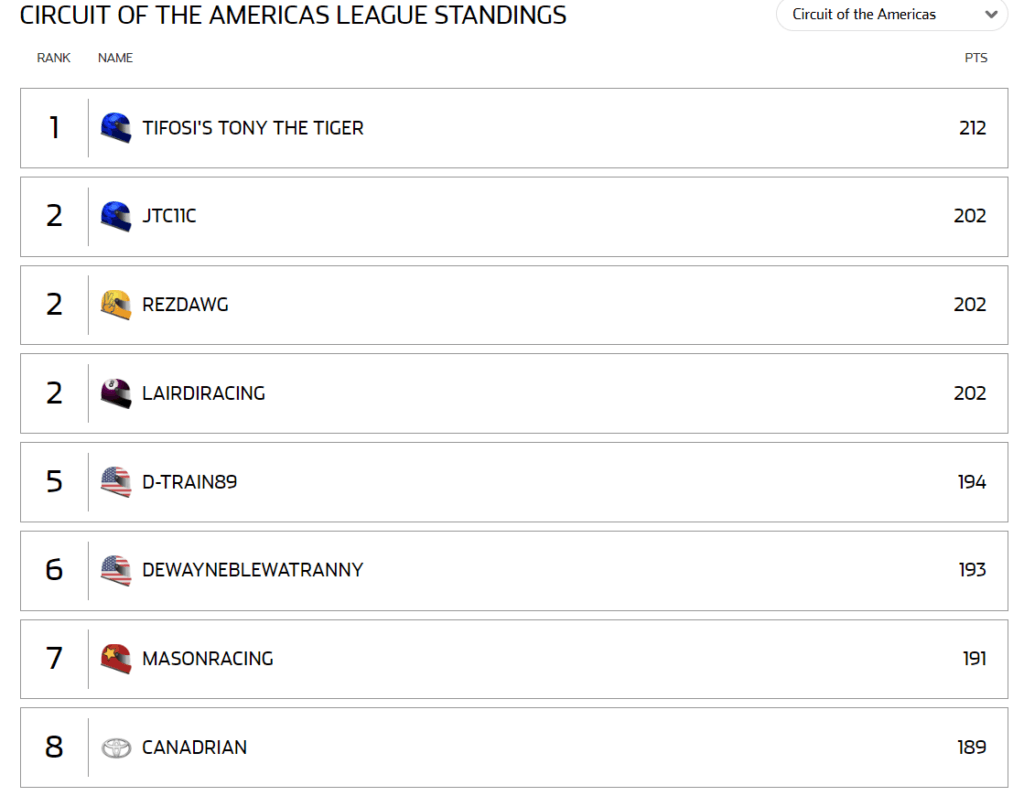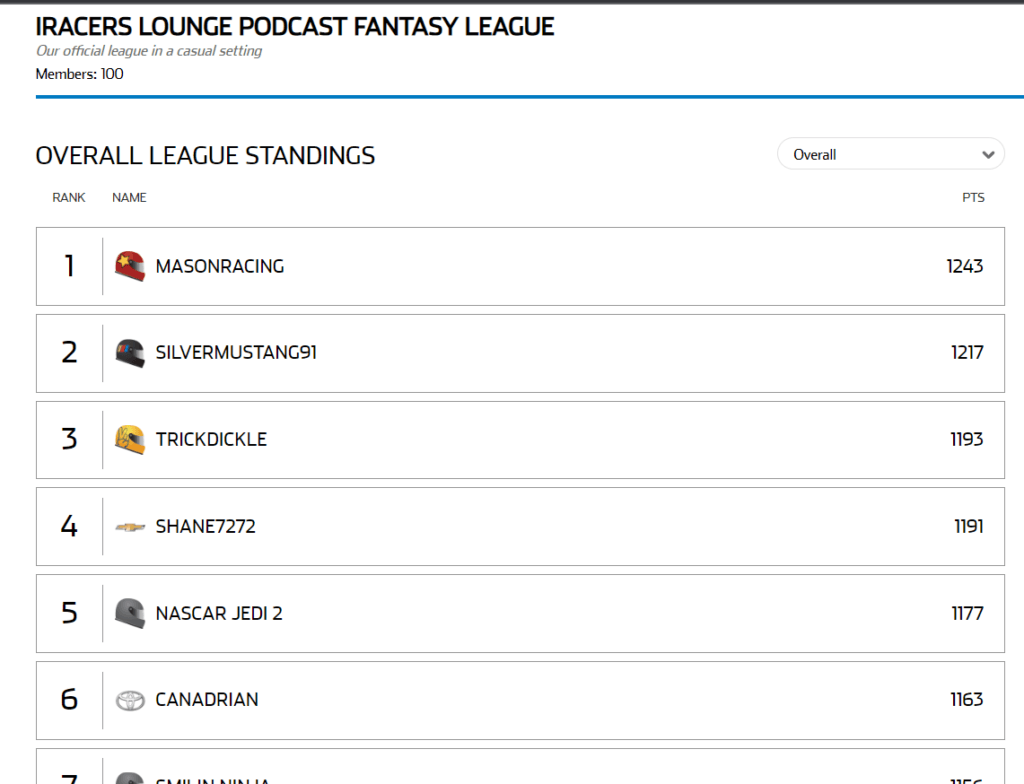 https://fantasygames.nascar.com/live/league/iracers-lounge-podcast-fantasy-league
---
---
Hardware/Software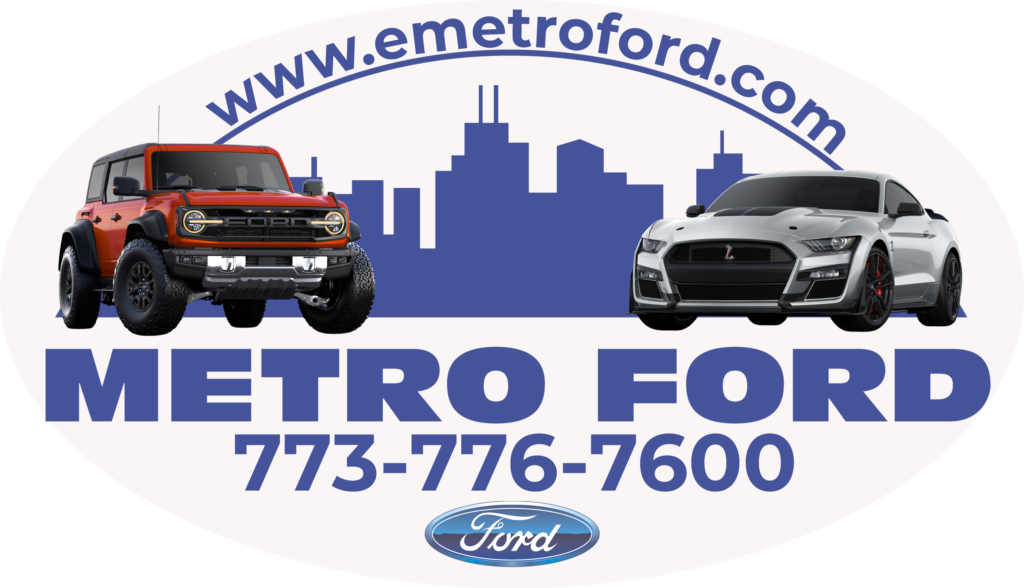 ---
Fanatec to Simucube
The Sim Racing Den posted a YouTube video of why they left Fanatec for Simucube
---
---
Simucube vs Asetek
The Sim Circuit posted a YouTube head to head review of the Asetek Invicta vs Simucube 2 Pro. Can Asetek beat the old king Simucube?
---
---
VRS DFP Formula Wheel Review
Dan Suzuki Reviews the VRS DFP Formula Wheel
---
---
Sparco Sim Racing Shoes
The Hyperdrive SIM shoe is the first driving shoe designed for SIM Racing. The Hyperdrive features technology from our top Auto Racing shoe the X-Light +. It features a soft knitted sock upper which is extremely comfortable and breathable. The Hyperdrive has a race shoe inspired sole which gives excellent traction and feel from the pedals. The rear heel is rounded to allow easier heel and toe downshifts. Available in size 38-46.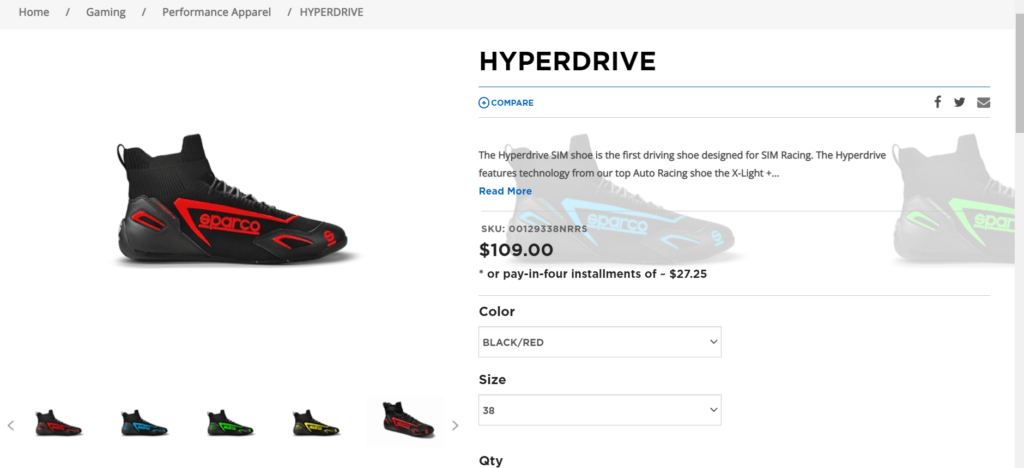 https://www.sparcousa.com/product/hyperdrive
---
---
Podium P3
Podium 1 Racing offers the P3 Sim Racing Bundle built with the following equipment• Trakracer TR80 Racing Chassis • Trakracer Racing Seat w Slider • Moza R9 Direct Drive 9nm • Moza RS or GS Racing Wheel • Moza CRP Load Cell Pedals • Chassis Mounted Triple Screen with 3 x 27″ Triple display • Gaming PC with RTX (VR Ready) • Wireless Headset with Mic • Keyboard and Mouse Tray • PC Shelf
• PRICE INCLUDES FREE SHIPPING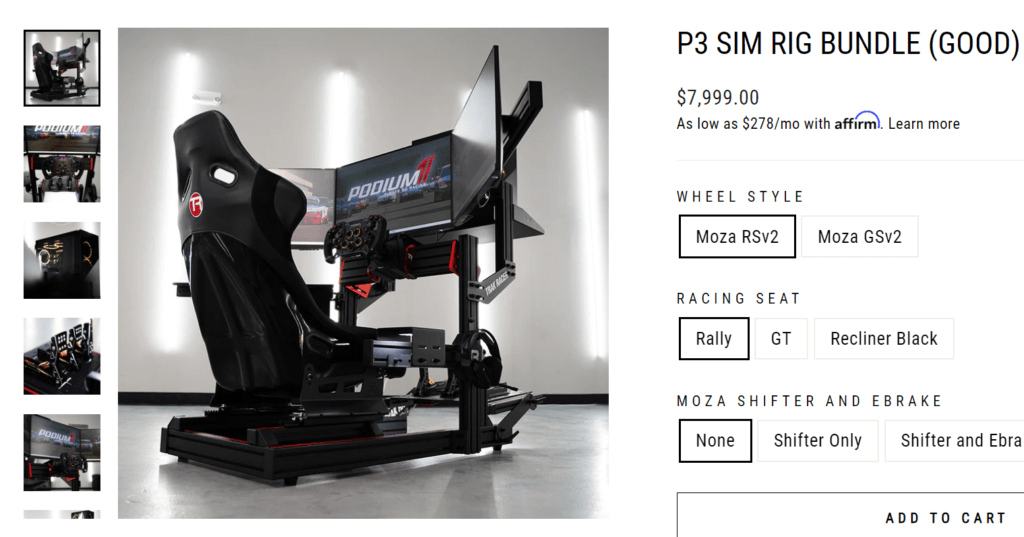 https://podium1racing.com/collections/podium-1-racing-sim-rig-bundles/products/p3-sim-rig-bundle
---
---
Jay2Cents goes Trak Racer
…missing hardware, boxes arriving over multiple days…
My point is you can't f*** this up when you send one out for review to a YouTube channel with 4 million people they didn't send him the right bolts and was missing washers and the printed instructions were clearly wrong
They have a reputation for it. For sure now they have it
---
---
Loexn XF1 Pro
The Leoxn XF1 Pro has a formula wheel that is customizable with a 4.3″ IPS Screen for a very reasonable price.
FEATURE
The 275mm diameter polyurethane grip, produced by high-precision molds, has a special coating on its surface, and its delicate texture satisfies various driving needs.
The back cover and paddles are processed using CNC technology and coated with black anodizing to achieve optimal appearance and lasting durability.
The front panel is made of 5mm forged carbon fiber and the paddles are made of 3mm forged carbon fiber.
18 RGB LEDs that can be customized through SimHub.
4.3″ IPS screen with a resolution of 800×480 pixels and a 60fps refresh rate, and its dashboard can be customized through SimHub.
16 reliable push buttons, 2 Seven-Way Multi Switches and 3 pressable encoders.
2 metal blue anodized thumb knob included.
It comes with a standard magnetic shifter paddle, and additional clutch and option paddles are available as options.
The clutch paddles can be set to bite point mode, axis mode, and button mode.
All paddles use non-contact Hall sensors for long-lasting durability.
Sturdy and reliable USB-XS9 interface with a locking mechanism.
70mm diameter QR mounting hole.
It can be connected to Leoxz Fanatec QR through the QR cable interface to unlock Fanatec base torque.
It can only be connected through USB for wired connection.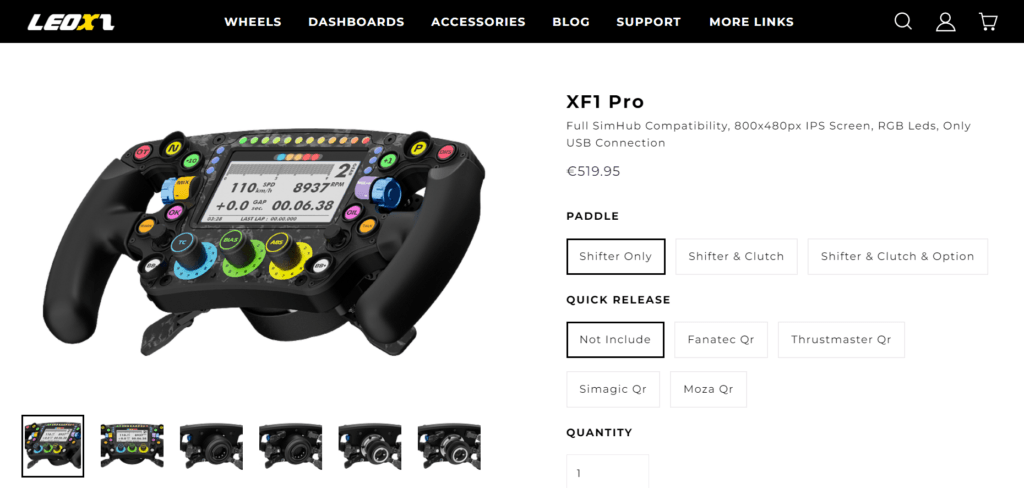 https://www.leoxz.com/products/xf1-pro
---
---
Next Level Racing HF8 Haptic Gaming Pad
Several reviewers have got their hands on the new Next Level Racing HF8 8 point haptic gaming pad
---
---
Najam Simtec K2X Pedal Review
Youtuber Dan Suzuki reviews the Najam Simtec K2X Pedals, the least expensive load cell pedals out there, but how good are they?
---
---
O-Rouge ORX 411
O-Rouge is now taking pre orders for their sleek ORX 411 Formula Wheel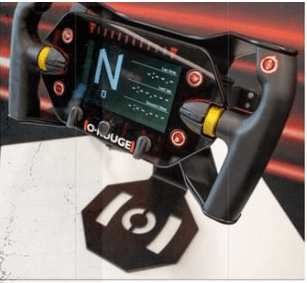 ---
---
Gomez SC2-X Adapter
The GSI SC2-X adapter is an advanced solution for Simucube users looking to customize their rig with their preferred hub, extension or quick release. Measuring 25mm thick with a 95mm diameter and a weight of only 0.30kg, this adapter offers a sleek and compact design that seamlessly integrates into your setup.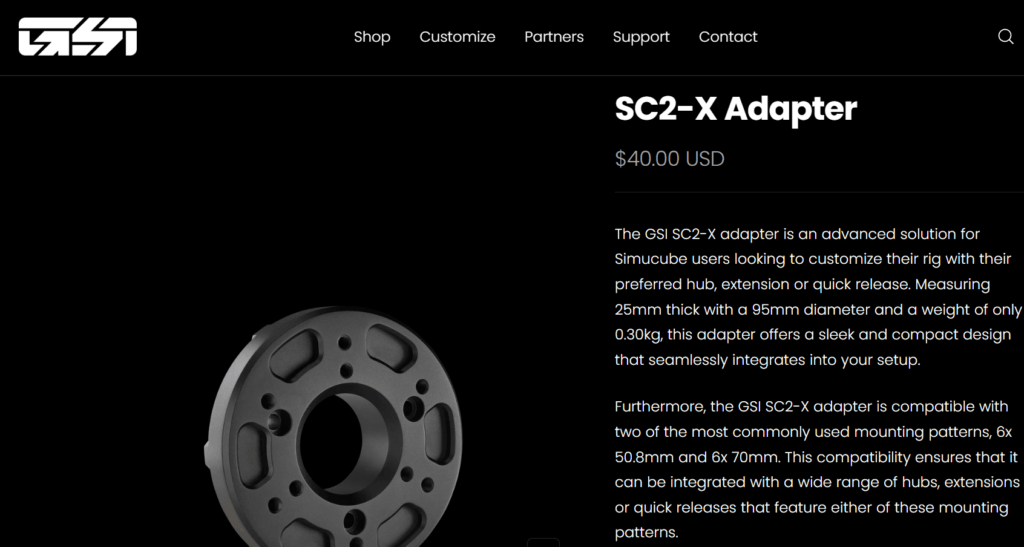 https://gomezsimindustries.com/products/sc2-x-adapter
---
---
SimGrade VX-Pro Pedals
SimGrade posted in the forums that their new VX-Pro Pedals are now available thru preorder at a discounted price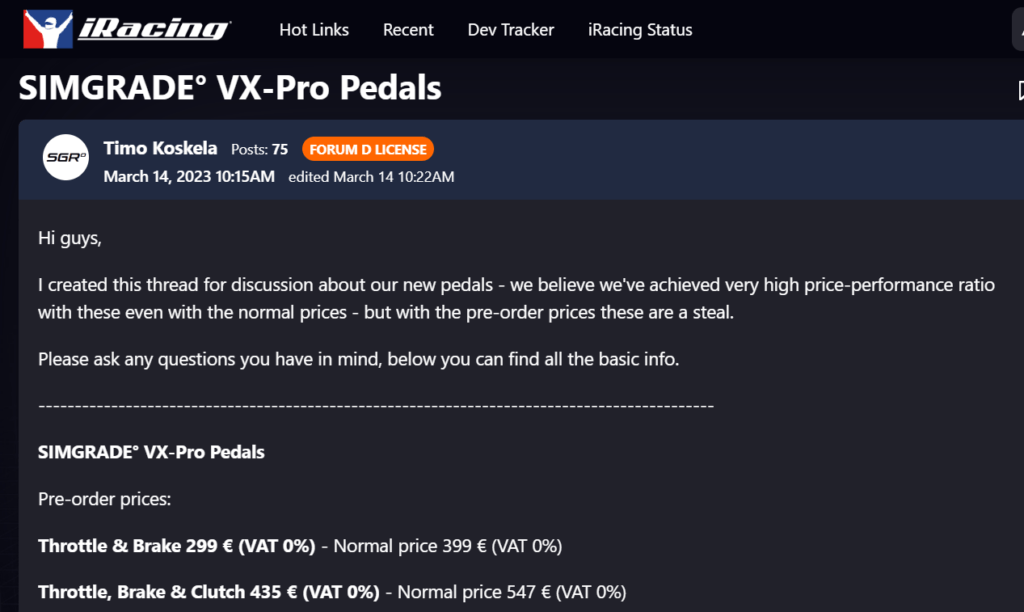 https://forums.iracing.com/discussion/38859/simgrade-vx-pro-pedals#latest
---
---
Logitech G Fits
Logitech G FITS is a true wireless gaming earbuds are perfectly fit to play. Pro-grade LIGHTSPEED wireless + low-latency Bluetooth® allow you to play across devices. LIGHTFORM molding technology provides a personal fit.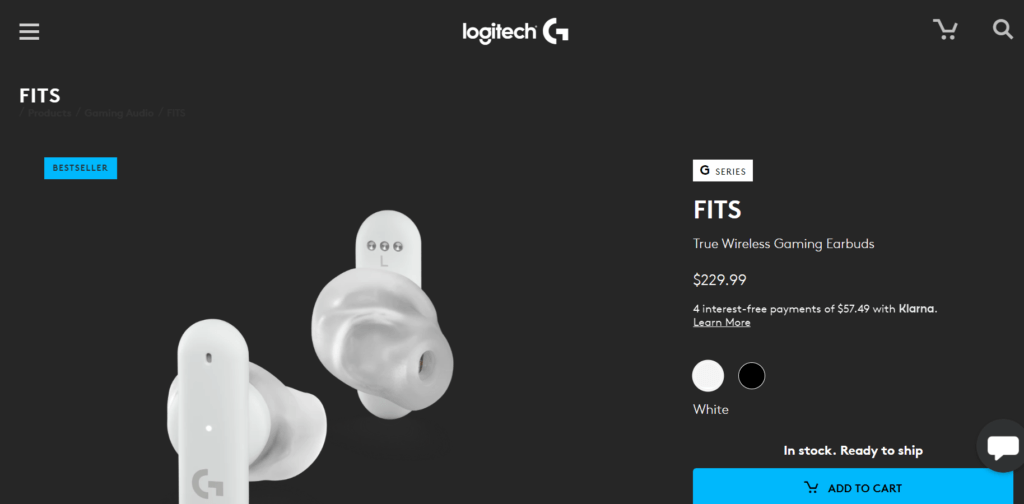 https://www.logitechg.com/en-us/products/gaming-audio/fits-true-wireless-gaming-earbuds.985-001177.html
---
---
Results
NASCAR iRacing Series
Friday Open – COTA
Justin – P12, just tried to keep it, had to take a pass through for a the 17x, then made it all the way to the last lap then got the 25x DQ on the track that was my first road coarse NIS. I plused up on SR & IR so i will call it a win.
David – P8, decided might as well run since a few teammates were. No major mistakes, had to lock brakes up once and gave up a few spots early.
Saturday Fix Justin-P12, just tried to keep it, had to take a pass through for a the 17x, then made it all the way to the last lap then got the 25x DQ on the track that was my first road coarse NIS. I plused up on SR & IR so i will call it a win
Wednesday Open: Richmond
Mike- p 3- ran the back half of the top 10 the first part of the race gradually move by way forward I was coming at the end, but ran out of laps. P3. I tell you wat races like last night, is what this is all about… the feeling I have running third with these fast kids and otherwise. Man. I was coming too. But just the whole investment of my time, energy and money into this hobby….. it all pays off when you have these freakin awesome runs. I've never driven so hard in my life. I was shaking like a leaf sweating like a pig, smiling like I was stoned.
McKenzie- p dns.
David – p screwed by VR again, this time was a fresh restart and still got a tracking error that led to a grey screen. I was on the out side so turned right got in on the wall so didn't hit anyone. No Caution came out, and I just pulled in and rebooted anyway. Ran the rest of the race 17 laps down, had great long run speed, but was also being careful not to take any unnecessary chance or get in the way of a battle. Would pass cars after they couldn't stay with others. Got a message from Wesley Johnson showing his shitbox rig –
Kyle P wrecked Out
Tyler- P13 started in the back and quickly felt no feedback in the wheel. Managed to keep it straight till first caution and reset wheel. Feedback was fixed but brake and clutch did not calibrate. Was not fun until about halfway until I could fix it again. Finally got it back and drove like hell to snag 13th. #exhausted
Tom- wreacked Out.
Thursday Open Ellis – qualified P5. Was running third and got a bit loose then tagged and spun. One minute damage. Restart and 31st got the 19th by the next caution. The 46 I get tagged in the big one and spun no additional damage but I'm in the back or again. By 102 I'm up to p4. Played in the top five top three right up until the end. Restarted third on green white checkered number one.
---
---
Official Series
Ellis–
I just ran the production challenge at Monza. Wow what a fun configuration. You run the oval backwards did it branches off the part of the road course, but they drive through the chicanes. P4!! Out of like 40 cars. Definitely gonna run this again
Then I started 11th I got to six at the end of lap one, but spun on my own and fell back to 17 was able to rally back to finish P 14
DAllara dash. At Texas started eighth and finished first.! Great battle for the win and fairly clean
Toyota GR 86 @monza finished P7 after getting wrecked on lap one
87 that Talladega P2.
Dallara dash at Daytona. Wrecked out before the end of lap one. Did see a high speed at the end of the backstretch of 254.
Gen 4 Richmond. Had a huge, save where I turned left a really hard down to the grass to drive around a massive pile up. Was able to bring it home P7. The force feedback feels really good at this track. Really fun to rip the top.
---
---
League / Hosted Races
OBRL Cup
Brian -P18 Qualified P12, but missed the grid due to a qualifying mishap, so gridded in the rear. Had a pretty good run, still working out some pitstop problems. Managed to get as high as 8th and got shuffled back to 18th on a GWC finish.
---
---
Final Thoughts
---
---
Words Spoken in Closing Audio Clip -""Thank you for listening to the iRacers Lounge podcast make sure to go subscribe to us on iTunes, SoundCloud, or Google Play, Facebook & Twitter, See You On The Track ."
TITLE
Smilin' Like I'm Stoned
Description
On the show today we will Review the eNascar Coke Race at Richmond and how two Coke drivers made some big impacts in the real racing world. We get a first sneak peak at what's coming up in the next build in June, talk road course track limits and which Tifosi Teammate won the week in Nascar Fantasy? So sit back, relax and join us on the iRacers Lounge Podcast.
iRacers Lounge Podcast is available on iTunes and Apple's Podcasts app, Stitcher, TuneIn, Google Play Music, Spotify, Soundcloud, Podbean, Spreaker, Podbay, PodFanatic, Overcast, Amazon, and other podcast players.
Sponsors:
Hosts:
Mike Ellis – twitter.com/MikeDeanEllis
David Hall – www.twitch.tv/mixmage
Greg Hecktus – twitter.com/froozenkaktus – www.twitch.tv/froozenkaktus
Brian Maccubbin – www.twitch.tv/MacRubbinsRacin
Kyle Pendygraft – twitter.com/LoudPedalGaming
Tony Groves – www.twitch.tv/SirGroves
Adam Josselyn- twitter.com/Jossad83
Tony Rochette – twitter.com/TonyRochette
Tom Dreiling –
Donnie Spiker – twitter.com/Spikerman19
Bobby Jonas –
Links:
Facebook – www.facebook.com/iRacersLounge/
Twitter – twitter.com/iracerslounge
Instagram – instagram.com/iracersloungepodcast/
Web (Show Notes) – iracerslounge.com/