4/6/2023 – Parks and iRec – Episode 0377
iRacers Lounge Podcast – Conversation Topics
---
---
Opening Audio Clip -"Your listening to the iRacers Lounge Podcast where we discuss everything iRacing, in a casual setting, enjoy."`
READ THIS AT THE TOP OF EACH SHOW!!!
Welcome to the iRacer's Lounge, I am your host "XXX". iRacer's Lounge is a podcast for the iRacer, where we talk all things iRacing in a casual setting.
Joining me are the usual characters, ———— 
---
---
Show Introduction
On the show today we welcome guest Chris Waldron, Director of Parks and Recreation, City of Fulton NY. We get an April 1st tweet about rain and dynamic weather. We'll show you were you can learn to edit your own video on iRacing and how to learn all about the new Late Model car.
And remember you can follow along with us on your PC or mobile device in real time as you listen to the show and see for yourself all of the great topics and products we'll discuss by visiting iracerslounge.com and selecting show notes. Hope to see you there..
---
---
Special Guest
Chris Waldron,Director of Parks and Recreation, City of Fulton NY
---
---
Topics
---
---
2023 Season 2 Patch 3 Release Notes
Race Control
Fixed an issue where the leader during a rolling restart in a Start Zone could trigger a Jump Start Black Flag penalty on themself.
Auto Fuel
The Auto Fuel Lap Margin limits have been increased to +/- 10.
A label has been added to the Auto Fuel box when there is not yet sufficient fuel data for it to work correctly.
Auto Fuel now appears in a disabled state during the Cooldown, Gridding, and Outlap.
Controls for Auto Fuel in the Options menu have been renamed and are now functional.
Some values for the Auto Fuel system have been added to the [Pit Service] section of the "app.ini" file.
– – autoFuelDefaultEnable= 1 (Enable Auto Fuel by default for Races) or 0 ( Disable Auto Fuel by default for Races)
– – autoFuelDefaultMarginLaps= 1.0000 (Number of Laps of fuel to add as a safety margin by default)
New Damage Model
With the systemic New Damage Model changes released with 2023 Season 2, many vehicles were in a place of unrealistically higher durability. This patch includes a variety of vehicle body panel adjustments that should generally weaken their strengths, and make the cars much more realistic. This Patch completes our post-Season 2 Release assessment for realism and balance for New Damage Model cars that was identified in Patch 2.
Graphics
The upper limits for both CPU and GPU memory sliders in the graphics options have been increased to 32GB and 16GB respectively.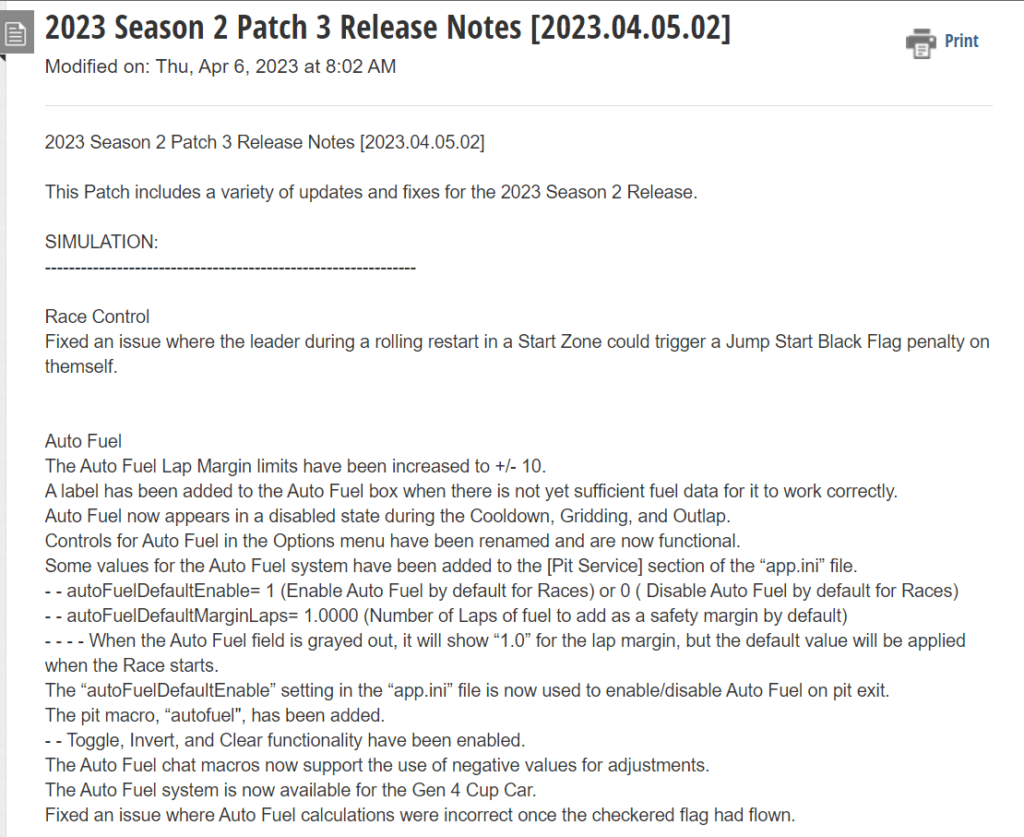 https://support.iracing.com/support/solutions/articles/31000169672-2023-season-2-patch-3-release-notes-2023-04-05-02-
---
---
#Soon?
iRacing Tweeted that the iRacing team is making great progress with graphical, physical, and weather-based systems.
---
---
Porche Super Cup All-Star Highlights
iRacing Streamer Matt Malone posted a video on his Twitter page of his intense battle to keep from finishing in last at the Porsche All-Star race at the Red Bull Ring.
Porche Super Cup Feature
Jordan Caruso scored a victory in the Sprint race over the reigning series champion Diogo Pinto. In the Feature, it was rookie Gustavo Ariel scoring the win in dramatic fashion over Alejandro Sánchez and Pinto after a spirited battle in the late stages.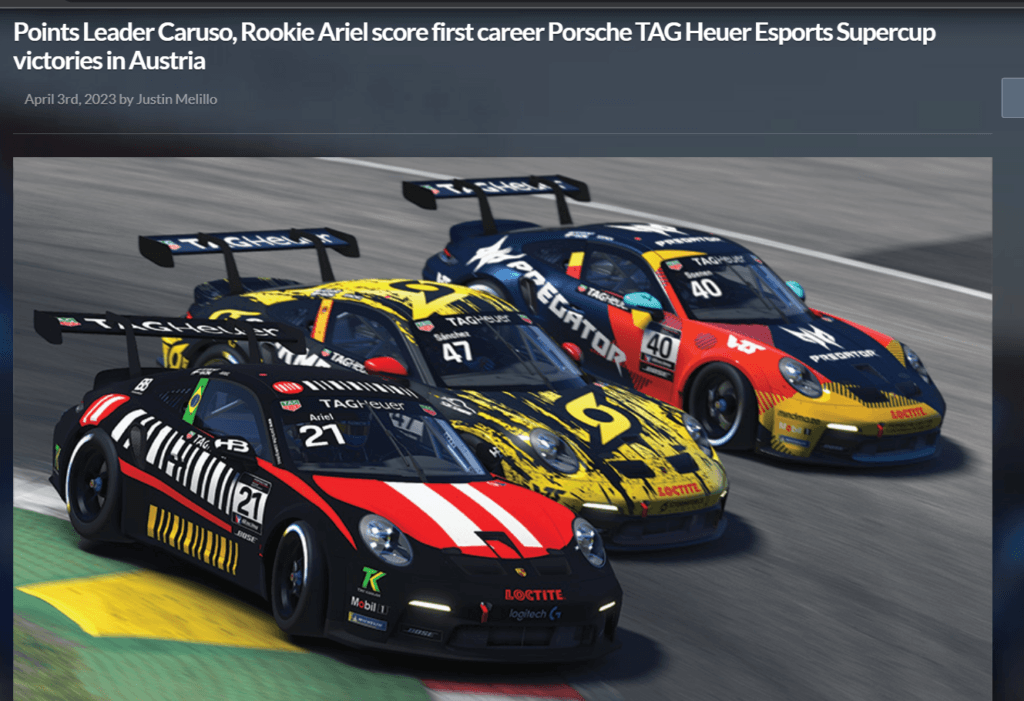 Porsche TAG Heuer Esports Supercup feature results from the Red Bull Ring were as follows:
| | | | | | | | | |
| --- | --- | --- | --- | --- | --- | --- | --- | --- |
| Fin. | St. | No. | Name | Laps | Interval | Led | Best | Pts |
| 1 | 10 | 21 | Gustavo Ariel | 20 | 0 | 3 | 1:30.575 | 61 |
| 2 | 4 | 47 | Alejandro Sánchez | 20 | -0.916 | 10 | 1:30.723 | 71 |
| 3 | 7 | 1 | Diogo C. Pinto | 20 | -1.505 | 0 | 1:30.738 | 66 |
| 4 | 5 | 15 | Zac Campbell | 20 | -1.968 | 0 | 1:30.706 | 61 |
| 5 | 2 | 49 | Jamie Fluke | 20 | -2.723 | 7 | 1:30.891 | 48 |
| 6 | 3 | 40 | Julien Soenen | 20 | -2.895 | 0 | 1:30.683 | 48 |
Porsche TAG Heuer Esports Supercup points through five rounds are as follows:
Jordan Caruso, 302
Charlie Collins, 271
Diogo Pinto, 270
Alejandro Sanchez, 229
Sebastian Job, 213
https://presse.porsche.de/prod/presse_pag/PressResources.nsf/Content?ReadForm&languageversionid=1425424&hl=motorsport-news
https://www.iracing.com/points-leader-caruso-rookie-ariel-score-first-career-porsche-tag-heuer-esports-supercup-victories-in-austria/
---
---
Late Model Stock PDF
iRacing posted a PDF manual for the new Late Model Stack Car in the Forums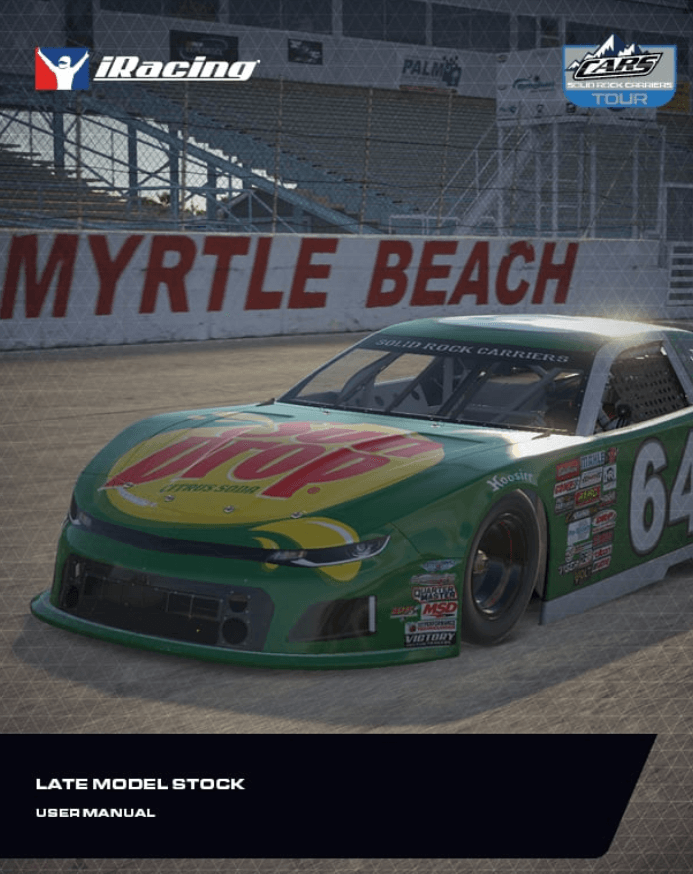 https://forums.iracing.com/discussion/39825/late-model-stock-manual
---
---
ALT F4 Equals Suspension
Joel Blewitt posted in Twitter that he was protested and then suspended by Intentionally using Alt F4 to leave a session
---
---
iRacing in the Rain… for Real
The real rain in Richmond did not stop Sim Seats from having their iRacing rogs set up for the fan experience
---
---
Sprint Car Full Field – The Unicorn?
Nick Neebon posted on his Twitter page that he was in an open wingless sprint car race with a near full field
---
---
Editing and Saving Replays
iRacing posted on their YouTube channel a tutorial about how to Edit and Save Replays in their 'How To' Series of videos
Porsche eSports Sprint Challenge Canada
The Porsche Esports Sprint Challenge Canada put on a heck of a show and iRacing posted on their YouTube Channel the highlights from Sebring
---
---
The Road America 500
The Road America 500 is a throwback event paying homage to the analog days of racing. With the event's roots dating back to 1950, it has seen many different names and formats in the 73 years since under banners such as the SCCA, ALMS, and IMSA. The iRacing event will be a 500 mile affair that is able to be run solo or as a team. It will feature both the Nissan GTP ZXT and Audi 90 GTO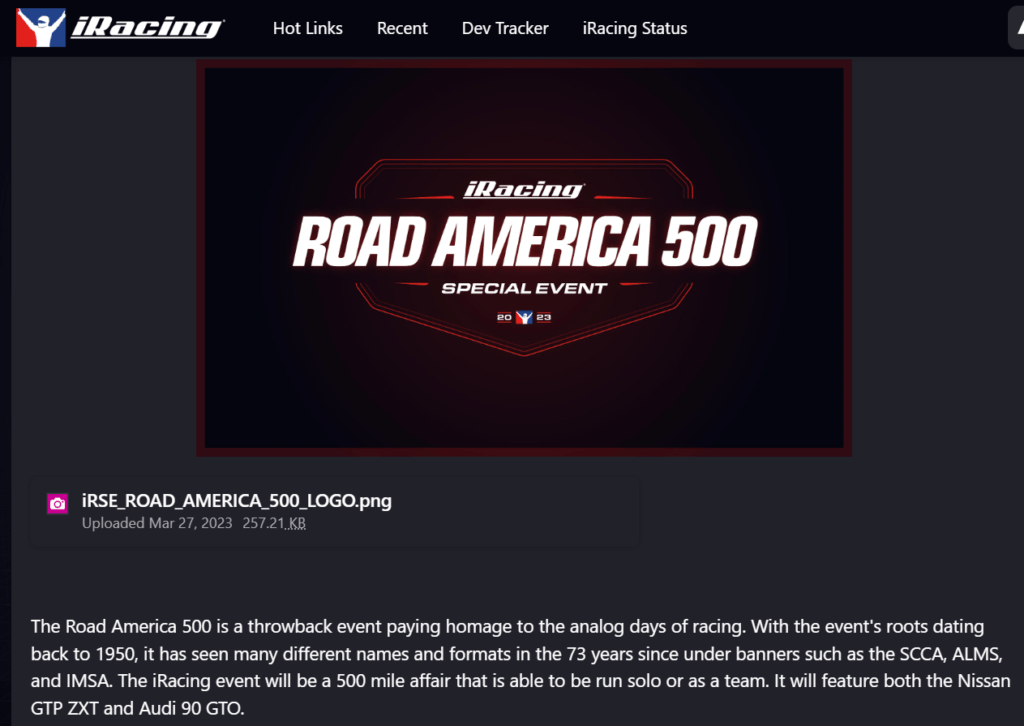 https://forums.iracing.com/discussion/39685/special-event-iracing-road-america-500/p1
---
---
Nurburgring Endurance Championship
The iRacing Nürburgring Endurance Series will feature a series of 9 endurance races – each 4-6 hours long – on the combined Nürburgring VLN circuit. Drivers may participate solo or with a team.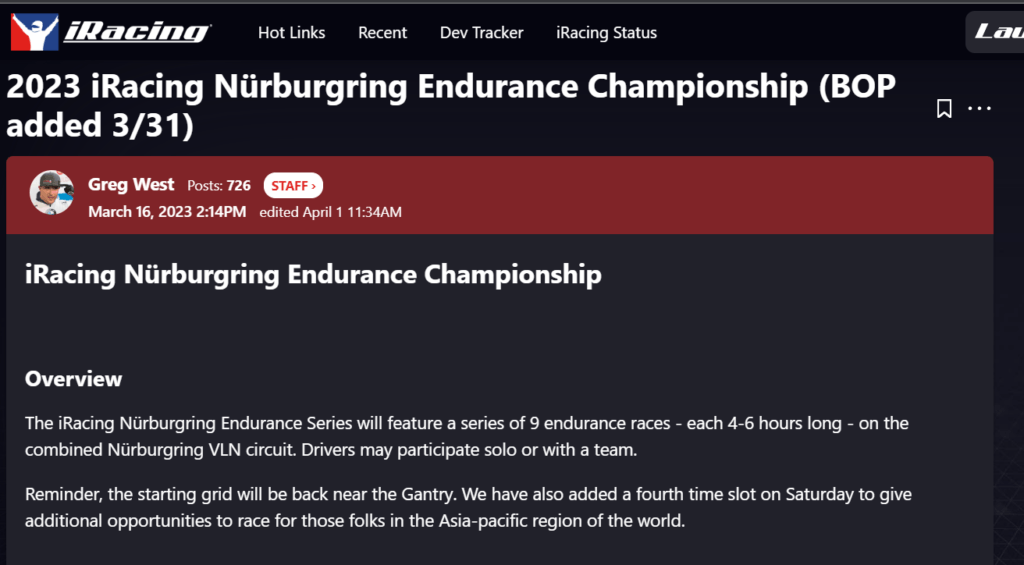 https://forums.iracing.com/discussion/39020/2023-iracing-nuerburgring-endurance-championship-bop-added-3-31/p1
---
---
Podcast Housekeeping
Leave us a review on your favorite podcast platform to make it easier for more listeners to find the podcast. Mention the podcast to your fellow drivers so they don't miss out, we would appreciate it.
Check out our Discord https://discord.gg/rvRas4DDqF
New Website – Leave Comments https://www.iracerslounge.com/
---
We are in the regular rotation… (Mike)
https://performancemotorsportsnetwork.com/
https://channelstore.roku.com/details/9d27a1e9dd15b92535d7cfe85407288e/the-sim-racing-channel
https://thesimracingchannel.com/watch-live/
Fantasy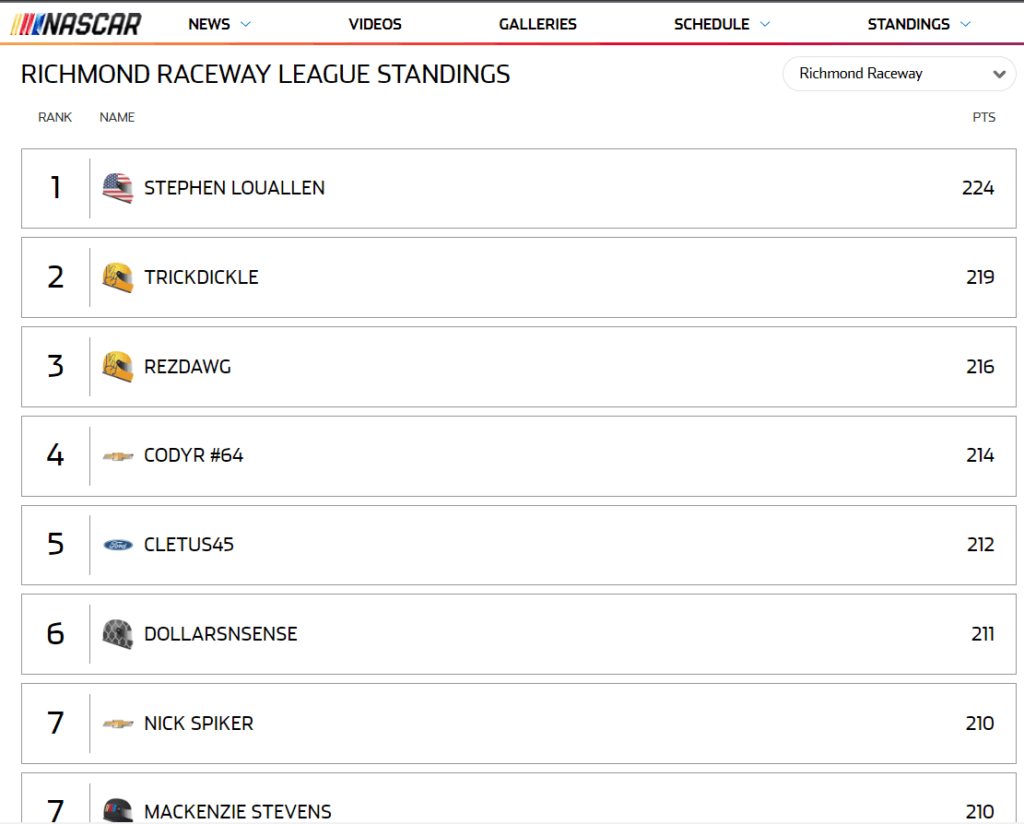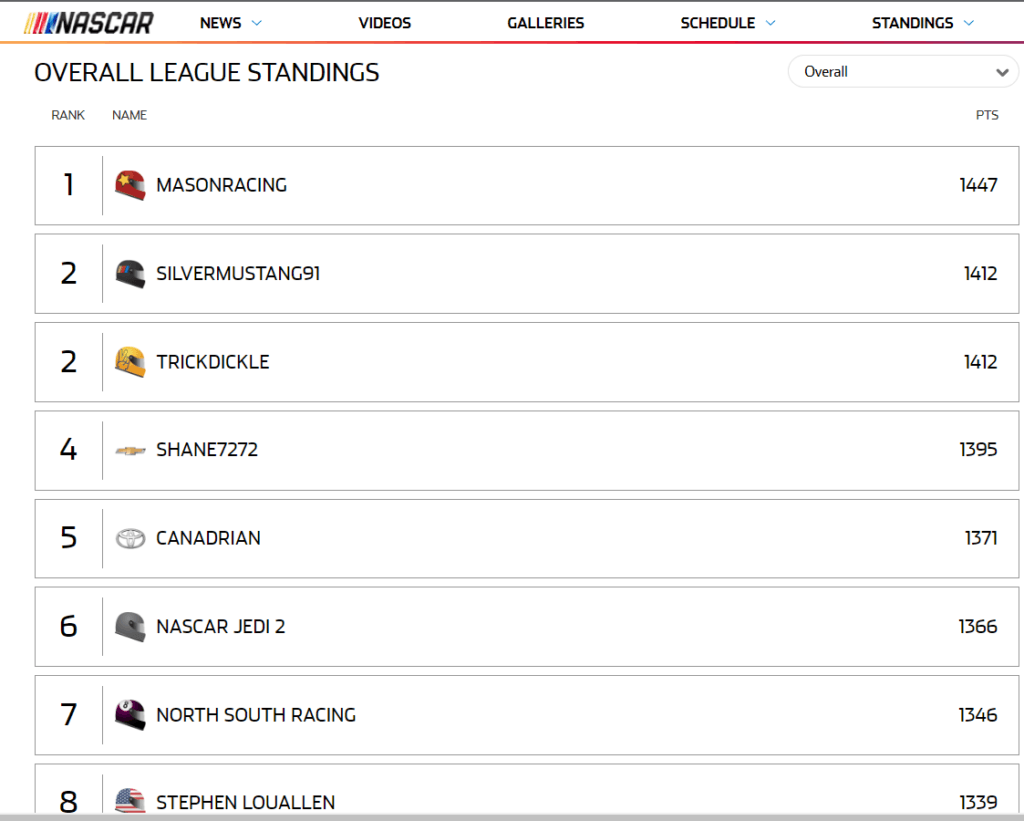 https://fantasygames.nascar.com/live/league/iracers-lounge-podcast-fantasy-league
---
---
Hardware/Software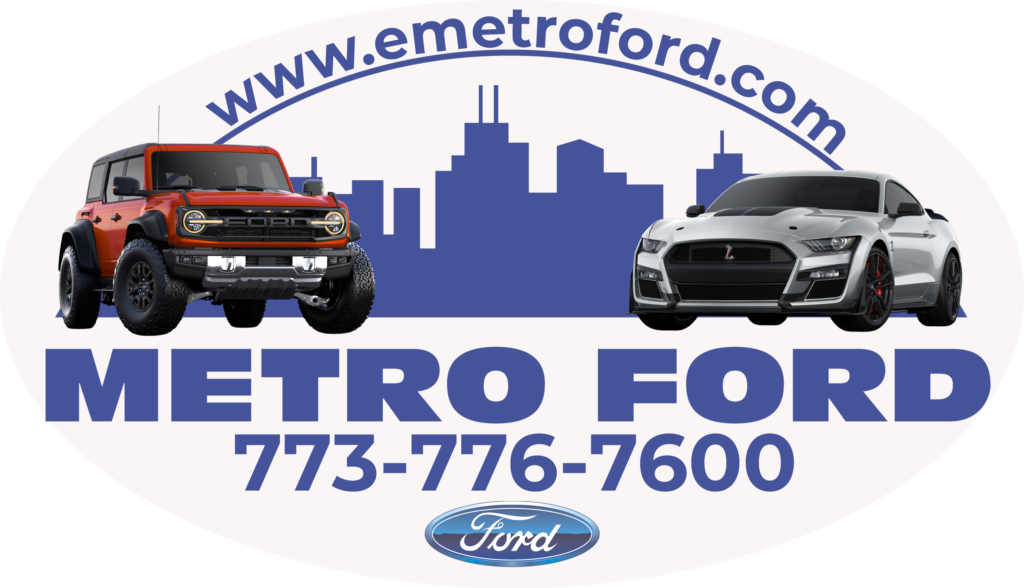 ---
Upgrading My P1X To An X1 Pro Sim Rig
Usman Gaming posted a YouTube video of his upgrade from a SimLab P1X to an X1 Pro Sim Rig
https://sim-lab.eu/shop/product/x1-pro-sim-racing-cockpit-3953
---
---
Thrustmaster T818 Review
TheCarDoc bought a Thrustmaster T818 and posyed a YouTube video of whether it was worth it, or not?
---
---
O-Rouge Cold Fusion Seat Review
Dan Suzuki reviewed the O-Rouge Cold Fusion Seat and says he doesnt think he will ever be able to go back to a regular seat
https://www.simraceshop.de/o-rouge-c1-cold-fusion.html?refID=34564684
---
---
GSI Entry Level Wheel
Gomez Sim Racing will be offering their new "Entry Level" formula wheel starting at $650
---
---
Cube Control CSX Review
The Sim Circuit Reviews the Cube Controls CSX3
---
---
The 2023 MOZA Sim Racing Buyer's Guide
Boosted Media has put out their Moza Sim Racing Buying Guide on their YouTube Channel and gave a top level overview of the Moza ecosystem saying… They have done a really good job but there are opportunitys to improve, especially on the software side… Pedals can be improved on for sure…
Standout features, best QR on the market… Smoothness and refined drive you get is very very good for the price point…
---
---
MECA EVO1 Pedals | Long Term Review | Load Cell vs Hydraulic
Laurence Dusoswa on his YouTube Channel posted a long term review of the MECA EV01 Pedals
https://mecasimhardware.com/eshop/
---
---
GRID MPX & DDU5 | First Impressions
Laurence Dusoswa also posted a firts impression video of the GRID MPX formula wheel and DDU5 sim dash
---
---
Mike's PC Part Picker List
Mike has made a shopping list of the components he's looking for to make his dream system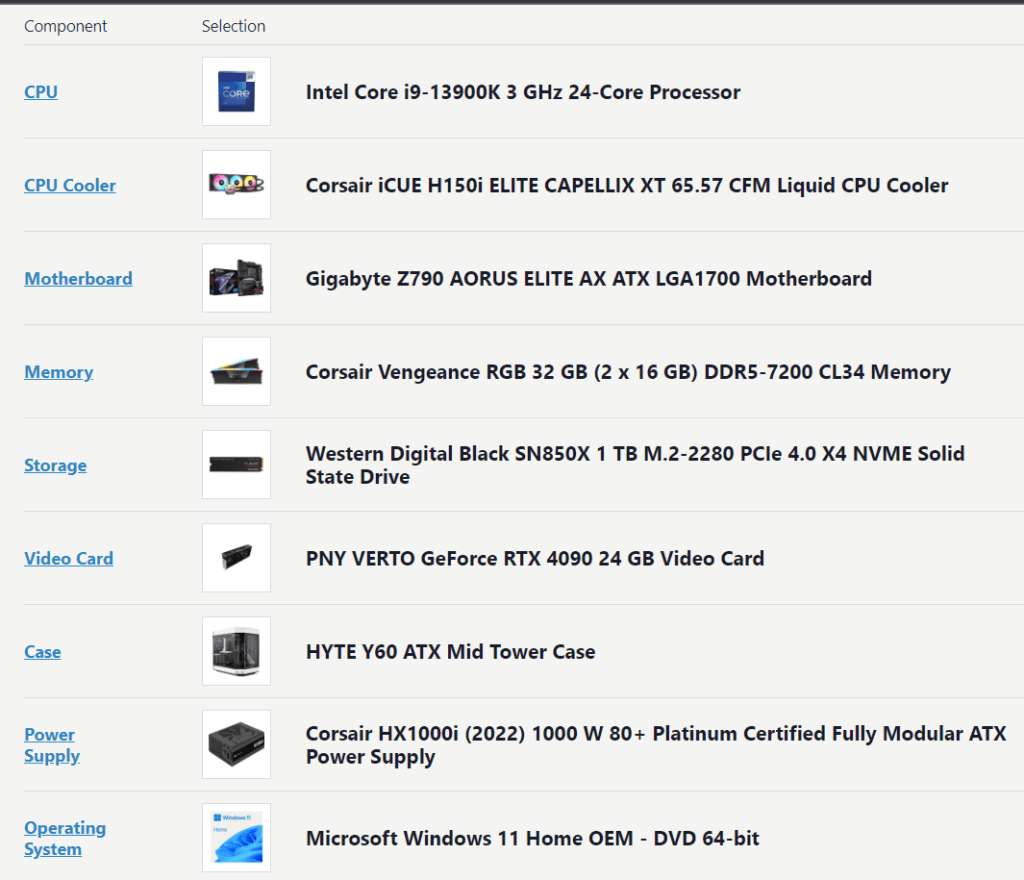 https://pcpartpicker.com/user/mikedeanellis/saved/sHxV6h
---
---
SimLab Pedals
SimLabs revealing their Loadcell Pedal Set ! With a proprietary loadcell design (patent pending) capable of handling up to 200 KG of brake-pressure, dual-stage compression, swappable elastomers, and adjustable inclination and travel. Additionally they will be releasing various upgrade accessories in the near future, with the clutch pedal coming along first!
---
---
Results
NASCAR iRacing Series
Friday Open – Richmond
Mike -. P 5- took the lead on lap 72 and kept it right up there until the end leading the most laps. I lost the lead with about four to go and got wrecked via NetCode basically. The guy from a higher split on an alternate account, came down to our split the winner, which is pretty irritating.
Rochette- P14 2 days after having a camera shoved in my right knee for a torn Meniscus decided to have some fun at Richmond. Ran with Donnie as we dodged and weaved well we tried. Final gwc started 7th was aiming for a top 10 but my leg mustve twitched or something as i gassed it alittle too much and spun myself out in T2.
Stephen- bled. A lot of laps, forgot wreck near the end.
David – P school event
Tom- came up through the field twice. Finish 10th.
Joe – lost a couple laps early, but got them back.
Mackenzie – p14 started p27 was running pretty well got caught in a wreck and had to fix some damage so ended up a few laps down but still managed a p14
Sunday Open
Rochette -P3 wasnt the fastest but consistent stayed out and ended up finishing the race on some old ass tires (96 with about 3 or 4 cautions on em)
Mackenzie – P20 started p7 ran in the top 10 most of the race. Was up to 2nd around lap 110 and had a guy dive in on the inside from behind me as I was turning to the bottom of the corner and got spun
David – P10 Top Split. Good run in a tough field, raced very conservative since didn't have a good finish in the bank, and had great long run speed.
Sunday Fixed
Mike – p dq'd out 4 to go
Wednesday Open: Bristol dirt
Rochette -P6 17 cautions for 87 laps. Only got 6x for the about the 135 times i got hit and spun. Even had a guy wreck me and shown his displeasure under caution of hitting me multiple times. Ya the birb will remember
Justin- P2, started p2, kinda uneventful race, so many cautions. Didn't fall back more than 5th. Just tried to not get run over.
Mike- p qualified P5 and pretty much ran top-five all night long as high as second. Got destroyed on the final restart and spa and finished 11th.
McKenzie- p
David – p wRacked out, dirt is dumb, didn't even go back to see who wrecked me, cause dirt is dumb
Tyler- P 14
Thursday Open Ellis -P6 in top split rail top-five all day long as high as third. Big heavy hitters in the race including Matt Busse.
---
---
Official Series
Ellis–
I R.04@circuit Gilles Villeneuve. – wreacked Out
Toyota GR 86 production car challenge finished 11th at a 25 after a rough start
Dallara dash I Daytona pole position.
Gen 4 at Bristol. Top split qualified 16th. I had a long. Green run got as high as 12 and then fell back to dead last 25th one lap down after a couple of cautions. I got the lucky dog and ran around tent the rest of the race and brought it home P 10.
Dallara dash at Pocono. Got wrecked off early.
A fixed at Bristol dirt. Q3. Got a black flag on our restart when I was starting second the leader didn't go at all and I got black flag so the question begs what am I supposed to do if the leader doesn't go then I don't go either. So restart a dead last got up to pee five. Then got spun in the caution restarted 15th with three to go and got back to P6.
Carburetor cup at Monza.
---
---
League / Hosted Races
OBRL Cup
Brian -P16 Started P21. Had a decent run going. Saving tires was key and was able to move up on longer runs. Was up to 11th when a yellow came out not long after a green flag pitstop, trapping me a lap down. Got the wave around, but had to start from the rear, making my way back up to 16th
Josh Robinson
Eric Essary
Tom Ogle
---
---
Final Thoughts
---
---
Words Spoken in Closing Audio Clip -""Thank you for listening to the iRacers Lounge podcast make sure to go subscribe to us on iTunes, SoundCloud, or Google Play, Facebook & Twitter, See You On The Track ."
TITLE
Parks and iRec
Description
On the show today we welcome guest Chris Waldron, Director of Parks and Recreation, City of Fulton NY. We get an April 1st tweet about rain and dynamic weather. We'll show you were you can learn to edit your own video on iRacing and how to learn all about the new Late Model car. So sit back, relax and join us on the iRacers Lounge Podcast.
iRacers Lounge Podcast is available on iTunes and Apple's Podcasts app, Stitcher, TuneIn, Google Play Music, Spotify, Soundcloud, Podbean, Spreaker, Podbay, PodFanatic, Overcast, Amazon, and other podcast players.
Sponsors:
Hosts:
Mike Ellis – twitter.com/MikeDeanEllis
David Hall – www.twitch.tv/mixmage
Greg Hecktus – twitter.com/froozenkaktus – www.twitch.tv/froozenkaktus
Brian Maccubbin – www.twitch.tv/MacRubbinsRacin
Kyle Pendygraft – twitter.com/LoudPedalGaming
Tony Groves – www.twitch.tv/SirGroves
Adam Josselyn- twitter.com/Jossad83
Tony Rochette – twitter.com/TonyRochette
Tom Dreiling –
Donnie Spiker – twitter.com/Spikerman19
Bobby Jonas –
MacKenzie Stevens –
Justin Pearson –
Links:
Facebook – www.facebook.com/iRacersLounge/
Twitter – twitter.com/iracerslounge
Instagram – instagram.com/iracersloungepodcast/
Web (Show Notes) – iracerslounge.com/