3/4/2021 – Committed – Episode 0269
iRacers Lounge Podcast – Conversation Topics
Brought to you by: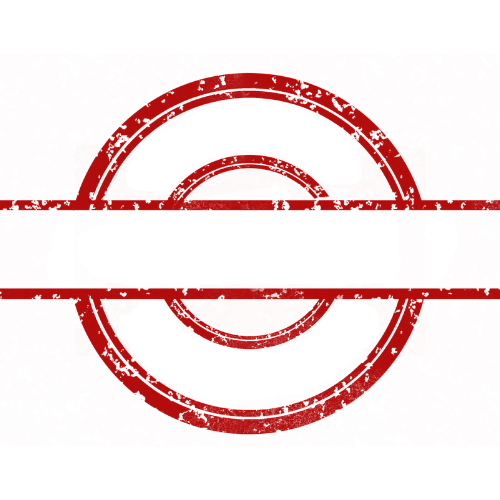 Opening Audio Clip -"Your listening to the iRacers Lounge Podcast where we discuss everything iRacing, in a casual setting, enjoy."`
READ THIS AT THE TOP OF EACH SHOW!!!
Welcome to the iRacer's Lounge, I am your host "XXX". iRacer's Lounge is a podcast for the iRacer, where we talk all things iRacing in a casual setting.
Joining me are the usual characters, ————
---
---
Introduction
In the show today Evan Posocco will be on hand to recap week 3 of the iRacing Coke Series at Las Vegas and we look to some goodies coming up in the season 2 build.
---
---
TITLE SPONSOR READ:
Cash League
Grid Finder, your go to source for finding your next sim racing "CASH" league. A new premium feature within grid-finder.com to promote your cash league/race to over 1000 racers that visit every week. A low cost of £4.99/month will allow you to feature up to 3 divisions in Grid Finders newest section, That's only £1.25/week to make sure you have a full grid for your next cash league or race. Special iRacers Lounge offer – sign up now and get a free week!, this is only good for the rest of December so get your cash league signed up now.
Grid Finder – "The home of online sim racing leagues"
Visit www.grid-finder.com to find a league, or to upload your own!
Grid Finder – "The home of online sim racing leagues"
---
---
Topics
---
---
Coke News [Hall]
iRacing posted an interview video with 2020 Coke Series Champion Nick Ottenger.
Also getting an iRacing video interview was 2021 Coke Series Daytona 500 winner, Michael Conti
https://www.enascar.com/news-media/2021/03/01/sim-city-coca-cola-series-takes-on-vegas/
Evan on Lockdown [Mike]
Coke Series announcer Evan Posocco Tweeted that he will be quarantined in an Orlando hotel after being exposed to a hotel employee he was exposed to tested positive for covid 19.
Race [Mike]
Lap 5 caution Mitchell DeJong – Looks like he blew up and got tagged from behind.

First caution of the year – restart lap 9 it is Vincent, mullis, kirwin, luza, lyon

Lap 11 – caution -THE BIG ONE – Contact between @Blade_Whitt and @BowlinGraham triggers a multi-car incident down the backstretch into T3. Bowlin not happy with Whitt, @GarrettLowe_6 not happy with the lack of brakes behind him.

Pit stops – Several pit, several stay out.

Tim Dugger interview – Then caution lap 18 – @jmullisracing and @bdavies_88 get together in Turn 1… multiple cars destroyed. The pit strategy did NOT pay off.
Luza wilson leading then caution lap 33 – @rayalfalla has heavy damage after a nudge from @CVincent34… Alfalla sawed on the wheel and looked like he almost had it, but then went dead right and into the wall hard. was carving his way thru the field too. Everyone pits
Restart lap 48 = clampitt novak guest – luza crowder wilson bussa kirwan shearburn
LEAD CHANGE LAP 39: @swilson3_ outside Clampitt and brings @RyanLuza with him!
Top 5 stayed out – a few laps later caution lap 43
Manes and Duval involved – it was 4 wide and got slammed into the wall hard. @DDuval42, @GarrettManes, @IGann_34 and @CVincent34 get the worst of it.
Going green for a bit now at halfway it is wilson kirwin luza up front –

Now, @swilson3_ has led 15 laps of 53, second most in tonight's field.
@RyanLuza has led 21 so far.

Caution lap 67 – Gann in trouble was two wide trying to get by ray alfalla and they ended up bouncing off each other pretty hard.
A few laps of green then luza fighting wilson for the lead side by side several laps in a row – then shearburn making it 3 wide for the lead!

PENALTY: @DDuval42, failure to meet minimum speed.

It took a while, but @RyanLuza finally prevails on the high side to pass @swilson3_ for the lead at lap 83! Eventually the lead shakes out back to single file – and it is luza – wilson kirwin cook ray lyon shearburn hurst olat
Douchette spins himself off of Derek Justice nose – but no caution.
Luza and kirwin pit under green with 32 to go – then wilson pits – Malik Ray takes Lead

@MalikRayTTV is going to try and make it the distance per the broadcast.
The 11 leads the 4 of @RyanLuza by 22 seconds with 21 laps to go.

15 to go – malik ray is about a lap short but he is hoping for a caution
Whitt 2nd matheson third – nvak boes – luza about 10 seconds back with 10 to go
Douchette balck for not meeting minimum speed
6 to go ray is slow and matheson takes the lead – then pits w novak –
Whitt takes lead but luza is coming – then whitt pits and luza takes lead w wilson 2nd – kirwin third – luza wins it!
---
---
Porsche Supercup Round 5 [Brian]
Mitchell deJong captured his first victory in the Porsche Tag Heuer Supercup series Saturday at Montreal.
All Star Race [Greg]
In All Star action Laurens Vanthoor wins the feature and Emily Jones Takes the win in the sprint race.
---
---
12 Hours of Sebring [Tony]
iRacing has announced the details of The 12 Hours of Sebring Powered by VCO on March 26-28th.
https://members.iracing.com/jforum/posts/list/3794571.page#12410964
---
---
Ask Jr. iRacing Question [Hall]
A listener asked Dale JR if there are any more classic Nascar stock cars in the works in iRacing. he basically said nothing is in the works, and sited that they are concentrating on tracks outside of the US.
https://play.google.com/store/apps/details?id=com.vincendev.ischedule&hl=en_US&gl=US
---
---
'Losing My Position" [Mike]
Virtual Paddock posted a comedic YouTube video song parody of 'Losing My Religion' by REM with 'Losing My Position'
https://members.iracing.com/jforum/posts/list/3794278.page#12407769
---
---
'The Ladder' [Brian]
The iRacing Shop is now sporting a new classic pullover hoodie with a licensing ladder style design
https://iracing-official.creator-spring.com/
---
---
12 Hours of Bathurst Pains [Hall]
iRacing staffer Nicholas Bailey that on 6:30am est, before the 7am start of Bathurst, they experienced the loss of 2 of the raceservers apparently due to a power cabling issue during a maintenance window that reduced them to a single power source.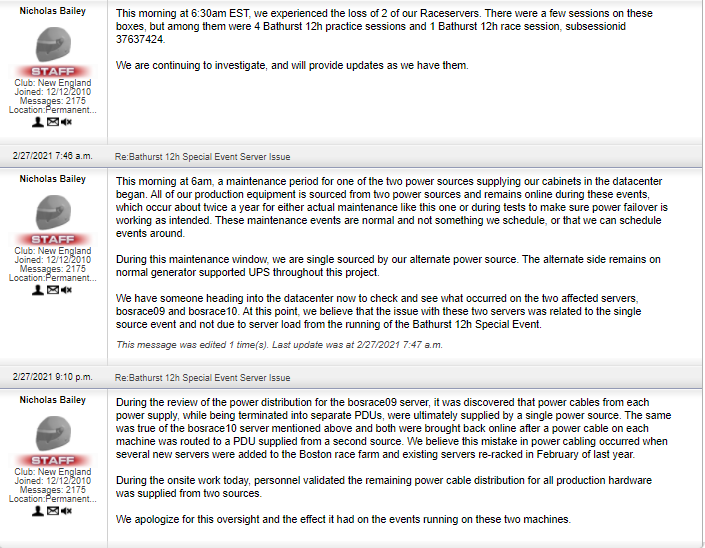 https://members.iracing.com/jforum/posts/list/3794338.page#12408458

https://members.iracing.com/jforum/posts/list/100/3794334.page#12409065
Stats [Greg]

https://members.iracing.com/jforum/posts/list/3794479.page#12409766
https://races.tfrlab.org/#/events/a1789980-5dff-4c57-b142-5638f37eb366
https://members.iracing.com/jforum/posts/list/3794503.page#12410115
---
---
Lockdown Racing Hosting Fast Pasta [Tony]
Lockdown Racing welcomed Fast Pasta Anthony Alfredo in their Homestead Race as he prepared for his race on Sunday.
---
---
Dynamic Track Displeasure [Mike]
There's another thread in the iRacing forums regarding the dynamic track situation and lack of multiple line racing. Shawn Powell's post in the forums illustrated his frustration.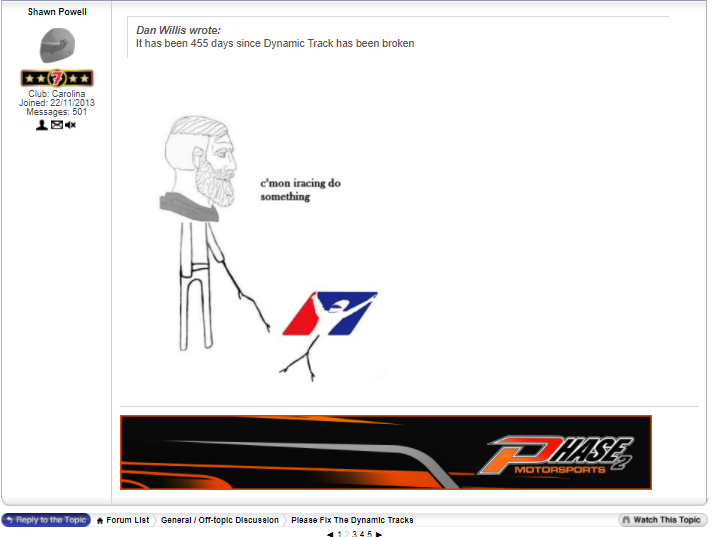 https://members.iracing.com/jforum/posts/list/25/3794516.page#12411516
RealRadman posted a YouTube video with his thoughts of the dynamic track and Version 7 tires after not being on the service for a while.
iRacing's Response [Brian]
Tyler Hudson says that iRacing has heard the concerns from it's members and assures everyone that they are taking this situation seriously and have been working to fix the issue. They feel they are getting very close, but make no promises as to an upcoming release.

https://members.iracing.com/jforum/posts/list/75/3794516.page#12412387
---
---
Carnomaly 500 [Hall]
eRacer welcomed Nascar Driver Kyle Busch to the Carnomaly 500 by granting the 2 time champion a provisional start for the race.
Coke Series and Richmond Raceway eSports Driver Jimmy Mullins takes the win in the Carnomaly 500
---
---
Incoming [Greg]
iRacing dropped a teaser picture of what may be in the upcoming build week.
---
---
VRS Giveaway [Tony]
VRS is have a giveaway contest that begins March 1st, 2021 and ends March 24th, 2021. The grand prize is a VRS DirectForce Pro (Direct Drive) Wheel Base
https://virtualracingschool.com/vrs-dfpro-giveaway/
---
---
Lemonis Cashing Out [Mike]
Camping World CEO Marcus Lemonis is offering a $100 merchandise certificate to anyone who runs his paint in iRacing this week.
If you post your own Camping World paint scheme and you could win a Camping World RV.
---
---
Release Notes [Hall]
iRacing has posted the release notes for the most recent UI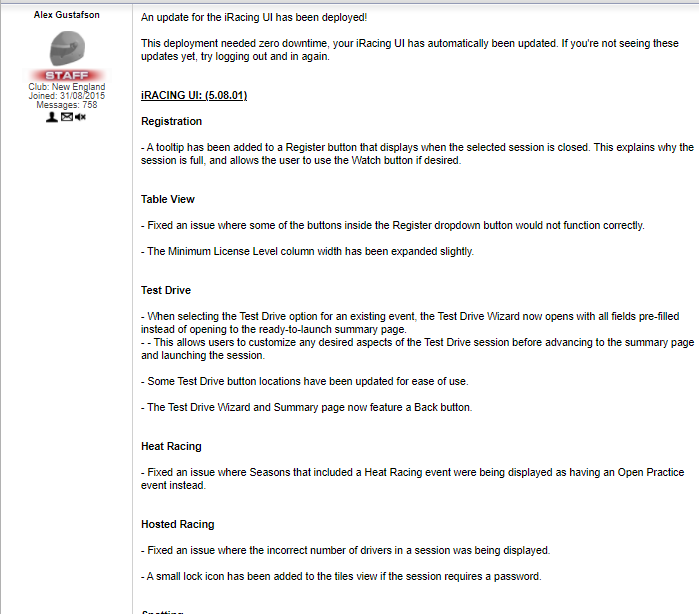 https://members.iracing.com/jforum/posts/list/3794679.page#12412211
---
---
Mike Get's Some Swag
Mike gets some prizes from his participation in the Autism Awareness Charity Race including a baseball cap and $50 in iRacing credits for his 2nd place finish.
---
---
Committed [Brian]
iRacing streamer Matt Malone shows off his commitment to the sim by showing his active account set to automatically renew on Jan 8, 2031!
---
---
Bristol is No Cost [Greg]
iRacing has announce that the upcoming addition of dirt at Bristol Motorspeedway will be deliverer on March 9th and will be of no cost if you already own Bristol.
---
---
Season 2 Downtime [Tony]
iRacing announced that the service will be down on Tuesday, March 9th at 8:00am EST for the deployment of the season 2 release.
---
---
rFactor Get's Gobbled Up [Mike]
Motorsports Games has aquired Developer Studio 397 and the rFactor Simulation Platform with it.
https://members.iracing.com/jforum/posts/list/3794813.page#12413746
https://members.iracing.com/jforum/posts/list/3794813.page#12414022
https://www.britishgt.com/news/689/revamped-british-gt-esports-championship-joins-sros-global-sim-racing-roster
---
---
NiS – No Tire Limits [Hall]
Josh Hurley posted in the forums that on the Wednesday NIS race his split had no tire limits.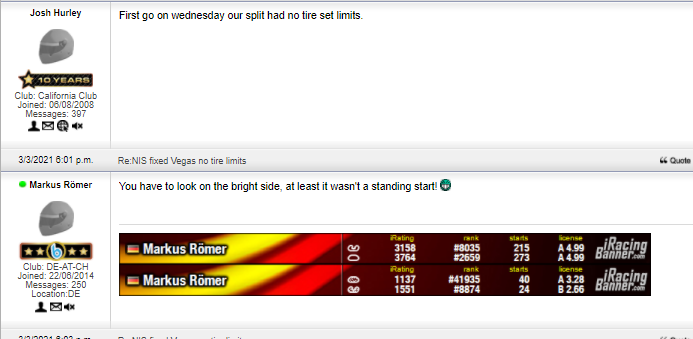 https://members.iracing.com/jforum/posts/list/3794815.page#12413755
---
---
Pit Exit Position [Brian]
Liam Brotherton asks in the forums Should iRacing move the merge point at Dytona Oval to the entrance to turn 1 instead of the blue cone position at the exit of turn 2?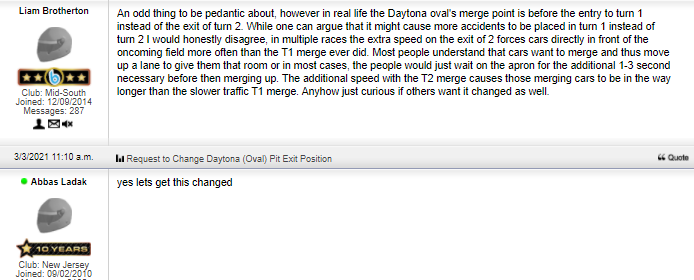 https://members.iracing.com/jforum/posts/list/3794776.page#12413291
---
---
Podcast Housekeeping
Aftermath Podcast – Get it! – I tell old stories of recording music in Hollywood in the late 90's….
New Website – Leave Comments https://www.iracerslounge.com/
Get your Merch – https://www.grid-finder.com/iracers-lounge
You've heard us talk about the Spotlights. Those of us that have them here at iRacers Lounge absolutely love them. So much, we have become an affiliate! With the roll out of their new Spotlights Pro. Here's your chance to check them out, you won't be disappointed. Enter coupon code: IRACERSLOUNGE for 10% off!!
https://www.facebook.com/1565571990374134/posts/2832513123680008/?d=n
---
We are in the regular rotation… (Mike)
https://performancemotorsportsnetwork.com/
---
Fantasy [Tony]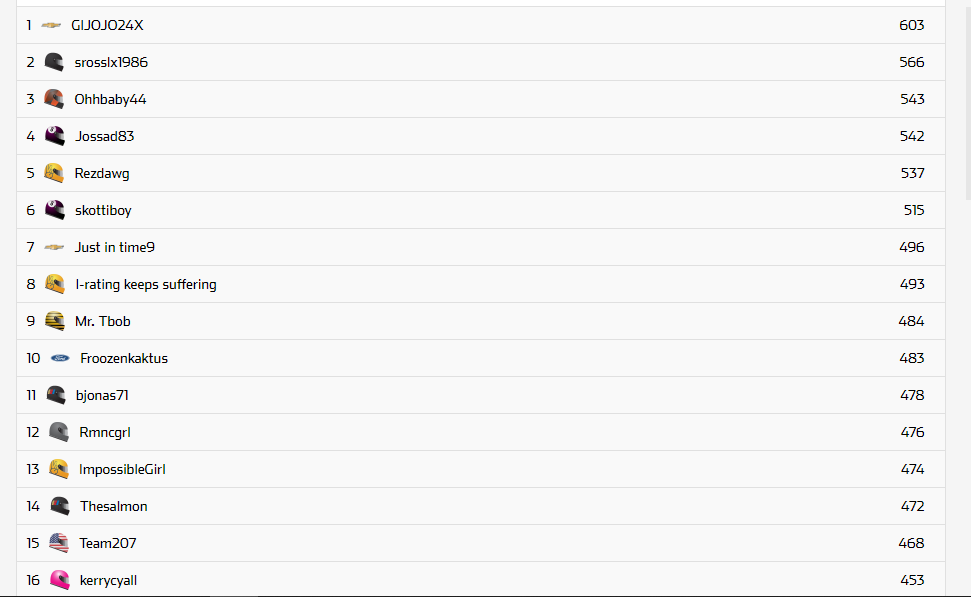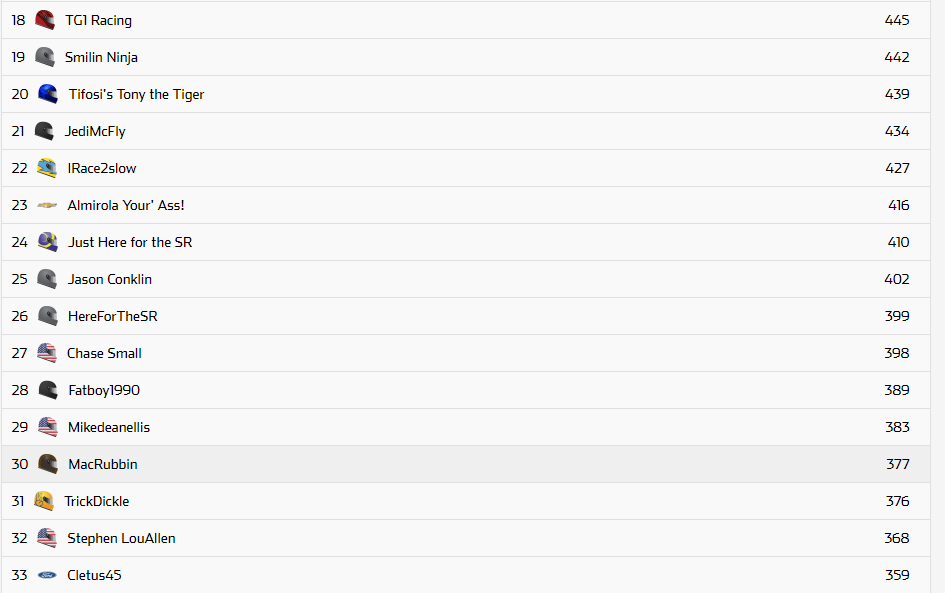 ---
---
Hardware/Software
---
Meca CUP1 Sim pedals-Czech [Hall]
Sim Racing Blog posted a review of the Meca Cup1 Sim Pedals with Prices starting from € 630.- for the 2-pedal set to € 870.- for the complete set including pedal baseplate. They're built entirely from laser-cut stainless steel and they report there is no flex or play in this pedal set. All pedals have their own load cell of which the brake pedal has a maximum load of 200 kg;
https://www.simrace-blog.nl/en/meca-cup1-sim-pedals-review/?fbclid=IwAR1ljnJTx53Lrd4PYseEM9vAlxsV5SVLjEEb9VrR_66oYOQgzB-ZWTGs6m0
---
---
8k 90hz could be close [Brian]
Pimax may be close to adding a beta firmware for it's 8K X headset that will allow it to run at 90hz with certain GPU's

https://members.iracing.com/jforum/posts/list/3793800.page#12402298
---
---
2021 Product Update [Mike]
The Simpit Technologies Centurion Pro 180 fov projector screen has received several updates and is offering a 10% discount to celebrate their 10th anniversary
https://www.facebook.com/118179234934114/posts/3721290144622987/?d=n
https://www.simpit.co.nz/shop/centurion-pro-270-fov/
---
---
App of the Week [Tony]
iSchedule is an IOS app for $2.99 that helps you manage your iRacing schedule and to view and share results
https://play.google.com/store/apps/details?id=com.vincendev.ischedule&hl=en_US&gl=US
---
---
Results
NASCAR iRacing Series
Race: Vegas
David = P 23, no cautions
Rochette P9 just not fast enough
Groves- P 13 – should have been top 10, got smacked around at the end. Limped it to the finish line
Saturday Fixed –

Tyler – P 23 – started 33rd. Green flag stop on lap 60- 44% onRF. first caution on Lap 80 was First caution. Ran great into the top 15 and had late caution that set up the GWC. As the leader crossed the start finish line for the white flag caution came out. I was P9 and saw the leader cross the line heading into turn 1 as caution dropped. Tangled up in wreck on last restart and finished 23rd.

Sunday Open

David – p wrecked, guy says he held his brakes, I don't believe him
Adam- p
Tom D – P5. Worked my way up from 27th in qualifying (yes I did qualify). Ran in top 8 all race. A late race restart and a couple guys just had faster early speed. But I'll take a top 5

Sunday fixed

Mike -p8 – started like 18th but worked my way up to back half of top ten basically – 9 or 10 cautions though. I felt like the only way to do better was to have track position from Q and keep it.
Brian – P19-started P2. Stayed in top 10 all race. Caution with 6 to go. Restarted in 7th but got tangled in wreck with 2 to go.
Stephen –
Tyler – P32 – started P31 nice long green run to lap 40 moved up to 18th. Car was good but blew the motor on a restart. Ripping 3rd to 2nd = boom
Race: Vegas
Wed Open:

Hall – p19 got loose on last run in a hard 3 wide battle bouncing of the wall.
Tom D. P24. Wow, had some issues at beginning and got damaged. Unfortunately the race went caution free. I'll get another shot Sunday
Ellis – p23 – started 10th ran 4th to 9th basically all night – spun myself out trying too hard on the final restart, wow i suk
Rochette – P4 great on long run but just a tad loose and lappers were blocking the bottom

Thurs Open

Ellis – p9 ran top 5 for first run then got door slammed twice for some damage – 20 down on revs – came up from the back to about 16th – then pit strategy got me to 9th at the end.
---
---
Official Series
12 Hours of Bathurst with OBRL team- P15 finished race. Got a good bit of damage from multiple incidents from a lot of aggressive driving
---
---
League / Hosted Races
FastTrack Sim Racing League

Mike- p17 – 39 drivers started i started 31st – moved up was running high as ninth but got wrecked ran to the wall around lap 90
Tom D. P6 – Big field. Started 29th (one day I'll learn how to qualify-doubt it). Got big RF damage early after getting into top 10. Fell back to 26th during green flag stops. A yellow came out to allow me to fix damage. Worked my way back into top 10. Was able to work into 6th on GWC.
Ucora- ucrl Atlanta INDYCAR

Mike – pwrecked out Coming off that road after the final green flag stop I go and it to keep up with teammate David Hall and I spun it down to the inside wall and wrecked my car I quickly towed out to not cause a caution.
Premier Race Network Cup:

Tom D – p6. Ran in the top 5 all race. Made a slight mistake in green flag stops. But I'll take a decent finish
---
---
Final Thoughts
---
---
---
Words Spoken in Closing Audio Clip -""Thank you for listening to the iRacers Lounge podcast make sure to go subscribe to us on iTunes, SoundCloud, or Google Play, Facebook & Twitter, See You On The Track ."
TITLE IDEAS
Committed
.
.
Description
The voice of the iRacing Coke Series Evan Posocco returns to show to recap round 3 at Las Vegas. We'll cover some of the season 2 build teasers that have started to trickle in and we debate the dynamic track conditions and where should racers merge at Daytona. We throw in some hardware/software and more on this week's iRacers Lounge Podcast.
iRacers Lounge Podcast is available on iTunes and Apple's Podcasts app, Stitcher, TuneIn, Google Play Music, Spotify, Soundcloud, Podbean, Spreaker, Podbay, PodFanatic, Overcast, Amazon, and other podcast players.
Sponsors:
www.grid-finder.com
Hosts:
Mike Ellis – twitter.com/MikeDeanEllis
Tony Groves – www.twitch.tv/SirGroves
Chris Scales – twitter.com/JediMcfly
David Hall – www.twitch.tv/mixmage
Greg Hecktus – twitter.com/froozenkaktus – www.twitch.tv/froozenkaktus
Tony Rochette – twitter.com/TonyRochette
Adam Josselyn- twitter.com/Jossad83
Brian Maccubbin – www.twitch.tv/MacRubbinsRacin
Tom Dreiling –
Links:
Old Show Notes – bit.ly/2CFeArM
Facebook – www.facebook.com/iRacersLounge/
Twitter – twitter.com/iracerslounge
Instagram – instagram.com/iracersloungepodcast/
Web (New Show Notes) – iracerslounge.com/