iRacers Lounge Podcast – Conversation Topics
3/18/2021 – Geg, Don't Leave Me Hangin' – Episode 0271
Brought to you by: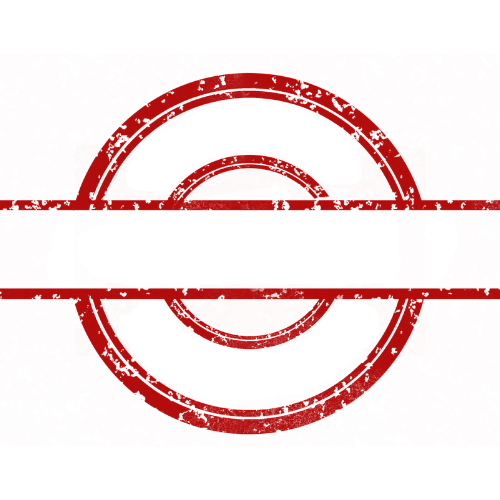 Opening Audio Clip -"Your listening to the iRacers Lounge Podcast where we discuss everything iRacing, in a casual setting, enjoy."`
READ THIS AT THE TOP OF EACH SHOW!!!
Welcome to the iRacer's Lounge, I am your host "XXX". iRacer's Lounge is a podcast for the iRacer, where we talk all things iRacing in a casual setting.
Joining me are the usual characters, ————
---
---
Introduction
Today we welcome and introduce to the listeners, new member to the show, Kyle Pendygraft. Also, Evan Posocco will be along to cover this weeks emotional iRacing Coke Series Race and much more.
---
---
TITLE SPONSOR READ:
Grid Finder is the home of online sim racing leagues. Grid Finder is also a great resource to find paint designers and race commentators. Recently they have been adding some great articles discussing various aspects of running leagues and sim racing in general. Grid Finder is constantly adding helpful content and giving us all more reason to visit www.grid-finder.com
Visit www.grid-finder.com to find a league, or to upload your own!
Grid Finder – "The home of online sim racing leagues"
---
---
Special Guest
Kyle Pendygraft
https://members.iracing.com/membersite/member/CareerStats.do?custid=457210
https://www.facebook.com/loudpedalgaming
General Questions:
What brought you to iRacing and how did you hear about it?
Which series do you normally run?
What type of hardware do you use? (Wheels, Pedals, ect.)
Software

What gear did you use when you first started iRacing?

Do you run Monitors or VR?

How many monitors?
What VR headset are you running?

Are you part of a team?
Do you participate in any leagues or is it just official racing?
What is your most memorable iRacing moment?
Guest Specific Questions:
Loud Pedal Gaming

I am a big nascar fan and got tired of nascar heat series games and always had a fascination with iracing just never had a PC that could handle it until last march

I normally run all 3 Nascar series, but I do bounce around to some open wheel Road racing and IMSA class races.
Simexperience ProV2 Direct Drive wheel, Fanatec Clubsport V3 with the brake and gas mods, Thrustmaster TH8 Shifter and an ebay hand brake. All of thats mounted on a Next Level GT Track rig.
TomaHawk B450 Max motherboard with a Ryzen 5 3600 CPU and a MSI Geforce 2070 Triz fozr GPU

Thrustmaster TX 300 wheel and the T300 pedals and the thrustmasterTH8 shifter

Monitors

I use 4 monitors but only use 3 for iRacing
I recently sold my Oculust Rift S VR Headset

Yes im apart of TIFOSI racing team
I run in the IROC Challenge Series Which is a IROC themed league. We just finished up season 2 in the ARCA cars and about to start up Season 3 in the Truck series. I also race in the Majors. This is my first season in the majors. I also run in the WORC I race in their sports car series.
I would have to say my win at Talladega in the trucks as i got wrecked and went across the line backwards and got the win which was my first ever win in iRacing as i had only been in the sim for less then a month at that point.
---
---
Topics
---
---
Coke Race [Mike]
Media Guide – https://members.iracing.com/jforum/posts/list/3797576.page#12432495
https://s100.iracing.com/wp-content/uploads/2021/03/2021-eNASCAR-MEDIA-GUIDE.pdf
Coke Race: Atlanta

Jusan Hamilton – Grand Marshall here to give the command…
deJong, Leahy, Gann and Zalenski are comfortably in the top four positions with 35 laps scored.
39 laps, and @LoganClampitt_ is the newest member to the Top 5 club. His teammate @NickOttinger is working on getting P6 from @john_gorlinsky.
The Pro champ, @IGann_34, takes second away from @KeeganLeahy.
45 laps in the book. Gann is about a second behind leader @MitchelldeJong1.
Caution! @BBryant53 and @znovak15 get together! @MalikRayTTV also involved!
Lap 49, pits were just about to start. Bryant said he wanted to pit, Novak says he didn't hear him.
@MitchelldeJong1 gets the jump but here comes @LoganClampitt_!
NEW LEADER, Clampitt on lap 53!
Battle for the lead on lap 63!
@IGann_34 is all OVER @LoganClampitt_'s back bumper!
Contact! @DerekJustis in the wall after getting into it with @RyanLuza. We stay green!
Running order (lap 75/163)
2. @IGann_34
4. @ZackN24
Zack Nichols to third and brings Nick Ottinger with him on lap 81.
deJong fades to P5 now.
69 to go – big wreck –@AshtonCrowder and @bschoon55 into the inside wall HARD down the backstretch! No caution though
Three-wide middle gone wrong.
https://www.iracing.com/clampitt-snaps-44-race-enascar-coca-cola-iracing-series-win-drought-at-atlanta/
---
---
Supercup All-Star Race [Hall]
IRL Driver wins the feature event in his inaugural start in the Porsche Supercup All-Star Race at Circuit de Spa
Supercup Results [Brian]
Sebastian Job pulls out a double win in Saturday's iRacing Porsche Tag Heuer Supercup series with a narrow win over Alejandro Sanchez.
https://www.iracing.com/job-returns-to-porsche-tag-heuer-esports-supercup-winners-circle-kanaan-wins-all-star-race-at-spa/
---
---
Tic-Tac-Toe [Greg]
iRacing has teamed up with Nitro Circus for some Tic-Tac-Toe and you can win cool prizes if you win consecutive races in the three weeks of wild races including the LMP1 on superspeedways, street stocks on rally cross and Pro 2 trucks on a road course.
---
---
Indycar Series Poll [Kyle]
Fans of the NTT Indycar Racing Series can decide the location of the third race of the season by participating in a poll in the Indyracing Challenge Twitter page. #INDYCARChallenge
Race Participants [Greg]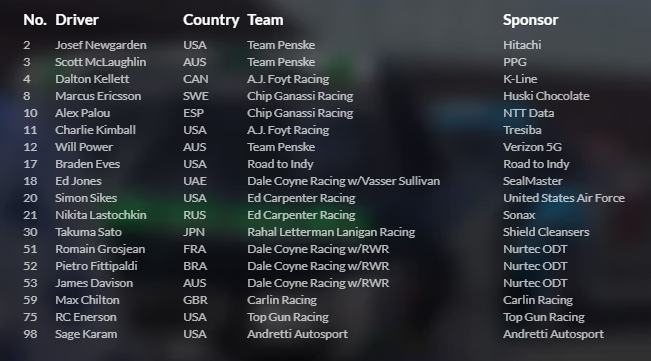 https://www.iracing.com/indycar-iracing-challenge-race-preview-montreal/
---
---
Majeski in the SLM's [Mike]
Ty Majeski brings the iRacing painted Super Late Model back into victory lane in his fourth win at the Rattler 250 at South Alabama Speedway!
---
---
iRacing Job Postings [Hall]
iRacing is back in the jobs market looking for applications in the following fields…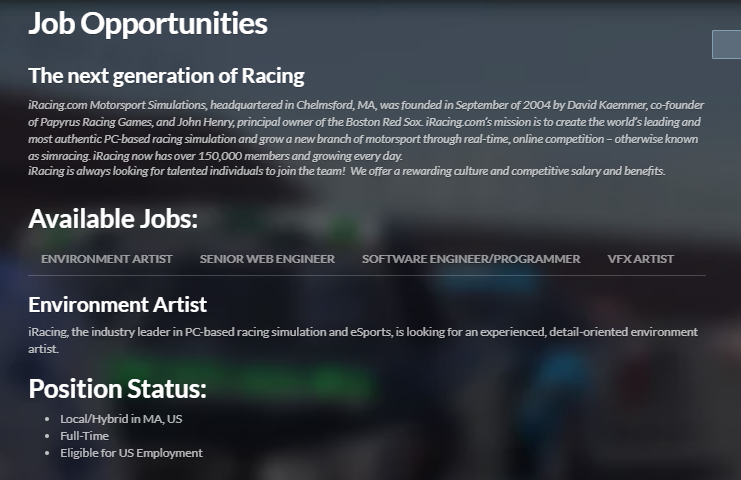 https://www.iracing.com/job-opportunities/
https://members.iracing.com/jforum/posts/list/3796661.page#12427381
---
---
Bridge Not Burned [Brian]
Kyle Busch showed he apparently is holding no grudges with former JGR driver Malik Ray by sending him an autographed helmet which the 2 time Nascar champion sent him free of charge without being asked.
---
---
IMSA Leaderboard Light [Greg]
iRacing painting guru Brian Simpson announced in the forums that with the addition of proper IMSA branding to the cars racing in the official IMSA Sportscar series, the leaderboard lighting system was added to each car.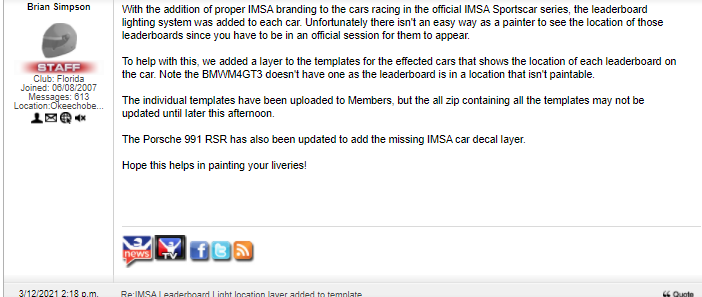 https://members.iracing.com/jforum/posts/list/3796622.page#12427077
---
---
Camping World Cash [Kyle]
Camping Worlds CEO Marcus Lemonis is rewarding $20,000 prize money to the top 3 best Camping World Truck designers. You must enter using #campingworldwinner., and he will personally be picking the top 6 while the fans will pick the overall winner.
---
---
Ray Alfalla Gives the Skinny [Tony]
Ray Alfalla, 4 time Coke Series Champ, posted a video clip in the forums of a possible glitch on his JGR Toyota Camry where the tires get narrow when you reach around 20 mph, and go back to normal slower than that.
https://members.iracing.com/jforum/posts/list/3796600.page#12426960
---
---
Dallara iR-01 at Summit Point [Mike]
iRacing posted a video of the Dallara iR-01 at Summit Point and it is FAST!
---
---
Listener Jose Banales Sent In [Hall]
Listener Jose Banales would like to announce that the endurance Racing League is hosting their first Money race of the year! It's on May 1st @7pm ET. (Gander Trucks) @ Daytona (100 laps), (Fixed setup) For more Information *Ask for our discord server, Send League Request into League #6373 on IRacing. *Driver Fee is 10$ Must PM Jose to Submit payment and get your name & # added to the lineup list, Depending on the size of the field we will be running a Qualification Race & Heats.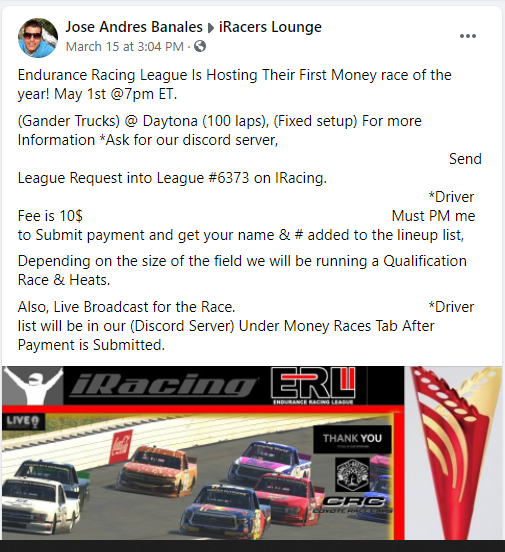 https://www.facebook.com/1565571990374134/posts/2856197401311580/?d=n
---
---
Legend and Street Stock Crashes [Brian]
iRacing Support is letting everyone running the '87 Legends cars and the street stocks that they are aware of game crashes to the desktop with those cars and are working of fixing the problem.
---
---
Monday Night Racing [Kyle]
In a great finish of the Monday Night Racing League at Auto Club in California Anthony Alfredo held off Anders Krohn on the final lap to take the win.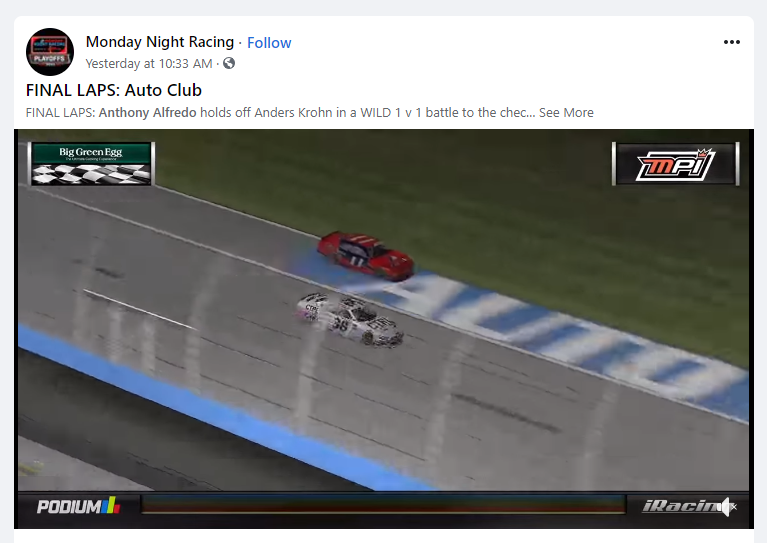 https://www.facebook.com/watch/?v=5461989340492675
---
---
Season 2 Patch 1 [Greg]
iRacing released the details of it's season 2 Patch to be deployed on Friday at 9:00am est.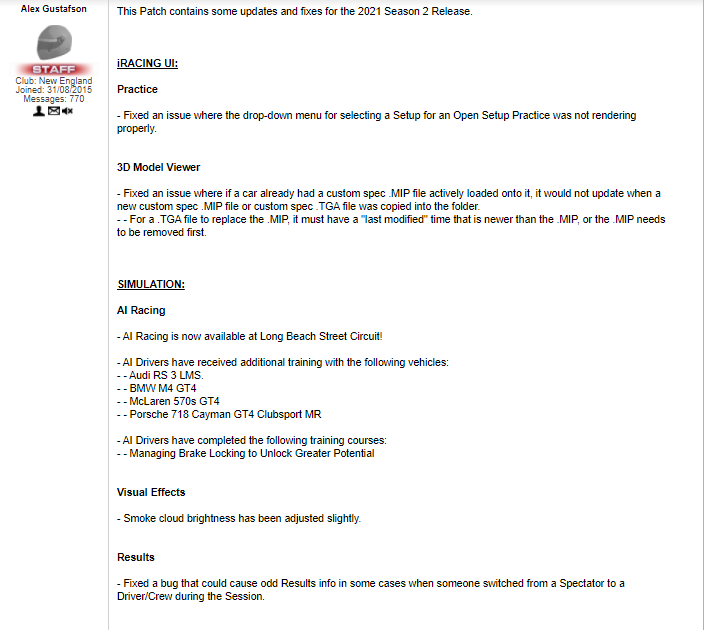 https://support.iracing.com/support/solutions/articles/31000159752-2021-season-2-patch-1-release-notes-2021-03-16-03-
https://members.iracing.com/jforum/posts/list/3797649.page#12433210
---
---
Dale Jr to get Dirty [Kyle]
JR Motorsports announced on Twitter that Dale Jr will be racing in the Degree sponsored cup car in the Pro Invitational dirt race at Bristol.
https://www.jrmracing.com/media/2021/03/18/dale-jr-to-contest-enascar-iracing-pro-invitational-on-dirt-at-bristol-with-deg
---
---
Throughput Messages Getting Updated [Mike]
While running an IRL Race Alan Broz stated in the forums that an entire field was disconnected during the race in what appears to be a glitch in the service. Nicholas Bailey replied that there are some changes coming (not in tomorrows patch) that should clarify what's happening and why.

https://members.iracing.com/jforum/posts/list/3797565.page#12432783
Christian Challiner replied that if the sim crashed, you can check your Documents/iRacing folder you should see .log and .dmp files at the bottom in the format 'iRacingSim64DX11_XXhXXmXXs' that can help diagnose crashes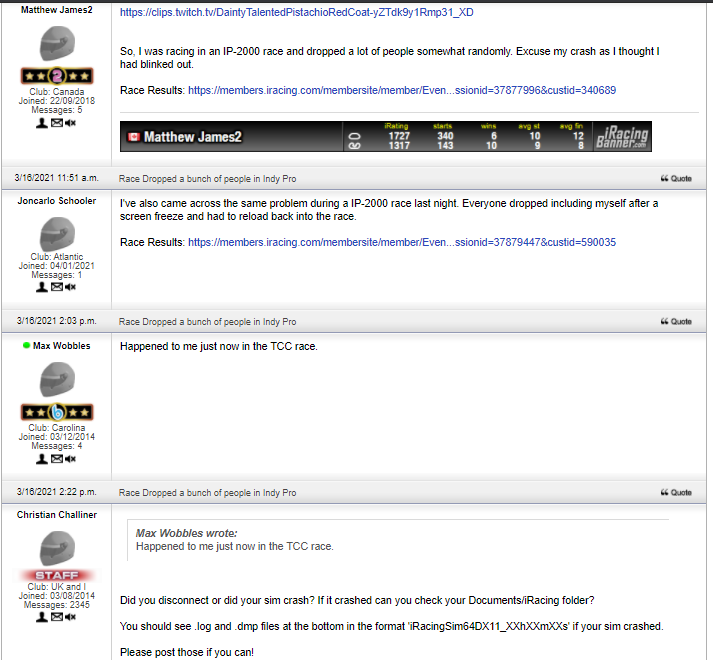 https://members.iracing.com/jforum/posts/list/3797468.page#12432351
---
---
MultiGroove Update – Do you Like It? [Tony]
Driver Manuel Valdes posted in the forums that he really likes the new multgroove racing model from the last build. What are your thoughts?

https://members.iracing.com/jforum/posts/list/3797548.page#12432264
---
---
ALL Release Notes [Hall]
In an iRacing post from Susan Flint, iRacing has now posted the release notes from every build and patch to the sim from all the way back to July 31, 2008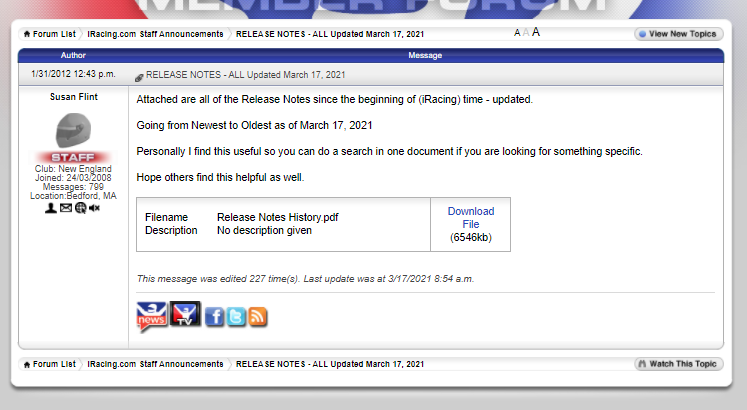 https://members.iracing.com/jforum/posts/list/1841655.page
---
---
BMW Sim GT Cup [Greg]
Greg West released on the forums the details of the next in the BMW Sim GT Cup races. This one to be held on Sunday, March 21 at Silverstone.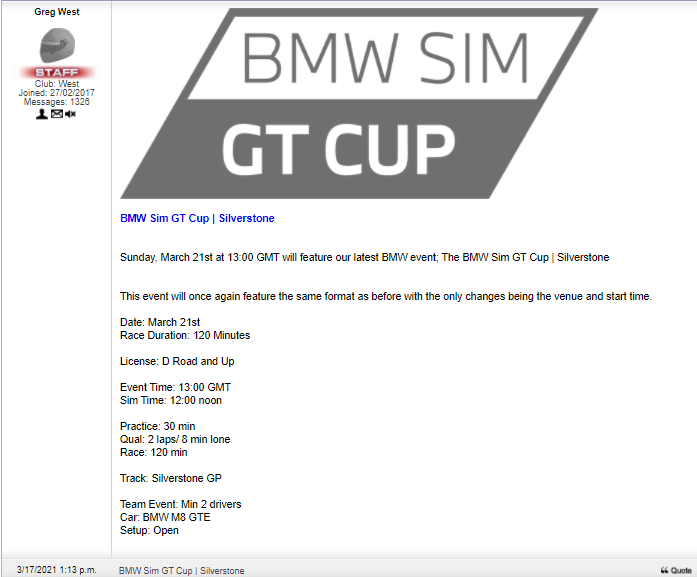 https://members.iracing.com/jforum/posts/list/3797658.page#12433285
---
---
Randomly Being Signed Out [Tony]
Driver Terry Silvers asked if anyone else is being randomly signed out of the UI? He was in the middle of a B-OPEN race… and the UI pops up and he was signed out and did not receive credit for that race. Apparently it has happened to other that responded to the post. Staffer Nicholas Bailey said there was a fix a couple of weeks ago that was supposed to remedy the situation, but they're gonna have to look back at the situation.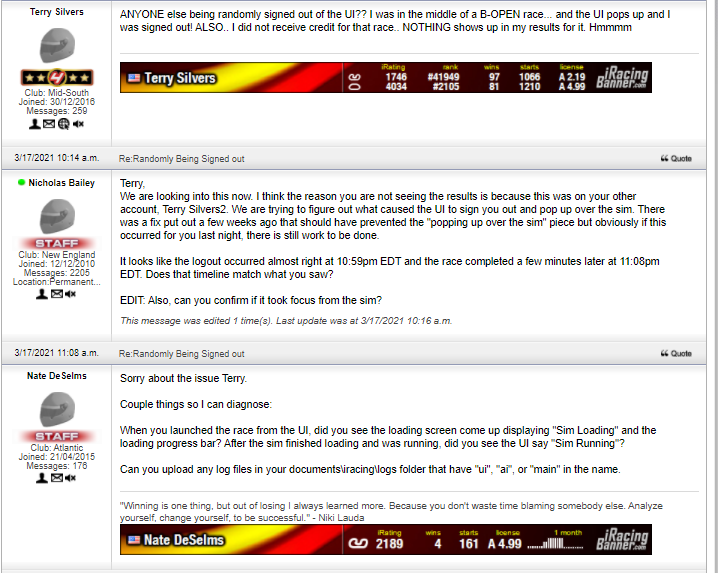 https://clips.twitch.tv/ImpartialPiercingBaconWOOP
https://members.iracing.com/jforum/posts/list/3797622.page#12433289
https://members.iracing.com/jforum/posts/list/3791073.page#12374877
---
---
Podcast Housekeeping
Aftermath Podcast – Get it!
New Website – Leave Comments https://www.iracerslounge.com/
You've heard us talk about the Spotlights. Those of us that have them here at iRacers Lounge absolutely love them. So much, we have become an affiliate! With the roll out of their new Spotlights Pro. Here's your chance to check them out, you won't be disappointed. Enter coupon code: IRACERSLOUNGE for 10% off!!
https://www.facebook.com/1565571990374134/posts/2832513123680008/?d=n
---
We are in the regular rotation… (Mike)
https://performancemotorsportsnetwork.com/
---
Fantasy [Tony]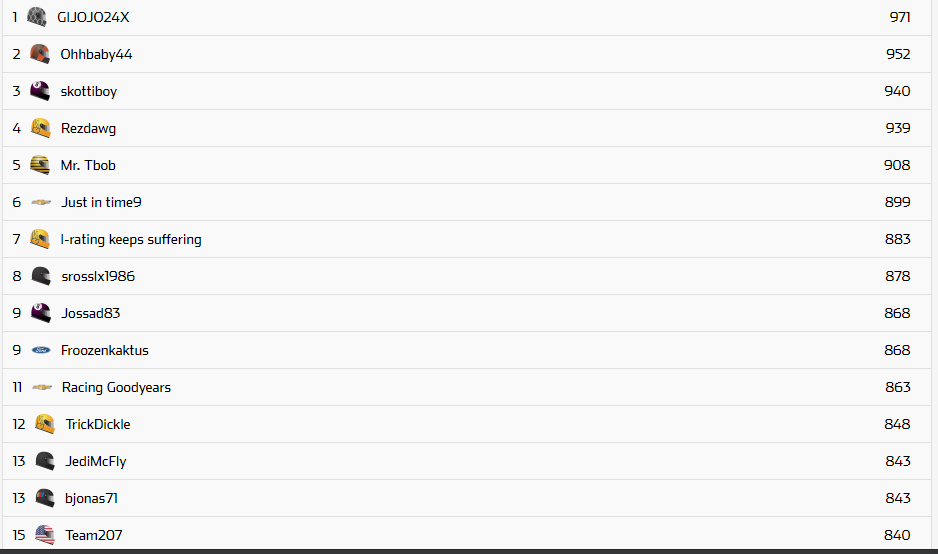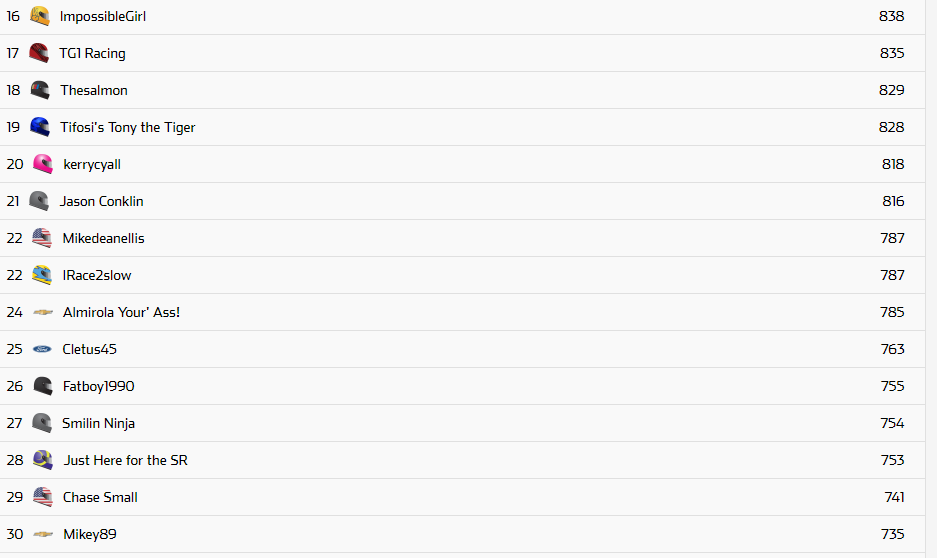 ---
---
Hardware/Software
---
GT Omega Prime Review [Hall]
The Sim Channel does a full YouTube video review of the GT Omega Prime 80/20 profile chassis.
---
---
Listener Rico245 Sent In: [Brian]
Listener Rico245 sent in a teaser video of the new Thrustmaster formula rim which according to their video will be released on April 20, 2021. OC Racing posted a YouTube video on their channel speculating the specs of the new rim.
---
---
To Force Feedback or Not? [Greg]
Kneebon5 asks the question in a YouTube video if it's quicker to race with force feedback on or off.
---
---
Yaw VR [Kyle]
Vito Zarpioni posted a video of himself racing in the Yaw VR Motion simulator.
---
---
Quick Tip [Tony]
Bruce Peterson asks how to move black boxes and mirrors around in the interior of the car.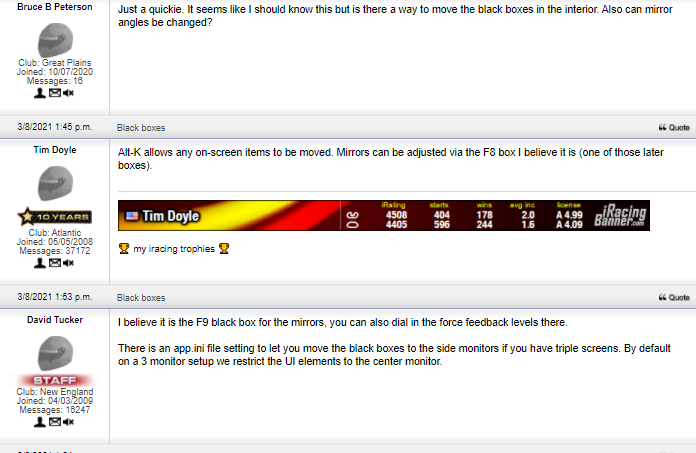 https://members.iracing.com/jforum/posts/list/3795294.page#12419819
---
---
Don't Leave Me Hangin [Mike]
Extreme SimRacing USA shows a rig setup with a ceiling mounted PC and triple monitor mount.
https://www.instagram.com/p/CMPofZfgmb7/?igshid=57wkd7x888mb
---
---
Results
NASCAR iRacing Series
Fri open: Vegas

Ellis – – p wrecked out. I ended up being the first caution when I spun my myself out after coming from 20th to eIghth. Not much damage came from 27th back up to 5th. Running fifth I'm going by Jonathan Dickert and he takes me out. He had a nice apology though. No I'm in the back again. I'm coming out of turn four and my force feedback stops. Wheel turned to jelly in my hand and I don't know what to do with myself and wreck the car. No I'm dead last for five minutes damage just riding around getting lapped and somebody goes on the high side of me and dumps me end of the wall. This was after a drive-through penalty for too many incidents.
Greg – p2
Tom D – P16. Qualified 11th. Rand in top 5 for the first half before getting involved into a crash after a restart. Got a lot of damage. I still have Sunday to look forward to.
Hall = P 11 Top Split! Excited to run this well back in top split, slow start to season might be turning around
Rochette P Its ok @Mike Ellis they wrecked on a restart with 14 to go and i got meatballed
Adam – 8th place top split finish baby
Sunday Open

David – p 11 topsplit, green flag stop at end. Was real good on long run
Tom D – P7. Ran decent all race. Messed up on final 2 laps and lost a position. I'll take at top 10
Kyle – P Ran top 10 until lap 99 was taken out by P5 in turn 3. Car was tight but after a couple adjustments the car seemed to be dialed in. Unfortunate break but still a good strong showing.
Sunday fixed

Mike -p 4 – got in two different incidents early about 15 down on horsepower – 45 seconds damage – got that fixed and came up from the back to top 5 – ran there to the end – had nothing for the leaders….
Brian – P5 Missed Qualifying. Lots of cautions-mostly over aggressive driving. Patience and wreck avoidance payed off for a top 5
Race: Atlanta
Hall – p14, got loose on a restart with 44 to go, took myself out across someones nose. Limped around as a lot of other people took them selves out and stole a 14th. Car was long run fast though, went from 28th to 13th in 40 laps at start.
Ellis – p 6- Had some early damage in a early caution period and ended up in the back but worked my way up and green flag runs for over 100 laps but it did cycle in my favour to
Rochette – Pwrecky- good long run was running down 4th with 24 to go and just throttled in the wall
Thurs Open

Kyle – P Started P11 fought my way through the field and maintained a P4 until final pit cycle. Came out 8th Worked backup to finish P5
Ellis – p -wrecked out. Had a good run going came from the back. Guy killed the wall and came across into me.
Rochette P-double wrecky went lap down on GF stop by speeding got my lap back via wavy flag. On restart cucks in front wreck and i zigged right into the wall while P8 grrrrrrrg
---
---
Official Series
Dallara IR01 – Battle of Little Wings – Ellis – Ran a couple, wrecked out.Really tough w the slower traffic
Ellis – p

Dallara IR01-Watkins Glen- Probably did 20 practice laps started the race there were six people I qualified fifth and wrecked on the first lap. Tanner McCullough was in the race and gave us some tips about tire compounds.
Super late models
Hall – p14, got loose on a restart with 44 to go, took myself out across someones nose. Limped around as a lot of other people took them selves out and stole a 14th. Car was long run fast though, went from 28th to 13th in 40 laps at start.
---
---
League / Hosted Races
Pacific Majors –

Hall – p worst, just no pace and jacked car up worse than I thought
Tom – F3 @ Zolder – Sprint race P33 – crashed early. Main Race – P21 – ran what I could. We started 50 cars on a track I didn't know that well with guys who are way fast at road than me. But Richie finished 2nd and 3rd.
FastTrack Sim Racing League

Mike- p.5 – came from the back – ran top 5 most of the time – led some laps with about 30 to go – had a great battle for the win w Tyler Marble – Ran my tires off trying to hold him off
Stephen –
Tom D. P2 – started 17th, man I can't qualify. Ran to the top 5. Got some major right front damage before last stop. Was able to work up to 2nd. Didn't have anything for the win with the damage to my car
Premier Race Network Cup:

Tom D – p19 – Qualified 4th. Was running 3rd on lap 50 when my power dropped. It came back, but I lost a couple laps
---
---
Final Thoughts
---
---
---
Words Spoken in Closing Audio Clip -""Thank you for listening to the iRacers Lounge podcast make sure to go subscribe to us on iTunes, SoundCloud, or Google Play, Facebook & Twitter, See You On The Track ."
TITLE IDEAS
Geg, Don't Leave Me Hangin'
.
Description
We all welcome new show co-host and special guest this week Kyle Pendygraft! We double dip with guest Evan Posocco who helps us recap the iRacing Coke Series this week at Atlanta. Season 2 bugs show up this week that we'll review, and we'll see what's hangin' in hardware/software all on this week's iRacers Lounge Podcast.
iRacers Lounge Podcast is available on iTunes and Apple's Podcasts app, Stitcher, TuneIn, Google Play Music, Spotify, Soundcloud, Podbean, Spreaker, Podbay, PodFanatic, Overcast, Amazon, and other podcast players.
Sponsors:
www.grid-finder.com
Hosts:
Mike Ellis – twitter.com/MikeDeanEllis
Tony Groves – www.twitch.tv/SirGroves
Chris Scales – twitter.com/JediMcfly
David Hall – www.twitch.tv/mixmage
Greg Hecktus – twitter.com/froozenkaktus – www.twitch.tv/froozenkaktus
Tony Rochette – twitter.com/TonyRochette
Adam Josselyn- twitter.com/Jossad83
Brian Maccubbin – www.twitch.tv/MacRubbinsRacin
Tom Dreiling –
Links:
Old Show Notes – bit.ly/2CFeArM
Facebook – www.facebook.com/iRacersLounge/
Twitter – twitter.com/iracerslounge
Instagram – instagram.com/iracersloungepodcast/
Web (New Show Notes) – iracerslounge.com/