03-25-2021 – Little Giant – Episode 0272
iRacers Lounge Podcast – Conversation Topics
Brought to you by: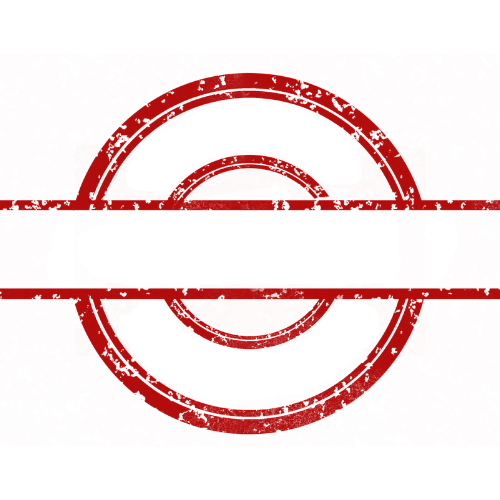 Opening Audio Clip -"Your listening to the iRacers Lounge Podcast where we discuss everything iRacing, in a casual setting, enjoy."`
READ THIS AT THE TOP OF EACH SHOW!!!
Welcome to the iRacer's Lounge, I am your host "XXX". iRacer's Lounge is a podcast for the iRacer, where we talk all things iRacing in a casual setting.
Joining me are the usual characters, ————
---
---
Introduction
This week we will be welcoming another new member as we introduce AJ Pritchett to the show. The Pro Invitational is back this week and cover all of the stories and much more. And remember you can follow along with us on your mobile device real time as you listen and see for yourself all of the great topics and products we'll discuss by visiting iracerslounge.com and selecting show notes. Hope to see you there.
---
---
TITLE SPONSOR READ:
Grid Finder is the home of online sim racing leagues. Grid Finder is also a great resource to find paint designers and race commentators. Recently they have been adding some great articles discussing various aspects of running leagues and sim racing in general. Grid Finder is constantly adding helpful content and giving us all more reason to visit www.grid-finder.com
Visit www.grid-finder.com to find a league, or to upload your own!
Grid Finder – "The home of online sim racing leagues"
---
---
Special Guest
AJ Pritchett
General Questions:
What brought you to iRacing and how did you hear about it?
Which series do you normally run?
What type of hardware do you use? (Wheels, Pedals, ect.)
Software

What gear did you use when you first started iRacing?

Do you run Monitors or VR?

How many monitors?
What VR headset are you running?

Are you part of a team?
Do you participate in any leagues or is it just official racing?
What is your most memorable iRacing moment?
Guest Specific Questions:
What was the first question I ever asked you?

Goals for 2021
https://m.twitch.tv/clip/GlutenFreeObliqueCucumberTinyFace-Yvk76o2lWR2AMCLk
https://clips.twitch.tv/AntsyTrappedCookieNerfRedBlaster-qFLn8TTWS4DNC5OZ
---
---
Topics
---
---
Coke News [Hall]
Klingerman Sport Tweeted a 'Mic Check' segment that followed their drivers Bob Bryant and Isaac Gann's radio chatter with their spotters thru last weeks Atlanta Coke Series Race.
---
---
Monday Night Racing League [Brian]
Podium eSports' Monday Night Racing League was once again guest announced by none other than Daryll Waltrip, Larry McReynolds and Adam Alexander.
The actual series finale race in the trucks at the Atlanta Motor Speedway was won by Nascar Developmental Drover Raja Caruth.
---
---
NASCAR Pro Invitational [Mike]
Wednesday night marked the return of the Nascar Pro Invitational on Fox Sports 1 Network racing at the new Bristol Dirt Track.
[Adam]
Erik Arneson added on Twitter that Wednesday's race will have "in sim" reporters Clint Bowyer and Joey Logano.
[Kyle]
Jenna Fryer also Tweeted that Kyle Larson's car in the Pro Invitational Race will be in his "Drive for 5" paint, a campaign that supports causes he worked with during his suspension last year.
[AJ]
David Schildhouse reported Tuesday on Twitter that Clint Bowyer, Dale Earnhardt Jr and Austin Cindric (driving the 2 car) will be in the race Wednesday and Kevin Harvick and Brad Keselowski
[Mike]
Timmy Hill Tweeted his disappointment in not being invited in the Pro Invitational Race despite competing in every cup race the last two seasons, And Jenna Fryer added that he won one of the iRacing events last season when it was the only sports on tv last year.
[Hall]
Nate Ryan, Dave Moody, Justin Melillo and Matt Weaver all jumped on the #LetTimmyIn Twitter campaign to have Timmy Hill added to the Pro Series lineup to the point the it was trending on Twitter.
https://twitter.com/hashtag/LetTimmyrace?src=hashtag_click
[Brian]
Austin Cindric Tweeted yesterday morning that he had some big shoes to fill substituting for Brad Keselowski and suggested that Timmy Hill might be the man for the job.
…And by yesterday afternoon Team Penske, along with Nascar made it official that yes, Timmy Hill will be in the number 2 car for the Pro Invitational Race.
[Greg]
William Byron takes the checkered flag in the Series opener at Bristol Dirt
[Kyle]
Cody Hanley asked on Bob Pockrass' Twitter account if there would be prize money for the Pro Invitational races, and he replied no, but Steve Myers responded that they will be giving away $5000 to the charity of choice of the winning driver for each race.
[AJ]
Things got a little wild on Bristol Dirt for the Pro drivers.
---
---
iRacing Videos And Fun [Greg]
Some interesting videos this week including an iRacing dirt promotional video and streamer Dave Cam with a video trying his hand at plate racing at Talladega in the Carb Cup.
---
---
Season 2 Patch 1 Hotfix 1 [Hall]
iRacing released the notes for Hotfix #1 for the Season 2 Patch.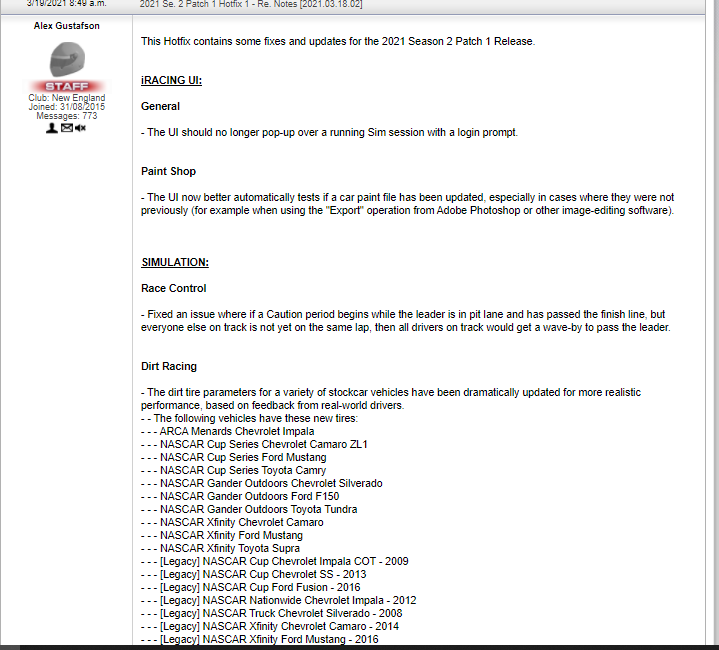 https://members.iracing.com/jforum/posts/list/3797986.page#12436223
---
---
12 Hours of Sebring [Brian]
Greg West posted in the forums the details of this weekends 12 Hours of Sebring.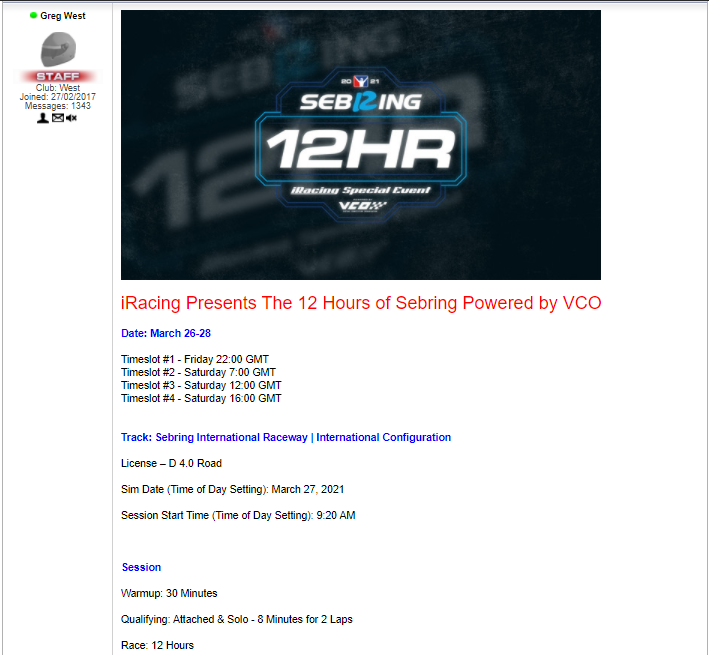 https://members.iracing.com/jforum/posts/list/3794571.page
---
---
RIP John King [Mike]
Mike Ouellette regrettably posted in the forums the sad news of the passing of Black Adder Team Owner John King after battling brain cancer. He was a passionate driver, team builder and mentor to his fellow friends and iRacers.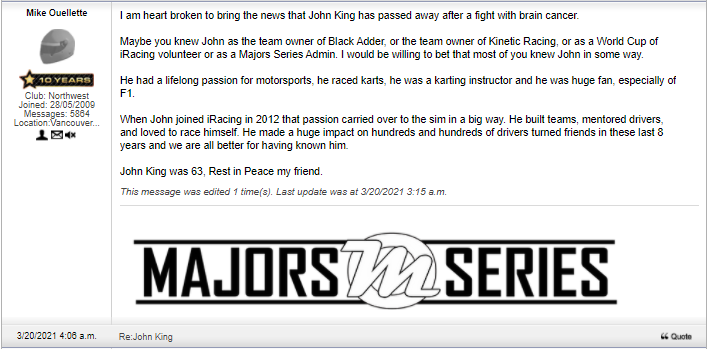 https://members.iracing.com/jforum/posts/list/3798081.page
iRacing Staffer Christian Challiner knew John from iRacing and posted his own thoughts about John in the forums.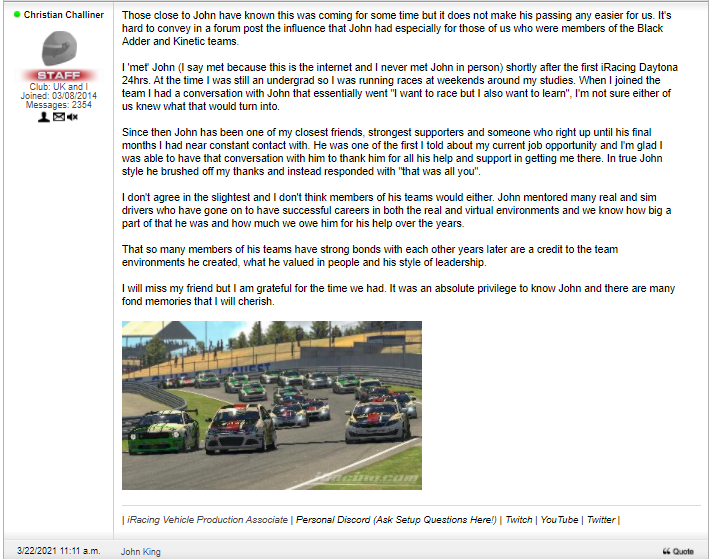 https://members.iracing.com/jforum/posts/list/25/3798081.page#12439314
---
---
Someone Has Raced As Me [Kyle]
Simon Butler from the UK noticed one day that his iRating had dropped even though he hadn"t raced. He checked his results and found that he had results in races while he was at work. He wondered if someone had used his login to race and contacted iRacing. Staffer Jason Bryfogle did some research and found that the questioned races were indeed from a different IP address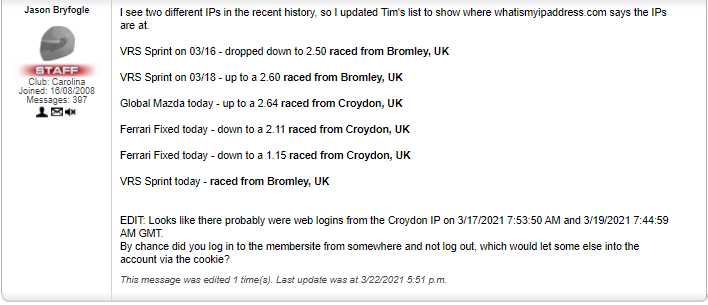 https://members.iracing.com/jforum/posts/list/3798372.page#12440429
---
---
Porsche News [AJ]
Porsche Motorsports posted a tweet letting fans of the Porsche All-Star race that you can vote for which car they will race in the finale at Monza between the Cayman GT4 Clubsport, 911RSR or the 911GT3 Cup car.
---
---
2021 IndyCar Racing Series [Mike]
Greg West released the details of the upcoming Indycar Series including the schedule that will closely follow the actual 2021 Indycar Sreies.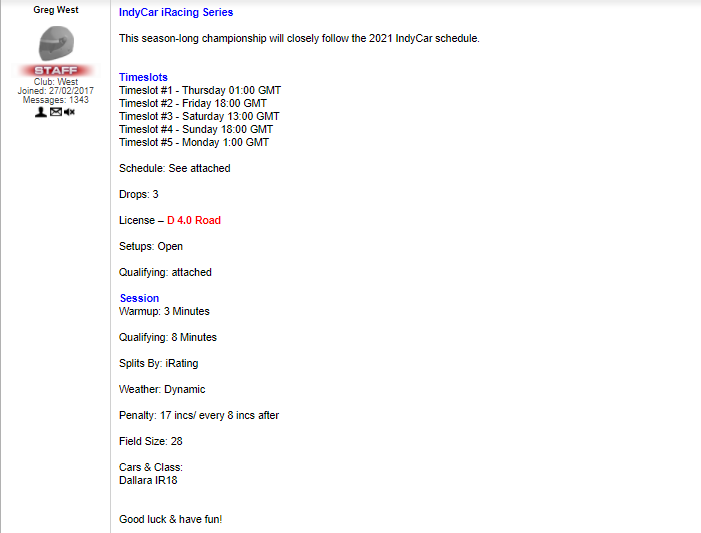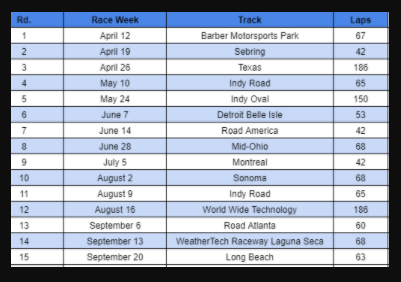 https://members.iracing.com/jforum/posts/list/3798365.page
---
---
New Track Announced [Hall]
Motorsports reporter Adam Stern reported on Twitter that Nascar is working with the city of Chicago and iRacing to scan it's streets to make a street course for the fifth iRacing Pro Series event.
Nascar Tweeted a video of a hot lap at the newly created Chicago Street Course.
[Brian]
Adam Stern followed up, rehashing a report that the Sports Business Journal announced in February of 2020 that Nascar had discussions about holding a possible real life street race around Chicago and Los Angeles, and speculated that the Chicago Street Course on iRacing may be an experiment in furthering the discussions
[Kyle]
Jason Perry Asked in the forums if the Chicago track will be available for the general subscribers, or just fire the Pro Invitational event. Steve Myers for iRacing assured him that iRacing would not have done the project if we could not put it up for sale! I expect it will be finished in late May in time for this event.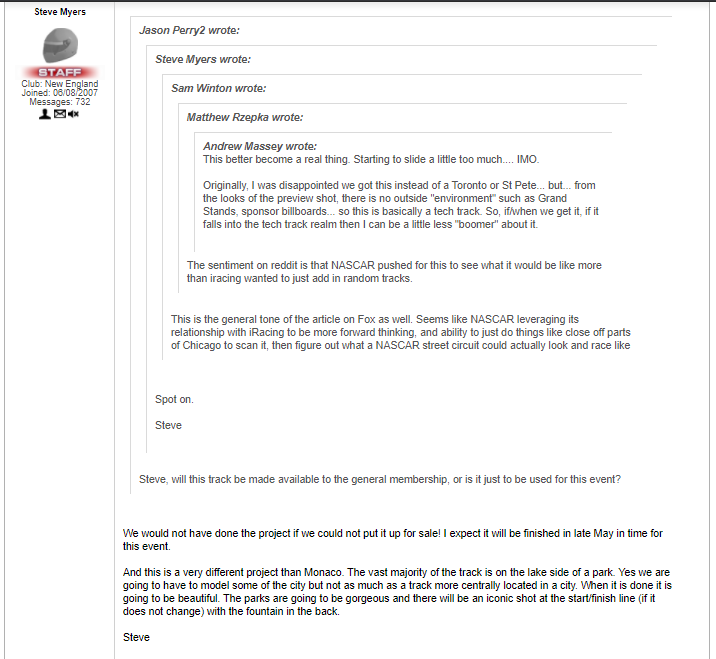 We would not have done the project if we could not put it up for sale! I expect it will be finished in late May in time for this event.
And this is a very different project than Monaco. The vast majority of the track is on the lake side of a park. Yes we are going to have to model some of the city but not as much as a track more centrally located in a city. When it is done it is going to be beautiful. The parks are going to be gorgeous and there will be an iconic shot at the start/finish line (if it does not change) with the fountain in the back.
https://members.iracing.com/jforum/posts/list/100/3798593.page#12444045
---
---
Crew Chiefs using iRacing Dirt [Mike]
In a news article on the Hendricks Motorsports website they report that Greg Ives, the crew chief for the 48 team said "iRacing is a huge tool for us as engineers and crew chiefs for us to understand what we may be challenged with. We try to set up changes here and there; it doesn't technically correlate 100% but it does give you a general idea of what changes may do."
http://www.hendrickmotorsports.com/news/articles/111489/crew-chiefs-using-iracing-to-navigate-unknowns-of-bristol-dirt#.YFvNYzN1Jh8.twitter
---
---
IMSA iRacing Pro Series Returns [Hall]
Not to be outdone by Nascar, IMSA announced that their Pro Series will be returning in April.
---
---
Mainstream Media Coverage [Brian]
An article in the LA Times documents the initial run of the Pro Invitational Series last year with the suspension of the regular season and it's continuation this year while actual races are still being held.
https://www.latimes.com/sports/story/2021-03-24/nascar-continue-iracing-even-though-real-races-back-on-track
---
---
Kyle Doing Dirt Work for iRacing [Kyle]
Steve Myers posted on the socials giving Kyle Larson a lot of credit in the development and testing of the Nascar, Bristol Dirt experiment.
---
---
NDM – Development Update [Mike]
iRacing Staffer Alex Gustafson posted a note in the forums the iRacing is aware that the suspension on current NDM cars is weak in some situations. They are working on the problems on a car by car basis and will release updates when they are happy with their testing results.

https://members.iracing.com/jforum/posts/list/3798467.page#12441355
---
---
Most Strangest Incident [Hall]
Azril Nazli Alias posted a video of an odd incident where a car flies into an overpass and comes down crashing onto his car.
https://members.iracing.com/jforum/posts/list/3798566.page#12442642
---
---
Fontana Giveaway [Kyle]
Auto Club Speedway will be doing a giveaway in anticipation of the upcoming iRacing Coke Series race on Tueasday March 30th. Prizes include a Coca Cola mini refridgerator, an Auto Club Speedway victory lane hat, and a year membership in iRacing.
To enter, fill in your information below. You will know you have properly entered when "Successfully Subscribed. Thank You" appears after clicking "Sign Up". There will be only 1 (one) grand prize winner. Review sweepstakes rules here.
https://www.autoclubspeedway.com/iracing-sweepstakes/?linkId=100000037883599
---
---
Indycar iRacing Challenge [AJ]
Tonight is the continuation if the 2021 Indycar Challenge, tin ight is at Homestead Speedway and can be streamed on Indycar.com
---
---
Podcast Housekeeping
Aftermath Podcast – Get it!
New Website – Leave Comments https://www.iracerslounge.com/
You've heard us talk about the Spotlights. Those of us that have them here at iRacers Lounge absolutely love them. So much, we have become an affiliate! With the roll out of their new Spotlights Pro. Here's your chance to check them out, you won't be disappointed. Enter coupon code: IRACERSLOUNGE for 10% off!!
https://www.facebook.com/1565571990374134/posts/2832513123680008/?d=n
---
We are in the regular rotation… (Mike)
https://performancemotorsportsnetwork.com/
---
Fantasy [Brian]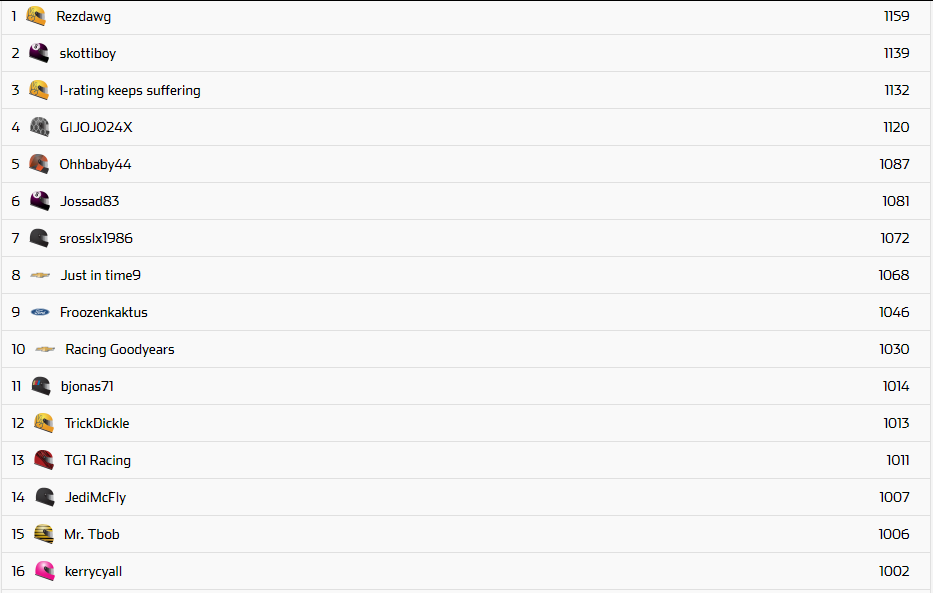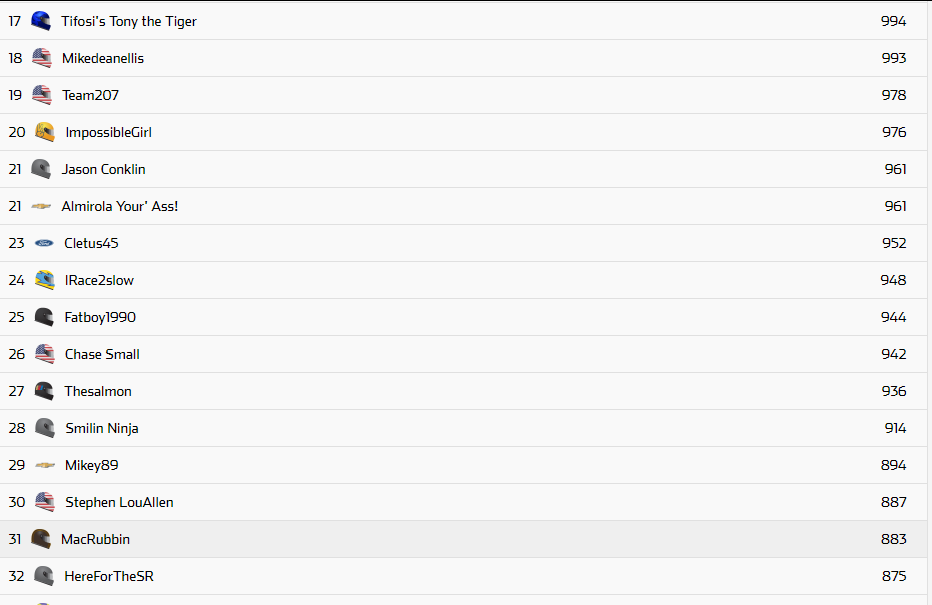 ---
---
Hardware/Software
---
iRacing Has Hardware Partner [Hall]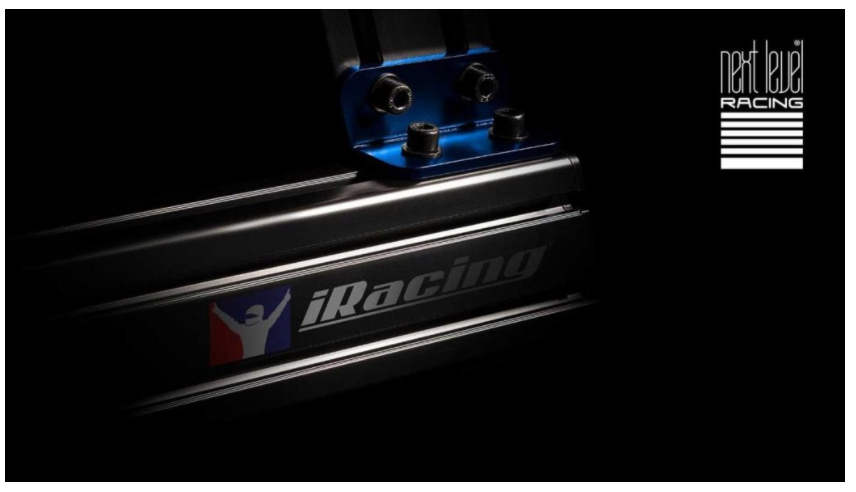 Next Level Racing is excited to announce that they will be partnering with iRacing to bring a new sim rig to the market.
https://www.adaptnetwork.com/gaming/sim-racing/iracing-next-level-racing-co-branded-cockpit/
---
---
Rig Review [Brian]
A Little Giant of a racing rig that bring rig building to a new level
https://www.instagram.com/p/CMStn4MBZso/?igshid=17pdkuxyq6pmt
---
---
Listener Eric Whiting Sends In [Mike]
Listener Eric Whiting sends in the D_Box 4250i G3 Haptic System, and 80/20 add-on actuator motion system.
https://sim-lab.eu/shop/product/d-box-4250i-g3-haptic-system-428#attr=443,447
[Kyle]
And Eric sends in another one – the Next Level Racing® GTtrack Frame Only cockpit. A proven solution with a great price point that's built to handle direct drive wheels, pedals, and other high-end electronics. Prices starting at $599
https://www.facebook.com/story.php?story_fbid=1565395030322327&id=297579510437225&sfnsn=mo
---
---
Sim Lab New Product [Hall]
Sim Lab has been working on a wheelstand for some time to create a budget solution but with the quality everyone expects from a Sim-Lab rig! Pricing: wheelstand €179 +Add-on €79 inc. VAT. Available in ~8 weeks! It handles DD-wheels!
https://www.instagram.com/p/CMb7A_WBCGE/?igshid=10mn1egd5dbau
---
---
Results
NASCAR iRacing Series
Fri open: Atlanta
Ellis – – p14 – ran back half of top ten most of night – two gf runs in a row then some cautions at the end – was 9th on final restart and choked and slipped back to 14.
Hall = P24 couldn't avoid early wreck, limped around rest of race
Rochette P Can i stop being wrecked please
David – p 23, when wrong way with set
Tom D – Crashed. Couldn't miss them
Rochette- Pparked it against gut went with another set.. ended up 2 laps down with no recovery so just parked it
Kyle – P Started P4 Kept it in the top 10 all race long and kept out of trouble. We came to a GWC in P1 but couldn't hold off the #8 Car and brought home a P2.
Sunday fixed

Stephen – wrecked out
Tyler – P 14?
Kyle – P4- Started P2 Got a caution on Lap 23 came out of Pits P3 behind a driver with old tires.he got wrecked and collected me. Pitted for repairs went one lap down in 29th till i got the lucky dog on Lap 58 and then battled my way back to the front to finish P4
Race: Bristol
Hall – p wrecked out by the dirtiest driver in top split
Tom D. P18. Was not comfortable at beginning of race. Learned a lot. Look forward to Sunday to use what I have learned
Ellis – p4 – Qualified p4 – ran top 5 all night – got 12 x basically in first 20 laps – then with about 30 to go hit 18 had to do the drive through – was 19th – drove it up to 4th in two short runs –
Rochette – P5 hung out in top 5 99% of the race which was aboot 65% pacing but when we did go green had alot of fun. Ran with Chris which ended up 3rd
Thurs Open

Hall – wrecked, initial spin was on my, but a driver instead of stoping accelerated through me and put me on my roof
Ellis – p.
Rochette P3 top 4 car all race but was a bit conservitive on final laps waiting for the leaders to hit the wall and slide under em Bristol Dirt is waaaaaaayyy better than actual Bristol
---
---
Official Series
A Open

Kyle P – Atlanta P1 started in P2 and watched the leader drive off to lead until green flag pit stops. After the pit stops cycled through rane 2nd behind the leader by 11 seconds. I saved my tires and was able to catch the leader with 15 to go and made my move with 12 laps to go to take the lead and pulled to a 4 second lead to take the win.
Kyle P – Bristol Dirt P3 started P6 banged off the wall all race long was able to keep on the lead lap and brought home a P3
Euro Sprint

Hall – Win #100 at Sebring
Dallara Jet Car -Ellis – Hockenheim – p2 – out of 2 drivers
---
---
League / Hosted Races
FastTrack Sim Racing League

Mike- p6 – Two early cautions then two gf stops in a row in the middle of the second one, caution – took a waveby – then fought for lucky dog and got it and a caution – p7 to lead lap, gained one more spot – nothing for the leaders I needed track position
Stephen – dnf
Tom D. P-dnf – got involved in a lap 1 crash. Thought I had a good piece going into the race.
Premier Race Network Cup:

Tom D – p9. Ran top 10 all race. Was fighting for a top 5. Late race yellow, got passed on the short run
---
---
Final Thoughts
---
---
---
Words Spoken in Closing Audio Clip -""Thank you for listening to the iRacers Lounge podcast make sure to go subscribe to us on iTunes, SoundCloud, or Google Play, Facebook & Twitter, See You On The Track ."
TITLE IDEAS
Little Giant
.
.
Description
This Week we welcome new show co-host and Tifosi team member AJ Pritchett, who won in his first NIS as a Tifosi team member. The Nascar Pros return to iRacing with the Pro Invitational at Bristol Dirt and we'll review all of the happenings and we'll see a Little Giant of a rig in hardware/software, so tune in to the iRacers Lounge Podcast.
iRacers Lounge Podcast is available on iTunes and Apple's Podcasts app, Stitcher, TuneIn, Google Play Music, Spotify, Soundcloud, Podbean, Spreaker, Podbay, PodFanatic, Overcast, Amazon, and other podcast players.
Sponsors:
www.grid-finder.com
Hosts:
Mike Ellis – twitter.com/MikeDeanEllis
Tony Groves – www.twitch.tv/SirGroves
Chris Scales – twitter.com/JediMcfly
David Hall – www.twitch.tv/mixmage
Greg Hecktus – twitter.com/froozenkaktus – www.twitch.tv/froozenkaktus
Tony Rochette – twitter.com/TonyRochette
Adam Josselyn- twitter.com/Jossad83
Brian Maccubbin – www.twitch.tv/MacRubbinsRacin
Tom Dreiling –
Links:
Old Show Notes – bit.ly/2CFeArM
Facebook – www.facebook.com/iRacersLounge/
Twitter – twitter.com/iracerslounge
Instagram – instagram.com/iracersloungepodcast/
Web (New Show Notes) – iracerslounge.com/