4/20/2023 – Irrelevant Tangent – Episode 0379
iRacers Lounge Podcast – Conversation Topics
Brought to you by:
---
---
Opening Audio Clip -"Your listening to the iRacers Lounge Podcast where we discuss everything iRacing, in a casual setting, enjoy."`
READ THIS AT THE TOP OF EACH SHOW!!!
Welcome to the iRacer's Lounge, I am your host "XXX". iRacer's Lounge is a podcast for the iRacer, where we talk all things iRacing in a casual setting.
Joining me are the usual characters, ———— 
---
---
Show Introduction
On the show today we will review the thrilling finish of the Wendy's Biggie Bag 500 Coke Series Race at Talladega. We'll ask if Gen 4 Nascar is the REAL Nascar. Which real world Nascar driver used iRacing to improve his performance at Martinsville, And we'll see what are the best ways to help keep your FPS from dropping in the sim.
And remember you can follow along with us on your PC or mobile device in real time as you listen to the show and see for yourself all of the great topics and products we'll discuss by visiting iracerslounge.com and selecting show notes. Hope to see you there..
---
---
Topics
---
---
Coke Race
https://www.iracing.com/casey-kirwan-passes-malik-ray-in-final-moments-to-win-enascar-at-talladega/
---
---
Season 2 Patch 4 Release Notes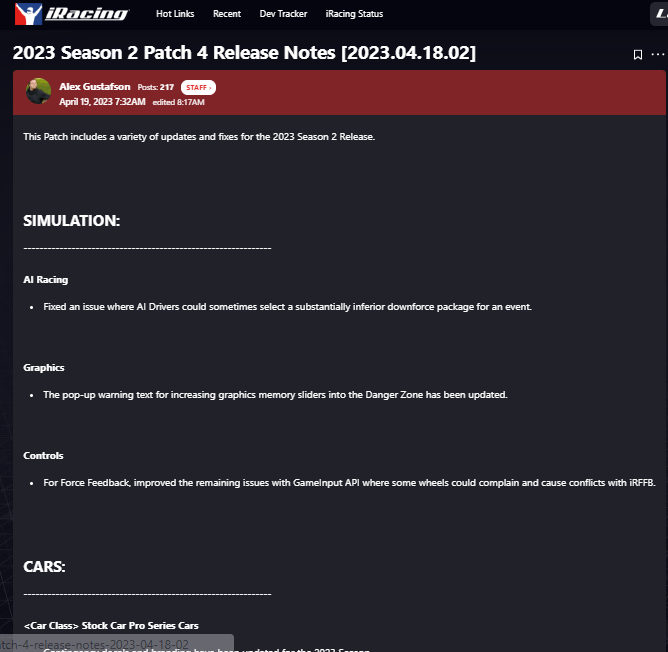 https://forums.iracing.com/discussion/40803/2023-season-2-patch-4-release-notes-2023-04-18-02
https://forums.iracing.com/discussion/40859/release-notes-for-iracing-8-11-0
---
---
Larson Used iRacing to Help Win
Josh Wise Tweeted about hoe Kyle Larson used iRacing to help improve in iRacing
---
---
Dumpster Fire – Part 7453
Mike Straw Tweeted that Nascar and MotorSprts Games have had meetings regarding the lack of console games releases followed by a similar story in Daily Downforce.com. Then news broke of the stepping down of their CEO Dmitry Kozko
---
---
Gen 4 at Daytona = REAL NASCAR
A stark reminder to folks, HEY, there is a NEW NASCAR to race! Why isn't anyone doing this?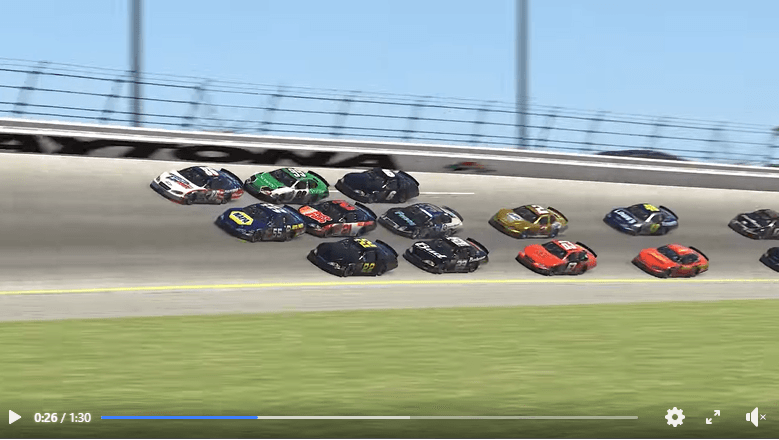 https://www.facebook.com/watch/?v=195533906576706&extid=NS-UNK-UNK-UNK-IOS_GK0T-GK1C&mibextid=2Rb1fB
---
---
The Martinsville NiS Experience
Blaze Crawford posted some less thna impressive stats of his NIS experience at Martinsville

---
---
MicroCenter is a Sim Racers Heaven
Racer Tony Kanaan is putting his mark with sim racing equipment at Microcenter Stores
---
---
Dirt Racing Refresh
Staffer Tony Gardner posted some details in an upcoming Dirt Racing Refresh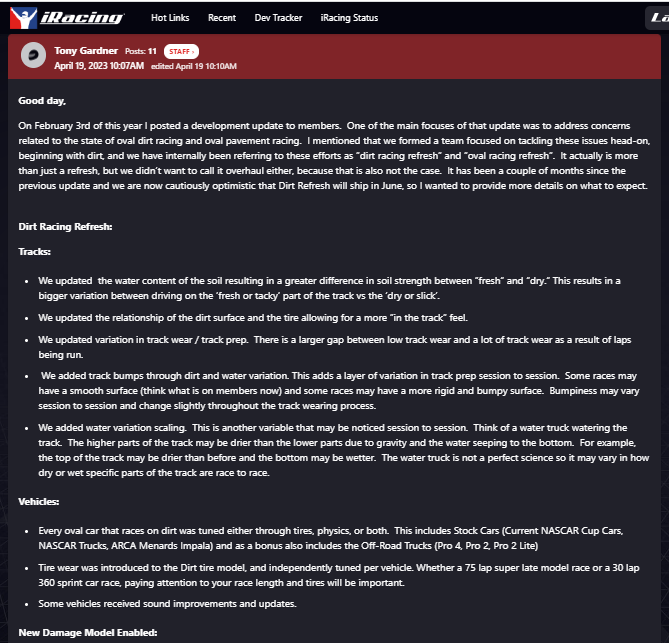 https://forums.iracing.com/discussion/40813/development-update-dirt-racing-refresh#latest
---
---
Boss Move
James Buldwin postaed a video of a tough pass over F1 driver Max Verstappen in a tight LMP race
---
---
First Time Winner
Former pro football player and iRacing advocate Bernard Pollard posted a video of him celebrating his first cup win ath Talledega
---
---
To the guys who dont click 'Ready to Race' and shorten qualifying, WHY?
Brett McBurnie asked in the forums why in every race there is always one guy who cancels 'Qualifying is being shortened due to inactivity.'

https://forums.iracing.com/discussion/40744/to-the-guys-who-dont-click-ready-to-race-and-shorten-qualifying-why#latest
---
---
RIP Vic Greenwood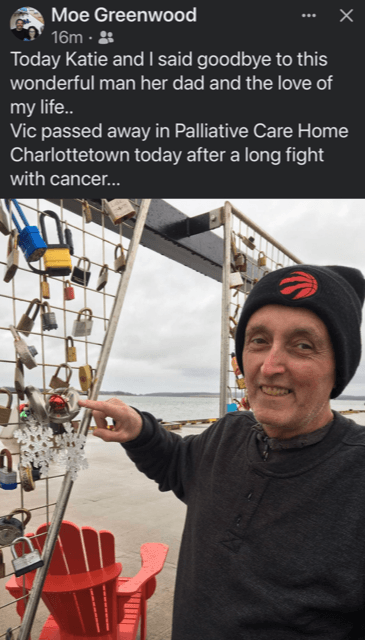 ---
---
Time to Build Season 3 Schedules
iRacing s asking in the forums for season 3 track schedules and race lengths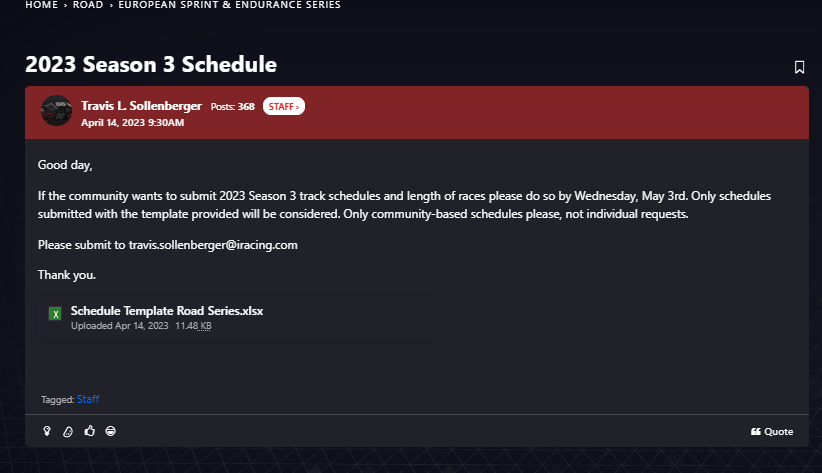 https://forums.iracing.com/discussion/40597/2023-season-3-schedule
https://forums.iracing.com/discussion/40595/2023-season-3-schedule
https://forums.iracing.com/discussion/40596/2023-season-3-schedule
---
---
Discount Code
The world of Outlaws Series is promoting a code for a 3-month iRacing membership discount
---
---
M.UI.G.A.
Kim Insert has found a weird situation in the UI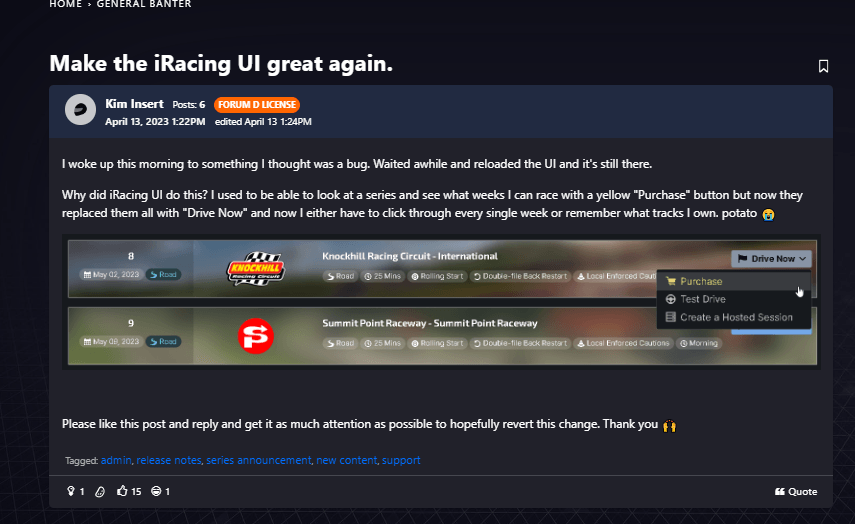 https://forums.iracing.com/discussion/40520/make-the-iracing-ui-great-again
---
---
iRacing SCCA Runoffs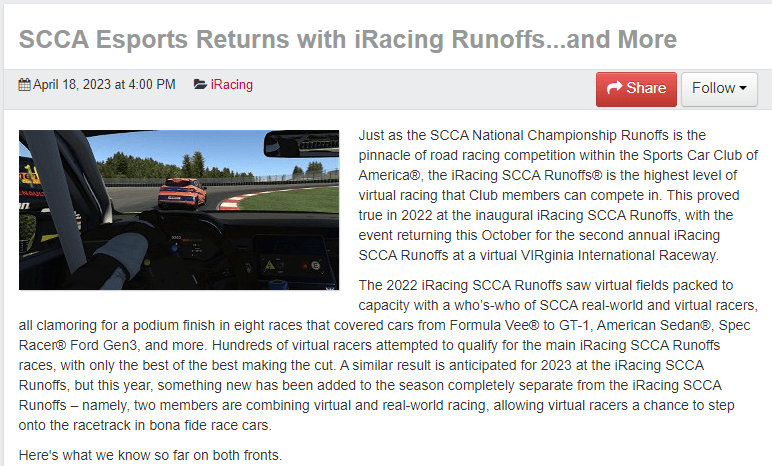 https://www.scca.com/articles/2017126-scca-esports-returns-with-iracing-runoffs-and-more
---
---
BMW M Sim Cup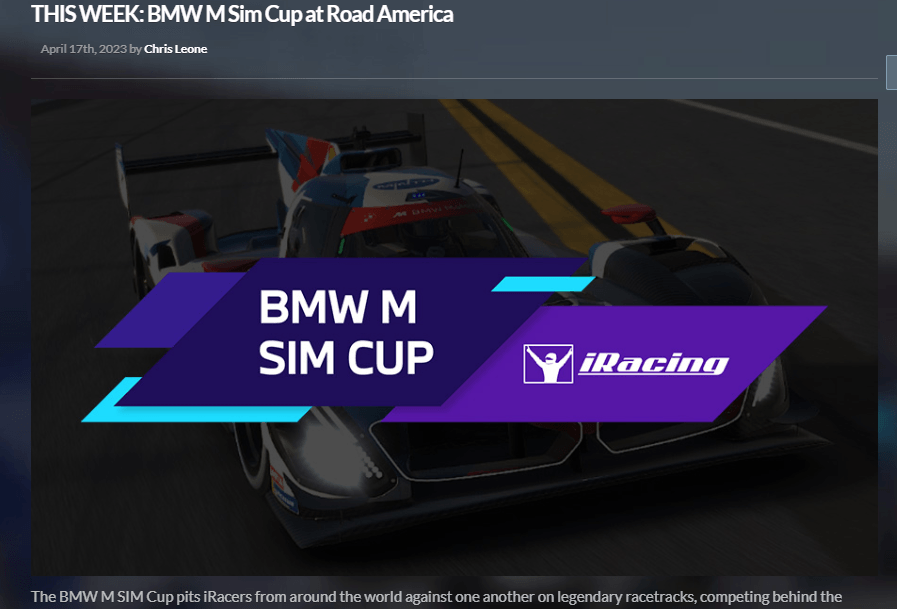 https://www.iracing.com/this-week-bmw-m-sim-cup-at-road-america/
---
---
2023 Neurburgring 24 Hours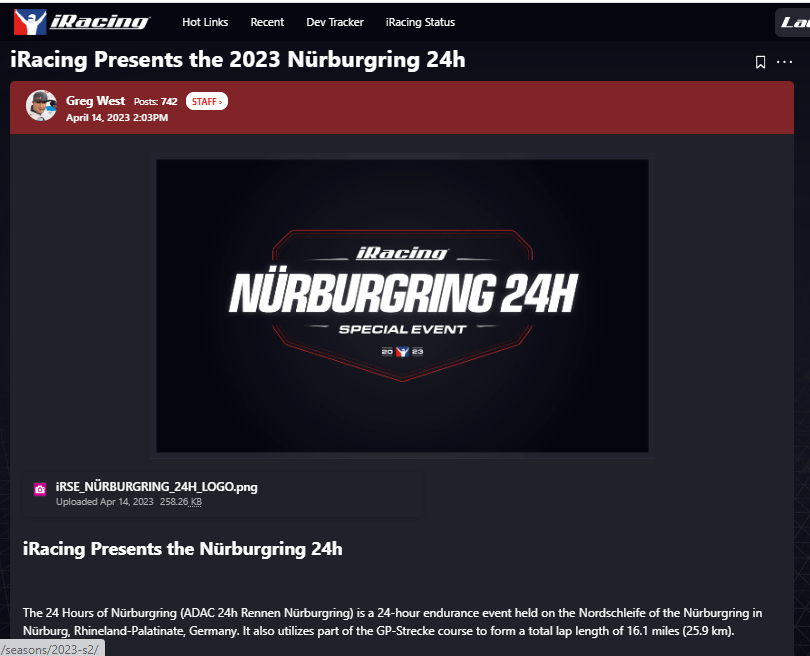 https://forums.iracing.com/discussion/40618/iracing-presents-the-2023-nuerburgring-24h
---
---
Podcast Housekeeping
Leave us a review on your favorite podcast platform to make it easier for more listeners to find the podcast. Mention the podcast to your fellow drivers so they don't miss out, we would appreciate it.
Check out our Discord https://discord.gg/rvRas4DDqF
New Website – Leave Comments https://www.iracerslounge.com/
---
We are in the regular rotation… (Mike)
https://performancemotorsportsnetwork.com/
https://channelstore.roku.com/details/9d27a1e9dd15b92535d7cfe85407288e/the-sim-racing-channel
Fantasy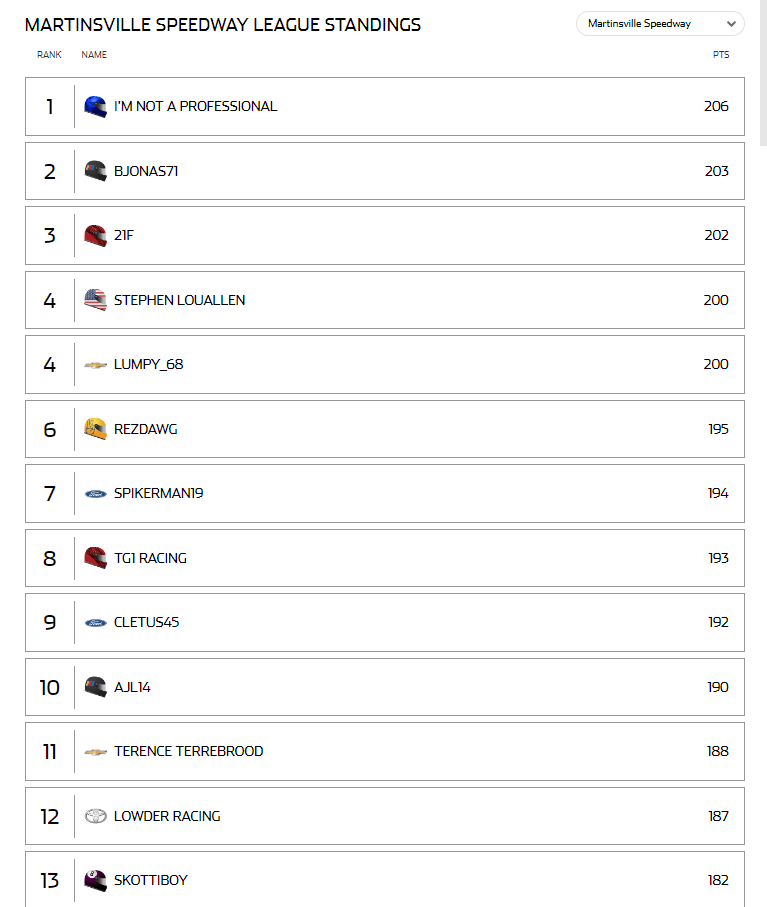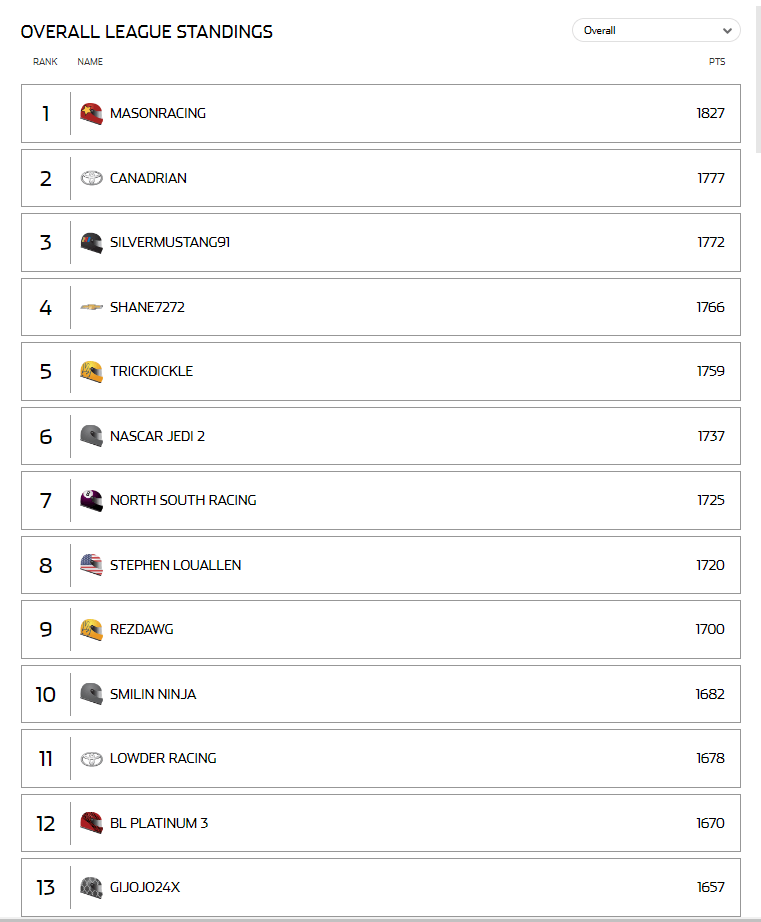 ---
---
Hardware/Software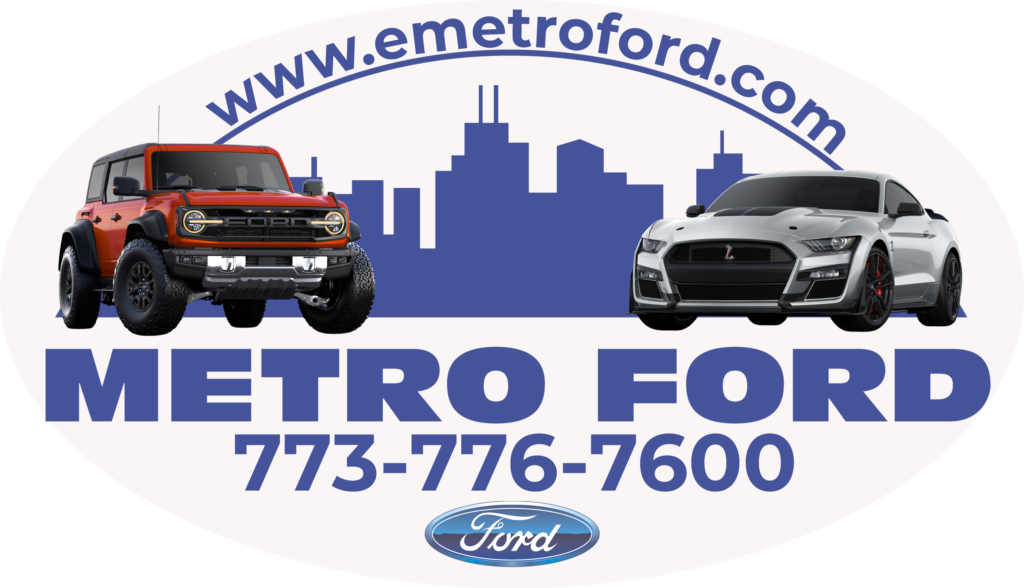 ---
iRacing on Steam Deck
Pablo Lopez Tweeted that he can play iRacing on his Stream Deck
---
---
Thrustmaster t818 Review
Shawn Cole on the Sim Pit is next up reviewing the Thrustmaster T818
The Good : Looks great, ecosystem, good software, nice qr, wireless wheel connection, right amount of ffb
Not So Good: Expensive, plastic, Flex, lock down screw, No side mount options, no consoles
Bottom Line: If your not looking at it, and driving the driving and ffb just works…
---
---
Struggling with FPS?
Daniel Morad shows in a quick video how to manage FPS in iRacing
---
---
DIY Active Pedal Prototype
Tristian Fenwick shows how to make a DIy version of an active pedal system
---
---
They Sent Mike a Postcard for 10% Off
RC Racing Cockpit's state of the art cockpits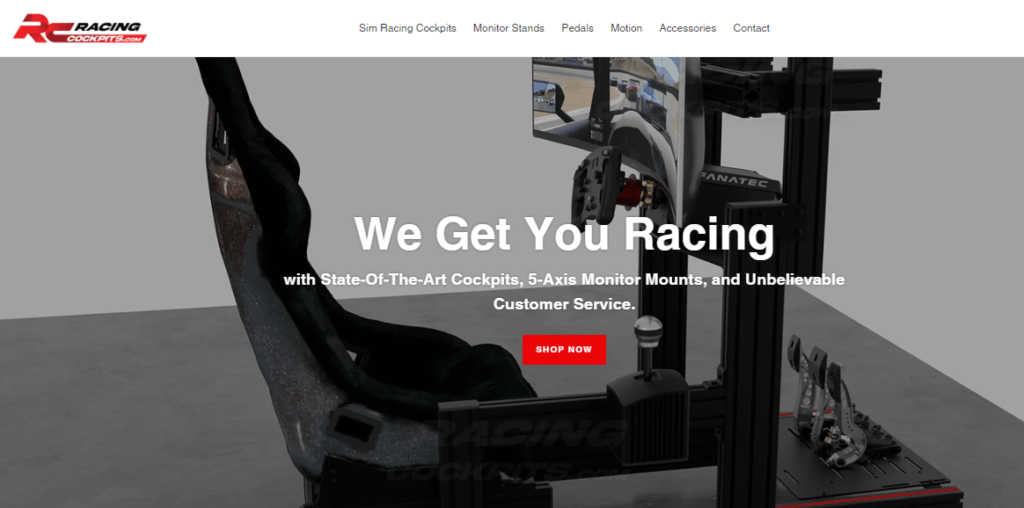 ---
---
Speech to Text Tool
Marvin Herbold was a former game developer (Bethesda Softworks, Rainbow Studios, etc.) and has created a speech-to-text OpenVR overlay app for iRacing. It works beautifully – whenever someone is talking, the app does speech-to-text processing and displays what they are saying in text. It is using Microsoft Azure's Cognitive Services to do the processing.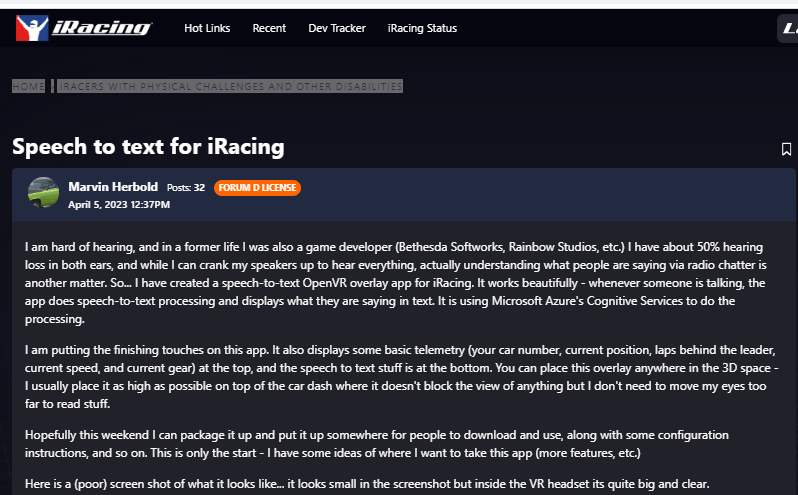 https://forums.iracing.com/discussion/40124/speech-to-text-for-iracing/p1
http://herboldracing.com/blog/iracing/iracing-stt-vr/
---
---
Hidden Cabinet DIY rig
Darren Bacoler posted a video on The DIY Sim Racer his hidden cabinet sim racing rig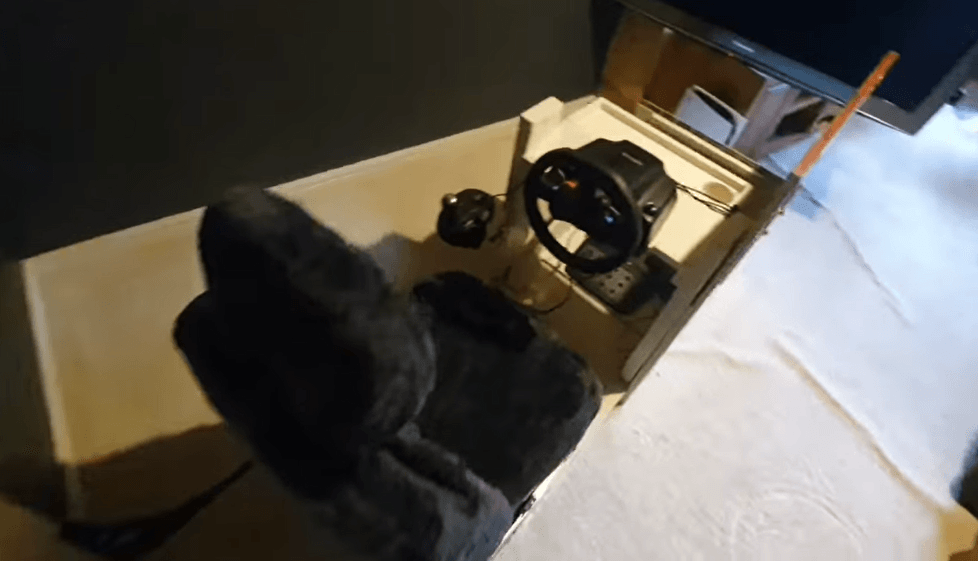 https://www.facebook.com/groups/thediysimracer/permalink/1984583885229037/?mibextid=Nif5oz
---
---
How To Setup Your Pedals
Will Ford on Boosted Media posted a video on his YouTube channel the proper way to set up your sim racing pedals
---
---
RTX 4070 Review
Linus Tech Tips posted a video review of the Nvidia RTX 4070
---
---
Ascher F64 v3
The Ascher Racing F64 V3 is now available for purchase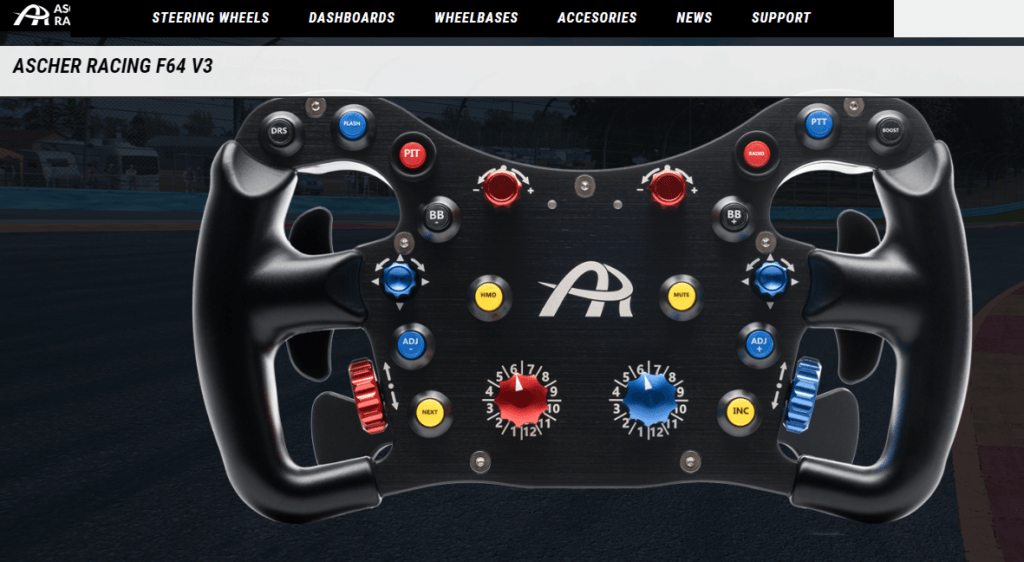 https://ascher-racing.com/de/f64-usb-v3/
---
---
Cube Controls SP01 Pedals
Laurence Dusoswa and Dan Suzuki both review the Cube Controls SP01 pedals
---
---
Thrustmaster Wheel Adapter for OSW
Simracing Coach is selling a device to Convert your Thrustmaster steering wheel and make it compatible with any direct drive / OSW base.
---
---
Results
NASCAR iRacing Series
Friday Open –
Mike -. P . 18 – lost Internet connection briefly and dropped from the server by the time I re-joined. I was four laps down. I was only able to get it back to three laps down finished P 18.
Greg- p21?
David – P 26, didn't know I had gotten 16x, hit cars wrecking at the finish got dropped a lap
Rochette P16 what a complete shit show 24x held on for last 80 laps with that 1x from a dnf. Can you assholes learn how ro drive Martinsville
Tom-p19
Sunday Open
Donnie – P6, Q10
David – P15 To many some mistakes on my own, but lost a few spots and end cause a lap down driver who was mad dove bomb into a 3 wide
Wednesday Open: Talladega
Rochette -P19 racing felt different from plate racing in the past. Never seen the outside have such domance. I usually just hang out on the bottom but just kept getting my ass kicked. Even led a few laps than the outside just ran a ttain on my ass and went 1st to 18th on a straight away. Had a good run going on a white and front wrecked and just killed me before the checkered
Justin- P 13, started 2nd real clean race. Ran a solid race just need to work on the little things. Leaders just executed well.
Mike- p5- put it under green. We waited one lap after the leaders and they basically got a 10 second lead on us. By the end of it there was a three of them in a breakaway and so we were fighting for the fourth place that I finished fifth
McKenzie- p11, started pole was running great until i got caught up in a wreck and had 4 ½ minutes damage and couldn't keep pace, fixed the damage and could keep up being only 2 laps down but then got caught in another wreck and got a black flag for too many incident points, ended up finishing p11 down 5 laps
David – p18 caught up in late wrecks, feel like a made a tactical mistake late and got stuck in the wrong lane loosing to much track position.
Kyle P
Tyler- P 20, lost the pack on my own simply getting a drink. Was the last car in the pack with teammates and just couldn't get back. Extremely frustrating race as strategy bit the big one. Finished with a meatball across the line with a 8x caught up in a mosh pit after the white. I did have a great time racing with Justin and Mike. Wish we had more on that top line.
Thursday Open
Ellis -P Dave clean most of the rays ran in the top 5 to 10 at the lead with about 25 to go and we finally get our first caution with seven to go. I lead the next restart. Five to go I'm leading the bottom Lane two cars behind me. One car goes below the yellow he comes up. I go in front of him and he hooks playing and turned me down to the wall 11 minutes damage DNF.
Donnie – Q4, P20
---
---
Official Series
Ellis–
Iro4 at rudskogen I got wrecked out in turn one lap one from behind then I couldn't find it road so I raged quit
Dallara dash at Michigan- wrecked out lap 2
Gen 4 Daytona. I was just riding in the front back and somebody pushed up into the wall and I got a piece of it 30 seconds required and 430 optional. I then lost the pack after the restart I saw the yellow come out I saw one guy sitting sideways on the track. I'm like I'm gonna go underneath him and go on by cause he was stopped but as I was approaching, he decided to go, and it looked like he was going to go high so I went low and then he suddenly went low and then I ran over him
Gen. 4 at Daytona, took the lead with about 20 to go within command of the race on the bottom front lane. The guy behind me was trying to push and turn me and we wrecked the entire field. Was damaged, but able to stay on the lead lap, and with the carnage at the end, drive through the racks and finish P 13.
Pick up cup at Phoenix start at 12 got to eight but faded to finish night pretty straightforward race.
Gen 4 at California top split with several pros and many heavy hitters. Started 24th ended up 24th ravens highest bill that got wrecked at one point.
A Open
Hall – p
Ellis -p qp2- stay green and we had a green flag. Stop stayed in the top five the top 10 but eventually cautions restarting third was 16 to go. I was on the bottom and got totally shuffled back to 17 another gosh later on back up to the ninth start with eight to go. Get to the leave pretty quickly and kept it through the first Greenway checker on the final restart on my first car on the outside coming. The guy third on the bottom pulls up in front of me. He's too slow we rock the field I finish P 13.
Mackenzie
B fixed – p15 started 2nd and was running well but had guys trying to go 3 wide in the first 5 laps and got turned and never recovered from it
---
---
League / Hosted Races
MAJORS SERIES – TCR's at Knockhill
David – p26. Barely squeezed into the A main, then just not good in this league, car track combo
---
---
Final Thoughts
---
---
Words Spoken in Closing Audio Clip -""Thank you for listening to the iRacers Lounge podcast make sure to go subscribe to us on iTunes, SoundCloud, or Google Play, Facebook & Twitter, See You On The Track ."
TITLE
Irrelevant Tangen
Description
On the show today we will review the thrilling finish of the Wendy's Biggie Bag 500 Coke Series Race at Talladega. We'll ask if Gen 4 Nascar is the REAL Nascar. Which real world Nascar driver used iRacing to improve his performance at Martinsville, And we'll see what are the best ways to help keep your FPS from dropping in the sim. So sit back, relax and join us on the iRacers Lounge Podcast.
iRacers Lounge Podcast is available on iTunes and Apple's Podcasts app, Stitcher, TuneIn, Google Play Music, Spotify, Soundcloud, Podbean, Spreaker, Podbay, PodFanatic, Overcast, Amazon, and other podcast players.
Sponsors:
Hosts:
Mike Ellis – twitter.com/MikeDeanEllis
David Hall – www.twitch.tv/mixmage
Greg Hecktus – twitter.com/froozenkaktus – www.twitch.tv/froozenkaktus
Brian Maccubbin – www.twitch.tv/MacRubbinsRacin
Kyle Pendygraft – twitter.com/LoudPedalGaming
Tony Groves – www.twitch.tv/SirGroves
Adam Josselyn- twitter.com/Jossad83
Tony Rochette – twitter.com/TonyRochette
Tom Dreiling –
Donnie Spiker – twitter.com/Spikerman19
Bobby Jonas –
MacKenzie Stevens – https://twitter.com/MackStevens48
Justin Pearson – https://twitter.com/big7bang_
Links:
Facebook – www.facebook.com/iRacersLounge/
Twitter – twitter.com/iracerslounge
Instagram – instagram.com/iracersloungepodcast/
Web (Show Notes) – iracerslounge.com/