11/26/2022 – Huge Thanksgiving Package – Episode 0358
iRacers Lounge Podcast – Conversation Topics
Brought to you by:

---
---
Opening Audio Clip -"Your listening to the iRacers Lounge Podcast where we discuss everything iRacing, in a casual setting, enjoy."`
READ THIS AT THE TOP OF EACH SHOW!!!
Welcome to the iRacer's Lounge, I am your host "XXX". iRacer's Lounge is a podcast for the iRacer, where we talk all things iRacing in a casual setting.
Joining me are the usual characters, ———— 
---
---
Show Introduction
On the show this week, we will review the year in iRacing with all of the updates and new content throughout the year as well as a summary of our individual years in the sim. We have some product to review in hardware and we'll discuss more last minute Black Friday deals.
And remember you can follow along with us on your PC or mobile device in real time as you listen to the show and see for yourself all of the great topics and products we'll discuss by visiting iracerslounge.com and selecting show notes. Hope to see you there..
---
---
TITLE SPONSOR READ:
Are you tired of your pedals feeling like a video game? Want to step up to feeling like you're actually driving?
We designed our P1 Pro Pedals to feel exactly like a real car giving you a better feeling when you're driving. Push braking zones to the limit and avoid locking up by having a finer feel of the limits. Trail brake into the corner smoother allowing you to carry more speed.
Our P1 Pro Pedals will be the last set of pedals you'll ever purchase for your simulator. Lifetime Warranty is included. That means if you ever run into issues in years to come, we'll service them and keep them perfect!
---
---
---
---
Topics
---
---
Champion's Blog: Casey Kirwan
iRacing posted their Champions Blog, a story of Casey Kirwan's experience during the Nascar Championship weekend on their website.
https://www.iracing.com/champions-blog-casey-kirwan/
---
---
iRacing Year in Review
Season 1
iRacing 2022 Season 1 has the green flag! This major season release adds a pair of new touring cars, the Honda Civic Type R and the Hyundai Elantra N TC, as well as the Mercedes-AMG F1 W12 E Performance racing machine. The iRacing horizon has expanded to include Scotland's Knockhill Racing Circuit, Watkins Glen International has been fully re-built with brand new 2021 scan data, and the Porsche Experience Center at the Hockenheimring Baden-Württemberg is open for business with four new track configurations! iRacing also adds a new tire scuffing visual effect, and a "Ready to Race!" button to help everyone get back to the action even faster. Our AI Drivers have been busy training up on three new vehicles and NINETEEN new track configurations, and they're ready to give you a run for the gold. Welcome to iRacing 2022 Season 1!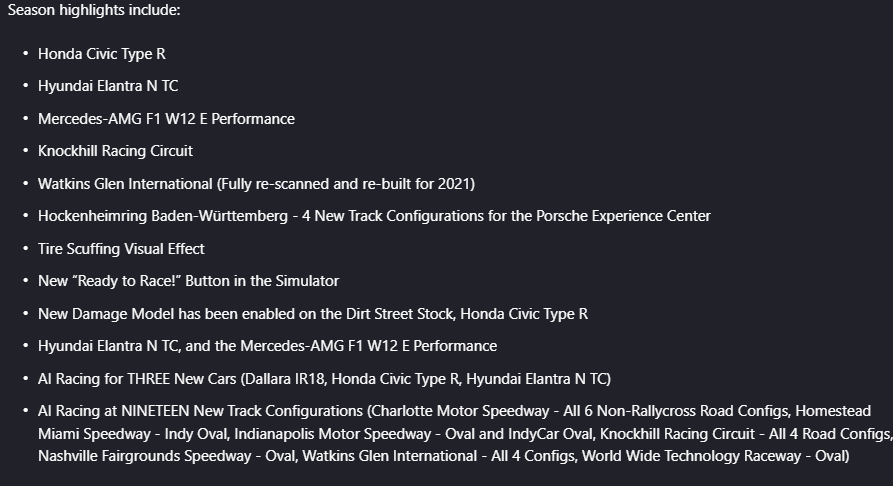 https://forums.iracing.com/discussion/12796/2022-season-1-release-notes-2021-12-07-01#latest
Season 2
iRacing 2022 Season 2 is here! Get ready to expand your garage – this Release features a whopping SIX brand new cars (Aston Martin Vantage GT4, Hyundai Veloster N TC, iRacing Formula iR-04, NASCAR Buick LeSabre – 1987, Stock Car Pro Series Toyota Corolla, and the Stock Car Pro Series Chevrolet Cruze), two brand new tracks (Federated Auto Parts Raceway at I-55, and Winton Motor Raceway), and 10 new pieces of content for AI Racing. The New Damage Model is coming pre-enabled on all new content except for the Stock Car Pro Series Cars. The NetCode system has received a little TLC, and the Multiple Tire Compound system has been fully developed. We've applied some new aerodynamic and tire knowledge to the GT3 Class Cars. Also, the NASCAR Camping World Trucks have been updated to their 2022 NASCAR Season specs, including a top-to-bottom full art upgrade for the Toyota Tundra TRD Pro. There should be something for everyone, welcome to iRacing 2022 Season 2!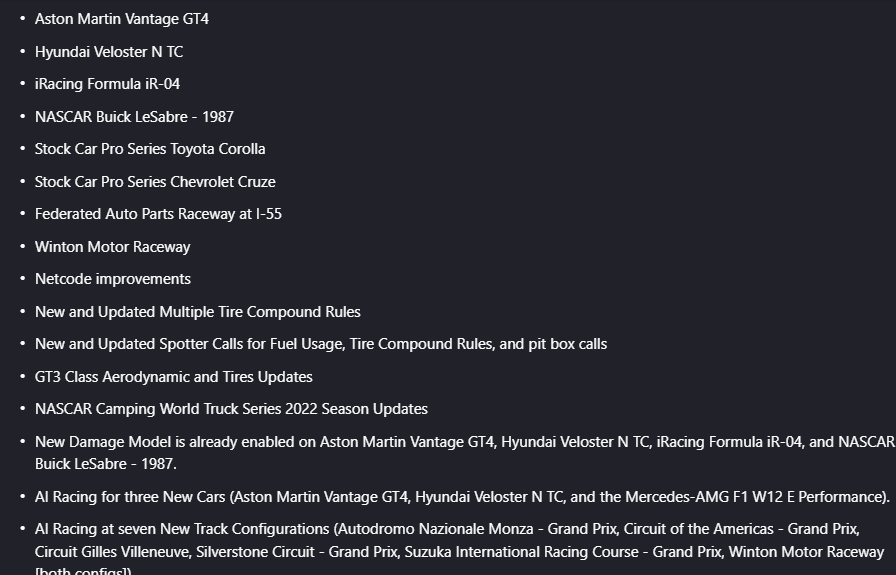 https://forums.iracing.com/discussion/18972/2022-season-2-release-notes-2022-03-08-04#latest
Season 3
iRacing 2022 Season 3 has arrived! We've added TWO new Mercedes-AMG race cars, Mercedes-AMG GT3 2020 and Mercedes-AMG GT4, and the Radical SR10 to our stables. Travel to Japan, Australia, and the USA with Fuji International Speedway, Sandown International Motor Raceway, and Port Royal Speedway. Start Zones have been added as an option to all NASCAR Cup oval tracks for a more authentic green flag experience. We have heard our community and have fixed a tire conditioning exploit used during Qualifying. Tire graining and cording visual effects may now be seen on all cars, and our GT3 class has received the latest IMSA visual updates. The New Damage Model is now in effect on FIVE more car models, and AI Racing is available for TWELVE more pieces of content. Oh, and you'll also find over SIX-HUNDRED (600!) new custom built setups. Jump in head-first to iRacing 2022 Season 3!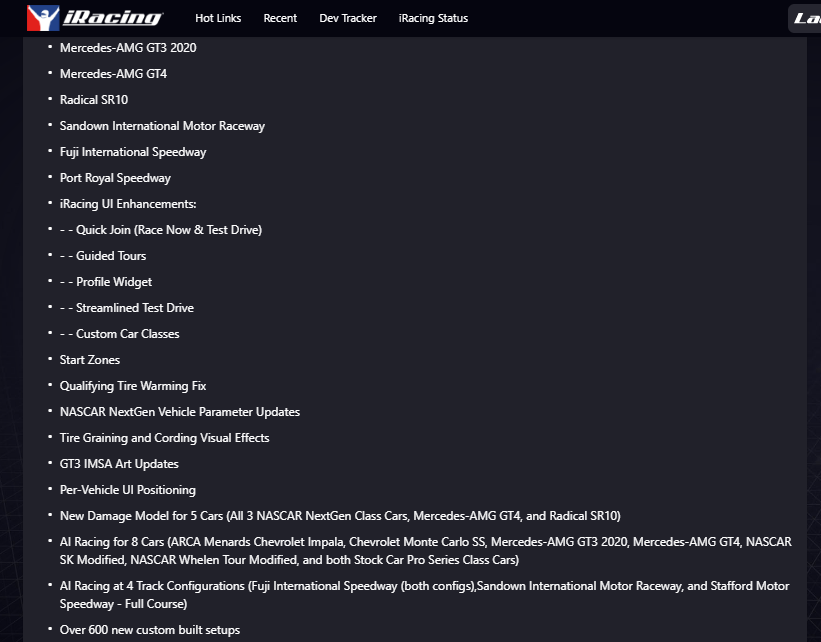 https://forums.iracing.com/discussion/23746/2022-season-3-release-notes-2022-06-06-04#latest
Season 4
The green flag is waving for iRacing 2022 Season 4! This season includes the release of iRacing's first fully electric race car, the Porsche Mission R, a pair of new European Road Courses, Motorsport Arena Oschersleben and Rudskogen Motorsenter, and a new Dirt Oval, Lucas Oil Speedway. We've added Indianapolis Motor Speedway – IndyCar Oval using our 2022 laser scan data, and have rebuilt all of the artwork for both the ARCA Menards Chevrolet Impala and Lotus 79 from scratch. A host of quality upgrades have also been completed, including a substantial change to the New Damage Model so that now damage builds up in areas on your car with repeated strikes which could eventually cause breakage, a rewrite and significant upgrade to the Low-Frequency Effects audio system, and the addition of Driving Aid Pit Lines for all Road Courses. For the iRacing UI, the veteran-favorite Race Guide is now available, as well as Custom Car Classes for AI Racing, and a few new Guided Tours. With our seasonal AI update, we have gone back to our Grand Prix Legends roots with the release of the Lotus 49 along with the much anticipated release of the NASCAR Cup Series Next Gen cars and 18 other new pieces of content. Buckle-up and drive full-throttle into iRacing 2022 Season 4!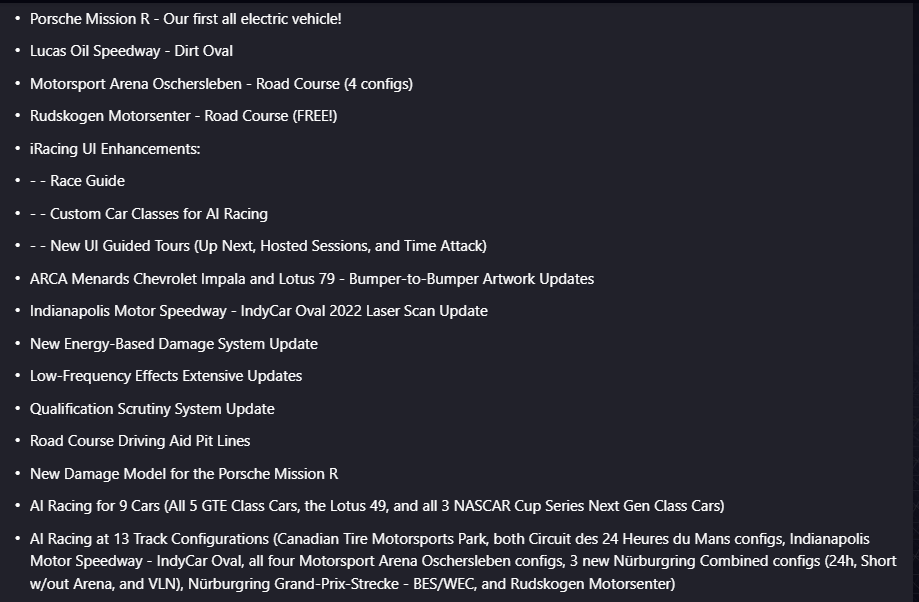 https://forums.iracing.com/discussion/28418/2022-season-4-release-notes-pre-release#latest
---
---
iRacing Highlights of the week
iRacing posted their top 5 highlights of the week
---
---
Tire bug finally is getting a fix
Michael Hinkle posted on the forums that the GT3 driver swap tire bug is finally getting fixed.
https://forums.iracing.com/discussion/31198/gt3-tire-bug-in-team-events
---
---
iRacing Winter Derby Special Event
This weekend will be the iRacing special event, The Winter Derby
https://www.iracing.com/this-week-iracing-winter-derby-special-event/
---
---
---
---
Rockingham Repave
On Rockingham Speedway's Twitter Page they posted a picture update of the milling process during the track's repave.
---
---
Daytona Impatience
Corey Rutherford asked if he can get the dates and setups for the upcoming Daytona 24 race so him and his team can start to prepare. Greg West responded, "Some stuff still up in the air so we can't announce the calendar or vehicle lineups yet. Regarding setups though…. I'd wait until after the build ;)"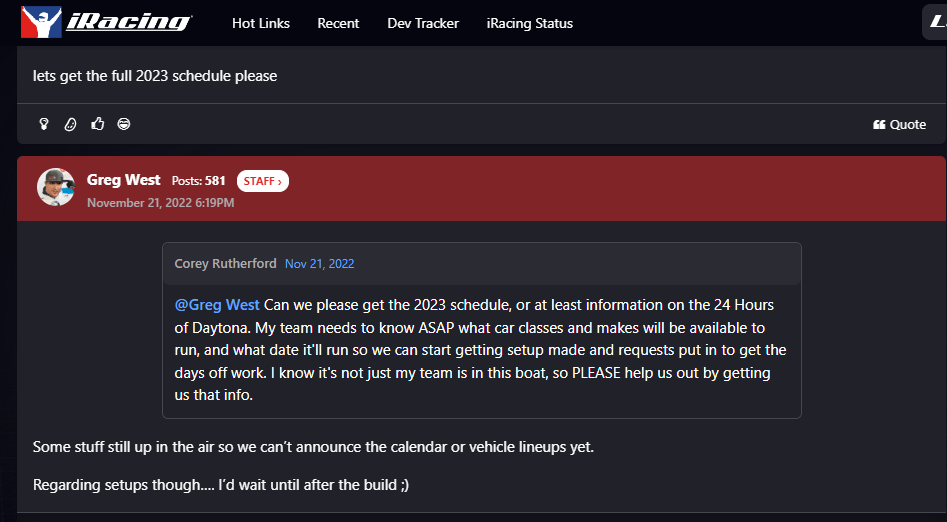 https://forums.iracing.com/discussion/comment/259377#Comment_259377
---
---
---
---
Road America Repave
On the Indy Car website they announced the progress of the Road America Repave.
https://m.facebook.com/story.php?story_fbid=pfbid02r2fSL22JNUDeX1Krms98tB9uX8XQGeh6eBSSLaCAphiK28y9zVrTdE58UExpw4nql&id=52534855847&mibextid=ncKXMA
https://www.indycar.com/news/2022/11/11-15-ra-repave
---
---
Commercial
---
---
---
---
Podcast Housekeeping
Leave us a review on your favorite podcast platform to make it easier for more listeners to find the podcast. Mention the podcast to your fellow drivers so they don't miss out, we would appreciate it.
Check out our Discord https://discord.gg/rvRas4DDqF
New Website – Leave Comments https://www.iracerslounge.com/
---
We are in the regular rotation… (Mike)
https://performancemotorsportsnetwork.com/
https://channelstore.roku.com/details/9d27a1e9dd15b92535d7cfe85407288e/the-sim-racing-channel
https://thesimracingchannel.com/watch-live/
Fantasy
---
---
Hardware/Software
Presented by Metro Ford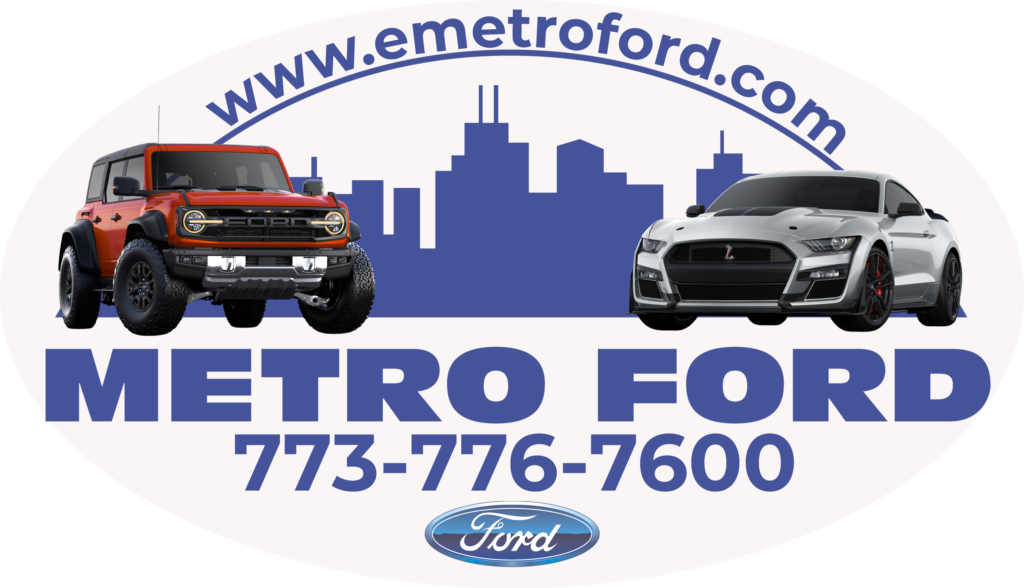 ---
BlackFriday is Here!
Cube Controls lists their Black Friday offerings
---
---
MASSIVE!! Savings With Fanatec Black Friday Deals!
Fanatec is offering a large selection of Black Friday deals
https://boostedmedia.net/fanatec-sim-racing-black-friday-deals-discounts/
---
---
Sim Cave Review
Tony Kanaan shows of his Sim Game Room
---
---
Nobody Wants NVIDIA's $1199 US GeForce RTX 4080
Consumers are bulking at Nvidia' Geforce 4080 GPU priced ate $1199 in the US market
https://wccftech.com/nobody-wants-nvidia-1199-us-geforce-rtx-4080-despite-lower-shipments-retailers-stores-are-stocked-with-cards/
---
---
Thrustmaster Ferrari SF1000 Wheel Review
Garry at the Sim Racing Garage reviewed the Thrustmaster Ferrari SF1000
---
---
Logitech G Pro Racing Pedals Review
Karl Gosling reviewed on his YouTube site the Logitech G Pro pedals
---
---
Moza Racing GS V2 GT Wheel
The Sim Racing corner posted an unboxing video of the the Moza Racing GS V2 GT wheel on their Youtube channel
---
---
Grid by Sim-Lab
Grid by Sim Lab is coming out soon their Grid MPX Wheel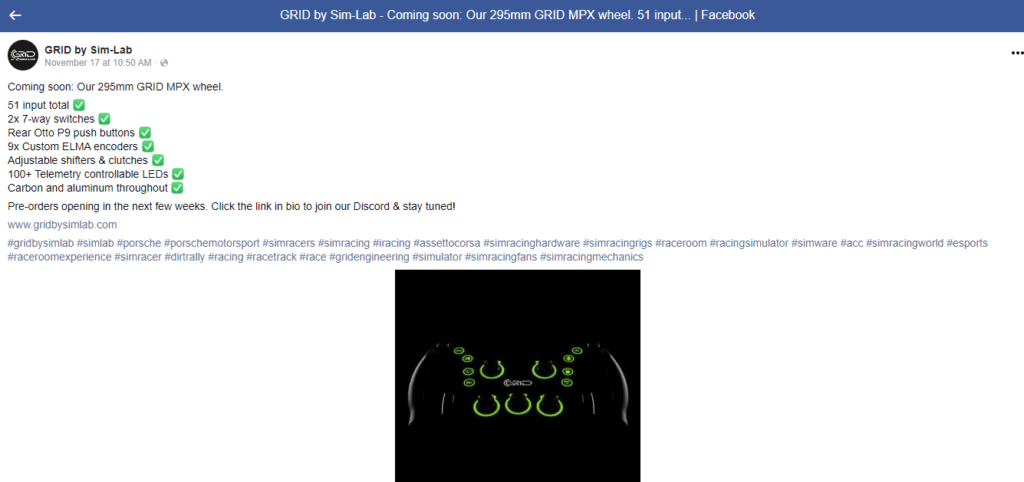 https://m.facebook.com/100063840000232/posts/pfbid0nWmYfdC8hPDjR7gT17QiCyaG7eg1sSUdbH1roq9nuiubsWxNWcdPn8snSuJeqYqQl/?d=n&mibextid=qC1gEa
---
---
A New Era is Wheels
Sim Coaches is about reveal it's new Era in Sim Racing Wheels.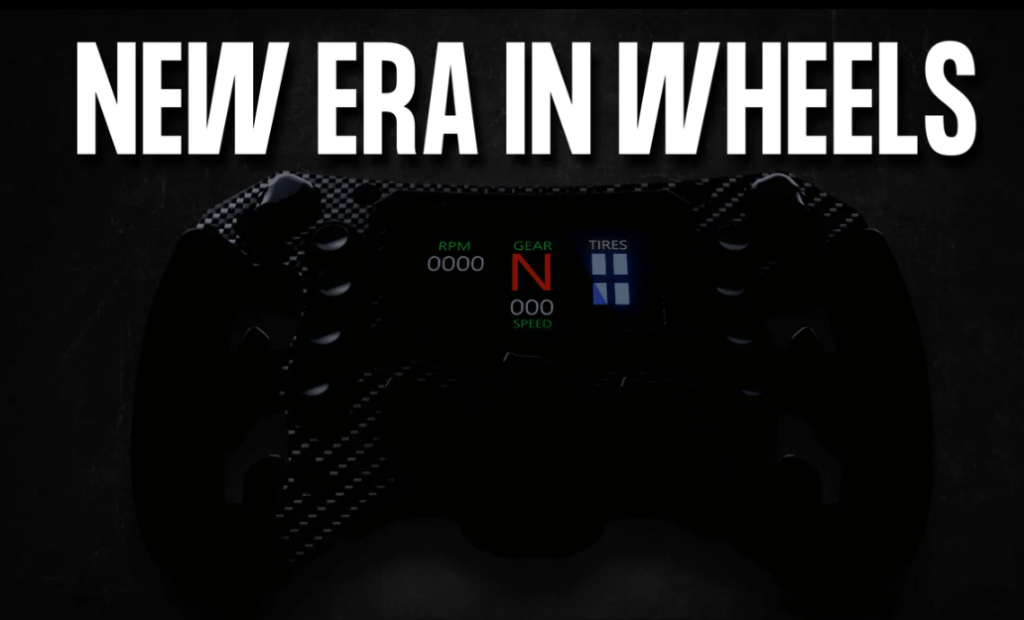 ---
---
---
Results
NASCAR iRacing Series
---
---
Official Series
---
---
League / Hosted Races
---
---
Final Thoughts
---
---
Words Spoken in Closing Audio Clip -""Thank you for listening to the iRacers Lounge podcast make sure to go subscribe to us on iTunes, SoundCloud, or Google Play, Facebook & Twitter, See You On The Track ."
TITLE
Description
So sit back, relax and join us on the iRacers Lounge Podcast.
iRacers Lounge Podcast is available on iTunes and Apple's Podcasts app, Stitcher, TuneIn, Google Play Music, Spotify, Soundcloud, Podbean, Spreaker, Podbay, PodFanatic, Overcast, Amazon, and other podcast players.
Sponsors:
Hosts:
Mike Ellis – twitter.com/MikeDeanEllis
David Hall – www.twitch.tv/mixmage
Greg Hecktus – twitter.com/froozenkaktus – www.twitch.tv/froozenkaktus
Brian Maccubbin – www.twitch.tv/MacRubbinsRacin
Kyle Pendygraft – twitter.com/LoudPedalGaming
Tony Groves – www.twitch.tv/SirGroves
Adam Josselyn- twitter.com/Jossad83
Tony Rochette – twitter.com/TonyRochette
Tom Dreiling –
Donnie Spiker – twitter.com/Spikerman19
Bobby Jonas –
Links:
Facebook – www.facebook.com/iRacersLounge/
Twitter – twitter.com/iracerslounge
Instagram – instagram.com/iracersloungepodcast/
Web (Show Notes) – iracerslounge.com/