12/1/2022 – Formula Wheel Extravaganza – Episode 0359
iRacers Lounge Podcast – Conversation Topics
Brought to you by:

---
---
Opening Audio Clip -"Your listening to the iRacers Lounge Podcast where we discuss everything iRacing, in a casual setting, enjoy."`
READ THIS AT THE TOP OF EACH SHOW!!!
Welcome to the iRacer's Lounge, I am your host "XXX". iRacer's Lounge is a podcast for the iRacer, where we talk all things iRacing in a casual setting.
Joining me are the usual characters, ———— 
---
---
Show Introduction
On the Show this week we check out a new car offering from iRacing coming in the next week 13 update. The new season of the CarQuest World of Outlaws Sprint Car Season kicks off with some familiar faces. In hardware we check out more very impressive Formula Wheel releases and some real world drivers compare the brakes performance between their real and sim brakes.
And remember you can follow along with us on your PC or mobile device in real time as you listen to the show and see for yourself all of the great topics and products we'll discuss by visiting iracerslounge.com and selecting show notes. Hope to see you there..
---
---
TITLE SPONSOR READ:
Are you tired of your pedals feeling like a video game? Want to step up to feeling like you're actually driving?
We designed our P1 Pro Pedals to feel exactly like a real car giving you a better feeling when you're driving. Push braking zones to the limit and avoid locking up by having a finer feel of the limits. Trail brake into the corner smoother allowing you to carry more speed.
Our P1 Pro Pedals will be the last set of pedals you'll ever purchase for your simulator. Lifetime Warranty is included. That means if you ever run into issues in years to come, we'll service them and keep them perfect!
---
---
---
---
Topics
---
---
The Toyota GR86
As part of its industry-leading offering of hundreds of cars and tracks from around the world, iRacing offers dozens of pieces of content included for free with all active subscriptions. For 2023 Season 1, an all-new car—the Toyota GR86 Cup car, which will make its real-world debut next year—will join the base package as free content, while VIRginia International Raceway and Wild West Motorsports Park will also be granted to all users as included content for the first time.
---
---
Sim Expo Preview
The Sim Racing Expo is being held from Dec 1st-4th Nuernberg, Germany
---
---
North Wilkesboro Update
Another update of the North Wilkesboro Speedway update. Suites being built, Safer walls being installed and drainage pipes going in.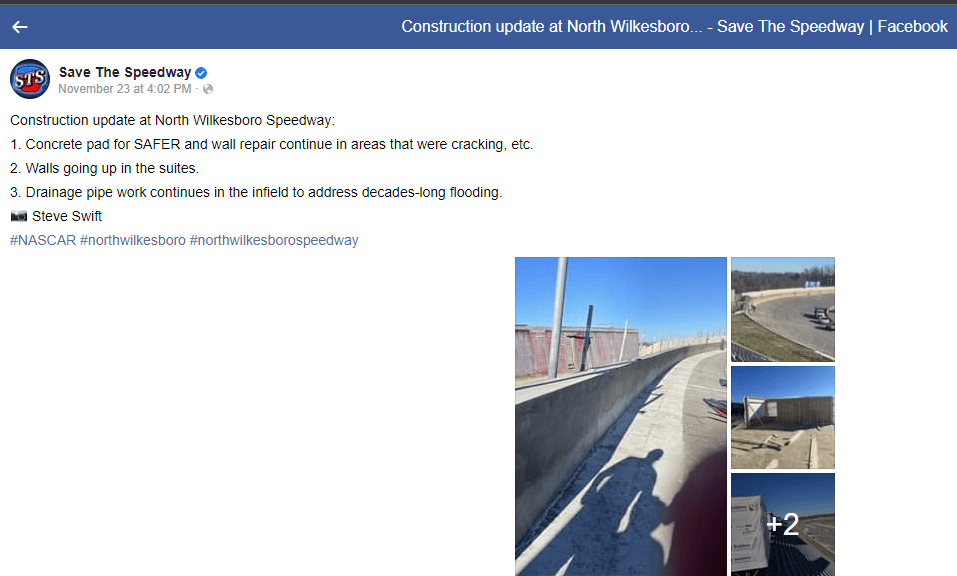 https://m.facebook.com/story.php?story_fbid=pfbid0XLYFcUReSEkEUPAuaMz4CGJPpYVfxnfATdviJUR7o2hJAmnRcrkPu5C9fYWdT8iyl&id=76155928417&mibextid=qC1gEa
---
---
Sprint Car Series kicks off
The premier series for the world's top sprint car sim racers kicks off tonight, as the iRacing World of Outlaws Carquest Auto Parts Sprint Car Series begins a 10-week quest for glory at Volusia Speedway Park at 9PM ET. As always, the racing action will stream live on DIRTVision and across iRacing social media channels, as 35 drivers go wheel-to-wheel for their share of a $25,000 prize pool.
The 10-race championship sees the series visit many of the biggest venues in the real-world World of Outlaws NOS Energy Sprint Car Series, matching both its opener at Volusia and finale at The Dirt Track at Charlotte. Legendary venues like Eldora Speedway and Knoxville Raceway are also on the bill, while Federated Auto Parts Raceway at I-55 hosts the highest level of sprint car action on iRacing for the first time at the end of December.
The full 2022-23 iRacing World of Outlaws Carquest Auto Parts Sprint Car Series schedule is as follows:
November 28: Volusia Speedway Park
December 5: Eldora Speedway
December 12: Williams Grove Speedway
December 19: Bristol Motor Speedway
December 26: Federated Auto Parts Raceway at I-55
January 2: Fairbury Speedway
January 9: Cedar Lake Speedway
January 16: Knoxville Raceway
January 23: Weedsport Speedway
January 30: The Dirt Track at Charlotte
https://www.iracing.com/iracing-world-of-outlaws-carquest-auto-parts-sprint-car-series-kicks-off-2022-23-season/
https://www.iracing.com/bergeron-back-on-top-of-iracing-world-of-outlaws-carquest-sprint-car-series-in-volusia-opener/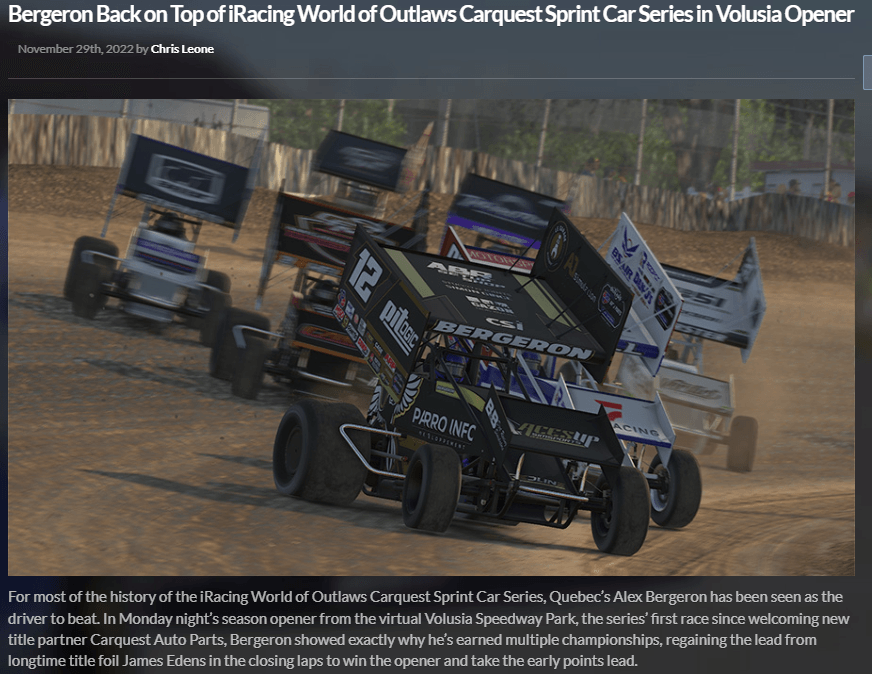 | | | | | | | | | |
| --- | --- | --- | --- | --- | --- | --- | --- | --- |
| Fin. | St. | No. | Driver | Laps | Interval | Led | Best | Pts. |
| 1 | 1 | 12 | Alex A Bergeron | 35 | | 13 | 14.737 | 78 |
| 2 | 6 | 52 | James Edens | 35 | -0.111 | 4 | 14.841 | 74 |
| 3 | 3 | 85 | Tyler Schell | 35 | -0.412 | 0 | 14.828 | 72 |
| 4 | 10 | 33 | Evan Seay | 35 | -0.701 | 0 | 14.835 | 67 |
| 5 | 7 | 86 | Timothy S Smith | 35 | -0.966 | 16 | 14.648 | 65 |
Alex Bergeron, 78
James Edens, 74
Tyler Schell, 72
Evan Seay, 67
Timothy Smith, 65
---
---
Promoted
iRacing Road standout Sebastian Job announced on his Twitter account that he has been added as a sim driver for Oracle Red Bull Racing F1 Team
---
---
Have you made the Jump?
Dave Cam reminds us all that it's the law to do the jump at the end of every race at Bathurst
---
---
Things You Hate to See
Elite Performance Industries posted a video of a sprint car getting "Coned"
---
---
Elvis Rankin Converts Skip Barber Formula iRacing Series Results Into Real-World Title Shot
Earlier this year, Indianapolis-based teenager Elvis Rankin impressed sim racing and real-world racing pros alike with a stellar performance in the inaugural Skip Barber Formula iRacing Series. His runner-up finish in that championship gave him the opportunity to compete in this year's Skip Barber Formula Race Series in the real world, with a half-season scholarship to help him showcase his skills.
Flash forward to this week's season finale at Circuit of the Americas, and Rankin has done much more than just show up for half the races. It took him just two rounds at his debut event at Lime Rock Park to find the top step of the podium for the first time, and after formalizing a full-season campaign, he enters Rounds 13 and 14 with a 13-point championship advantage.
https://www.iracing.com/elvis-rankin-converts-skip-barber-formula-iracing-series-results-into-real-world-title-shot/
Elvis won the sbrs 2022 season
Update sent in from Listener Jason Bosse
Skip Barber formula series' last race week was Nov 29th and 30th. I do not know his finishing positions (he's too cool to respond to old mx5 racing buddies) but the season is over and he is champion. I do not think he had much competition in this year's group of drivers. This report was written right before the last weekend at cota….Circuit of the Americas. In other news, he did have a somewhat good showing in a F4 test in Europe amongst a group of new drivers.
https://www.simrace247.com/2022/11/30/elvis-rankin-skip-barber-formula-iracing-series-results-to-real-world-title-shot/
https://www.elvisrankinracing.com/about/
---
---
Steven Wilson Remains Utterly Undefeated
Steven Wilson has won every race in the eNascar College Fall Semester season.
---
---
iRacing Strengthens Free Base Content Package
Included in this upcoming build along with the new free to own Toyota GR86 will be the additions of VIR and Wild West Motorsports Park
https://www.iracing.com/iracing-strengthens-free-base-content-package-for-2023-season-1-with-new-car-two-tracks/
---
---
Also, There's a Surprise
Hidden in the photo posted on Trading Paints is a message located on the footbridge
---
---
iRacing Credits Expiration Policy –
Alex Gustafson announced in the forums that a new policy means that iRacing Credits expire two years after they are granted
https://forums.iracing.com/discussion/32499/iracing-credits-expiration-policy-iracing-credits-expire-two-years-after-they-are-granted
---
---
2023 Season 1 Build Thread – Content List (Confirmations/Rumors)
Kyle Noel made a list of 2023 Season 1 build rumors and updates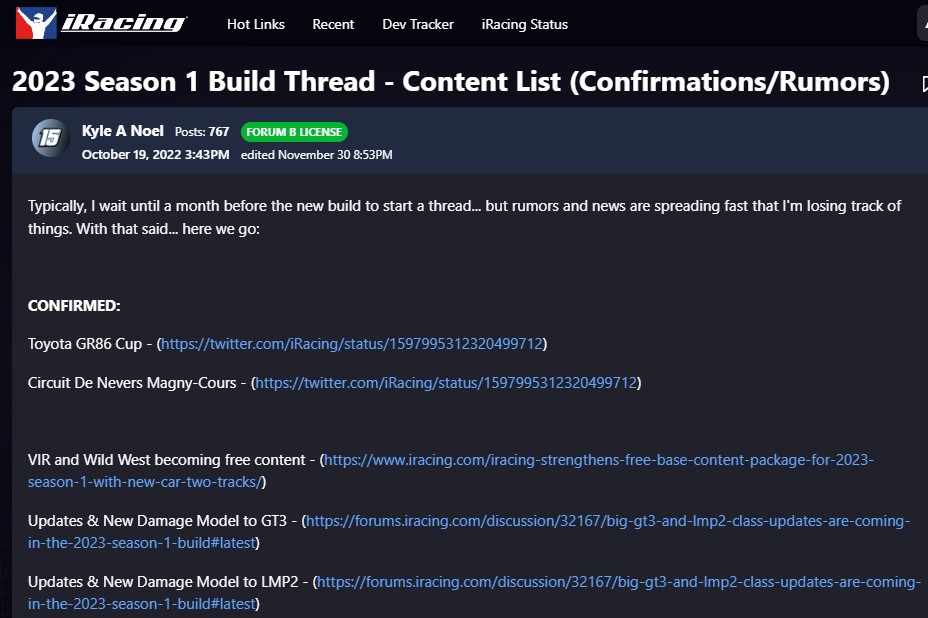 https://forums.iracing.com/discussion/30898/2023-season-1-build-thread-content-list-confirmations-rumors#latest
---
---
JumpStartX charity event
Podcast Housekeeping
Leave us a review on your favorite podcast platform to make it easier for more listeners to find the podcast. Mention the podcast to your fellow drivers so they don't miss out, we would appreciate it.
Check out our Discord https://discord.gg/rvRas4DDqF
New Website – Leave Comments https://www.iracerslounge.com/
---
We are in the regular rotation… (Mike)
https://performancemotorsportsnetwork.com/
https://channelstore.roku.com/details/9d27a1e9dd15b92535d7cfe85407288e/the-sim-racing-channel
https://thesimracingchannel.com/watch-live/
Fantasy
VIA: LOWDER RACING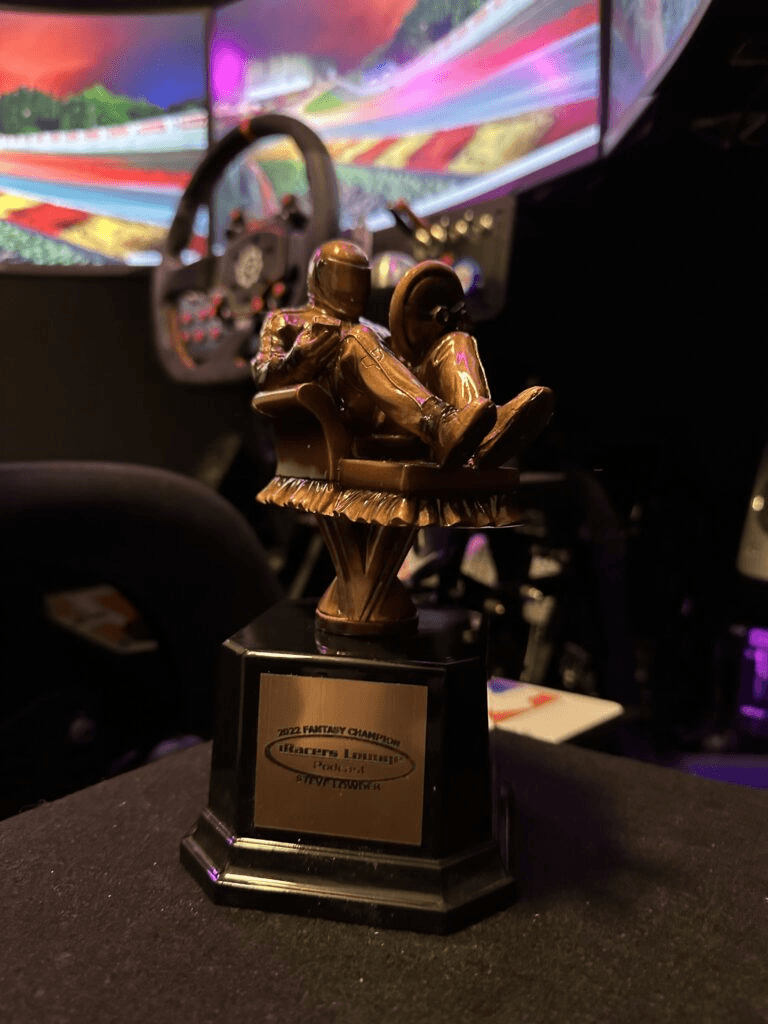 ---
---
Hardware/Software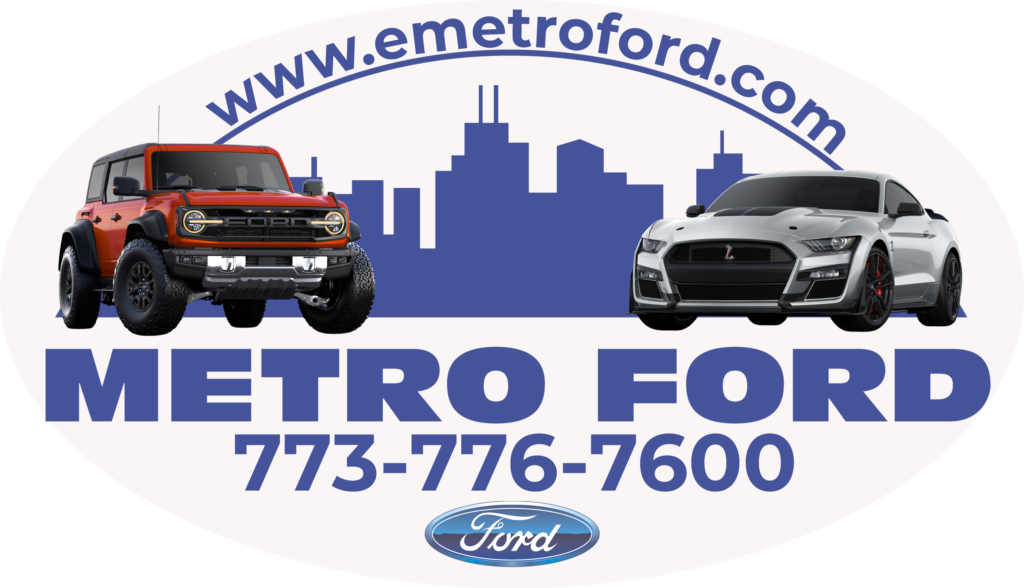 ---
VRS DirectForce Pro pedal
The VRS DirectForce Pro pedals are ready and available in limited quantities now. By the end of Summer, they should have a large supply for direct order. And, because of the limited quantities, owners of the DirectForce Pro wheelbase will have the first option to purchase if they get on the reservation list.
Throttle and brake pedals only: USD 649 / EUR 549 VAT incl.
Optional clutch: USD 249 / EUR 199 VAT incl.
---
---
Trak Racer Wheel Teaser
Trak Racer Teases their new formula wheel with an Instagram video
---
---
SIm Coaches Formula Racing Wheel
Sim Coaches is offering their new P1 Formula Racing Wheel with Founder's Bundle
https://simcoaches.com/products/formula-sim-racing-wheel-with-screen
---
---
Should Fanatec Be Worried? | Moza FSR Review
Coyote Racing gives a glowing review of the Moza FRS formula wheel with LCD Screen. (Editor's Note: he mentions he is affiliated with Moza)
---
---
Welcome to Sim Search
Sim Search is an online marketplace for buying hardware, setups, paints and more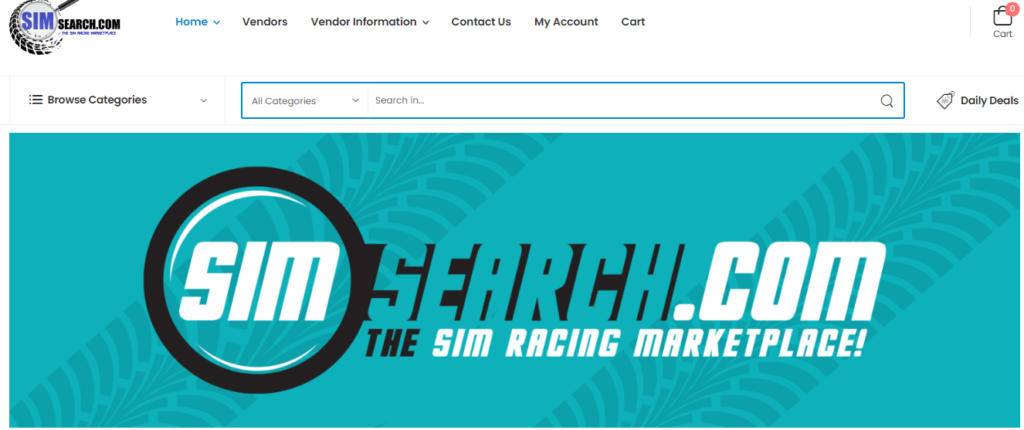 ---
---
The F64-SC V3 is Now Available
The Simucube F64-SC V3 formula wheel was made available for purchase on last week
---
---
The Hyper P1
Gomez SimRacing's new flagship wheel, The Hyper P1 becomes available at their launch event on Dec 1st and use 10% off code HP1DAY1 for 24 hours only.
---
---
Simagic Alpha Ultimate Wheelbase Review

Shaun Cole at the Simpit reviews the Sim Magic Ultimate 21nm Wheel Base
---
---
Digital Race Engineer Update DRE 2022
The DRE- Digital Race Engineer has received an upgrade, no longer using Voice Attack. The offer 3 separate packages, one for free,
---
---
iRacing Setup Differ – Message from Developer
Hi Steve what a nice surprise you mentioned the iRacing SetupDiffer software on your show. with the busy season around thanksgiving, i am a few shows behind in listening to the podcast. I just listed to the November 10th show today.
I created the iRacing SetupDiffer because at the time, all the setup comparison tools required you to export the setups to an HTML file and compare the "files" themselves. that has a number of problems, the main one being the comparison program has to be updated to work with each new car, and occasionally, with season updates, or changes that iRacing makes to an existing car. with the iRacing SetupDiffer,
I wanted to create a tool that was simple and straightforward, and worked with any car, and any seasonal update, without forcing users to constantly download new versions of the software. from the user feedback I've received, this has been a success. one of the most often mentioned features is the ability to compare the existing setup in iRacing (extracted live), with a version used in a previous race or practice session (extracted from the telemetry files). Also, not that it makes any real sense to do so, but it can also be fun to compare setups from completely different types of cars, just to learn what is different between them. anyway, thanks for mentioning the software. it was an unexpected surprise. see you on the track
scott
---
https://svappslab.com/iRacing/SetupDiffer
---
David Tucker From iRacing on Slip Telemetry
Staffer David Tucker talked about the telemetry that might be available for the SimCube Active Pedals in the iRacing Forum. Also December 1st the pricing and availability dates are supposed to be announced at the Racing Expo!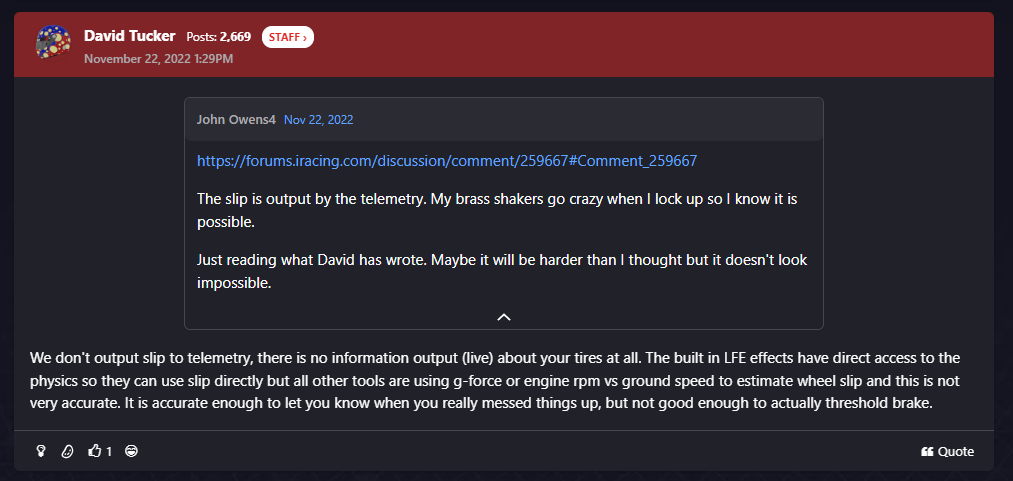 ---
https://forums.iracing.com/discussion/31211/simucube-activepedal
---
Pro Drivers DEBUNK Sim Racing Pedals Misconceptions
Random Callsign asks Professional drivers Daniel Morad, David Perel, James Baldwin and Spa24h WINNER Raffaelle Marciello about their thoughts on real vs sim pedals.
---
---
Listener Feedback
Darren F reviews our discussion about the 4090 series overheating issues.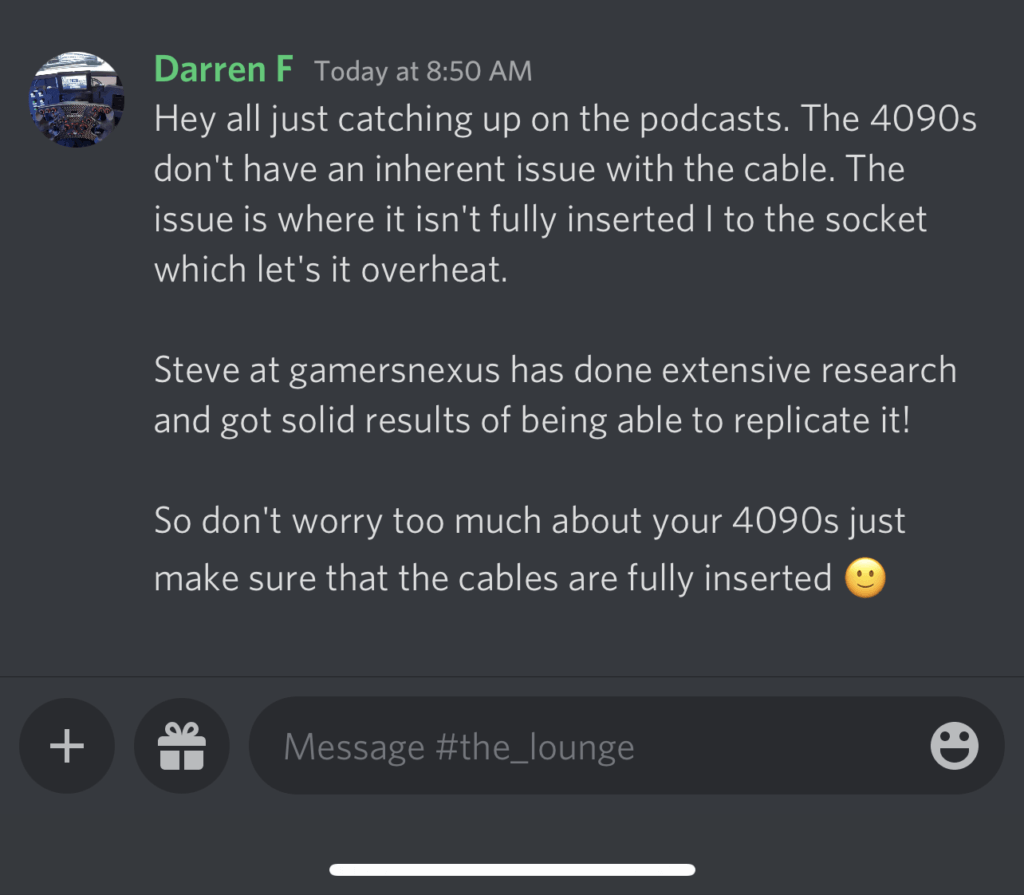 ---
---
What Did We Learn?
Bruno Danese on the Fanatec Owners Group chat speculates about future offerings from the company based on their Black Friday Sales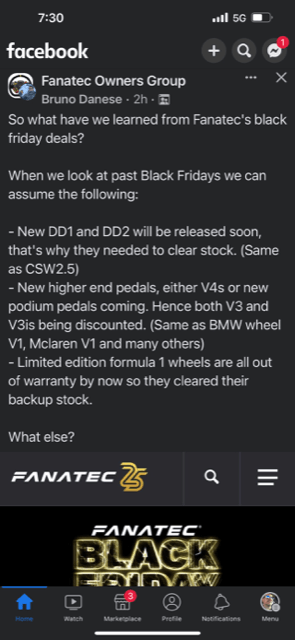 ---
---
Simucube Pedal Pricing Revealed
Simucube dropped the pricing details of their new active pedals
https://simucube.com/simucube-activepedal-primary-set/
https://simucube.com/simucube-activepedal-set-of-2/
https://simucube.com/simucube-activepedal-set-of-3/
https://forums.iracing.com/discussion/31211/simucube-activepedal/p5
---
---
Results
NASCAR iRacing Series
Wednesday Open: Nashville superspeedway
Mike – car number one and wrecked out in the first part of the race. Some fool on the first corner, missed his breaking point and drove 10 car links to D I said watch out that guy as a weapon. A few laps later he's coming off pit Road and hits the grass and spins right up in front of the field and destroys us, he apologized profusely, claiming his throttle hung.
---
---
Official Series
Ellis -USF 2000. OKayama- started P7 got up as high as P5, but faded back to P7.
A Open

Steve – Ran 4 open races at Chicagoland, was 28th Saturday Morning. Started in 10th on g/w/c – guy on old tires spun and took out half field. Ran later that morning finished 1st by over 14 seconds, no cautions. Finished 1st on Sunday morning was going to be 2nd, but caution came out on lap 98. Came out 1st coming out of pits and won it. Finished 21 Sunday night, lap 98 again, was 8th, guy clipped apron on restart and came up the track and took out 10 or so Cars.
---
---
League / Hosted Races
Ellis – Chris Macguire – Supers cars at michigan was p5 from the back on the white got dumped.
Gen 5 cat tally – wrecked
Mazdas at old daytona – p5
87th at Talladega on Tuesday came from all the way in the back up to the top three to be wreacked out on the white flag.
Pro to light trucks at Southern National went from dead last all the way up to fourth.
Winter league-

Mike -p14 – my tires would fall off around lap 30 to 35 and at one point I was dead last run and 27th but this persevered and then it up with a top 15

Steve Thomson – p26, involved in 2 crashes.

Steve LouAllen-p

Greg – p9 – Lap down at 1 point

David – P 10 Ran top 5 all night. Net code causes me to get severely damaged and struggle to hold on to 10th. Once again Bristol bites me at the end.
Brian – P10 Auto Club Started in the back because of connection issues. Slowly made some progress till making my way into the top ten with a couple of laps to go
---
---
Final Thoughts
---
---
Words Spoken in Closing Audio Clip -""Thank you for listening to the iRacers Lounge podcast make sure to go subscribe to us on iTunes, SoundCloud, or Google Play, Facebook & Twitter, See You On The Track ."
TITLE
Formula Wheel Extravaganza
Description
On the Show this week we check out a new car offering from iRacing coming in the next week 13 update. The new season of the CarQuest World of Outlaws Sprint Car Season kicks off with some familiar faces. In hardware we check out more very impressive Formula Wheel releases and some real world drivers compare the brakes performance between their real and sim brakes. So sit back, relax and join us on the iRacers Lounge Podcast.
iRacers Lounge Podcast is available on iTunes and Apple's Podcasts app, Stitcher, TuneIn, Google Play Music, Spotify, Soundcloud, Podbean, Spreaker, Podbay, PodFanatic, Overcast, Amazon, and other podcast players.
Sponsors:
Hosts:
Mike Ellis – twitter.com/MikeDeanEllis
David Hall – www.twitch.tv/mixmage
Greg Hecktus – twitter.com/froozenkaktus – www.twitch.tv/froozenkaktus
Brian Maccubbin – www.twitch.tv/MacRubbinsRacin
Kyle Pendygraft – twitter.com/LoudPedalGaming
Tony Groves – www.twitch.tv/SirGroves
Adam Josselyn- twitter.com/Jossad83
Tony Rochette – twitter.com/TonyRochette
Tom Dreiling –
Donnie Spiker – twitter.com/Spikerman19
Bobby Jonas –
Links:
Facebook – www.facebook.com/iRacersLounge/
Twitter – twitter.com/iracerslounge
Instagram – instagram.com/iracersloungepodcast/
Web (Show Notes) – iracerslounge.com/