12/8/2022 – One Inch – Episode 0360
iRacers Lounge Podcast – Conversation Topics
Brought to you by:

---
---
Opening Audio Clip -"Your listening to the iRacers Lounge Podcast where we discuss everything iRacing, in a casual setting, enjoy."`
READ THIS AT THE TOP OF EACH SHOW!!!
Welcome to the iRacer's Lounge, I am your host "XXX". iRacer's Lounge is a podcast for the iRacer, where we talk all things iRacing in a casual setting.
Joining me are the usual characters, ———— 
---
---
Show Introduction
It's week 13, and we will be diving deep into all of the new and exciting content from iRacing. We'll check out some highlights from the Sim Racing Expo held last week in Germany and we see our first reviews of the new Simucube Active Pedals. All this and much more on this weeks' iRacers Lounge Podcast!
And remember you can follow along with us on your PC or mobile device in real time as you listen to the show and see for yourself all of the great topics and products we'll discuss by visiting iracerslounge.com and selecting show notes. Hope to see you there..
---
---
TITLE SPONSOR READ:
Are you tired of your pedals feeling like a video game? Want to step up to feeling like you're actually driving?
We designed our P1 Pro Pedals to feel exactly like a real car giving you a better feeling when you're driving. Push braking zones to the limit and avoid locking up by having a finer feel of the limits. Trail brake into the corner smoother allowing you to carry more speed.
Our P1 Pro Pedals will be the last set of pedals you'll ever purchase for your simulator. Lifetime Warranty is included. That means if you ever run into issues in years to come, we'll service them and keep them perfect!
---
---
Topics
---
---
Sim Racing Expo News and Highlights
The Sim Racing Expo was last weekend and many reviews were there checking out all of the new products from the sim racing world. Here are some of their thoughts…
They are pumping DJ music and they've given the mic to gamer muscle and he's yelling. It looks like fun. Not a lot of people but a show this size could easily support like 10k more people…
This p1 sim wheel w vertical display is freaking awesome looking.
McLaren by ascher wheels look amazing.
Trak racer doing load cell pedals w haptics. They're also doing their own butt kicker style transducer with amp. Trak racer. Formula wheel too.
This guy rumored this event might be in Canada next year
Guy from overtake just loved loved the simucube pedals, he said they are so cool and worth the 6k…
Thomas from Fanatec – brought his own supercar and f1 Toro Roso Sebastian Vettel car, gave vague ansers on qr2 saying soon…
Cube Controls has a GT version of their new wheel.
Tony Kanaan at the Fanatec booth at the expo
---
---
PreBuild Teasers
iRacing dropped some spoilers for content for the 2023 Week 1 build…
---
---
Do We Need to Update All Our Paints
For the 2023 Season 1 build iRacing is adding a new shader to the sim that will allow you to add a clear coat to your car for custom schemes!
This new shader will allow you to put a clear shell over the existing paint scheme of the car with it's own specular qualities separate from the underlying material. This is meant to replicate automotive paintjobs where the underlying car paint is overlaid with an acrylic clear coat.
https://forums.iracing.com/discussion/32624/new-clearcoat-feature-added-in-iracing-2023-season-1#latest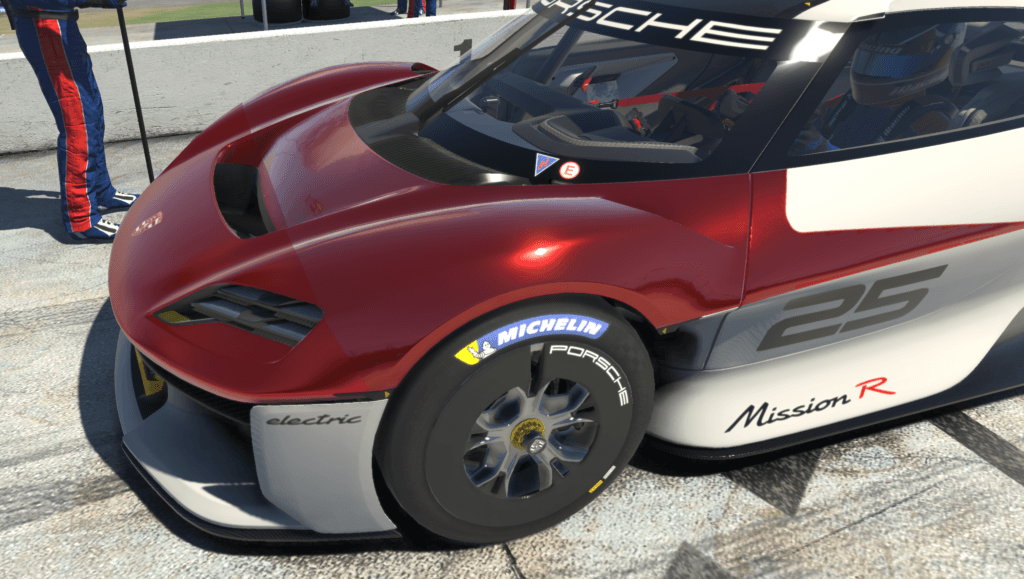 This change won't effect cars without spec maps, just ones that have a spec map other than the default values, right?
That is correct. If you don't have a custom spec map you don't have to edit anything. If you do and want to keep your current look. Make the blue channel on your custom spec map pure black (0, 0, 0 RGB).
---
---
Trading Paints Paint of the Year
Trading Paints is now taking votes for round one of the Paint of the Year contest. Also, on the other side of the spectrum, Nascarcasm will be taking submissions for the ugliest paint scheme.
https://www.tradingpaints.com/poty
https://www.nascar.com/news-media/2022/12/06/nascarcasm-the-ugly-paint-scheme-contest-is-back/
---
---
Rajah Goes to Petty
Jammie Little posted on Twitter that (Sim Racer) Rajah Caruth will be joining Petty GMS full time next year
https://www.nascar.com/news-media/2022/03/30/rajah-caruths-racing-timeline-from-iracing-to-nascar-xfinity-series-in-just-a-few-years/
---
---
2023 Season 1 Release Notes
Week 13 is here, and here are the release notes from the latest build.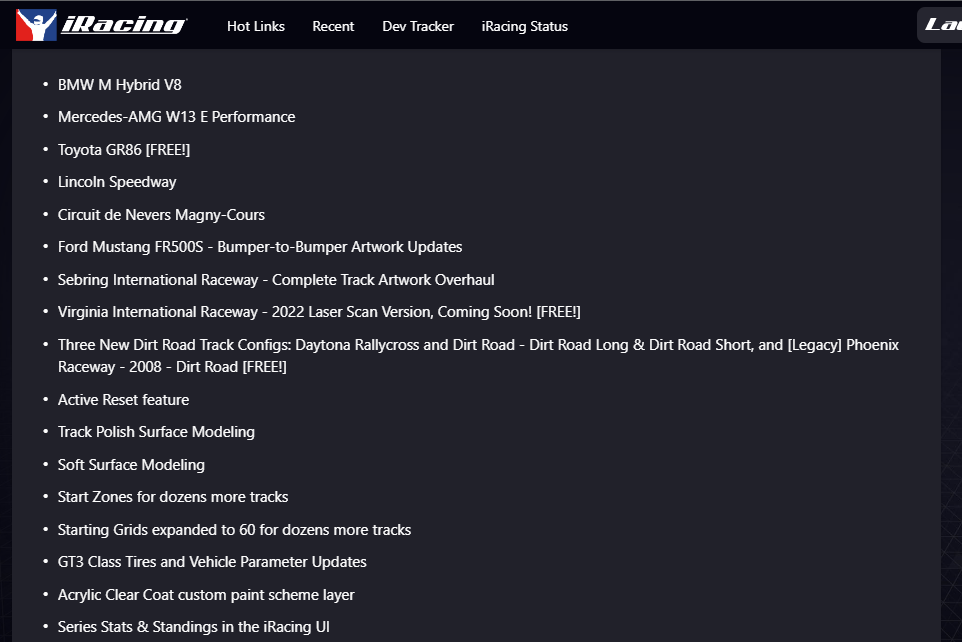 https://forums.iracing.com/discussion/32710/2023-season-1-release-notes-2022-12-06-01/p1?new=1
---
---
Post Build Reaction/Content
Some Sim Content Creators have given some thoughts on videos of the new build features
Greg West Posts:
In conjunction with the release of the Toyota GR86, we are pleased to announce a new series; the iRacing GR Cup – Fixed.
This new D license series will feature 15 minute fixed setup races and will include 7 free tracks in its debut season.
https://forums.iracing.com/discussion/32693/new-series-iracing-gr-cup-fixed#latest
Greg West Posts:
We are happy to announce that the Toyota GR86 will be joining the Sim-Lab Production Car Challenge replacing the Pontiac Solstice.
These changes will be in effect for Season 1, 2023.
https://forums.iracing.com/discussion/32680/toyota-gr86-joins-production-car-challenge#latest
Smoothing FFB is new set at 15%….
https://forums.iracing.com/discussion/comment/268529/#Comment_268529
---
---
iRacing and the Cramps
Annie Babbets filmed herself in an iRacing session when she was hit with a foot cramp.
---
---
Bye, Bye Member Site?
Mortiz Lohner Tweeted that in the next build, iRacing may be pretty much phasing out the member site
https://forums.iracing.com/discussion/32798/iracing-classic-membersite-sunset-simulator-connection-severed-2023-season-2-march
---
---
2023 Season 1 Hotfix 1 Release Notes
iRacing posted a quick hotfix for the new build season.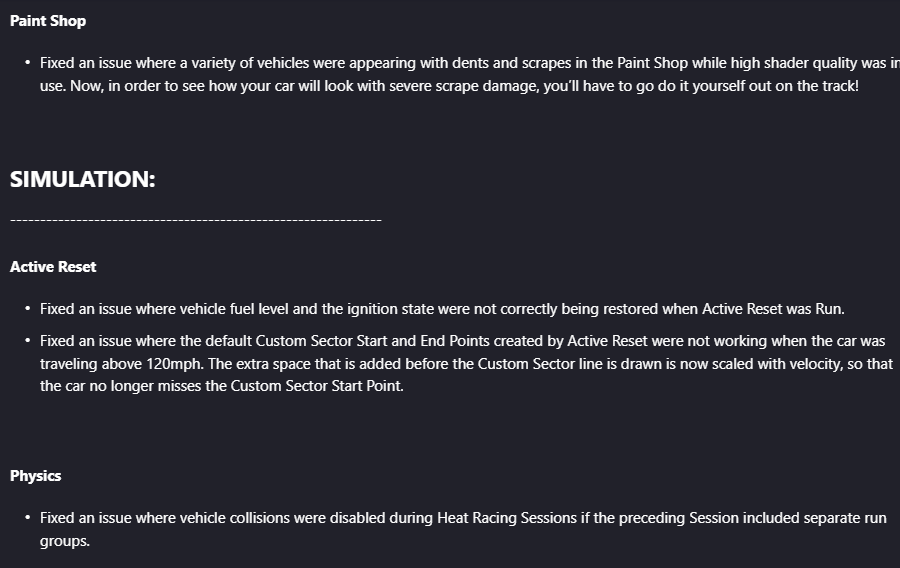 https://forums.iracing.com/discussion/33020/2023-season-1-hotfix-1-release-notes-2022-12-08-01
VR users have noticed a frame rate drop since the update, But the patch didn't seem to address these issues.
https://forums.iracing.com/discussion/33021/release-notes-not-addressing-vr-issues#latest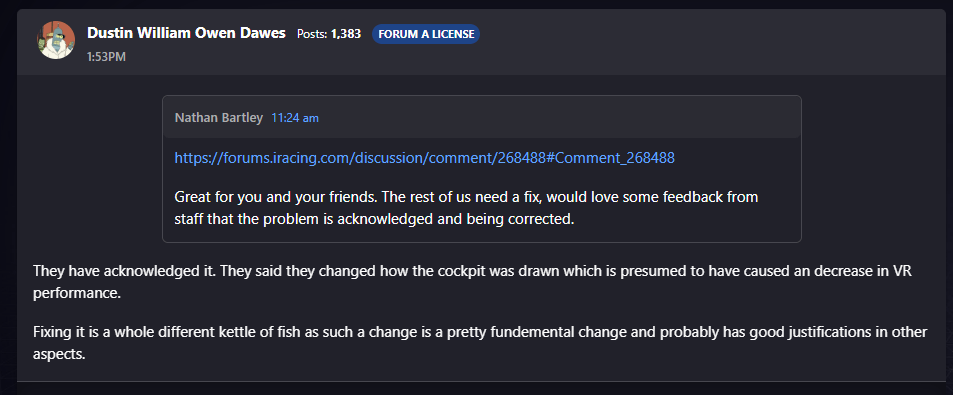 ---
---
World of Outlaws Week 2
Hayden Cardwell Wins round 2 of the World of Outlaws race at Eldora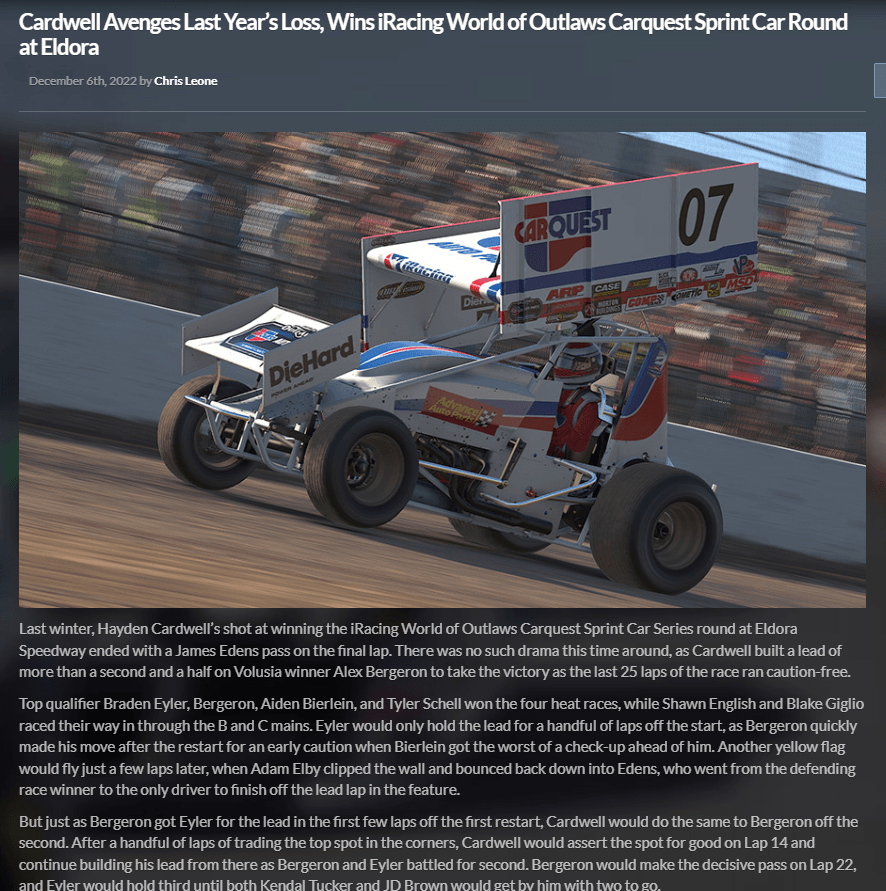 | | | | | | | | | |
| --- | --- | --- | --- | --- | --- | --- | --- | --- |
| Fin. | St. | No. | Driver | Laps | Interval | Led | Best | Pts. |
| 1 | 5 | 07 | Hayden Cardwell | 35 | | 22 | 13.554 | 77 |
| 2 | 2 | 12 | Alex A Bergeron | 35 | -1.542 | 9 | 13.428 | 75 |
| 3 | 6 | 00 | Kendal Tucker | 35 | -1.785 | 0 | 13.646 | 71 |
| 4 | 9 | 14 | JD Brown | 35 | -2.068 | 0 | 13.544 | 67 |
| 5 | 1 | 5 | Braden Eyler | 35 | -2.574 | 2 | 13.480 | 66 |
iRacing World of Outlaws Carquest Sprint Car Series points through two rounds are as follows:
Alex Bergeron, 153
Tyler Schell, 123
JD Brown, 122
Evan Seay, 112
Adam Elby, 107
---
---
2023 Season 1 Schedule
iRacing released the schedule for the upcoming season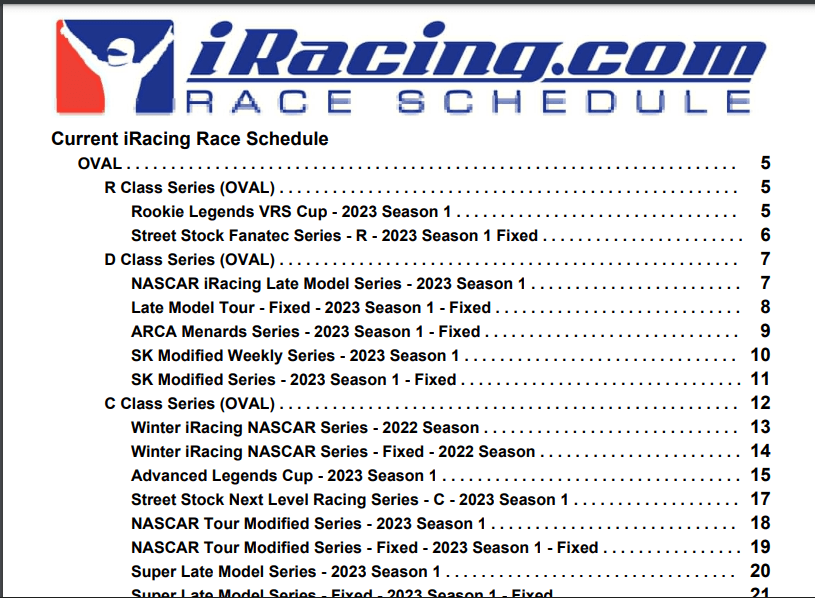 https://forums.iracing.com/discussion/32788/2023-season-1-preliminary-pdf-schedule
---
---
Special Event 2022 Chili bowl Nationals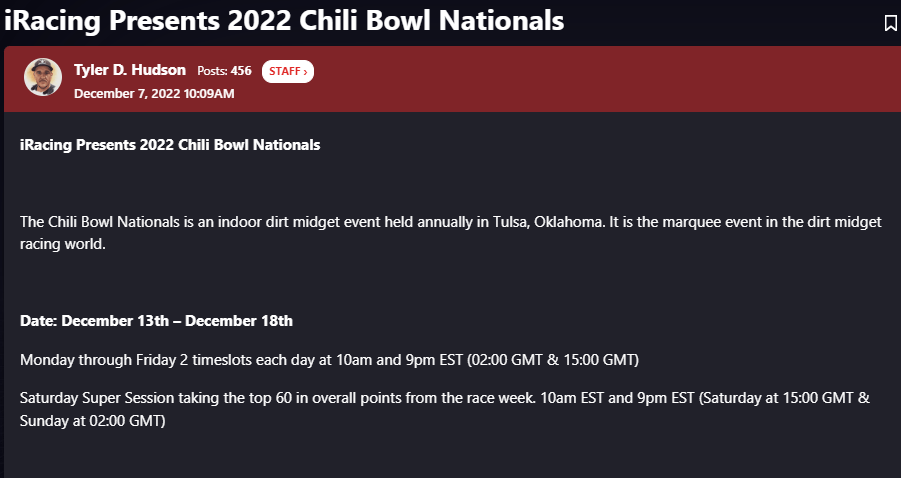 https://forums.iracing.com/discussion/32929/iracing-presents-2022-chili-bowl-nationals#latest
---
---
Early 2023 Special Events

iRacing posted the dates of the early 2023 special events so participants can start to plan their races early. The full special event calendar will be released at a later date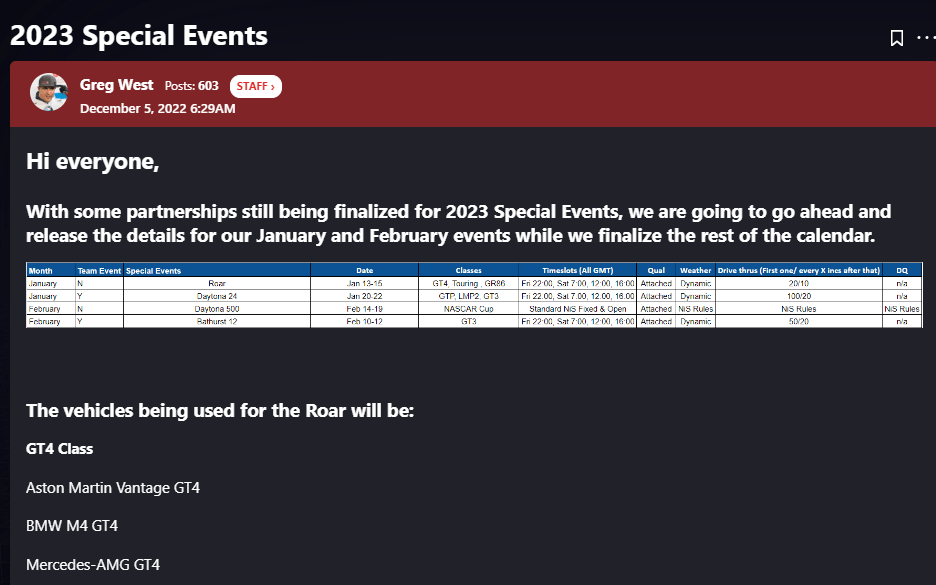 https://forums.iracing.com/discussion/32667/2023-special-events
---
---
Podcast Housekeeping
Leave us a review on your favorite podcast platform to make it easier for more listeners to find the podcast. Mention the podcast to your fellow drivers so they don't miss out, we would appreciate it.
Check out our Discord https://discord.gg/rvRas4DDqF
New Website – Leave Comments https://www.iracerslounge.com/
---
We are in the regular rotation… (Mike)
https://performancemotorsportsnetwork.com/
https://channelstore.roku.com/details/9d27a1e9dd15b92535d7cfe85407288e/the-sim-racing-channel
https://thesimracingchannel.com/watch-live/
Fantasy
---
---
Hardware/Software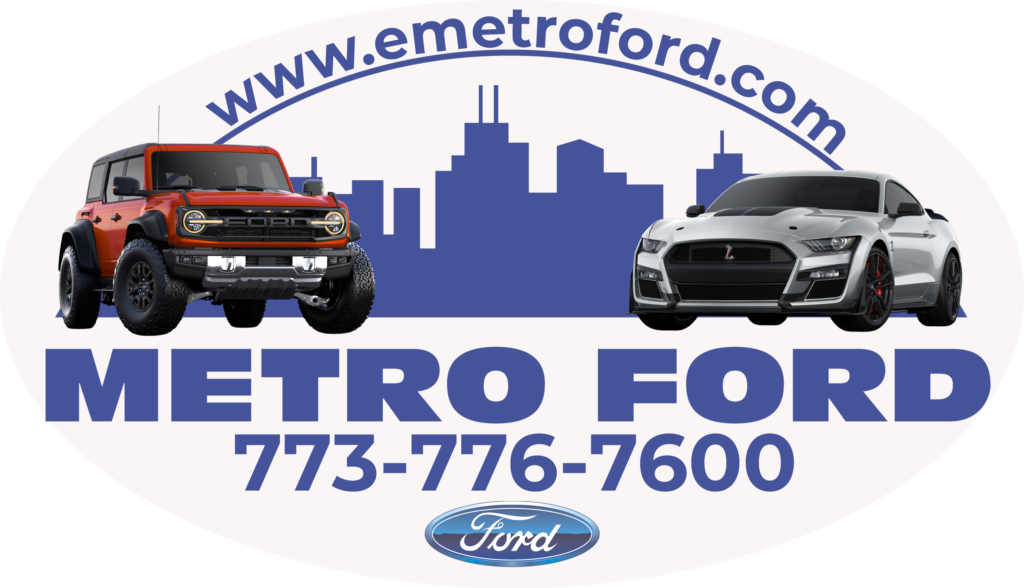 ---
Advanced Sim Racing Gets Radical
Advanced SimRacing will be the new be the exclusive manufacturer of the ASR-F PRO – Radical Edition, the world's first and only SimRacing chassis made in Radical's image.
---
---
Cube Control F-Core and Other News
Cube Controls is introducing their new F_CORE their new upgraded entry-level formula steering wheel!
…And they have completely redesigned their GTX2, the new, completely redesigned, flagship GT steering wheel with5 inches display, interchangeable grips to customize diameter (30 or 32 cm) and material.
…Also, their SP-01 Pedals will be available Q1 of 2023 with updated design and a completely customizable experience.
---
---
O-Rouge Formula Wheel
O-Rouge has revealed the details and a photo of their new Formula Wheel with sleek new design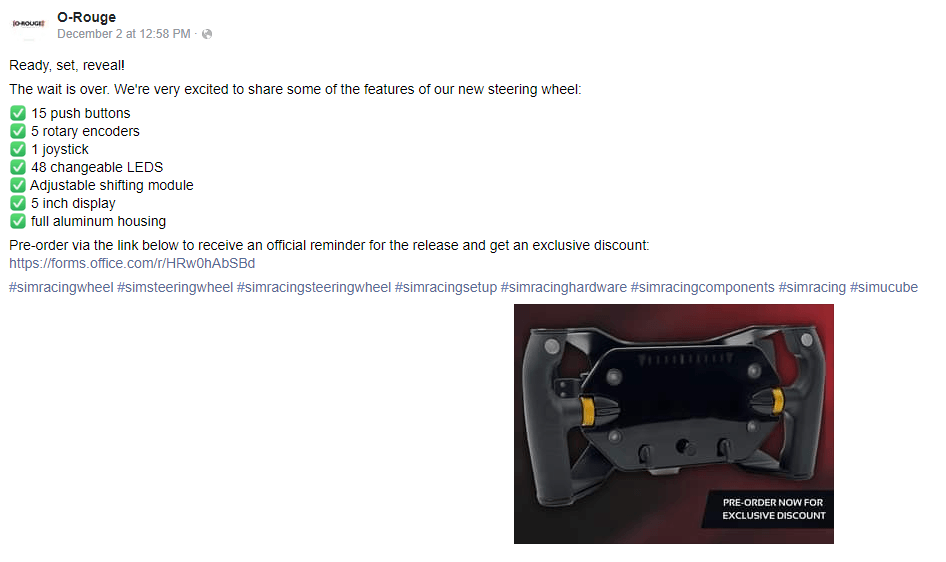 https://m.facebook.com/story.php?story_fbid=pfbid02E8gxNbGd3kbMR6evQVnwfWw5hxvwpTPChRexu5ouiqYDUS56YSNboizwf4JFUDi8l&id=100063801872739&mibextid=qC1gEa
---
---
SRC Buttkicker Review
The Sim Racing Corner reviewed the Buttkicker Gamer Plus
---
---
ASETEK, the 1st to ABS?
Asetek SimSports has revealed a working prototype of an anti-locking braking system for sim racing. Billed as an optional upgrade for the existing Invicta hydraulic pedals – which in turn can be initially purchased as load cell La Prima or Forte models before being upgraded – the ABS module will provide pulsating feedback through the brake pedal
---
---
---
---
No Refunds for the RTX 4080
It's no secret that the RTX 4080 has not been selling particularly well, primarily due to its $1,200 price tag, which most people feel is far too expensive. The situation has even impacted scalpers, with many now having to resell their cards at MSRP or even less in some cases. A few second-hand sellers have tried returning them, which seems to have prompted certain retailers to stop offering refunds for the RTX 4080.
Scalpers are struggling to sell the RTX 4080 above MSRP, but retailers won't let them return the cards
https://www.techspot.com/news/96837-scalpers-struggle-sell-rtx-4080-above-msrp-but.html
---
---
XR Supported Foveated Rendering
Varjo has on their website a great explanation of how their dynamic foveated system works in XR and how your eyes interpret what is being displayed in VR
A great explanation how our eyes work and what they can actually see in VR and how OpenXR helps with the performance of VR.
Human eyes have a unique design with two kinds of photosensors, the rod and the cones. Cones are very accurate and detect fine details. Rods are much more sensitive to light than cones, but blurrier. Cones and Rods are distributed very non-uniformly. Cones are concentrated within a few degrees of field of view around the gaze. There are no rods in the center of the FOV, but they are covering most of the eye field of view. There is even a blind spot where the nerve is attached, an entire area of the eye that has no photosensors at all.
---
---
REVIEW – NEW 2022 SIMTAG ASHLEY HYDRAULIC 3-PEDAL SET
Let's Go Race reviewed on his YouTube Channel the new Simtag Ashley Hydraulic Pedals
---
The reviewer Let's Go Race was impressed with the high quality build of the Simtag Ashley Hydraulic 3 Pedals.
---
Stuttering Problems Fixed With Latest Windows 11 Update
Quick heads-up that today's Windows Update KB5020044 should fix the issue for Windows 11 22H2 + WMR users (and no more need for manually turning off the event tracing).
This is a manual update, you must go into Windows Update and check for updates, then select download and install manually. The automated update will be pushed next month.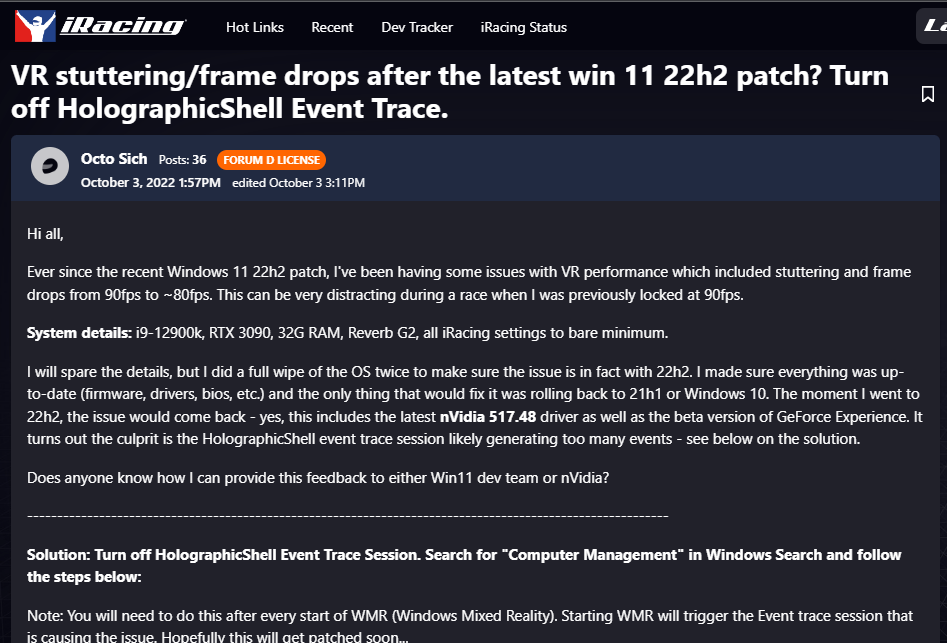 https://forums.iracing.com/discussion/30205/vr-stuttering-frame-drops-after-the-latest-win-11-22h2-patch-turn-off-holographicshell-event-trace#latest
---
---
Results
NASCAR iRacing Series
Friday Open: Nashville
Mike- p car number 21 out of 23 top split. P18. Probably about what I deserved. I was slow out there in the fixed set
Saturday Fixed –

Mike p18- pop split Matt Busse was in there. Ran about 15th. Most of the race slipped a little on the last run. I suck here
Donnie – Q13, P14
Wednesday Open: Charlotte
Mike – top split car number 26 out of 27 cars. Ran 10th to 15th through the first half of the race that had six different cautions mainly caused by one guy. Once he left it went green from there and I feed it back to 18th.
---
---
League / Hosted Races
Hosted –

Ellis – Chris Macguire – 87 cars at Talladega went from the back to the front lead some laps, but got wrecked out but I tried to push somebody my bad. You can't push in these cars
Week 13 GT three challenge. Virginia international raceway in the Ferrari.
Nice to seven on the first loud, but wrecked real hard on the second. Toad and took the quick fix came out and Raleigh back to seven. Out of 27.
Rudskogen- new Toyota gr86. Winner winner, chicken dinner first race in this car and I win
Volkswagen beetle light at Daytona rally cross started P 2 to end up winning the race. I had a 10 second post race penalty for bad exit on the joker laugh yet I still won the race because I gapped the field by over 11 seconds.

Second race qualify P3 got dumped before even getting to turn one was dead last but rallied to P6.

Pro two light trucks at lima land motorsports Park. Qualify dead last everyone qualified 17 cars. P12
McLaren GT three car at Sebring start a 24th out of 25. Got to P6 by the end of lap one eventually got to pee for.
Start at 15th out of 27 got to eight by the end of the first flap got his highest third but finished fourth
Winter league-

David – P 14, Cautions twice fell in poor spots for me. Green flags stops were poor, and didn't do very well on taking care of tires.

OBRL Cup
Brian – Las Vegas P12 Started P5 Had decent short run speed but when the tires wore off and things got really slick. Dropped some spots when losing the rear on the exit of turn two, But made it home in one piece.
---
---
---
---
Final Thoughts
---
---
Words Spoken in Closing Audio Clip -""Thank you for listening to the iRacers Lounge podcast make sure to go subscribe to us on iTunes, SoundCloud, or Google Play, Facebook & Twitter, See You On The Track ."
TITLE
One Inch
Description
It's week 13, and we will be diving deep into all of the new and exciting content from iRacing. We'll check out some highlights from the Sim Racing Expo held last week in Germany and we see our first reviews of the new Simucube Active Pedals. All this and much more on this weeks' iRacers Lounge Podcast! So sit back, relax and join us on the iRacers Lounge Podcast.
iRacers Lounge Podcast is available on iTunes and Apple's Podcasts app, Stitcher, TuneIn, Google Play Music, Spotify, Soundcloud, Podbean, Spreaker, Podbay, PodFanatic, Overcast, Amazon, and other podcast players.
Sponsors:
Hosts:
Mike Ellis – twitter.com/MikeDeanEllis
David Hall – www.twitch.tv/mixmage
Greg Hecktus – twitter.com/froozenkaktus – www.twitch.tv/froozenkaktus
Brian Maccubbin – www.twitch.tv/MacRubbinsRacin
Kyle Pendygraft – twitter.com/LoudPedalGaming
Tony Groves – www.twitch.tv/SirGroves
Adam Josselyn- twitter.com/Jossad83
Tony Rochette – twitter.com/TonyRochette
Tom Dreiling –
Donnie Spiker – twitter.com/Spikerman19
Bobby Jonas –
Links:
Facebook – www.facebook.com/iRacersLounge/
Twitter – twitter.com/iracerslounge
Instagram – instagram.com/iracersloungepodcast/
Web (Show Notes) – iracerslounge.com/