12/15/2022 – Too Many Clicks – Episode 0361
iRacers Lounge Podcast – Conversation Topics
Brought to you by:

---
---
Opening Audio Clip -"Your listening to the iRacers Lounge Podcast where we discuss everything iRacing, in a casual setting, enjoy."`
READ THIS AT THE TOP OF EACH SHOW!!!
Welcome to the iRacer's Lounge, I am your host "XXX". iRacer's Lounge is a podcast for the iRacer, where we talk all things iRacing in a casual setting.
Joining me are the usual characters, ———— 
---
---
Show Introduction
On the show today we will be taking a look at the best way to use the new Active Reset System. We look at some UI vs Website comparisons. VR users are up in arms after performance issues and whether iRacing has addressed these issues. We get reviews and thoughts of the Simucube Active Pedals and lots of other hardware.
And remember you can follow along with us on your PC or mobile device in real time as you listen to the show and see for yourself all of the great topics and products we'll discuss by visiting iracerslounge.com and selecting show notes. Hope to see you there..
---
---
TITLE SPONSOR READ:
Are you tired of your pedals feeling like a video game? Want to step up to feeling like you're actually driving?
We designed our P1 Pro Pedals to feel exactly like a real car giving you a better feeling when you're driving. Push braking zones to the limit and avoid locking up by having a finer feel of the limits. Trail brake into the corner smoother allowing you to carry more speed.
Our P1 Pro Pedals will be the last set of pedals you'll ever purchase for your simulator. Lifetime Warranty is included. That means if you ever run into issues in years to come, we'll service them and keep them perfect!
---
---
Topics
---
---
Micro Stutters with Jr
Kevin '@kkingstyle' on Twitter noticed reflections on his hood have dropped in framerate to 15fps. Dale Jr replied that he's been dealing with new micro stutters in tight turns on road courses and short tracks
---
---
Active Resets Explained
iRacing posted a video explaining how to use the new Active Reset feature
---
---
LMDh MGU-K Dash
Yoep de Ligt shows what his LMDh MGU-K unit is doing and how often you can change modes
---
---
The Beta UI Debate
A post in the forums compares the relative time and amount of clicks it takes to get into different sessions on the website compared to the UI. A poll was taken by Collen Fern asking which do you prefer.
Start Test Session
WEB: 2 clicks    7 sec  RACE NOW -> Test Car on Track
UI:  3 clicks   25 sec  RACE NOW -> My Last Series -> Test Drive

Start Practice Session:
WEB: 4 clicks    8 sec  RACE NOW -> PRACT -> select session -> wait 5 sec for session -> Join Session
UI:  5 clicks   31 sec  RACE NOW -> My Last Series -> Scroll down & search practice session
                            -> Register -> wait 5 sec for session -> Join

Check number of participants registered for the next race:
WEB: 2 clicks    7 sec  RACE NOW -> RACE (first line)
UI:  3 clicks   25 sec  RACE NOW -> My Last Series -> Scroll down & search next race

Register for Race Session:
WEB: 3 clicks    8 sec  RACE NOW -> RACE -> klick Session
UI:  4 clicks   26 sec  RACE NOW -> My Last Series -> Scroll down & search next race -> Register

View Stats:
WEB: 2 clicks   10 sec  Results & Stats -> Series Stats (shows Top 25)
UI:  4 clicks   28 sec  RACE NOW -> My Last Series -> Series  Stats -> Scroll down (shows only Top 10)
https://forums.iracing.com/discussion/33004/removing-tournaments-and-ability-to-grid-field#latest
https://forums.iracing.com/discussion/comment/270182/#Comment_270182
---
---
Multiclass Restart Mayhem
Dan Suzuki posted a video on Twitter of a terrible start to his race asking, "When can we get proper multiclass starts?"
---
---
World of Outlaws Week 3
Cardwell Goes Back-to-Back in iRacing World of Outlaws Carquest Sprint Car Series With Williams Grove Win.
| | | | | | | | | |
| --- | --- | --- | --- | --- | --- | --- | --- | --- |
| Fin. | St. | No. | Driver | Laps | Interval | Led | Best | Pts. |
| 1 | 1 | 07 | Hayden Cardwell | 35 | | 34 | 16.902 | 78 |
| 2 | 6 | 5 | Braden Eyler | 35 | -0.348 | 0 | 16.926 | 74 |
| 3 | 5 | 86 | Timothy S Smith | 35 | -1.187 | 0 | 16.898 | 71 |
| 4 | 9 | 12 | Alex A Bergeron | 35 | -2.893 | 0 | 17.055 | 67 |
| 5 | 4 | 51 | Clayton W Tilley | 35 | -3.450 | 0 | 17.292 | 66 |
iRacing World of Outlaws Carquest Sprint Car Series points through three rounds are as follows:
Alex Bergeron, 220
Timothy Smith, 173
JD Brown, 170
Tyler Schell, 168
Kendal Tucker, 159
https://www.iracing.com/cardwell-goes-back-to-back-in-iracing-world-of-outlaws-carquest-sprint-car-series-with-williams-grove-win/
---
---
22 Pages of Frustration
Many people responded to a thread in the forums regarding frame rate issue is VR after the latest update

https://forums.iracing.com/discussion/32813/loss-of-frames-after-update/p22
---
---
Hotfix #2
Alex Gustafson posted the release notes of Hotfix 2 for 2023 Season 1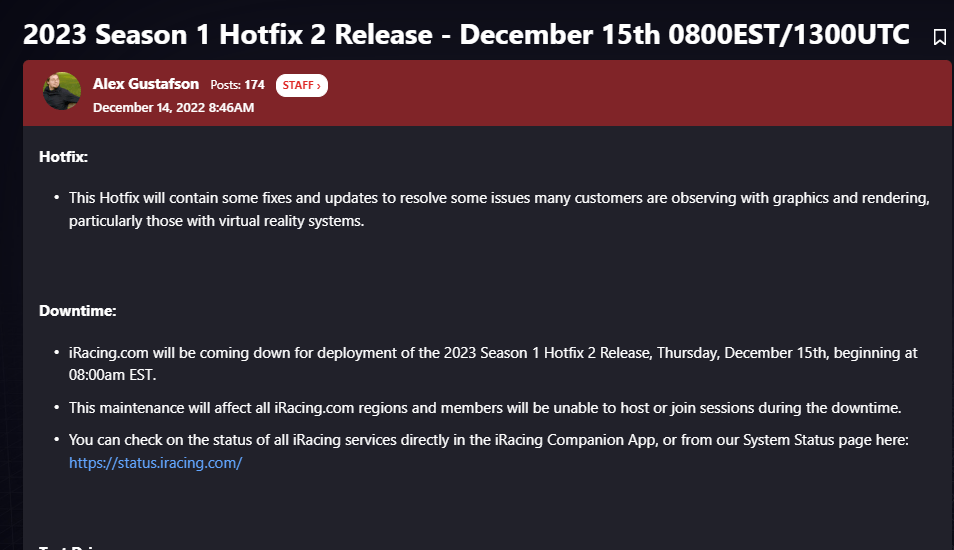 https://forums.iracing.com/discussion/33499/2023-season-1-hotfix-2-release-december-15th-0800est-1300utc
---
---
Last to First in Two Laps
Parker White went from last on the lead lap to the win in the trucks at Talladega
---
---
Sim Cave Review
Daniel Morad shows of his million billion million dollar Sim Cave. Also Simracingmechanics
@simlab shows the official Rig Setup by Shane van Gisbergen
---
---
There is No Crash
Alex Horn shows off the new GT damage model in a great video he posted on Twitter
---
---
Favorite Moment of the Year
iRacing is asking on their Facebook page, *What has been your favorite moment in iRacing this year?"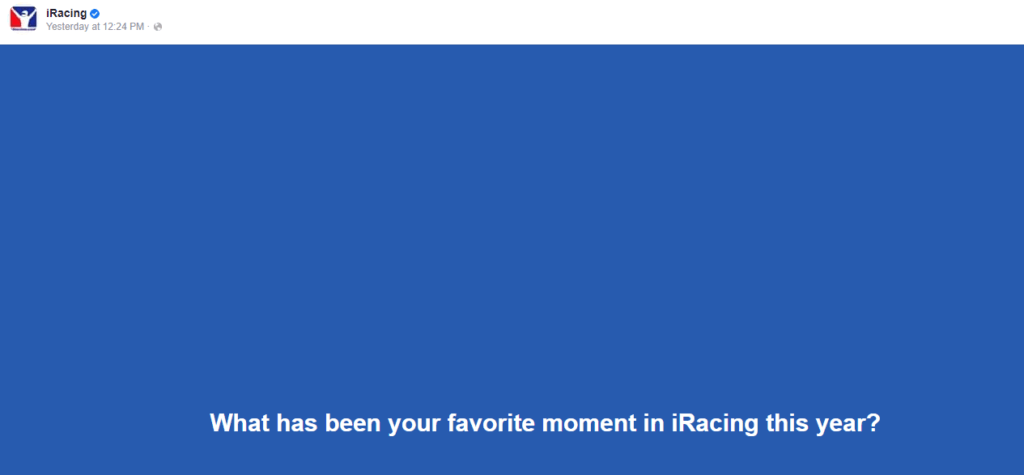 https://m.facebook.com/story.php?story_fbid=pfbid02mV9p7GgFExwdNZddgebeGtFik2qMZ3R1iJKz3YbYNk7gvJB5dYivPXX8bAxorvL4l&id=48224116084&mibextid=qC1gEa
---
---
Street Stocks to All Licenses
Pawel Kusmierek asked in the forums, "Street Stock rookies now open to all licenses?" Staffer Tyler Hudson replied, "We plan on opening it up for 2023 season 1. This has always been open for road and dirt road, and used to be on ovals. We would like to get the rookie series consistent across the different license classes and so will do that for the upcoming season."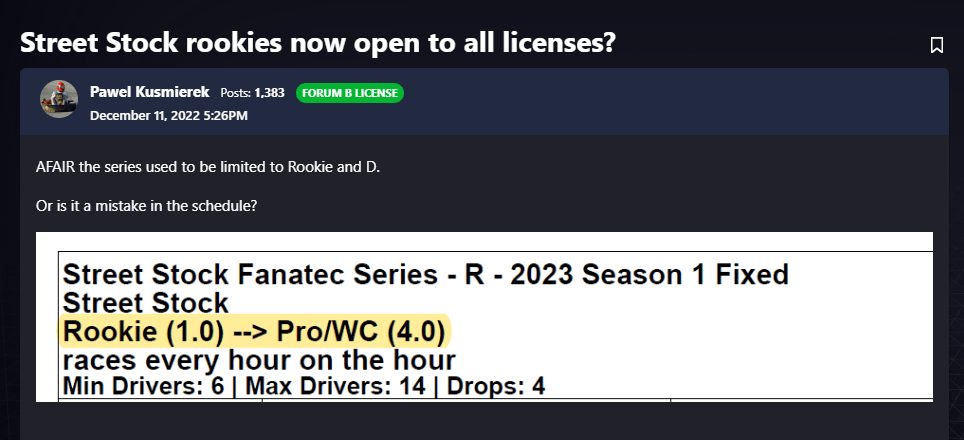 https://forums.iracing.com/discussion/33313/street-stock-rookies-now-open-to-all-licenses
---
---
Screen to Speed
Screen to Speed aims to give representation to women, or individuals who identify as women, in sim racing, esports, and motorsports. The goal is to create a critical mass community to provide opportunities for females in this space. Allies are also welcome, and we encourage everyone to participate as spectators and supporters, but only women, or individuals who publicly identify as women, will be able to race and score participant points to win prizes.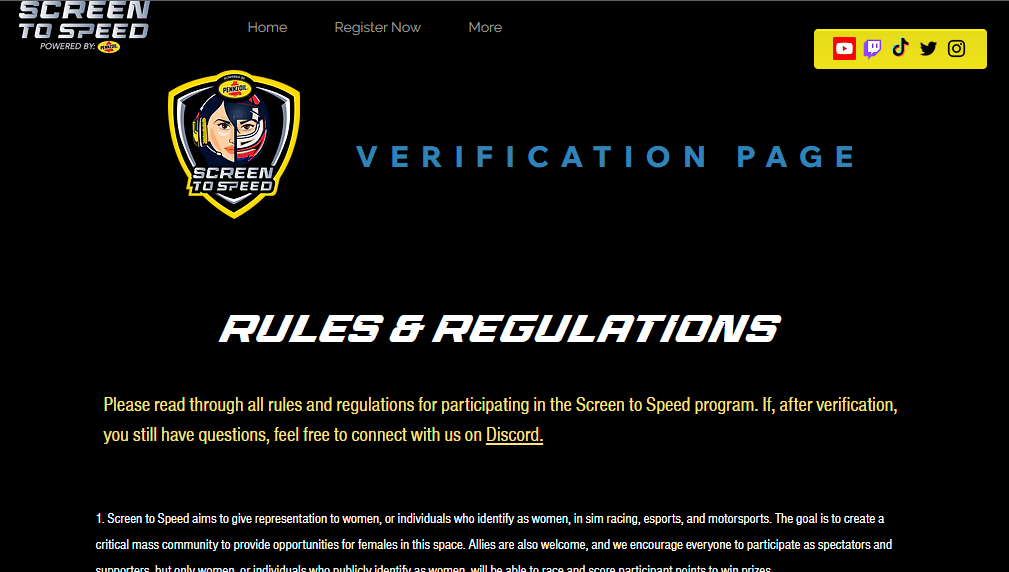 https://www.screentospeed.com/verification-page
---
---
Force Feedback Change
John Owens asked in the forums if something has changed in the Force Feedback. Staffer David Tucker has been engaging in the thread to work thru what people were saying.

https://forums.iracing.com/discussion/32887/has-the-force-feedback-changed#latest
---
---
Driving at the Tire Limits
Multi-time Coke Series Champ Ray Alfalla thinks that the current tire model does not reward driving at the limit of grip, but these tires reward knowing how fast to go, not who can go fast. Way too much tire saving at the moment.
---
---
New Damage Model Video
iRacing posted a new video showing off the new damage model in the IMSA class cars
---
---
Tire Canvasing Effects
lewtorace posted a video of the new canvasing changes that the F1 tires go thru in since the new build
---
---
Chili Bowl 2022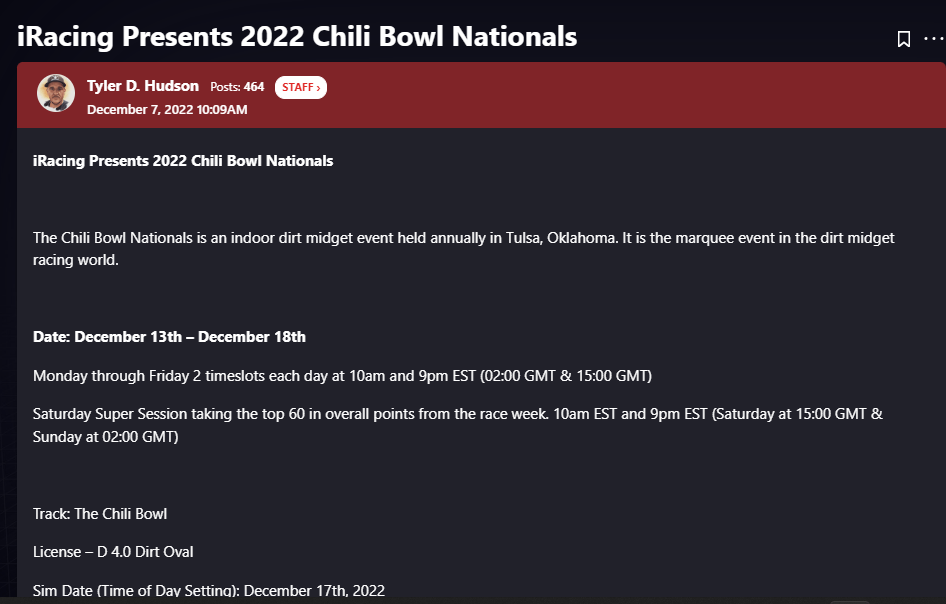 https://forums.iracing.com/discussion/32929/iracing-presents-2022-chili-bowl-nationals
---
---
Special Events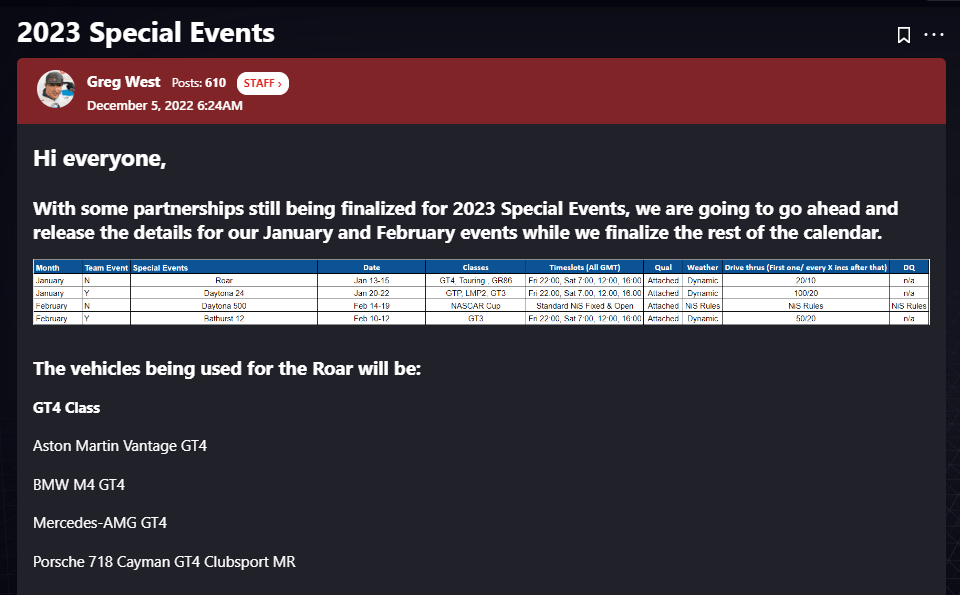 https://forums.iracing.com/discussion/32666/2023-special-events/p1
---
---
Podcast Housekeeping
Leave us a review on your favorite podcast platform to make it easier for more listeners to find the podcast. Mention the podcast to your fellow drivers so they don't miss out, we would appreciate it.
Check out our Discord https://discord.gg/rvRas4DDqF
New Website – Leave Comments https://www.iracerslounge.com/
---
We are in the regular rotation… (Mike)
https://performancemotorsportsnetwork.com/
https://channelstore.roku.com/details/9d27a1e9dd15b92535d7cfe85407288e/the-sim-racing-channel
https://thesimracingchannel.com/watch-live/
Fantasy
---
---
Hardware/Software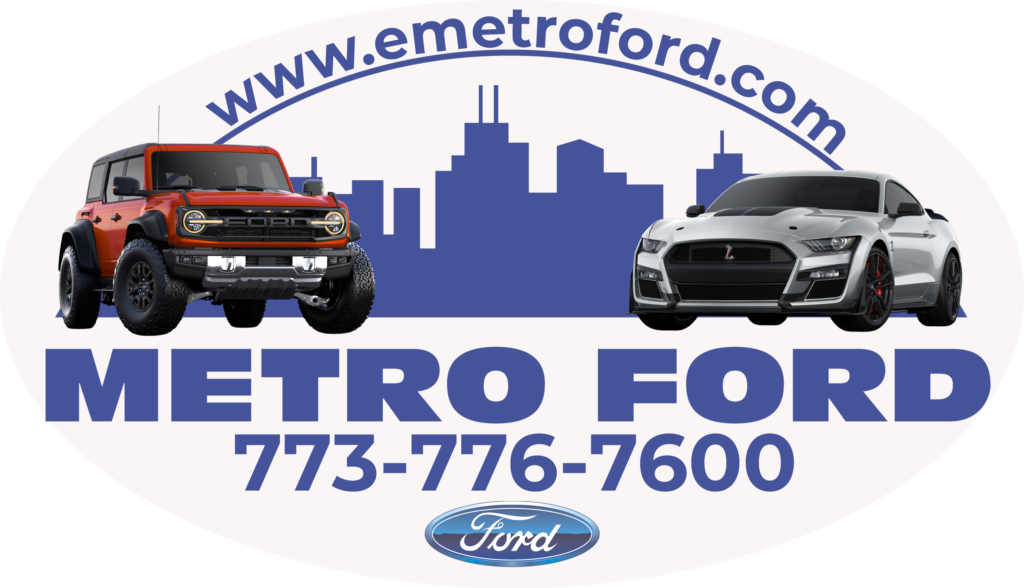 ---
More on Active Pedals
Lots of Sim Racing journalists have had time to try and give thoughts on the new Simucube Active Pedal System
---
---
Dan Suzuki on the Active Pedal
an Suzuki — 12/01/2022 2:21 PM
Tried these pedals today and wow, this definitely is something very unique that I have never tried before. I personally think it's amazing to see a company doing something completely new. Of course it is expensive and I'm sure the people at Simucube would be more than happy if they could produce and sell them at a lower price – there is so much tech in these – you basically get a simucube per pedal and then a lot of stuff around it. They feel amazing to drive with. I need to come back in the next days and do some more testing, I wonder how they feel on a car without ABS – can you feel the lockups if you disable ABS on the cars? Anyways, just wanted to share my quick first impressions, I love it when something completely new and unseen is coming out. If it wasn't for these "jumps" in technology we would all still be driving with our Logitech G25. I wonder what some people in here do when they find out what sports cars can cost ….
Dan Suzuki — 12/01/2022 2:29 PM
you can feel the car loosing traction. i thought it was a bit exagerated in the profile they used on the rig i was testing, but then again its super customizable
---
---
Marko from Simcube on Active Pedal Pricing on their Discord Server
Marko | Simucube — 12/01/2022 6:53 AM
Dear everyone,
Thank you sincerely for your comments. I carefully read through almost all of them. We honestly take all the opinions you shared to heart. The price for the ActivePedals was very carefully considered and hotly debated in-house before the launch. When we started developing the pedals, we knew the price point would not be very affordable, but based on the feedback on our other product releases, we knew that a set of basic pedals would be a letdown to the community.. so we opted to produce the best pedals in existence. As many of you guessed, the cost for R&D was substantial, but this was not the main reason for the price we are asking for. The main reason for the cost is that the components used in the pedals are the best available. Really, everything is top notch. So yes, the ActivePedals cost a substantial amount, but they are designed to last at least twenty years. These will not break, will not loose responsiveness or feel old after five years.
A SC2 plus a quality steering wheel cost more and we feel that for improving your lap times the pedals are even more crucial. This is the pedal for driving on the edge. This is the pedal we poured everything we got into.. and we will support and improve the features of the ActivePedals for years to come. If anyone knows us, they know this to be true.. it's the same as with True Drive, the development has just started.
We understand the price was a shock for many, but this was the price this exceptional piece of gear can be sold currently. We truly appreciate the feedback from everyone.
-Marko, Simucube
---
---
Beano iRacing from Active Pedal Discord Channel his conversation with David Tucker of iRacing
Beano iRacing 🇦🇺 — Yesterday at 1:50 PM
Coming back to a discussion over at iRacing, where David Tucker, the main FFB Developer, had this to say yesterday – I waited with posting due to asking his consent to post this – apologies for it being in a few parts, it was a bit long for Discord to go in one post – anyway really excited for some of these concepts to make it into sims, now that the technology to benefit from these are there:
Quote @David Tucker:
This is all pure speculation at this point, so it is difficult to answer your questions. Naturally we want to support the latest hardware, but we also want to spread our engineering efforts out fairly. This is just the first pass at a brand new idea, hopefully the second and third passes will help solidify what is and is not important in the design and we will see this become more commonplace.
As for potential benefits, that is really up in the air right now. We know that pedals are a weak spot (as are shifters) in the sim world. Everyone that gets there first rig wants to get a clutch pedal and h-pattern shifter and is very disappointed when they find out it feels nothing like driving a stick shift car. Some of that is because race cars are nothing like your daily driver, but a lot falls on the pedals (and shifter) not really giving enough feedback.
In my opinion these are some of the potential benefits of these pedals.
Part 2: Can be adjusted to match the throw and pressure profile of every car so it feels more like the real thing. This is a big plus for immersion.
Can accurately match the feel of a clutch pedal. This is something existing pedals could have done, but most do not. Hopefully with a bit of feedback from the sim you could feel the clutch plate chatter and get more out of it.
Can reproduce chatter from the brake system such as the pulsing of the ABS. Ultimately this requires better modeling on our part to try and perfectly match the behavior of the real thing. We probably don't have the info to really nail this, but we can get close enough. And even with minimal sim support we can probably make this feel nice.
Can reproduce brake fade, a worn clutch, or ruptured brake lines and a whole host of other failures. Imagine having your brake pedal suddenly drop to the floor, it would be amazingly scary.
Can simulate the feel of brake assist. It is a subtle thing you don't usually notice but your brake assist in your passenger car does not work in lock step with your foot. It tends to have a bit of delay and ramps up the assist over time so you get a feeling of the pedal moving on its own. Try pushing slowly on the brake pedal next time your parked and you will be able to feel this.
Can simulate g-force acting on your legs to soften up the brakes as deceleration increases. This is intriguing to me, as I mentioned above a lot of pro drivers say a static pedal set can't ever feel like the real thing. Potentially this could get around it.
Can provide LFE style vibrations at your feet that change from pedal to pedal. This is especially useful on cars like the skippy that rely on mechanical linkages that couple directly to the transmission. You should be able to feel the engine and transmission buck when adjusting the throttle and more direct vibration at the pedals as well.

Part 3:
That is a lot of potential, but it is also a lot of work to really be able to fully take advantage of it all. We may need to extend our models. For example our clutch plate can't really chatter, our brake rotors can't warp, and so on. But if we have a way to give you those details then there is incentive on our end to model more of them.
---
---
Doyo R808 Racing Wheel
The Sim Racing Corner posted an unboxing video of the new Doyo R808 Wheel and pedal system.
---
---
Laptop Triples
Xebec has a unique 3 monitor upgrade for laptops that could be used for your mobile triple monitor rig.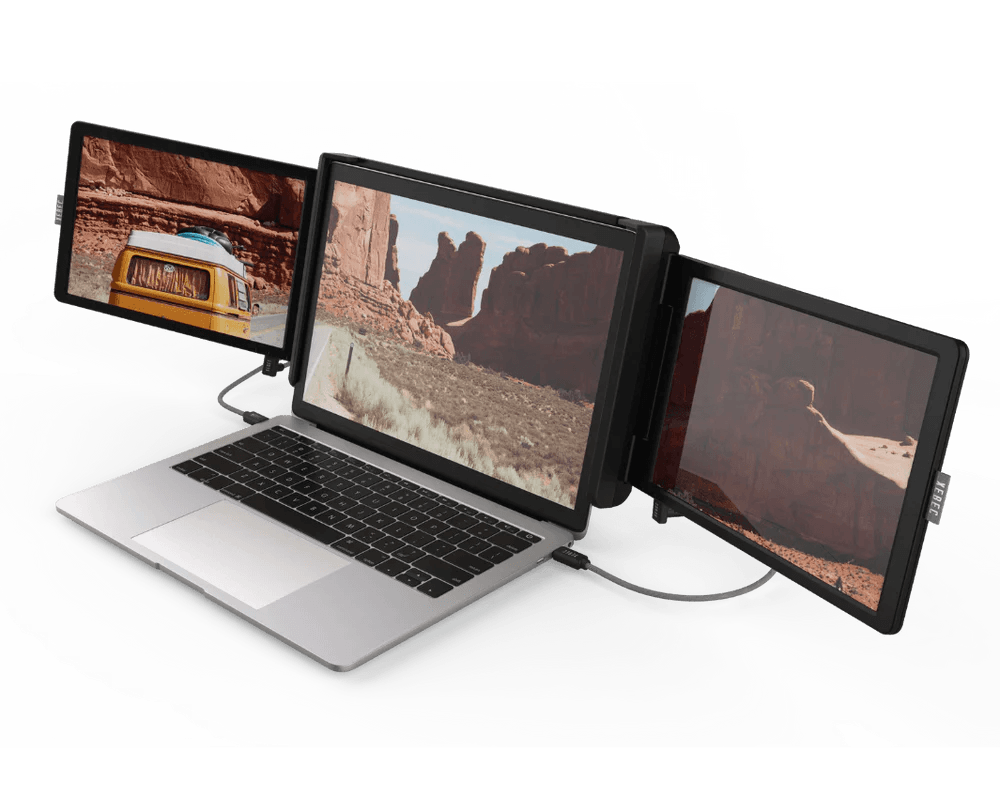 ---
---
Sim Racing Pro
Sim Racing Pro offers new pedals with the latest technology, including software designed by SIM RACING PRO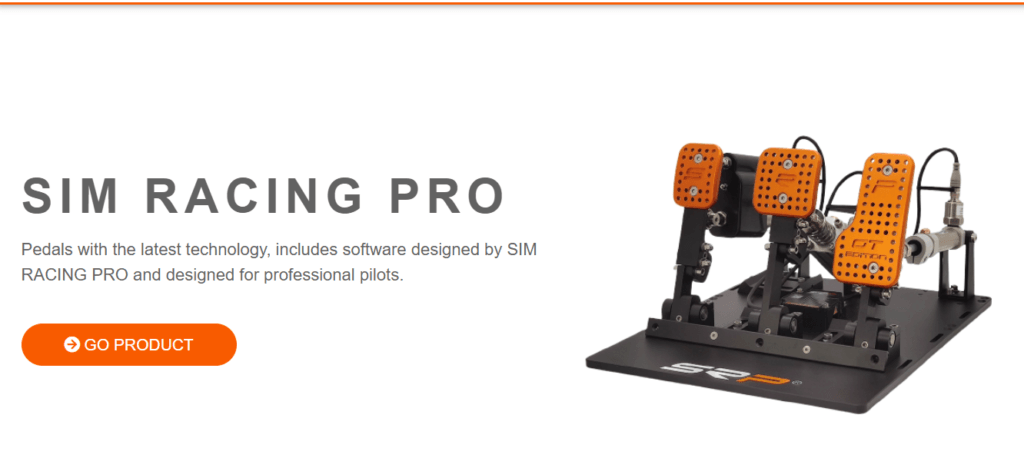 ---
---
Gaming Mobile Tailored Rig
Tailored Rig offers their new SRRX and other sim racing rigs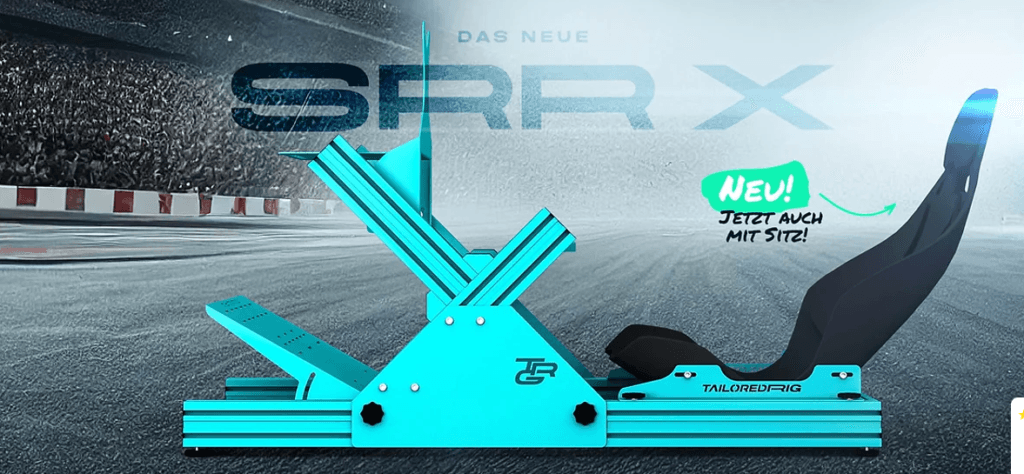 ---
---
Acto Racer
Simulationstechnik offers you a new generation of full motion racing simulators and a selection of motion sim racing centers where you can feel your car. Their products have been developed, tested and tuned by a professional team consisting of designers, racers and IT experts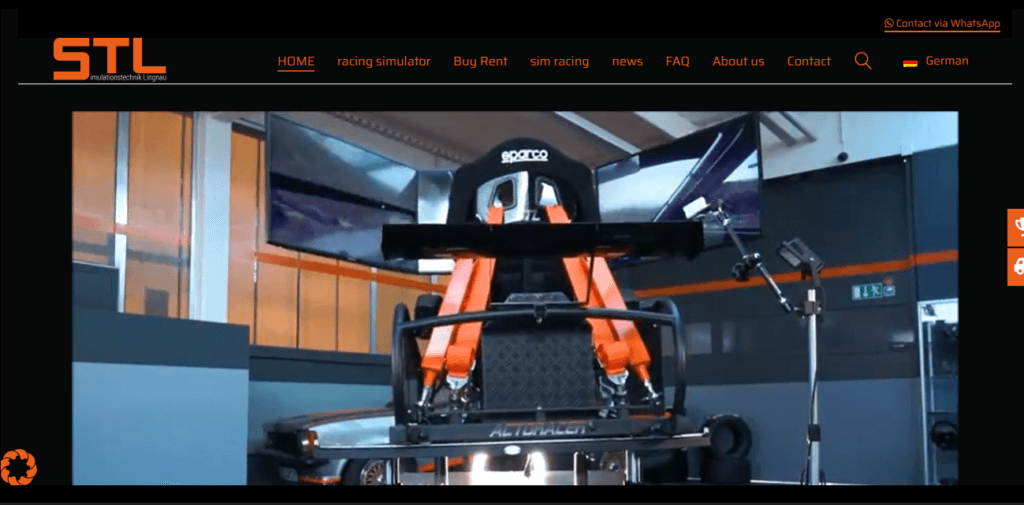 ---
---
Thrustmaster T GT 2 Review
Shawn Cole at The Sim Pit reviews Thrustmaster's new flagship belt-drive wheel
---
---
Shifter Teaser
Sim Magic teased their new DS 8X shifter on their official Instagram page
---
---
Moza Brake Performance Kit
Mike from Sim Racing 604 reviewed the Brake performance kit for the Moza SRP Lite Pedals that come wit the R5 Bundle
---
---
Results
NASCAR iRacing Series
Friday Open: Charlotte
Mike- p 16 – did pretty good eventually got to the lead on lap 60 and led some laps. I was running, suck it when I actually got loose and spun all by my own ended up last car on the lead lap and pretty much couldn't recover from that. Also had a fun safe exit from Pip Lane after the final stopwatch really sealed my fate.
Saturday Fixed –
Mike- wrecked out on lap nine on the first car gone. They wrecked up in front of me. I couldn't miss it. I got turned sideways was stopped all the track waiting for all the cars to come around and some guy T-bone me at full speed.
Sunday Open

Donnie – Q4, P6. Good car on during the middle of the long runs. Led my first laps of the season.

Sunday fixed
Mike – p wreck out on lap one turned one some guy couldn't get it in the fourth gear and blew his engine and recd the field
Wednesday fixed Hickory.
Ellis. Top split. Matt Busse, Tyler Hudson, Blake, McCandless are the heavy hitters in this race of 20 cars. I qualify 10th. Ran all over the place is high as first. Ended up P6.
Wednesday Open: Hickory
Mike – top split qualified 11 out of 23. Stayed on the lead lap and kept it clean until the green white checker. I was running seventh when some guy spun in front of me and I couldn't miss it and I had to fall back to 15 got 14th.
Steve – P16 Top Split. 1 Caution, got caught in pits on lap 49 when the caution came out. Went lap down, got wave around restarted 16th.
---
---
Official Series
SPIKER – USF 2000 Summit Point, Q3, P7. Made a mistake racing an overly aggressive driver. Running P3 on final lap. Wrecked out.
IP 2000 Summit Point, Q6, P8. Dropped a wheel, spun out into wall. Wrecked out.
GT4 Fixed Oran Park, a P3 and P9. Both great races.
GT4 Open Oran Park, P10 out of 28 starters.
2022 Chili Bowl – Heat Race P7, C Main P7. Did not make feature. Did not wreck, did
not wreck or get into anyone's way. Actually made some competitive passes. First race in the Dirt Midget. Looking forward to running some more.
---
---
League / Hosted Races
Hosted –

Ellis – new BMW hybrid finish pee eight

Then started 11th and finish p4. I was up to pee five by turn three Onlap one

Ellis – Chris Macguire – ran the new Toyota 86 at lime rock got wrecked in lap one turn one.
Than 87th at Talladega, got wrecked in the first lap, turn one lap one there was a Caution half way I quickly got to the lead and was able to win the race #261
Ellis – Ran new BMW hybrid at sebring twice – wrecked first time, 2nd race i did finish but went off a few… Hard to break you have to slow it for half the braking zone then like back off the pressure on the brake as it loses downforce so you dont lock the wheels…
87. Cars at Talladega start a 27 out of 32. Got wreck in the first lap turn one. After the Caution quickly got to the lead, and was in the lead on the back stretch of the white flag lbut got wrecked after turn four
BMW hybrid at Sebring. Started tenth got to P6 by the end of lap one finished P7
Skip barber at summit point. Starting 21st finished 18th overall fourth in class was running first in class, leading the race for quite some time before being ran over from a faster car from behind.
F 2000 at Summit 15 cars. Qp13. Was running 10th up until the last lap, and I shut off on my own and wrecked.
Indy pro 2 thousand at summit – qualify P7 out of 16 – wrecked out lap 1

Qualify P 14 out of 24. Got to pee nine by the end of lap one on lap two. They wrecked up ahead of me out of the final corner and I ended up driving straight in and pee boning the guy destroying my car.
Third attempt I go off in the grass on lamp one I rejoin safely, but I'm not up to speed and somebody then runs over the back of me doesn't even try to go around at all. Just drives over the top of me.
Qualify P6, out of 10. Had a pretty good start but lap too. I spun off on my own and got high centered head to toe.

Test drive for 45 minutes the lotus 49 at the nords.
Dirt street stocks, but it would not load gave me mismatch error I had to forfeit and give up Irating
F 2000 at Summit. Pole. Led every lap and win!!! 89th career win 61st career pole out of 3094 starts. That actually winning percentage to 2.8% overall.
Winter league-

Mike -p20. Ran about 20th to 25th through most of the race, pitted under green and got caught a lap down. Enough late carnage got me up to 20th.
Adam – p17
Steve Thomson – p30
Steve LouAllen-pwrecked out
Greg – p16
David – P 12, ironically was about the long run speed i had, but caught in accident, 10 seconds of required. Go a lap down, am able to race back into the lucky dog position and hoping to finish there for the prize, but caution comes out, take lucky dog. GWC, I lay back 6 seconds as I have no tires, big wreck, I creep past them and p12.
---
---
Final Thoughts
---
---
Words Spoken in Closing Audio Clip -""Thank you for listening to the iRacers Lounge podcast make sure to go subscribe to us on iTunes, SoundCloud, or Google Play, Facebook & Twitter, See You On The Track ."
TITLE
Too Many Clicks
Description
On the show today we will be taking a look at the best way to use the new Active Reset System. We look at some UI vs Website comparisons. VR users are up in arms after performance issues and whether iRacing has addressed these issues. We get reviews and thoughts of the Simucube Active Pedals and lots of other hardware. So sit back, relax and join us on the iRacers Lounge Podcast.
iRacers Lounge Podcast is available on iTunes and Apple's Podcasts app, Stitcher, TuneIn, Google Play Music, Spotify, Soundcloud, Podbean, Spreaker, Podbay, PodFanatic, Overcast, Amazon, and other podcast players.
Sponsors:
Hosts:
Mike Ellis – twitter.com/MikeDeanEllis
David Hall – www.twitch.tv/mixmage
Greg Hecktus – twitter.com/froozenkaktus – www.twitch.tv/froozenkaktus
Brian Maccubbin – www.twitch.tv/MacRubbinsRacin
Kyle Pendygraft – twitter.com/LoudPedalGaming
Tony Groves – www.twitch.tv/SirGroves
Adam Josselyn- twitter.com/Jossad83
Tony Rochette – twitter.com/TonyRochette
Tom Dreiling –
Donnie Spiker – twitter.com/Spikerman19
Bobby Jonas –
Links:
Facebook – www.facebook.com/iRacersLounge/
Twitter – twitter.com/iracerslounge
Instagram – instagram.com/iracersloungepodcast/
Web (Show Notes) – iracerslounge.com/