12/22/2022 – I identify as an IndyCar Driver – Episode 0362
iRacers Lounge Podcast – Conversation Topics
Brought to you by:

---
---
Opening Audio Clip -"Your listening to the iRacers Lounge Podcast where we discuss everything iRacing, in a casual setting, enjoy."`
READ THIS AT THE TOP OF EACH SHOW!!!
Welcome to the iRacer's Lounge, I am your host "XXX". iRacer's Lounge is a podcast for the iRacer, where we talk all things iRacing in a casual setting.
Joining me are the usual characters, ———— 
---
---
Show Introduction
On this weeks show the NTT Indy Car Racing Series drops a bomb that has all of iRacing up in arms. We'll recap all of the details and reactions to the news. The special events calendar was released and we'll check out all of the events this year.
And remember you can follow along with us on your PC or mobile device in real time as you listen to the show and see for yourself all of the great topics and products we'll discuss by visiting iracerslounge.com and selecting show notes. Hope to see you there..
---
---
TITLE SPONSOR READ:
Are you tired of your pedals feeling like a video game? Want to step up to feeling like you're actually driving?
We designed our P1 Pro Pedals to feel exactly like a real car giving you a better feeling when you're driving. Push braking zones to the limit and avoid locking up by having a finer feel of the limits. Trail brake into the corner smoother allowing you to carry more speed.
Our P1 Pro Pedals will be the last set of pedals you'll ever purchase for your simulator. Lifetime Warranty is included. That means if you ever run into issues in years to come, we'll service them and keep them perfect!
---
---
Topics
Indy Car is Leaving iRacing
Social media was in a buzz as Indy Car announced the it will be giving its exclusive rights to anonother video game company and possibly freezing out iRacing and did we find out that rain is not just for the road courses, but could come to oval racing as well? We'll check out all of these stories plus lots of hardware news as well.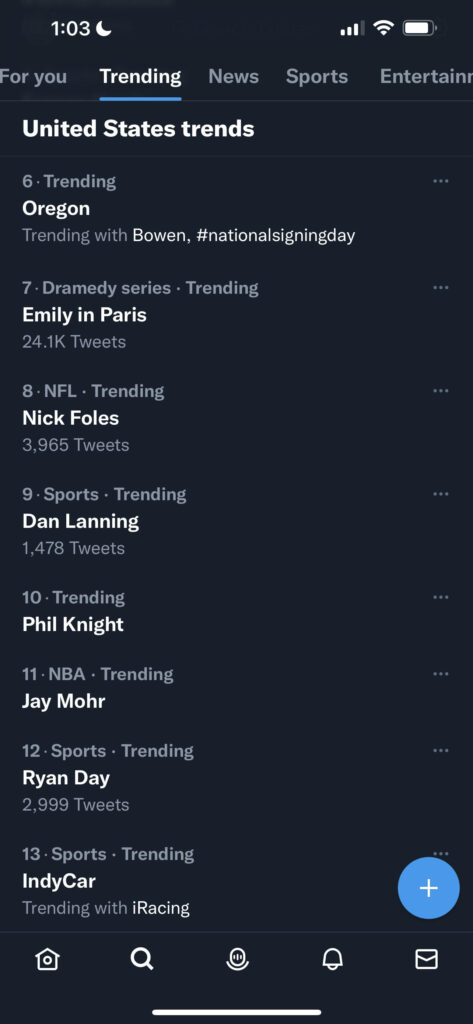 ---
2023 Season 1 Patch 1
iRacing released the notes of the 2023 Season 1 Patch 1 including the new laser scan of VIR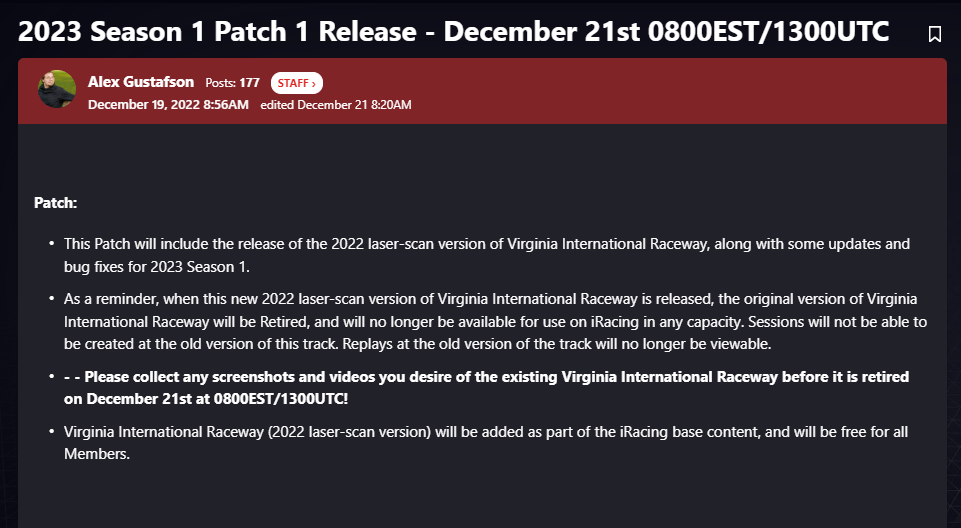 Patch:
This Patch will include the release of the 2022 laser-scan version of Virginia International Raceway, along with some updates and bug fixes for 2023 Season 1.
As a reminder, when this new 2022 laser-scan version of Virginia International Raceway is released, the original version of Virginia International Raceway will be Retired, and will no longer be available for use on iRacing in any capacity. Sessions will not be able to be created at the old version of this track. Replays at the old version of the track will no longer be viewable.
– – Please collect any screenshots and videos you desire of the existing Virginia International Raceway before it is retired on December 21st at 0800EST/1300UTC!
Virginia International Raceway (2022 laser-scan version) will be added as part of the iRacing base content, and will be free for all Members.
https://forums.iracing.com/discussion/33831/2023-season-1-patch-1-release-december-21st-0800est-1300utc
LINK TO RELEASE NOTE:
https://forums.iracing.com/discussion/33968/2023-season-1-patch-1-release-notes-2022-12-20-03#latest
---
NEW Content: Mercedes AMG W13 and VIR
iRacing released new intro videos of the new Mercedes AMG W13 F1 car and the newly scanned VIR
---
You Spin Me Right Round…
Dan Suzuki posted a clip to Youtube of a spinning LMP.
Is Active Reset a Good or Bad Thing?
Fellow iRacer, Damon Black posted in the forums and stating that, Active Reset could be Considered Harmful.
"I'm sure it will be a minority opinion, but I think active reset diminishes the iRacing experience. It's moving test (solo practice) sessions away from a sim driving experience and toward monotonous game-grinding. I also suspect it will produce drivers who can nail qualifying laps, but are a disaster when they have to drive off their ideal line."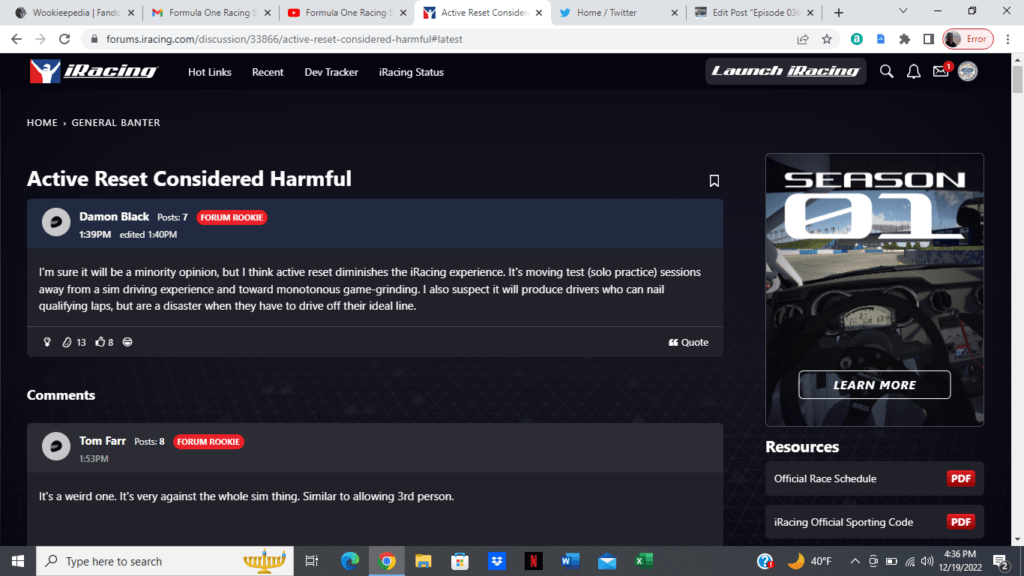 ---
Another 10K Member!
Simone Maria Marceno became the newest member of the ten thousand iRating club for road
---
Will iRacing be Ready?
R.E. Samuelson posted in the Forums asking if iRacing will be ready for the May All-Star Event at North Wilksboro.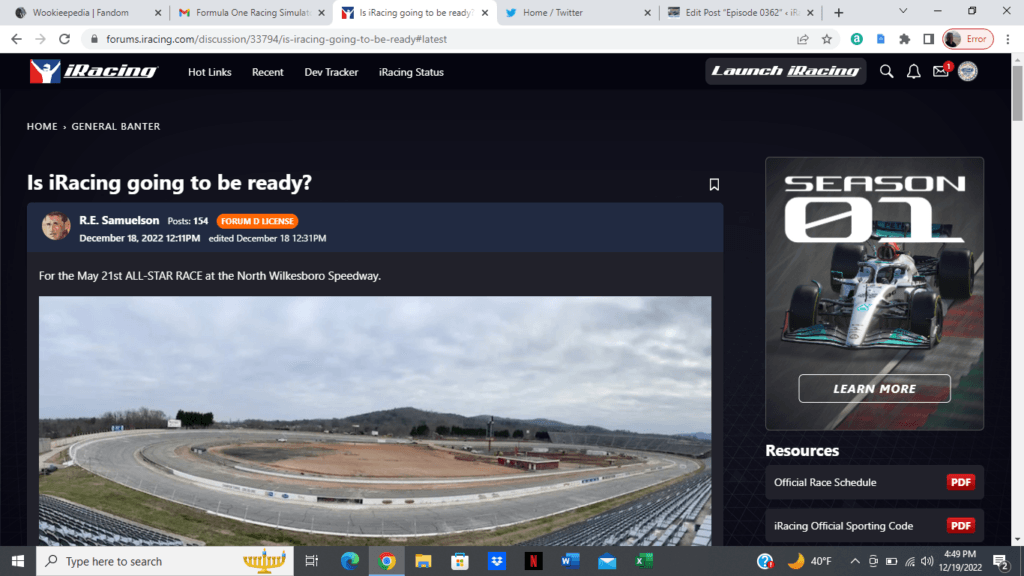 ---
iRacing Track Garages
Ryan Blackford Tweeted his suggestion for iRacing: full screen garages
---
World of Outlaws Week 4
The Carquest iRacing World of Outlaws Sprint Car Series made its debut at Lincoln Speedway which was won by Kenny Miller, his first win as a rookie this season.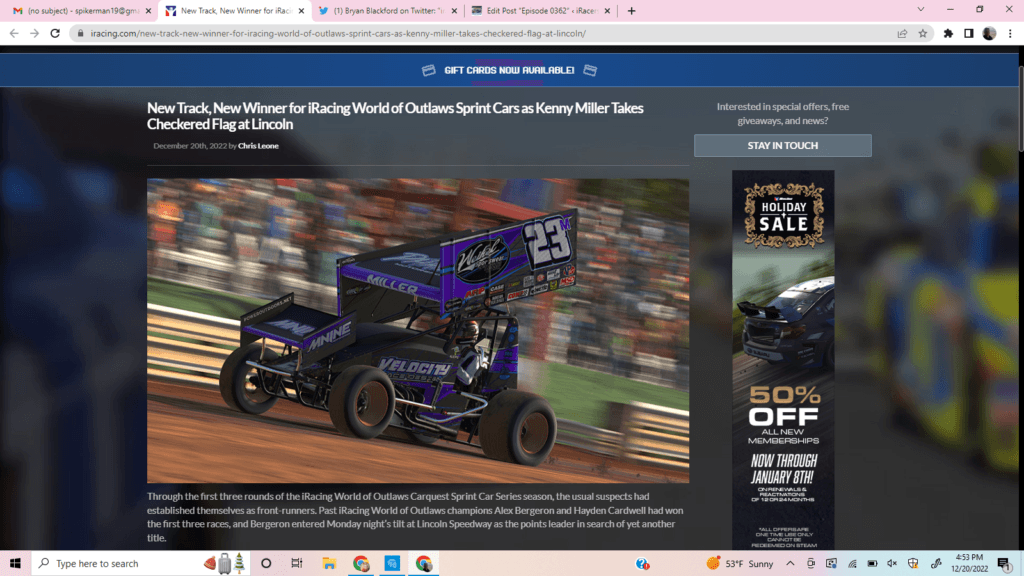 | | | | | | | | | |
| --- | --- | --- | --- | --- | --- | --- | --- | --- |
| Fin. | St. | No. | Driver | Laps | Interval | Led | Best | Pts. |
| 1 | 2 | 23 | Kenny Miller | 35 | | 9 | 13.433 | 78 |
| 2 | 5 | 00 | Kendal Tucker | 35 | -2.526 | 0 | 13.815 | 74 |
| 3 | 10 | 51 | Clayton W Tilley | 35 | -2.875 | 0 | 13.701 | 70 |
| 4 | 7 | 85 | Tyler Schell | 35 | -3.282 | 0 | 13.780 | 68 |
| 5 | 9 | 13 | Aiden Bierlein | 35 | -3.351 | 0 | 13.722 | 64 |
Alex Bergeron, 267
Tyler Schell, 236
Kendal Tucker, 233
JD Brown, 226
Timothy Smith, 218
---
---
VIR Arrives for Season 1
iRacing tweeted the announcement of the arrival of the newly built VIR
---
---
Coke Series Drivers for 2023
The Contender Series wrapped up and now the new Coke Series Drivers are set for the 2023 season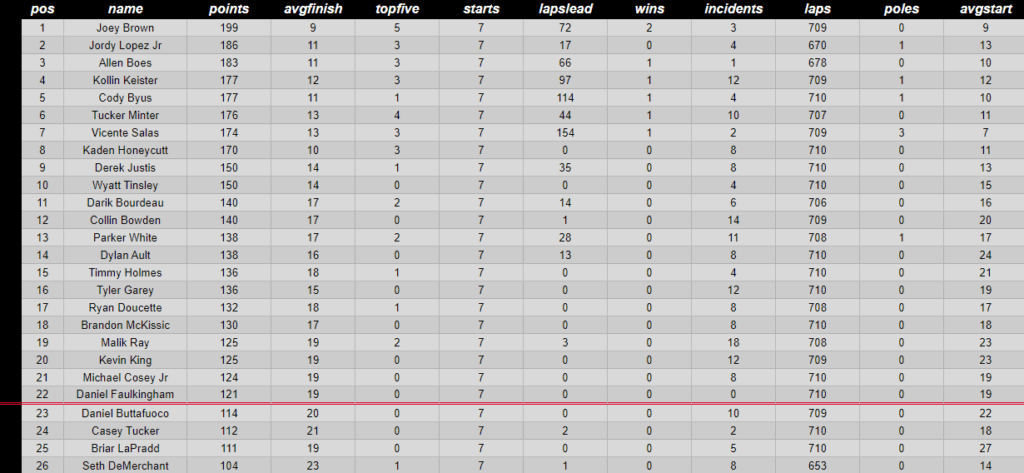 https://docs.google.com/spreadsheets/d/1BGTatGJHlLlZStVKR8wlEZIiYne1E9OL2iai8r7z3qU/htmlview?urp=gmail_link
---
---
Screen to Speed
Traxxion posted a reference to the story we had last week, the Screen to Speed iRacing competition for women drivers.
---
---
---
---
iRacing Build Highlights
iRacing posted a video recapping all of the new content from the season 1 build
---
---
Special Events Calendar
iRacing released their complete 2023 Special Events Calendar
https://forums.iracing.com/discussion/33995/2023-iracing-special-events-calendar-complete
---
---
Mighty Max at Dega
Max Verstappen was spotted by a driver running a race at Talladega. What famous drivers have you run with?
---
---
Nascar in the Rain?
Kenny Wallace on his show said that all three Nascar series will attempt to race in the rain at the tracks at North Wilkesboro, La Coliseum , Phoenix, Richmond, Martinsville and New Hampshire.
---
---
iRacing for All Ages
Ray Alfalla set up Jim Baker who was 89 at the time with iRacing, and 7 years later he's still racing at 96!
---
---
An Oldie But Goodie
Florida Man crashes his quadrillion dollar sim rig, circa 2020
---
---
Podcast Housekeeping
Leave us a review on your favorite podcast platform to make it easier for more listeners to find the podcast. Mention the podcast to your fellow drivers so they don't miss out, we would appreciate it.
Check out our Discord https://discord.gg/rvRas4DDqF
New Website – Leave Comments https://www.iracerslounge.com/
---
We are in the regular rotation… (Mike)
https://performancemotorsportsnetwork.com/
https://channelstore.roku.com/details/9d27a1e9dd15b92535d7cfe85407288e/the-sim-racing-channel
https://thesimracingchannel.com/watch-live/
Fantasy
---
---
Hardware/Software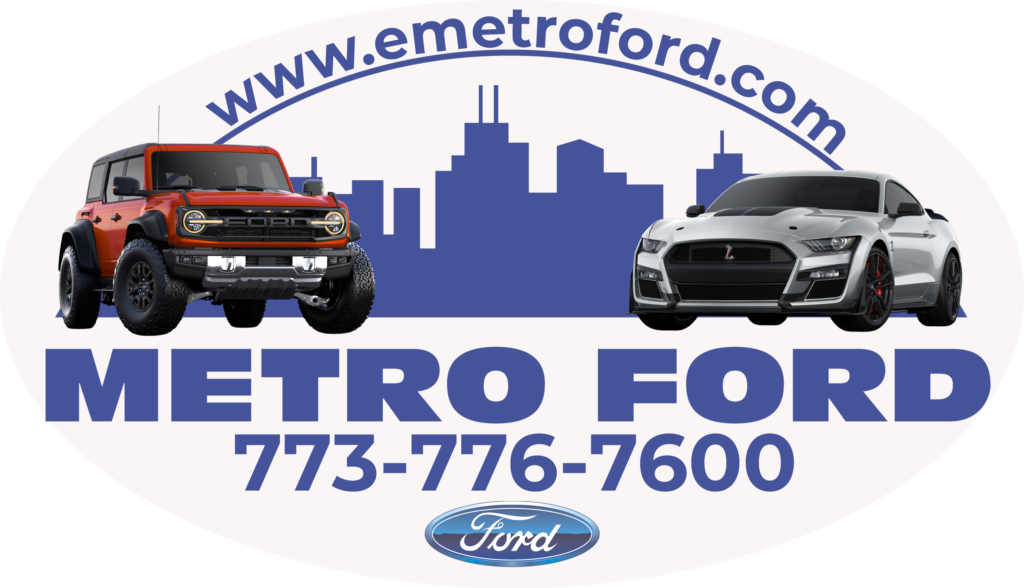 ---
---
---
Logitech Through the Years
At the Sim Racing Expo, Logitech had a nice look at the evolution of Logitech Sim Racing Wheels
And btw…. Back in stock ….
---
---
Grid Engineering MPX
After many months of R&D, Grid Engineering is ready to reveal the MPX. With a pre-order special 3 digit price point and utilizing the highest quality components available,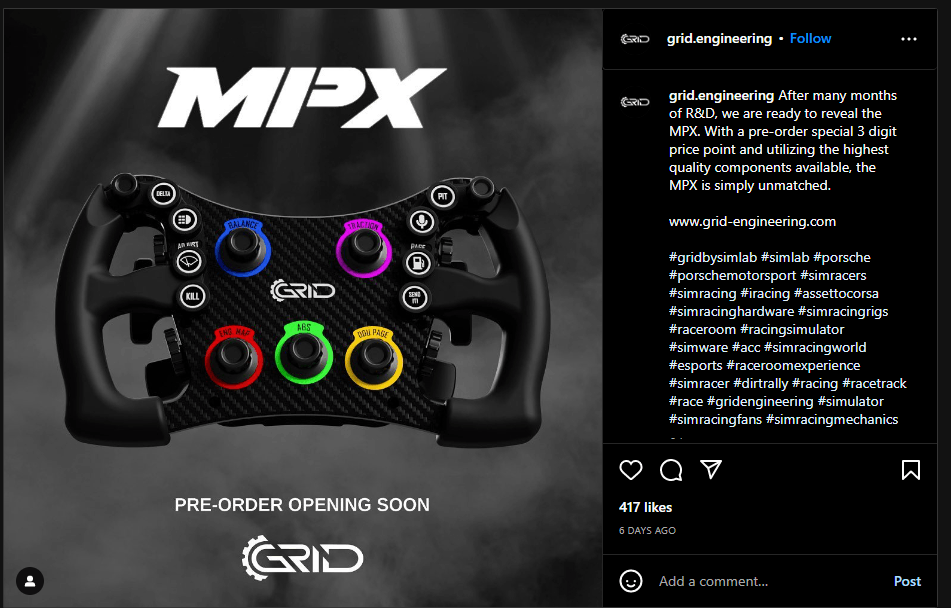 https://www.instagram.com/p/Cl9Vz3-vcSs/?igshid=ZDhmZGIxNmQ%3D
---
Cube Controls TCR
Sim Racing Unlimited gave a glimpse of the new TCR wheel by Cube Controls made in collaboration with Honda
---
---
Fanatec QR2
Gamer Muscle reviewed the Fanatec new Quick Release system and Bentley wheel from the Sim Racing Expo
---
---
Simucube Meets Team Readline
Team Redline and Simucube will be bring out their new Simucube 2 Team Redline Limited Edition
---
---
Best Sim Rig of the Sim Expo
Gamer Muscle gives his thoughts of the best sim rig from the Sim Expo
---
---
Results
NASCAR iRacing Series
Saturday Fixed –
Mike- top split car19 out of 20. Ran around 15th most of the race pretty much stayed out of trouble and got a P 11.
Wednesday fixed Mike- Car 11 and top split a lot of heavy hitters in here Matt Busse, Tyler Hudson, David L Brown, Blake McCandless. Ran about 10 to 15. Most of the race ended up p 13.
Wednesday Open: Homestead
Mike – car 23 out of 25 in top split. Qualify 12th. P16.
---
---
Official Series
Ellis -USF 2000.
Ellis-rookie street stock at Charlotte. 97 registered- I was Kar number 8 to 14 car number one was 4600 irating. Qualified8th. Fairly clean race we ran in a pack the whole time clean with about three to go. They finally wrecked. I finished P5. Gained 42 irating.
Rookie dirt street stock at USA. Wrecked near the end
Toyota GR 86 and other production cars at nord 31 cars total start a tenth and finished fourth

Got a seventh on this results.
Yeah, in a big one on turn one. Had to tow eight minutes went back out and got it. Cleared back up to 12 out of 27.
Start a 10 got up the fifth by last one, but I was the final lap by wreck by myself and fell back to 11

Indy pro 2000 at road America start a seven out of 12. Got to pee five by the end of lap one spun near the end of lap to buy myself hitting the final rumble strips. It is fun in the car around killed it.

Qualified six out of 16. Got to pee for bio lab one and was able to keep it and get my first good finish the series.

F 2000 at Rd., America car number two in bottom split out of 13. Qualify third sitting on the grid the guy in front of a backs into me destroying my front way before the race has even started. It wasn't too bad and I survived for a P3.

Call number two in the bottom split. Qualified fifth and finished fifth had a great battle throughout the race, though with third and fourth place.
A Open

Steve – P7,5,13,6,16 at Kentuchy P3,2 and 27 at Indy.

IMSA – Interlagos

Hall – p 14 Learning track, unsure about battery strat either.

P14, hit with 4x on pace lap and another 4x on turn one
P6, geting used to the new track and car
P13, put my self in grass so had to work back up
P7, clean
P5
p9

Euro Sprint Series – Spa

Hall – P1 in the Ferrari, first race back in this car in a long time. Fresh paint goes to victory lane right off the bat. Tire wear is now a factor

P4 – really enjoying the GTE reunion
P wrecked by dive bomber
P2
P3
P2
---
---
League / Hosted Races
Ellis -Chris McGuire posted 87th at Talladega started in the back and won the race

GEN five NASCAR at Talladega got wrecked out

GEN five – car at Talladega started in the back. Got to the lead before halfway. I go on to win it holla!

GEN five car and old Indycar.Talladega. Was leaving my class with sixth ago and got wrecked in Indy car crash.

New Toyota 86 at Lanier dirt.

87. Cars at RudkCogan. Wrecked out

Riley Daytona prototype at old Michigan. Started in the back got to the front pack, but wrecked out near the end.

Riley Daytona prototype at new Texas, started mid pack ended up finishing P5

Riley Daytona, prototypes at Talladega, got wrecked out

87s at Talladega start 25th. Wreck out

GEN five NASCAR at Talladega started 37 out of 40.

Riley Daytona prototype at Michigan. Was leaving on the white and got wrecked
Winter league-

Mike -p we're going on a two stop race I'm headed for the second time as a caution came out while I was on it road I had energy 16 came out 26 down had to take the wave around 23 to go for the shoot out. I had another caution with 17 to go check my last set. A tires ended up finishing P 10.

Steve Thomson – p17
Steve LouAllen-p

David – P 22. Had a top 10 car, caught in accident. No recovering this time. All 4 races I have been caught up in a wreck.

OBRL Cup

Brian – Michigan P20 Qualified 11th ran the rubber off the my tires on the first green flag run, then over shot my pit stall in the first pit stop, losing as bunch of spots. Did much better on tire wear after that, but the race stayed green the whole race and wasn't able to recover.
---
---
Final Thoughts
---
---
Words Spoken in Closing Audio Clip -""Thank you for listening to the iRacers Lounge podcast make sure to go subscribe to us on iTunes, SoundCloud, or Google Play, Facebook & Twitter, See You On The Track ."
TITLE
I identify as an IndyCar Driver
Description
Social media was in a buzz as Indy Car announced the it will be giving its exclusive rights to another video game company and possibly freezing out iRacing and did we find out that rain is not just for the road courses, but could come to oval racing as well? We'll check out all of these stories plus lots of hardware news as well. So sit back, relax and join us on the iRacers Lounge Podcast.
iRacers Lounge Podcast is available on iTunes and Apple's Podcasts app, Stitcher, TuneIn, Google Play Music, Spotify, Soundcloud, Podbean, Spreaker, Podbay, PodFanatic, Overcast, Amazon, and other podcast players.
Sponsors:
Hosts:
Mike Ellis – twitter.com/MikeDeanEllis
David Hall – www.twitch.tv/mixmage
Greg Hecktus – twitter.com/froozenkaktus – www.twitch.tv/froozenkaktus
Brian Maccubbin – www.twitch.tv/MacRubbinsRacin
Kyle Pendygraft – twitter.com/LoudPedalGaming
Tony Groves – www.twitch.tv/SirGroves
Adam Josselyn- twitter.com/Jossad83
Tony Rochette – twitter.com/TonyRochette
Tom Dreiling –
Donnie Spiker – twitter.com/Spikerman19
Bobby Jonas –
Links:
Facebook – www.facebook.com/iRacersLounge/
Twitter – twitter.com/iracerslounge
Instagram – instagram.com/iracersloungepodcast/
Web (Show Notes) – iracerslounge.com/