6/16/2022 – Dr. iRacing – Episode 0335
iRacers Lounge Podcast – Conversation Topics
Brought to you by:

Opening Audio Clip -"Your listening to the iRacers Lounge Podcast where we discuss everything iRacing, in a casual setting, enjoy."`
READ THIS AT THE TOP OF EACH SHOW!!!
Welcome to the iRacer's Lounge, I am your host "XXX". iRacer's Lounge is a podcast for the iRacer, where we talk all things iRacing in a casual setting.
Joining me are the usual characters, ———— 
---
---
Show Introduction
On the show this week we'll check out a new series for dirt car racing fans, we'll explore exercises for sim racers and iRacing is going Drag (not that kind of drag). Does F1 World Champ Max Verstappen have an advantage over other drivers and we will check out a spinning sim racing chair in hardware/software.
And remember you can follow along with us on your PC or mobile device in real time as you listen to the show and see for yourself all of the great topics and products we'll discuss by visiting iracerslounge.com and selecting show notes. Hope to see you there..
---
---
TITLE SPONSOR READ:
As an enthusiast sim racer we look for the equipment for our rigs that gives us the performance, quality and feel of real world race cars. And that's exactly what Sim Coaches Pedals deliver. Feel the difference of the highest quality constructed premium pedals with 100% leak-proof hydraulic construction that feels as good as the real thing, and look even better. And with full access to their proprietary Visor software you'll be able to customize your pedals to your exact preferences to maximize your results on the track. Also with your purchase you'll receive a lifetime warranty with the best product support in the industry. So, take your rig to the next level, the top level, with Sim Coaches Pedals, at SimCoaches. com
https://simcoaches.com/?fbclid=IwAR1pJASM3C_nV3wFACEHJrHitf8TOQWro4yp-Etaio1zU8Enbojap2Xff5w
---
---
Topics
---
---
Dirt Car NIS
iRacing announced a new NIS style Dirt called the Series Dirt Sprint Car Pro Series. This new series represents a major new marketing initiative for iRacing and World of Outlaws
https://www.youtube.com/watch?v=oeBoPJyxlFs
https://forums.iracing.com/discussion/comment/185903/#Comment_185903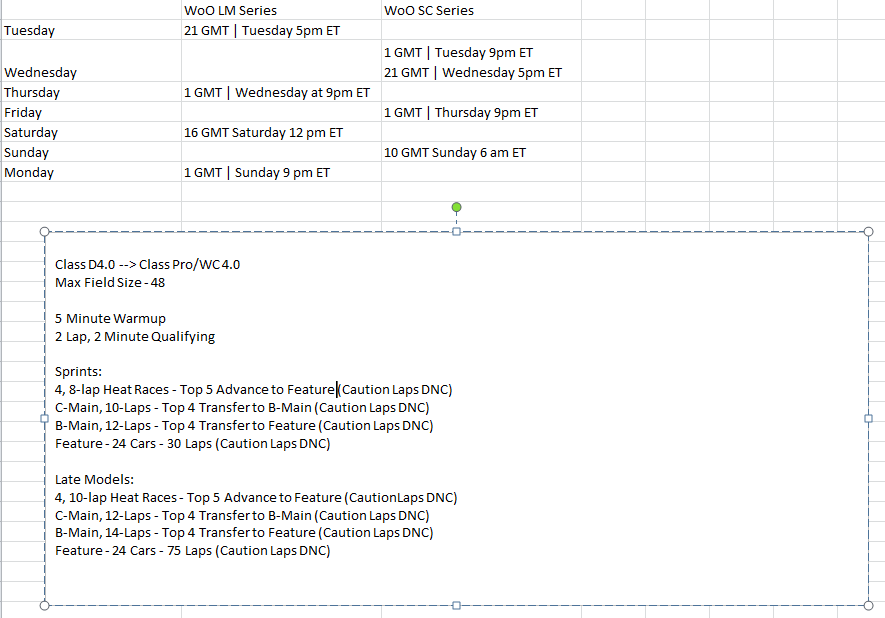 https://twitter.com/iRacing/status/1536470153868738561
---
---
Season 3 Next Gen Updates
Staffer Matt Holden explains in the forums a detailed explanation of the Season 3 updates to the Next Gen Cup Car.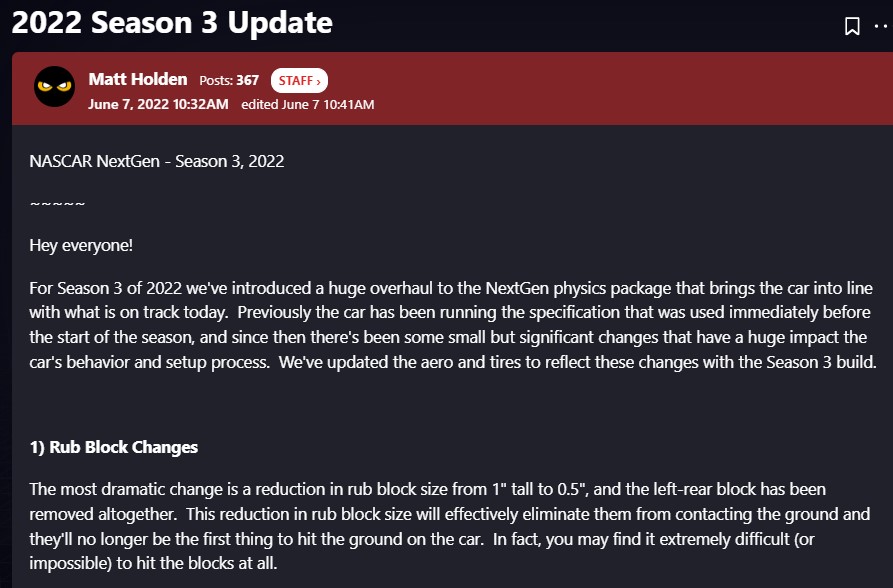 https://forums.iracing.com/discussion/23809/2022-season-3-update/p1
---
---
Dale goes for Oswego
Dale Jr, on his Download Podcast talked about how he tried to get iRacing to scan the Oswego Speedway
https://www.youtube.com/watch?v=6p6-oozDfJ4&feature=youtu.be
---
---
IMSA Shakeup?
IMSA has proposed to replace its Prototype Challenge series with a combination grid of LMP3 and GT4 machinery, with a potential shake-up in the race format as well.
Sportscar365 has learned that the sanctioning body is set to do away with its LMP3-only series in favor of introducing a multi-class championship featuring a new name beginning next year.

https://sportscar365.com/imsa/ipc/imsa-proposes-ipc-replacement-with-lmp3-gt4-cars/
---
---
Start Zones Explained
iRacing posted a YouTube video describing the ins and outs of a Nascar Start Zone
https://www.youtube.com/watch?v=5qBl5Mxa6Fk
---
---
iRacing Advantage
1996 World Champion Damon Hill feels that taking part in simulator racing gives drivers like Max Verstappen an advantage.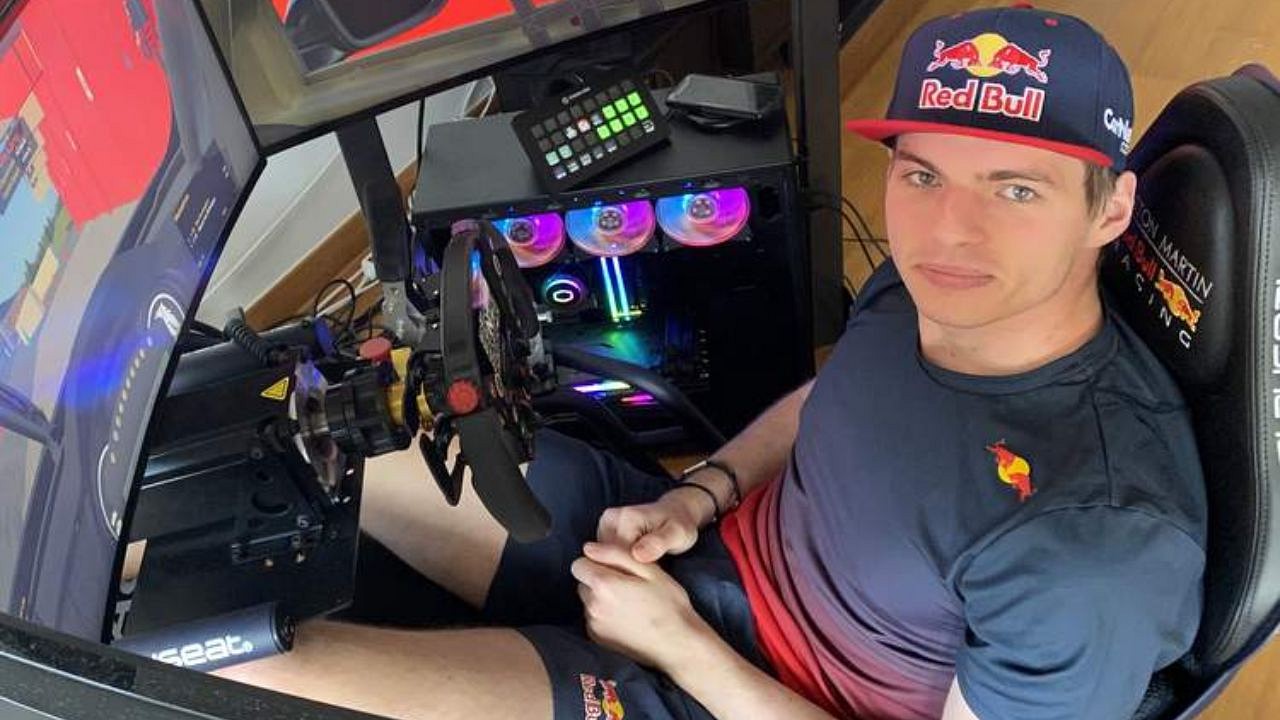 https://thesportsrush.com/f1-news-max-verstappen-does-sim-racing-because-it-helps-him-former-world-champion-feels-simulators-give-young-f1-drivers-an-advantage-over-veterans/
---
---
Exercises to Help Sim Racers!
Trauma Team Racing posed a YouTube Video showing how to use exercises to help sim racers' shoulders and steering
---
---
Season 3 Review
iRacing posted a Youtube Video showing a review of the Season 3 build highlights
https://www.youtube.com/watch?v=Mfq5b2gRNJA
---
---
Console and iRacing Newsletter
You can keep up-to-date with the new, upcoming World of Outlaws Dirt Racing Game by signing up for the newsletter and following the new social channels!
https://twitter.com/iRacing/status/1537139978228088832
---
---
Season 3 Hotfix
iRacing released a new patch for the season 3 update where they were investigating an ongoing issue for all PC users with 500-series AMD graphics cards. This issue appears to scramble, hide, or alter the artwork for cars and the environment in the Simulator and paint shop.
https://twitter.com/iRacingSupport/status/1537488827983482880
https://forums.iracing.com/discussion/24547/2022-season-3-patch-1-release-notes-2022-06-15-02#latest
https://forums.iracing.com/discussion/24571/rendering-issues-with-amd-500-series-graphics-cards#latest
https://twitter.com/iRacingSupport/status/1537446852894683137
---
---
Atlanta 'On Schedule'
Marshall Layton asked on the iRacing Twitter page about an updated Atlanta track and a reply came from Dale JR (iRacing Staffer) that it's On Schedule
https://twitter.com/DaleJr/status/1537458812503748608
---
---
iRacing in Drag
Orontes Games and iRacing are excited to share their long-term strategy for continued product development over the coming years. As part of the strategic direction, DRAG, Orontes' innovative fantasy off-road driving game for the PC, is currently being ported to Sony PlayStation and Microsoft Xbox consoles.
https://twitter.com/iRacing/status/1537437744443498496
https://www.iracing.com/orontes-games-and-iracing-lay-long-term-foundations-for-development/
---
---
iRacer in the Skppy's
iRacing Skip Barber Series Champ Mikkel Gade made his debut in the real-life Skip Barber Series as part of his prize with solid results.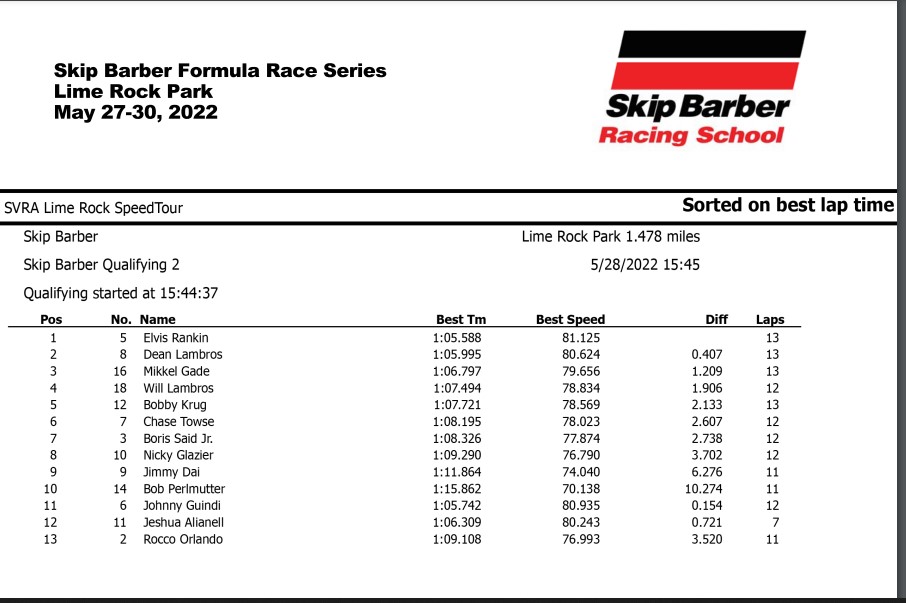 ---
---
Watkins Glen 6 Hours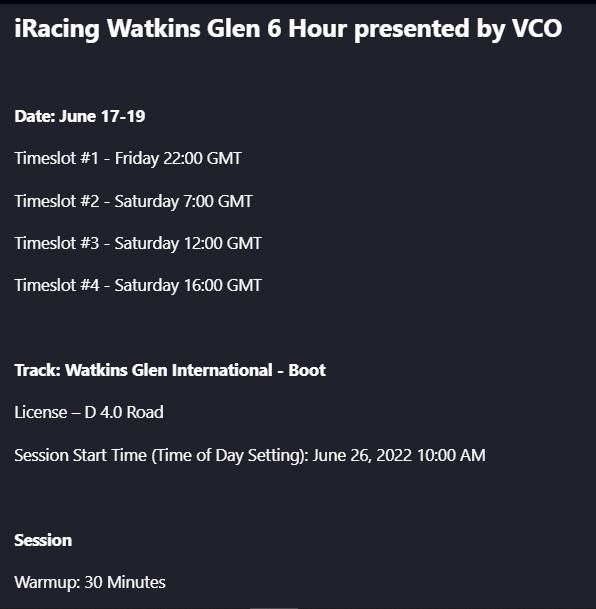 https://forums.iracing.com/discussion/23747/2022-iracing-watkins-glen-6-hour-presented-by-vco
---
---
Grid Finder 4 Hr of LeMans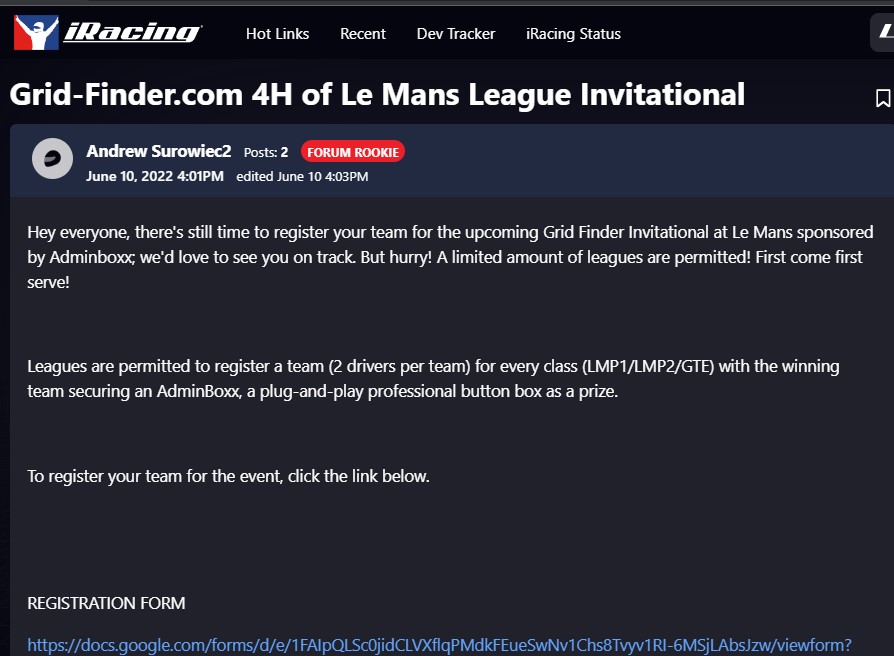 https://forums.iracing.com/discussion/24152/grid-finder-com-4h-of-le-mans-league-invitational
---
---
Apex This
Hi All,
I've sent content a few times in the past and listen regularly. Thanks for the great job covering the simracing news and updates.
I would like to request the possibility of mention for the APEX This iRacing League on your awesome podcast. We are starting season 12 on June 21 and have lined up some great sponsors again with a nice prizes for winning and random draws.
all details and links can be found at: https://apexthis.racing/
Apex This iRacing League – season 12 is sponsored by SCCA -tracknight in America, Boostlogic, and Discgolf. We are proud and honored to once again have sponsors join us for season 12! Please check out these great league sponsors for additional info!
https://www.tracknightinamerica.com/
https://www.boostlogic.com/
https://discgolf.com/
Prizes this Season include:
The SCCA is donating three $150 gift certificates to be used at any Track Night in America event.
BoostLogic is providing a $200 gift card, hoodie, and t-shirt as prizes.
DGA is providing 4 prizes with a value of $500 in total:
One Starter Pack consisting of a Mach Lite Portable Disc golf Basket, 3 Disc Starter Set, and DGA Starter Bag
Three APEX THIS logoed Mini Trophy Baskets, each with a set of 10 Mini Markers (small light mini frisbees).
As always 1st, 2nd and 3rd place Season point champions for each race night will earn season trophies (TBD) – see league site for additional details.
Apex This is one of the fastest growing iRacing road racing leagues with over 700 members, we know how to have a good time. We have races for all skill levels, from beginner to alien. While we take our racing seriously, we don't take ourselves too seriously. We like good close racing with some healthy banter and taunting tossed in. No wreckers, bitching or moaning. Join us and enjoy racing again!
Our Mission:
Have fun – Improve skills – Help novices – Go Fast
League information is easily found on the league website along with a hosted league Facebook page and Discord Channel. Races are also routinely broadcasted each season! Best part Apex This is completely free join and race! (donations greatly appreciated if you do)
https://www.facebook.com/groups/apexthis
Craig Ream
---
---
Podcast Housekeeping
Leave us a review on your favorite podcast platform to make it easier for more listeners to find the podcast. Mention the podcast to your fellow drivers so they don't miss out, we would appreciate it.
Check out our Discord https://discord.gg/rvRas4DDqF
New Website – Leave Comments https://www.iracerslounge.com/
---
We are in the regular rotation… (Mike)
https://performancemotorsportsnetwork.com/
Fantasy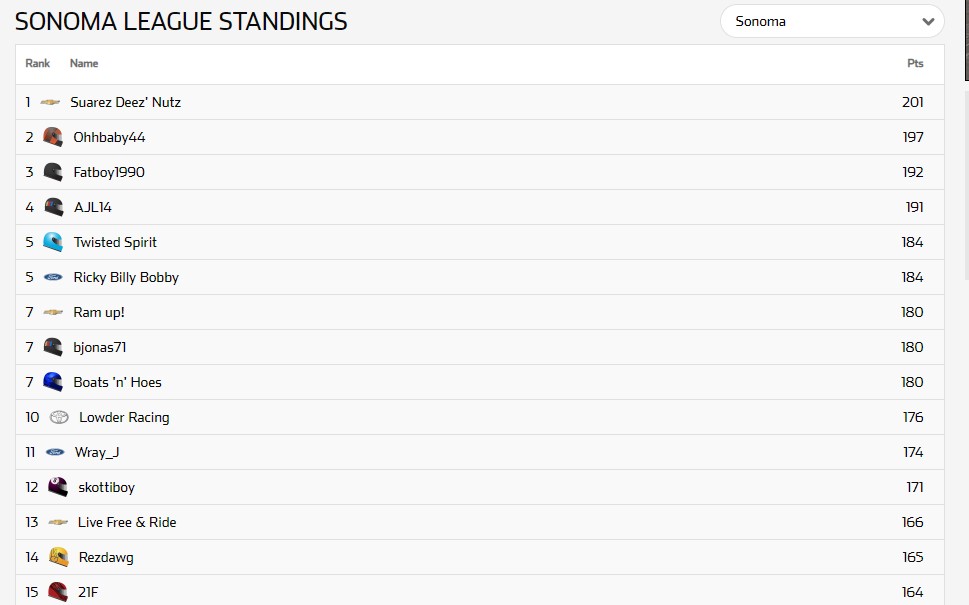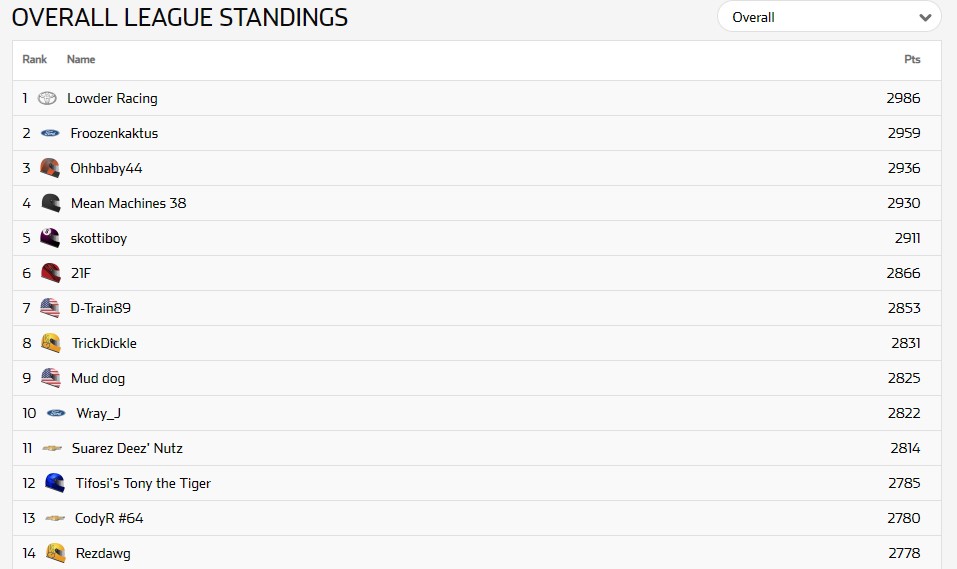 ---
---
Hardware/Software
---
Fanatec Firmware
James Smith posted in the Fanatec Owners Group a story of his firmware update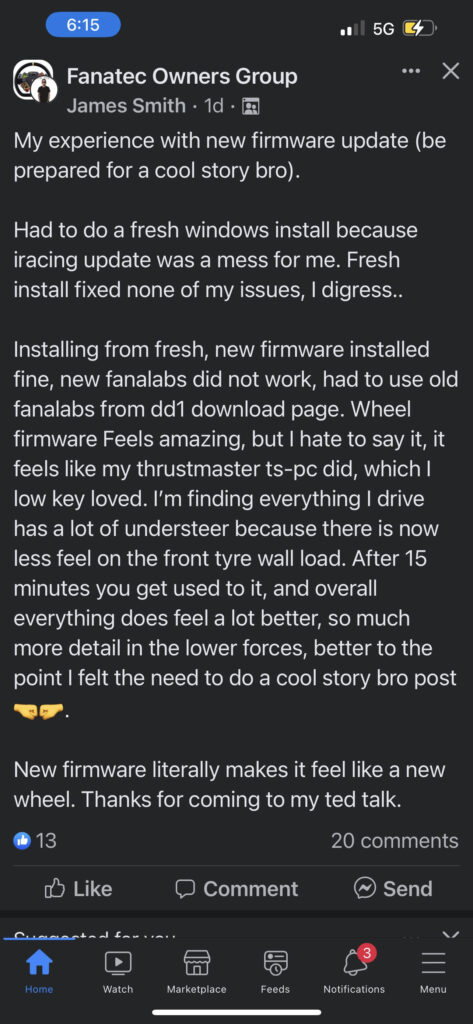 ---
---
Nvidia Delay
Nvidia is delaying the launch of both the GeForce GTX 1630 and its forthcoming range of RTX 40 series graphics cards, according to the latest reports. The RTX 4090, RTX 4080, and RTX 4070, have all had their launch delayed by a month. The RTX 4090 will now launch in September, the RTX 4080 in October, and the RTX 4070 in November.
https://www.pcmag.com/news/nvidia-reportedly-delays-geforce-rtx-40-series-graphics-cards
https://twitter.com/kopite7kimi/status/1533803858337878017
---
---
Sim-Lab Special Deals
Sim-Lab is launching a special 'Summer Deals' event with reduced prices on many of their products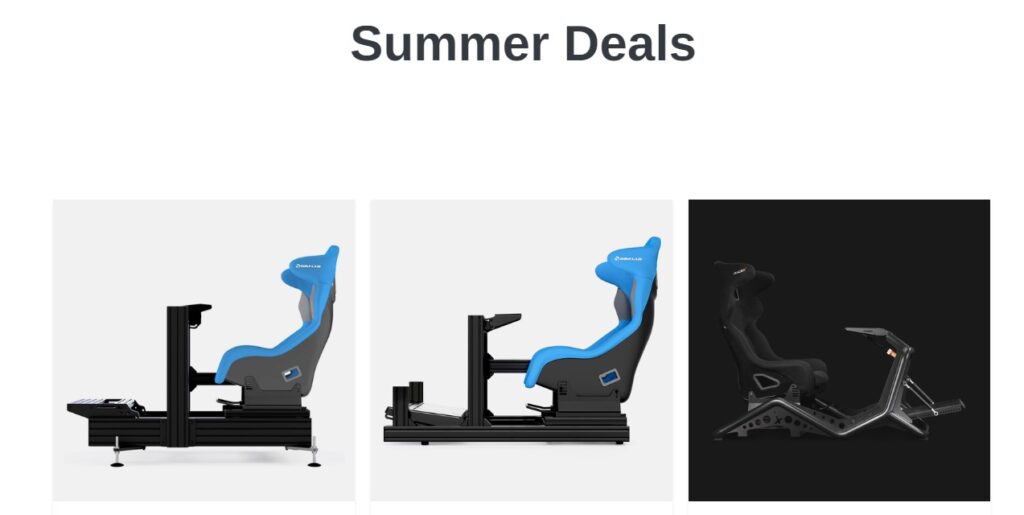 https://sim-lab.eu/summer-deals
---
---
Apex Simracing Button Boxes
Apex Sim Racing has different styles of button boxes for you. No more trying to adjust your car by finding a key on a keyboard—now you can use one of our sim racing button boxes to control all aspects of the vehicle
https://www.instagram.com/p/Ce1Ei3MOWxE/?igshid=MDJmNzVkMjY%3D
https://www.apexsimracing.com/collections/button-boxes-1
---
---
Roto VR Chair
The Roto Vr chair gives you an unlimited rotational with haptic feedback with attachments for wheels and pedals
https://www.facebook.com/RotoVR/videos/5512364142108596/
---
---
Companion App Update
Alex Gustafson announced a update with release notes for the new iRacing companion app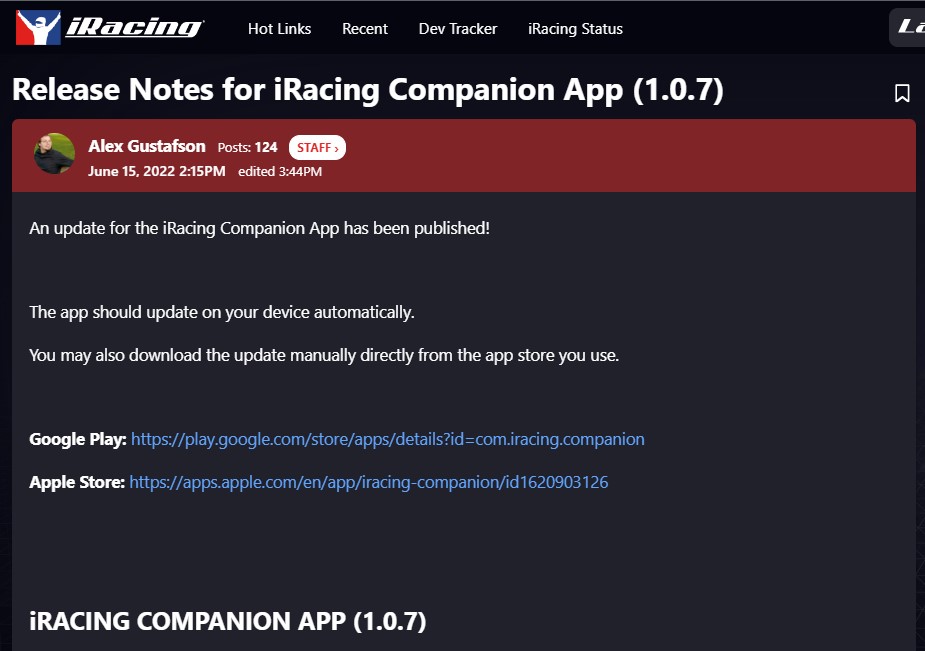 https://forums.iracing.com/discussion/24504/release-notes-for-iracing-companion-app-1-0-7
---
---
Results
NASCAR iRacing Series
Fri open: Gateway
Hall – pWRECKED OUT
---
---
Official Series
Ellis – skip barber

Started P4 and finished P1, 80th Career Win
Started p5 was holding my own in a much more physical race – slid off on my own to p10 and recovered to p8
Pole! Then Had a few off tracks and fell the seventh but recovered back to finish Fourth
---
---
League / Hosted Races
Greg pwrecked again for no reason
Git R Done GT3 Series
Greg – P2 and p4
---
---
Final Thoughts
---
---
Words Spoken in Closing Audio Clip -""Thank you for listening to the iRacers Lounge podcast make sure to go subscribe to us on iTunes, SoundCloud, or Google Play, Facebook & Twitter, See You On The Track ."
TITLE
Dr. iRacing
Description
On the show this week we'll check out a new series for dirt car racing fans, we'll explore exercises for sim racers and iRacing is going Drag (not that kind of drag). Does F1 World Champ Max Verstappen have an advantage over other drivers and we will check out a spinning sim racing chair in hardware/software. So sit back, relax and join us on the iRacers Lounge Podcast.
iRacers Lounge Podcast is available on iTunes and Apple's Podcasts app, Stitcher, TuneIn, Google Play Music, Spotify, Soundcloud, Podbean, Spreaker, Podbay, PodFanatic, Overcast, Amazon, and other podcast players.
Sponsors:
Hosts:
Mike Ellis – twitter.com/MikeDeanEllis
David Hall – www.twitch.tv/mixmage
Greg Hecktus – twitter.com/froozenkaktus – www.twitch.tv/froozenkaktus
Brian Maccubbin – www.twitch.tv/MacRubbinsRacin
Kyle Pendygraft – twitter.com/LoudPedalGaming
Tony Groves – www.twitch.tv/SirGroves
Adam Josselyn- twitter.com/Jossad83
Chris Scales – twitter.com/JediMcfly
Tony Rochette – twitter.com/TonyRochette
Tom Dreiling –
Links:
Facebook – www.facebook.com/iRacersLounge/
Twitter – twitter.com/iracerslounge
Instagram – instagram.com/iracersloungepodcast/
Web (Show Notes) – iracerslounge.com/