6/30/2022 – Rookie Meat – Episode 0337
iRacers Lounge Podcast – Conversation Topics
Brought to you by:

Opening Audio Clip -"Your listening to the iRacers Lounge Podcast where we discuss everything iRacing, in a casual setting, enjoy."`
READ THIS AT THE TOP OF EACH SHOW!!!
Welcome to the iRacer's Lounge, I am your host "XXX". iRacer's Lounge is a podcast for the iRacer, where we talk all things iRacing in a casual setting.
Joining me are the usual characters, ———— 
---
---
Show Introduction
On the Show this we we are happy to introduce new Team Tifosi member and Lounge Host Donnie Spiker. Which iRacing legends got a shot at racing Late Models at the Hickory Speedway, and does our own Mike Ellis have a contender for 'Save Of The Year"?
And remember you can follow along with us on your PC or mobile device in real time as you listen to the show and see for yourself all of the great topics and products we'll discuss by visiting iracerslounge.com and selecting show notes. Hope to see you there..
---
---
TITLE SPONSOR READ:
SimCoaches offers the realistic sim racing equipment you need to win more races online…. It is designed for real racers… Hydraulic construction makes them feel just like the real thing. High-Quality Construction, 100% Leak Proof, and Lifetime Warranty are the key features with these pedals. And, they look absolutely amazing… Check out simcoaches.com and use the coupon code IRACERSLOUNGE to get 10% off your purchase. Simcoaches.com is your ticket to feel like your actually sitting behind the wheel of a car. Drive harder and stay on the limit longer…
https://simcoaches.com/?fbclid=IwAR1pJASM3C_nV3wFACEHJrHitf8TOQWro4yp-Etaio1zU8Enbojap2Xff5w
---
---
Special Guest
Donnie Spiker
General Questions:
What brought you to iRacing and how did you hear about it?
Which series do you normally run?
What type of hardware do you use? (Wheels, Pedals, ect.)
Software

What gear did you use when you first started iRacing?

Do you run Monitors or VR?

How many monitors?
What VR headset are you running?

Are you part of a team?
Do you participate in any leagues or is it just official racing?
What is your most memorable iRacing moment?
Guest Specific Questions:
---
---
Topics
---
---
Off Road Championship
Fellow Canadians Alex Bergeron and Felix Roy both took home wins in the second race of the inaugural iRacing Off Road Championships at Wild Horse Pass
Top five finishers from iRacing Off-Road Championship Series Round 3 at Wild Horse Pass were as follows:
Alex Bergeron, 16 laps
Connor Barry, +0.326
Keaton Swane, +0.716
Josh Edmundson, +0.951
Trenton Briley, +1.811
Top five finishers from iRacing Off-Road Championship Series Round 4 at Wild Horse Pass were as follows:
Felix Roy, 16 laps
Josh Edmundson, +3.085
Keaton Swane, +4.140
Connor Barry, +4.795
Brandyn Proudfoot, +5.052
https://www.iracing.com/bergeron-roy-translate-dirt-oval-skills-into-iracing-off-road-wins-at-wild-horse-pass/
---
---
Cone Madness
Greg Hill Tweeted a video of what happens if you joke around with graphic engineers
https://twitter.com/greghi11/status/1540466621327753218
---
---
Porsche 963
The Fiawac official Instagram posted the new Porsche 963 Hypercar GTP, coming to the WEC and IMSA next season to chase greatness in the world's most prestigious endurance races.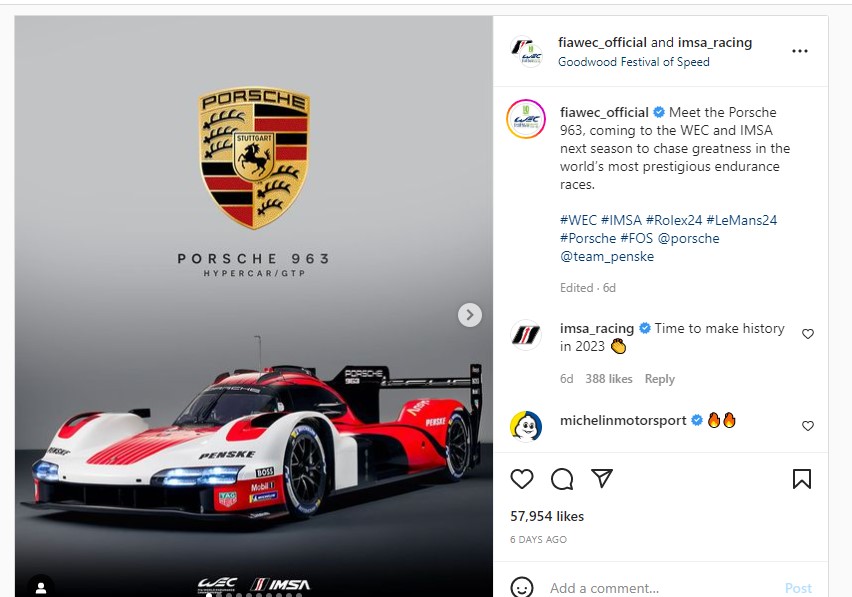 https://www.instagram.com/p/CfMkrC2s3FR/?igshid=MDJmNzVkMjY%3D
---
---
More on Oswego
Listener John Zackery gave us some more info on Oswego Speedway after our last conversation
Hi Mike I thought I would give you some more info on Oswego speedway. Yes it is known for the super modifieds but they also run the Whelen modifieds once a year as well as the big block and small block dirt modifieds. They put clay down in September for the big block modifieds biggest race of the year. Super Dirt Week. So the track would be used for more then just the super modifieds. It's crazy that they wouldn't want it scanned. Sad.
John zachary.
---
---
iRacers around the World
Mick Claridges around the world bicycle ride to meet iRacers
Inbox
Hello guys,
I wrote a little while ago from Wales and you read out my Nurburgring Pace notes tip, I hope you found it useful.
My friend, Mick Claridge, 15 times L49 Official iRacing World Champion, decided that he would get on his bicycle and go around the World meeting up with iRacers.
You can see his progress here https://discord.gg/R8XvZrPA
Joe Peak at GSRC is editing Micks footage and will be putting out videos soon.
I will send you a link when the first is out.
Tinkety Tonk,
Rowly
---
---
Back to the Tarmac Discount
It's time to get back on the tarmac if your iRacing account has expired. iRacing has announced new promotions that allow you to reactivate your account and save 25% on one-year and two-year renewals. Simply go to members.iracing.com and select your renewal period. The 25% discount will be automatically applied and displayed in your shopping cart before you check out once you enter the code.
iRacing – Get Back on Track For 25% Off! – BoxThisLap.org
---
---
Max Esterson's iRacing Challenge
Buttkicker has announced their presentation of the Max Esterson's iRacing Challenge. This will consist of a time attack challenge followed by a finale race with the top 20 qualifiers racing against Max Esterson.
https://twitter.com/TheButtKicker/status/1540441137370075136
https://www.iracing.com/max-estersons-iracing-challenge-presented-by-buttkicker/
---
---
Blake McCandless Livin' his Dream
eNASCAR Coca-Cola iRacing Series Announcer Blake McCandless always wanted the chance to get behind the wheel in real life. Find out his story and how he got to live out his dream at Hickory Motor Speedway!
https://twitter.com/iracing/status/1541493358362763267?s=11&t=B5BYkxGPC6cUGa-QGMd2wQ
---
---
Track in Progress
Greg Hill Tweeted out a photo of a track in the process of being developed
Greg Hill on Twitter: "https://t.co/NuGdmbcIXz" / Twitter
---
---
Ray Alfalla test drive
iRacing Coke Series Champ Ray Alfalla got a chance to test drive a Late Model in the real world at Hickory. He posted his thoughts on his Twitter account saying, "I didn't know how sliding the tires would feel in a heavy car, so I made sure to push and find out! Everything I learned in sim racing transferred, and catching the car felt natural. Here's some onboard footage from Hickory."
https://twitter.com/rayalfalla/status/1541581456908206086
https://twitter.com/rayalfalla/status/1541941951599083520
---
---
F1 Champ on the Sim
Former F1 and Indy Car Champion Nigel Mansell has taken to the racing sim for a session with the Williams eSports Team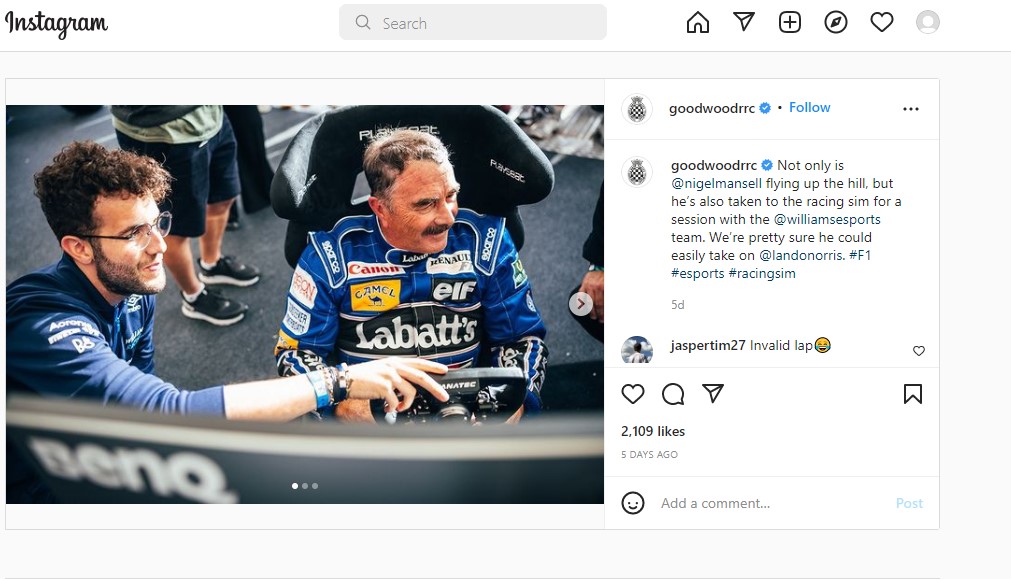 https://www.instagram.com/p/CfOuFd1on3f/
---
---
Forum Pro
There's been some questions as to how to become a iRacing Forum Pro, and how many posts it takes to get there.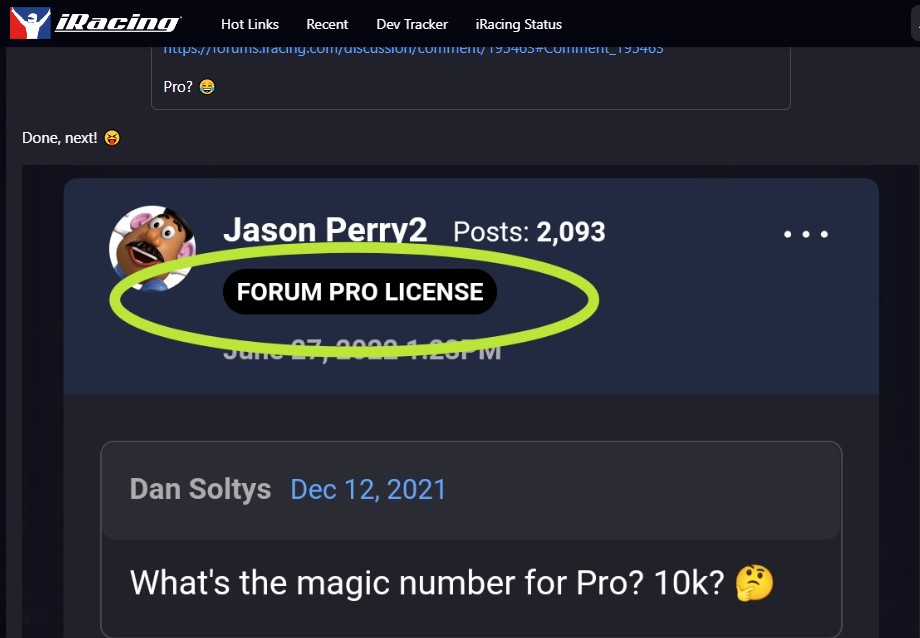 https://forums.iracing.com/discussion/comment/195832/#Comment_195832
---
---
N Wilkesboro Dirt?
The lounge asked Dale Jr on his Twitter if the North Wilkesboro Dirt configuration would be scanned and added to the sim
https://twitter.com/iRacersLounge/status/1541945344258322434
---
---
Companion App Update
The New iRacing Companion App received an update and Alex Gustafson posted the release notes in the forums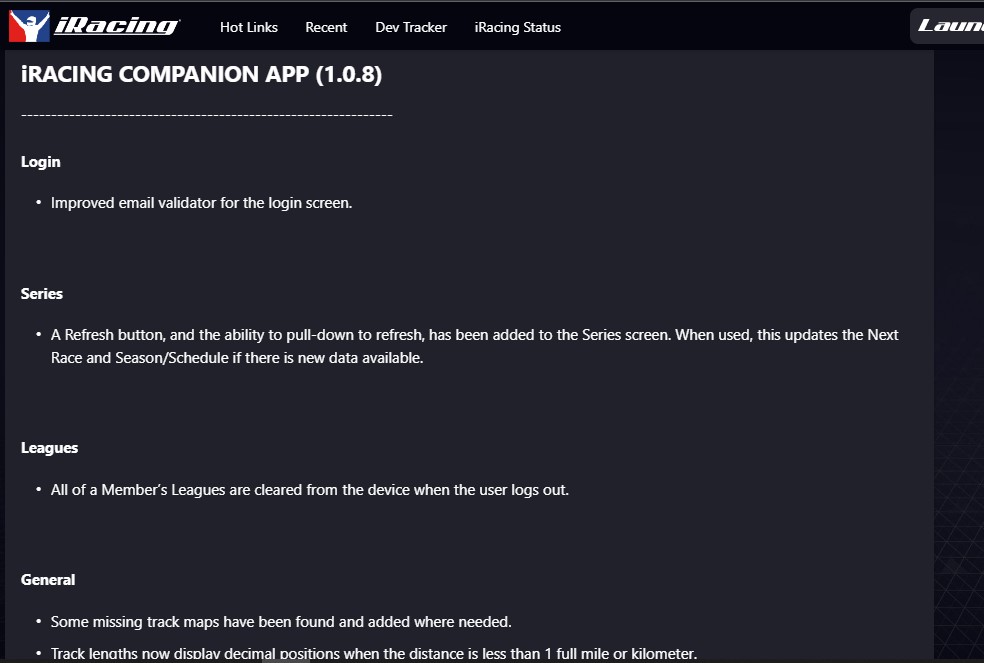 https://forums.iracing.com/discussion/25175/release-notes-for-iracing-companion-app-1-0-8
---
---
Season 3 Patch 2 Down Time
iRacing announced that the service will be coming down for deployment of the 2022 Season 3 Patch 2 Release, Friday, July 1st, beginning at 09:00am EDT/13:00 GMT
https://twitter.com/iRacingSupport/status/1542245850507870213
---
---
iRacing's role in the new Atlanta
Rebuilding an Icon: Atlanta Motor Speedway
Article goes in depth about the use of iRacing to test how how different hypothetical track configurations behave with multiple cars on the track.
---
---
iRacing poll
iRacing polled its users on Twitter asking where they spend the majority of their time.
https://twitter.com/iRacing/status/1542529219233599495
---
---
Ferrari Teams with Next Level Racing
Next Level Racing in Southport has signed a multi-year collaboration with the European sports car giant in a bid to bring worldwide sim racing to the Gold Coast. The company will supply simulators to Ferrari to help train esports racers.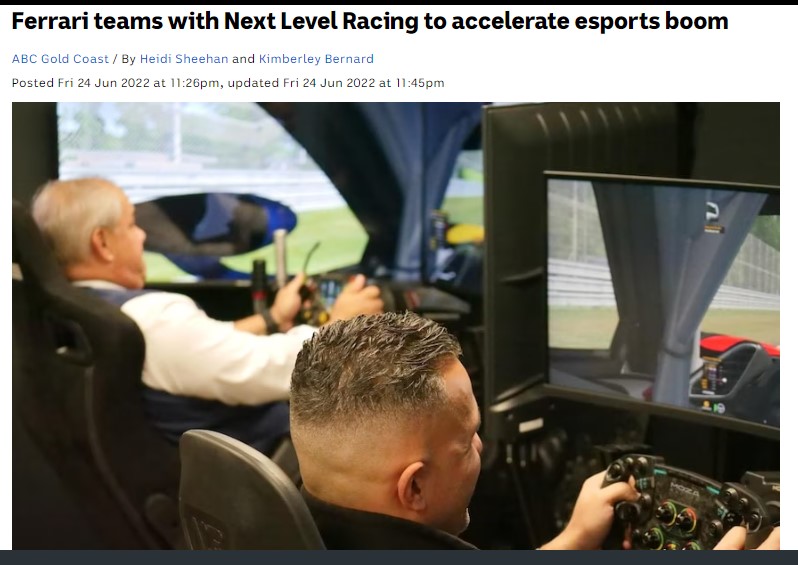 Ferrari teams with Next Level Racing to accelerate esports boom – ABC News (ampproject.org)
---
---
Most Active Sim Racing Titles
Box This Lap listed the top 10 most actively participated PC games with iRacing taking the top spot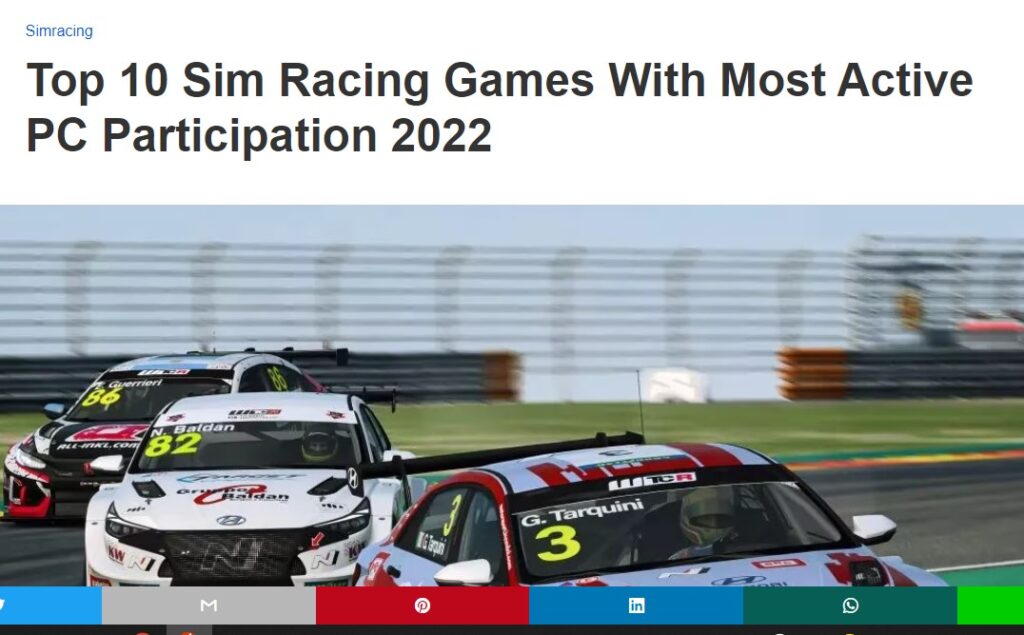 Top 10 Sim Racing Games With Most Active PC Participation 2022 – BoxThisLap.org (ampproject.org)
---
---
Mike with the Save!
Our own Mike Ellis shows off his car saving abilities in the Nascar Legends
https://twitter.com/mikedeanellis/status/1541856211456233472
---
---
PeachTree Three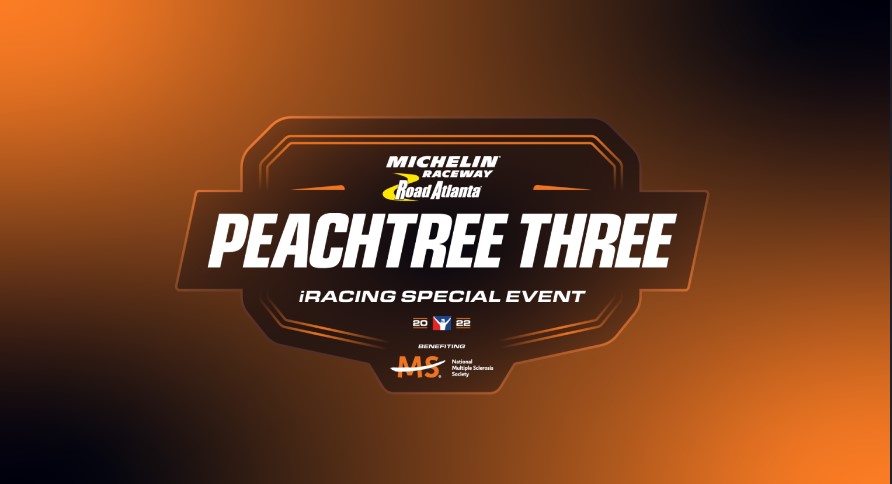 https://forums.iracing.com/discussion/25230/iracing-presents-the-peachtree-three-benefiting-the-national-ms-society
---
---
Podcast Housekeeping
Leave us a review on your favorite podcast platform to make it easier for more listeners to find the podcast. Mention the podcast to your fellow drivers so they don't miss out, we would appreciate it.
Check out our Discord https://discord.gg/rvRas4DDqF
New Website – Leave Comments https://www.iracerslounge.com/
---
We are in the regular rotation… (Mike)
https://performancemotorsportsnetwork.com/
Fantasy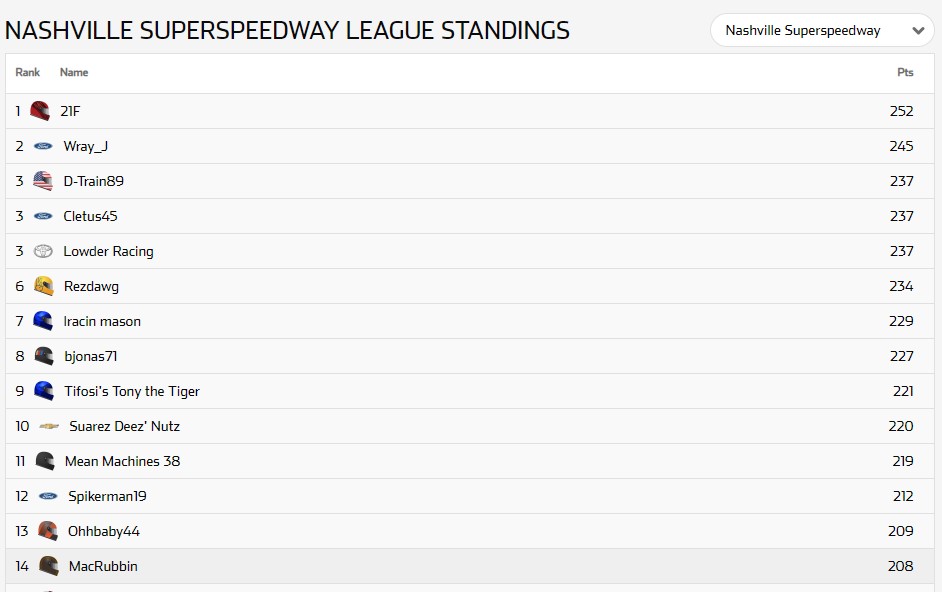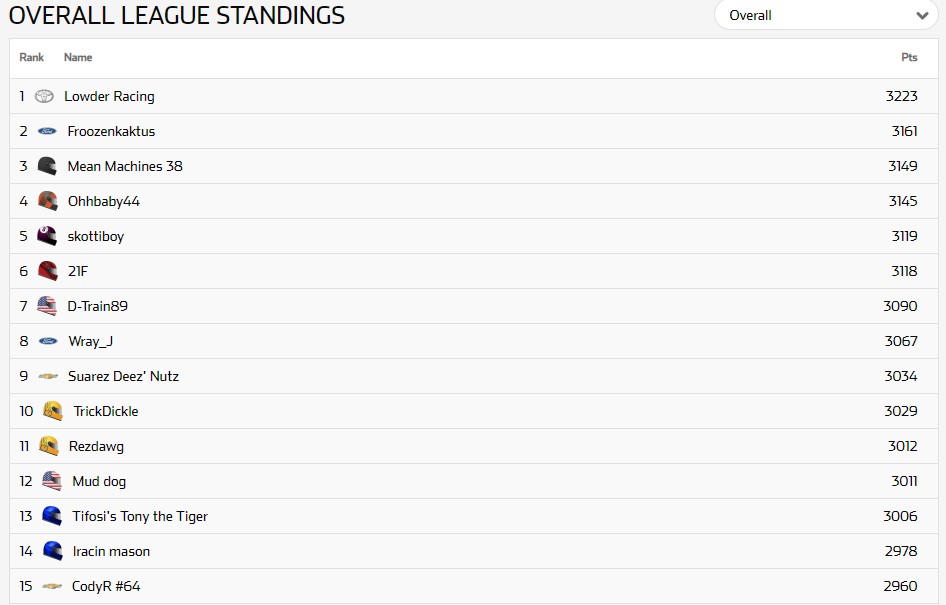 ---
---
Hardware/Software
---
Rig Reviews
Here are a couple of Rig reviews to check out!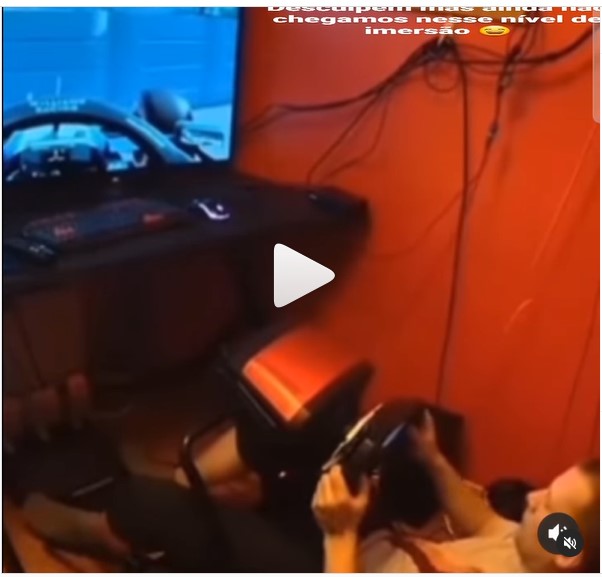 https://www.instagram.com/reel/CfOySjDgLUH/?igshid=MDJmNzVkMjY%3D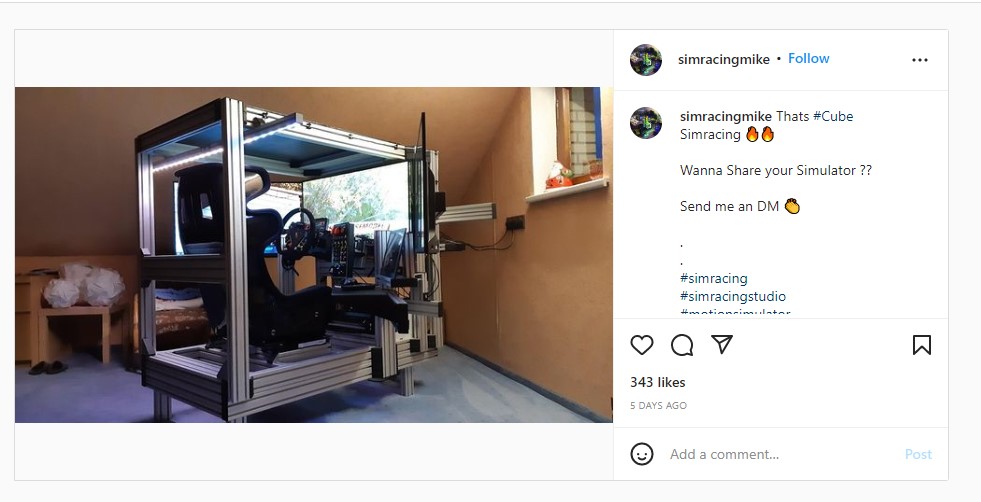 https://www.instagram.com/p/CfPbEtsKS-4/?igshid=MDJmNzVkMjY%3D
---
---
The Knaufinator
The Knaufinator – 6DOF-Rotary-Stewart-Motion-Simulator
https://github.com/knaufinator/6DOF-Rotary-Stewart-Motion-Simulator?fbclid=IwAR0zgwIbPrWM-7_fzlRPmXkKg-sRhgZwDPCZdsdnBwjFWsP4ck5MRRbze2Q
---
---
Sim Coaches Load Cell Pedals
You can now pre-order the new Sim Coaches P1 Load Cell Pedals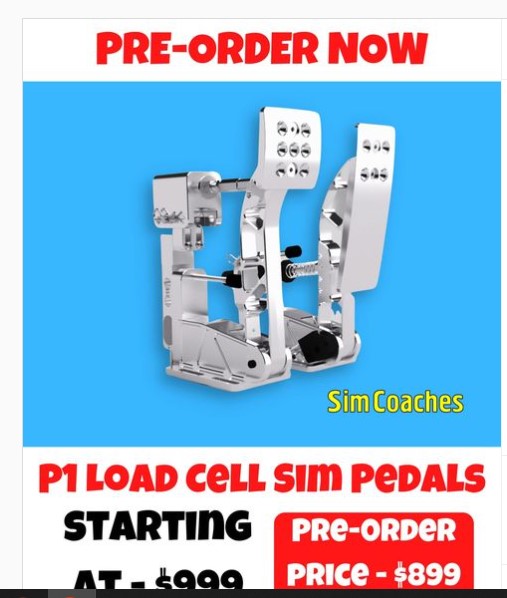 https://www.instagram.com/p/CfQOeDQB_qo/?igshid=MDJmNzVkMjY%3D
---
---
Moradness Gloves
Moradness offers lots of variety of racing gloves
https://moradness.com/collections/gloves
---
---
Wifi Flag Light
Did you know: SIMRacingApps has built-in flag lights that work via wi-fi? Well, now ya know.
This video shows just the test mode.
All you need is a LIFX bulb or led strips from lifx. You cannot use another name brand.
Once you have the light working from your phone app, all you need is to copy the "token" from lifx. Then paste that token into the simracingapps settings. It's that simple.
Tested it out last night, there was no lag with it instantly turning colors. What bothered me was, the green stayed on the whole time while under green flag conditions. I like racing in the dark, so I contacted simracingapps, they showed me how to only have the green on for a short period.
https://www.facebook.com/watch/?v=988548718452415&extid=NS-UNK-UNK-UNK-IOS_GK0T-GK1C&ref=sharing
---
---
ERacing Lab RS Series
eRacing Labs offers their new RS Series of motion actuators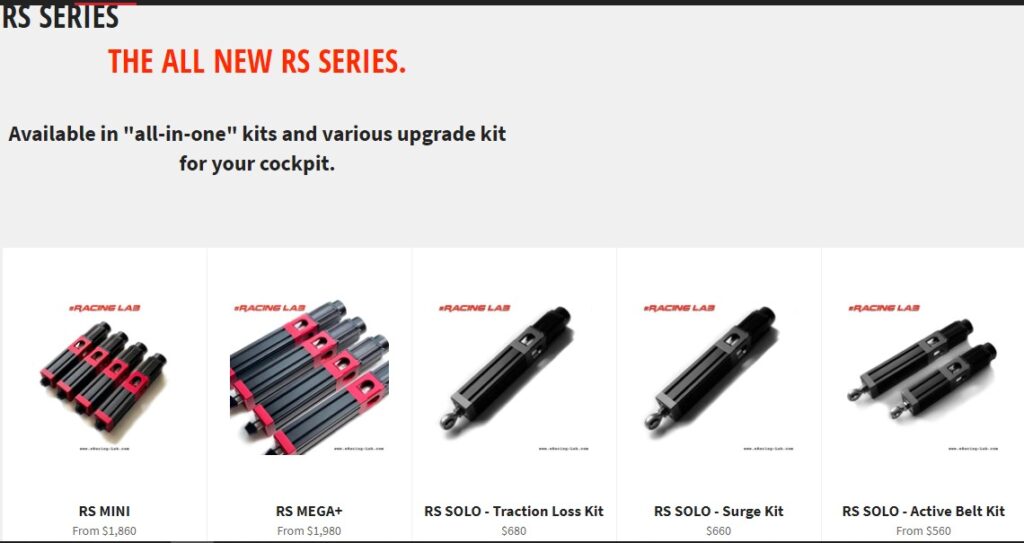 ---
---
Mike's New Project Idea
A 15 year old kid throws a rave after each kill in Call of Duty
https://www.youtube.com/watch?v=jtRFeRFLniY
---
---
DSD GT310
The New Derek Spears Designs GT 310 will ship out at the end of July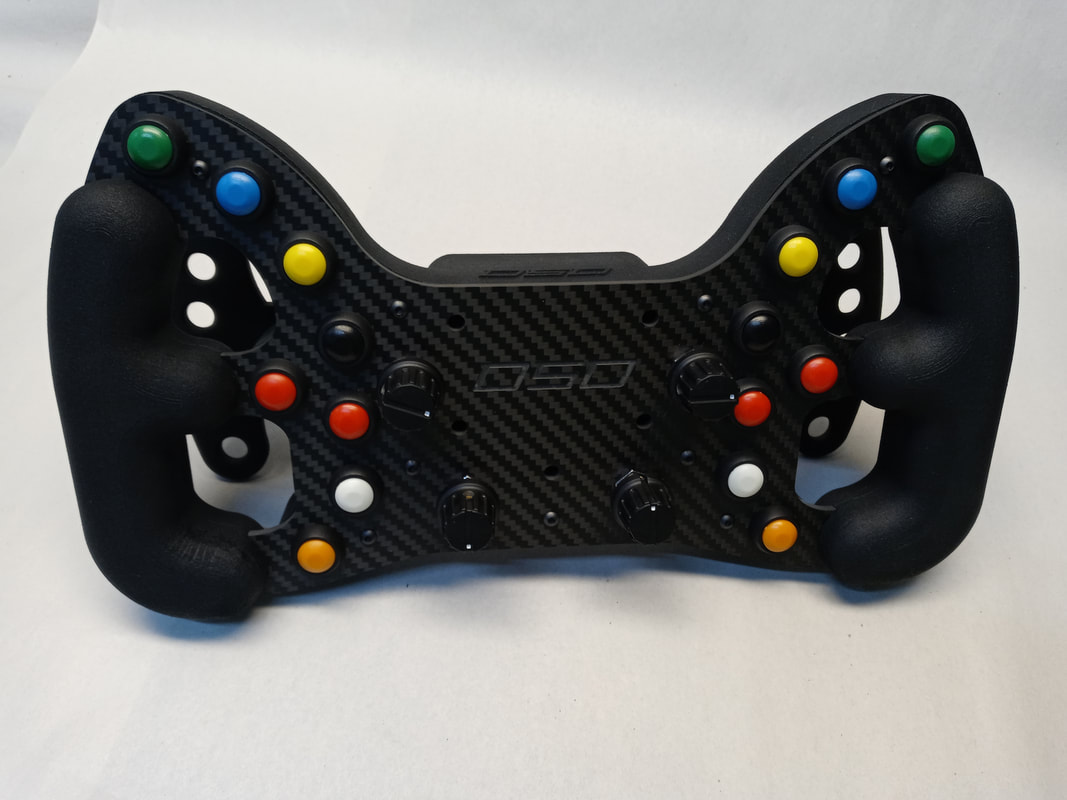 http://derekspearedesigns.com/rims.html
---
---
Sony Inzone
Sony Electronics is launching a gaming gear brand called Inzone, aimed at PC gamers. The company announced its new brand Tuesday with two 27-inch monitors and three variations of gaming headphones.
https://www.washingtonpost.com/video-games/2022/06/28/sony-inzone-pc-monitor-headset/
---
---
Fanatec Killer
Chris Haye on his YouTube Channel asks if the Moza R9 and GS Wheel rim is the Fanatec killer
---
https://www.youtube.com/watch?v=hl3_K2JBNKo
---
Pineapple Grips
Looking for New Sim Racing Grips for your Fanatec, Moza, Ascher or SRM Formula style wheel or just want to re-cover your existing ones? You have come to the right place.

https://pineapplegrips.co.uk/shop/ols/categories/new-grips
---
---
Varjo Aero Specs
A listener let us know a little more info about the Varjo Aero VR Specs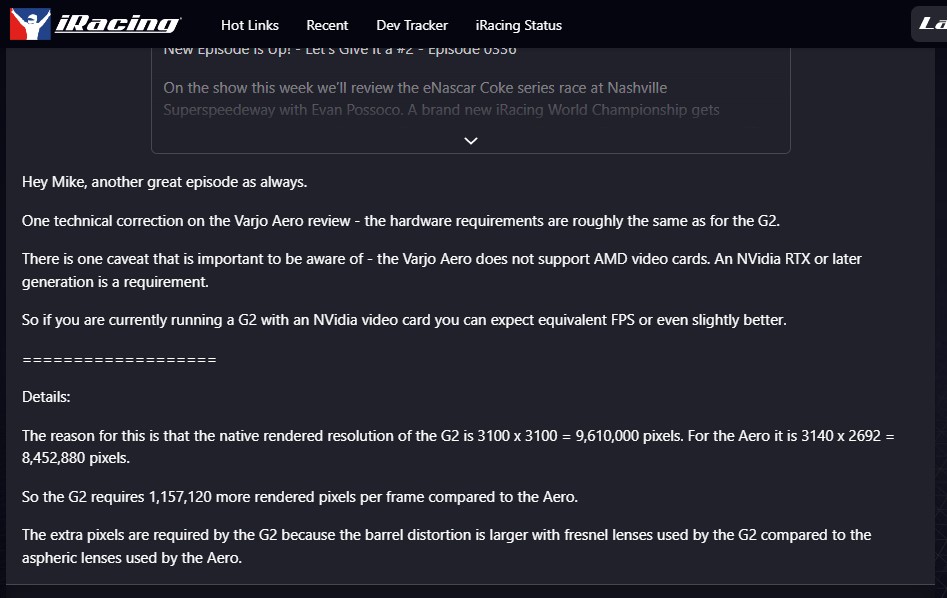 https://forums.iracing.com/discussion/comment/196543#Comment_196543
---
---
Graphics Card Price Drops
IGN Reports that Graphics Cards is finally coming down.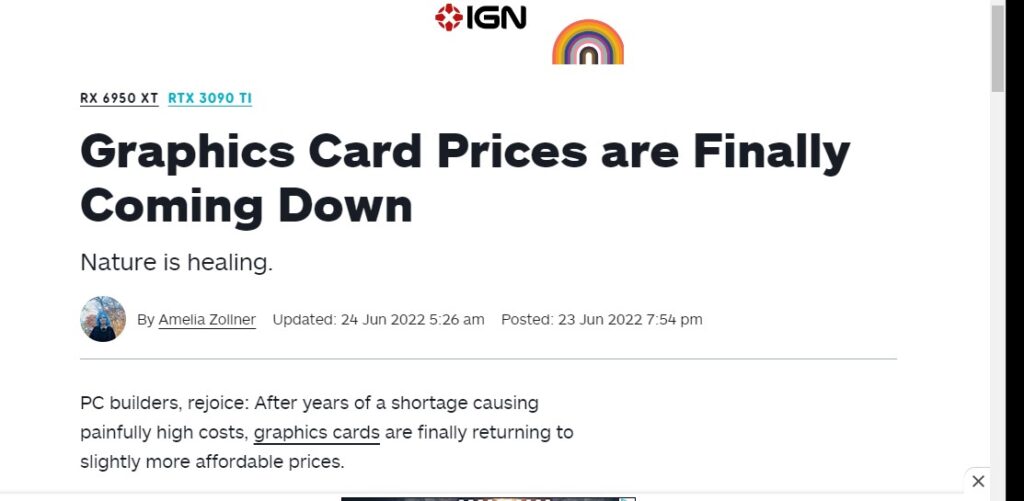 Graphics Card Prices are Finally Coming Down – IGN (ampproject.org)
---
---
Results
NASCAR iRacing Series
Fri open: NASHVILLE
Ellis –

p8 – Led some laps ran top ten basically but cautions didnt fall my way and long runs near the end was fast on short runs.
Rochette-P

P12 man. 1 caution f me im never short pitting with 5 laps left in a tank again. Was P3 when i pitted and lap and half later CAUTION. Only 2 cars were left on the lead lap after the only caution
Stephen-p4 – only two cautions
Rochette-Pwalled by my own strategy

man Q3rd never left top 3 for 80some laps even led a few. So strategy I let a aggressive guy that was trying to pretty much wreck me to the lead and let another car by so those 2 could use their stuff up… they end up wrecking eachother but i tried to avoid em and just stuffed thw right front in the wall… man i was fast and having fun
Hall –

p 10 Top Split, Dumped early, minor damage, then speeding early, then worked back up
Mike –

p16. The fast on shrt runs but deadly slow on long runs unfortunately it was a long run at the end of the race, I suck

Stephen – p pole. wrecked out early
Race : Road America
Hall –

p.

Ellis – p21 – Spun off on my own in final turn twice – then a lapper spun in front of me and came across the track and took me out. Got about what I deserve, 14x so I a going to be 1 and done this week
Thurs Open

David – p2. So much easier to get to front in 2nd split
---
---
Official Series
Ellis – Skippy – Daytona – started p15 – got to p9 by end of lap 1 – fell back to 10th but got back to 8th
Started P2 finish P2. A spirited battle among three cars I let the most laughs and made a mistake on the final app going into one I basically spun out and lost the race
Made top split half the field above 4k – started 15 of 15 made it to p12 – humbling
Skippy – Summit Point – started p12 finish p12 – Lap 2 turn 1 the draft had me 15 mph faster than any lap in practice and i missed the braking point and spun out. Recovered and continued – then realized i didn't put in race fuel after q and had to stop for fuel.
So sitting there at end of warm up, timer goes to zero – the big button is grey says wait – nothing happens – i wait – nothing happens – its been too long – close the sim – website doesnt show im still registered~! – now what – refresh – nothing – then into the ui – same thing not registered – i see it two splits – i can ghost either one – it says sim running – task mgr sure enough running but no in taskbar – kill it – then to ui ghost each split to watch myself race – did not see my name in either split –
Started p6 – aggressive i got to p5 and had a run on p4 but went a hair wide and spun and got hit. Had to pit for wheel damage for quick reset – then was p15. With attrition got to p7 had a good battle w p6 at the end and got him on the white…great fun
Nascar B-Open, Nashville SS

, P12. Started P16, aside from an early yellow, pretty uneventful.

Late Model Open, Stafford

, P8. Started P6, Race was incident free.

Late Model Fixed, Stafford

, P6. Started P10, worked my through. Race also mostly incident free.

Nascar B-Open, Road America, Only 1 Regestraint, ME…lol
---
---
League / Hosted Races
David – p 7, missed start cause didn't realize cars were gridding. Worked way up over the course of the race and had real good long run speed.

Greg p 17

Mike – p25. I sucked out there
unofficial – Ellis

Chris MacGuire – Hosted – 87's at Daytona Old – Got spun did a high speed 360 grabbed a gear and kept on going
87's at tally – got to the front pretty quick led the most laps – 2 to go the guy behind me basically drives through me hits me square from behind it turns me down into the infield. Wrecked.
---
---
Final Thoughts
---
---
Words Spoken in Closing Audio Clip -""Thank you for listening to the iRacers Lounge podcast make sure to go subscribe to us on iTunes, SoundCloud, or Google Play, Facebook & Twitter, See You On The Track ."
TITLE
Rookie Meat
Description
On the Show this we we are happy to introduce new Team Tifosi member and Lounge Host Donnie Spiker. Which iRacing legends got a shot at racing Late Models at the Hickory Speedway, and does our own Mike Ellis have a contender for 'Save Of The Year"? So sit back, relax and join us on the iRacers Lounge Podcast.
iRacers Lounge Podcast is available on iTunes and Apple's Podcasts app, Stitcher, TuneIn, Google Play Music, Spotify, Soundcloud, Podbean, Spreaker, Podbay, PodFanatic, Overcast, Amazon, and other podcast players.
Sponsors:
Hosts:
Mike Ellis – twitter.com/MikeDeanEllis
David Hall – www.twitch.tv/mixmage
Greg Hecktus – twitter.com/froozenkaktus – www.twitch.tv/froozenkaktus
Brian Maccubbin – www.twitch.tv/MacRubbinsRacin
Kyle Pendygraft – twitter.com/LoudPedalGaming
Tony Groves – www.twitch.tv/SirGroves
Adam Josselyn- twitter.com/Jossad83
Chris Scales – twitter.com/JediMcfly
Tony Rochette – twitter.com/TonyRochette
Tom Dreiling –
Links:
Facebook – www.facebook.com/iRacersLounge/
Twitter – twitter.com/iracerslounge
Instagram – instagram.com/iracersloungepodcast/
Web (Show Notes) – iracerslounge.com/