1/26/2022 – Aprons of Daytona – Episode 0367
iRacers Lounge Podcast – Conversation Topics
Brought to you by:
---
---
Opening Audio Clip -"Your listening to the iRacers Lounge Podcast where we discuss everything iRacing, in a casual setting, enjoy."`
READ THIS AT THE TOP OF EACH SHOW!!!
Welcome to the iRacer's Lounge, I am your host "XXX". iRacer's Lounge is a podcast for the iRacer, where we talk all things iRacing in a casual setting.
Joining me are the usual characters, ———— 
---
---
Show Introduction
On the show this week we'll be talking everything Daytona 24 from stats, to how Teams Tifosi fared, as well as another controversy that may have tainted the top split, The Coke Series Teams have been releases, we see a first in hardware with a new level of submersion, and Dave Cam tries to get us all in trouble by asking how much we have spent on our Sim racing Hardware.
And remember you can follow along with us on your PC or mobile device in real time as you listen to the show and see for yourself all of the great topics and products we'll discuss by visiting iracerslounge.com and selecting show notes. Hope to see you there..
---
---
Topics
---
---
New Sim Rennsport is Coming
The pieces are all falling in place. We've had several high profile, Sim drivers, announce, leaving their teams without announcing where they're going we have the new SIM coming out called Rennsport. Which is the obvious landing spot. Now we have faze clan one of the twins from the lady my wife works with announce a partnership with Porsche. I think he's called faze swag.
So basically, Porsche is trying to do the same thing that motorsports games is doing
They got a media outlet check
They got drivers Check
They got publicity and buying onto esports CheckSo the speculation today is Porsche actually is funding Rennsport
---
---
iRacing Daytona 24 Hour Recap
The iRaicing Daytona 24 has wrapped up and here are the stats
https://forums.iracing.com/discussion/35941/daytona-24-2023-stats-by-iracingreports-com
https://forums.iracing.com/discussion/comment/293929#Comment_293929
---
---
A New Record
Cisco Scaramuzza set a new, single driver record for Daytona 24
More Daytona Stats
Steve Myers breaks down some more incredible stats from Daytona
---
---
Team Tifosi Results
Team Fast – BMW LMDH, David Hall, Greg Hecktus, Mike Ellis, Tom Dryling, and Kyle Pendegraft
P4 finish, car drove like a dump truck the last segment. Definitely couldn't get through the corners like we could early in the race. We did lead 2 laps of the race and out fastest lap was 1:32.667 on lap 629, An average lap time of 1:39.541, We completed 861 had 94X and was -35 Laps down
Team Fun – Ferrari GTE, Tony Rochette, Tyler Williamson, Donnie Spiker, Chris Scales.
P14 Finish – Team Captain Tony Rochette took the green to start the race. A couple on track incidents and a hardware malfunction resulted in the team being 31 laps down by the end of the race. Team Fun continued to push all day and all night and ended with a 14 place finish. The team received 51X, the 3rd least amongst all teams.
Most Laps Run – Donnie Spiker (281), Fastest Lap – Tyler Williamson (1:45:717)
---
---
Another Exploit Exposed
Unfortunately, the race was not without its controversies with allegations of blocking and running off of the racing surface.
Greg West in the Forums
iRacing Member – Lennart Blok
can't iRacing add a 0x off track in the apron? (@Greg West )
I get that they don't want to consider this an actual of track as it's there for a reason, but at least with a 0x it will invalidate the laptime for these purposes.
I suppose this method could also be used on other tracks where the off track surface has similar conflicting purposes.
Greg West
We are aware of this situation and investigating.
I can say that this specific scenario was discussed in a pre race briefing. We have not put a 1x down there prior to encourage cars that might be limping back to the pits to stay off the racing line. We will be discussing mechanisms to mitigate the ability to use this area in an advantageous manner moving forward.
The Sporting Code specifically outlines this situation; "8.1.1.8. Drivers can only use the racing surface for Qualifying and Racing. The apron and pit road are not defined as racing surfaces. Drivers may not use the apron or pit road to gain an advantage in Qualifying or Racing. Any advantage will be determined by iRacing.com. A protest may be filed through the proper channels for this offense".
The area is clearly coned off, we would hope that would be enough of a deterrent.
https://forums.iracing.com/discussion/comment/293660#Comment_293660
https://forums.iracing.com/discussion/36092/seems-like-williams-esports-should-be-talked-about-more#latest
https://www.racedepartment.com/news/questionable-tactics-exposed-after-iracings-daytona-24h.919/?utm_source=dlvr.it&utm_medium=facebook
https://forums.iracing.com/discussion/36092/seems-like-williams-esports-should-be-talked-about-more#latest
---
---
Skip Barber Formula iRacing Series Returns
The Skip Barber Formula iRacing Series returns, once again bringing what may be the best prize in simsports, a fully funded ride in the real life Skip Barber Series.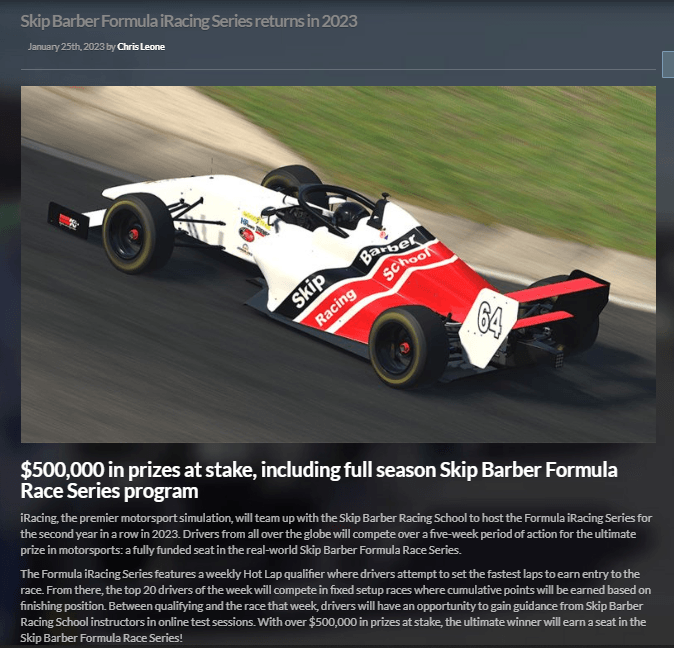 https://www.iracing.com/skip-barber-formula-iracing-series-returns-in-2023/
---
---
Nascar Cup Series Template and Model Updates
Brian Simpson Posts:
Just a heads up, Nascar has changed how the hood louvers and noses are modeled for the 2023 season. This required us to update our 3d models to match these changes. They were restricted to the nose, hood, and fenders. While we tried to match the existing UV's as closely as we could, there will be changes that need to be made on existing custom schemes to match these edits.
Just a FYI you may want to look over your paints.
https://forums.iracing.com/discussion/36198/nascar-cup-series-template-and-model-updates
---
---
Coke Series Driver Lineup Complete
Justin Melillo posts the official 2023 eNascar Coke Series lineup and teams
https://www.iracing.com/enascar-coca-cola-iracing-series-to-feature-refreshed-driver-team-lineup/
---
---
More GTPS Coming
iRacing's Steve Myers responded to a tweet indicating iRacing has 'more' coming. This is in response to a question regarding the addition of more GTP's into the service.
---
---
Highlights of the Week
---
---
2023 iRacing BMW Sim Cup
iRacing announced this week that the BMW Sim Cup returns with the M Hybrid V8 and the M4 GT3. The 10 rouseason starts on February 5th in Daytona and concludes on November 10 at Suzuka.
https://forums.iracing.com/discussion/comment/296038#Comment_296038
---
---
Fast Pasta Showing Off
"Fast Pasta", Anthony Alfredo posted a YouTube video of him in a testing session in full race gear
---
---
Road to Pro Schedule
James Pike posted the 2023 eNascar Road to Pro Shedule.
---
---
Season 1 Patch 3 Release Notes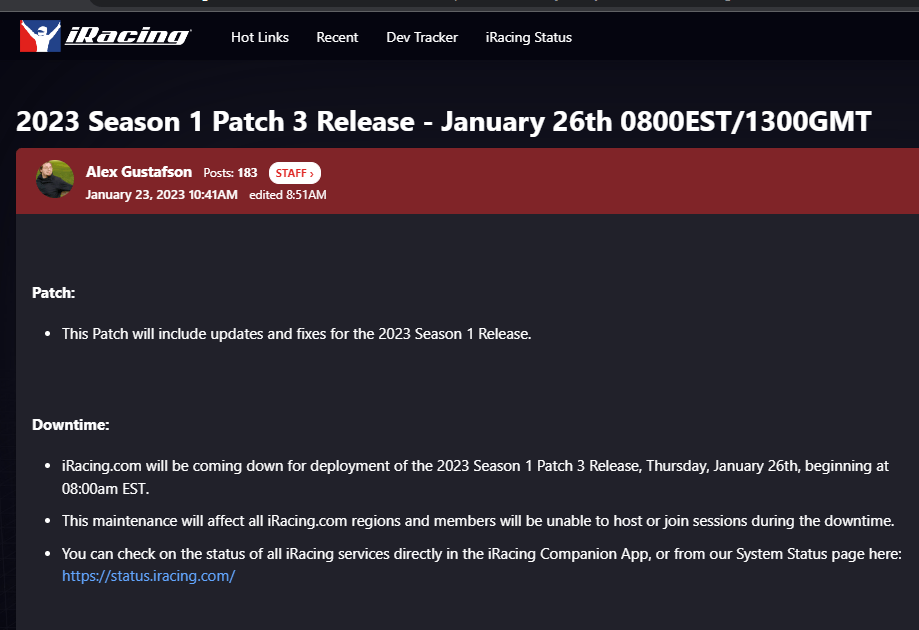 https://forums.iracing.com/discussion/35985/2023-season-1-patch-3-release-january-26th-0800est-1300gmt#latest
---
---
WoO Sprints
Week 9 of the WoO Sprint Car Series at Weedsport sets the stage for an exciting final week showdown for the Chamionship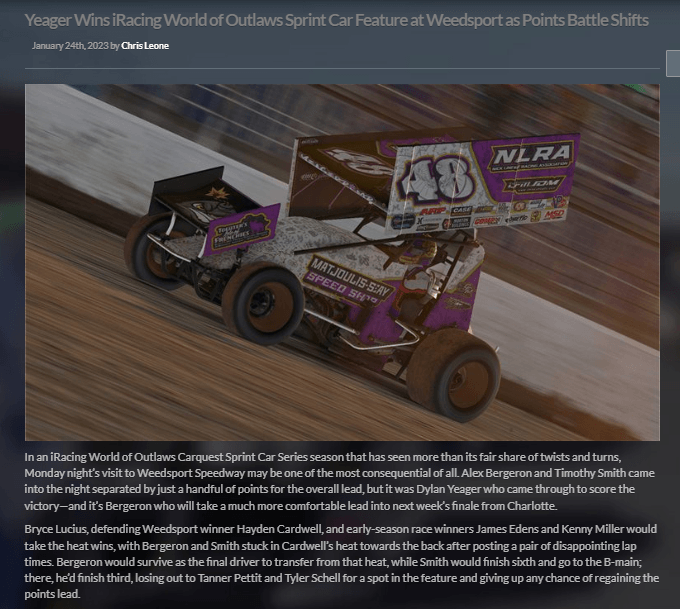 | | | | | | | | | |
| --- | --- | --- | --- | --- | --- | --- | --- | --- |
| Fin. | St. | No. | Driver | Laps | Interval | Led | Best | Pts. |
| 1 | 6 | 48 | Dylan Yeager | 35 | | 11 | 12.997 | 77 |
| 2 | 3 | 52 | James Edens | 35 | -1.160 | 18 | 13.166 | 75 |
| 3 | 7 | 25 | Tyler Ducharme | 35 | -3.725 | 0 | 13.090 | 71 |
iRacing World of Outlaws Carquest Sprint Car Series points through nine rounds are as follows:
Alex Bergeron, 555
Tyler Schell, 532
Timothy Smith, 516
James Edens, 491
JD Brown, 457
https://www.iracing.com/yeager-wins-iracing-world-of-outlaws-sprint-car-feature-at-weedsport-as-points-battle-shifts/
---
---
Lego Motion Rig
SimracingDen posted a youTube video of a Lego Sim Motion Rig Setup
---
---
The Sim Racer Movie Review
According to Overtake GG: Should You Watch It?
Ultimately, whilst the movie isn't perfect or ground-breaking, it's very enjoyable for a microbudget movie of this sort. It may be found to be derivative and filled with tropes, but it's a sweet, in the pocket and down to earth story about an average guy who is in to sim racing.
The Sim Racer is a great foundation to build upon for the future of movies centred around sim racing, and it feels somewhat like validation for our niche hobby of driving pretend racecars. With the Gran Turismo movie releasing in August, could these two movies be the springboard for showing off the appeal of racing on video games?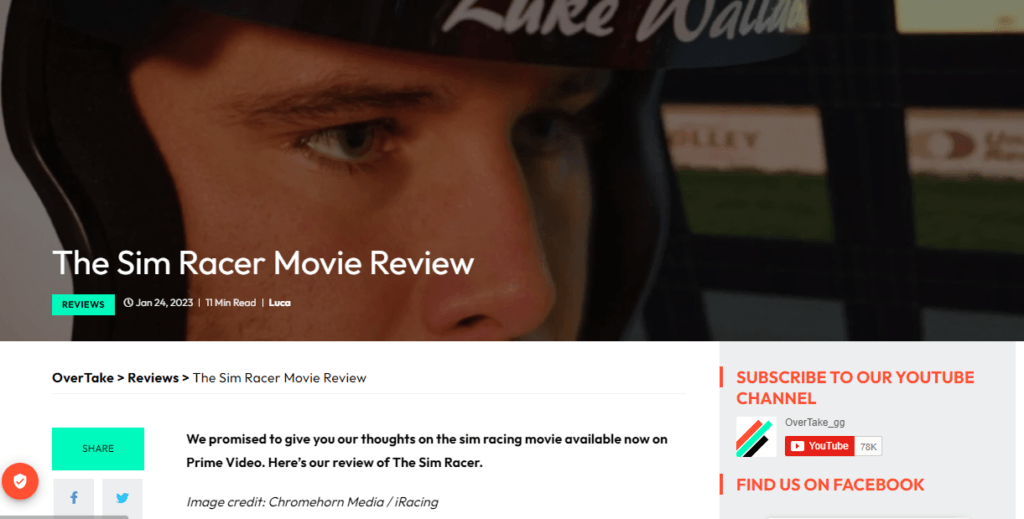 https://www.overtake.gg/reviews/the-sim-racer-movie-review/
---
---
Podcast Housekeeping
Leave us a review on your favorite podcast platform to make it easier for more listeners to find the podcast. Mention the podcast to your fellow drivers so they don't miss out, we would appreciate it.
Check out our Discord https://discord.gg/rvRas4DDqF
New Website – Leave Comments https://www.iracerslounge.com/
---
We are in the regular rotation… (Mike)
https://performancemotorsportsnetwork.com/
https://channelstore.roku.com/details/9d27a1e9dd15b92535d7cfe85407288e/the-sim-racing-channel
https://thesimracingchannel.com/watch-live/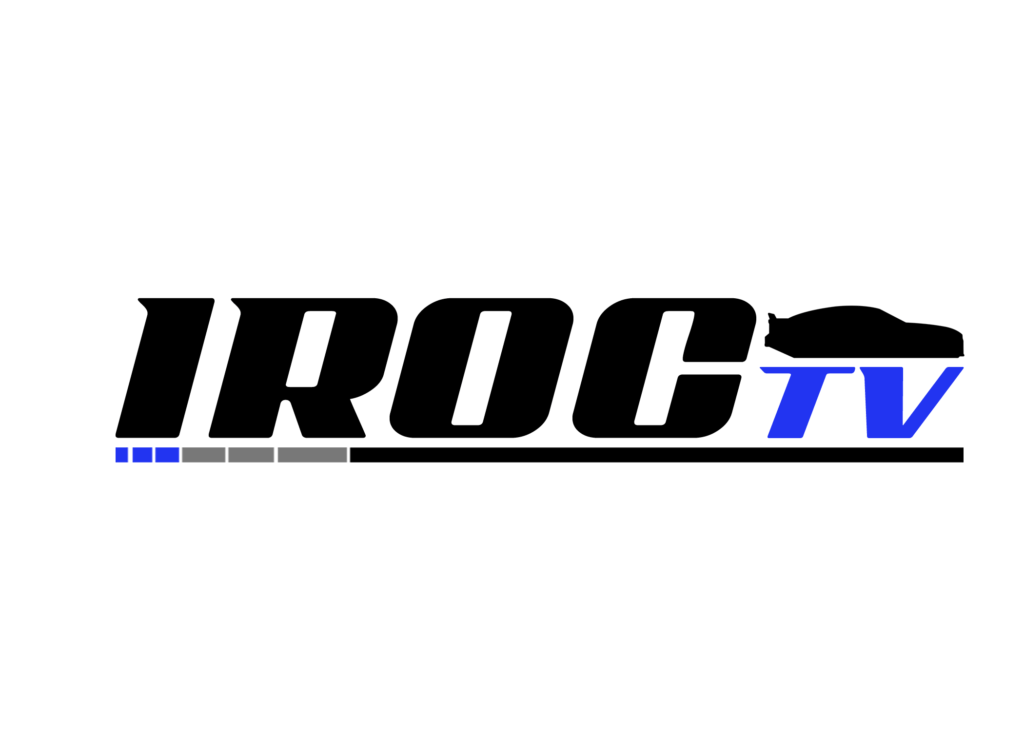 ---
---
Hardware/Software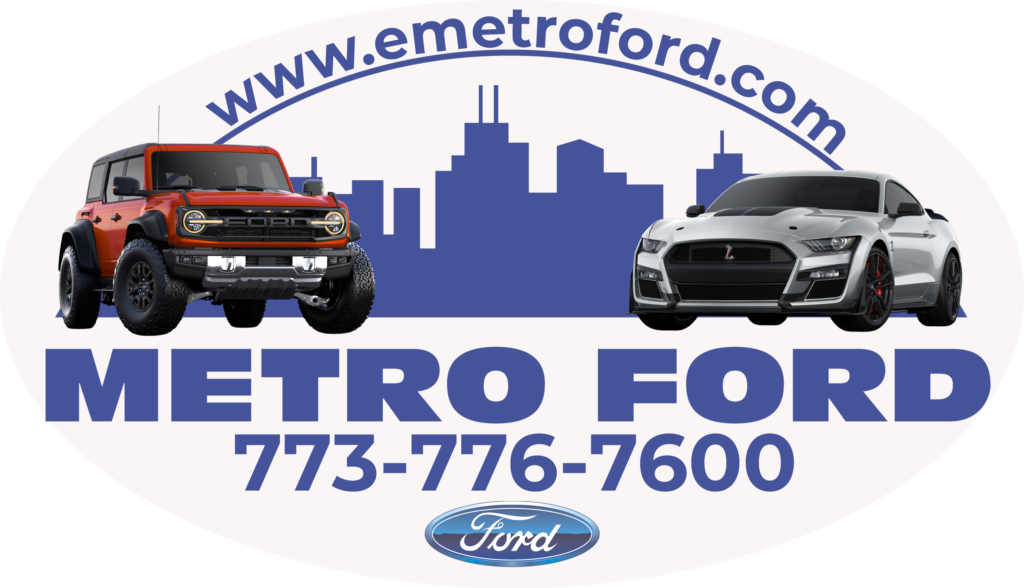 ---
How Much Have You Spent?
Dave Cam does the unthinkable and totaled up how much he has spent on Sim Racing, all time.
---
---
Are the DD1 and DD2 Still Worth It?
Will Ford at Boosted Media ask if Fanatec has lost it when it comes to their DD1 and DD2 direct drive wheel bases
---
---
Thrustmaster T818 Review
The Sim Racing Garage reviews the new Thrustmaster T818 Direct Drive Wheel
---
---
Have it Your Way
Have it your way with this custom air-cooled sim racing seat and personalize the padding with a design that fits your style.
The Cold Fusion is a unique addition to any sim rig in terms of technology and design. Dare to innovate and order world's first air-cooled sim racing seat today.
---
---
Burnout Simulator
jrracingtv posted a video to their instagram of what appears to be a burnout sim. Smoke billows out from under the rig as the driver drifts around the course.
---
---
Results
NASCAR iRacing Series
Friday Open: Dover
Mike- p13- not many cautions at all and struggled on old tires more than others. I suck
Wednesday Open: Talladega
Mike – wrecked out on lap seven when the leader just turned it on his own and rec the entire field.
Thursday Open Ellis – wrecked my self out while leading the race it's time to eat a slice of humble pie.
---
---
Official Series
Indy pro F 2000 at circuit Dispa, FreakerSean- start a 12 out of 17 by the end of last one I was up to seven had a great race with lots of pressure from behind P5.

Qualified P2 out of 14. Took the lead in turn one and lead for the first five laps before I spot out on the last corner by myself and fell to fourth I work my way up the second but lost it and fell the third on the last lap.
Qualified P2 out of nine. Got the lead on the first lap and then he took me side-by-side and adored me and I fell back to sixth I did March my way back up to P3.

USF 2000 at circuit the spa Francorchamps. Qualify P3 out of 14. Had a good battle for second and third, but the leader got away from us. I finished P2
---
---
League / Hosted Races
Winter League- Atlanta
Mike -p6 – Started tail end made it up to about 13th by 1st stop – kept it celan and raced in top ten basically led some laps -gf stops happened was 4th after that but the top 3 had a 7 second breakaway – no more cautions just rode it home from there
David – p16 late move back fired ruined a contending run
---
---
Final Thoughts
---
---
Words Spoken in Closing Audio Clip -""Thank you for listening to the iRacers Lounge podcast make sure to go subscribe to us on iTunes, SoundCloud, or Google Play, Facebook & Twitter, See You On The Track ."
TITLE
Aprons of Daytona
Description
On the show this week we'll be talking everything Daytona 24 from stats, to how Teams Tifosi fared, as well as another controversy that may have tainted the top split, The Coke Series Teams have been releases, we see a first in hardware with a new level of submersion, and Dave Cam tries to get us all in trouble by asking how much we have spent on our Sim racing Hardware. So sit back, relax and join us on the iRacers Lounge Podcast.
iRacers Lounge Podcast is available on iTunes and Apple's Podcasts app, Stitcher, TuneIn, Google Play Music, Spotify, Soundcloud, Podbean, Spreaker, Podbay, PodFanatic, Overcast, Amazon, and other podcast players.
Sponsors:
Hosts:
Mike Ellis – twitter.com/MikeDeanEllis
David Hall – www.twitch.tv/mixmage
Greg Hecktus – twitter.com/froozenkaktus – www.twitch.tv/froozenkaktus
Brian Maccubbin – www.twitch.tv/MacRubbinsRacin
Kyle Pendygraft – twitter.com/LoudPedalGaming
Tony Groves – www.twitch.tv/SirGroves
Adam Josselyn- twitter.com/Jossad83
Tony Rochette – twitter.com/TonyRochette
Tom Dreiling –
Donnie Spiker – twitter.com/Spikerman19
Bobby Jonas –
Links:
Facebook – www.facebook.com/iRacersLounge/
Twitter – twitter.com/iracerslounge
Instagram – instagram.com/iracersloungepodcast/
Web (Show Notes) – iracerslounge.com/