2/2/2023 – Simnado – Episode 0368
iRacers Lounge Podcast – Conversation Topics
---
---
Opening Audio Clip -"Your listening to the iRacers Lounge Podcast where we discuss everything iRacing, in a casual setting, enjoy."`
READ THIS AT THE TOP OF EACH SHOW!!!
Welcome to the iRacer's Lounge, I am your host "XXX". iRacer's Lounge is a podcast for the iRacer, where we talk all things iRacing in a casual setting.
Joining me are the usual characters, ———— 
---
---
Show Introduction
On the show this week, a new World of Outlaws Sprint Car Champion was crowned, the 2023 Coke series made it's unofficial start, and the Porshe Super Cup series begins this week. There's more from the controversial 24 Hours of Daytona, and is there data that can prove that Sim Racing is a sport?
And remember you can follow along with us on your PC or mobile device in real time as you listen to the show and see for yourself all of the great topics and products we'll discuss by visiting iracerslounge.com and selecting show notes. Hope to see you there..
---
---
Topics
---
---
It's Back!
Announced by iRacing, the Skip Barber Formula iRacing Series is back. The sim to reality championship returns this week.
---
---
A Late Apology
Williams eSporst posted a letter to explain the actions of their Daytona 24 team and their posts afterwards
---
---
Spin Cycle
Overtake posted a video of a car going absolutely spin crazy
---
---
iRacing at the 24 Hours of Daytona
---
---
Patch 3 Release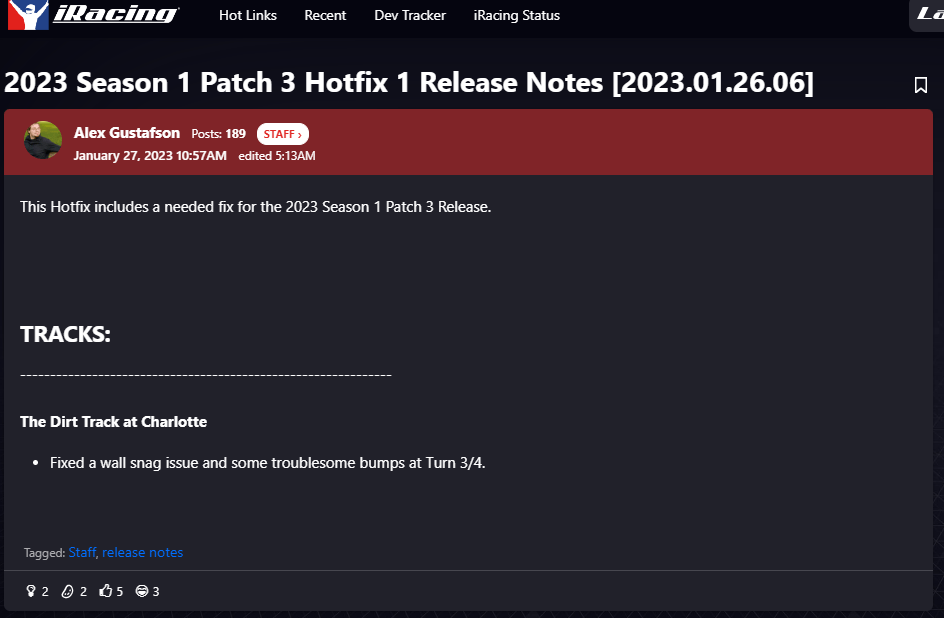 https://forums.iracing.com/discussion/36265/2023-season-1-patch-3-hotfix-1-release-notes-2023-01-26-06#latest
---
---
Bringing Down the Hammer
iRacing Short Course penalizes 2 drivers, including Parker Retzlaff, to the back of the field for poor driving
---
---
Rigs on a Plane
Max Verstappen installed a sim rig on a private jet so he can keep racing while traveling
---
---
Saved! Then Dead
Sim Streamer Matt Malone shows a video of his last lap drama while racing at Talladega.
---
---
Slowing iRacing Down
Ilkka Haapala Tweeted that after watching the real Daytona 24, iRacing needs to slow down all classes to match reality
---
---
And Another One Gone
Kevin Ellis Jr has pulled out of the iRacing Porschr TAG Heur Supercup citing "other competitions and commitments"
---
---
Rennsport Delays
Rennsport Tweeted an apology for a delay in the beta version of their sim
---
---
Coke Race – The Clash
This entire race is really a race of yeet or be yeeted. The heats had no cautions and someone usually was getting sent most of the time…
Heat 1 -Garret Lowe wins
@RyanLuza was able to set sail to win the second heat with ease!
Another Rookie statement MADE! @timothyholmes67 DOMINATES in his opening race with @RFKracing in Heat 3
Pure chaos in this 40 lap consolation.@ParkerW95 and @GarrettManes have been battling for the lead among the lapped traffic. Top 7 advance – Keister was 7th Keister did what he had to bar rules
CASEY KIRWAN GOES BACK TO BACK IN THE CLASH!
---
---
Sim vs Reality
Anthony Alfredo post another Simulation vs Reality video at Charlotte
---
---
New Content Tease
iRacing Tweeted a teaser for possibly a new track!
---
---
Sim Racing Cardio
Overtake tweeted some heart rate monitoring data from the Daytona 24 and how it compares to other aerobic activity
---
---
World of Outlaws Championship
Week 10 of the WoO Sprint car championship saw an unlikely champion crowned in an exciting finale at the Dirt Track at Charlotte
| | | | | | | | | |
| --- | --- | --- | --- | --- | --- | --- | --- | --- |
| Fin. | St. | No. | Driver | Laps | Interval | Led | Best | Pts. |
| 1 | 2 | 85 | Tyler Schell | 35 | | 9 | 13.932 | 78 |
| 2 | 8 | 52 | James Edens | 35 | -0.016 | 0 | 14.033 | 74 |
| 3 | 1 | 20 | Aiden Forster | 35 | -0.377 | 25 | 13.952 | 72 |
| 4 | 19 | 1 | Mason Hannagan | 35 | -0.891 | 0 | 14.149 | 64 |
| 5 | 5 | 86 | Timothy S Smith | 35 | -1.067 | 0 | 13.913 | 65 |
iRacing World of Outlaws Carquest Sprint Car Series points are as follows:
Tyler Schell, 610
Alex Bergeron, 602
Timothy Smith, 581
James Edens, 565
Kendal Tucker, 500
https://www.iracing.com/tyler-schell-claims-2022-23-iracing-world-of-outlaws-carquest-sprint-car-title-with-win-in-charlotte-finale/
---
---
Porsche Tag Heuer Supercup Preview
This weekend begins the new season of iRacing's top road course championship, and Overtake.gg and Newsroom have a season preview
https://www.overtake.gg/esports/previews/porsche-tag-heuer-esports-supercup-the-drivers-who-will-be-participating?linkId=300000004509582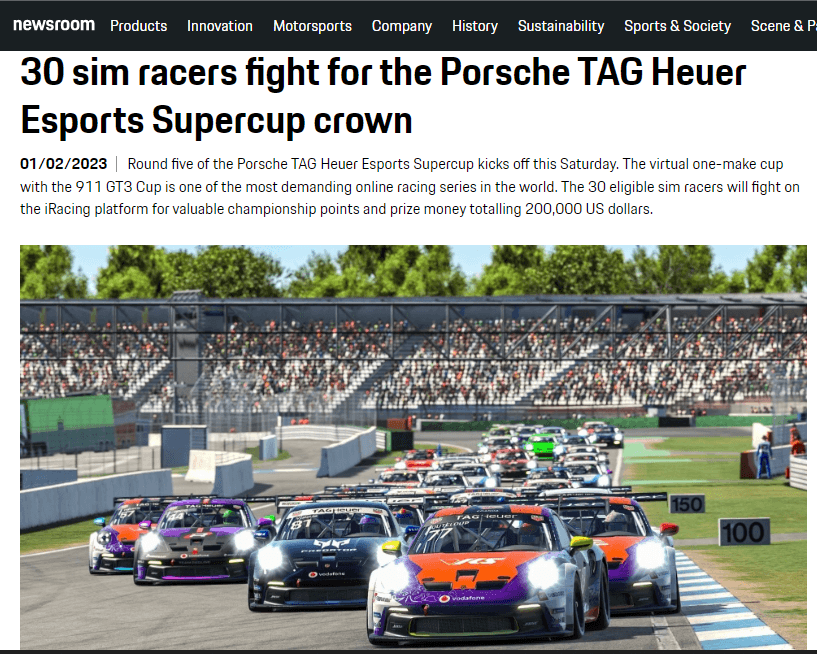 https://newsroom.porsche.com/en/2023/motorsports/porsche-tag-heuer-esports-supercup-season-2023-round-1-hockenheimring-germany-31132.html
---
---
BMW M Sim Cup
The BMW M Sim Cup kicks off this weekend with new cars, catagories, Prize Money, and schedule.
---
---
2023 iRacing Bathurst 12 Hour
Date: February 10-12
(Registration opens 1 hour prior to the event)
Timeslot #1 – Friday 22:00 GMT
Timeslot #2 – Saturday 7:00 GMT
Timeslot #3 – Saturday 12:00 GMT
Timeslot #4 – Saturday 16:00 GMT
Track: Mount Panorama Circuit
License – D 4.0 Road
Sim Date (Time of Day Setting): February 5th, 2023
Warm Up Sim Start Time (Time of Day Setting): 5:05 AM
Green Flag Sim Start Time (Time of Day Setting): 5:45 AM
Session
Warmup: 30 Minutes
Qualifying: Attached & Solo – 8 Minutes for 2 Laps
Race: 12 Hours
Weather: Dynamic
Splits By: iRating
Team Event: Yes. Declare drivers and fair share rules apply. (min 2 drivers and max 16)
Drive through penalty limit: 50 incs and every 20 thereafter
Field Size : 50
Cars & Class:
BOP will be announced roughly 1 week prior to the event and we reserve the right to make a change to that BOP up until the Wednesday immediately preceding the event.
GT3
Audi R8 LMS
BMW M4 GT3
Ferrari 488 GT3 Evo 2020
Ford GT GT3
Lamborghini Huracán GT3 EVO
McLaren MP4-12C GT3
Mercedes AMG GT3
Porsche 911 GT3 R
https://forums.iracing.com/discussion/36273/2023-iracing-bathurst-12h
---
---
Podcast Housekeeping
Leave us a review on your favorite podcast platform to make it easier for more listeners to find the podcast. Mention the podcast to your fellow drivers so they don't miss out, we would appreciate it.
Check out our Discord https://discord.gg/rvRas4DDqF
New Website – Leave Comments https://www.iracerslounge.com/
---
We are in the regular rotation… (Mike)
https://performancemotorsportsnetwork.com/
https://channelstore.roku.com/details/9d27a1e9dd15b92535d7cfe85407288e/the-sim-racing-channel
https://thesimracingchannel.com/watch-live/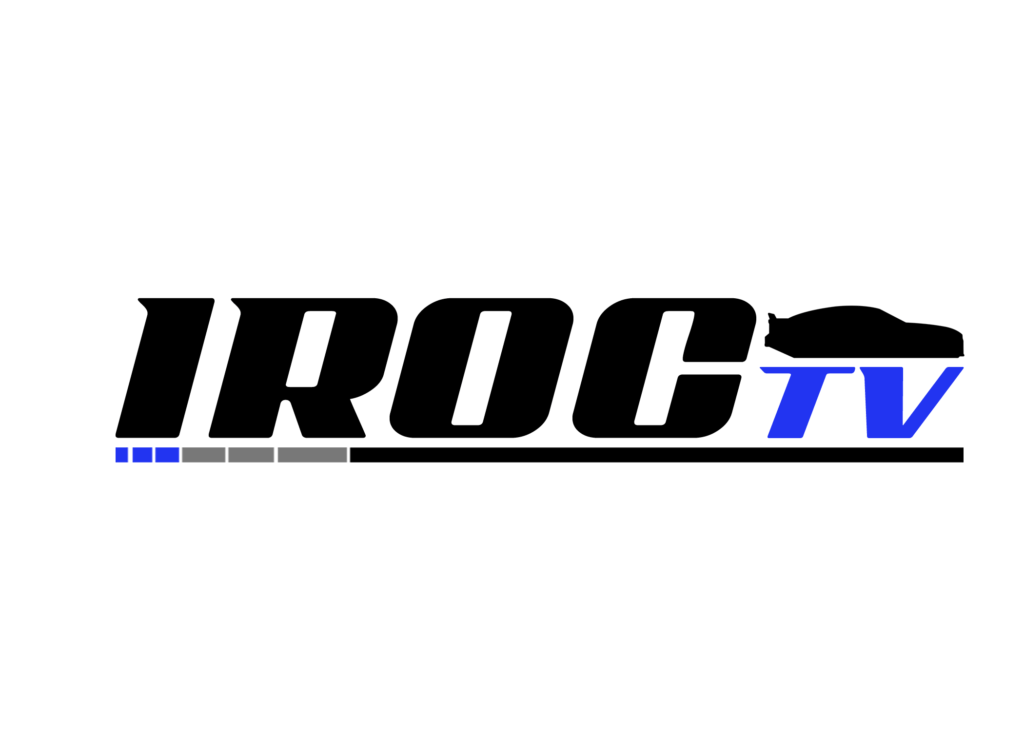 Fantasy
---
---
Hardware/Software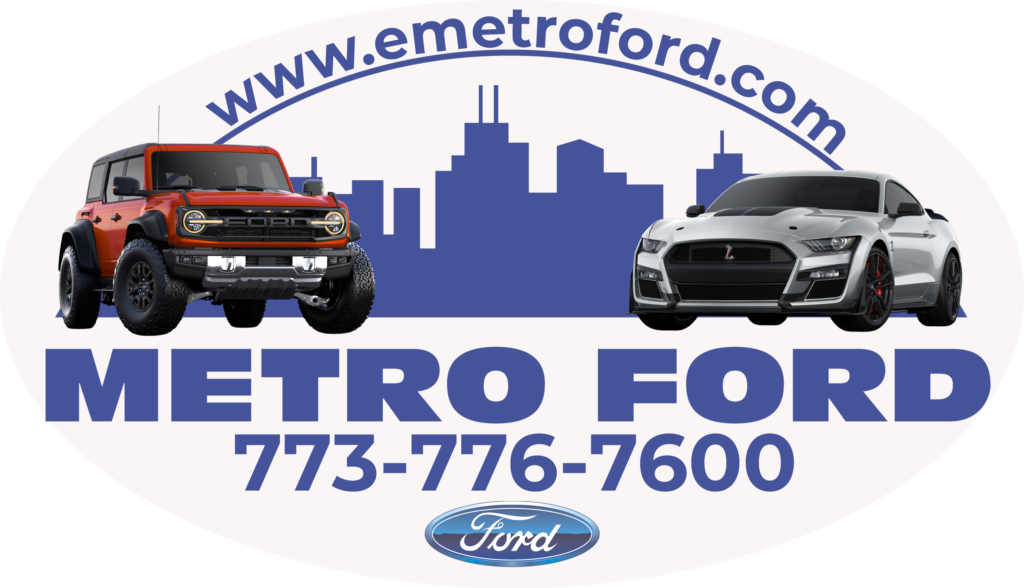 ---
WRC/TCR Sim Wheel
The steering wheel is modelled on the one from the Hyundai i30 WRC, e.g. Ken Block, along with the i30 TCR cars, made in Simline's own style, i.e. with good electronics based on PCB and enclosed in an aluminum housing.
Simline WRC / TCR wheel
– 12x high quality MEC backlight switches
– 4x high quality ELMA E33 encoders
– Illuminated front panel
– aluminium housing
– 320mm diameter wheel, in alcantara with yellow centre stripe
– Spiral/coil cable
– LeoBodnar main controller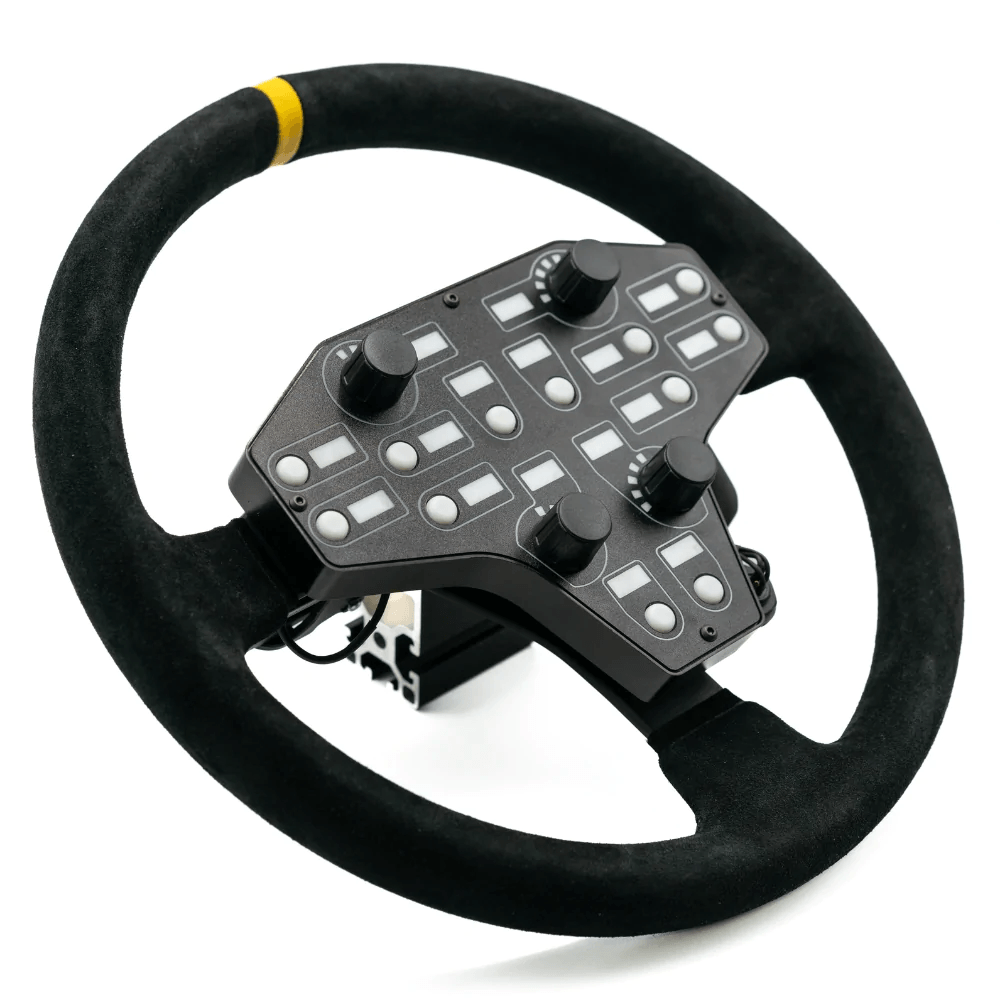 https://www.raceanywhere.co.uk/collections/wheel-rims/products/wrc-tcr-simline
---
---
Asetek Invicta Hydraulic Pedal Review
The Sim Racing Den offers their review of the Asektec Invicta Hydraulic Pedals.
---
---
S6 Sequential Shifter
Compatible with PC. Mounting plate included. Plug USB and play.
Bolt plunger feedback mechanism
Shifting type: Microswitches
Lever for fast neutral gear
Solid aluminium body. Strong and heavy shifter. Weight approx 1.5kg
Height 34cm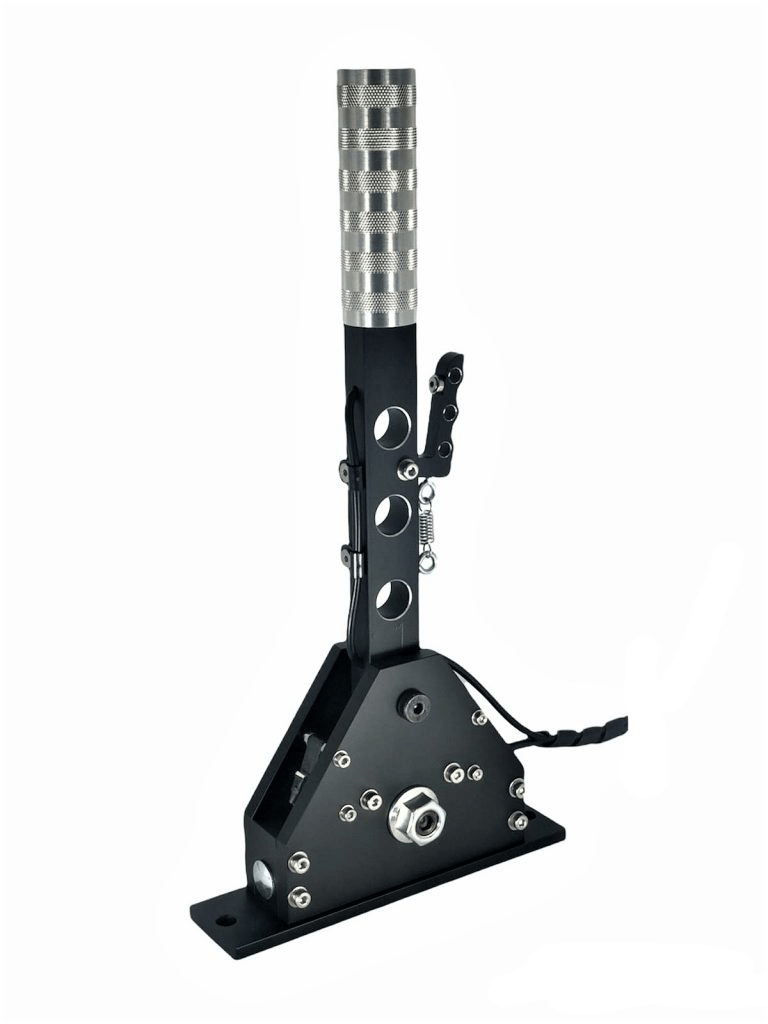 http://sg-racing.co.uk/sequential-shifter/
---
---
Simucube 2 True Drive
Simucube releases their True Drive software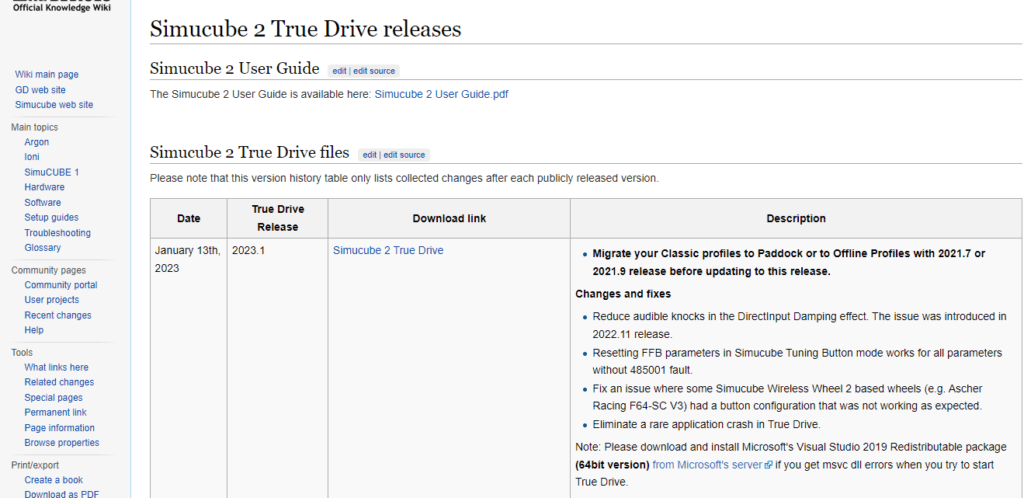 https://granitedevices.com/wiki/Simucube_2_True_Drive_releases
---
---
Screen to Wheel to Head spacing (maximize FOV)
So the rule of thumb is you want your monitor just a touch closer to your face than its width. Naturally a smaller monitor is going to be closer to your face. 27″ monitors are about the smallest you could get and still hit 180 degrees and to do that you probably need to compromise on your seating position by sitting more upright and closer to the wheel than you would normally.
Also watch out for aspect ratios. You really want as square an aspect ratio as possible. You can't find them anywhere anymore but the older 4:3 aspect ratio monitors were perfect for triple monitor setups. Going with an ultrawide monitor setup will result in a very short vertical FOV and you will be completely unable to see the dash.
https://forums.iracing.com/discussion/comment/296555#Comment_296555
---
---
VPGSim Formula Wheel
Via VPGSim on Instagram: The new V-RSPG PRO is finally here! 🔥 New grips, VoCore, new RGB rotaries, SimHub Compatible! Thanks to you guys we've been able to improve the already great V-RSPG and bring it to the next level! 🙏🏻
https://vpgsim.co.uk/viewer.php?id=28
---
---
From Cradle to Rig
Made by Decker created a sim rig from a repourposed children's bed
---
---
T818 Review
OC Racing is the latest to review the new Thrustmaster T818 Direct Drive Wheel
---
---
Sim Racing Purchase Advice
Mac Evad (Dave Cam) gives advice on Sim Racing Purchase Advice by using his long purchasing history as a guide
---
---
Did They Fixe the VRS Direct Force Pro DD?
Will Ford at Boosted Media revisited the VRS Direct Drive Pro DD after some much needed updates from his previous review
---
---
Hide-Away Rig
pebseygtracing posted on Tik Tok their hidden sim racing room
---
---
Simucube in the USA
A Instagram video shows the Simucube products, including the new Active Pedals, availavle in the USA
---
---
Results
NASCAR iRacing Series
Friday Open:
Mike- p I don't wanna talk about it. We'll just pretend this one didn't happen.
Wednesday Open: phoenix
Mike – p17. Ran as high as P9, but didn't do tires on the last stop a huge regret and I faded to last car one lap down.
---
---
Official Series
Ellis–
Indy pro F 2000 at spa qualify 10 out of 15. Got ran over from behind on turn one lap one but no damage and finished P6.
USF 2000 at spa- qualified fourth out of 13. I got wrecked out at the end of the Long Street on live one when the guy behind us didn't even try to break for the corner and just plowed i
SPIKER
ARCA – Talladega- Wrecked
---
---
League / Hosted Races
Winter League- Atlanta
Mike -p DNF. I started dead last drove it up to the ninth and then faded back to last before I parked. It felt kind of sick to my stomach other people in my house had the flu and I was fighting trying to get it so I also couldn't hear David on the TeamSpeak, so I parked it.
David – p20, everyone except me saved fuel the whole race and made it a one stop
MAJORS SERIES – Intimidator 500
David – Ran a ton of Pre Q currently have a 1st, 4th, 5th and 6th to set my average
Donnie – Pre Q Race 1 – Wrong Set
Pre Q Race 2 – Wrecked 3X, P20 Something
---
---
Final Thoughts
---
---
Words Spoken in Closing Audio Clip -""Thank you for listening to the iRacers Lounge podcast make sure to go subscribe to us on iTunes, SoundCloud, or Google Play, Facebook & Twitter, See You On The Track ."
TITLE
Simnado
Description
On the show this week, a new World of Outlaws Sprint Car Champion was crowned, the 2023 Coke series made it's unofficial start, and the Porshe Super Cup series begins this week. There's more from the controversial 24 Hours of Daytona, and is there data that can prove that Sim Racing is a sport? So sit back, relax and join us on the iRacers Lounge Podcast.
iRacers Lounge Podcast is available on iTunes and Apple's Podcasts app, Stitcher, TuneIn, Google Play Music, Spotify, Soundcloud, Podbean, Spreaker, Podbay, PodFanatic, Overcast, Amazon, and other podcast players.
Sponsors:
Hosts:
Mike Ellis – twitter.com/MikeDeanEllis
David Hall – www.twitch.tv/mixmage
Greg Hecktus – twitter.com/froozenkaktus – www.twitch.tv/froozenkaktus
Brian Maccubbin – www.twitch.tv/MacRubbinsRacin
Kyle Pendygraft – twitter.com/LoudPedalGaming
Tony Groves – www.twitch.tv/SirGroves
Adam Josselyn- twitter.com/Jossad83
Tony Rochette – twitter.com/TonyRochette
Tom Dreiling –
Donnie Spiker – twitter.com/Spikerman19
Bobby Jonas –
Links:
Facebook – www.facebook.com/iRacersLounge/
Twitter – twitter.com/iracerslounge
Instagram – instagram.com/iracersloungepodcast/
Web (Show Notes) – iracerslounge.com/