9/15/2022 – Steering with Wood – Episode 0348
iRacers Lounge Podcast – Conversation Topics
Brought to you by:

Opening Audio Clip -"Your listening to the iRacers Lounge Podcast where we discuss everything iRacing, in a casual setting, enjoy."`
READ THIS AT THE TOP OF EACH SHOW!!!
Welcome to the iRacer's Lounge, I am your host "XXX". iRacer's Lounge is a podcast for the iRacer, where we talk all things iRacing in a casual setting.
Joining me are the usual characters, ———— 
---
---
Show Introduction
On the show today, we will recap the Coke series playoff race at Bristol with the voice of eNascar, Evan Possoco. We'll check out some of the new Seaason 4 updates in action, We'll peak inside Dale Earnhardt Jr's garage to see what might be next for iRacing and review the 2023 NIS schedule.
And remember you can follow along with us on your PC or mobile device in real time as you listen to the show and see for yourself all of the great topics and products we'll discuss by visiting iracerslounge.com and selecting show notes. Hope to see you there..
---
---
TITLE SPONSOR READ:
SimCoaches offers the realistic sim racing equipment you need to win more races online…. It is designed for real racers… Hydraulic construction makes them feel just like the real thing. High-Quality Construction, 100% Leak Proof, and Lifetime Warranty are the key features with these pedals. And, they look absolutely amazing… Check out simcoaches.com and use the coupon code IRACERSLOUNGE to get 10% off your purchase. Simcoaches.com is your ticket to feel like your actually sitting behind the wheel of a car. Drive harder and stay on the limit longer…
https://simcoaches.com/?fbclid=IwAR1pJASM3C_nV3wFACEHJrHitf8TOQWro4yp-Etaio1zU8Enbojap2Xff5w
---
---
Coke Race – Bristol
Rookie contender Liam Brotherton announces on Countdown to Green that he'll be stepping away from the @eNASCARCocaCola@iRacing Series at the end of the season
Great interview with Elliot Sadler about his team, Liam, leaving, and some of the reasons why he talks about how driver development is happening, how it can be a real struggle to get into the Koch series. Lots of fascinating stuff. he's like sometimes you just need to go run a little c fixed.
NEWS: The @eNASCARCocaCola #iRacing Series Championship 4 drivers will race in person at the
@NASCARHall@DaleJr will be on hand to present the Championship Trophy.
Kyle Peddle missing the race. Steve Letarte in the Booth, caine cook noted on twitter this is a very short race at only 175 laps and perhaps we should go back to traditional lengths…
GREEN FLAG: @KeeganLeahy and @swilson3_ lead the field into Turn 1.@KeeganLeahy leads Lap 1.
LAP 8: The biggest movers? @CaseyKirwan23 & @rayalfalla. Both up 12 spots from the start.
Fairly clean start, already 15 laps done. @KeeganLeahy has pulled away to a very nice lead over the field.
LAP 16: @rayalfalla enters the top-10.Keegan Leahy is gone. Like, four seconds ahead, 40 laps down. That's him, that speck.@bobbyzalenski runs second, and leads the playoff drivers as the run… but a P2 isn't a lock to Phoenix! Keeg reminding everyone why he's the defending champ tonight!
LAP 41: @rayalfalla is up to 3rd… THIRD. ????
Lap 50 – leahy zalenski honeycutt alfalla keister manes bowlin conti dejong bussa
The two fastest drivers (@SHR_eSports guys, of course) in final practice going opposite directions with 60 laps complete – @swilson3_ is down from P2 to 13th while @DDuval42 is up to 11th from 15th starting spot!
spoke too soon on Ray – He's free falling through the field, made it as high as third but now runs 13th and is fading fast.
LAP 71: @KeeganLeahy is just starting to lap the tail-end of the field.
CAUTION! LAP 76. Darik Bourdeau gets the wall, Logan Clampitt and Corey Vincent collide and get collected.
Just around the 100 laps to go mark.
Just a few had pitted before the caution, The entire field pits. Looks like we'll have 35 cars on the lead lap on the restart – Leahy will continue to lead.
Jimmy Mullis twitters up his issues
https://twitter.com/jmullisracing/status/1569862743804768256
RESTART LAP 81: @KeeganLeahy and @bobbyzalenski lead the field into Turn 1.
On the restart, Leahy is starting to pull ahead once again. Zalenski leads a group of title contenders including Conti, Bowlin and deJong.
CAUTION! 77 to go. Matt Bussa, Casey Kirwan with HEAVY damage! Wilson, deJong, and MORE involved!!!
Steven Wilson running the middle checks up just a hair gets hit from bottom lane mitchell dejong, kirwin up on his side, meatball flag –
5 stay out, others pit – RESTART 71 to go: @bobbyzalenski and @NickOttinger lead the field into Turn 1.
CAUTION! 68 to go. Graham Bowlin goes around after contact with Kaden Honeycutt! Also there was a split decision on pit strategy
RESTART 62 to go: @bobbyzalenski and @vicente_salas14 lead the field into Turn 1.
CAUTION! 59 to go: Caution city Blake Reynolds and Dylan Ault this time and @mbussa75 involved.
RESTART 53 to go: @bobbyzalenski and @vicente_salas14 lead the field into Turn 1.
40 to go – zalenski keister salas – luza conti wilson ittinger leahy honeycutt manes
Keister takes the lead – and now the big one! 34 to go – Leahy pushes up when three wide they pile up! At least 2/3rd of the field involved…
Only 5 playoff cars running in to top 19 right now – so issues for many chasing the cutoff.
RESTART 29 to go: @KollinKeister and @bobbyzalenski lead the field into Turn 1.
Luza marching up to the front with fresher tires…
24 to go luza takes lead – byus alfalla mercurio reynolds also coming w fresh tires
15 to go – luza byus alfalla lowe reynolds mercurio ault keister wilson vincent
10 to go leahy falls off lead lap after leading the most
The highest running playoff driver is now @GarrettLowe_6 in P4!
4 to go luza in heavy traffic with a 1.3 second lead –
CHECKERED FLAG! @RyanLuza wins at @BMSupdates
https://twitter.com/iRacing/status/1569872538809008129
https://twitter.com/justinmelillo/status/1569878353456558081
---
---
Pukekohe to be Preserved
According to iRacing, The famed Pukekohe Park racing circuit will be preserved in the leading motorsport simulator service, iRacing. The confirmation of the agreement between iRacing and the circuit owners comes during the week of the Supercars Championship's final appearance at the track.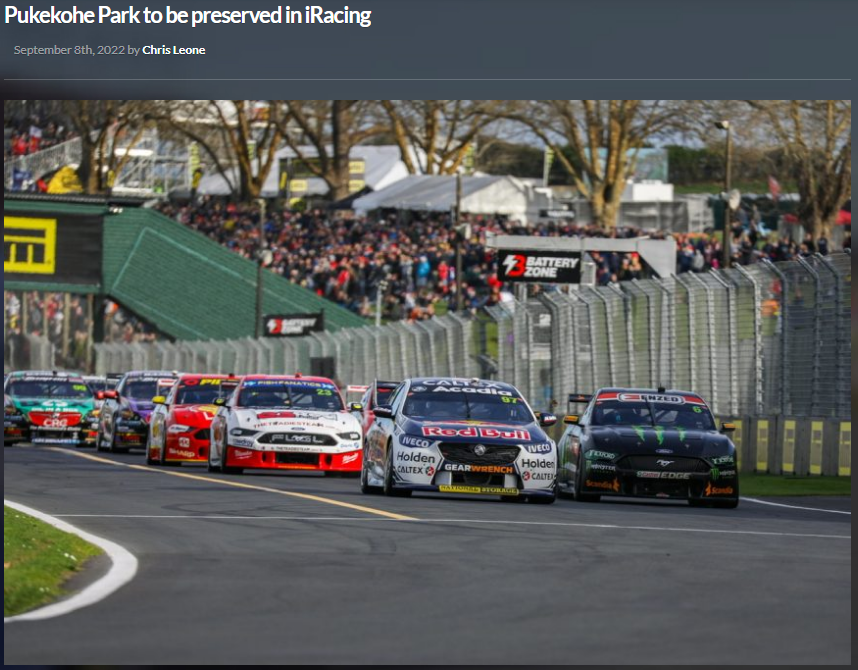 https://www.iracing.com/pukekohe-park-to-be-preserved-in-iracing/
https://twitter.com/supercars/status/1568094239791222784
---
---
Barney Showing off for the Fans
@JDRGraphics tweeted a photo of what looks to Barney, iRacing's busy flagman, waving the green flag at the crowd, not at the approaching race cars.
https://twitter.com/JDRGraphics/status/1567584760817680384
---
---
More Rajah
A few tweets from Rajah Caruth highlight some of his activity from this past weekend in Kansas.
https://twitter.com/rajahcaruth_/status/1568282670399979523
---
https://twitter.com/rajahcaruth_/status/1568392144460603395
---
An Update to the Lotus 79
iRacing posted a video to their Youtube Channel of the newly updated Lotus 79.
https://www.youtube.com/watch?v=U4Ok0I0cwmo
---
---
In Increasing AI Presence
iRacing posted a video to their Youtube channel of what was added to the AI side of the service.
https://www.youtube.com/watch?v=5TlN9UgmSPc
---
---
A Concrete Tease
iRacing's Greg Hill tweeted a photo of sectioned concrete with tire marks asking, "What world-renowned racetrack might this be?"
Sebring?
https://twitter.com/greghi11/status/1568076179604705280
---
---
iRacing Companion App Release Notes
iRacing releases the release notes for the companion app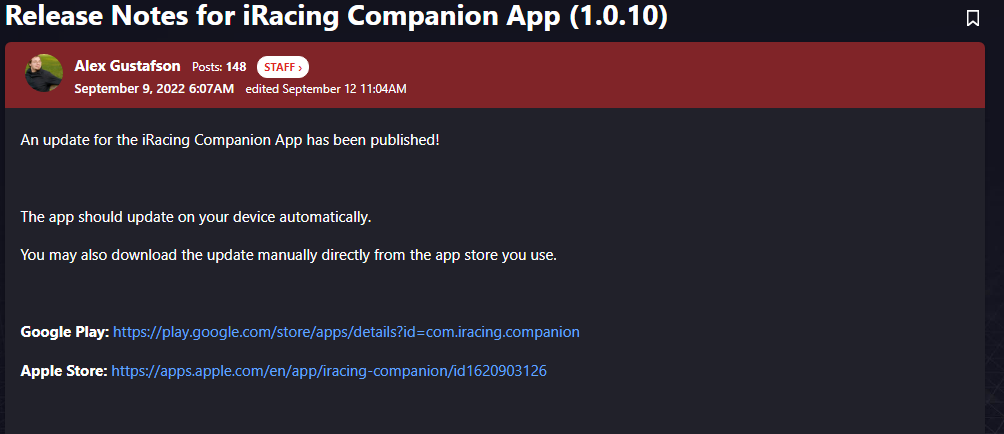 https://forums.iracing.com/discussion/28906/release-notes-for-iracing-companion-app-1-0-10
---
---
Next Gen AI throwing some blocks
The iRacing Instagram Page posted some videos of a Next Gen Cup Car throwing block when attempting to get around them at Watkins Glen
https://www.instagram.com/p/CiarAy6j8YX/
---
---
What does your racing setup look like?
iRacing asks drivers to post pictures of their race rigs on their Twitter page.
https://twitter.com/iRacing/status/1569310885830590467
---
---
Lucas Oil Price Correction
iRacing posted an incorrect price for the new Lucas Oil Speedway and will offer a $3 credit for those who overpaid for the track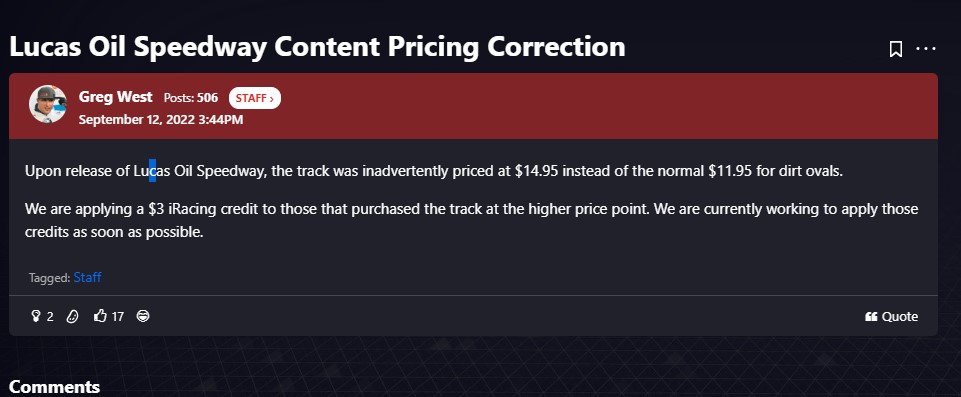 https://forums.iracing.com/discussion/29099/lucas-oil-speedway-content-pricing-correction#latest
---
---
WoO Late Model Series Week 7
Evan Seay wins his third WoO Late Model Race of the season at Knoxville and extended his points league over Blake Matjoulis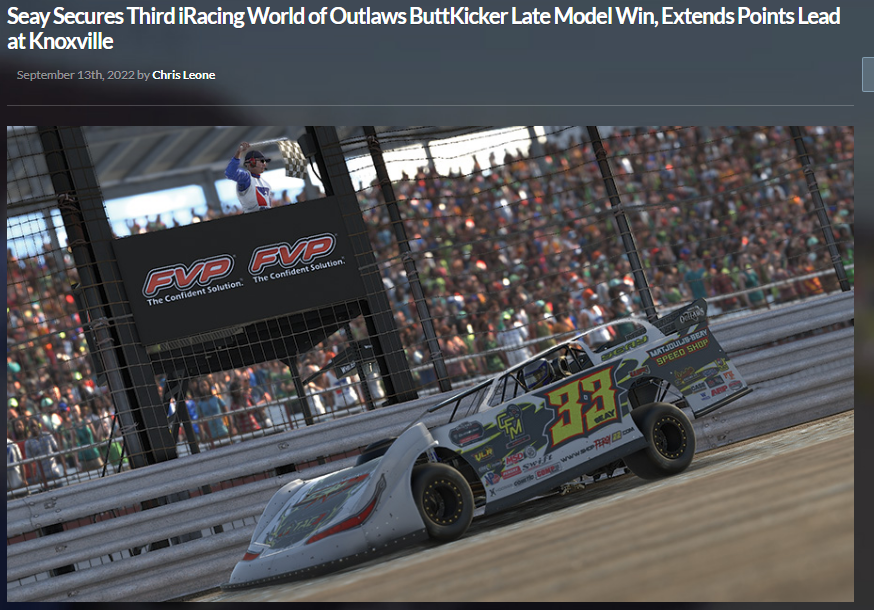 | | | | | | | | | |
| --- | --- | --- | --- | --- | --- | --- | --- | --- |
| Fin. | St. | No. | Driver | Laps | Interval | Led | Best | Pts. |
| 1 | 4 | 33 | Evan Seay | 50 | | 17 | 18.336 | 78 |
| 2 | 2 | 80 | Dylan Wilson | 50 | -0.562 | 12 | 18.404 | 75 |
| 3 | 7 | 25 | Zack McSwain | 50 | -1.785 | 0 | 18.452 | 71 |
| 4 | 3 | 52 | James Edens | 50 | -2.312 | 0 | 18.439 | 69 |
| 5 | 11 | 48 | Dylan Yeager | 50 | -2.947 | 0 | 18.532 | 64 |
iRacing World of Outlaws ButtKicker Late Model Series points after seven rounds are as follows:
Evan Seay, 533
Blake Matjoulis, 471
Dylan Yeager, 436
Kendal Tucker, 422
Dylan Wilson, 388
https://www.iracing.com/seay-secures-third-iracing-world-of-outlaws-buttkicker-late-model-win-extends-points-lead-at-knoxville/
---
---
iRacing Season 4 2022 Build Highlights
iRacing posted a video on their YouTube channel wit a recap of the season 4 build
The green flag is waving for iRacing 2022 Season 4! This season includes the release of iRacing's first fully electric race car, the Porsche Mission R, a pair of new European Road Courses, Motorsport Arena Oschersleben and Rudskogen Motorsenter, and a new Dirt Oval, Lucas Oil Speedway. We've added Indianapolis Motor Speedway – IndyCar Oval using our 2022 laser scan data, and have rebuilt all of the artwork for both the ARCA Menards Chevrolet Impala and Lotus 79 from scratch. A host of quality upgrades have also been completed, including a substantial change to the New Damage Model so that now damage builds up in areas on your car with repeated strikes which could eventually cause breakage, a rewrite and significant upgrade to the Low-Frequency Effects audio system, and the addition of Driving Aid Pit Lines for all Road Courses. For the iRacing UI, the veteran-favorite Race Guide is now available, as well as Custom Car Classes for AI Racing, and a few new Guided Tours. With our seasonal AI update, we have gone back to our Grand Prix Legends roots with the release of the Lotus 49 along with the much anticipated release of the NASCAR Cup Series Next Gen cars and 18 other new pieces of content. Buckle-up and drive full-throttle into iRacing 2022 Season 4!
https://www.youtube.com/watch?v=2USVeBp1GWk
---
---
Incoming Scans?
oooh, Just had a thought…. Pontiac for the '87s and a new midget scan to replace the current one?
https://twitter.com/DaleJr/status/1570039558410063873
---
---
2022 Season 4 Patch 1 Release Notes
iRacing posts the release notes of the first patch of Season 4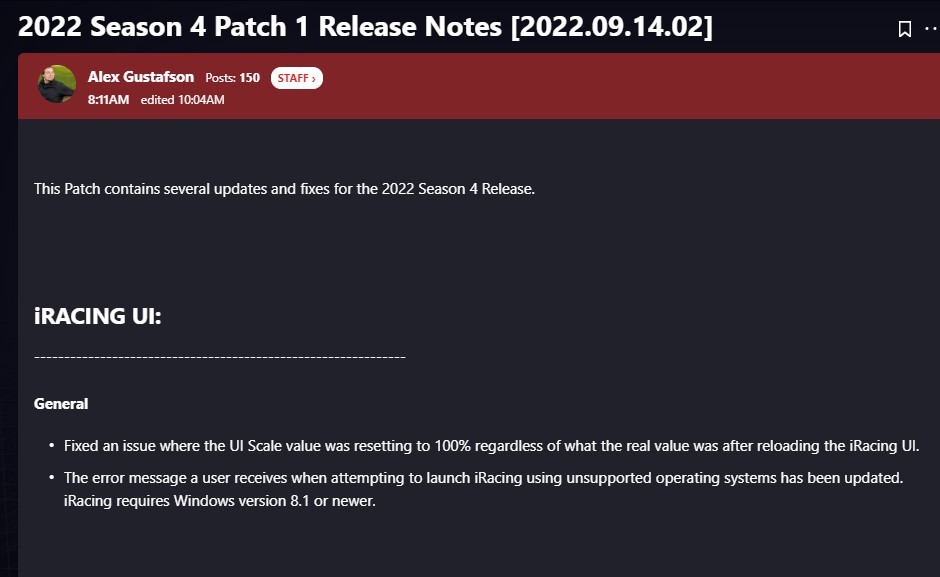 https://forums.iracing.com/discussion/29283/2022-season-4-patch-1-release-notes-2022-09-14-02#latest
---
---
Saddle up!
Ford along with Tony Stewart is introducing a new reign of racing ponies joins the herd– bringing bold styles and advanced engines to the Ford Performance family.
https://twitter.com/TonyStewart/status/1570444786066395136
https://www.youtube.com/watch?v=d8YGKZPz4eE
---
---
NIS 2023 Schedule
Nascar announced their 2023 Cup schedule, and by default the schedule of the 2023 NIS schedule.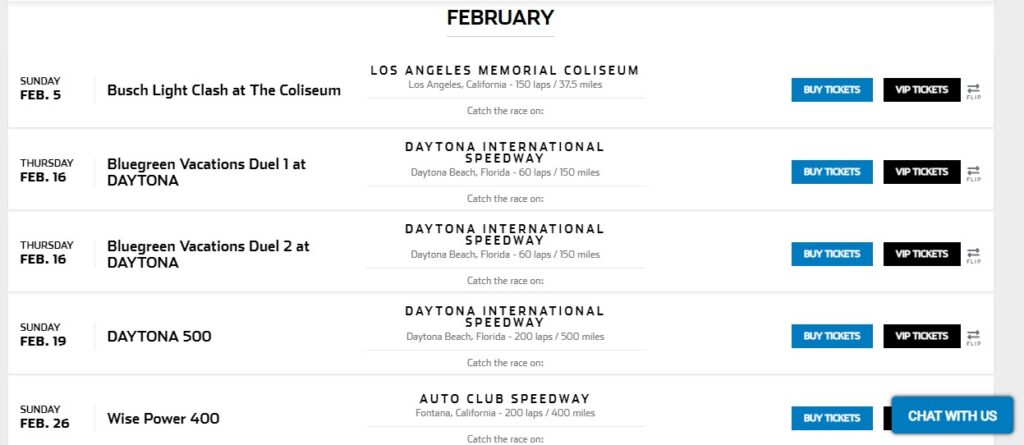 ---
---
Podcast Housekeeping
Leave us a review on your favorite podcast platform to make it easier for more listeners to find the podcast. Mention the podcast to your fellow drivers so they don't miss out, we would appreciate it.
Check out our Discord https://discord.gg/rvRas4DDqF
New Website – Leave Comments https://www.iracerslounge.com/
---
We are in the regular rotation… (Mike)
https://performancemotorsportsnetwork.com/
https://channelstore.roku.com/details/9d27a1e9dd15b92535d7cfe85407288e/the-sim-racing-channel
https://thesimracingchannel.com/watch-live/
Fantasy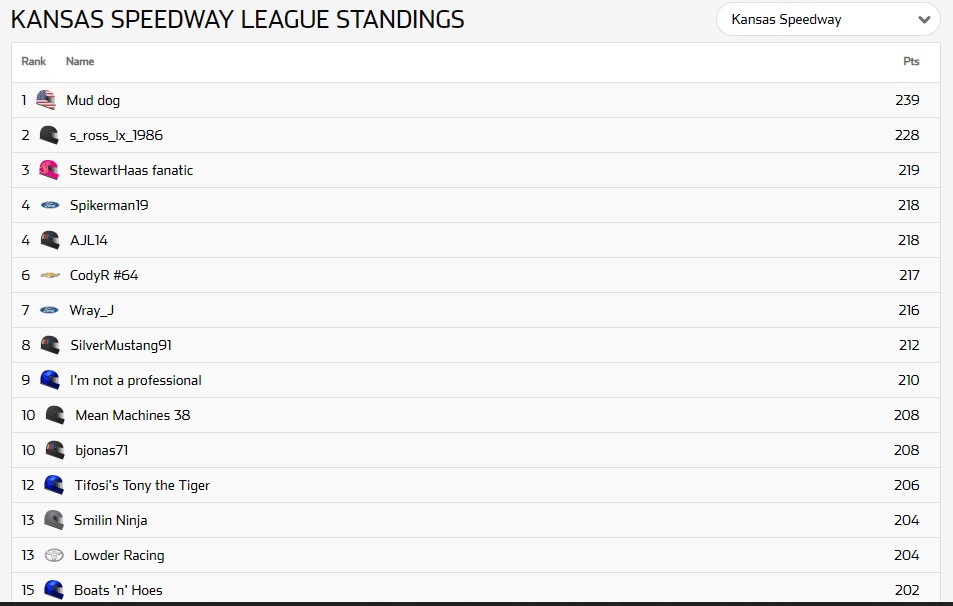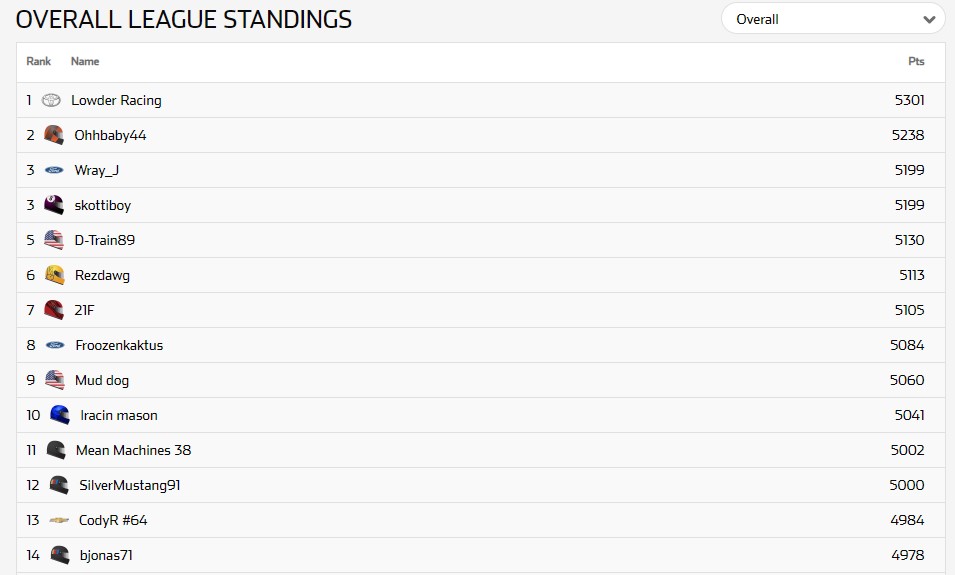 ---
---
Hardware/Software
Brought to you by: SUPREME 3D Printing

Are you looking for that next Sim Rig upgrade, or maybe your man cave needs a little more style, or is your wife wanting to redecorate your home? Well, we here at Supreme 3D Printing have you covered. We create and print tons of different and useful items that is sure to fit everyone's style and budget. If you don't see what you're needing, then feel free to contact us for your needed item.
Check us out Etsy at https://www.etsy.com/shop/Supreme3Dprinting.
---
Sim Coaches PC's
Sim Coaches posted a YouTube video of their new top sim racing PC's availble
https://www.youtube.com/watch?v=AsdhC4wowo8
---
---
Standard or Inverted
Sim Coaches asks which do you prefer, Inverted or standard pedals with their hydraulic pedals?
---
https://www.youtube.com/watch?v=ssE3s35GZco
Cammus
Cammus shows off their new profile rig and offer a 5% discount if you use code "Simlegends"
https://www.instagram.com/p/CiTPUXWrTYR/?igshid=MDJmNzVkMjY%3D
https://shop.windbooster.com/product-category/racing-gauge-accessories/gaming-racing-simulator/
---
---
Heusinkveld Upgrade kits are Back
Heusinkveld announced that their Upgrade Kit for the classic Sim Pedals Ultimate is back in stock. The kit contains the main technical enhancements as seen on our latest Sim Pedals Ultimate+, incl. SmartControl software
https://twitter.com/HeusinkveldEng/status/1567497009942204422
---
---
Monkey Driver Rig
Monkey Driver shoes off their tubular design, formula style sim rig with motion actuators
https://www.instagram.com/reel/CiUzU6KpT8f/?igshid=MDJmNzVkMjY%3D
---
---
Cammus DD Review
Sim Racing Corner reviews the Cammus $499 – 15nm wheelbase.
https://www.youtube.com/watch?v=ByVLHdaiFDc
---
---
To Glove or not to Glove
Sim Racing arms asks Why and what type of Gloves he uses for sim racing
---
https://www.youtube.com/watch?v=Ptysd0T6G-I
---
A New Driving Coach
Scott Mansell of Driver 61's Youtube Channel has built and developed a sim racing driver development app. A quote from the website, "We've spent years coaching 1000's of drivers from the sim to F1. We have taken all that knowledge and created an app that gives you a powerful path that interactively teaches you how to actually unlock your ultimate pace. One week at a time."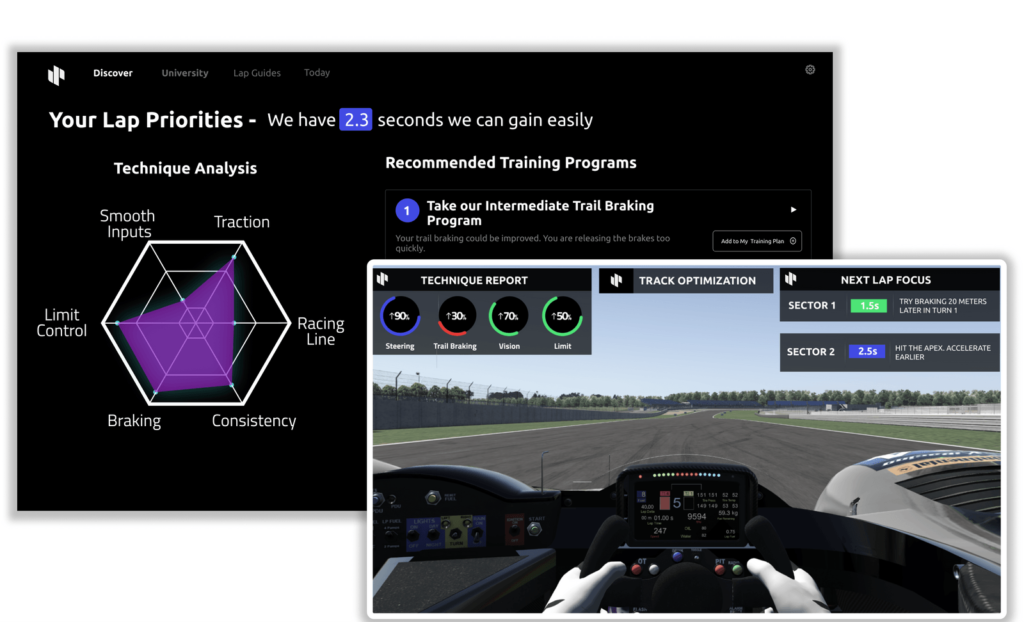 ---
---
Simagic Alpha Mini – The Mighty Mouse of DD Wheels
The SimPit gives a full review on their YouTube channel reviewing the Sim Magic Alpha Mini
https://www.youtube.com/watch?v=yn7ERF39aTc
https://us.sim-motion.com/products/simagic-alpha-mini-wheel-base
---
---
GRID ANNOUNCEMENT
Grid by Sim-Lab Ltd. is proud to announce a 3-year official licensing agreement with Porsche. GRID is known for its high-end products and is introducing the Porsche 911 RSR Sim Racing Steering Wheel as the first product of several that will carry the official Porsche branding.
https://www.instagram.com/p/CifjfwgLn63/?igshid=MDJmNzVkMjY%3D
GRID ANNOUNCEMENT: We are proud to share the news of our official license with Porsche on various products under the GRID brand. To start, the official GRID 911 RSR is now available for purchase on our website and is the first GRID product carrying the Porsche branding.
https://gridbysimlab.com/blog/our-blog-5/post/grid-announces-porsche-license-deal-25
---
---
Simucube VS. Fanatec – Best Direct Drive
Lawrence from Sim Coaches put s video out on their YouTube Channel talking about wheel bases and which one is best
https://www.youtube.com/watch?v=7uGg426hu6c
---
---
Making a Vintage Racing Wheel – Art, Woodturning
Cammie's Garage makes a vintage wood steering wheel by hand.
https://www.youtube.com/watch?v=-HVh9w9EYbM&t=1s
---
---
Results
Brought to you by: SIMWRAPS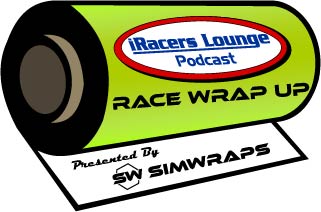 In need of a identity? A wrap is more then vinyl on car, it's you and your teams identity on track, so standout not blend in. SIMWRAPS can design not only race vehicle, but fire suits and helmets as well. SIMWRAPS can work with any budget to make sure you do standout in a crowd field. Make sure to pull in for a pit stop and check out our work at www.SIMWRAPS.com or your typical social media sites like facebook and Instagram.
NASCAR iRacing Series
Friday Open: Kansas
Ellis – Wrecked out a guy was losing it in the middle I went around is outside to go around him he just barely clipped me I ended up with 29 seconds optional and 3 1/2 minutes required and the car was not drivable.
Rochette- P31 just found myself in the wrong spot wrong time wrecking car clips and sends me into the wall ends day
Spiker -P19
Kyle – Started P15 and gained 5 spots in the first lap. Had a few quick cautions early. Restarted on Lap 21 and had a different pit strategy green flag stop around lap 80. Came out 1 lap down and in 21st. Ran strong getting back past the leader and and driving away. Started picking off positions quickly with the freshest tires on the track. Got up to P7 and a caution comes out at lap 101. Pitted with the rest of the leaders and lap 113 caution flys again Sitting P5 I decide to pit while the rest of the leaders stayed out.Came out the gate conserving my tires. And caution flys again a a lap or so later. I stay out and on the restart got the lead with 12 to go and battled for several laps for the lead. With 5 or so laps to go im sitting p3 and the caution comes out. We go into OT and I tailed the leader on the restart and run him through 1 and 2 only staying a fender behind him. We take the white and now p3 is working on me and I just couldn't hold him off So i walk away with a Podium P3. Still gaining iRating like crazy.
Rochette -P14

just couldn't figure this track out this year. Glad its over
Kyle –

That one bad race. Started P14 on a new setup. The car was loose and just dropped back fast. Got hooked on lap 11 and took major damage. Pitted and fixed the damage. Came out 17 laps down and was way off the pace. But was hoping to just take away any positions from wrecked out drivers. Worked in my favor and went from 35th to 24th.
Hall – wrecked. Car right in front of me got loose. Car was crap anyway. Work I did on the set didn't pay off at all, it drove nothing like it should have.
Mike -p23 – There were a bunch of early cautions and one guy was the common denominator I ended up and getting involved in two of his cautions for eight acts with 13 minutes damage. I got it all repaired and went back out there and finish P 23. I was determined to finish the head of the guy who caused all the cost of the shirt off he eventually wrecked him self out.
Wednesday Open: Bristol
Hall -wrecked out, the ultimate choke
Ellis – started 19th got involved in a caution not too much damage, but was trapped a lap down and had to take awave around. There's several cars in front of the leader as we come to the one to green and it doesn't wave us around so the lap cars end up starting the race in front of the leaders. Later another caution comes, but I'm not a lucky dog later at lap 50 another caution comes and I stay out to try the wave around again, and it works. Luckily, I got another caution to get back on the same tire strategy. Driving forward from there. God is high SP2 was running about fifth when I spend on my own down to the inside and created 4 1/2 minutes damage losing three laps. Speed still good there and I continue on later. Getting another wreck that I couldn't miss. Bringing it to six minutes damage. still three laps down, but through attrition gradually work my way up and up and up and by the end of the race I was p4!!!
Rochette -P2 heartbreaker in last great coliseum. Was definitely the fastest car as led 87 laps and stayed top 3 all day. Wrong pit strategy and a yellow coming out just before i was about to unlap myself from a green flag stop (would've gained 3 laps in 20 laps run). Got lucky dog in 3rd so started behind the lappers and not enough time to make my way up front. So close yet so far
---
---
Official Series
A Open

Hall – p15 in a 6.3k SoF 13 pro's

I was slow on first 30 laps, but as the leader was getting near lapping me, I started matching his speed. I pass a car and catch a 2 lap down car who doors me to keep me from getting by him. I get back in around behind around 8th and fight to catch back up to the other LD candidate. Couple of pro's didn't like it, but I was pacing them and holding my line not blocking. Caution Comes, I take wavearound. Pays off as the 2 lap down idot wrecks a pro. 80 lap run to finish. Again Garret Manes gets to within 3 seconds of lapping me. Then I start pasing cars and drive from 21st to 15th. Had a shot af 11th as we were bunch up at the end, but with the battling right in front of me I couldn't snag another spot.
---
Ellis – F 2000 at Summit raceway – started P8 out of 13 got to pee six near the end of the first lap and on the final corner I spot it and tour of the left front off.

Kyle Ran a bunch of the Mazda Global MX5's I forgot how much fun these cars are. A lot of P2 finishes trying to save my A license.
---
League / Hosted Races
FastTrack League – Michigan

Mike – p15 – was running like crap, dead last and not up to pace really… GF stops started to happen i stayed out, ended up getting a caution before pitting caught the lucky dog. So ended up p9 starting 9th coming to one to green, and the admins decide to arbitrarily throw a delay to the green. Now, I am put back from 9th to 21st I have to let all the wave arounds by… I call out over the radio totally unfair, and am given no explanation, no sorry, no nothing i have to go to tail end… I get other drivers trying to argue that I would have had to let them by anyways… So we go again and same thing a gf cycle starts, and then i stay out, catch the caution, p6… once again 10 on lead lap they delay the gf again…. I call them out again, unfair… I was slow and needed those 15 cars to be spread out coming to green so it was harder to catch me… but because of admin pushing a button that didnt need pushed, they were all up right behind me… IMO delay of green should never be used due to its unintended consequences. This is why leagues suck… Admin didnt mean to screw me, but they did none the less… If this was official, it would have never happened.
Adam – p dnf – too loose –
unofficial – Ellis

Mazda cup at Rudskogan motor Center. Qualified P5 out of 19 got ran over from behind in the first high-speed corner ended up dead last worked my way back up to 12th.

Next race qualified P8 out of 19. I had a few slow down penalties which really put me back but I got up to P7.

Week 13

Hall P1 twice in Ridiculousness.
Chris McGuire hosted racing. Kia Optima at Daytona. Wrecked out but still finish ninth.
Kyle and David won each class in a Porche EV and Trucks race at Dega
radicals and lotus 79 at the new free track. Wrecked out
---
---
Final Thoughts
---
---
Words Spoken in Closing Audio Clip -""Thank you for listening to the iRacers Lounge podcast make sure to go subscribe to us on iTunes, SoundCloud, or Google Play, Facebook & Twitter, See You On The Track ."
TITLE
Steering with Wood
Description
On the show today, we will recap the Coke series playoff race at Bristol with the voice of eNascar, Evan Possoco. We'll check out some of the new Seaason 4 updates in action, We'll peak inside Dale Earnhardt Jr's garage to see what might be next for iRacing and review the 2023 NIS schedule. So sit back, relax and join us on the iRacers Lounge Podcast.
iRacers Lounge Podcast is available on iTunes and Apple's Podcasts app, Stitcher, TuneIn, Google Play Music, Spotify, Soundcloud, Podbean, Spreaker, Podbay, PodFanatic, Overcast, Amazon, and other podcast players.
Sponsors:
Hosts:
Mike Ellis – twitter.com/MikeDeanEllis
David Hall – www.twitch.tv/mixmage
Greg Hecktus – twitter.com/froozenkaktus – www.twitch.tv/froozenkaktus
Brian Maccubbin – www.twitch.tv/MacRubbinsRacin
Kyle Pendygraft – twitter.com/LoudPedalGaming
Tony Groves – www.twitch.tv/SirGroves
Adam Josselyn- twitter.com/Jossad83
Tony Rochette – twitter.com/TonyRochette
Tom Dreiling –
Donnie Spiker –
Bobby Jonas –
Links:
Facebook – www.facebook.com/iRacersLounge/
Twitter – twitter.com/iracerslounge
Instagram – instagram.com/iracersloungepodcast/
Web (Show Notes) – iracerslounge.com/