9/8/2022 – Orange is the New Yellow – Episode 0347
iRacers Lounge Podcast – Conversation Topics
Brought to you by:

Opening Audio Clip -"Your listening to the iRacers Lounge Podcast where we discuss everything iRacing, in a casual setting, enjoy."`
READ THIS AT THE TOP OF EACH SHOW!!!
Welcome to the iRacer's Lounge, I am your host "XXX". iRacer's Lounge is a podcast for the iRacer, where we talk all things iRacing in a casual setting.
Joining me are the usual characters, ———— 
---
---
Show Introduction
And remember you can follow along with us on your PC or mobile device in real time as you listen to the show and see for yourself all of the great topics and products we'll discuss by visiting iracerslounge.com and selecting show notes. Hope to see you there..
---
---
TITLE SPONSOR READ:
SimCoaches offers the realistic sim racing equipment you need to win more races online…. It is designed for real racers… Hydraulic construction makes them feel just like the real thing. High-Quality Construction, 100% Leak Proof, and Lifetime Warranty are the key features with these pedals. And, they look absolutely amazing… Check out simcoaches.com and use the coupon code IRACERSLOUNGE to get 10% off your purchase. Simcoaches.com is your ticket to feel like your actually sitting behind the wheel of a car. Drive harder and stay on the limit longer…
https://simcoaches.com/?fbclid=IwAR1pJASM3C_nV3wFACEHJrHitf8TOQWro4yp-Etaio1zU8Enbojap2Xff5w
---
Topics
---
iRacing Connected
iRacings's Director of Marketing and Communications tweeted out information regarding a new iRacing email news letter, called, iRacing Connected.
https://twitter.com/kevinbobbitt/status/1565734941643653124
---
Motorsport Arena Oscherleben
iRacing Quote:
iRacing will add Motorsport Arena Oschersleben to a list of well over 100 officially licensed tracks available on the world's premier sim racing service with the release of the 2022 Season 4 build next week. The German track will feature four layouts—Grand Prix, Moto, and two shorter layouts utilizing parts of the track—upon release, and will be purchasable by all iRacers for use in public races, hosted and league sessions, time attack, and test drive gameplay modes.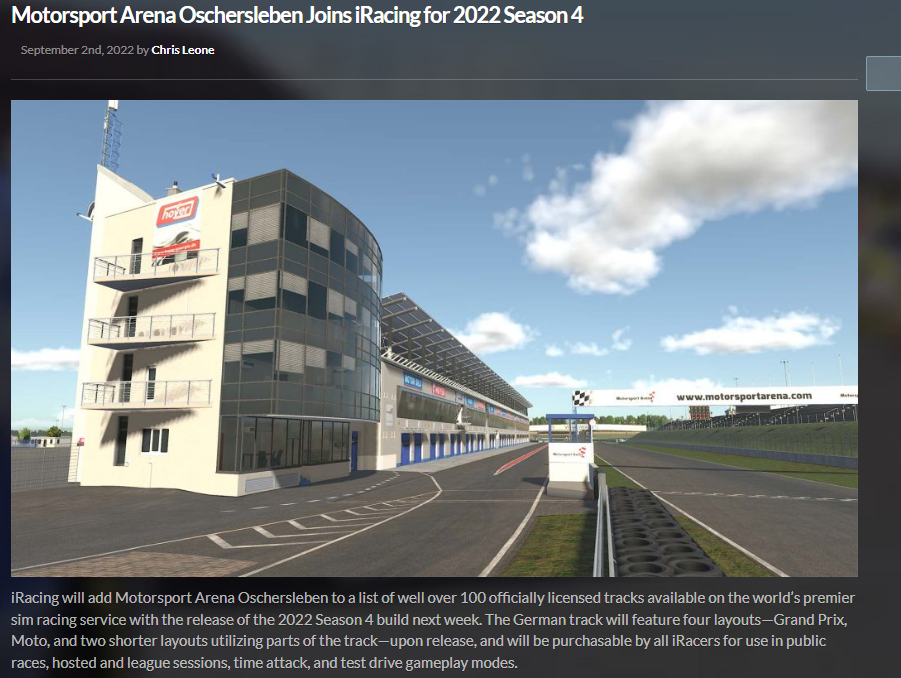 https://www.iracing.com/motorsport-arena-oschersleben-joins-iracing-for-2022-season-4/
https://www.youtube.com/watch?v=9VEfnFZJpM0
https://www.instagram.com/p/CiP9RRvO9Zw/?igshid=MDJmNzVkMjY%3D
---
RaceSpot TV Hacked!
https://twitter.com/RaceSpotTV/status/1566149993379028993
---
Another Dirt Track for iRacing
Dale Jr. tweeted this week his desire to have DuQuoin State Fairgrounds added to the service. DuQuoin State Fairgrounds Racetrack is a 1.0 mile dirt track located in DuQuoin, IL.
https://twitter.com/DaleJr/status/1566833202613944321
---
Porsche Mission R at the Hockenheimring
iRacing posted to their Youtube channel the Porsche Mission R taking on the Hockenheimring in Germany.
---
https://www.youtube.com/watch?v=wFN8iQdnMLw
---
A ROVAL Roll
@arronb18_ tweeted a video of a Nascar Next Gen car hitting the T1 turn turtles at the Charlotte Roval. As a result, the NG car takes flight, barrel rolls, lands on all fours and continues through the Oval's T1.
https://twitter.com/arronb18_/status/1566919273674686467
---
Rajah to the Xfinity Series?
Rajah Caruth tweeted a tease of an Xfinity banner, an Xfinity car with an iRacing paint job with Caruth on the name banner. Is Rajah going Xfinity racing? If so, with who?
---
https://twitter.com/rajahcaruth_/status/1567281927987642369
---
The Dallara iR-18 at the newly scanned Indy Oval
iRacing posted a video to their Instagram showing off the newly scanned oval at Indianapolis with the Dallara iR-18.
https://www.instagram.com/tv/CiNgKjADia_/?igshid=MDJmNzVkMjY%3D
---
NEW CONTENT // Lucas Oil Speedway
https://www.youtube.com/watch?v=LeIm6YtPY70
---
2022 Season 4 Preliminary PDF Schedule
https://forums.iracing.com/discussion/28694/2022-season-4-preliminary-pdf-schedule
---
Extremely hard lick
https://twitter.com/doit4dael/status/1567905802341728257
---
NEW FREE CONTENT // Rudskogen Motorsenter
https://www.youtube.com/watch?v=6kt_pkFYwiY
---
Sim Racing Effecting Real Racing
https://twitter.com/nwbspeedway/status/1567892285567688716?s=11&t=zexHZCfiLq0H4naQaytbJg
---
2022 Season 4 Release Notes
---
eNASCAR College iRacing Series Returns; Prize Pool Expands to $60,000 in Scholarships
https://www.iracing.com/enascar-college-iracing-series-returns-prize-pool-expands-to-60000-in-scholarships/
The 2022 Bathurst 1000
https://forums.iracing.com/discussion/27748/iracing-presents-the-2022-bathurst-1000
---
Podcast Housekeeping
Leave us a review on your favorite podcast platform to make it easier for more listeners to find the podcast. Mention the podcast to your fellow drivers so they don't miss out, we would appreciate it.
Check out our Discord https://discord.gg/rvRas4DDqF
New Website – Leave Comments https://www.iracerslounge.com/
---
We are in the regular rotation… (Mike)
https://performancemotorsportsnetwork.com/
https://channelstore.roku.com/details/9d27a1e9dd15b92535d7cfe85407288e/the-sim-racing-channel
https://thesimracingchannel.com/watch-live/
Fantasy
---
---
Hardware/Software
Brought to you by: SUPREME 3D Printing

Are you looking for that next Sim Rig upgrade, or maybe your man cave needs a little more style, or is your wife wanting to redecorate your home? Well, we here at Supreme 3D Printing have you covered. We create and print tons of different and useful items that is sure to fit everyone's style and budget. If you don't see what you're needing, then feel free to contact us for your needed item.
Check us out Etsy at https://www.etsy.com/shop/Supreme3Dprinting.
---
Simagic Q1-S Sequential Shifer
Ricmotech is offering Simagic's Q1-S Sequential Shifter for $289.00 and an additional $40.00 for the longer handle.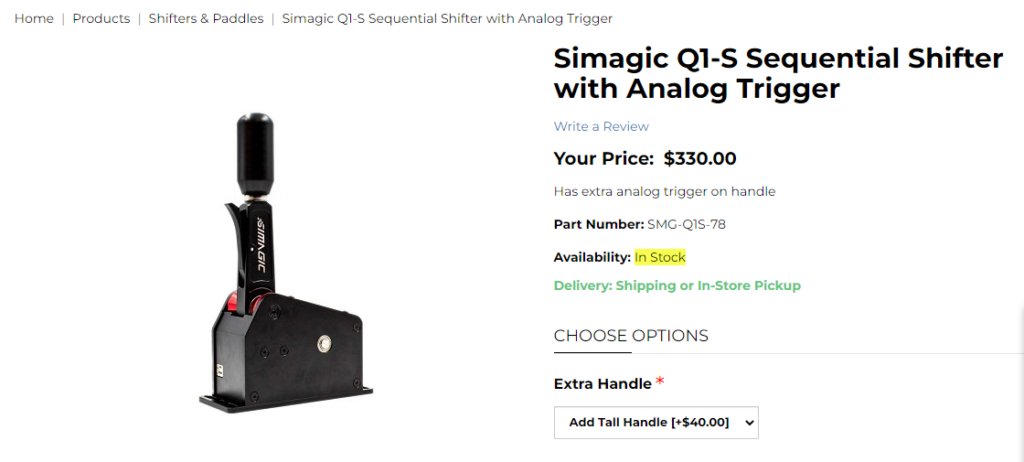 https://www.ricmotech.com/Simagic-Q1-S-Sequential-Shifter-with-Analog-Trigger_p_550.html?mc_cid=929b04884e&mc_eid=e82858520c
---
INSIM Talento Pedals
The SimPits' Youtube channel posted a video of INSIMS new Talento Pedals.
https://www.youtube.com/watch?v=J4lW1fLEbGI
https://www.ricmotech.com/ImSim-Pedals_c_147.html
---
Is Your CAMMUS Getting Hot
A Youtube Video posted by the Sim Racer Corner provides a potential fix for the Cammus DD overheating.
---
https://www.youtube.com/watch?v=GImqrihEDD0
---
Sim Coaches Hand Brake
A YouTube video by Sim Coaches Lawrence, breaks down, what he calls, the most expensive USB handbrake.
https://www.youtube.com/watch?v=CaTmZOVMnb4
---
Integrate Your Cube F-Pro
A Youtube Video by Theoloop provides, quick, detailed instructions on how to personalize your Cube Controls F-Pro Wheel Rim.
---
https://www.youtube.com/watch?v=y9aBF7ZfmdY
https://drive.google.com/file/d/1xq8sEVZSRT0RYsvOq69P7CG4Pbzo2Kwp/view
---
Sim Coaches Shop
Sim Coaches gave a tour of their shop and an update on products they are working on.
---
https://www.youtube.com/watch?v=POpA7z561hM
---
A Tease from SiMedal
Only a tease was posted of this wheel rim by SiMedal, with the caption of, "Stay Tuned."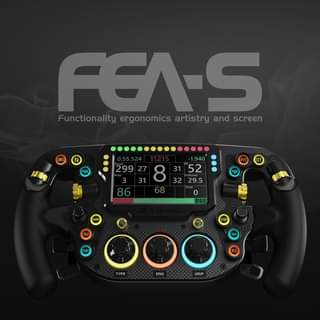 ---
Are You Paying Attention to Asetek?
On an Episode of the Traxion Podcast, Asetek CEO Andre Eriksen details the company in its current and what plans they have going forward.
---
https://www.youtube.com/watch?v=HEHYdpoxs6o
---
Sim Coaches Load Cell Pedals
Sim Coaches put out a video showing off their new load cell pedals.
---
https://www.youtube.com/watch?v=ixMq4j_0pp4
---
Rig Review
https://www.tiktok.com/@aaronnicholson17/video/7140795208400112939?is_from_webapp=v1&item_id=7140795208400112939
---
DSD LMS Bluetooth Sim Racing Rim
In an era where everyone is jacking up their prices to the moon, DSD give you discounts! They tell me I've lost my mind!
Now is your time to get a DSD FX70 Formula Bluetooth Rim with a HUGE Discount! Hit the DSD Site for details and get yours now! We have only a few in stock and they are ready to go. We've even upgraded the paddle magnets and they are massive. Click the button and you will get all the details!
Don't wait since they will not last and the special prices are for a limited time only!
https://derekspearedesigns.com/rims.html
---
Results
Brought to you by: SIMWRAPS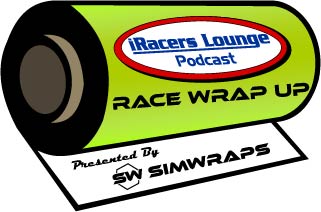 In need of a identity? A wrap is more then vinyl on car, it's you and your teams identity on track, so standout not blend in. SIMWRAPS can design not only race vehicle, but fire suits and helmets as well. SIMWRAPS can work with any budget to make sure you do standout in a crowd field. Make sure to pull in for a pit stop and check out our work at www.SIMWRAPS.com or your typical social media sites like facebook and Instagram.
NASCAR iRacing Series
Fri open: Darlington
Ellis – p3! – Started mid pack got to about 5th and ran back half of the top 5 for most of the night. At one point we split tire strategy and I ended up leading some laps. Some short runs at the end played in my favor, I will take the podium!
Rochette- P11 Sounded like a sqwauker all night – we couldnt hear him in teamspeak (started on pole led a couple laps went to pit to try to figure out audio. Came from the back to front again pitted mustve got a bf for something i had to go to the back again made my way up front. Was definitely top 3 car again. Pitted for 2 tires on that gwc. 2nd place hit the wall i got in the back made the save than hell broke loose and see how that ended up
Hall – p 21 laps down, caught in unavoidable
Spiker – P11, Q24
Sunday Open

Rochette-P33rd 2nd straight pole for the lady in black but that wench had other plans. First steam VR Decided it wanted to quit on me 3 laps in of my second and half lead out of T2 and i made it safe to the inside wall without killing anyone. Than got iracing back up was 4 laps down. Think i passed more cars than i ever had to get within a lap down and some back marker just doors me out of 4 and kills it. Ive had tons of fun with Darlington this week but have had the crappiest luck

Hall – p wrecked unavoidable on lap 3.
Sunday fixed

Mike –p wrecked out – got squeezed hard into the wall at one point early, 3 and half minutes dmg – car was still fast though – as i did repairs each caution i would drive back up through the field – like 25th to 10th or 21st to 8th. At some point I gave up on fixing damage and kept track position and got to the lead for at least one lap… I was running fifth near the end and someone ahead spun way down low and came right back up into the track and I plowed in hard… 16 minutes damage. I'll tell you what that race with Tom tonight was a lot of fun. I drove through the field multiple times. We run third and fourth and I'm trying my hardest to get to second and I can't do it and I finally say OK tell him you take a swipe at it and he drives right up to the first takes the lead. If there was no caution he had them covered . I don't know in a fixed race like that in NiS… everyone in the same set. To be a good notch faster than everyone else it's felt really good

Tom – P-.wrecked out – w about 10 to go drove up from 4th to the lead – but the caution came, took tires restarted 7th got to 4th but clipped a guy and spun out and wrecked hard… Needed a long run at the end to win it.
Race : Kansas
Wed Fixed
Wed Open:

Hall –p 11 mid pack speed. No incidents.
Ellis – p17 – ran about 20th to 25th most of the event – later got on alternate tire strategy and led some laps… But no late cautions put me dead last on lead lap.
Kyle P – P7 Started 12th and started to strong and burnt up my tires. Found the top ;ine was harder on the tires and made the car free on exit. Adjusted my line to the bottom and found more consistency and speed. After falling to the high 20's I made my way back through the field. Got as high as 5th but just couldn't hold on to it. Last caution came with 10 go. Restarted with 6 laps in p9 and just battled my way to a p7. Darlington and Kansas have been great for farming iRating for me.

Tony R – P something something made it to lap 20 when decided to park it as my quality bar was hanging out in the 40s and was blicking. Been awhile since my internet took a big steaming pile.

Thurs Open

Ellis – p 6 – different set today but it was worse then last night – basically ran between 20th to 25th all race – some late cautions and some luck got me to the top ten for the final restart, p6 I will take it and walk away…
---
Official Series
Ellis – F 2000 at Lime rock- qualified P7 out of 13. Went off track by myself three different times ended up P9
PDS Euro Sprint Series

Hall – P1 at Daytona

Hard Fought with an actually full field. Set the pole but had a competitor who was set up to run fast on the banking. Stayed in his tow for the first half of the race, would run him down in the infield and loose a little ground on the bus stop. But after I ran him down and passed him once in the infield he short pitted. After Cycle I had a 3 second lead and pulled away.
2nd and 3rd WIN at Daytona

Something about this car and track just lets me out run guys with higher iRatings.
Nascar B-Open Kansas – P23, Q9. Kansas is my worst track. It seems so simple, but I am so slow here.
---
League / Hosted Races
---
Final Thoughts
---
Words Spoken in Closing Audio Clip -""Thank you for listening to the iRacers Lounge podcast make sure to go subscribe to us on iTunes, SoundCloud, or Google Play, Facebook & Twitter, See You On The Track ."
TITLE
Orange is the new Yellow
Description
On tonight's show, we will talk all things week 13 and review the new quarterly build. You'll get my thoughts on racing electric cars, and as usual we have tons of hardware topics. So sit back, relax and join us on the iRacers Lounge Podcast.
iRacers Lounge Podcast is available on iTunes and Apple's Podcasts app, Stitcher, TuneIn, Google Play Music, Spotify, Soundcloud, Podbean, Spreaker, Podbay, PodFanatic, Overcast, Amazon, and other podcast players.
Sponsors:
Hosts:
Mike Ellis – twitter.com/MikeDeanEllis
David Hall – www.twitch.tv/mixmage
Greg Hecktus – twitter.com/froozenkaktus – www.twitch.tv/froozenkaktus
Brian Maccubbin – www.twitch.tv/MacRubbinsRacin
Kyle Pendygraft – twitter.com/LoudPedalGaming
Tony Groves – www.twitch.tv/SirGroves
Adam Josselyn- twitter.com/Jossad83
Tony Rochette – twitter.com/TonyRochette
Tom Dreiling –
Donnie Spiker – twitter.com/spikerman19
Bobby Jonas –
Links:
Facebook – www.facebook.com/iRacersLounge/
Twitter – twitter.com/iracerslounge
Instagram – instagram.com/iracersloungepodcast/
Web (Show Notes) – iracerslounge.com/