8/11/2022 – Grasphalt – Episode 0343
iRacers Lounge Podcast – Conversation Topics
Brought to you by:

Opening Audio Clip -"Your listening to the iRacers Lounge Podcast where we discuss everything iRacing, in a casual setting, enjoy."`
READ THIS AT THE TOP OF EACH SHOW!!!
Welcome to the iRacer's Lounge, I am your host "XXX". iRacer's Lounge is a podcast for the iRacer, where we talk all things iRacing in a casual setting.
Joining me are the usual characters, ———— 
---
---
Show Introduction
On the show today we will see the crowning of the first ever iRacing World Off-Road Champion. We examine the playoff picture of the Coke Series, and we get a patch for the grass dipping controversy. And in hardware/software we see the tease of a dedicated PC build for iRacing from our great sponsors, Sim Coaches.
And remember you can follow along with us on your PC or mobile device in real time as you listen to the show and see for yourself all of the great topics and products we'll discuss by visiting iracerslounge.com and selecting show notes. Hope to see you there..
---
---
TITLE SPONSOR READ: (Hall)
Are you struggling with maximizing your braking zones when you're on iRacing? Locking up when you're trying to push it to the limit? I was in your shoes not too long ago. I'd see my competition braking deeper then me but no matter what I'd try, I couldn't match them. Until I started using Sim Coaches P1 Pro Pedals. With their true hydraulic design, they feel just like you're driving a car. They're made right here in the USA and even offer a lifetime warranty! For a limited time, Sim Coaches is offering you guys 10% off your order! You won't find a better discount anywhere…Head over to Simcoaches.com and use code IRACERSLOUNGE at checkout.
https://simcoaches.com/?fbclid=IwAR1pJASM3C_nV3wFACEHJrHitf8TOQWro4yp-Etaio1zU8Enbojap2Xff5w
---
---
---
---
Topics
---
---
How Nacsar Drivers Stay Sharp
An ESPN article by Austin Lindberg details how drivers use iRacing as a tool to stay sharp away from the track. The article cites two drivers, Anthony Alfredo who discovered iRacing by conducting a simple Google Search. The other driver, Rajah Caruth who related he started iRacing as an actual path he wanted to use to get into real racing.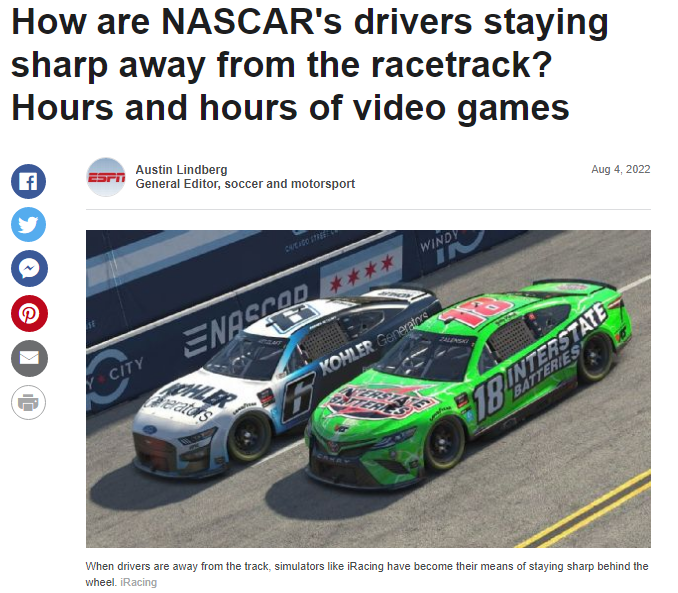 https://www.espn.com/racing/story/_/id/34346535/how-nascar-drivers-staying-sharp-away-track-video-games
---
---
Grass Dipping Update
Greg West announced a new patch that will address the grass dipping exploit from the Spa 24 Hour situation, while staffer Tony Gardner apologizes on behalf of iRacing for the existence of the exploit.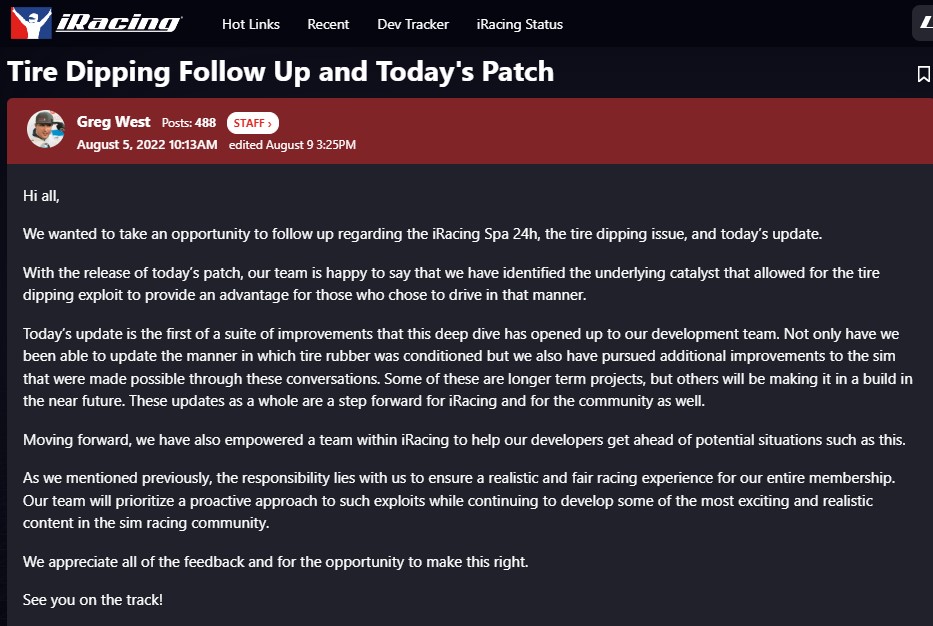 https://forums.iracing.com/discussion/27152/tire-dipping-follow-up-and-todays-patch#latest
https://forums.iracing.com/discussion/27148/2022-season-3-patch-3-hotfix-1-release-notes-2022-08-04-02#latest
Title idea – grassphalt –https://forums.iracing.com/discussion/comment/213348/#Comment_213348
---
---
Macroni Entertainment
Jeff Maconi announced via Twitter, the formation of Maconi Entertainment. Maconi Entertainment will be a broadcasting service for both in-house Maconi events and for hire work for leagues and other iRacing broadcasted events. More announcements are anticipated to be made in the coming weeks.
https://twitter.com/MaconiSetupShop/status/1555584467409960961
---
---
IMSA Esports Global Championship
IMSA Esports Global Championship announced today the first IMSA-backed iRacing series dedicated to professional sim racers and sim racing teams. The IMSA Esports Global Championship kicks off in October and will feature the world's top professional sim racers and sim racing teams competing for cash purses in each event of the four-race series and for the overall series championship. Races will be broadcast on iRacing and RACESPOT YouTube, Facebook and Twitch social media channels.
Multi Driver, GT3 and TCR Cars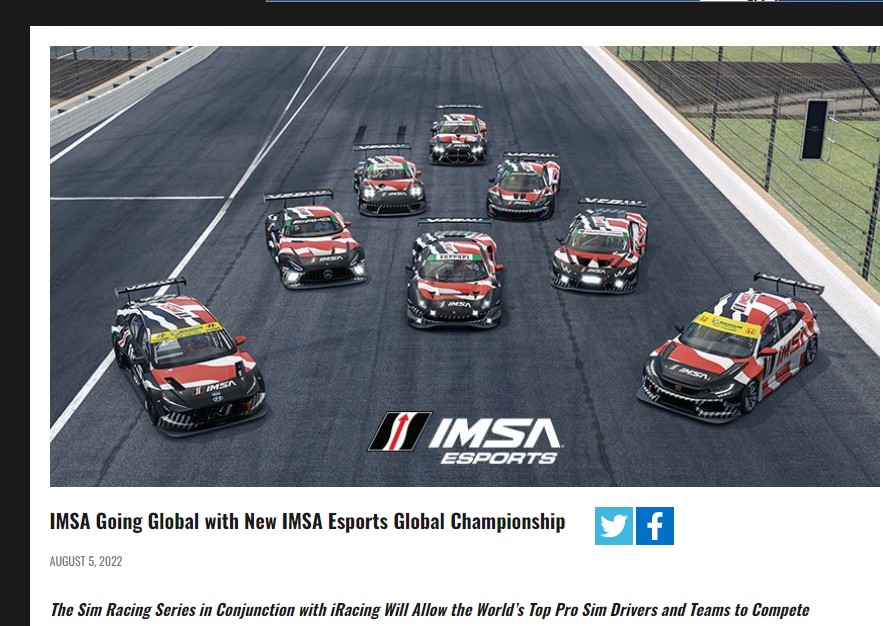 https://www.imsa.com/news/2022/08/05/imsa-going-global-with-new-imsa-esports-global-championship/
---
---
iRacing Highlights of the Week
iRacing posted on their YouTube Channel this weeks edition of the Highlights of the week
https://www.youtube.com/watch?v=tX28P3NJQEY
---
---
Coke Series Playoff Picture
iRacing posted on their webpage the path to the 2022 Coke Series Playoffs breaking down all of the contenders and hopefulls.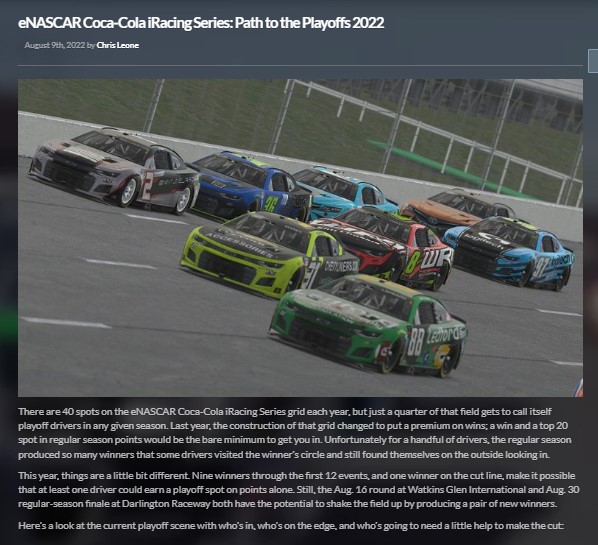 https://www.iracing.com/enascar-coca-cola-iracing-series-path-to-the-playoffs-2022/
---
---
WoO Late Model Series Week 3 – Eldora
This Monday night at Eldora Speedway EvanSeay got his first win of the season after finishing second in the first two weeks—although it came after contact with Cardwell. When that duo touched across the start-finish line with nine laps to go, sending Cardwell spinning into the Turn 1 wall and collecting Matjoulis in third, it cleared the path for Seay to not only take his first win of the season, but also extend his points lead.
https://www.iracing.com/third-times-a-charm-for-seay-in-iracing-world-of-outlaws-buttkicker-late-model-action-at-eldora/
---
---
Greg Hill Interview
Greg Hill talked about the grass situation at spa again apologize on behalf of the company talked about what they're doing to fix it and that it's lead to overall enhancements and how the car feels when you drive it off track…
He talked about the projects with NASCAR including Atlanta and Chicago and some of the behind the scenes discussions on how the track was developed.
He talked about getting the Indy road course out recently and that they're working on the oval and it will definitely be out in September build…
He talked about rain again didn't promise any kind of timeline and talked about how it works a bit more and how it'll be super realistic.
Then a little bit about active reset and how that works and how it might lead to other things that might be fun or educational.
Then detailed his personal work history, and more details about the racing game market back in the day, how iracing came to be, and how he and a few other key people like Steve Myers have built this into what it is today… Fascinating listen for sure if your a sim racing fan…
https://www.youtube.com/watch?v=CubRbd5aeQc
https://twitter.com/pablogz/status/1557389004718358528?s=11&t=Lnr-xhA3j5lTchjiUGSKKQ
---
---
Wheelchair Sim Rig
Justin Brown Posts:

Would anyone (or know anyone) interested in a wheelchair accessible racing setup? After 33 years of being paralyzed unfortunately I can no longer race due to both shoulders being "worn out" as my Dr. put it. This setup is best suited for a manual wheelchair. This includes Accuforce V2 with original wheel and a cheap no name smaller wheel.(pictured) Three 32in Sceptre 1080p 75hz monitors and Heusinkveld pro pedals.
https://forums.iracing.com/discussion/27290/wheelchair-sim-rig#latest
---
---
First Thought on Cup Ride, Get in Sim Now
"Coach called and there were so many things that needed to be figured out and we were just sitting by the side of the road, im like look, i just want to get home and get in MY sim and run some laps, sleep in my bed then go racing…. " Ty Gibbs stated talking about what happened when he found out he was subbing for Kurt Busch…
https://www.youtube.com/watch?v=GcW9rN5hg7M
---
---
Off Road World Championship
Killian Dall'olmo and Cam Pedersen took wins in the final 2 rounds of the iRacon Off Road World Championship, but it was Conner Barry who took home the series championship in the inaugural season.
https://www.iracing.com/connor-barry-becomes-inaugural-iracing-off-road-champion-at-crandon/
Results from Round 15 of the iRacing Off Road Championship Series finale at Crandon International Raceway presented by Vision Wheel were as follows:
#18 Killian Dall'olmo, 10 laps
#22 Quentin Dall'olmo, +0.255
#2 Connor Barry, +0.763
#58 Josh Edmundson, +1.240
#36 Christopher Plumley, +1.677
Results from Round 16 of the iRacing Off Road Championship Series finale at Crandon International Raceway presented by Vision Wheel were as follows:
#48 Cam Pedersen, 10 laps
#13 Jakob Rafoss, +0.105
#91 Felix Roy, +3.465
#87 Tommi Hallman, +5.131
#21 Keaton Swane, +5.262
Final points for the 2022 of the iRacing Off Road Championship Series season are as follows:
Connor Barry, 722
Keaton Swane, 697
Felix Roy, 629
Josh Edmundson, 619
https://twitter.com/Connor_Barry_2/status/1557573874694311936
---
---
Companion App Update
iRacing posted the release notes for the updates of their companion App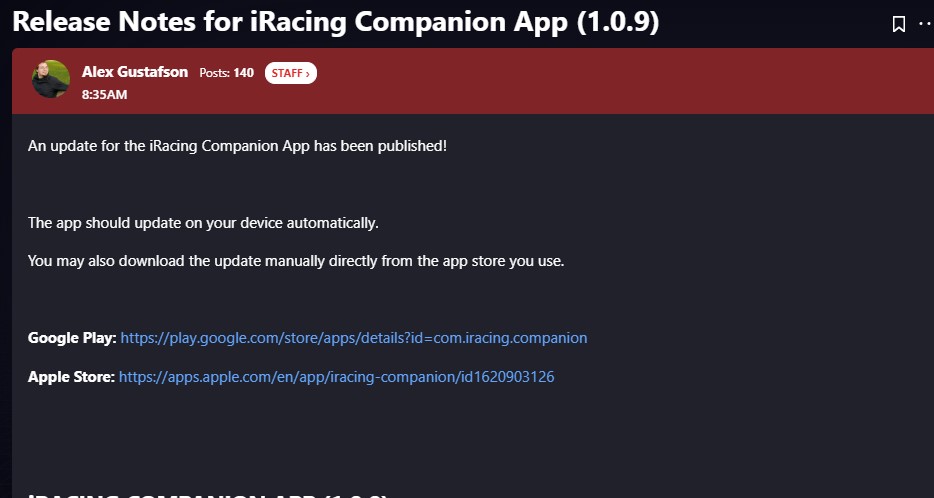 https://forums.iracing.com/discussion/27402/release-notes-for-iracing-companion-app-1-0-9
---
---
iRacing Presents 2022 Knoxville Nationals
The Knoxville Nationals is an annual sprint car event held at Knoxville Raceway in Knoxville, Iowa using the 410 Winged Sprint Car
Date: August 16th – August 21st
Monday through Friday 1 timeslot at 9pm ET each day (01:00 GMT)
Saturday Super Session taking the top 60 in overall points from the race week.
Timeslots – Saturday at 1pm ET (15:00 GMT) and Saturday at 9pm ET (01:00 GMT Sunday)
https://forums.iracing.com/discussion/27367/iracing-presents-2022-knoxville-nationals
---
---
Podcast Housekeeping
Leave us a review on your favorite podcast platform to make it easier for more listeners to find the podcast. Mention the podcast to your fellow drivers so they don't miss out, we would appreciate it.
Check out our Discord https://discord.gg/rvRas4DDqF
New Website – Leave Comments https://www.iracerslounge.com/
---
We are in the regular rotation… (Mike)
https://performancemotorsportsnetwork.com/
https://channelstore.roku.com/details/9d27a1e9dd15b92535d7cfe85407288e/the-sim-racing-channel
https://thesimracingchannel.com/watch-live/
Fantasy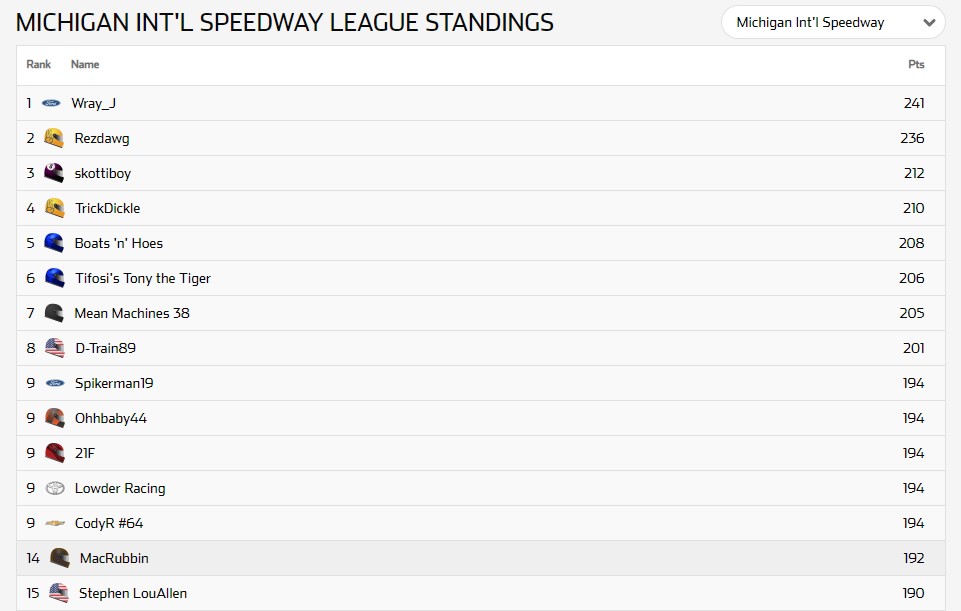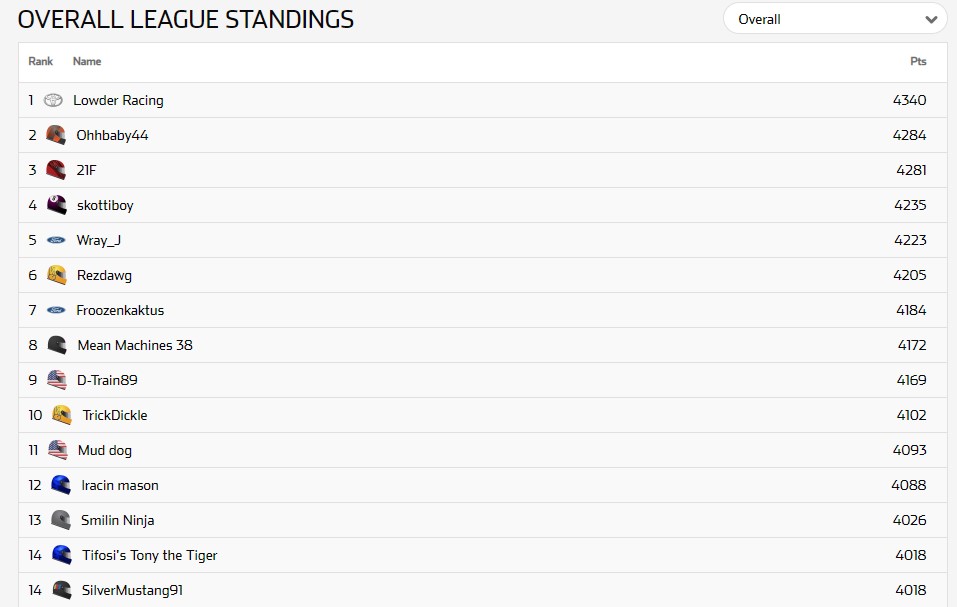 ---
---
Hardware/Software
Brought to you by: SUPREME 3D Printing

Are you looking for that next Sim Rig upgrade, or maybe your man cave needs a little more style, or is your wife wanting to redecorate your home? Well, we here at Supreme 3D Printing have you covered. We create and print tons of different and useful items that is sure to fit everyone's style and budget. If you don't see what you're needing, then feel free to contact us for your needed item.
---
Fixed Foveated Rendering
A Loyal stream view dropped told me (David) about Fixed Foveated Rendering. I It sacrifices resolution on the edges of the screen to allow you to run higher settings and get better FPS. You don't notice unless you look at the edge of the screen without turning your head. Highly Recommend
https://github.com/fholger/vrperfkit/releases
https://forums.iracing.com/discussion/17204/vr-performance-toolkit-fixed-foveated-rendering/p1
---
BDH H Pattern Shifter
Dave Cam reviews BDH's H Pattern Shifter. The all metal, mechanical shifter is a rival to the Pro Sims H Pattern at half the price. Dave calls this shifter, one of the best sim racing products he's ever tested.
https://www.youtube.com/watch?v=gNyzFbVlSLs
https://www.baseperformance.net/product-page/bdh-shifter
---
---
VR Settings for iRacing
Sim Racing Pal posted a YouTube video with the best setting for iRacing in VR
---
https://www.youtube.com/watch?v=CG5-Sjj4amc
---
Sim Coaches PC's
Sim Coaches are now making PC's designed specifically for Sim Racing. Backed by their lifetime guarantee, Sim Coaches will include hardware by Corsair, MSI, Intel, NVidia, Thermaltake, Critical, Western Digital and more!
https://www.instagram.com/reel/Cg4YqEUFDGY/?igshid=MDJmNzVkMjY%3D
---
https://www.youtube.com/watch?v=-XTTIVRRlK0
---
VNM Handbrake V1 Review
Boosted Media reviews the VNM Sim Racing Handbrake V!
https://www.youtube.com/watch?v=ni1oC-s6-Bc
https://boostedmedia.net/sim-racing/hadware-reviews/vnm/review-vnm-200kg-load-cell-sim-racing-handbrake-v1/
---
---
Asetek Quick Release
An article by Traxion's, Justin Melillo, highlighting an alternative choice for sim racing enthusiasts is being worked on by Asetek SimSports regarding the various different quick release methods found on various steering wheel peripherals. The Youtube video highlights Aseteks ambitious new Quick Release technology.
https://www.youtube.com/watch?v=VmgiU6S0e8Q
---
https://traxion.gg/future-asetek-simsports-sim-racing-quick-release-system-unveiled/
---
Listener Eric Whiting sends In 'Slip Angle'
Sim Racing 604 reviewed on his YouTube Channel the Slip Angle Haptic Feedback System for sim racing rigs
https://www.youtube.com/watch?v=9ptD_Y9jTbc
---
---
SRH Button Boxes
SRH (Sim Racing Hardware) has two piece button boxes inspired by in-car consoles
http://simracinghardware.com/product-category/button-boxes/
https://www.youtube.com/watch?v=sIBFF7BRX5E (Dave Cam has this two part button box…)
---
---
US Stock of the Moza R9
Boosted Media posted that the Moza R9, CS and GS wheel are now in stock in the US and you can get 5% off with the promo code 'Boosted'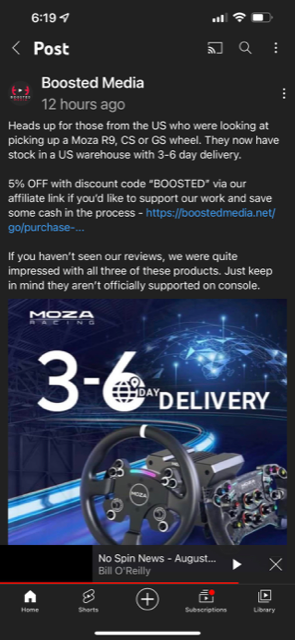 ---
---
Best PC to Run iRacing
Ellis Thomas Posts:

Hi everyone. Working on a bit of a project and wanted to know: if you could build the best PC to run iracing maxed out in 1440, and money were very little concern, what would your build look like in terms of hardware? …..
Phillip Morton Posts:
News that AMD are launching Ryzen 7000 on Sept 15th and Nvidia are dropping the RTX 4000 series in October. Raptor Lake from Intel should be around in November. You can buy now, though it's the end of the current generations and for the dollars maybe worth waiting for the new stuff to arrive. You'll either get a bargain on the above list or be able to get even more bang for the dollar from the new stuff.
https://forums.iracing.com/discussion/27081/dream-pc-build-for-iracing#latest
---
---
Spinning PC
Tecnpgraphix posted on Pintrest an amazing PC Gaming setup, complete with rotating hardware.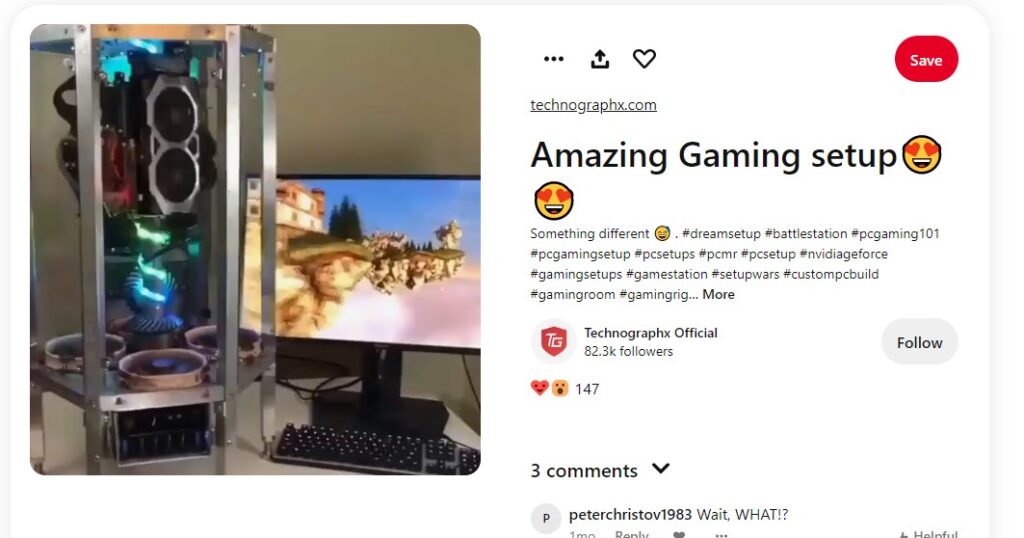 https://www.pinterest.com/pin/612208143097742239/
---
---
Results
Brought to you by: SIMWRAPS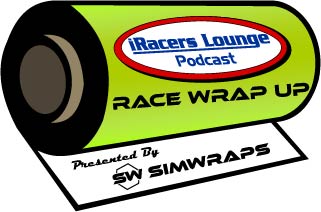 In need of a identity? A wrap is more then vinyl on car, it's you and your teams identity on track, so standout not blend in. SIMWRAPS can design not only race vehicle, but fire suits and helmets as well. SIMWRAPS can work with any budget to make sure you do standout in a crowd field. Make sure to pull in for a pit stop and check out our work at www.SIMWRAPS.com or your typical social media sites like facebook and Instagram.
NASCAR iRacing Series
Fri open: Michigan
Spiker – P19, Started P17 – It was a fun run. I made a mistake attempting to pass a slower vehicle. I lost patience, entered Turn 3 too hot and slid up into the wall. Short pitted the final run which was a mistake causing me to lose two spots.
Hall –

p parked- was terrible slow, then got unsafe exit penalty and just was done
Mike –

p Ran my tires off in about eight laps and then fell they the field to almost dead last, decided to short pit at lap 33 but I was caught speeding on Pit Road because I only at 2% left on the right front so I had a 40 second penalty at the point I came out I To be running dead last three laps down. As the cycle continued and finished I got back to one lap down before a caution I ended up staying out for the wave around to get back on the lead lap then luckily got another caution several laps later to get back on the same fuel entire strategy then another short run to move from 20th to 12th. with 19 to go I went from 12th to 5th and 10 laps before the next caution. Another quick caution leaves us with a restart with four to go and restarting P7. Drove up to P3 ran out of time to get past the next two… p3!!! Woot!

Stephen – p wrecked out on lap seven again.
Race : Richmond
Wed Fixed
Hall –

p23 .forgot to load race set, made the Q set work okay, but between 16x caused by others and 4x caused by me, got the black flag on the 3rd GWC. One of them was a dude hitting me on purpose.
Ellis –

pwrecked out – lap 1 i get loose just a hair on the exit and get tagged from behind 16 min dmg
Tony R –

P14

just hovered around the 8-12 spot all night nothing special but did got wiggle wiggled when i got bumped early made my car go squiggle squiggle almost was in tribble tribble
Tyler – P Blown up. Got wiped out by a dive bomber on a GWC. Restarted 8th and was cleaned out. Frustrating as I spent time practicing and working with the setups and the team to get the car to feel right. Gutted I didn't get this top ten. Fun racing with Tom and Mike spotting
Ellis – p The guy who dumped me last night did the same thing to another guy on lap one as well so I did not feel as bad considering he could do it to anybody . Started the in 19th and made it up to third by the end of the first run. It ran third and second basically the entire run I could not catch the leader I ran my ass off every lap. Last run I tried my hardest and ended up with P4!!!
Fri open:
Hall – P 9 – Had Terrible pace, only got to practice 20 minutes and haven't run all week. Stole the position because I pitted on the edge of a window and a lot of drivers didn't.
---
---
Official Series
Ellis – Skippys at Sonoma –
F2000 – Oran park – started p11 got to p3 by end of lap 1 – had a big gap on the rest, spun on my own at one point, kept my spot but fourth place was right on me now – had to run hard the last laps to hold it… Donnie spotted.

Started p8 got to p3 by turn 3 lap 1 – was able to hold it for the rest of the race – top two drove away about a second per lap faster each lap
Started p6 got to p3 by turn 1 lap 1 – eventually got to p2 – had nothing for the leader he was a half second faster, but i did find some speed finally trying to roll the corners more and got my faster times every by about 7 tenths…
Started p4 – got to p2 but ran off the track and fell back to 4th – brought it home

F2000 – Road America – started p8 out of 10 – got to 4th by the first half a lap, but eventually went off track and fell to 7th

Started fourth there was a heavy blinker on my inside so I fell the seventh trying to be cautious was fighting for six near the end of lab one trying to get around the blinker and we wrecked go back to 13th, made my way back up to nineth by the end
Started p10 – got to p4 by halfway through lap 1, but went off in last corner lap 2 fell to 10th, then a few laps later went off hard and killed the car, dnf… had a guy who i was holding up taunting me in the chat ….
SPIKER

Nascar B Open, Michigan – P14, Started P7. This time around, I had short run speed and failed on the long run.
Nascar B Open, Richmond – P23, Started P18. Messing up in my qualifying run put me in the middle of the pack for the start. I found myself in trouble quick, being involved in my first incident. On the next restart, again I could not avoid the wreckers and sustained 6m Optional Damage. Two more incidents later, brought me to a 16X. By this point, this was the worst race I had been a part of to date. 10 Cautions for 50 laps.
Nascar B Open, Richmond – P9, Started P10. This race was only slightly better than the night before.7 Cautions for 35 Laps. Avoiding early mayhem was key in this one.
Late Model Fixed, USA P6
Late Model Open, USA P8
---
---
League / Hosted Races
FastTrack League – Michigan

Joe – wrecked out
Greg pwrecked out
Mike – pwrecked out – started 39th out of 41 got to about 18th by end of 1st run. Maybe 20 to go a wreck happens on front not much damage, yellow. We roll around to the back and there are people slow so i slow up with everyone else- well here comes arca boy, comes flying in 60 mph faster and runs over my left rear and kills the car.
---
---
Final Thoughts
---
---
Words Spoken in Closing Audio Clip -""Thank you for listening to the iRacers Lounge podcast make sure to go subscribe to us on iTunes, SoundCloud, or Google Play, Facebook & Twitter, See You On The Track ."
TITLE
Grasphalt
Description
On the show today we will see the crowning of the first ever iRacing World Off-Road Champion. We examine the playoff picture of the Coke Series, and we get a patch for the grass dipping controversy. And in hardware/software we see the tease of a dedicated PC build for iRacing from our great sponsors, Sim Coaches. So sit back, relax and join us on the iRacers Lounge Podcast.
iRacers Lounge Podcast is available on iTunes and Apple's Podcasts app, Stitcher, TuneIn, Google Play Music, Spotify, Soundcloud, Podbean, Spreaker, Podbay, PodFanatic, Overcast, Amazon, and other podcast players.
Sponsors:
Hosts:
Mike Ellis – twitter.com/MikeDeanEllis
David Hall – www.twitch.tv/mixmage
Greg Hecktus – twitter.com/froozenkaktus – www.twitch.tv/froozenkaktus
Brian Maccubbin – www.twitch.tv/MacRubbinsRacin
Kyle Pendygraft – twitter.com/LoudPedalGaming
Tony Groves – www.twitch.tv/SirGroves
Adam Josselyn- twitter.com/Jossad83
Tony Rochette – twitter.com/TonyRochette
Tom Dreiling –
Donnie Spiker – twitter.com/spikerman19
Bobby Jonas –
Links:
Facebook – www.facebook.com/iRacersLounge/
Twitter – twitter.com/iracerslounge
Instagram – instagram.com/iracersloungepodcast/
Web (Show Notes) – iracerslounge.com/