4/1/2021 – April iFools – Episode 0273
iRacers Lounge Podcast – Conversation Topics
Brought to you by: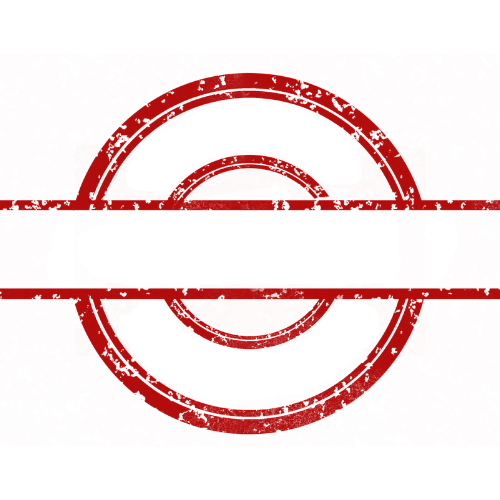 Opening Audio Clip -"Your listening to the iRacers Lounge Podcast where we discuss everything iRacing, in a casual setting, enjoy."`
READ THIS AT THE TOP OF EACH SHOW!!!
Welcome to the iRacer's Lounge, I am your host "XXX". iRacer's Lounge is a podcast for the iRacer, where we talk all things iRacing in a casual setting.
Joining me are the usual characters, ————
---
---
Introduction
On today's show Evan Possoco will be joining us to cover the Coke Series Race at Auto Club, we'll recap a great day at Sebring for some Tifosi teammates and our impressions on the NIS on Bristol Dirt.
And remember you can follow along with us on your mobile device in real time as you listen to the show and see for yourself all of the great topics and products we'll discuss by visiting iracerslounge.com and selecting show notes. Hope to see you there.
---
---
TITLE SPONSOR READ:
Grid Finder is the home of online sim racing leagues. Grid Finder is also a great resource to find paint designers and race commentators. Recently they have been adding some great articles discussing various aspects of running leagues and sim racing in general. Grid Finder is constantly adding helpful content and giving us all more reason to visit www.grid-finder.com
Visit www.grid-finder.com to find a league, or to upload your own!
Grid Finder – "The home of online sim racing leagues"
---
---
Topics
---
---
Coke News [Mike]
LAP 10: @KeeganLeahy leads @MitchelldeJong1 by about 6-7 car lengths. @MikeConti5 now runs 3rd.
they were about four-wide for a couple of laps in the middle of the pack.
Free falling through the field, @RyanLuza caught the wall after a block from @NickOttinger. Luza started 10th and is outside the Top 20 on lap 13 now.
Leader pits lap 22, leahy under green…
—————-
LAP 26: Now @bobbyzalenski and @NickOttinger battle for 2nd, allowing @MikeConti5 to slowly pull away.
LAP 28: Battle for the lead, @NickOttinger sweeps by @MikeConti5 for the top spot. Conti returns the favor on the backstretch.
Casual three-wide racing for the lead between @MikeConti5, @NickOttinger, and @bobbyzalenski
Regular stops are happening at the 1/3 mark
Looks like 14 drivers have still yet to pit at lap 43.
—————
@mbussa75 leads.As @Blade_Whitt unlaps himself, all 40 cars are back on the lead lap. @DerekJustis takes over control as well.
.@schildhoused is on TV as he spots and crew chiefs for @KligermanSport's @IGann_34
—————
48 to go: @KligermanSport's @BBryant53 is the final driver to pit for the first green flag pit cycle. He might be good to make it the rest of the way
47 to go: @KeeganLeahy is back in the lead at the end of the first pit cycle.
43 to go: @KeeganLeahy pits from the lead once again.
35 to go: Open the floodgates, just about all of the other 2-stoppers have hit pit road for their second stop.
So as they run, @DerekJustis leads the one stoppers, and @KeeganLeahy is 19 seconds behind that after his second stop.
—————
33 to go: @bobbyzalenski pits from the lead. @MitchelldeJong1 and @LoganClampitt_ also pit.
Power down.
@KeeganLeahy is within 10 seconds of the lead with 30 laps to go.
31 to go: @BBryant53 is 'on kill.' The @KligermanSport driver is one of two drivers to pit past the halfway mark. The other was @ssgracing's @MalikRayTTV.
—————
22 to go: @BBryant53 leads @DerekJustis and @IGann_34. They are the front runners of those on a 1-stop strategy.
The tires have leveled off. Leahy isn't coming anymore. It's going to be between these three if it stays green.
@BBryant53 leads @DerekJustis and @IGann_34 with 10 laps to go.
—————
@BBryant53 picks up his first career #eNASCAR | Coca-Cola @iRacing Series victory at @ACSupdates!
Derek Justis 2nd – 3rd Isaac Gann
Standings – https://www.iracing.com/enascar/team-standings/
Parker Klingerman celebrates with his driver Bob Bryant on a video posted on his Twitter account.
---
---
Porsche Supercup Round 8 [Brian]
Josh Rogers takes the win in week 8 of the Porsche Tag Heuer Supercup on the Nordschleife circuit at Nurburgring amassing a near unsurpassable 127 point lead with just 2 weeks to go.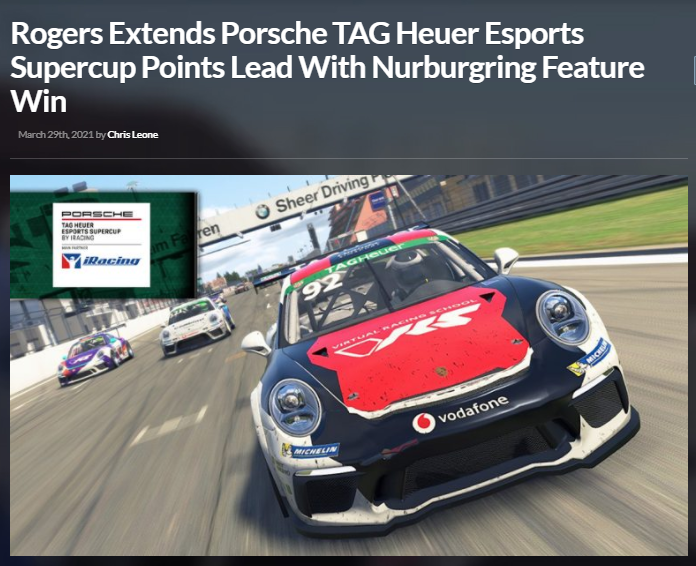 Standings – https://www.iracing.com/supercup/standings/
---
---
Porsche All-Star Race [Brian]
Jimmy Broadbent took the win in the feature race in the Porsche All-Star Race at the Nordschleife with Dave Cam taking the sprint race victory.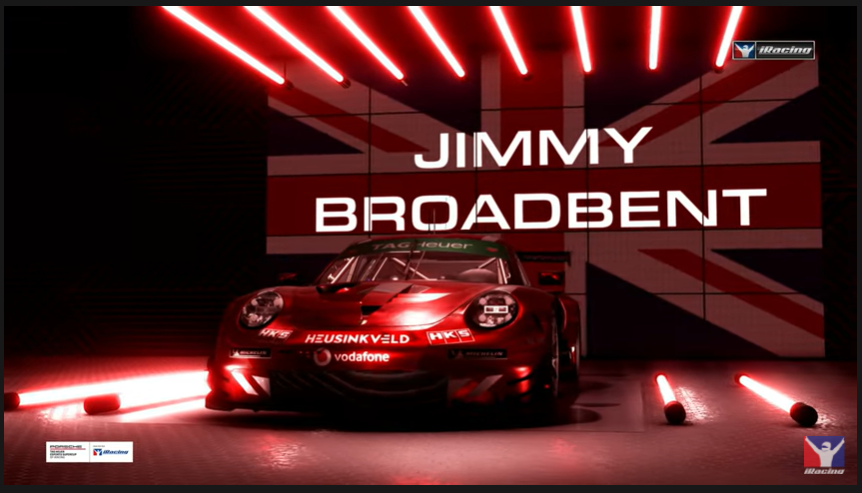 ---
---
12 Hours of Sebring [Hall & Greg]
The 12 Hour of Sebring team consisting of Tifoso team members and your show hosts David Hall and Greg Hecktus finished in P3 in their split.
https://members.iracing.com/jforum/posts/list/3798878.page#12446299
Stats [Tony]
Rob Crouch posted all of the stats in the forums from this weekend's 12 Hours of Sebring Race as only he can do.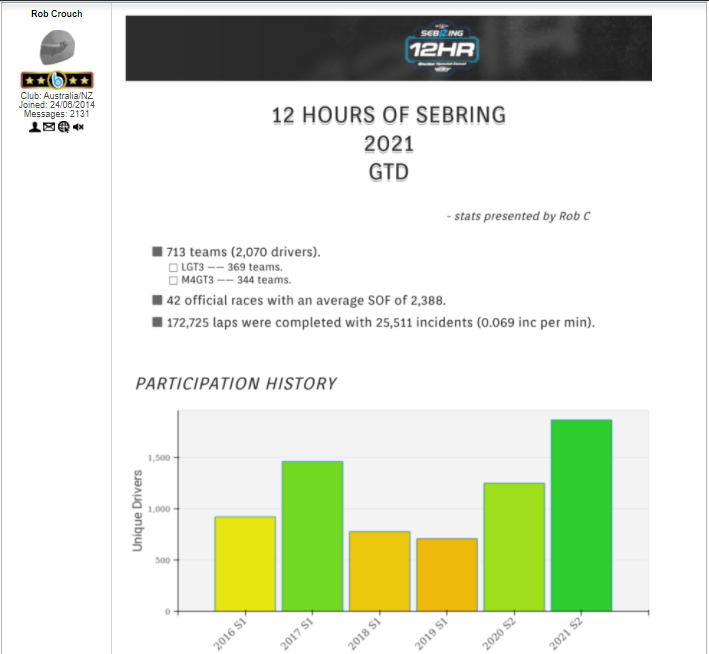 https://members.iracing.com/jforum/posts/list/3799002.page#12447579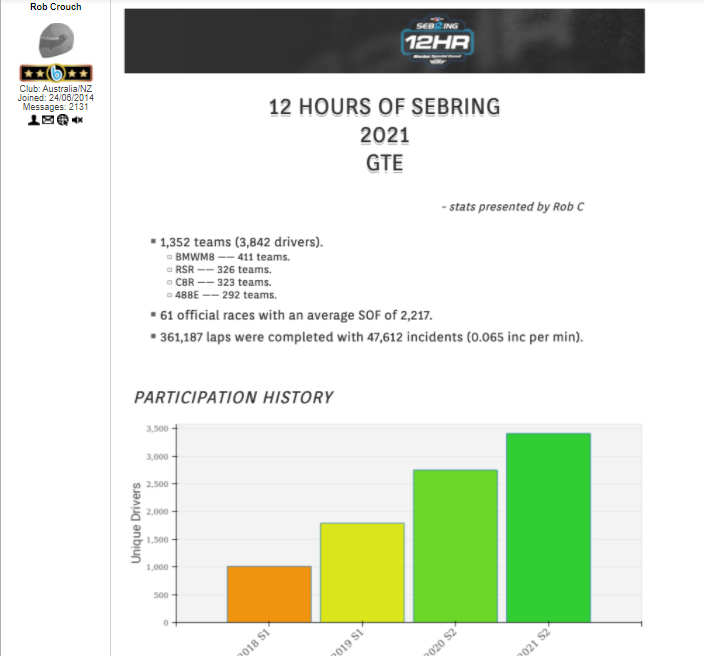 https://members.iracing.com/jforum/posts/list/3799001.page#12447570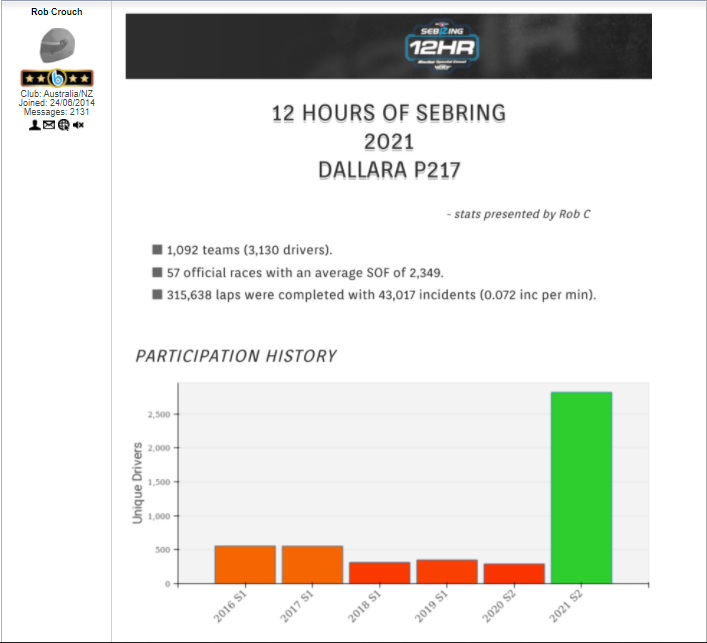 https://members.iracing.com/jforum/posts/list/3799000.page#12447568
---
---
Listener Garrett Streets Sent in [AJ]
Listener Garrett Streets sent into the show a fantastic Twitch video of iRacing streamer Bacho Grande (John Bacho) a legally blind iRacer who picks up his first win in emotional fashion.
https://www.twitch.tv/bacho_grande/clip/OutstandingBoringLEDUncleNox-v7ugYF0XdNa_Kmmj
---
---
Release Notes – UI [Mike]
Nicholas Bailey from the iRacing staff posted the details of a zero-downtime update for the UI.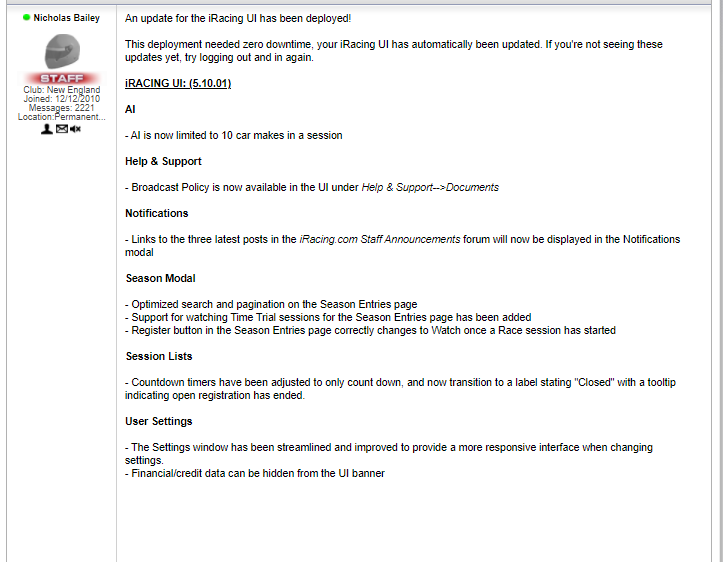 https://members.iracing.com/jforum/posts/list/3798696.page#12444488
And 1 day later another UI Patch [Brian]
One day later Nicholas Bailey announced another UI patch.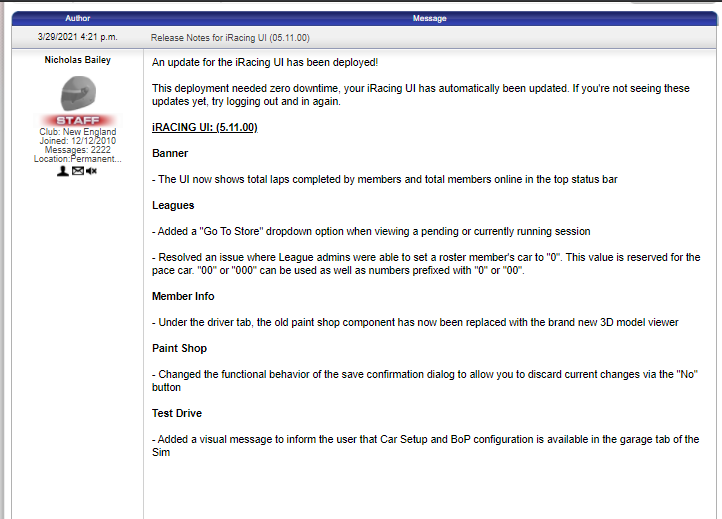 https://members.iracing.com/jforum/posts/list/3799229.page#12448335
---
---
Season 2 Patch 2 Release Notes [Hall]
Alex Gustafson posted in the forums the details of Season 2 Patch 2 including a new method of payment, Venmo.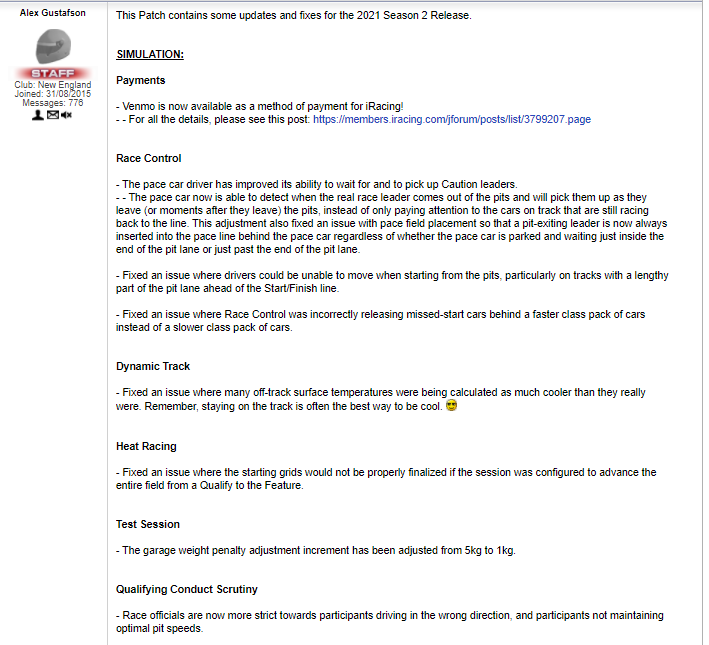 https://members.iracing.com/jforum/posts/list/3798932.page#12446994
Venmo Details [Tony]
iRacing Support posted a link to the forums with more details of the new Venmo payment method.
https://members.iracing.com/jforum/posts/list/3799207.page#12448132
UI Release Notes
Another zero downtime update from iRacing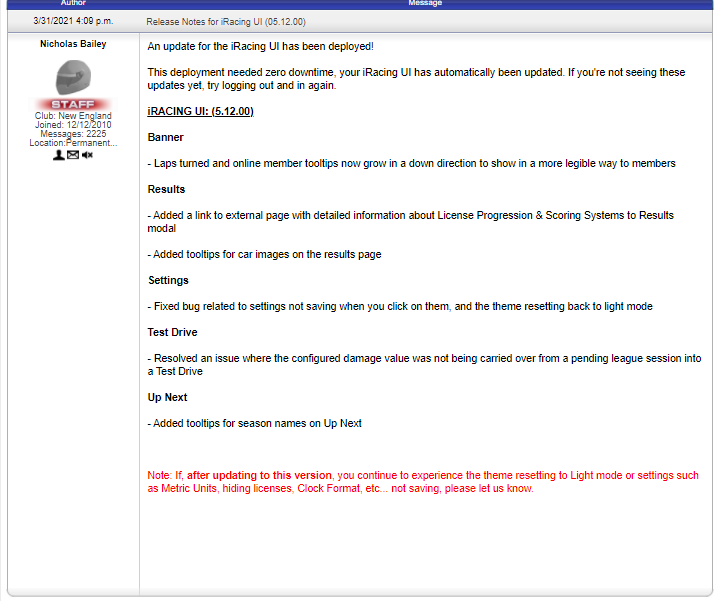 https://members.iracing.com/jforum/posts/list/3799424.page#12450676
---
---
eRacer Market [AJ]
eRacer Market is a website marketplace where the sim racing community buys and sells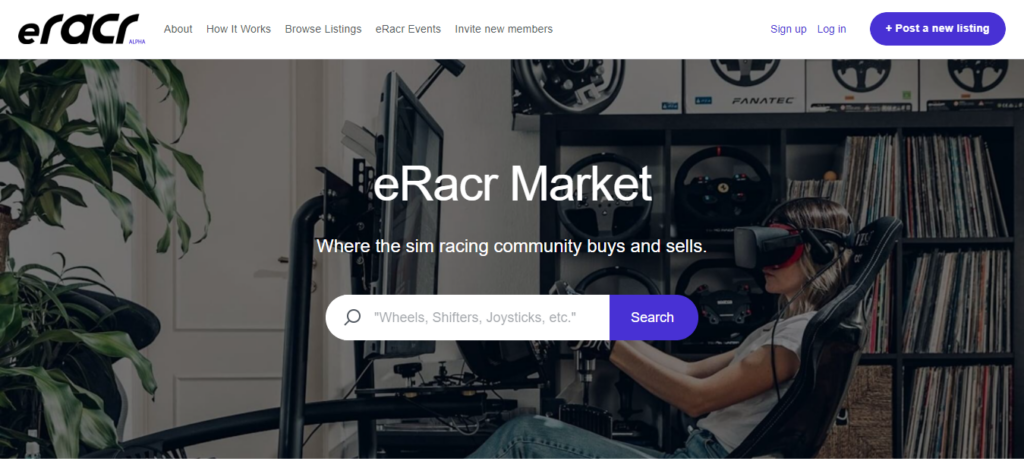 ---
---
iRating School Survey [Mike]
Kyle Rusinko is taking a survey ion the forums to gather data on the correlation between account age and iRating and is asking for as much data from the community for a school statistics class project.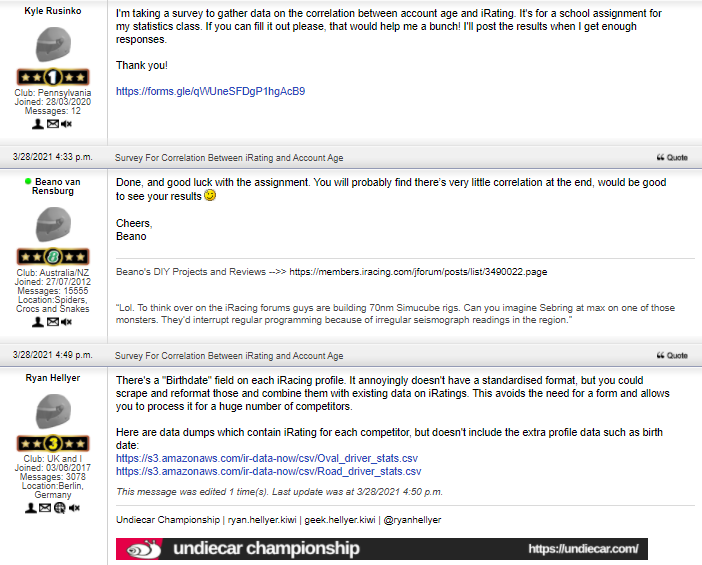 https://members.iracing.com/jforum/posts/list/3798935.page#12447053
---
---
Josh Berry Late Model Win [Brian]
JR Motorsports announced a victory for Josh Berry in a Late Model Race at Tri-County Motor Speedway in iRacing colors. Berry won the 75-lap NASCAR Advance Auto Parts Weekly Series event on the .400-mile oval Saturday night, while teammate William Cox III recovered from a late spin to earn an eighth-place finish. Josh made his second appearance in the familiar All Things Automotive/iRacing Chevrolet Late Model this season,
---
---
Throwback Cup [Hall]
Greg West posted in the forums the details of the Throwback Cup, a 400 lap race in the '87 Chevrolet Monte Carlo and the '87 Ford Thunderbird to be held April 9-10.
https://members.iracing.com/jforum/posts/list/3799208.page#12448185
---
---
Epic Factor [Tony]
In the first episode of a video series called Epic Factor, they visit with Joshua Rogers, the fastest sim racer.
https://www.facebook.com/48224116084/posts/10159411329686085/?d=n
---
---
Daytona 75 [Mike]
Our good friends at Grid-Finder are hosting the Grid-Finder Invitational #3 Daytona 75 on April 10th including a Livery Competition.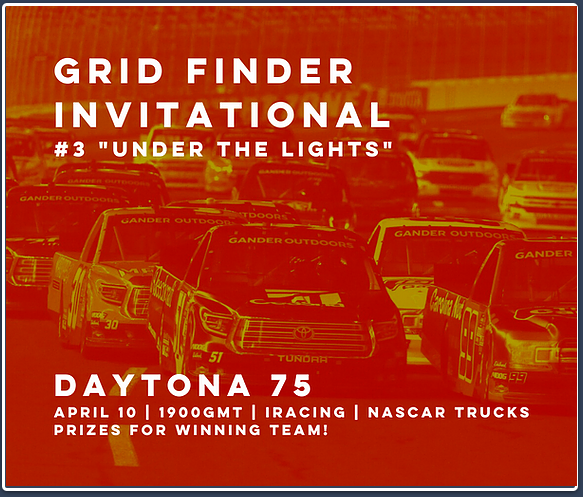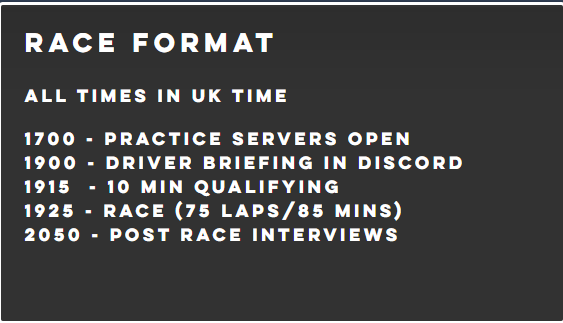 https://www.grid-finder.com/event-apr
---
---
24 Hours of Nürburgring [AJ]
Greg West posted in the forums the details of the 24 Hours of Nürburgring to be held on April 23-25th
https://members.iracing.com/jforum/posts/list/3799308.page#12449125
---
---
Bristol Dirt Review [Hall]
After the conclusion of the NIS series week at Bristol Dirt, what are your thoughts about the addition of dirt to the series?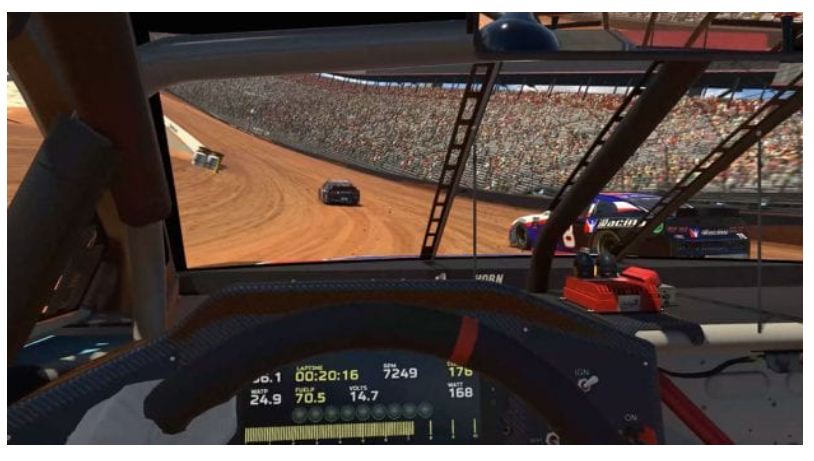 ---
---
RIP William Marsh [Brian]
The iRacing community morns the loss of William Marsh of Sim Racing Paddock. Will Ford of Boosted Media was a good friend of William's and gave his thoughts on on his freind of many years.
https://www.instagram.com/p/CNINpMPB1xS/?igshid=uzy83zvj9bjh
https://members.iracing.com/jforum/posts/list/3799461.page
---
---
April Fools [Tony]
Formula Vee coming to iRacing?
[AJ]
Fanatec announced their new DD 0.5
https://members.iracing.com/jforum/posts/list/3799486.page
[Mike]
Midwest Simulations has a new BFL spotlight system. Also works in VR!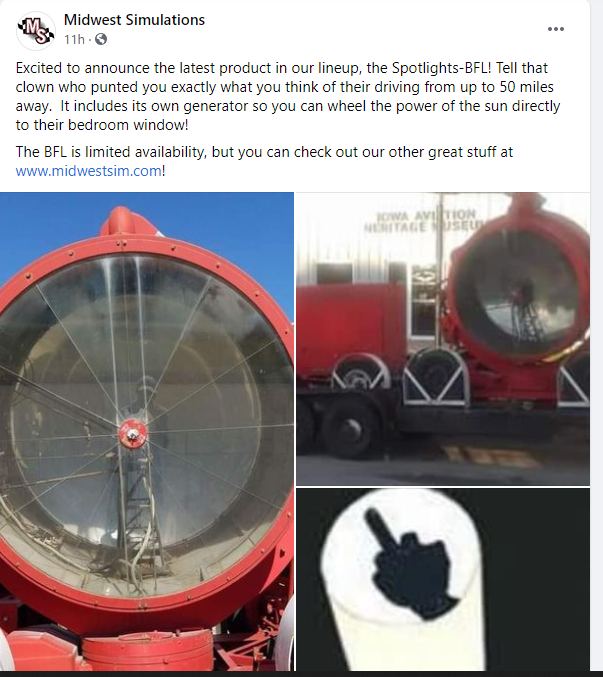 https://www.facebook.com/367316010337691/posts/1244792789256671/?d=n
[Mike]
Logitech announces it's new Logitech, or Dogitech wheel base for dogs.
[Hall]
eRacr announces it's new iRacing mobile app for phones and tablets.
---
---
---
Podcast Housekeeping
Aftermath Podcast – Get it!
New Website – Leave Comments https://www.iracerslounge.com/
You've heard us talk about the Spotlights. Those of us that have them here at iRacers Lounge absolutely love them. So much, we have become an affiliate! With the roll out of their new Spotlights Pro. Here's your chance to check them out, you won't be disappointed. Enter coupon code: IRACERSLOUNGE for 10% off!!
https://www.facebook.com/1565571990374134/posts/2832513123680008/?d=n
---
We are in the regular rotation… (Mike)
https://performancemotorsportsnetwork.com/
---
Fantasy [Tony]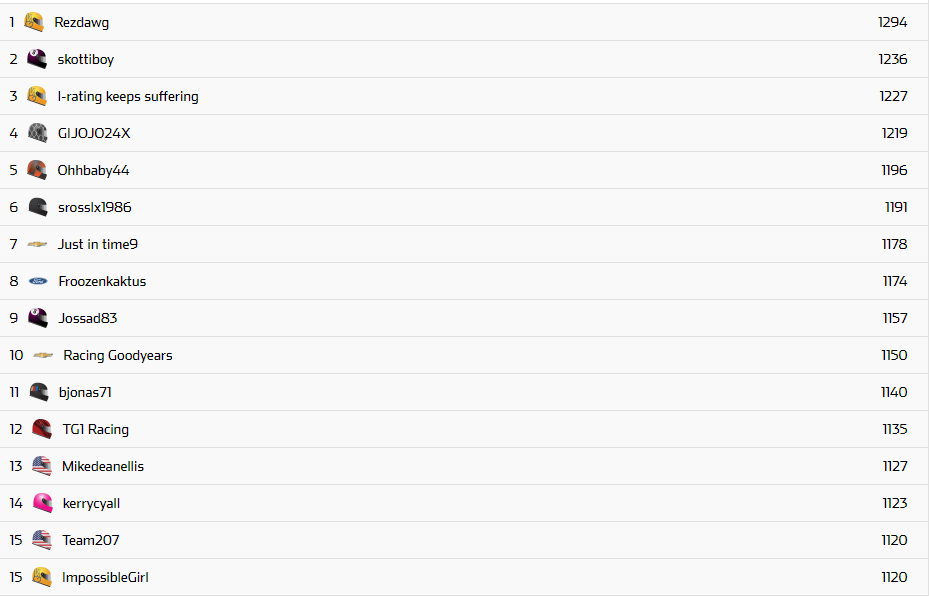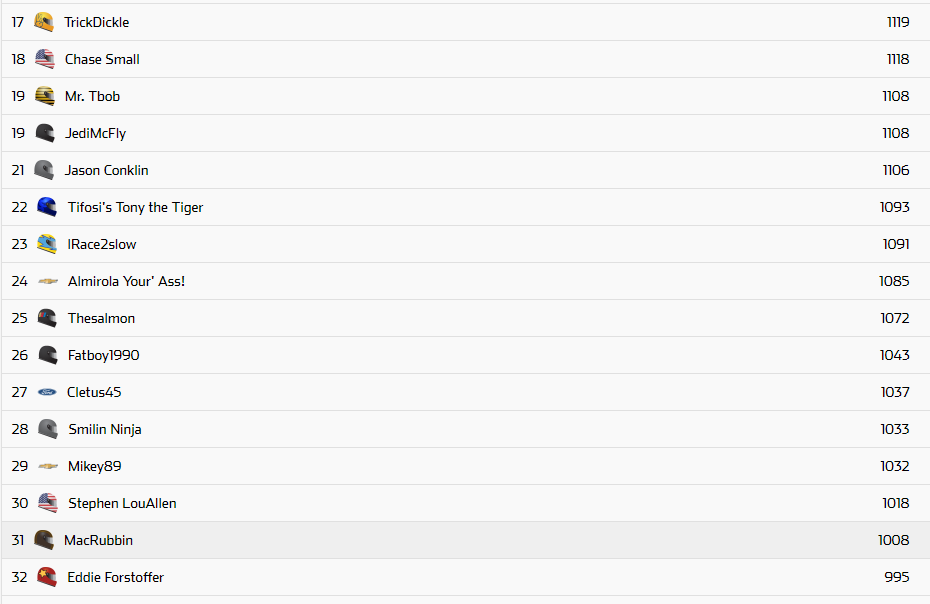 ---
---
Hardware/Software
---
Sim Racing Shoes [Brian]
Sparco is introducing the new HYPERDRIVE, the gaming shoes that combine comfort and performance with a cutting-edge design. Ultra-comfort and maximum lightness to help your driving performance even at home.
https://www.facebook.com/548091942026296/posts/1773315509503927/?d=n
---
---
Sparco Sim Seat [Tony]
Sparco GP Gaming Seat priced at 460 euros. It's currently out of stock, but Joe Sullivan posted in the forums that the Sparco rep he talked to said their goal is to have them available in about two months.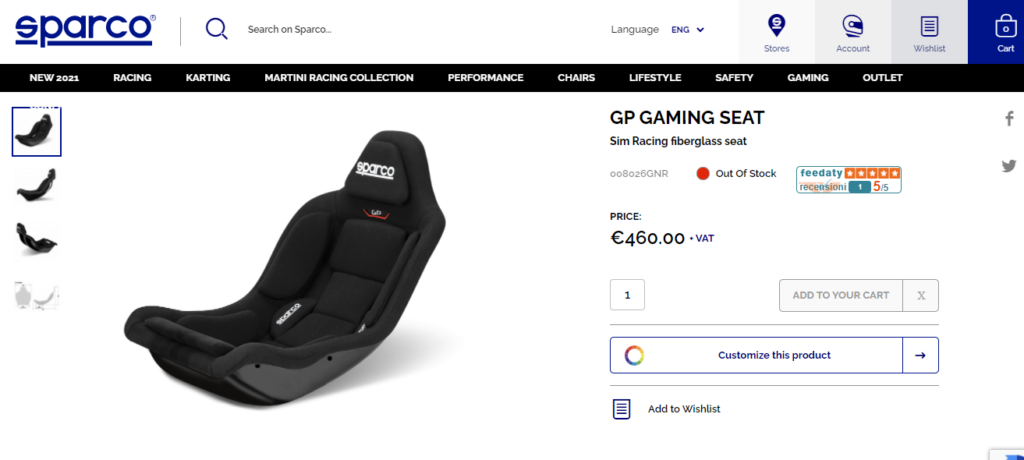 https://www.sparco-official.com/en/sedile-gp-gaming.html
https://members.iracing.com/jforum/posts/list/3797971.page#12437038
---
---
NASCAR iRacing Series
Fri open: Bristol
Ellis – – p18 – Had a good run going top 5 and a guy who was riding the wall came off of it doored me down to nose first into the inside wall – 8 minutes damage – 8 laps down
Hall = P4 Stay top 5 whole race, just couldn't execute on the first two laps of a run
Groves – P16 – Top 5 most of the race, got knocked in to pit road with 20 or so to go, couldn't recover
Sunday Open

David – p 14 top split, running top 5, got sandwiched into wall hard and got 18 second meatball. Got last lucky dog to get on lead lap but no chance to gain spots.
Sunday fixed

Mike -p6 – Ran back half of top 10 all night – only 10x by being super careful staying low – as high as 3rd but choked a bit on final run

Tyler – P 28 was behind 29 laps after a great performance of my driving skil. 1 meatball. 2 black flags. 3 spins and a partridge in a pear tree. Bye bye Bristol it's me not you.
---
---
Official Series
Ellis – p wrecked out –

Then p11 – got door slammed and was down to 1930 hp, was running dead last and somehow finished 11th after the big one
Then wrecked out in two diff races
Then – p4 – finally put a race together and finished!
Kyle P – 25 – wrecked
PDS Euro Sprint

Hall – Win at Daytona #101

Dallara Jet Car -Ellis – Hockenheim – ran during day Friday, 20 drivers, started p17 – made it to 9th in 1st lap, 2nd lap a guy from Finland runs over me from behind
---
---
League / Hosted Races
FastTrack Sim Racing League

Mike- p3 – Ran back half of top ten most of the night – not too much damage had a god last run and gained a couple of spots –
Tom D. P dnf
UCRA-richmond

Mike – p dnf – spun off late exit of 2 by myself – done…
---
---
Final Thoughts
---
---
---
Words Spoken in Closing Audio Clip -""Thank you for listening to the iRacers Lounge podcast make sure to go subscribe to us on iTunes, SoundCloud, or Google Play, Facebook & Twitter, See You On The Track ."
TITLE IDEAS
April iFools
.
.
Description
Evan Possoco stops by to recap the iRacing Coke Series race at Auto Club. We recap all of the action as iRacing comes to the Bristol Dirt track for the first time. We look back at a very successful weekend at Sebring for some of Tifosi's best endurance drivers and try to sort out all of the April Fools teasers, all right here on the iRacers Lounge Podcast.
iRacers Lounge Podcast is available on iTunes and Apple's Podcasts app, Stitcher, TuneIn, Google Play Music, Spotify, Soundcloud, Podbean, Spreaker, Podbay, PodFanatic, Overcast, Amazon, and other podcast players.
Sponsors:
www.grid-finder.com
Hosts:
Mike Ellis – twitter.com/MikeDeanEllis
Tony Groves – www.twitch.tv/SirGroves
Chris Scales – twitter.com/JediMcfly
David Hall – www.twitch.tv/mixmage
Greg Hecktus – twitter.com/froozenkaktus – www.twitch.tv/froozenkaktus
Tony Rochette – twitter.com/TonyRochette
Adam Josselyn- twitter.com/Jossad83
Brian Maccubbin – www.twitch.tv/MacRubbinsRacin
Tom Dreiling –
Links:
Old Show Notes – bit.ly/2CFeArM
Facebook – www.facebook.com/iRacersLounge/
Twitter – twitter.com/iracerslounge
Instagram – instagram.com/iracersloungepodcast/
Web (New Show Notes) – iracerslounge.com/