4/8/2021 – Cautionsville – Episode 0274
iRacers Lounge Podcast – Conversation Topics
Brought to you by: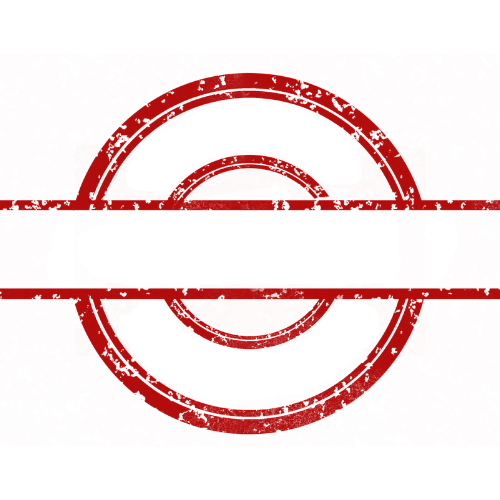 Opening Audio Clip -"Your listening to the iRacers Lounge Podcast where we discuss everything iRacing, in a casual setting, enjoy."`
READ THIS AT THE TOP OF EACH SHOW!!!
Welcome to the iRacer's Lounge, I am your host "XXX". iRacer's Lounge is a podcast for the iRacer, where we talk all things iRacing in a casual setting.
Joining me are the usual characters, ————
---
---
Introduction
This week on the show we welcome one of our newest members to team Tifosi, Tyler Williamson. Also, if you're interested in the latest in high quality pedals, stick around for some exciting new and updated players on the market.
And remember you can follow along with us on your mobile device in real time as you listen to the show and see for yourself all of the great topics and products we'll discuss by visiting iracerslounge.com and selecting show notes. Hope to see you there.
---
---
TITLE SPONSOR READ:
Grid Finder is the home of online sim racing leagues. Grid Finder is also a great resource to find paint designers and race commentators. Recently they have been adding some great articles discussing various aspects of running leagues and sim racing in general. Grid Finder is constantly adding helpful content and giving us all more reason to visit www.grid-finder.com
Visit www.grid-finder.com to find a league, or to upload your own!
Grid Finder – "The home of online sim racing leagues"
---
---
Special Guest
Tyler Williamson
https://members.iracing.com/membersite/member/CareerStats.do?custid=487324
General Questions:
What brought you to iRacing and how did you hear about it?
Which series do you normally run?
What type of hardware do you use? (Wheels, Pedals, ect.)
Software

What gear did you use when you first started iRacing?

Do you run Monitors or VR?

How many monitors?
What VR headset are you running?

Are you part of a team?
Do you participate in any leagues or is it just official racing?
What is your most memorable iRacing moment?
Guest Specific Questions:
---
---
Topics
---
---
Klingerman in RACERmag [Hall]
Parker Klingerman was featured in an article on RACERmag exploring the accessibility of sim racing and real world racing.
"It would be absolutely asinine to not encourage, embrace, and put all the effort behind sim racing. We have truly something special here, that no other sport has. No other sport has a virtual counterpart that connects so seamlessly between the real [and the sim]. How could we not embrace it and try to promote it? It's just a no-brainer."
"Because [racing] is so expensive, because it takes such a time-intensive amount to do anything, even to go race a go-kart it takes a lot of time and money," he said. "But in sim racing we can allow thousands, if not millions, of people to experience motorsports and race at any one time, which is something that motorsports has never had."
"We can do so much more and allow so many more people to access all this stuff if we just find a way to harness it in a better way and present it," Kligerman said.
---
---
New Broadcast Policy [Brian]
iRacing has posted a new updated broadcast policy focusing on accreditation on TV style broadcasts and streamers.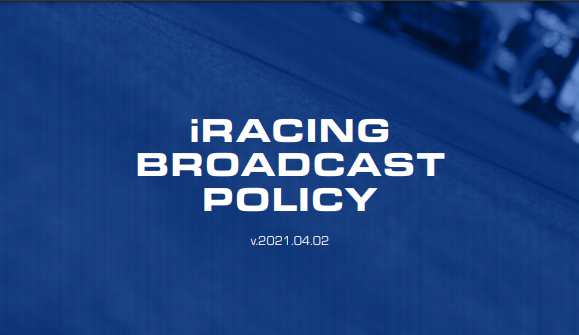 https://www.iracing.com/membership/iracing-broadcast-policy/
---
---
Mic Check? [Tyler]
Gary DeMoss asks in the forums if members ask for a mic check in the beginning of a race session.


https://members.iracing.com/jforum/posts/list/3799353.page
---
---
Formula Vee Confirmed [Greg]
Greg West confirmed that the Formula Vee is actually being built and was no April Fools Joke. Although there are many different variations of the Formula Vee Greg said they are taking a bit from multiple rulebooks and the result is a really fun car to drive.

https://members.iracing.com/jforum/posts/list/100/3799486.page#12452450
---
---
iRacing and Fast Pasta [Mike]
Adam Stern announced that iRacing will be the primary sponsor for Anthony Alfredo, driver for the Front Row Motorsports Nascar Cup Team, in the upcoming race this weekend at Martinsville. Front Row also Tweeted a picture of their fully painted car in the garage. Alfredo tweeted a side by side picture with his iRacing sim car and the real-life car
Sim to Reality [Hall]
Alfredo tweeted a side by side picture with his iRacing sim car and his new real-life car making a trasition from Sim to Reality.
---
---
Throwback Cup [Brian]
For the first time iRacing is holding a Special Event, the inaugural Throwback cup. A 400 lap race at the historic North Wilkesboro Speedway in the classic '87 Chevy Monte Carlo and '87 Ford Thunderbird.
Time Slots: Friday 22:00 GMT, Saturday 7:00, 12:00, 16:00 GMT
License Restrictions: Oval D 4.0 and up
Cars Competing: 1987 NASCAR Cup Series Chevrolet Monte Carlo and Ford Thunderbird
Event Format: 120 minutes open practice, 5 minutes/2 laps qualifying, 30 minutes warmup, 400 lap race
https://www.iracing.com/iracing-throwback-cup-debuts-this-weekend/
---
---
Good Idea? [Tyler]
Ricky Hall posed the question on the socials asking that he can't be the only person that wants to see monster trucks in iRacing..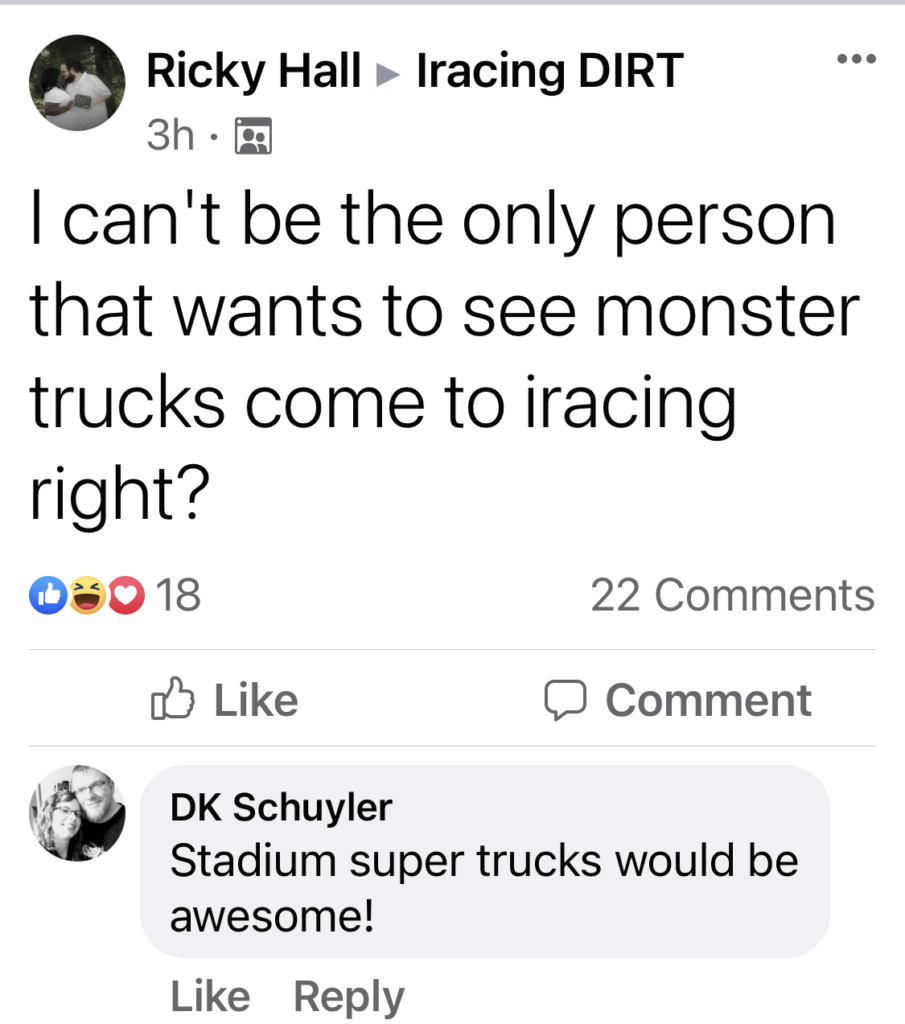 ---
---
Season 2 Patch 3 Release Notes [Mike]
Alex Gustafson dropped in the forums pthe details of patch number 3 in season 2's build including great advances in the new damage model for the Arca cars and '87 Chevy Monte Carlo and '87 Thunderbird.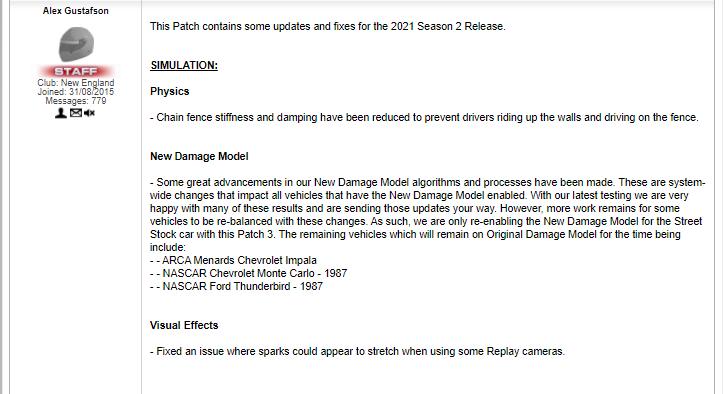 https://members.iracing.com/jforum/posts/list/3800245.page#12456228
---
---
Prediction [Hall]
A bold prediction came in the forums from Thomas Guldalian who posted that he thinks a new Porsche will be released being that there is a TBD status for the car in the last Porsche Tag Heuer All-Star race, and the first Porsche Cup came out during their season.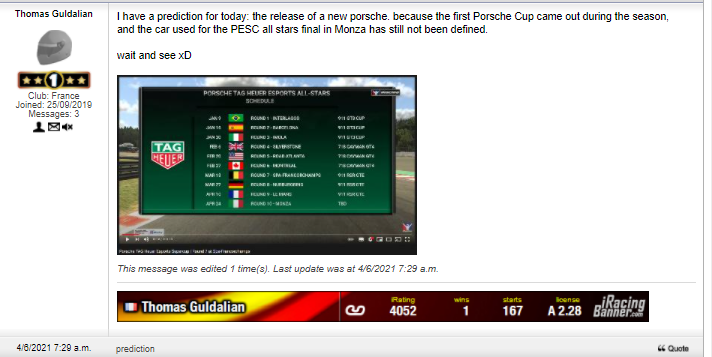 https://members.iracing.com/jforum/posts/list/3800238.page#12456153
---
---
Trophies Inbound [Brian]
VCO esports tweeted a picture of the trophies they promised to the winners of the 12 Hours of Sebring class winners.
---
---
You Can Drive Through It [Tyler]
iRacing staffer Alex Horn posted a video on his Twitter page where he adds clips from Days of Thunderinto an amazing piece of wreck avoidance on iRcing making for an awesome movie recreation/iRacing scene.
---
---
How To Get Out Of Rookies [Greg]
The online motorsports magazine Overtake has an article advising how to escape the rookie class in iRacing. Some of their bullet points are…
MAKE SURE YOU'RE READY
LOSE SOME BATTLES TO WIN THE WAR
ASSUME THE WORST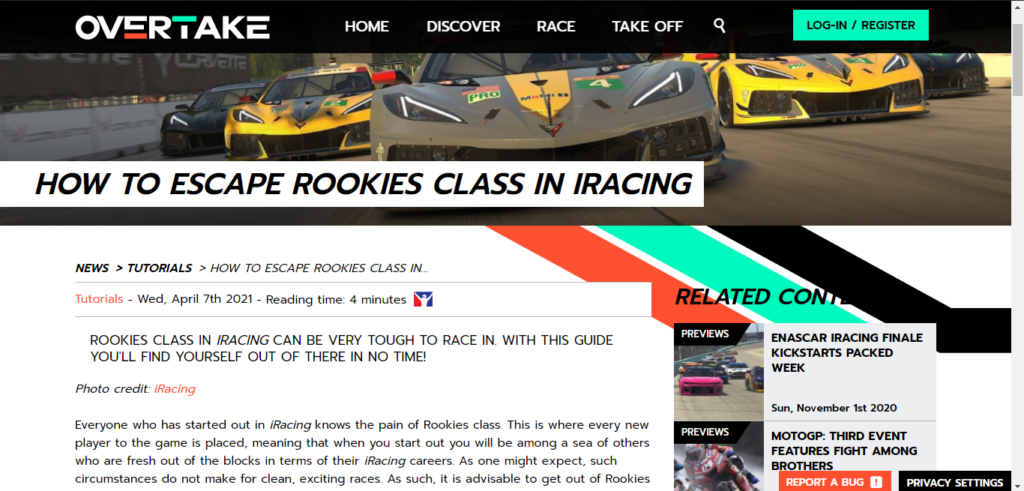 https://www.overtake.gg/news/3706-how-to-get-out-of-rookies-class-fast-in-iracing?sf141873329=1
---
---
Season 2 Build Refresher [Mike]
iRacing posted a very well produced video on their Youtube Channel highlighting all of the new features from the season 2 build.
---
---
Race with us and our Sponsor Gridfinder [Hall]
It's not too late to register for the Gridfinder Invitational Daytona 75 this Saturday and race with Team Tifosi.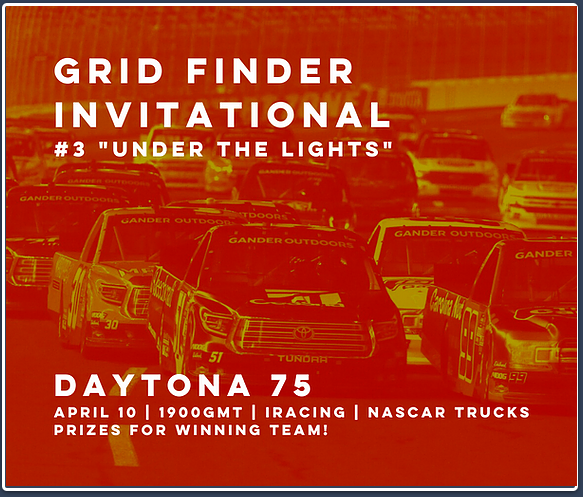 ---
---
Podcast Housekeeping
Aftermath Podcast – Get it!
New Website – Leave Comments https://www.iracerslounge.com/
You've heard us talk about the Spotlights. Those of us that have them here at iRacers Lounge absolutely love them. So much, we have become an affiliate! With the roll out of their new Spotlights Pro. Here's your chance to check them out, you won't be disappointed. Enter coupon code: IRACERSLOUNGE for 10% off!!
https://www.facebook.com/1565571990374134/posts/2832513123680008/?d=n
---
We are in the regular rotation… (Mike)
https://performancemotorsportsnetwork.com/
---
---
---
Hardware/Software
---
11th Gen Intel [Mike]
Intel has introduced the 11th gen i7-11700k Intel Core processor. The benchmark scores and other reviews have been less than glowing including Youtube product reviewer Gamers Nexus description as a "Waste of Sand"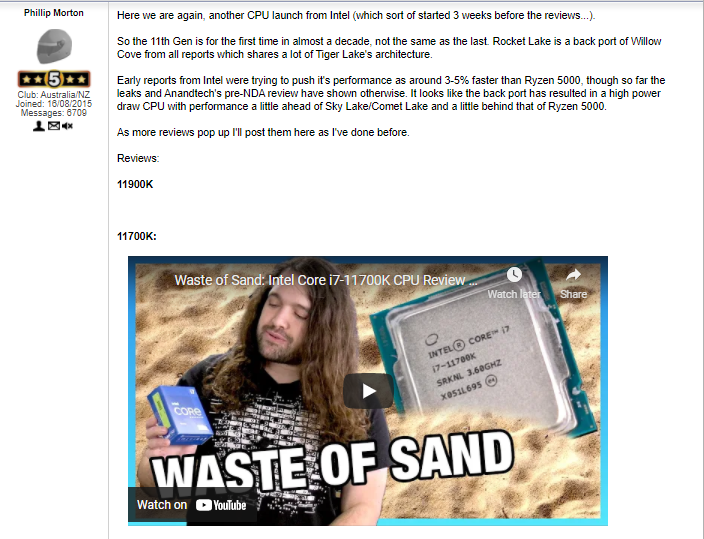 https://members.iracing.com/jforum/posts/list/3798435.page#12440972
---
---
Teammate Tyler sends in – Rig Review [Tyler]
Real GT has a prototype of a 180 degree projection style system with an authentic GT cockpit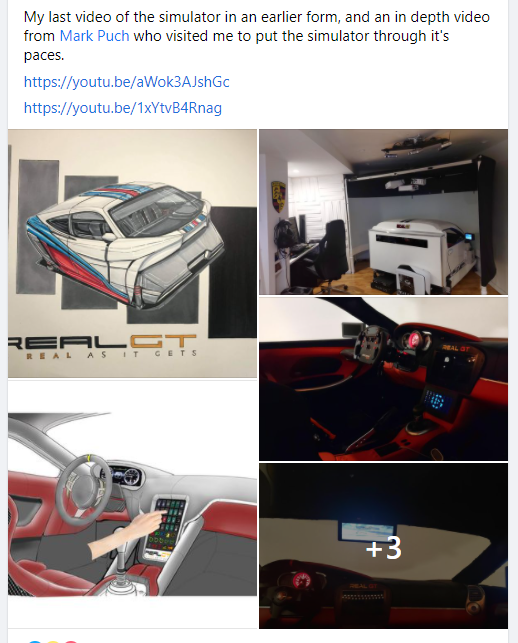 https://www.facebook.com/groups/SimRacingPublic/permalink/1966814476789628/
---
---
Company Review [Brian]
Rexing a Croatian company offers a carbon fiber GT wheel for sim racing with a 4.3″ LCD display for 1,240 euros plus vat.
---
---
An Old Fav [Greg]
HPP offers the fantastic JBV 3 Pedal System for $1395.00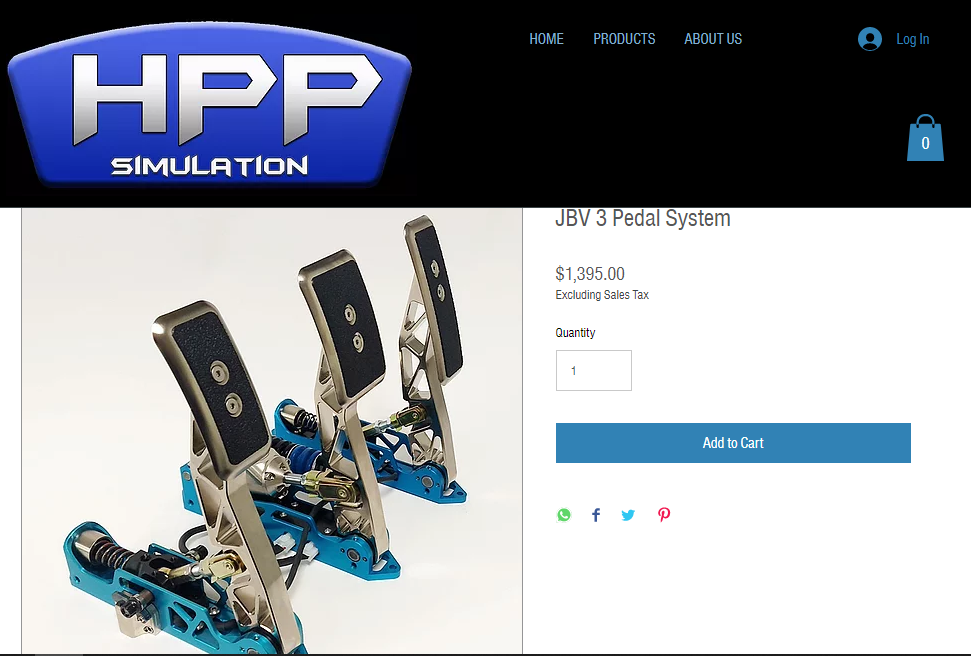 https://www.hppsimulation.com/product-page/jbv-3-pedal-system
Mark Hargett posted in the iRacing forums that he has designed a new version of pedals and pads for the HPP JBV Pedals. They are made of thick stainless steel and the pads can be used with or without the non skid skins. Also the HPP Simulations website has also been updated.
https://members.iracing.com/jforum/posts/list/300/3677620.page#12455829
https://www.hppsimulation.com/
---
---
VRS Pedals [Mike]
VRS is now taking reservations for their new VRS Direct Force Pro Pedals. Owners of the DirectForce Pro wheelbase will have the first option to purchase if they get on the reservation list.
Throttle and brake pedals only: USD 649 / EUR 549 VAT incl.
Optional clutch: USD 249 / EUR 199 VAT incl.
Optional throttle, brake, and clutch hydraulic damper kit USD 149 / EUR 149 VAT incl.
---
---
Company Review [Brian]
Complx Simworks makes flag lights, stream decks and more to customize your rigs.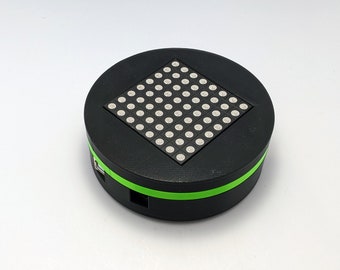 ---
---
Company Review [Hall]
VPG Simlabs is an EU company that offers its Elemento Formula Wheels in a variety of colors at 950.00 pounds, as well as other accessories.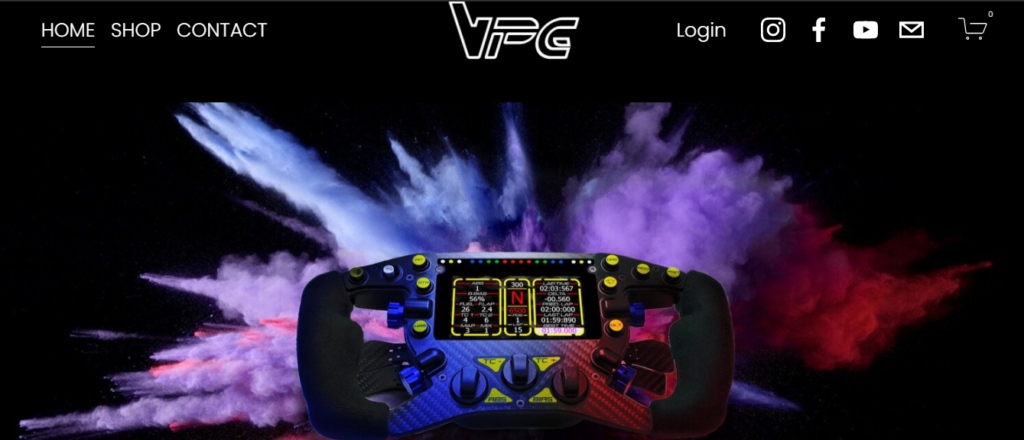 ---
---
Fanatec Owners Group [Mike]
Facebook has a Fanatec Owners Group that you can join which will let you discuss, ask and answer questions about your Fanatec product like how to remove a wheel that's stuck on the wheel base.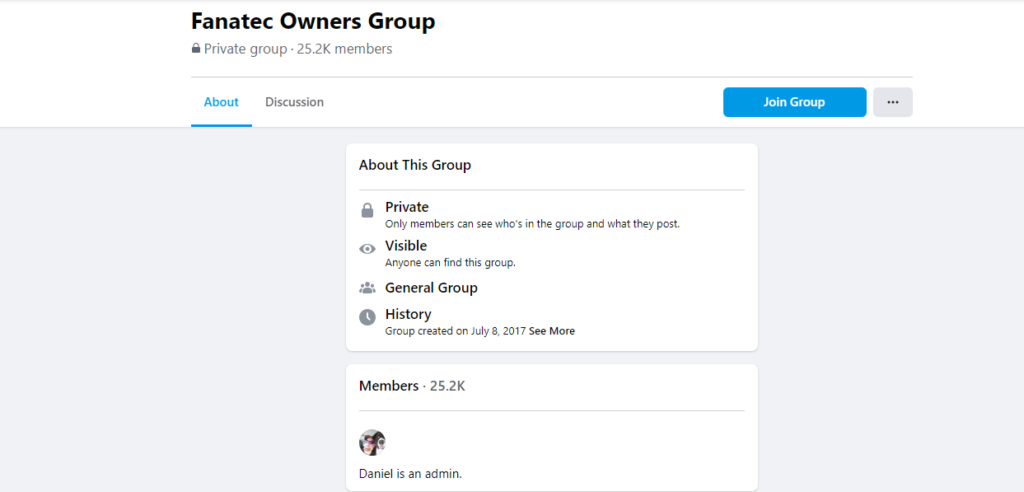 https://www.facebook.com/groups/299888563809613/permalink/1140107913121003/
---
---
Rig Review [Hall]
AussieStig on Twitter posted a photo of his rig and setup in his sim racing studio.
---
---
CSE button Boxes [Brian]
CSE (Custom Sim Engineering) has their Eau Rouge button box designed for the Fanatec DD wheel bases for 159 pounds
https://www.customsimengineering.com/bb-dd
---
---
New Player on the Market [Mike]
coming in at $1200 The new Q3 Simsport pedal set with Full hydraulic brake and clutch using high end automotive components such as Wilwood with a Leo Bodnar Load cell PCB Brain. The brake force is adjustable giving the racer precise control of the feel of the brake. The clutch pedal travel can be adjusted and also comes with a hard and a soft spring. The throttle also has a hard and soft spring and also has an adjustable pneumatic damper, for precise feel and control. These pedals come filled and bled from the factory ready for you to bolt to your rig, tune and drive.
https://www.q3simsport.com/shop/p/oor56vbbe2bn6cy3b4pb27a7r9hx1y
https://members.iracing.com/jforum/posts/list/3799270.page#12457108
---
---
Results
NASCAR iRacing Series
Race: Martinsvile
Hall – p 9, Did my darndest to keep nose clean, still had to run that last 50 laps with 16x, so was pretty happy to sneak away in top split with p9. Race had 30 cautions for 147 laps. People just race stupid at short tracks.
Thurs Open

Ellis – p. 18 dq'd out w 10 to go – was fighting for the lead at one point
Rochette P3 25 cautions dodged and weaved and survived with only a ghost 4x. Tried to get leaders but was getting loose on exit
Dallara Jet Car -Ellis – Spa – DNF friday – Started in the back gained a few spots but went off and lost them – then trying to pass a guy we hit and get damage…
---
---
Official Series
Hall – 2 total Daytona Wins
---
---
League / Hosted Races
OBRL iRLP Aftermath Truck Series

? Congratulations Steve Thomson #67 Winning The Aftermath Podcast Truck Series Race at Martinsville Speedway,
Josh Robinson #23 Finished 2nd
Dwayne McArthur #97 Finished 3rd
---
---
Final Thoughts
---
---
---
Words Spoken in Closing Audio Clip -""Thank you for listening to the iRacers Lounge podcast make sure to go subscribe to us on iTunes, SoundCloud, or Google Play, Facebook & Twitter, See You On The Track ."
TITLE IDEAS
Cautionsville
.
.
Description
This week we introduce one of team Tifosi's iRacers newest members Tyler Williamson. We review all of the newest in high performance pedal systems and we recount our caution filled stories at Cautionsville. All on this week's episode of The iRacers Lounge Podcast.
iRacers Lounge Podcast is available on iTunes and Apple's Podcasts app, Stitcher, TuneIn, Google Play Music, Spotify, Soundcloud, Podbean, Spreaker, Podbay, PodFanatic, Overcast, Amazon, and other podcast players.
Sponsors:
www.grid-finder.com
Hosts:
Mike Ellis – twitter.com/MikeDeanEllis
Tony Groves – www.twitch.tv/SirGroves
Chris Scales – twitter.com/JediMcfly
David Hall – www.twitch.tv/mixmage
Greg Hecktus – twitter.com/froozenkaktus – www.twitch.tv/froozenkaktus
Tony Rochette – twitter.com/TonyRochette
Adam Josselyn- twitter.com/Jossad83
Brian Maccubbin – www.twitch.tv/MacRubbinsRacin
Tom Dreiling –
Links:
Old Show Notes – bit.ly/2CFeArM
Facebook – www.facebook.com/iRacersLounge/
Twitter – twitter.com/iracerslounge
Instagram – instagram.com/iracersloungepodcast/
Web (New Show Notes) – iracerslounge.com/