4/15/2021 – Left Unsupervised – Episode 0275
iRacers Lounge Podcast – Conversation Topics
Brought to you by:

Opening Audio Clip -"Your listening to the iRacers Lounge Podcast where we discuss everything iRacing, in a casual setting, enjoy."`
READ THIS AT THE TOP OF EACH SHOW!!!
Welcome to the iRacer's Lounge, I am your host "XXX". iRacer's Lounge is a podcast for the iRacer, where we talk all things iRacing in a casual setting.
Joining me are the usual characters, ————
---
---
Introduction
On the show today we'll be reviewing a dominate win in the Coke Series Race at Richmond We crown a new world champion in the Porsche eSports Supercup and ask what feature in iRacing you'd most like to see next?
And remember you can follow along with us on your mobile device in real time as you listen to the show and see for yourself all of the great topics and products we'll discuss by visiting iracerslounge.com and selecting show notes. Hope to see you there..
---
---
TITLE SPONSOR READ:
Grid Finder is the home of online sim racing leagues. Grid Finder is also a great resource to find paint designers and race commentators. Recently they have been adding some great articles discussing various aspects of running leagues and sim racing in general. Grid Finder is constantly adding helpful content and giving us all more reason to visit www.grid-finder.com
Visit www.grid-finder.com to find a league, or to upload your own!
Grid Finder – "The home of online sim racing leagues"
---
---
Topics
---
---
Coke Race – Richmond [Hall]
---
---
Porsche eSports Supercup [Brian]
Josh Rogers wrapped up the iRacing Porsche Tag Heuer eSports Supercup World Championship in style Saturday, a week early, with a double win in round 9 of Saturday's race at Le Mans.
---
---
Porsche All Stars [Tony]
The feature race of the Porsche All stars goes to Dan Suzuka with second going to Tony Kanaan and third Matt Malone. The sprint race was won by Emily Jones who is leading the points going into the final round.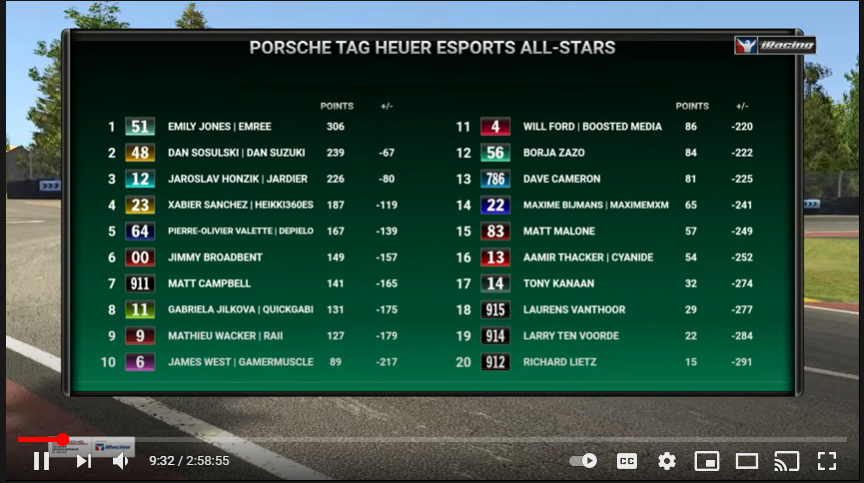 Intense Battle [Kyle]
Prepping for PESC [Hall]
Porsche Supercup driver Kevin Ellis Jr posted a video on the Apex Racing TV Youtube Channel 'Prepparing for PESC. It tracks the RLL driver in the week leading up to the big race at LeMans on Saturday.
No New Porsche [Brian]
On last week's show some speculated that the TBD status for the final All Star race may indicate a new Porsche car on the service. But it turned out to be a fan vote for the final car to be races at Round 10-Monza which will be the 911 GT3 Cup.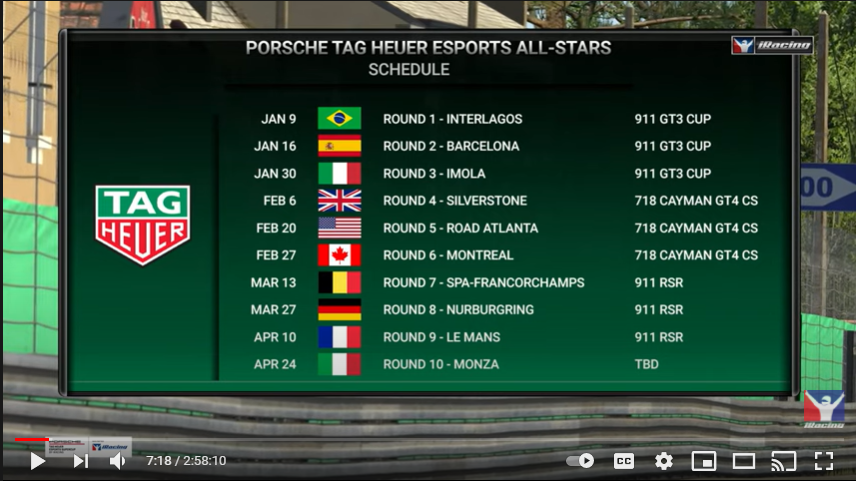 ---
---
Nascar Loses Timmy Hill as Full Time Driver [Tony]
iRacing favorite Timmy Hill and his Nascar MBM Motorsports team Missed the race this past weekend at Martinsville, and is likely to miss more throughout the remainder of the season. .
https://beyondtheflag.com/2021/04/07/nascar-loses-full-time-cup-series-driver-team/
---
---
Camping World Cash [Kyle]
Camping World CEO Marcus Lemonis is looking to pay $5000 for a paint scheme for Daniel Suarez for their race at Darlington.
---
---
Tips for Endurance Racing [Hall]
IMSA and Sim Racer Daniel Morad posted a video on iRacing's Youtube channel with tips for endurance racing. His 5 main tips were…
1.) Racing Etiquette
2,) Patience and Consistency
3.) Managing Traffic
4.) Saving Equipment
5.) Mindset
---
---
Chicago Street Update [Brian]
Steve Myers posted on Twitter that the iRacing Chicago Street Circuit is going to be stunning and praised artist Darren Pattenden for his work.
---
---
How about Purple? [Tony]
Alex Papini ordered a black NRG Ultra seat, but got a purple one by mistake. Rather than wait a month for the problem to be resolved and asks if anyone knows if I can simply get a black NRG Ultra cover and replace the purple?
https://www.facebook.com/groups/1113828239074525/permalink/1177097042747644/
---
---
iRacing at Bristol Bash [Kyle]
Josh Richards took his iRacing sponsored Dirt Late Model to victory lane at the Morton Buildings World of Outlaws Bristol Bash.
---
---
Biggest iRacing Accomplishment? [Greg]
Part time Nascar Driver Landon Huffman posed on Twitter, what's your biggest iRacing accomplishment?
---
---
Tire Model Still Off? [Hall]
Real World driver Christopher Mies tweeted that he just got back on iRacing in over a year and was surprised to see how far off the tire model is still, even offering his help to make improvements.
---
---
Dirt Car Updates [Brian]
Staffer Christian Challiner posted in the forums that he's pleased to be able to tell you all that you will find updates to the Dirt LM's and Street Stock in Mondays hotfix/patch.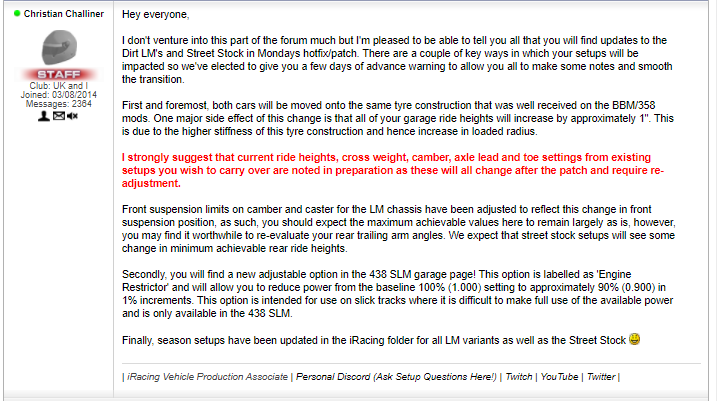 https://members.iracing.com/jforum/posts/list/3800677.page#12459728
Breaking it Down [Kyle]
Tommy Brandon Breaks down the new Dirt Late Model Tire Model and gives it high marks especially in the feel of the right rear tire on the cushion.
---
---
Drive Fast Pasta's Paint [Tony]
Anthony Alfredo tweeted that you can now run his iRacing paint scheme in Trading Paints.
---
---
Release Notes [Hall]
The details of the Season 2 Patch 3 Hotfix 1 was posted on the iRacing support page.
https://support.iracing.com/support/solutions/articles/31000160016-2021-se-2-patch-3-hotfix-1-re-notes-2021-04-09-03-
---
---
Windsheild Woes [Greg]
Brian Simpson posted in the forums that while implementing the Darlington package he thought it was a perfect opportunity to get put the names on the windshield as we try to stay up to date with the current season. Unfortunately I completely forgot about the Coke series, which requires the logo on the front windshield.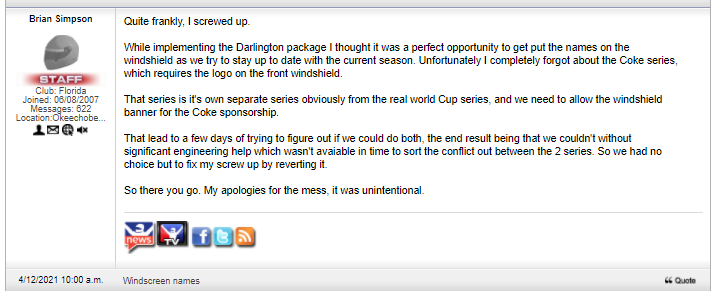 https://members.iracing.com/jforum/posts/list/3800441.page#12462301
Trueforce Crashes [Brian]
David Tucker posted in the forums that iRacing had to turn off the Logitech Trueforce feedback system because it was causing a serious crash for a lot of members.

https://members.iracing.com/jforum/posts/list/3801047.page#12463435
---
---
Advice – Buy the Good Stuff [Tony]
Justin Hill posted on the Sim Racing Builds Facebook page some advice for those looking to buy a sim racing rig. His basic advice, Buy the good stuff right away and save time and money.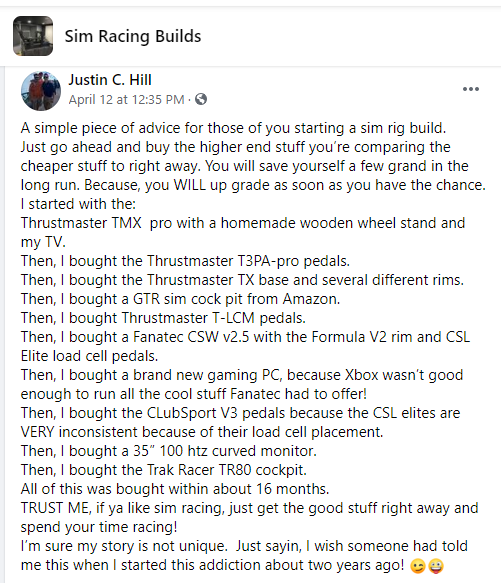 https://www.facebook.com/groups/1113828239074525/permalink/1178986125892069/
---
---
Tyler Daniels Racing Radical Series [Kyle]
Tyler Daniels Racing announced on their Facebook page that in case you haven't heard: they're now hosting SR8 practice sessions for our Radical SR8 series now running on Tuesdays by professional Radical driver Austin Riley Austin will be providing coaching sessions on their Discord channel in Mpnday's practice
https://www.facebook.com/111931990625895/posts/252422006576892/?d=n
---
---
Service Interruption [Hall]
iRacing support announced that the service will be down for the deployment of the season 2 Patch 4 on Tuesday, April 20th at 9:00am EDT.
---
---
Fantasy [Tony]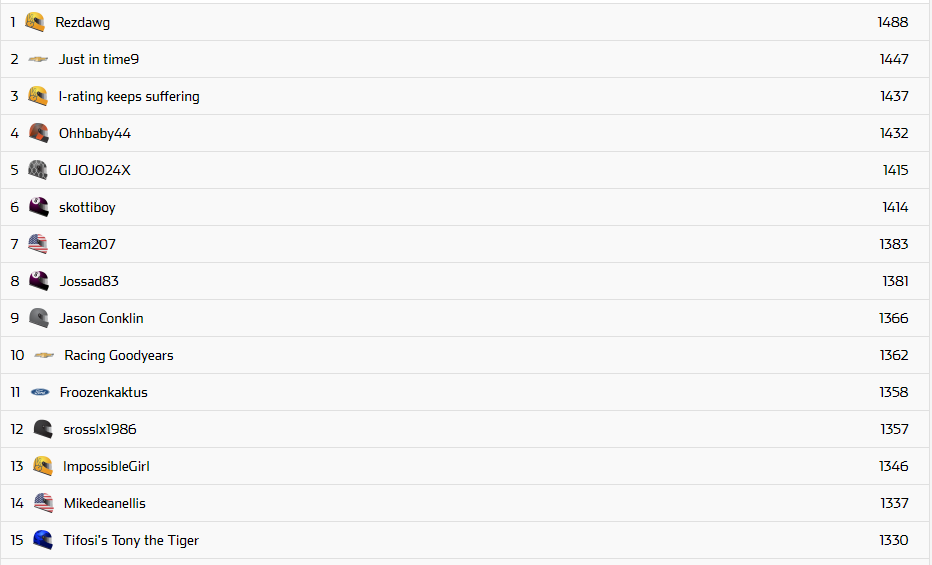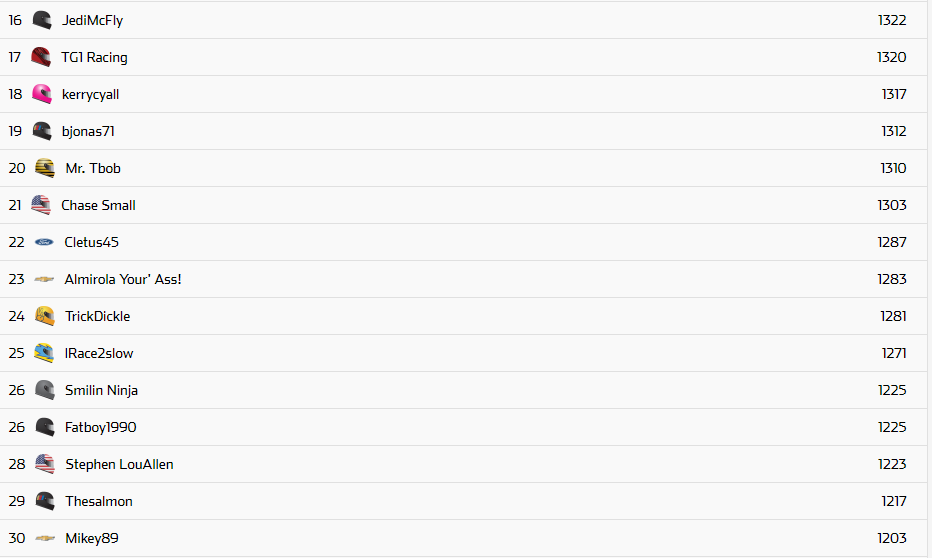 ---
Podcast Housekeeping
Aftermath Podcast – Get it!
New Website – Leave Comments https://www.iracerslounge.com/
You've heard us talk about the Spotlights. Those of us that have them here at iRacers Lounge absolutely love them. So much, we have become an affiliate! With the roll out of their new Spotlights Pro. Here's your chance to check them out, you won't be disappointed. Enter coupon code: IRACERSLOUNGE for 10% off!!
https://www.facebook.com/1565571990374134/posts/2832513123680008/?d=n
---
We are in the regular rotation… (Mike)
https://performancemotorsportsnetwork.com/
---
---
---
Hardware/Software
---
Innato Wheel [Hall]
Simplace.co is offering their Innato GT3 Steering Wheel which is compatible with OSW, Thrustmaster, Logitech and Fanatec, compatible adapter is required for each wheelbase.
https://www.instagram.com/p/CNXrcUvBe6J/?igshid=91amsvwgpw2w
---
---
The Most Expensive Sim Seat Ever [Greg]
The Recaro Podium is a high end, light weight, CFRB (carbon fiber reinforced polymer) shell seat designed for real or sim race cars and sells for around 2600 pounds.
https://www.recaro-automotive.com/en/dynamic/recaro-podium
---
---
US Distributor for Heusinkveld [Kyle]
Darin Gangi posted in the forums that Heusinkveld Sprint 3 and 2 pedals sets as well as Clutches and baseplates are available for immediate shipping thru the Sim-Motion website.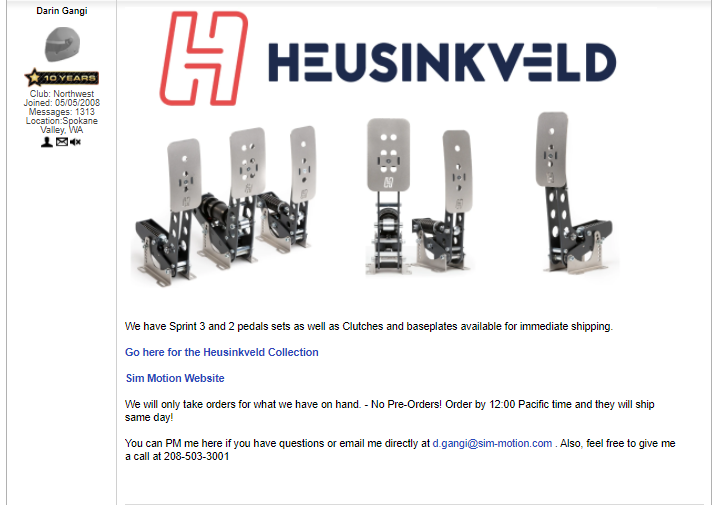 https://us.sim-motion.com/collections/heusinkveld
https://members.iracing.com/jforum/posts/list/3790403.page#12367809
---
---
Sigma Integrale DK2 3DOF Motion System [Brian]
Barry Rowland Reviews the Sigma Integrale DK2 3DOF motion system on his Sim Racing Garage selling for $4900. Note- They're currently sold out and will be ready to ship next on June 6, 2021.
---
---
Simware [Tony]
Simware is an online catalog where you can find sim racing companies broken down by components and will direct you to the company's website for information and purchases.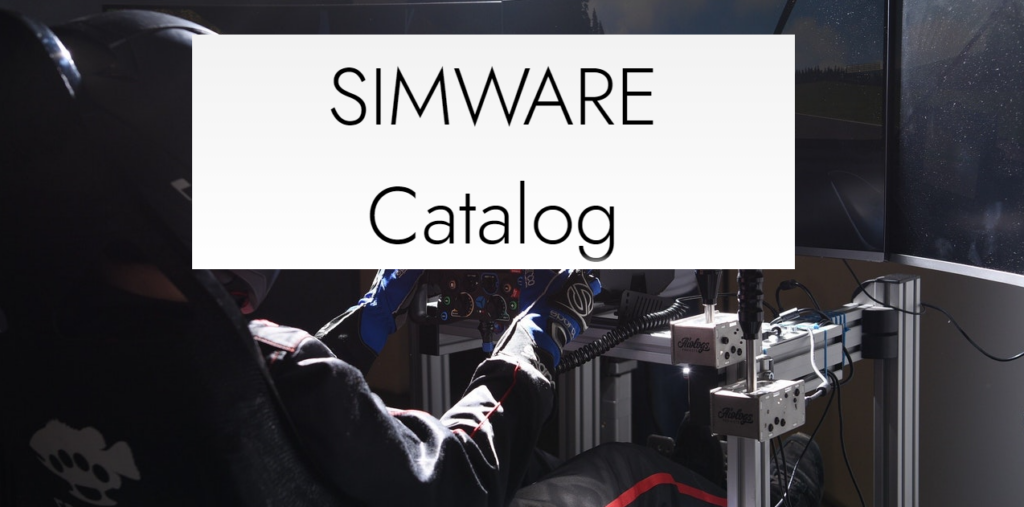 ---
---
Listener Scott Ross Sent In [Hall]
Show listener Scott Ross sent in a link to Lebois Racing that offers 3d printed parts for sim racers. He was able to find an adapter for his G29 pedals that may be very useful.
I started to look at DIY hydraulic and I found a very interesting designer.
Lebois Racing is pretty interesting. Everything is 3d printed, I can even get an adapter for my G29 pedal. I may be willing to do it because I do have soldering experience, friends with 3d printers and a dirtbike caliper, lying around.
On top of that Lebois also has clutch designs and even a gearbox. Check out his website and youtube Lebois Racing – YouTubeLebois Racing – Driving | Hardware | Analysis (lebois-racing.fr)
---
---
Follow Up – Q3 SimSport Pedals [Brian]
Mike asked in the forums if they knew who owned the company for the Q3 SimSport Pedals we reviewed last week, and it turns out its Brad Pugmire who responded in the iRacing forums. mentioning that they're just getting off the ground and there are about 6 sets out there right now and everyone loves them so far.

https://members.iracing.com/jforum/posts/list/3799270.page#12457108
https://www.q3simsport.com/shop/p/oor56vbbe2bn6cy3b4pb27a7r9hx1y
---
---
PT Actuator Scorpion Experience [Greg]
Sim-motion now has their Scorpion Series PT Motion actuators available for ordering. They run $4999 on their site.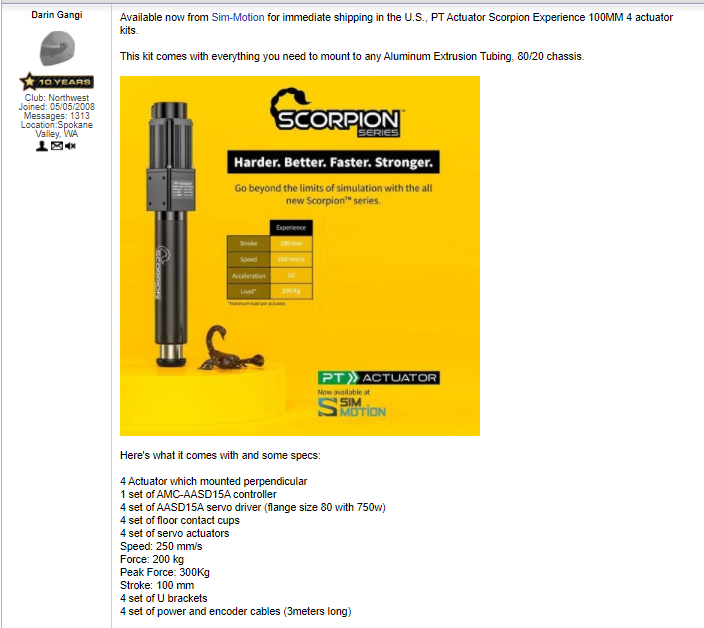 https://members.iracing.com/jforum/posts/list/3801203.page#12464540Motion
---
Results
NASCAR iRacing Series
Fri open: Martinsville
Ellis – – p15 – ran top 5 most of the race – got ran over w about 10 to go which put me at 17x – guy who won led every lap, never pitted.
Sunday Open

David – p 14 cleaner than before. I position for top 5 but unavoidable accidents
Kyle -P-9 Started P-17 got involved with some minor bumping worked my way to the lead but couldnt hold the lead on older tires fell back to 13 and got DQ on last GWC to finish P-9 after 34 cautions.
Sunday fixed

Mike -pdnf – had a problem with the calibration of my brakes. I would push 100% down but only get 60% brake, so i kept racking up the 4x's so i parked it.
Tyler – P8 – first race in A car at Martinsville and snagged a top 10. Not much racing but a whole lot of surviving. 30 cautions for 154 laps. Had close great racing at the end for a strong finish. Made it out with only a 10x
Race: Richmond
Wed Open:

Hall – p3 , fast, spun tires on last restart, nothing for p1
Kyle – P P30 Started P 12 ran top 5 until lap 93 when i got loose off of 2 and hit the outside wall and collected 2 cars and my was over at that point i finished P30
Race: Richmond
Wed Open:

Hall – p3 , fast, spun tires on last restart, nothing for p1
Kyle – P P30 Started P 12 ran top 5 until lap 93 when i got loose off of 2 and hit the outside wall and collected 2 cars and my was over at that point i finished P30
---
---
Official Series
Kyle – Heat one finished P5 heat two got wrecked out and finished P18 40 laps down.
FastTrack Sim Racing League

Mike- p5 -ran pretty much top 10 – the winner ended up not pitting the last half of race – feel like I gave it up on pit strategy
---
---
League / Hosted Races
---
---
Final Thoughts
---
---
---
Words Spoken in Closing Audio Clip -""Thank you for listening to the iRacers Lounge podcast make sure to go subscribe to us on iTunes, SoundCloud, or Google Play, Facebook & Twitter, See You On The Track ."
TITLE IDEAS
Left Unsupervised
.
.
Description
The Podfather is off hunting unicorns in Wisconsin this week, so the kids take over the show. We recap a dominating performance in the Richmond Coke Series race and crown a new Porsche Supercup Champion from a track in France. Then it's off to topics and the fun just gets going all this week on the iRacers Lounge Podcast.
iRacers Lounge Podcast is available on iTunes and Apple's Podcasts app, Stitcher, TuneIn, Google Play Music, Spotify, Soundcloud, Podbean, Spreaker, Podbay, PodFanatic, Overcast, Amazon, and other podcast players.
Sponsors:
www.grid-finder.com
Hosts:
Mike Ellis – twitter.com/MikeDeanEllis
Tony Groves – www.twitch.tv/SirGroves
Chris Scales – twitter.com/JediMcfly
David Hall – www.twitch.tv/mixmage
Greg Hecktus – twitter.com/froozenkaktus – www.twitch.tv/froozenkaktus
Tony Rochette – twitter.com/TonyRochette
Adam Josselyn- twitter.com/Jossad83
Brian Maccubbin – www.twitch.tv/MacRubbinsRacin
Tom Dreiling –
Kyle Pendygraft – twitter.com/LoudPedalGaming
AJ Prichett –
Links:
Old Show Notes – bit.ly/2CFeArM
Facebook – www.facebook.com/iRacersLounge/
Twitter – twitter.com/iracerslounge
Instagram – instagram.com/iracersloungepodcast/
Web (New Show Notes) – iracerslounge.com/