4/22/2021 – Cheap DD's – Episode 0276
iRacers Lounge Podcast – Conversation Topics
Brought to you by:

Opening Audio Clip -"Your listening to the iRacers Lounge Podcast where we discuss everything iRacing, in a casual setting, enjoy."`
READ THIS AT THE TOP OF EACH SHOW!!!
Welcome to the iRacer's Lounge, I am your host "XXX". iRacer's Lounge is a podcast for the iRacer, where we talk all things iRacing in a casual setting.
Joining me are the usual characters, ————
---
---
Introduction
On this week's show we'll recap the iracing Pro Invitational as well as many more great topics…and find out which Tifosi driver gets back-to-back NIS wins this week!
And remember you can follow along with us on your mobile device in real time as you listen to the show and see for yourself all of the great topics and products we'll discuss by visiting iracerslounge.com and selecting show notes. Hope to see you there..
---
---
TITLE SPONSOR READ:
Coming soon, Grid Finder 2.0. A complete overhaul to better suit the sim drivers' needs adding many new features to its already robust search functions including allowed controller types, driver assists, race length and whether leagues are currently recruiting. The changes don't stop with the League page, Grid Finder is also rebuilding the paint booth, commentary box and the merch page. The site is still fully functional as they work through the beta phase to make sure the Grid Finder 2.0 launch is as slick as their new logo.
Visit www.grid-finder.com to find a league, or to upload your own!
Grid Finder – "The home of online sim racing leagues"
---
---
Topics
---
---
Praise for Salas [Brian]
Ryan Kish of Racer,com featured an article on Vicente Salas after his dominant performance at Richmond Raceway in last weeks iRacing Coke Series race.
Mic Check [Mike]
Klingerman Sport tweeted out their latest edition of Mic Check after last week's Coke series race at Richmond
---
---
2021 Season 3 Schedule [Brian]
Tyler Hudson posted in the forums that he is taking schedule requests for the '87 stock cars, Silver Crown, Super Late Models and Tour Modified series' for the upcoming season 3. Submissions must be sent in using the downloadable template found in his posts.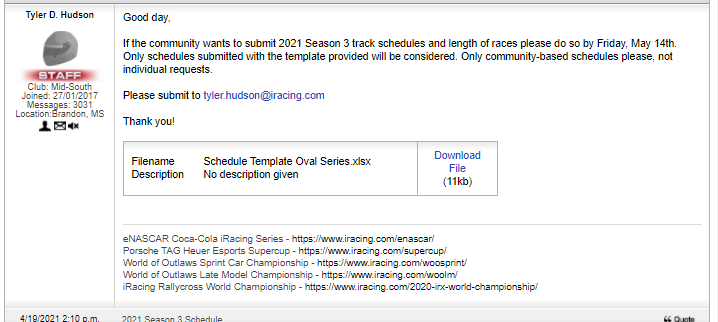 https://members.iracing.com/jforum/posts/list/3801692.page#12469467
https://members.iracing.com/jforum/posts/list/3801688.page#12469452
https://members.iracing.com/jforum/posts/list/3801687.page#12469451
---
---
NASCAR iRacing Pro Invitational [Mike]
Bob Pockrass Tweeted that for the next Pro Invitational Race a fan vote will determine a non-Cup series driver into the field. Development driver Rajah Caruth is already campaigning for his nomination to be voted in on his Twitter account.
---
Start your Voting [Brian]
In a Tweet from Nacsar, they announced that the fan voting began on Saturday at 5pm eastern
Field is set! [Mike]
Father vs Son [Brian]
Kevin Harvick announced on Fox : Nascar's Twitter that his son Keelan will be participating in the Pro Invitational with his Dad.
[Mike]
iRacing promoted the event as "it's like Carb Cup but with Pros."
[Brian]
The damage model is put to the test early as Austin Dillon takes a trip thru the lawn
[Mike]
Fox in race announcer Clint Bowyer gets dumped by Daniel Suarez
[Mike]
After all of the carnage, Brad Keselowski comes out on top taking the victory in the iRacing Pro Invitational Geico 70 at Talledega.
[Brian]
Nascar's official Youtube site posted the extended highlights of the race.
---
---
Majeski at Dells [Hall]
Ty Majeski Tweeted a video of his iRacing sponsored Super Late Model that he will be taking to Dells Raceway in Wisconsin this Sunday.
---
---
Wild West is Gone [Mike]
Wild West Motorsports Park in Nevada regrettably posted on their Facebook account that they are closing due to "unfortunate circumstances", and goes on to thank it's fans, sponsors, promotors and race teams.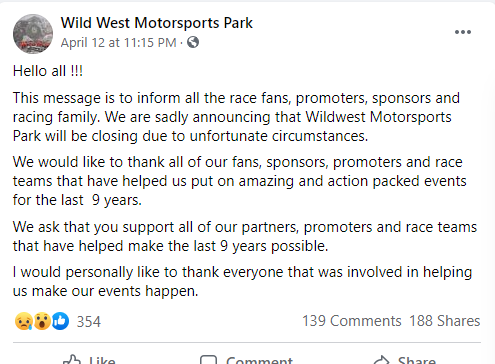 iRacing's Response [Hall]
---
---
Tyler Spends His Money [Mike]
---
---
So Many Danicas [Brian]
Davin @DriveThrough livestreamed a simulated Daytona 500 with 40 unique variations of Danica Patrick paint schemes.
---
---
26 MPH Death Shake [Greg]
Terry Silvers says that when leaving the pits, slowing for a pace car, etc.. when he reaches 26mph the wheel shakes 100000 TIMES more than any collision or speed bump? He is using a Fanatec V2.5 wheel base and FFB is at 8. Others in the forums confirmed the shaking and staffer David Tucker said they are working on it.

https://members.iracing.com/jforum/posts/list/3801464.page#12467643
---
---
The Future of eSports [Hall]

Youtuber penguinz0 posted a video of his father who has gotten onto iRacing in a big way. He describes his life-long love of cars and racing and how iRacing was a natural progression.
---
---
Poll [Mike]
John Flowers opened a poll in the forums asking members what feature they'd like to see next.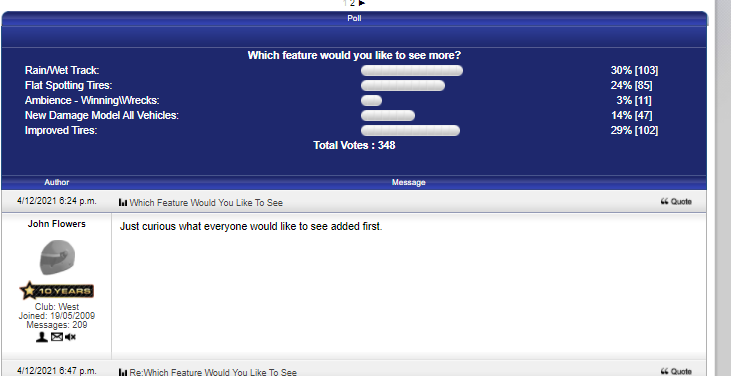 https://members.iracing.com/jforum/posts/list/3801039.page
---
---
Host AI Races [Brian]
One of the features not in the poll, but some have mentioned as on their wish list was the ability to host AI Races.
https://members.iracing.com/jforum/posts/list/3801039.page
---
---
Rain Update [Greg]
Stefan Jones asked in the forums if rain has been put on the backburner. Tyler Hudson replied that they are definitely still working on it and there are a lot of variables to do it correctly.

https://members.iracing.com/jforum/posts/list/3801625.page#12468815
---
---
Release Notes [Hall]
iRacing posted the release notes for 2021 Patch 4 season 2
https://support.iracing.com/support/solutions/articles/31000160126-2021-season-2-patch-4-release-notes-2021-04-20-01-
HotFix Inbound…. [Mike]
A quick follow up with hotfix
Release Notes….
System Crash [Brian]
Staffer Alex Gustafson posted in the forums that iRacing is aware of an issue causing users to crash when transitioning from Practice to Race servers.
Users can prevent this by setting "enableLCDDisplay=0" in the "[External_Displays]" section of the "app.ini" file, located in the Documents\iRacing folder.

https://members.iracing.com/jforum/posts/list/3801872.page#12470978
---
---
SummerBowl [Greg]
The eRacing Association will be sponsoring the EPM Omega Cup on May 10/12th at COTA with $5000 on the line.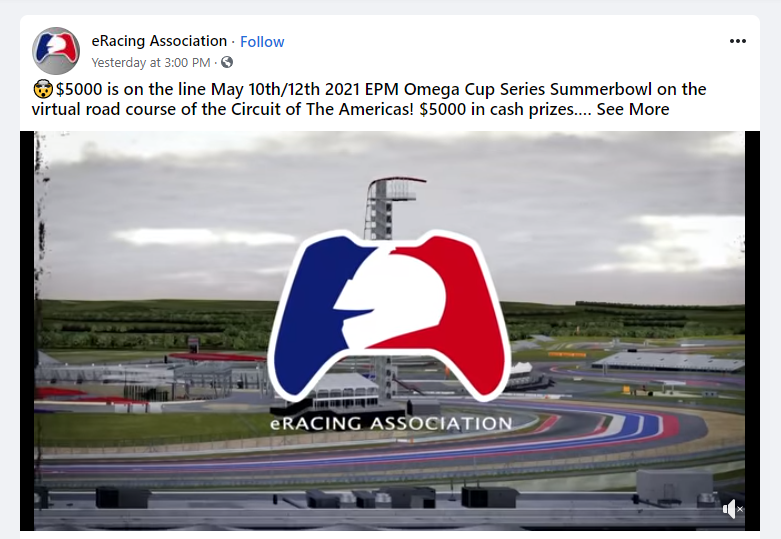 https://www.facebook.com/watch/?v=1399850623696360
---
---
SRF Update [Mike]
Greg West announced that in the upcoming season 3 update the Spec Racer Ford will be transformed into the 3rd generation (Gen 3) racecar with an upgrade to the chassis and performance of the new model.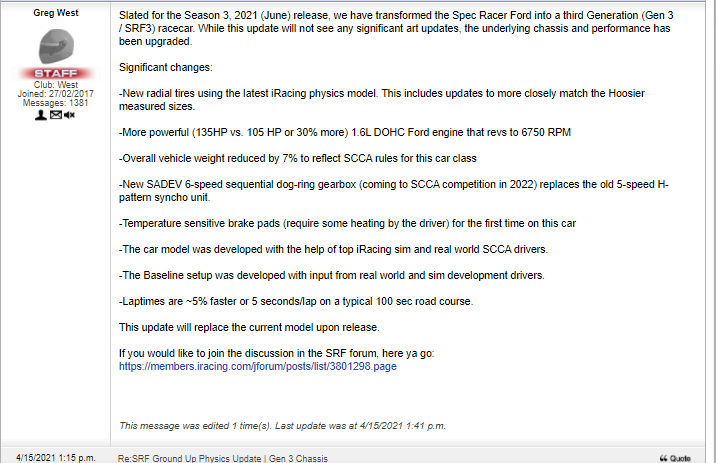 https://members.iracing.com/jforum/posts/list/3801299.page#12465620
---
---
Braking Mistakes [Hall]
Driver 61 Sim Racing posted a video on his Youtube channel asking if you're making mistakes when braking.
---
---
24 Hours of Nurburgring [Brian]
Greg West posted in the forums the details of the upcoming 24 Hours of Nurburgring this weekend including a balance of power update.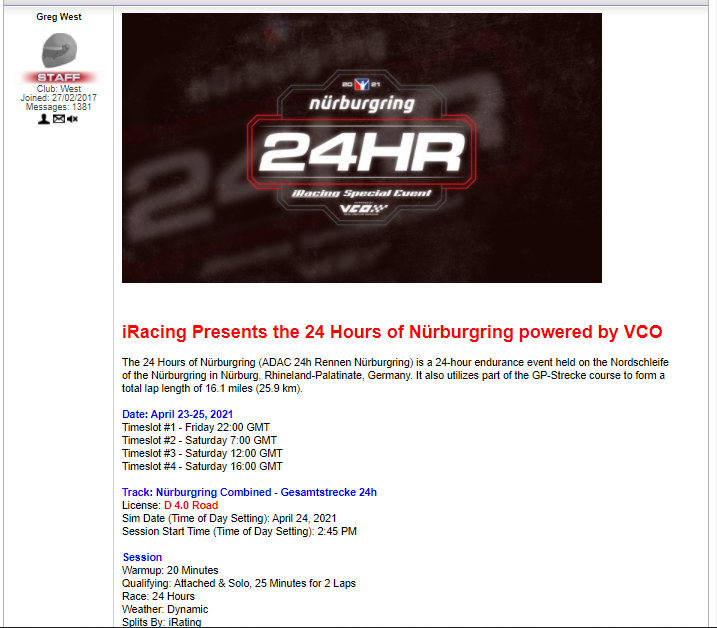 https://members.iracing.com/jforum/posts/list/3799308.page
---
---
Emmy Nomination [Greg]
Fox Sports' iRacing coverage of the Pro Invitational Series has earned a Sports Emmy nomination for best Esports coverage.
[Mike]
Erik Arneson, Fox Sports Vice President of media relations, tweeted his congratulations to the Pro Invitational Series broadcast team for their nomination.
https://members.iracing.com/jforum/posts/list/3801848.page#12470736
---
---
IRX Is Back [Hall]
The IRX All star invitational presented by Yokohama kicked off round 1 at Brands Hatch with the first win going to French driver Yohann Harth.
---
---
Exercise? [Brain]
Parker Klingerman tweeted a poll as to whether or not sim racing is a workout?
---
---
Tally Package Broken? [Greg]
Brody Anderson posted in the forums that he thinks the new draft package is garbage and turns the race into a giant game of follow the leader. His sentiments were affirmed by several others.

https://members.iracing.com/jforum/posts/list/3801889.page#12471153
https://members.iracing.com/jforum/posts/list/3799210.page#12448195
---
---
Help Wanted [Mike]
iRacing is looking to hire a full-time Quality Assurance Tester.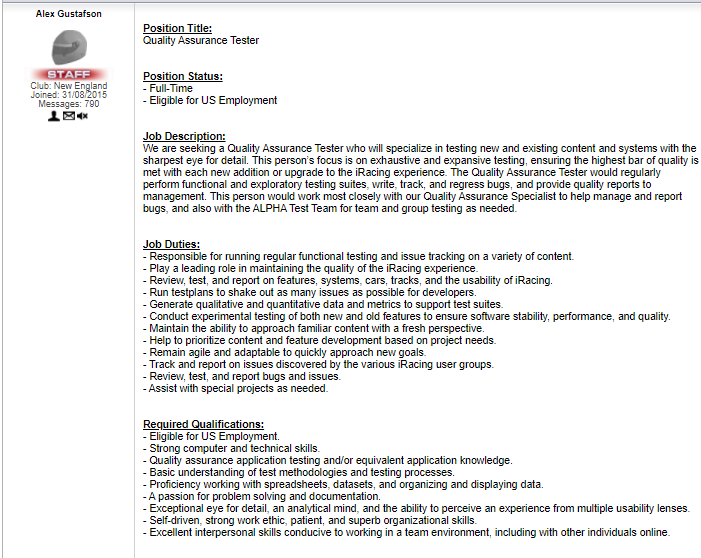 https://members.iracing.com/jforum/posts/list/3801940.page#12471898
---
---
4 Hours of Charlotte [Hall]
Greg West announced in the forums the 4 Hours of Charlotte special event.
iRacing will team up with the National Multiple Sclerosis Society on Saturday, July 31 to add a brand new race to the Special Events calendar. The inaugural iRacing 4 Hours at Charlotte Benefiting the National MS Society will feature the Global Mazda MX-5, Audi RS3 LMS, Porsche 718 Cayman GT4 Clubsport MR, BMW M4 GT4, and the McLaren 570S GT4 on the Charlotte Motor Speedway Roval, and will mark iRacing's first partnership with a non-profit organization for a special event.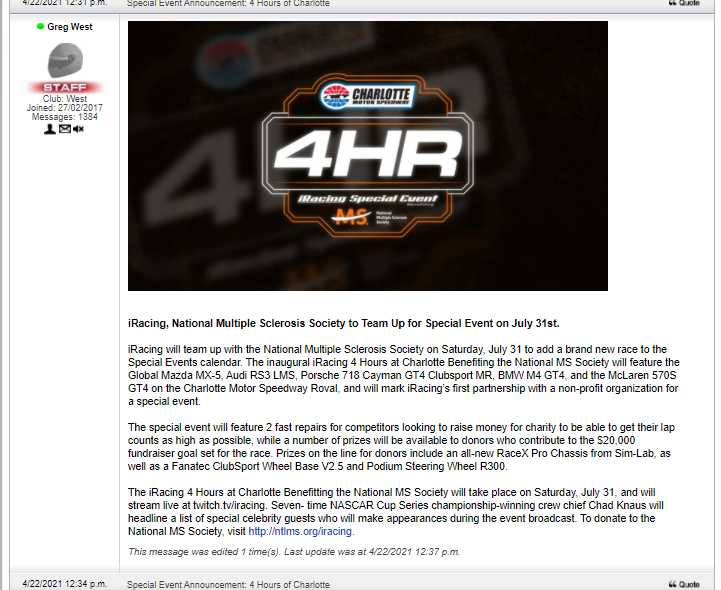 https://members.iracing.com/jforum/posts/list/3802009.page#12472834
---
---
Podcast Housekeeping
Aftermath Podcast – Get it!
New Website – Leave Comments https://www.iracerslounge.com/
You've heard us talk about the Spotlights. Those of us that have them here at iRacers Lounge absolutely love them. So much, we have become an affiliate! With the roll out of their new Spotlights Pro. Here's your chance to check them out, you won't be disappointed. Enter coupon code: IRACERSLOUNGE for 10% off!!
https://www.facebook.com/1565571990374134/posts/2832513123680008/?d=n
---
We are in the regular rotation… (Mike)
https://performancemotorsportsnetwork.com/
---
---
Fantasy [Brian]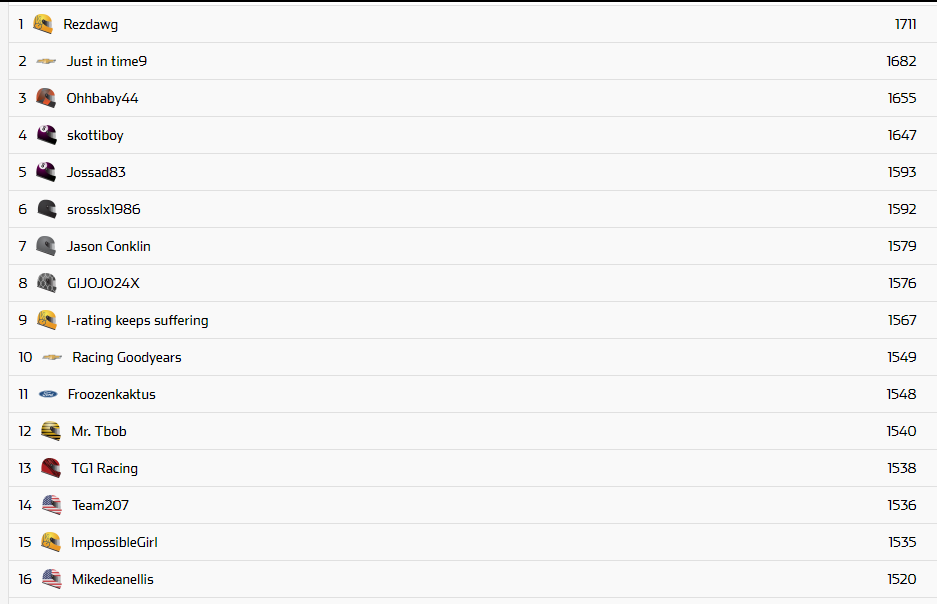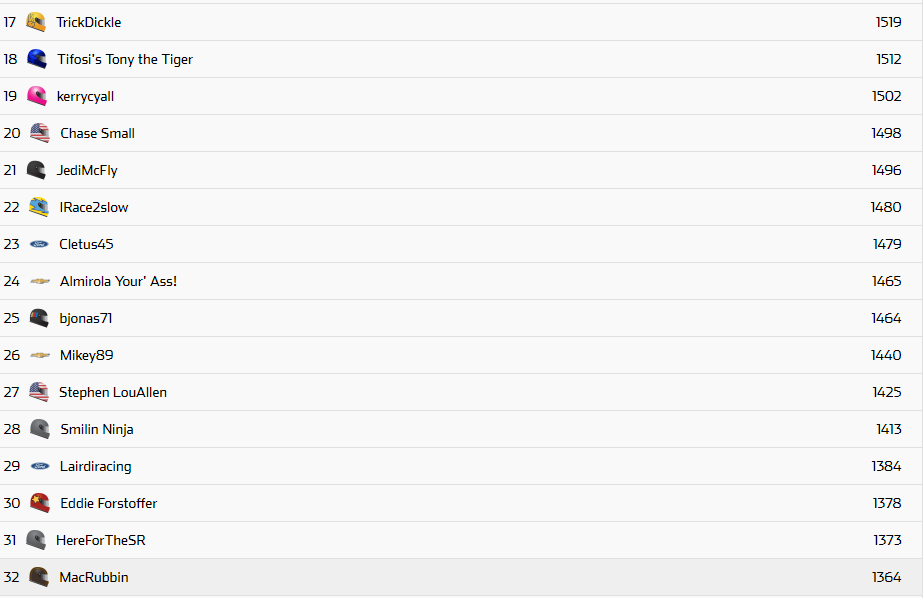 ---
---
---
Hardware/Software
---
PT Actuator Scorpion Experience [Hall]
Sim-motion now has their Scorpion Series PT Motion actuators available for ordering. They run $4999 on their site.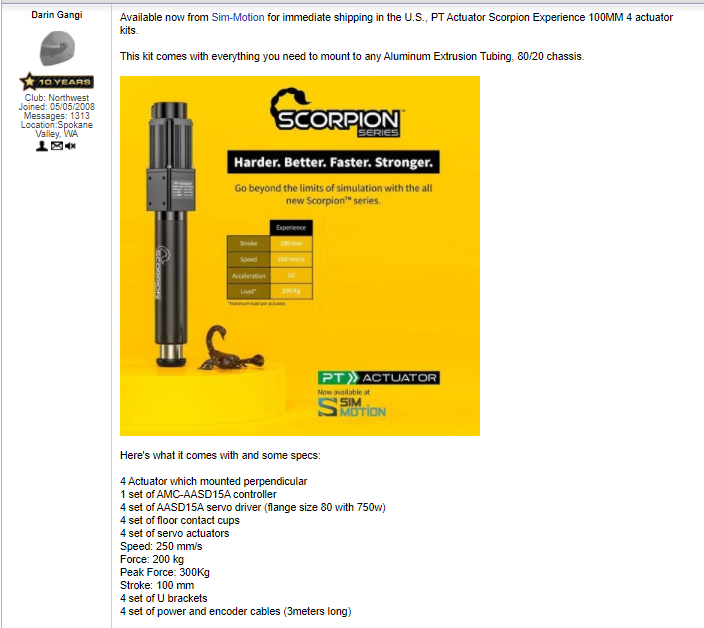 https://members.iracing.com/jforum/posts/list/3801203.page#12464540Motion
---
---
CSL DD Launch [Brian]
Fanatec annouced the introduction of the CSL DD. An introduction direct drive wheelbase for a very reasonable $349.00
---
---
Thrustmaster Launch [Greg]
Thrustmaster made the official launch of it's new F1 Ferrari SF1000 formula wheel.
https://members.iracing.com/jforum/posts/list/3801936.page#12471864
---
---
Results
NASCAR iRacing Series
Fri open: Richmond
Ellis – – p1- Ran top 10 all night with no incidents but couldn't catch the leader, and I even had better tires, but at 50 to go he pit I didn't and it went green from there.
First win of the year. Whew
Hall = P11, top split, nice finish for car 27, even had an unplanned 4 wide moment
Rochette P5 caught in some wrecks miss timed pace car on getting damage fixed was 3 laps down but comeback kid my way through back to lead lap and landed another top 5
Sunday Open

Brian – p4 Screwed up qualifying. Set was stable and fast. Stayed consistent and worked my way up to 2nd, but settled in at 4th
Rochette- P11 Man Richmond fun to race but i got used and abused this morning got wrecked 3 times 16x and 17th after the checkered going through the grass on avoiding a wrecked at the line.
Kyle – P P-7 started P-11 and had a good run until about halfway and couldnt keep the tires straight and fell back to the 20's was able to work my way to a P-7 in the finally 10 laps.
Sunday fixed
Brian – P14 Got in a lot more trouble in this race. People were just too aggressive with lots of cautions. Accidentally used up my extra tires on lap 122. Held on to p14 with car #34
Tyler – P13. started dead last and kept the car clean for the most part. Most passes were done under caution or in the pits. Longest green run we had was about 35 laps with everyone struggling to pass and keep traction.
Race: Tally
Wed Open:

Hall – p12, taken out buy a guy diving below the yellow line, luck on a GWC to get a lot of spots back

Tom D. P wrecked
Ellis – p.1 – Ran top 5, never passed anyone to the right side, basically slowly gained positions through pitting and pit strategy. Led the most laps all the way to end. Late caution for a GWC I didn't want to see had me on fumes. Another GWC would ruin me but never came thanks to DB Bowman. Check his twitch at twitch.tv/dbbowman to see my win… I owe DB a case a beer big time as he did not challenge me for the win, but agreed to push me and finish 2nd….Class act – Two wins in a row. Check out his twitch

The winning move was the last GF stop, he got up beside me and was positioning to beat me off pitroad, but I had a very perfect stop and got off first…
Rochette – P10 helped Mike to the lead on a restart where he stayed and i fell back. Last restart cars in front wrecking killed my momentum with the lead pack
Thurs Open

Ellis – p. 4 – forgot to change out of the q set – so lost a lap taking tape off. Eventually got a lucky dog and worked my way back up – good fuel strategy put me up front near the end just had a bit of damage and couldnt pass at all…
Rochette P9 Got my annual Dega Pole, along with fastest lap and 14 led. Non caution wreck in front broke me away from the main pack and my 4 car line couldnt regain
---
---
Official Series
A Fixed

Ellis – p- 24 – couldn't pass at all, ran 5th the whole race – then caution at end so gwc – guy starting third thinks he is going to let his bud in so he checks up and i run over him and we all wreck.
Kyle P – P1-Started P-11 Car 29 and ran top 10 until pit cycle and got up to P-5 and just waited my time until the last caution with 12 to go Was able to draft my way to 2nd and just rode there until the last lap and made the move to go to the high side and left the leader all alone and i caught the draft of a lapped car and had the help of the car behind me to make the pass coming to the Tri-Oval to secure the win on the last 300 yards of the race.
---
---
League / Hosted Races
FastTrack Sim Racing League

Mike- p11 – Was running better than that, but got caught w a yellow after my gf stop and ended up a lap down – no other lucky cautions so that is all I could get – Shout out to Brian for great spotting
Mike P11
adam-p3
Tom D. P
UCRA-chicago
Mike – p 6
David -p
OBRL iRLP Aftermath Truck Series

? Congratulations Steve Thomson Winning The Aftermath Podcast Truck Series Race at Talladega SuperSpeedway,
Koko Puffs #3 Finished 2nd
Andrew Hess #54 Finished 3rd
Hosted

Ellis – Chris Macguire Michigan old cup car- p7
---
---
Final Thoughts
---
---
---
Words Spoken in Closing Audio Clip -""Thank you for listening to the iRacers Lounge podcast make sure to go subscribe to us on iTunes, SoundCloud, or Google Play, Facebook & Twitter, See You On The Track ."
TITLE IDEAS
Cheap DD's
.
.
Description
This week on the show we'll be covering the iRacing Pro invitational at Talladega, or is it Carb Cup with Pros? We have lots of topics to cover and there's a new direct drive wheel base that may stir up the market in a major way, so stay tuned for this week's edition of the iRacers Lounge Podcast.
iRacers Lounge Podcast is available on iTunes and Apple's Podcasts app, Stitcher, TuneIn, Google Play Music, Spotify, Soundcloud, Podbean, Spreaker, Podbay, PodFanatic, Overcast, Amazon, and other podcast players.
Sponsors:
www.grid-finder.com
Hosts:
Mike Ellis – twitter.com/MikeDeanEllis
Tony Groves – www.twitch.tv/SirGroves
Chris Scales – twitter.com/JediMcfly
David Hall – www.twitch.tv/mixmage
Greg Hecktus – twitter.com/froozenkaktus – www.twitch.tv/froozenkaktus
Tony Rochette – twitter.com/TonyRochette
Adam Josselyn- twitter.com/Jossad83
Brian Maccubbin – www.twitch.tv/MacRubbinsRacin
Tom Dreiling –
Kyle Pendygraft – twitter.com/LoudPedalGaming
AJ Prichett –
Links:
Old Show Notes – bit.ly/2CFeArM
Facebook – www.facebook.com/iRacersLounge/
Twitter – twitter.com/iracerslounge
Instagram – instagram.com/iracersloungepodcast/
Web (New Show Notes) – iracerslounge.com/