4/29/2021 – 6 Strong – Episode 0277
iRacers Lounge Podcast – Conversation Topics
Brought to you by:

Opening Audio Clip -"Your listening to the iRacers Lounge Podcast where we discuss everything iRacing, in a casual setting, enjoy."`
READ THIS AT THE TOP OF EACH SHOW!!!
Welcome to the iRacer's Lounge, I am your host "XXX". iRacer's Lounge is a podcast for the iRacer, where we talk all things iRacing in a casual setting.
Joining me are the usual characters, ————
---
---
Introduction
Today we'll be reviewing the Coke Series race at Kansas with the voice of eNascar Evan Posocco, the season finale of the Porsche Supercup Series at Monza, and all the great content you've come to expect.
And remember you can follow along with us on your mobile device in real time as you listen to the show and see for yourself all of the great topics and products we'll discuss by visiting iracerslounge.com and selecting show notes. Hope to see you there..
---
---
TITLE SPONSOR READ:
Coming soon, Grid Finder 2.0. A complete overhaul to better suit the sim drivers' needs adding many new features to its already robust search functions including allowed controller types, driver assists, race length and whether leagues are currently recruiting. The changes don't stop with the League page, Grid Finder is also rebuilding the paint booth, commentary box and the merch page. The site is still fully functional as they work through the beta phase to make sure the Grid Finder 2.0 launch is as slick as their new logo.
Visit www.grid-finder.com to find a league, or to upload your own!
Grid Finder – "The home of online sim racing leagues"
---
---
Topics
---
---
Coke News [Mike]
Round 7 – Kansas
Great Command – https://twitter.com/kansasspeedway/status/1387211485462425601
Luza on the pole – then lap 7 femi olat blows it up – stays green
Cars are either on the very bottom or the very top –
Lap 18 shearburn gets side by side for the lead but never gets it done then falls back in line
Neat webcam view of Isaac Gann and his dorm room buddies…
Lap 32 GF stops start – Pitting at Lap 30, it looks like some will be on a three pit stop strategy tonight.
@LoganClampitt_ strikes first. Others have followed suit.
That was close! @znovak15 was NOT happy with @BowlinGraham who took him three wide into Turn 3 and then squeezed him up into @swilson3_ off of the corner,
Lap 47 GF stops continue maybe an early two stopper –
Cycles back to whitt staying out the shearburn then luza dejong
Lap 63 graham bowlin gets tagged and has a big save – stays green
Some guys are on a three stop pit strategy, some are on a two stop pit strategy…
@Blade_Whitt is on a SINGLE stop strat.
@cshearburn takes the lead back at lap 63 but @RyanLuza isn't far behind though!
57 to go – Caution! Strategies have changed!
@john_gorlinsky tried to split the @SHR_eSports duo of @BowlinGraham and @DDuval42 but ended up catching the 41's nose. Gorlinsky spins down and collects @BBryant53.
Everyone pits – Back to green and the big one happens!
Clampitt goes low on dejong 3 wide drives it in there and dumps the field…
Restart 47 to go – gann shearburn clampitt – they go 3 wide for the lead
By lap 42 to go Gann finally clears shearburn from the inside….
3 laps later shearburn gets back by gann then leahy gets by gann – this was the winning move of the race
Laps winding down. 15 laps remaining on the board. @cshearburn cruising by almost two seconds over @KeeganLeahy.\
14 to go luza blows up after being in that big one stays green
SEVEN! @cshearburn becomes the SEVENTH different winner in SEVEN races in 2021, his second career #eNASCAR Coca-Cola @iRacing Series victory, winner at @kansasspeedway!
https://www.iracing.com/shearburn-becomes-seventh-enascar-winner-to-start-2021-season-at-kansas/
https://www.iracing.com/enascar/standings/
---
---
Cautions Are Broke [Hall]
After a week at Talladega there's lot of new evidence that the cautions are broken. Sideslick1024 posted a couple of videos on his Youtube channel and team member Tyler Williamson also posted a clip of a cautionless wreck.
https://members.iracing.com/jforum/posts/list/3800405.page#12456649
---
---
RTP Did You Watch It? [Greg]
The Road to Pro series was at Talladega in the Trucks where Brad Wright went from 17th to 1st on the final lap to take the win.
---
---
Member Highlights [Tony]
iRacing released it's Member Highlights for March/April on their Youtube channel.
---
---
PESC All Stars [Mike]
Emily Jones took the victory in the main race of the Porsche Tag Heuer Supercup All-Stars race Saturday wrapping up the series championship in the process.
PESC Championship [Brian]
Josh Rodgers didn't take the week off despite wrapping up the series championship last week by taking another victory in Saturday's race at Monza completing a dominant season. Second place went to Mitchell deJong and third goes to Yohann Harth.
---
---
New Porsche [Hall]
During the broadcast of the Porsche Supercup Finale, iRacing revealed the Porsche GT3 R which will be available this June in the season 3 build.
Porsche 911 GT3 R [Greg]
Accompanying the announcement of the new Porsche 911 GT3 R iRacing posted an introduction video on its Youtube Channel.
https://www.twitch.tv/videos/999309684?t=02h18m54s
---
---
Massive Reports of Stats are Down [Mike]
iRacing had issues on Saturday where stats were not displaying in their results. Staffer Nicholas Bailey replied in the forums that they were being fixed and updated fairly quickly.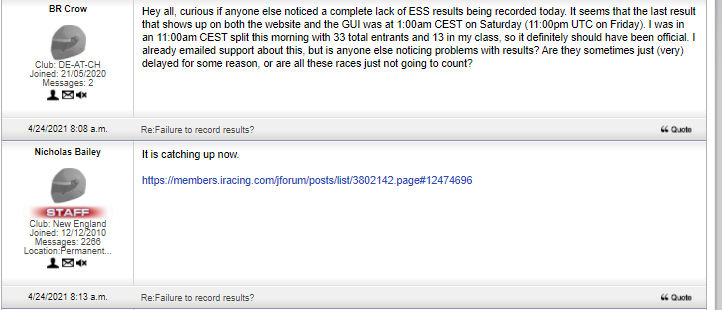 https://members.iracing.com/jforum/posts/list/3802142.page#12474227
https://members.iracing.com/jforum/posts/list/3802206.page#12474838
https://members.iracing.com/jforum/posts/list/3802152.page#12474334
https://members.iracing.com/jforum/posts/list/3802149.page#12474295
https://members.iracing.com/jforum/posts/list/3802194.page#12474709
https://members.iracing.com/jforum/posts/list/3802140.page#12474201
https://members.iracing.com/jforum/posts/list/3802141.page#12474204
https://members.iracing.com/jforum/posts/list/3802149.page#12474295
---
---
2021 Indy 500 [Tony]
Greg West posted in the forums the details of the iRacing 2021 Indy 500.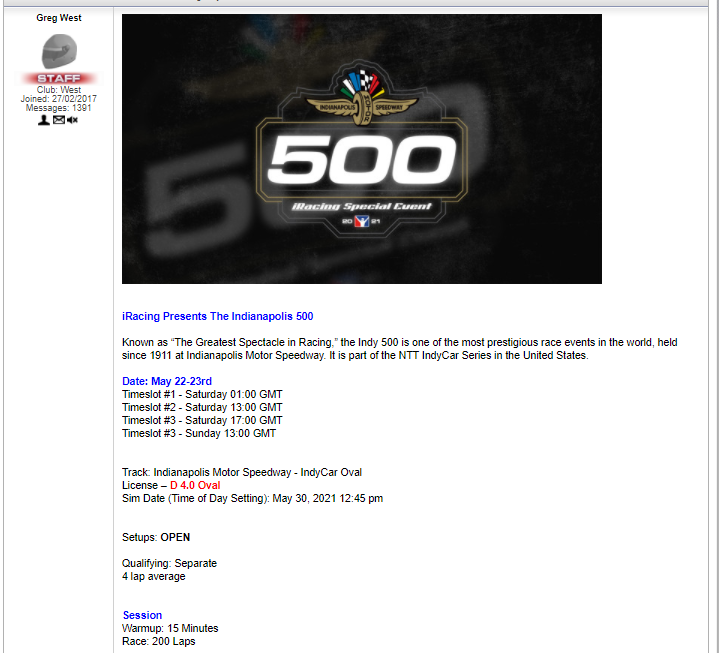 https://members.iracing.com/jforum/posts/list/3802338.page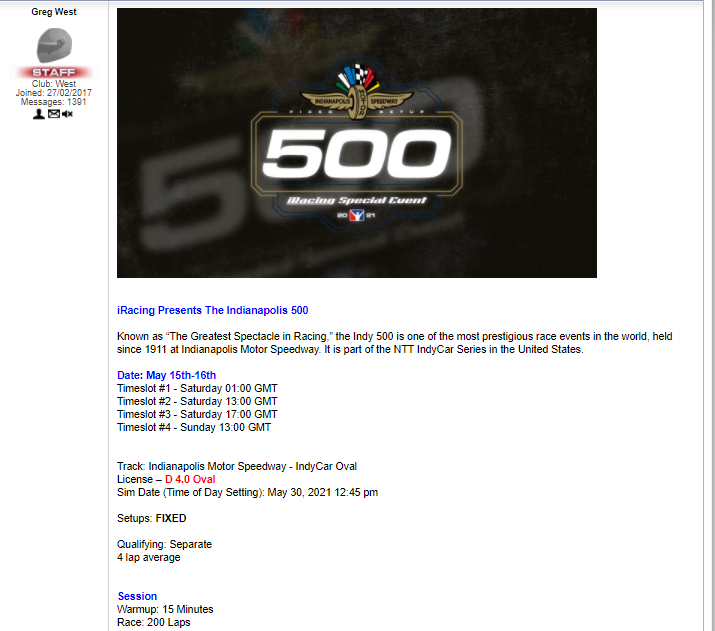 https://members.iracing.com/jforum/posts/list/3802336.page
---
---
Fixed or Open [Mike]
iRacing posted a poll on Twitter asking if drivers prefer fixed setup races versus open setup races.
---
---
NASCAR at Chicago [Hall]
With the unveiling last month of the Chicago Street Circuit coming to iRacing the Sports Business Journal reports that Nascar is exploring running a Chicago street race in the coming years. The post also confirmed the iRacing will serve as a dry run test for an eventual real-life version. The Nascar Pro Invitational schedule has a race on June 2nd with a track TBD speculating it could be the Chicago test run.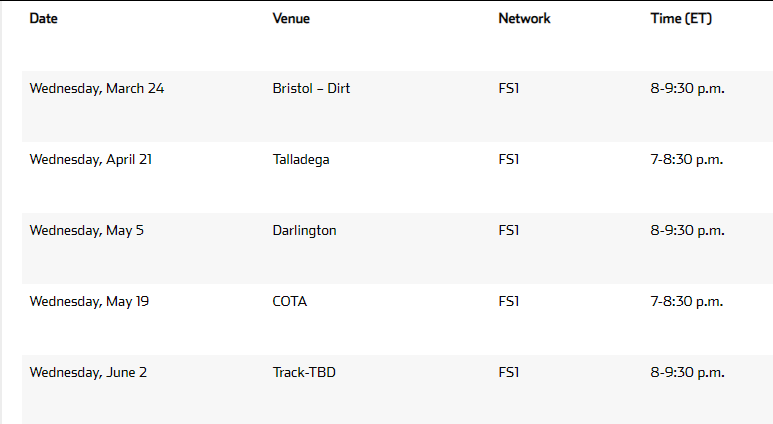 ---
---
Nurburgring Champs [Kyle]
The BMW Team Redline trio of Max Benecke, Chris Lulham, and Max Verstappen led 158 of 174 laps from the pole to dominate top split of the 24 Hours of Nurburgring this past weekend in one of iRacing's most grueling endurance events.
---
---
Better than Rain [Tony]
Jacob Pinkstaff thinks it would be cool to add river boat racing to the iRacing service. Could this be the next form of racing iRacing might tackle.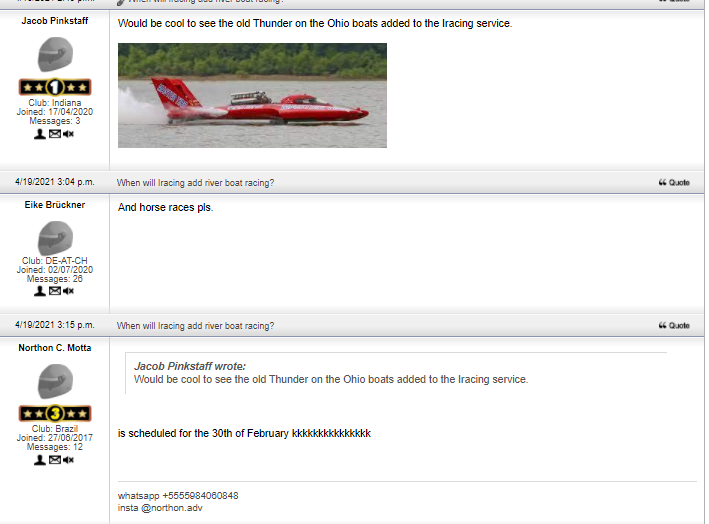 https://members.iracing.com/jforum/posts/list/3801746.page#12469683
---
---
Life Imitating Art [Mike]
This weekends Geico 500 Nascar Race at Talladega had some eerie similarities to the Pro Invitational race last Wednesday including Joey Logano getting airborne in the same painted car and the wins of both races going to Brad Keselowski in identically painted cars as well.
---
---
iRacing Critics [Greg]
Chris Schutte posted in the forums some critical discussions being had after watching the 24 Hours of Nurburgring. Some people in the discussion tried to make the point that despite their love of the game, they have certain gripes with the service that needs attention which, according to them, iRacing would suffer from eventually if not addressed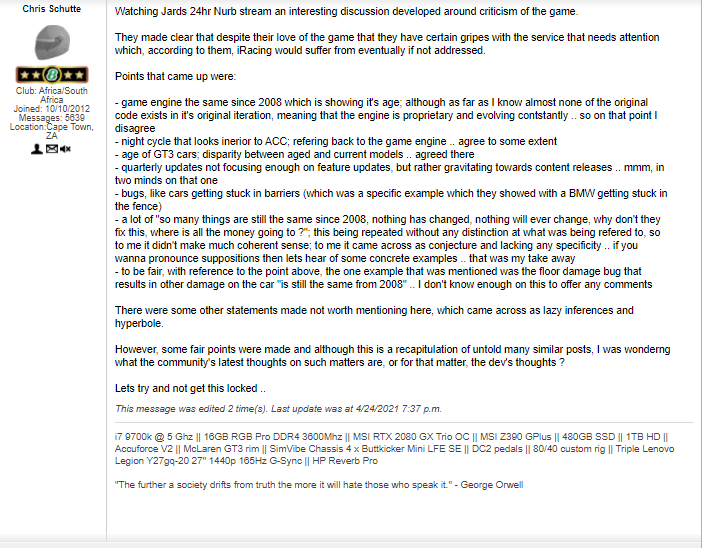 https://members.iracing.com/jforum/posts/list/3802214.page
---
---
Hood to The Neck [Tony]
Michael Cosley Jr Tweeted a photo of an iRacing driver who was unfortunate enough to have the hood of an opponent's car go thru his neck after a track incident.
---
---
Richmond Raceway/VSU Partnership [Brian]
An article in the Richmond Times Dispatch tells the story that Richmond Raceway and Virginia State University will form a partnership to operate the track's esports team in a first-of-its kind arrangement. NASCAR will hire a VSU student intern to manage the simulated racing program, and other VSU students will work on its marketing, graphic design, event coordination and team operations.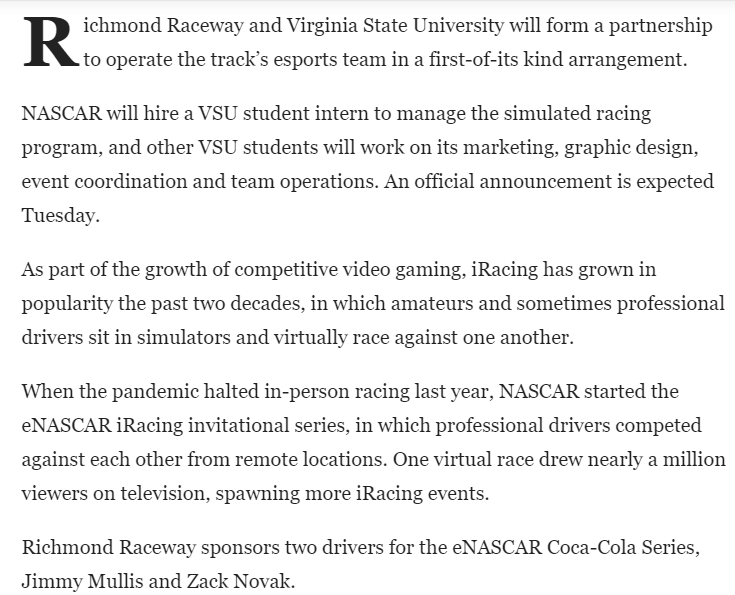 https://richmond.com/news/local/education/virginia-state-university-richmond-raceway-partner-for-e-sports-program/article_1fa2d21e-88a4-5c62-a414-936ecdc0e4bf.html
---
---
Better Half Dash [Hall]
Motor Racing Outreach will be partnering with iRacing and Fox sports to bring you the Better Half Dash, a virtual race to be broadcasted on June 10th on a special edition of Nascar Race Hub on FS1, where the wives of Nascar's biggest names will compete at the Virtual Texas Motorspeedway.
---
---
Dirt Road Ideas [Kyle]
In a series of posts in the forums asking how to help drive participation in the Pro Truck series several ideas were introduced to help the series including fixed setups, a rookie class and a better ladder progression system.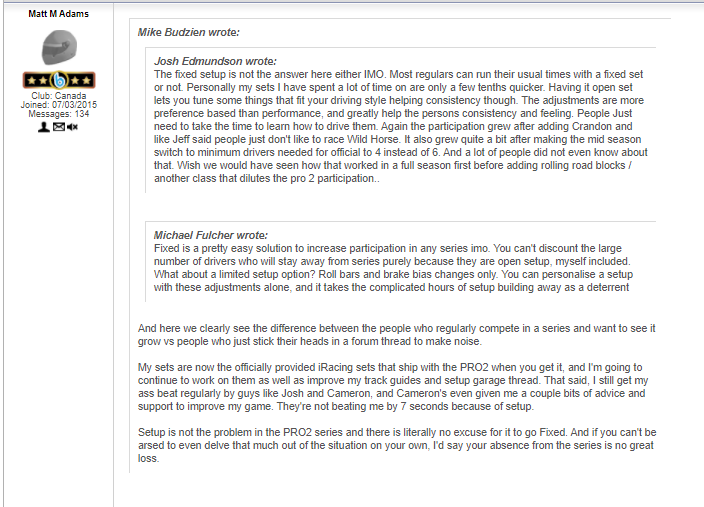 https://members.iracing.com/jforum/posts/list/100/3772081.page#12478833
---
---
Carnomoly 500 Trophy
Jimmy Mullins proudly posted on twitter a photo of his trophy from the racer Carnomoly 500.
---
---
Six Years [Mike]
Today marks the 6 year anniversary of the iRacers Lounge Podcast!
---
---
Podcast Housekeeping
Aftermath Podcast – Get it!
New Website – Leave Comments https://www.iracerslounge.com/
You've heard us talk about the Spotlights. Those of us that have them here at iRacers Lounge absolutely love them. So much, we have become an affiliate! With the roll out of their new Spotlights Pro. Here's your chance to check them out, you won't be disappointed. Enter coupon code: IRACERSLOUNGE for 10% off!!
https://www.facebook.com/1565571990374134/posts/2832513123680008/?d=n
---
We are in the regular rotation… (Mike)
https://performancemotorsportsnetwork.com/
---
---
Fantasy [Tony]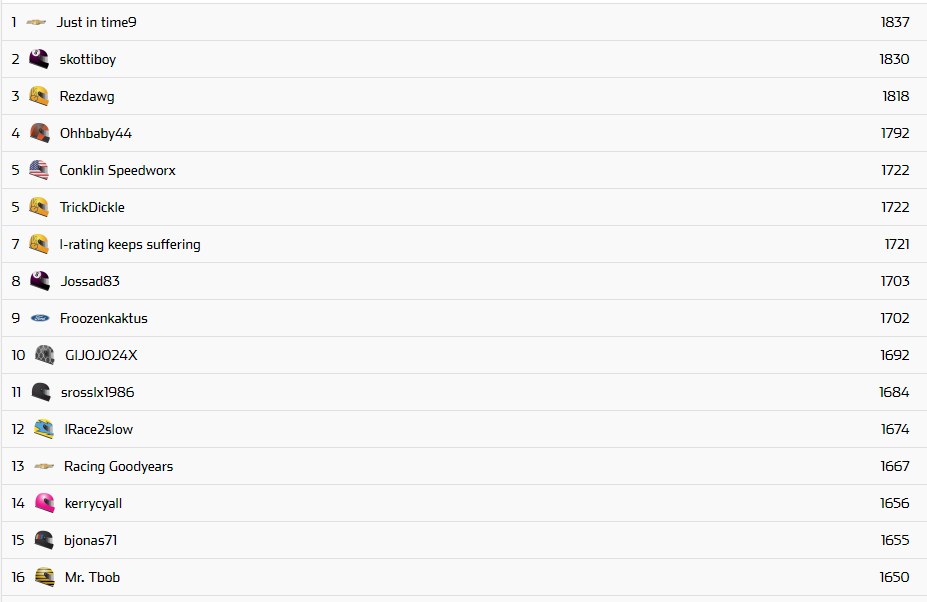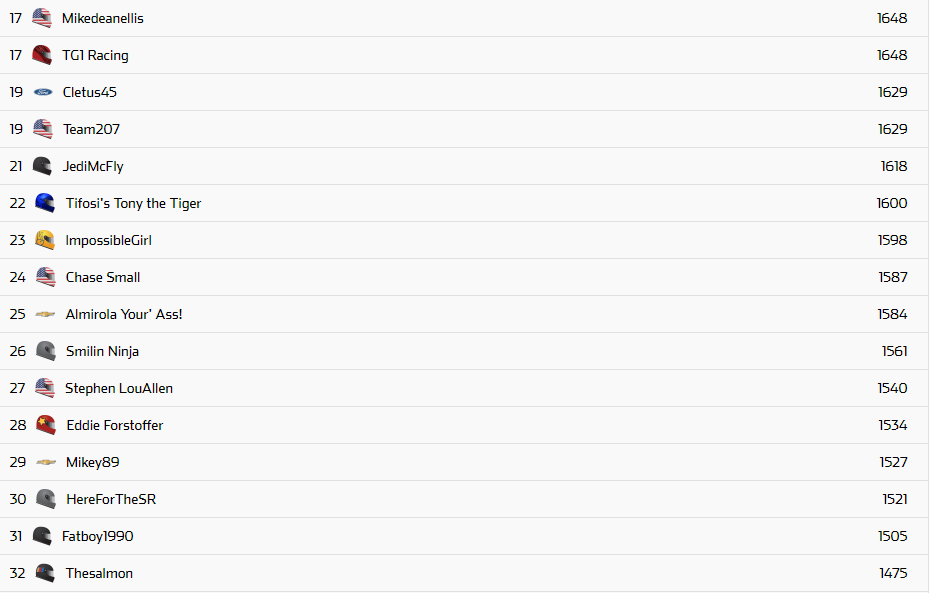 ---
Hardware/Software
---
Yaw VR [Tony]
The makers of the Yaw VR motion system are starting a kickstarter program for the Yaw VR2 starting from $720
https://www.facebook.com/watch/?v=247712967039974
---
---
RacingFuel Simulators [Greg]
Swiss Manufacturer Racing Fuel Simulators offers their sleek Stage 1 Pro simulator starting at 17,945 euros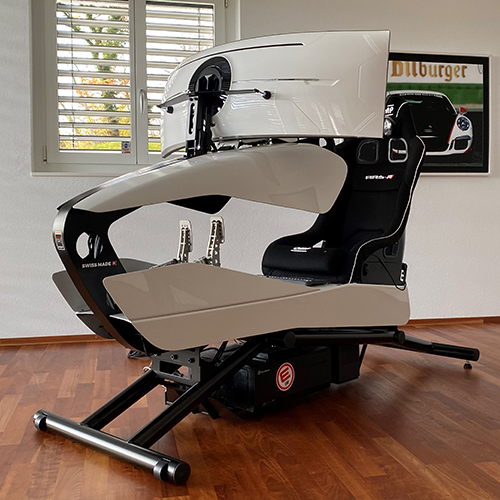 https://www.instagram.com/reel/CNu8fRwBy0c/?igshid=go49cn77msv1
https://www.racingfuel-simulators.com/home
---
---
SimForge Pedals [Brian]
Barry Rowland reviewed the full-size SimForge Mark 1 pedals priced at $333. His final thoughts were that for the price they performed as well, if not better than some higher priced pedals and were very adjustable. Although they may lack the fidelity of some high end pedals they are well worth looking into for the price alone.
---
---
Second Guessing All I Know [Mike]
Niels Heusinkveld posted a video on his Yutube channel comparing his motion system to the motion of a real car.
---
---
MonkeyDriver Seat [Hall]
The new MonkeyDriver Seat is a tube framed sim rig with a formula style seating position. You can soon preorder for a special launch price from their website.
---
---
Company Review [Mike]
Sim racing Shop sells parts for your 80/20 profile system and more.
https://sandtsracingfab.com/sim-racing-shop/
---
---
Sim Nursery [Kyle]
Johnny Mallia's rig room was transformed when he found out two months after getting set up that he was gonna be a dad and the room now splits between racing room/nursery.
Got the rig setup about 2 months before I found out I was going to be a dad. This is how we made it work. He loves to watch at 4 months old. Even with a buttkicker, sleeps right thru me racing at night. As long as I'm quite anyways lol. Obviously wife is super supportive as wel
https://www.facebook.com/groups/simracingbuilds/permalink/1184507232006625/
---
---
Results
NASCAR iRacing Series
Fri open: Talladega
Ellis – – P2. Had it won too- Topped off on last caution had to save fuel like crazy was leading on the white with 2nd right behind me he had a bubble more of fuel than me and went right on by. I was a sitting duck he was sitting in second and could pass me it will because there's only two of us I didn't really consider that. What a week though first fourth and second.
Hall = P6 – started on pole. Last caution hurt my restart and p2 is a horrible place on restarts. Dropped to 12th, with 2 to got, got back to 6th.
Rochette P Man i f*****d myself hardcore tonight didn't brake hard enough sped on entry on a green flag stop while leading first 35. Did get a caution but started in the back where no one could keep up and had a car on my outside force me down to the apron in a turn and lost the draft P23
Bobby – once again, out front for a good amount of the race with nothing to show. leading, then dumped im trioval, so dam close to that win
Brian- P22 Started on pole. Outside line got ahead of me and settled in 2nd for first ⅓ of the race. After Caution restarted outside p2 and shuffled back to 10th putting me in the danger zone for wrecks which came late in the race and collected me.
Adam – p11?
Mike -p7 – got clipped a bit and 30 seconds damage – made my way back up to 2nd but got freight trained back to 9th – then finished p7
Race: Kansas
Wed Open:

Hall – p20 top split, salvaged a decent finish after a losing the car and hitting the wall while chatting to a viewer.

Tom D. P3. Qualified p7. Ran up front till first pit stop. Dumb me, speeding. Than worked my way back to a top when I got bumped into the front stretch grass. Fell back to 27th. Worked my way all the way to the lead with 20 or so to go, but just ran the tires off of it. I'll take a top 5 after a couple super bad weeks
Ellis – p28 – got wrecked by some guy on the bottom that got tight and came right up to me and slammed me in the wall – was 35th dead last, later got into another wreck that could not be missed –
Rochette – P7 set was loose on exit for me screw the winner as it was a guy with a 5k IR on his second account beating us poor low 2k guys up
Thurs Open

Ellis – p..8
Rochette P16 got tight hitting wall on exit of 4 only had 1 caution so couldnt catch up
Kyle – P-7 Started P-14 and got wrecked early and went 2 laps down and finally got enough lucky dogs to get back on the lead lap. Car was hurt but still decently fast. We ended up with 13 cautions which helped me a lot to save tires and slowly work my way to the front. Restarted P-9 on the last restart with 2 to go and kept my foot in it and picked up 2 more spots to finish with a P-7.
---
---
Official Series
A Open

Kyle P P3 Started in P4 ran top 5 for most of the race. Came down to a GWC in 4th and kept the Loud Pedal mashed all the way until the checker flag and came up .05 from getting P2.
Ellis – p3 trying to push david – Then p1! – Was third on last lap got to leader and he was swerving a bit and so i hooked him – he was not happy –
Hall – p https://www.youtube.com/watch?v=rwftXVl5SPQ
Hall – Win @ Watkins Glen
Greg – https://www.facebook.com/watch/?v=488621158989862
---
---
League / Hosted Races
FastTrack Sim Racing League
OBRL iRLP Aftermath Truck Series

? Congratulations Josh Robinson #23 Winning The Aftermath Podcast Truck Series Race at Lakeland Speedway,
Dwayne McArthur #97 Finished 2nd
Travis Rogers #72 Finished 3rd
---
---
Final Thoughts
---
---
---
Words Spoken in Closing Audio Clip -""Thank you for listening to the iRacers Lounge podcast make sure to go subscribe to us on iTunes, SoundCloud, or Google Play, Facebook & Twitter, See You On The Track ."
TITLE IDEAS
6 Strong
.
.
Description
Come celebrate the 6th year anniversary of the iRacers Lounge Podcast as we have the voice of eNascar announcer Evan Posocco who breaks down the Coke Series Race at Kansas. After that it's game on with lots of great topics you wont want to miss on the iRacers Lounge Podcast.
iRacers Lounge Podcast is available on iTunes and Apple's Podcasts app, Stitcher, TuneIn, Google Play Music, Spotify, Soundcloud, Podbean, Spreaker, Podbay, PodFanatic, Overcast, Amazon, and other podcast players.
Sponsors:
www.grid-finder.com
Hosts:
Mike Ellis – twitter.com/MikeDeanEllis
Tony Groves – www.twitch.tv/SirGroves
Chris Scales – twitter.com/JediMcfly
David Hall – www.twitch.tv/mixmage
Greg Hecktus – twitter.com/froozenkaktus – www.twitch.tv/froozenkaktus
Tony Rochette – twitter.com/TonyRochette
Adam Josselyn- twitter.com/Jossad83
Brian Maccubbin – www.twitch.tv/MacRubbinsRacin
Tom Dreiling –
Kyle Pendygraft – twitter.com/LoudPedalGaming
AJ Prichett –
Links:
Old Show Notes – bit.ly/2CFeArM
Facebook – www.facebook.com/iRacersLounge/
Twitter – twitter.com/iracerslounge
Instagram – instagram.com/iracersloungepodcast/
Web (New Show Notes) – iracerslounge.com/