5/6/2021 – iRacing: The Next Generation – Episode 0278
iRacers Lounge Podcast – Conversation Topics
Brought to you by:

Opening Audio Clip -"Your listening to the iRacers Lounge Podcast where we discuss everything iRacing, in a casual setting, enjoy."`
READ THIS AT THE TOP OF EACH SHOW!!!
Welcome to the iRacer's Lounge, I am your host "XXX". iRacer's Lounge is a podcast for the iRacer, where we talk all things iRacing in a casual setting.
Joining me are the usual characters, ————
---
---
Introduction
iRacing reveals one of it's best, most closely guarded secrets ever as the Pro Invitational races with the new Nex Gen Cup car, and releases it to the community as a whole. It's been an exciting week for us fans and Nascar, and we can't wait to get to it!
And remember you can follow along with us on your mobile device in real time as you listen to the show and see for yourself all of the great topics and products we'll discuss by visiting iracerslounge.com and selecting show notes. Hope to see you there..
---
---
TITLE SPONSOR READ:
Coming soon, Grid Finder 2.0. A complete overhaul to better suit the sim drivers' needs adding many new features to its already robust search functions including allowed controller types, driver assists, race length and whether leagues are currently recruiting. The changes don't stop with the League page, Grid Finder is also rebuilding the paint booth, commentary box and the merch page. The site is still fully functional as they work through the beta phase to make sure the Grid Finder 2.0 launch is as slick as their new logo.
Visit www.grid-finder.com to find a league, or to upload your own!
Grid Finder – "The home of online sim racing leagues"
---
---
Topics
---
---
Conti's Rig [Brian]
JR Motorsports posted an article on their website that Michael Conti, driver of the number 8 JRM Coke Series Car, will be now racing in his brand new WR-1 Sim Chassis, who also sponsored his car. He says that level of immersion is quite a change of pace for him after running for years with his Logitech wheel pedals and shifter.
https://www.jrmracing.com/media/2021/04/29/wr1-sim-chassis-next-level-simulation-comes-to-jrm
---
---
Do You Get the iRacing Jitters? [Kyle]
David Wilson asked in a poll in the forums if you get nerves during a Race?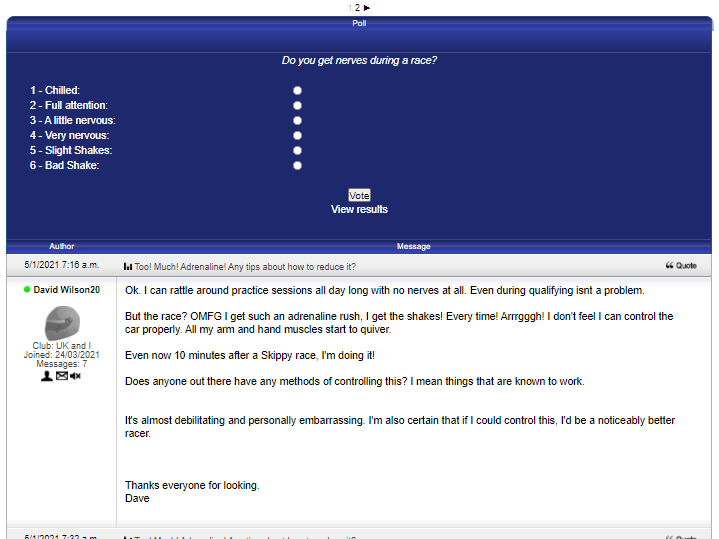 https://members.iracing.com/jforum/posts/list/3802950.page#12480952
---
---
IR18 Crashes [Mike]
iRacing Support posted on Twitter that they are aware of an issue where the sim crashes to the desktop while in the Dallara IR18. They are currently investigating and will have a fix as soon as they have something ready.
---
---
Better Half Update [Hall]
Bobby Labonte Tweeted that he's been having a little trouble getting in his iRacing Rig because his wife's been practicing foe the Better Half iRacing Dash.
---
---
40% Off of New Accounts [Brian]
iRacing is offering new members a new start discount of 40%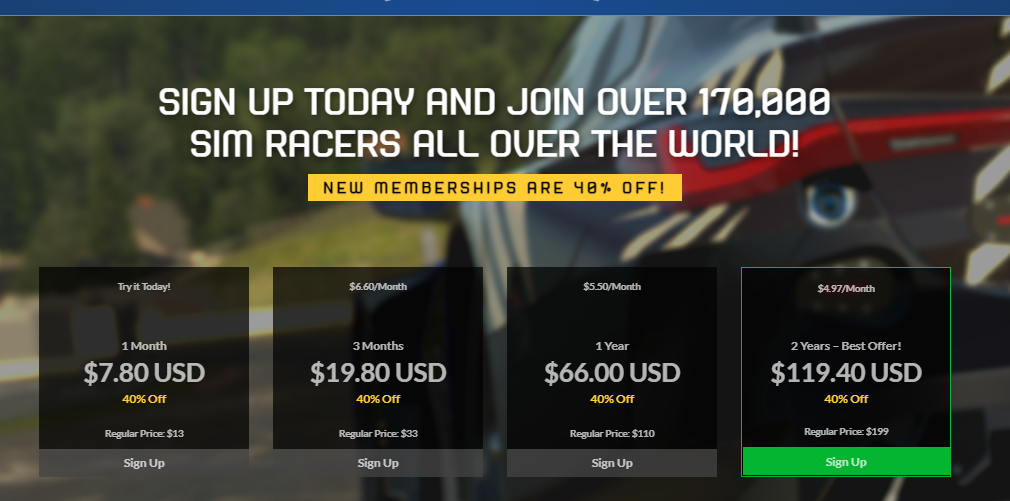 https://www.iracing.com/membership/
---
---
"Go away, Mom! I'm training for the Olympics!" [Greg]
Coleman Molnar authored an article on the Driving.ca website saying that the International Olympic Committee (IOC) has announced the launch of a new series of official virtual events, including a motorsport component to be played out within the video game world of Gran Turismo. It will be called the Olympic Virtual Series (OVS) and it will go down from May 13 to June 23, before the actual Olympic Games in Tokyo.
---
---
Evan's in the Money [Kyle]
None other than Evan Posocco, the voice of eNascar, won the Camping World Dash $10,000 shopping spree for predicting the winner and the number of laps lead for the Camping World Truck Race this past weekend at Kansas. Evan correctly predicted Kyle Busch for the win with 59 laps lead.
Mo Money Up For Grabs [Hall]
Marcus Lemonis is putting up more cash for iRacers. You can win a $5000 Camping World Shopping spree if your Retro painted car is picked.
---
---
BMW Sim GT Cup-Road Atlanta [Brian]
The VRS Coanda Simsport duo of Josh Rogers and Mitchell deJong go back-to-back in the BMW SIM GT Cup with a dominant win at Road Atlanta this Sunday. The pairing led all but one of the 95 laps completed to score a decisive victory, repeating their dominant victory in their top split win last month at Silverstone.
https://www.iracing.com/rogers-and-dejong-go-back-to-back-in-bmw-sim-gt-cup-with-road-atlanta-triumph/
---
---
Server Problems [Mike]
Nicholas Bailey posted in the forums that early on Sunday Morning iRacing experienced an issue on a node within the primary database cluster. They are still investigating the root cause, but the result was that no results or championship points were recorded in the race sessions at that time.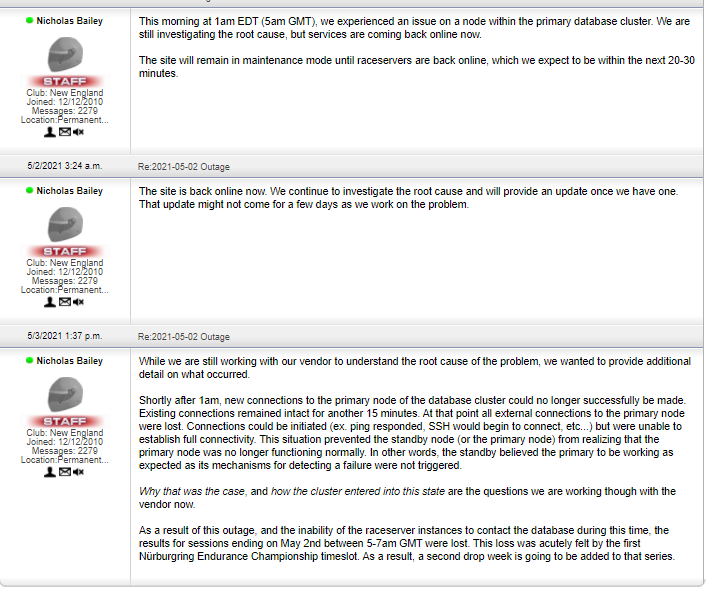 https://members.iracing.com/jforum/posts/list/50/3803190.page#12482785
https://members.iracing.com/jforum/posts/list/3803187.page#12482977
---
---
NASCAR Pro Invitational [Hall]
Tim Clark, Senior Vice President and Chief Digital Officer who leads the operation of NASCAR's digital platform including NASCAR.com, tweeted that "We just keep finding value in this (iRacing) platform. The @iRacing team was one of the first partners to get under the hood on the #NextGen car. Using a virtual environment to build the on track product is incredibly unique and pretty badass.
[Brian]
FOX Sports announced on their Twitter the star studded pre race guests of The Dead Daises with R&R Hall of Famer Glenn Hughes on the National Anthem, Darrell Waltrip and wife Stevie giving the invocation, and The King, Richard Petty, giving the command.
[Kyle]
Erik Jones goes from third to first in one move going into turn one with two laps to go and holds on for the victory.
---
---
Next Gen Car is Here! [Mike]
Dale Earnhardt Jr posted on Twitter that the Next Gen Cars are here, and are immediately available on iRacing!
[Mike…cont]
iRacing followed Nascar on Wednesday with their own official announcement video of the Next Gen Car for immediate release.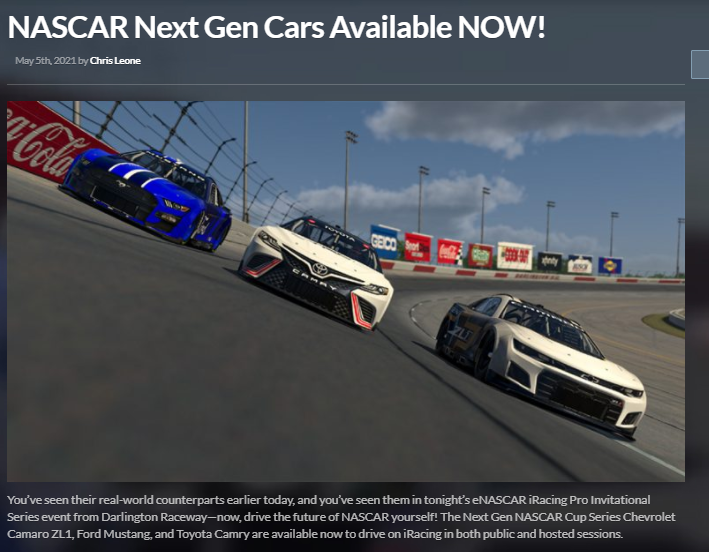 https://www.iracing.com/nascar-next-gen-cars-available-now/
[Kyle]
Alex Gustafson made the announcement in the forums of the availably and descriptions of the Next Gen Car.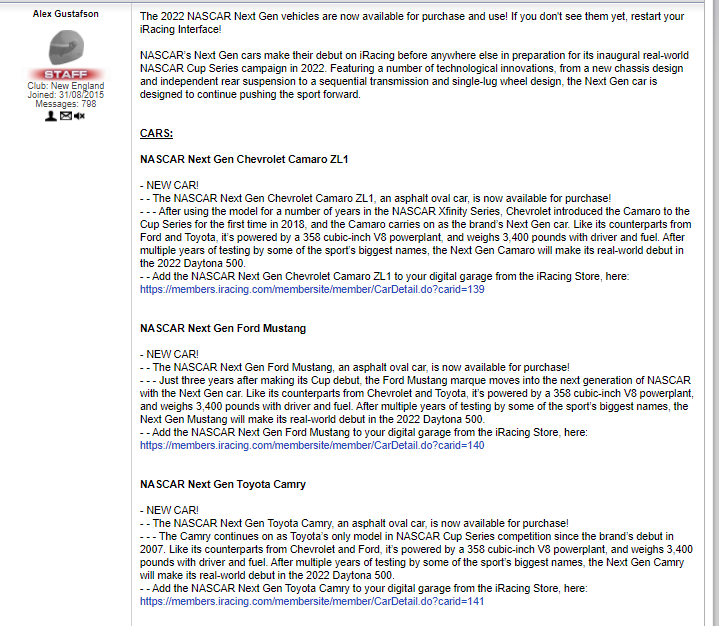 https://members.iracing.com/jforum/posts/list/3804492.page#12485283
Paints [Greg]
Ryan Pistana was quickest the the paint booth and tweeted a picture of the first Next Gen Paint scheme recorded in Trading Paints.
Garage [Hall]
Anthony Alfredo posted a video Youtube video on his channel going thru new chassis setting in the new Next Gen Racecar.
---
---
Reverse Drafting [Brian]
Alex Fox posted on Youtube a video of the new Next Gen Car drafting around the iRacing Superspeedway in reverse, in a show of incredible car control.
---
---
New Customer Special [Mike]
With the release of the Next Gen Car iRacing is offerinf, for a limited time, a first year discount of $20.22 by using code PR-2022NEXTGEN
---
---
Darlington Updated [Greg]
Brian Mercurio Tweeted that it looks like we've got the new visuals for Darlington, and they look awesome.
---
---
Last minute updates before Wednesday NASCAR [Kyle]
iRacing dropped a last minute hotfix before the start of the Pro Invitational Race Wednesday with some new signage for the televised event.
https://members.iracing.com/jforum/posts/list/3804450.page#12484717
---
---
IRX All-Star Race Rd 2 [Hall]
IRX All-Star Race Rd 2 was held at the new Barcelona Rally Course with the win going to Jonnie Ollikainen, Kevin Ellis Jr in second and Rasmus Tuominen in third.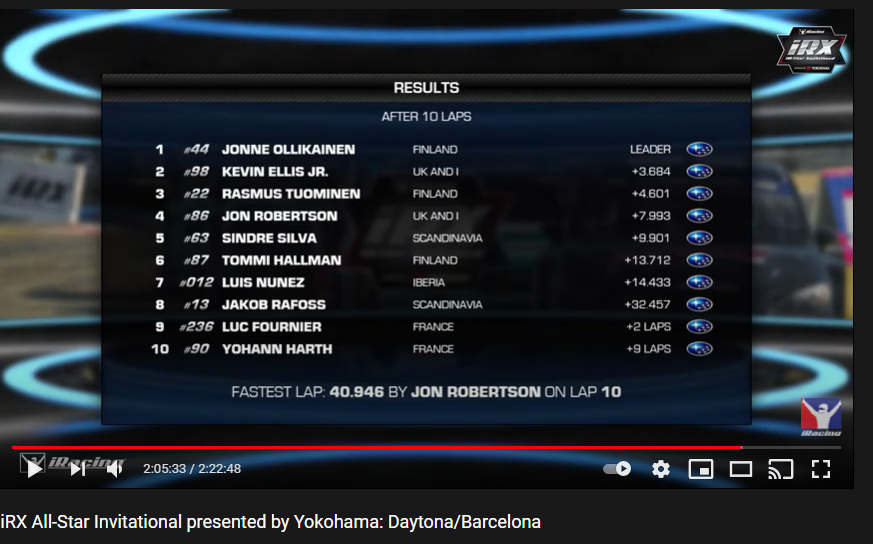 ---
---
Memories…[Brian]
As Nascar moves into their throwback race this weekend at Darlington, iRacing goes throwback as Nascar on NBC posts a video of Papyrus' Nascar Racing from 1994!
---
---
Podcast Housekeeping
Aftermath Podcast – Get it!
New Website – Leave Comments https://www.iracerslounge.com/
You've heard us talk about the Spotlights. Those of us that have them here at iRacers Lounge absolutely love them. So much, we have become an affiliate! With the roll out of their new Spotlights Pro. Here's your chance to check them out, you won't be disappointed. Enter coupon code: IRACERSLOUNGE for 10% off!!
https://www.facebook.com/1565571990374134/posts/2832513123680008/?d=n
---
We are in the regular rotation… (Mike)
https://performancemotorsportsnetwork.com/
---
---
Fantasy [Brian]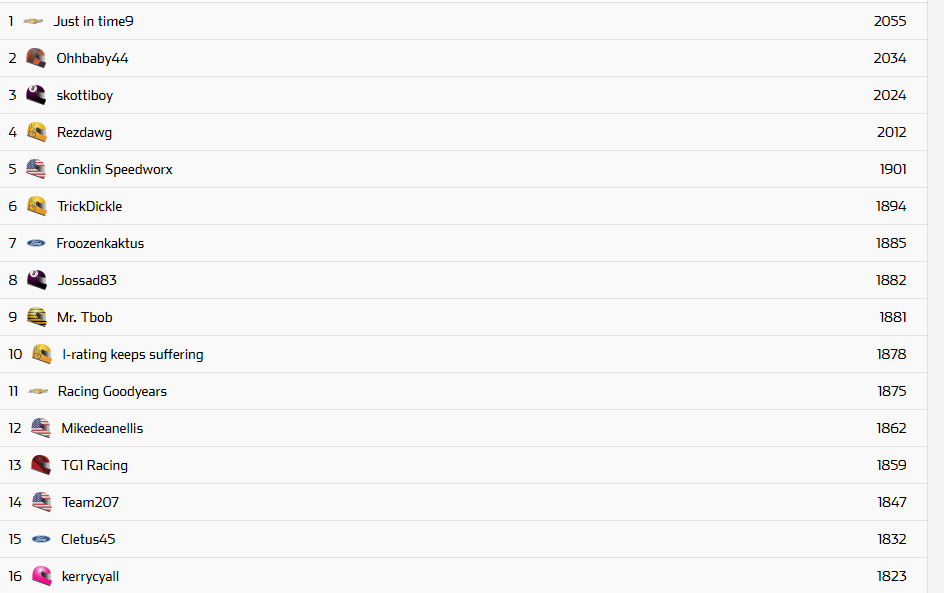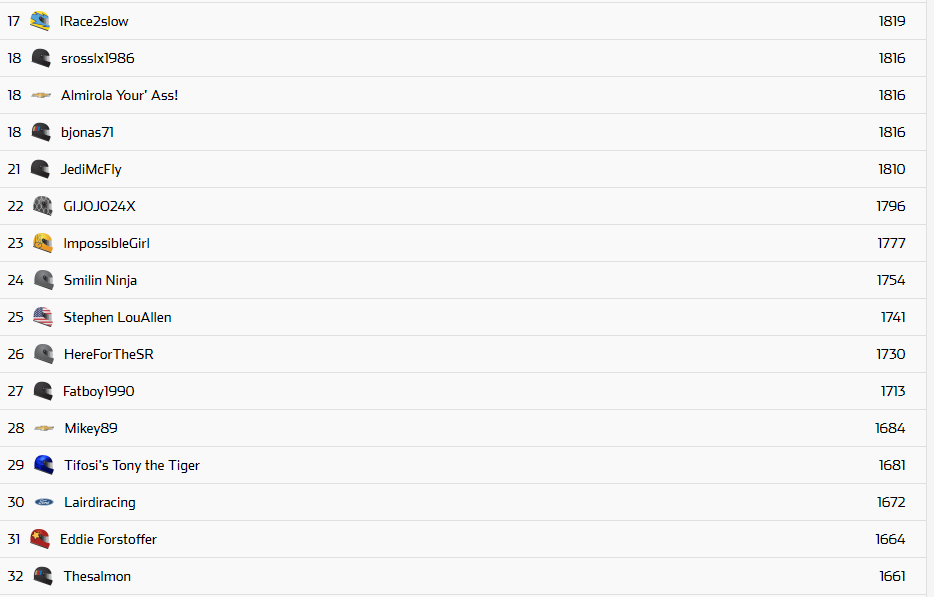 ---
Hardware/Software
---
---
Company Review [Hall]
On the Chris Haye Simracing Youtube channel he reviews the new Pro Sim Rig PSR1 80/20 system.
https://www.raceanywhere.co.uk/
---
---
FOV Police [Brian]
On the Nisch Youtube channel he's been testing a 6dof motion system they've been building. We can only hope the monitors are relocated after the tests are complete.
---
---
CSL DD Closer Look [Mike]
Traxion posted a closer look at the recently, and highly anticipated, CSL DD wheel base, going into a deeper look into what's known about the upcoming offering from Fanatec.
---
---
Next Level Immersion [Brian]
Will Ford on the Boosted Media posted a video on how to achieve next level of immersion with his ambient lighting setup.
---
---
Q3 Hydraulic Pedal Preview [Kyle]
Q3 Simsport has a YouTube overview and preview video of their new Q3 hydraulic pedals.
https://www.q3simsport.com/shop
---
---
Simgrade R7 Pedals [Greg]
Tim Koskela announced in the forums the release of a new set of pedals, the Simgrade R7 Pedals . The aim was to maximize the pedal control by 3-point support for the feet and loads of adjustability for ergonomics and the resistance level, progressivity and a few special features. Also one of the biggest things was to create quiet pedals with no need to lubricate all the time, Also the end stops are big part of the silent operation, so those got some attention as well.
https://members.iracing.com/jforum/posts/list/3797980.page
---
---
Results
NASCAR iRacing Series
Fri open: Kansas
Ellis – – P wrecked out lap 3 i go high on a guy and he doesnt give any room and we clip and get destroyed – down 200 RPM about to blow up – i parked it.
Hall = P4 – frustrated with long run of set most race, late caution allowed me to steal a lot of spots. The caution was actually caused by a blown tire right in front of the dominant leader
Rochette P12 dont remember must've sucked
Brian- P27 Started mid pack, moved into the top 10, Didn't have much for the leaders, but didn't matter because got caught up in someone else's crap. 33 minutes required
Sunday fixed
Mike -p17 – ran pretty good anywhere from 8th to 20th – about 10 to go under caution this guy two cars up literally slams on his brakes and we all pile in…
Brian – P12 Felt more competitive in the fixed, but not great on short runs. Lot's of early cautions. Had one decent long run and made my way up to 3rd. Got caught up in a wreck on a GWC and dropped to 12th
Stephen – p4
Tyler – P4 – pumped after my first top 5 in NIS. Also my first start in the A car at Kansas. Fun race stayed high the whole time. Even managed to have a 0X.
Hall – p15 Top split, no caution after lap 17. Did have minor rear from a car behind me not seeing the wreck even as I called it out.
Race: Darlington
Wed Open:

Hall – p wrecked out, combination of a guy everyone knows is the new "wreckless" guy, and cautions not coming out leading to another guy hitting me as the yellow didn't come out till I stopped sliding backwards in the middle of the track. FIX THE DAMN CAUTIONS
Kyle – P? I dont wanna talk about it. DQ 2 laps to go
Tom D. P dns?
Ellis – p 6 – was running 2nd w last gf stops, then caution – had to take a wave around and could only get back to 5th then slipped to 6th. Tim Phillips won his first NiS race ever after 7 years of NiS…
Thurs Open

Ellis – p..dnf – got doored and was frustrated and put it in the wall a lap later
Rochette P16 what a cluster Fook got a drive thru and engine blew a lap after
---
---
Official Series
Pro 2 Trucks – Tyler Williamson – p1 – https://twitter.com/tylerfatboy1990/status/1389786168942899200?s=11
---
---
League / Hosted Races
FastTrack Sim Racing League – kansas

Mike- p 3- ended up missing the start as I almost forgot to change sets – was dead last half lap down – gf stops eventually started i stayed out – with only 1 lap left of fuel, caution – now i have one more set than most others – got a late caution, me and two others took tires blew by the rest… Might of been able to win but wasnt aggressive enough (Alan P wins, Wes Hurd loaded a q set…)
Moorley – p5 – had it totally won but some guy parked it on the grass to tow and it brought out the caution… (This is the thing about having teammates in the same race, when you split strategy, it usually means one of you ends up losing….)
Tom – p14 – hit wall on last lap ended last car on lead lap
we are recruiting.
Must have experience running A opens and Nis open weekly. A license, Good attitude and racecraft is a must.
We are on grid finder. Discord link is on gridfinder.
Can find us in league directory. FastTrack ( all one word) sim racing. Jeffrey Marble shows up as owner.
OBRL Aftermath Truck Series

? Congratulations Tom Ogle #11 Winning The Aftermath Podcast Truck Series Race at Darlington Raceway,
Steve Thomson #67 Finished 2nd
Dwayne McArthur #97 Finished 3rd
---
---
Final Thoughts
---
---
Words Spoken in Closing Audio Clip -""Thank you for listening to the iRacers Lounge podcast make sure to go subscribe to us on iTunes, SoundCloud, or Google Play, Facebook & Twitter, See You On The Track ."
TITLE IDEAS
iRacing- The Next Generation
.
.
Description
Not much new this week…except the completely unexpected release of the Next Gen Nascar Cup car!! We'll preview all we know of the new car and the Pro Invitational Race at Darlington where it made it's debut. Stick around for Hardware/software where you can learn how to make lightning strikes in your racing room. All on this week's iRacers Lounge Podcast.
iRacers Lounge Podcast is available on iTunes and Apple's Podcasts app, Stitcher, TuneIn, Google Play Music, Spotify, Soundcloud, Podbean, Spreaker, Podbay, PodFanatic, Overcast, Amazon, and other podcast players.
Sponsors:
www.grid-finder.com
Hosts:
Mike Ellis – twitter.com/MikeDeanEllis
Tony Groves – www.twitch.tv/SirGroves
Chris Scales – twitter.com/JediMcfly
David Hall – www.twitch.tv/mixmage
Greg Hecktus – twitter.com/froozenkaktus – www.twitch.tv/froozenkaktus
Tony Rochette – twitter.com/TonyRochette
Adam Josselyn- twitter.com/Jossad83
Brian Maccubbin – www.twitch.tv/MacRubbinsRacin
Tom Dreiling –
Kyle Pendygraft – twitter.com/LoudPedalGaming
AJ Prichett –
Links:
Old Show Notes – bit.ly/2CFeArM
Facebook – www.facebook.com/iRacersLounge/
Twitter – twitter.com/iracerslounge
Instagram – instagram.com/iracersloungepodcast/
Web (New Show Notes) – iracerslounge.com/