5-13-2021 – Sequential Quaifing – Episode 0279
iRacers Lounge Podcast – Conversation Topics
Brought to you by:

Opening Audio Clip -"Your listening to the iRacers Lounge Podcast where we discuss everything iRacing, in a casual setting, enjoy."`
READ THIS AT THE TOP OF EACH SHOW!!!
Welcome to the iRacer's Lounge, I am your host "XXX". iRacer's Lounge is a podcast for the iRacer, where we talk all things iRacing in a casual setting.
Joining me are the usual characters, ————
---
---
Introduction
On the show today we will look at the new Dirt Ladder, we'll ask should they take the Joy out of the Pro Invitational and we'll give you some sequential shifter options for the Next Gen Cup cars.
And remember you can follow along with us on your mobile device in real time as you listen to the show and see for yourself all of the great topics and products we'll discuss by visiting iracerslounge.com and selecting show notes. Hope to see you there..
---
---
TITLE SPONSOR READ:
Coming soon, Grid Finder 2.0. A complete overhaul to better suit the sim drivers' needs adding many new features to its already robust search functions including allowed controller types, driver assists, race length and whether leagues are currently recruiting. The changes don't stop with the League page, Grid Finder is also rebuilding the paint booth, commentary box and the merch page. The site is still fully functional as they work through the beta phase to make sure the Grid Finder 2.0 launch is as slick as their new logo.
Visit www.grid-finder.com to find a league, or to upload your own!
Grid Finder – "The home of online sim racing leagues"
---
---
Topics
---
---
New Dirt Road Ladder [Hall]
iRacing Dirt Road users will have an expanded path through public events and the opportunity to earn Class A licenses for the first time beginning with 2021 Season 3. The new Dirt Road ladder will introduce additional rallycross and off-road truck series, while also adding the brand new Volkswagen Beetle RX Lite to iRacing Rallycross competition.
https://members.iracing.com/jforum/posts/list/3804610.page#12486698
---
---
Josh Rogers' New Bling [Brian]
Newly crowned Porsche eSports Supercup champion Josh Rogers shows off his award for winning the Tag Heuer pole award for winning 5 of the 10 poles this season.
---
---
Daniel Morad on the VCO [Kyle]
Daniel Morad, iRacing Pro Series LMP2 champion, was special guest host of the VCO studio show Monday on their Youtube Channel,
---
---
Email from Listener Jason Conklin [Mike]
Show listener Jason Conklin wrote the show after our discussion last week regarding the Pro Invitational, particularly the style of commentary from lead announcer Mike Joy, and offered some strong opinions on the matter.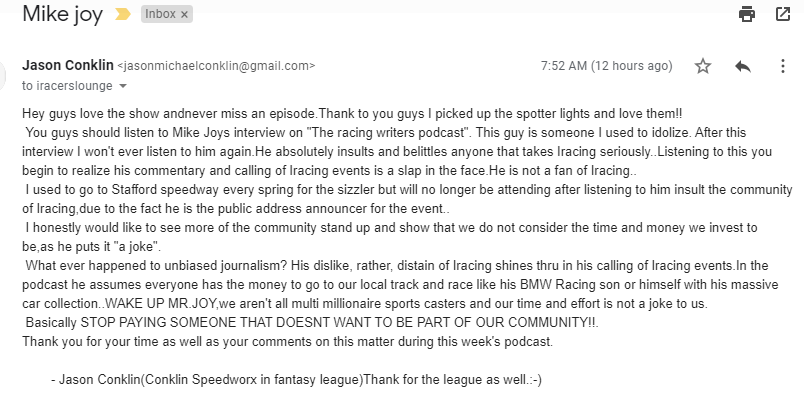 ---
---
New League Announcement [Kyle]
Our own Kyle Pendygraft will be hosting a the new iRacing IROC Series league!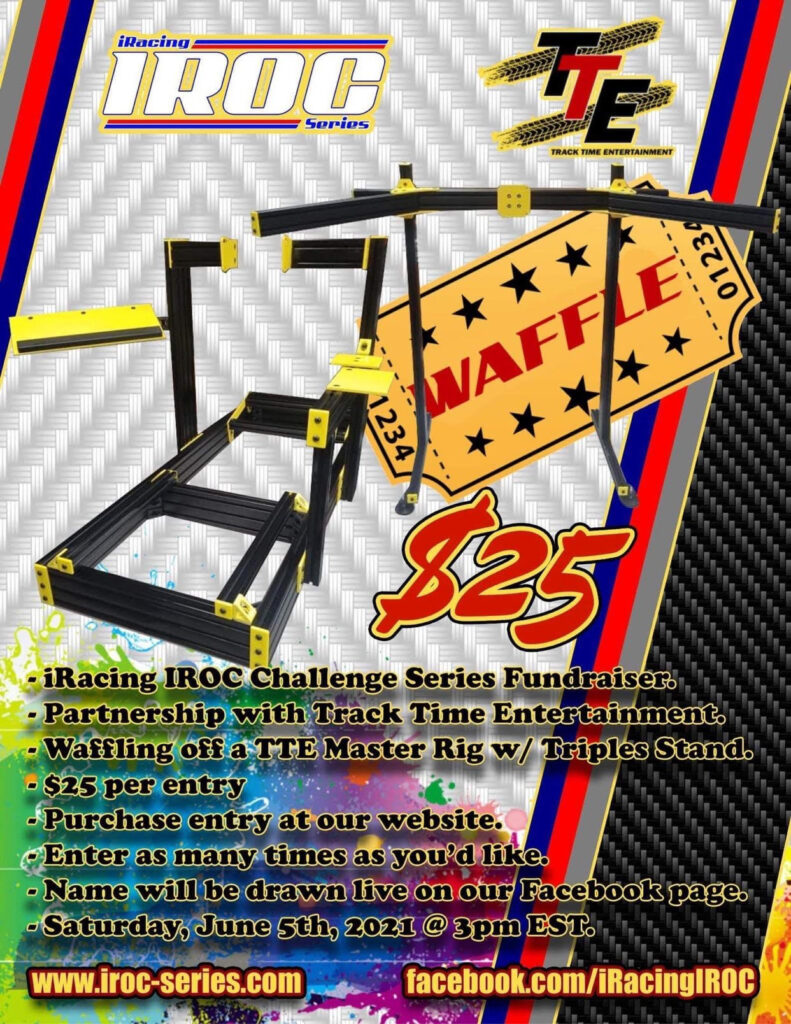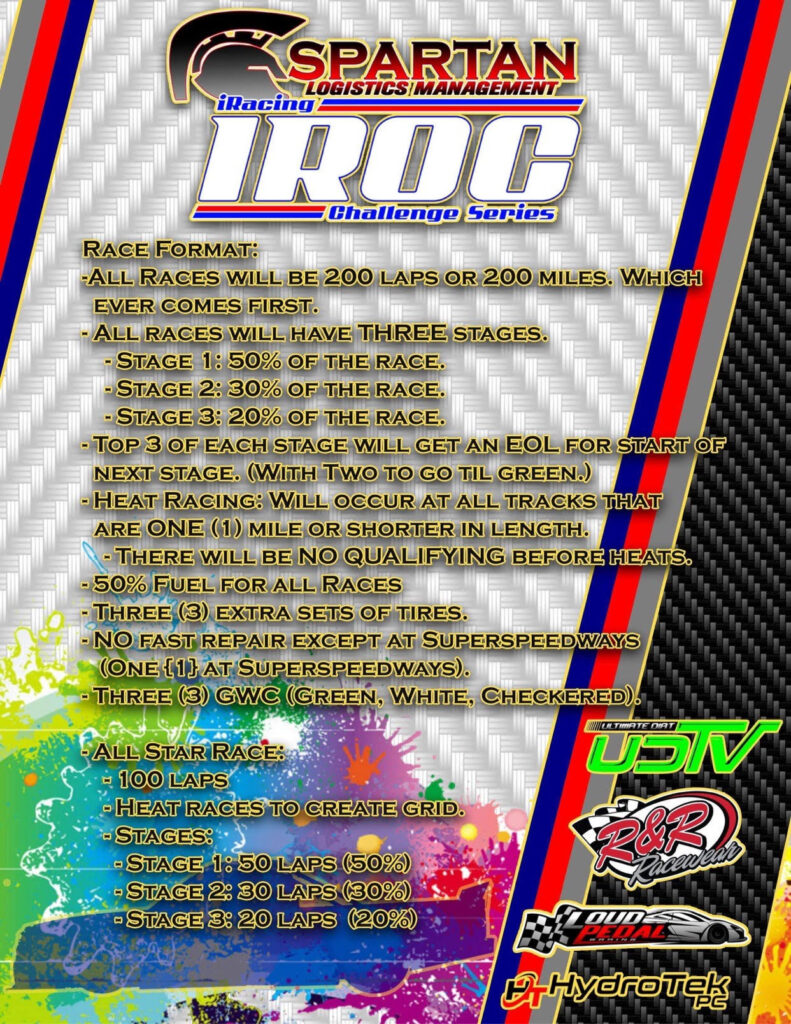 ---
---
Give That Car a Push! [Tony]
iRacing posted a video of member Russell Clark gets a single car length from finishing his Skip Barber race.
---
---
Smoke Screen [Hall]
iRacing Tweeted a video from member Michael Gonzales of him avoiding a smoke filled caution at Kansas Speedway.
---
---
Four New Fixed Series [Brian]
iRacing will debut four new fixed series—the Fixed F3 Championship, LMP2 Prototype Challenge, World of Outlaws Fixed Sprint Cars, and Formula Vee iRacing Series—in time for 2021 Season 3!
https://members.iracing.com/jforum/posts/list/3805509.page
---
---
Ladies Night Out Racing [Tony]
Come join the Aftermath guys for the Ladies Night Out Flower Power Race Saturday Night at 9pm with the Cup cars at Charlotte Motorspeedway.
https://www.facebook.com/ladiesnightoutracing/posts/129085199273861
---
---
Save The Date Charity Race [Kyle]
Come and Join The iRacers Lounge as we host The Multiclass of Madness in Michigan Charity Race on June 11th at 9:00 Eastern.
iracers Lounge presents Multiclass of Madness in Michigan
June 11 9pm eastern
@michigan International Speedway 100 laps
Multiclass cup/Xfinity
Prizes for overall, best in class and class Pole winners
Registration information still to come
---
---
6 Hours at the Glen [Mike]
Greg West posted the details of the 6 hours at the Glen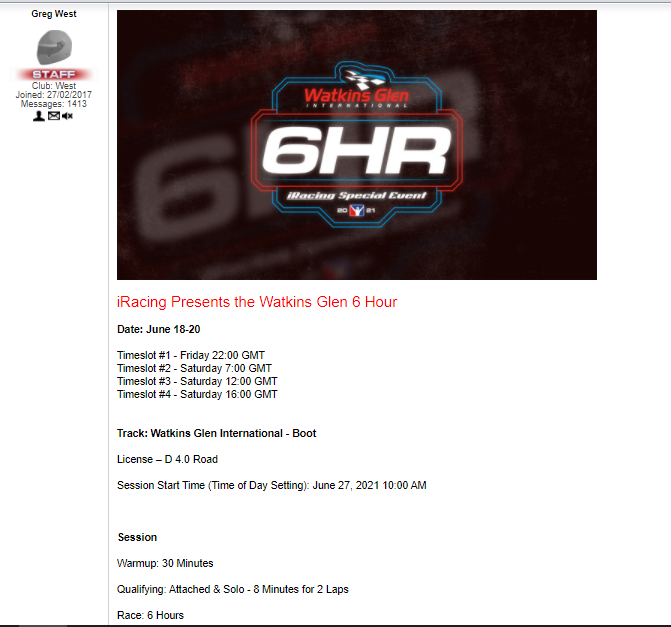 https://members.iracing.com/jforum/posts/list/3805594.page
---
---
2021 Season 2 Patch 6 [Hall]
The Release note for patch 6 of season 2 from Alex Gustavson in the forums
https://members.iracing.com/jforum/posts/list/3805568.page#12491541
Date: June 18-20
Timeslot #1 – Friday 22:00 GMT
Timeslot #2 – Saturday 7:00 GMT
Timeslot #3 – Saturday 12:00 GMT
Timeslot #4 – Saturday 16:00 GMT
8 cars confirmed!!!!!!!!!!!!!
https://members.iracing.com/jforum/posts/list/3805594.page#12491992
---
---
Heavy Discussion on the Package [Mike]
Michael Gest asked in poll in the forums if the Aero Push in the cup and trucks is too much.

We have had aero push back in iRacing for the NASCAR cup car and truck for the last 6 months or so now. I have raced most weeks, and from what I can tell, there is zero racing going on after lap 15 of any run at any track. Unless you really destroy your tires, the leader is untouchable, even if they are .2-.3 slower in real pace.
There just seems to be a disconnect in the ability to make moves after a certain point in the run compared to real life, especially as the field begins to spread out.
https://members.iracing.com/jforum/posts/list/3805537.page#12491291
https://members.iracing.com/jforum/posts/list/3805537.page#12491243
---
---
Launcher Located [Tony]
A Youtube video from Casper 139971 shows a trophy truck flipping over a retaining wall where it found a launcher.
---
---
Good Luck Adam! [Mike]
Tifosi teammate Adam Josselyn will be competing on the real track Firday in his winged kart, Good Luck Adam!
---
---
---
Podcast Housekeeping
Aftermath Podcast – Get it!
New Website – Leave Comments https://www.iracerslounge.com/
You've heard us talk about the Spotlights. Those of us that have them here at iRacers Lounge absolutely love them. So much, we have become an affiliate! With the roll out of their new Spotlights Pro. Here's your chance to check them out, you won't be disappointed. Enter coupon code: IRACERSLOUNGE for 10% off!!
https://www.facebook.com/1565571990374134/posts/2832513123680008/?d=n
---
We are in the regular rotation… (Mike)
https://performancemotorsportsnetwork.com/
Fantasy [Tony]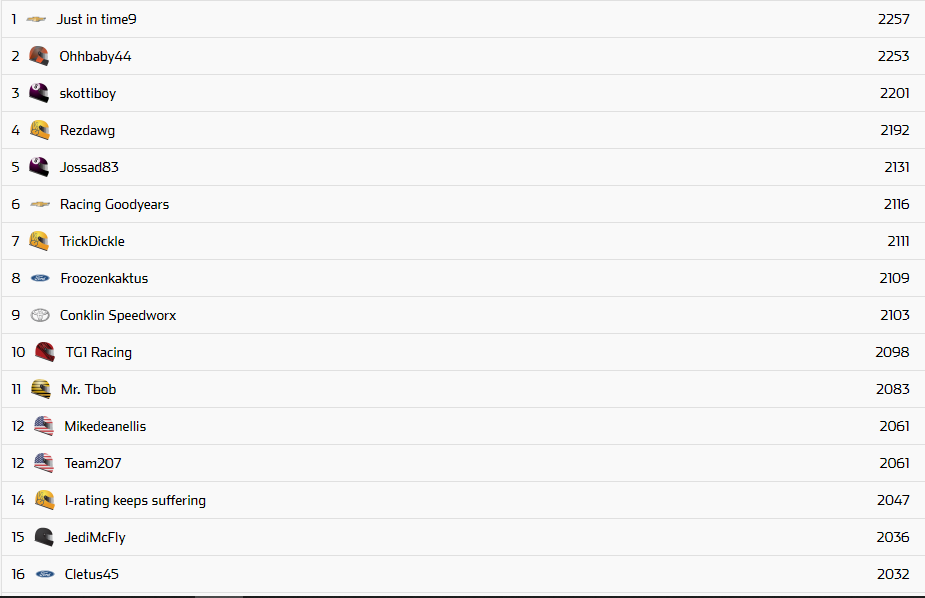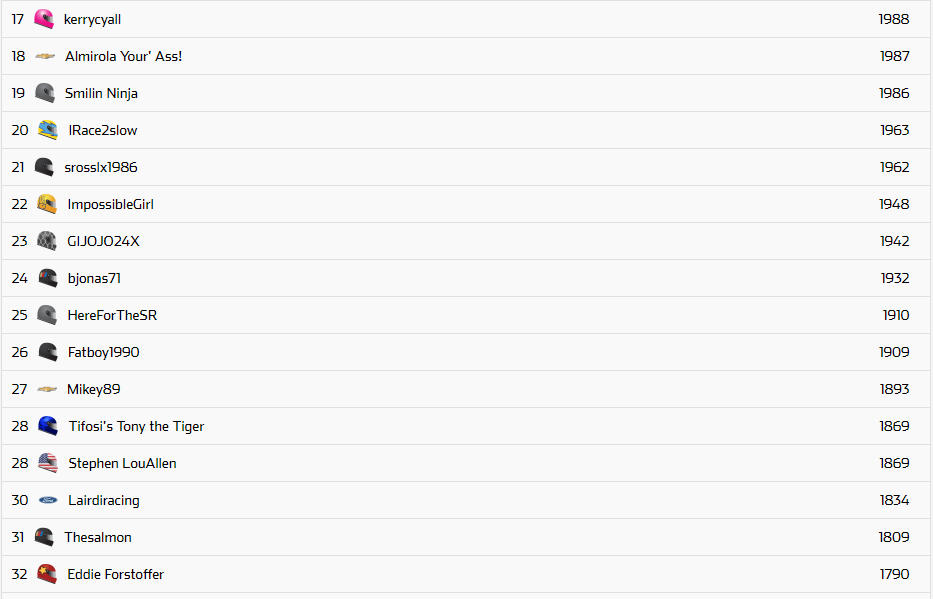 ---
---
Hardware/Software
---
Rig Review [Hall]
Jack Dowel Motorsports built this rig for member Anthony Burtt
---
---
Simlab Seat [Mike]
Soon to be introduced will be the Simlab Racing Seat.
---
---
Playseat Sensation Pro 2021 Update [Tony]
Playseat announced the updated 2021 version of the Sensation Pro for $1899
---
---
Ambient Light Follow Up [Mike]
After the hardware story last week about the in game ambient light system, our own Mike Ellis purchased the components and installed it in his race room.
---
---
Sidebite Sim Tear Off Sensor [Brian]
Sidebite makes a simulated Tear off button that mounts on either a ball cap or can be mounted to any VR headset to simulate the motion or removing dirty tear offs from your helmet visor.
https://members.iracing.com/jforum/posts/list/3804655.page#12487124
---
---
FS HRS Pedal Pads [Kyle]
Joe Sullivan is selling sets of CNC pedal pads for the HE Pro and Ultimate pedals.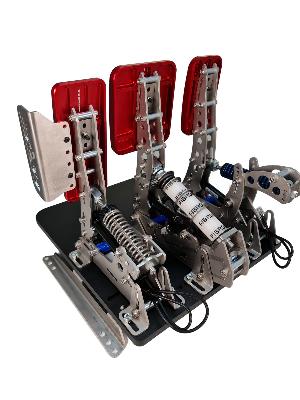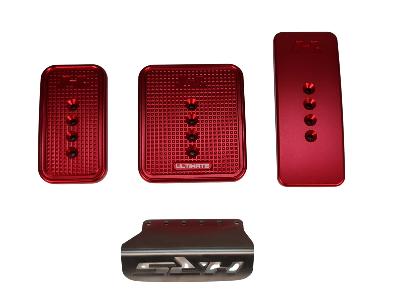 https://members.iracing.com/jforum/posts/list/3804903.page#12487665
---
---
GTR GTA Simulator [Hall]
The GTR GTA Model simulator with adjustable seat and color options going for $389.99
https://gtrsimulator.com/product-category/racing-simulator/gta%EF%B8%8F-model/
---
---
Rig Recommendations for John Hughes [Mike]
iRacing Staffer John Hughes is thinking of stepping out from his deck and getting a racing rig, and is asking the iRacing members for recommendations.

https://members.iracing.com/jforum/posts/list/3804879.page#12487406
https://members.iracing.com/jforum/posts/list/3804879.page#12487767
---
---
A Classic Rig [Tony]
The Ricmotech AP-Xtreme Wide Triple Monitor Bare Chassis for $2075
https://www.ricmotech.com/ap-xtreme-3000uw-sim-racing-chassis
https://www.ricmotech.com/basic-simulator-cockpit
---
---
Car to Plane Transformation [Brian]
R/Simracig on Reddit has a video of a Simlab GT1 evo transforming from driving to flight simulator.
---
---
New CSL Pedals [Kyle]
Fanatec has announced the unveiling of their new CSL Pedals to compliment the introduction of the CSL DD wheel base
https://forum.fanatec.com/discussion/23140/the-revolution-continues-the-new-csl-pedals/p1?new=1
---
---
Sequential Shifter Showdown [Mike]
With the release of the Nascar Next Gen Cup Car, there may be a lot of new interest in sequential shifters, so we'll run down a few out there on the market for your consideration.
The Aiologs Projects Sim Shifter $165
---
Frex Simulations Shift+ 12,00 yen [Hall]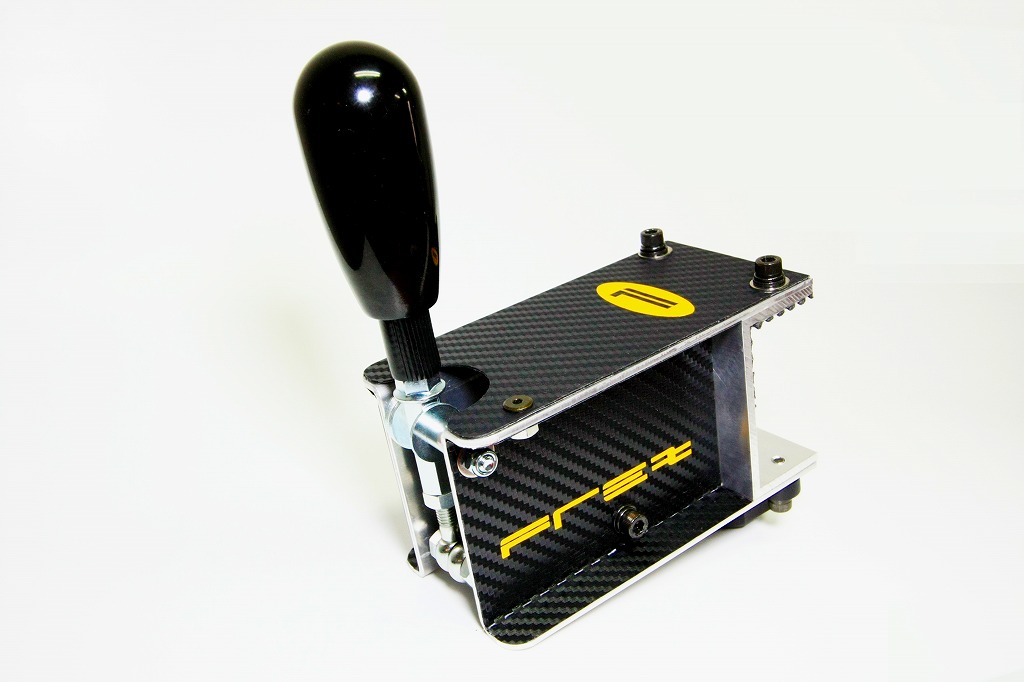 https://frex.com/store/product/shift/
---
PSL Sequential Shifter V2 425 pounds [Brian]
---
Thrustmaster TH8A Shifter $180 [Kyle]
https://www.thrustmaster.com/en_US/products/th8a-add-shifter
---
SHH Shifter 98 euros [Tony]
https://www.shiftershh.com/en/3-shifters
---
Heusinkveld Sim Sequential Shifter 173euros [Mike]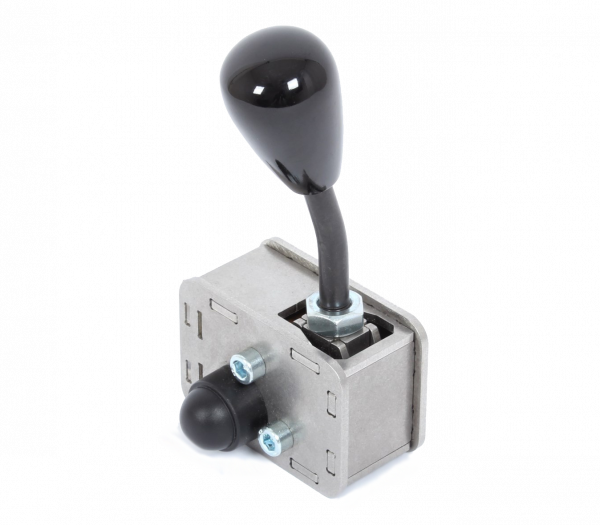 https://heusinkveld.com/shop/shifters-handbrakes/sim-shifter-sequential-2/
---
Ricmotec Semi Professional Shifter $800 [Hall]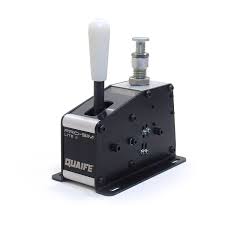 https://www.ricmotech.com/professional-sequential-pro-sim-shifter-quaife
---
Fanatec Clubsport Shifter SQ V 1.5 $250 [Brian]
https://fanatec.com/us-en/shifters-others/clubsport-shifter-sq-v-1.5
DONT FORGET JINX
https://jinxshifters.com/collections/simulation-shifters/products/v2-jinx-sequential-shifter
---
---
Advanced Sim Racing ASR 6 [Kyle]
Advanced Sim Racing offers their ASR 6 80/20 platform rig on royal blue for $1299.00
https://www.advancedsimracing.com/collections/aluminum-frames-1/products/asr-6-royal-blue-shipping-april-16
---
---
Results
NASCAR iRacing Series
Fri open: Darlington
Ellis – – P 18-kept hitting center of 3 and 4 to get my stripe and ended up w drive thru penalty after 17x – was running well still top ten, but wrecked
Hall = P wrecked on purpose,
Rochette P17 stuck a lap down when a lapped car black flagged me
Adam- pKinda busy, Just write me down for a p9 Sunday in NIS and a B open win Saturday night with a 3 wide pass for the lead going into one
Hall – p wrecked
Tom D – p12. Did not run well at the beginning of the race. Made a dumb mistake on pit road and lost 2 laps. Worked my way back on lead lap
Sunday fixed

Mike -p5 – It was tight on the long runs lots of stripes in the middle of 3 and 4 – had a lucky caution after missing pit road on a gf stop and turned but the car didnt turn went right back on track – next time around i was pulling in and some guy did the same thing but actually wrecked really hard going straight into wall at 4…
Brian – Pdns needed a firmware update to stop some headset glitches
Wed Open:

Hall – Top Split p14 – set showed loose into corner that didn't show in practice. Was out to lunch and 2 laps down struggling to keep car on track. Climbed back up with adjustments, others mistakes, and very lucky cautions.
Kyle – Pwrecked
Ellis – p7 – really loose – ran as high as third was not great on the longer runs – survived basically

Rochette – Pwrecked self spun for the 1st time in along time ended my day when a car was letting me by and wrecked me

Thurs Open .
Rochette P17 absolutely sucked today done with Dover tear it down
---
---
Official Series
B open win Saturday night with a 3 wide pass for the lead going into one
Hall – WIN at Silverstone
---
---
League / Hosted Races
FastTrack Sim Racing League –

Mike – p wrecked out – had a good race going got loose off 4 and couldn't save it
Brian- p 6 Didn't qualify. Just ran a patient, safe race and it paid off

Premier Race Network Cup:

Tom D – p3. Did not have the get home on the start of a run. But was a rocket at the end of run. Caution free, I'll take a top 5 and move into 2nd in points.
OBRL iRLP Aftermath Truck Series

? Congratulations Dwayne McArthur #97 Winning The Aftermath Podcast Truck Series Race at Dover International Speedway
Steve Thomson #67 Finished 2nd
Tom Ogle #11 Finished 3rd
---
---
Final Thoughts
---
---
Words Spoken in Closing Audio Clip -""Thank you for listening to the iRacers Lounge podcast make sure to go subscribe to us on iTunes, SoundCloud, or Google Play, Facebook & Twitter, See You On The Track ."
TITLE IDEAS
.

Sequential Quaifing
.
Description
On this weeks show we find out if there's no Joy in the Pro invitational Series. What new series are getting fixed (gulp), and we give you lots of options for all of your Next Gen sequential shifter needs. All of this and more on this weeks iRacers Lounge Podcast.
iRacers Lounge Podcast is available on iTunes and Apple's Podcasts app, Stitcher, TuneIn, Google Play Music, Spotify, Soundcloud, Podbean, Spreaker, Podbay, PodFanatic, Overcast, Amazon, and other podcast players.
Sponsors:
www.grid-finder.com
Hosts:
Mike Ellis – twitter.com/MikeDeanEllis
Tony Groves – www.twitch.tv/SirGroves
Chris Scales – twitter.com/JediMcfly
David Hall – www.twitch.tv/mixmage
Greg Hecktus – twitter.com/froozenkaktus – www.twitch.tv/froozenkaktus
Tony Rochette – twitter.com/TonyRochette
Adam Josselyn- twitter.com/Jossad83
Brian Maccubbin – www.twitch.tv/MacRubbinsRacin
Tom Dreiling –
Kyle Pendygraft – twitter.com/LoudPedalGaming
Links:
Old Show Notes – bit.ly/2CFeArM
Facebook – www.facebook.com/iRacersLounge/
Twitter – twitter.com/iracerslounge
Instagram – instagram.com/iracersloungepodcast/
Web (New Show Notes) – iracerslounge.com/