5/27/2021 – AeroNOTics- Episode 0281
iRacers Lounge Podcast – Conversation Topics
Brought to you by:

Opening Audio Clip -"Your listening to the iRacers Lounge Podcast where we discuss everything iRacing, in a casual setting, enjoy."`
READ THIS AT THE TOP OF EACH SHOW!!!
Welcome to the iRacer's Lounge, I am your host "XXX". iRacer's Lounge is a podcast for the iRacer, where we talk all things iRacing in a casual setting.
Joining me are the usual characters, ————
---
---
Introduction
The iRacing Coke Series is back again this week at The Charlotte Motorspeedway and Evan Possoco will join us to break down all of the details including some post race controversy. Also, David sat down to interview a brand new iRacers Lounge Podcast partner…
And remember you can follow along with us on your mobile device in real time as you listen to the show and see for yourself all of the great topics and products we'll discuss by visiting iracerslounge.com and selecting show notes. Hope to see you there..
---
---
TITLE SPONSOR READ:
After a complete new build, Grid Finder 2.0 is here and better than ever. Along with a brand new look, Grid Finder has made league searching even easier and much more enjoyable by adding more search options for the driver and giving league owners a better way to promote their league features and making it easier to connect with drivers with the brand new "join now" button. Make sure to check out www.Grid-Finder.com and find your place on the grid
Visit www.grid-finder.com to find a league, or to upload your own!
Grid Finder – "The home of online sim racing leagues"
---
---
---
---
Topics
---
---
Coke Race – Charlotte [Mike]
Lap one and we have caution- .@DerekJustis got loose, clipped @john_gorlinsky and the duo spun off turn 4.
LAP 8: @FemiOlat_ continues to battle @MitchelldeJong1 for 2nd
LAP 15: @rayalfalla runs 10th. Earlier today he Tweeted that panic mode had been activated and was going full send
<<EVAN>>
PENALTY: Brad Davies pitted when pit road was closed during the first caution. The @JRMotorsports driver is now 2 laps down after serving his penalty.
First to pit at lap 50, @NickOttinger
LAP 53: @jmullisracing, @znovak15, and others pit.
LAP 54: @KeeganLeahy pits from the lead.
<<EVAN>>
PENALTY: @swilson3_, speeding on pit road. That's a stop and hold
Trouble for @LoganClampitt_! He tags the barrels entering pit road!
Lap 82 – 30 laps later all green flag pitstops have cycle and Keegan Leehe is our leader. Novak mullis. Top nine are on a three stop strategy while Vicente Salas leads the two stoppers.
Halfway into the @CocaCola 300 at the virtual @CLTMotorSpdwy and @KeeganLeahy leads @jmullisracing. They're on a 3-stop strategy.
<<EVAN>>
CAUTION LAP 106! @RyanDoucette77 has crashed!
.@RyanDoucette77's monitor went out on the backstretch and he lost control and crashed
.Trouble for @vicente_salas14! He had to pit the second time around and loses all of his track position!
@jmullisracing, @NickOttinger, @bobbyzalenski, @GarrettLowe_6 and others take the wave around.
RESTART 91 to go: @KeeganLeahy and @CaseyKirwan23 lead the field into turn 1.
NEW LEADER: @CaseyKirwan23 clears @KeeganLeahy for the lead with 88 to go.
@MathesonRacing gets loose and spins on the backstretch. @DerekJustis and @BBryant53 also make contact slowing for the wreck.
On the restart, it will be a @XSET 1-2 with @CaseyKirwan23 and @RyanLuza side-by-side with less than 75 laps to go.
CAUTION! @GarrettManes crashes in front of the field!
Luza gets loose! Manes hits the pit wall! THE BIG ONE AT CHARLOTTE!
RESTART 67 to go: @CaseyKirwan23 and @MalikRayTTV lead the field into turn 1.
63 to go: @KeeganLeahy retakes the lead from @CaseyKirwan23
@vicente_salas14 has climbed back up to 4th. @ssgracing now runs 3rd and 4th with @MalikRayTTV in 3rd.
Up front, @KeeganLeahy is holding NOTHING back. As it stands, they are all racing for second.
<<<Evan>>
Caution! @AshtonCrowder tries to pit, @jmullisracing had no idea, @MitchelldeJong1 and @Blade_Whitt are also involved!
32 to go: @KeeganLeahy and @MalikRayTTV lead the field into turn 1.
CAUTION! @cshearburn got loose checking up and @bdavies_88 gets annihilated! @vicente_salas14's night goes from bad to worse as he takes some damage in the wreck.
Restart 27 to go. Ray takes lead then the big one.
SpaceStation "MALIK RAY HAS TAKEN THE LEAD WHILE THEY WRECK BEHIND HIM"
As Keegan loses the lead to Malik after getting loose, @IGann_34 also gets loose, loses it, and @bobbyzalenski and more are involved.
RESTART 22 to go: @MalikRayTTV and @RyanLuza lead the field into turn 1. Guest in third. Leahy fourth. Alfalla fifth.
Side-by-side for three laps in a row Ryan luza tries to take the lead from Ray on the outside. Ray holds it. Takes hands off the wheel.
12 to go: @RyanLuza reports that he burned up his tires. Guest is overheating.
11 to go: @rayalfalla clears @MGuest33 for 3rd. Then ray gets luza.
Eight to go Ray gets to ray.
Seven to go Ray alfalla gets the lead. Then pulls away.
https://www.enascar.com/standings/
---
---
Chevy's Suck Dude [Mike]
Alex Gustafson posted in the forums a late edition patch with updates and fixes for the 2021 Season 2 release including a multi-car drafting performance adjustment on oval tracks for the Chevy Camaro ZL1.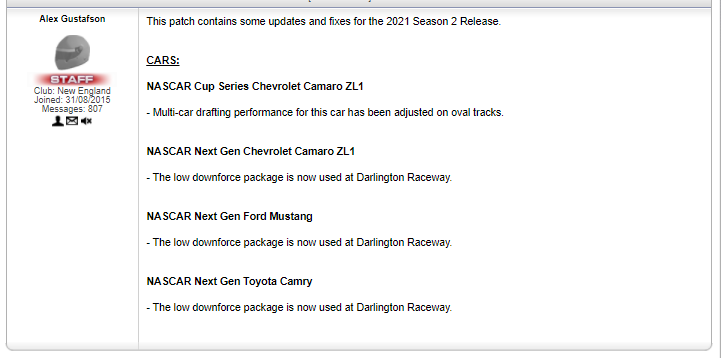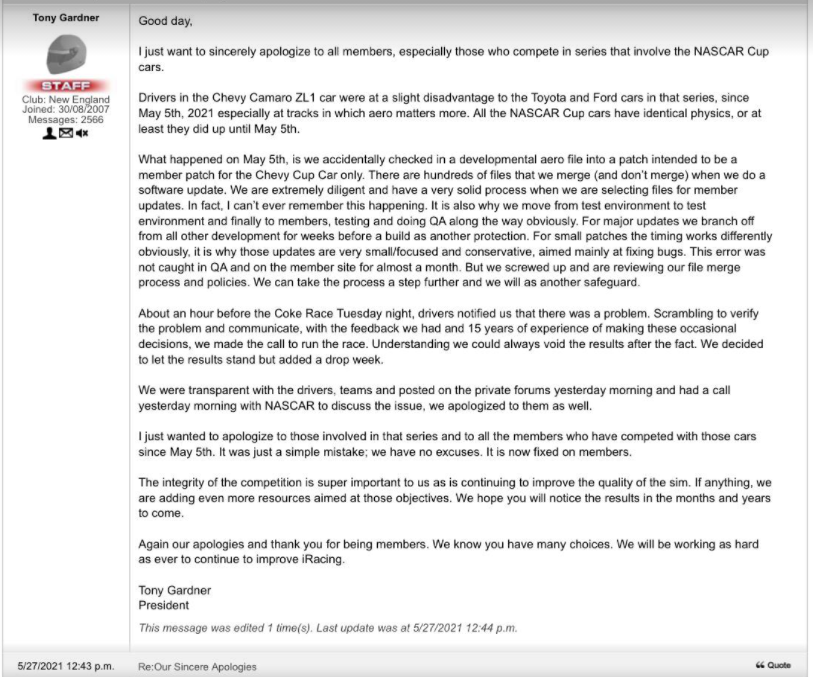 https://members.iracing.com/jforum/posts/list/3807052.page#12501944
https://members.iracing.com/jforum/posts/list/3807147.page
---
---
Indy 500 Top Split Winner [Hall]
Brandon Traino, a real world tire changer for Joe Gibbs Racing, won his third consecutive top split Indy 500 this weekend.
https://www.iracing.com/brandon-traino-wins-third-straight-iracing-indianapolis-500/
---
---
Indy Poll [Brian]
iRacing posted a poll on Twitter asking where did you finish in this weekends Indy 500?
---
---
The History of Papyrus [Kyle]
Traxion has a story of the history and development of the Papyrus Racing Sims leading up the the introduction of iRacing
https://traxion.gg/how-iracing-came-to-be-the-papyrus-design-group-story/
---
---
iRacing at the Coca-Cola 600 [Tony]
Justin Melillo Tweeted that at this week's Coca-Cola 600, with the lifting of Covid restrictions, Nascar in conjunction with the USO, fans will have the ability to try to set fast times in iRacing rigs with the assistance of several Coke eNascar series drivers. The Playseat sims will be donated post race.
https://twitter.com/justinmelillo/status/1395743793849278466?s=11
---
---
Road to Pro Update [Brian]
Nicholas Morse posted the updated standings with just two weeks remaining in the iRacing Road to Pro Regular Season.
https://twitter.com/nmco18/status/1395832608349687808?s=11
---
---
The Majors 24 [Hall]
Mike Ouelette announced in the forums the details of their Majors 24 hour race taking place at a famous track located in northeast France on June 12-13th.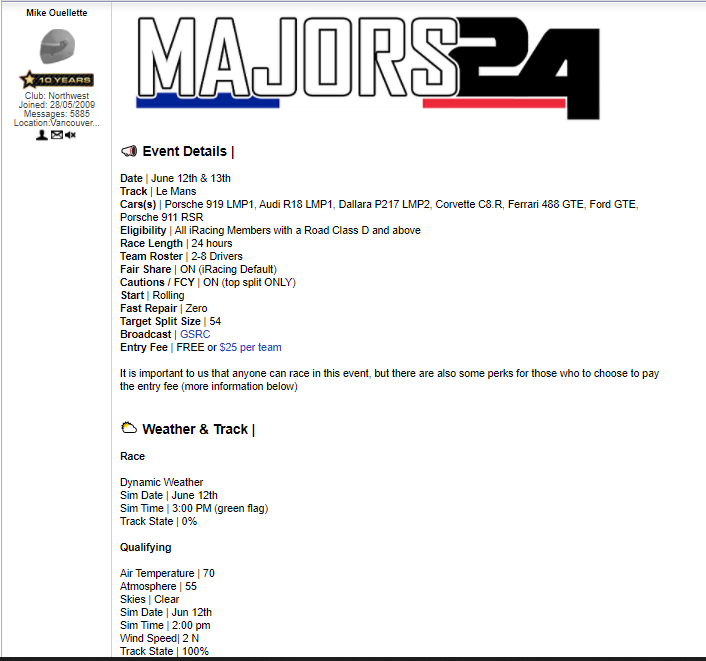 https://members.iracing.com/jforum/posts/list/3802760.page
---
---
Open Letter To iRacing [Brian]
Gary Larson posted in the forums a plea for iRacing to do something to help out participation in the iR-01 car series, which he loves. There were few races that went official in the last couple of weeks, and they are in time slots that are more Euro friendly and occur during working hours in the US. Greg West replied that there are exciting thing coming up in the series including a championship series they hope to announce soon.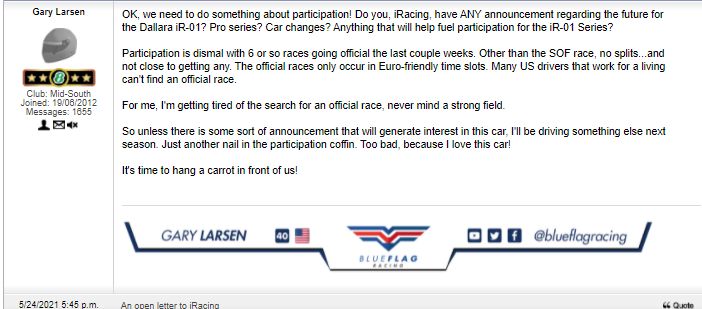 https://members.iracing.com/jforum/posts/list/3806706.page#12500780

https://members.iracing.com/jforum/posts/list/3806706.page#12502334
---
---
The iRacers Lounge Podcast 300 [Hall]
The Monday Night Fast Track Sim Racing League is now officially sponsored by The iRacers Lounge Podcast, with the first race as their sponsorship being the iRacers Lounge Podcast 300 at the Charlotte Motorspeedway.
https://www.facebook.com/FastTrackSimRacing/posts/212095174060906
---
---
iRacing IROC Series [Kyle]
Team member Kyle Pendygraft's iRacing IROC Series begins tonight, Thursday, May 27th. You can still buy raffle tickets on their website www.iroc-series.com to have a chance to win a Trak Time Entertainment rig with triple mount stands.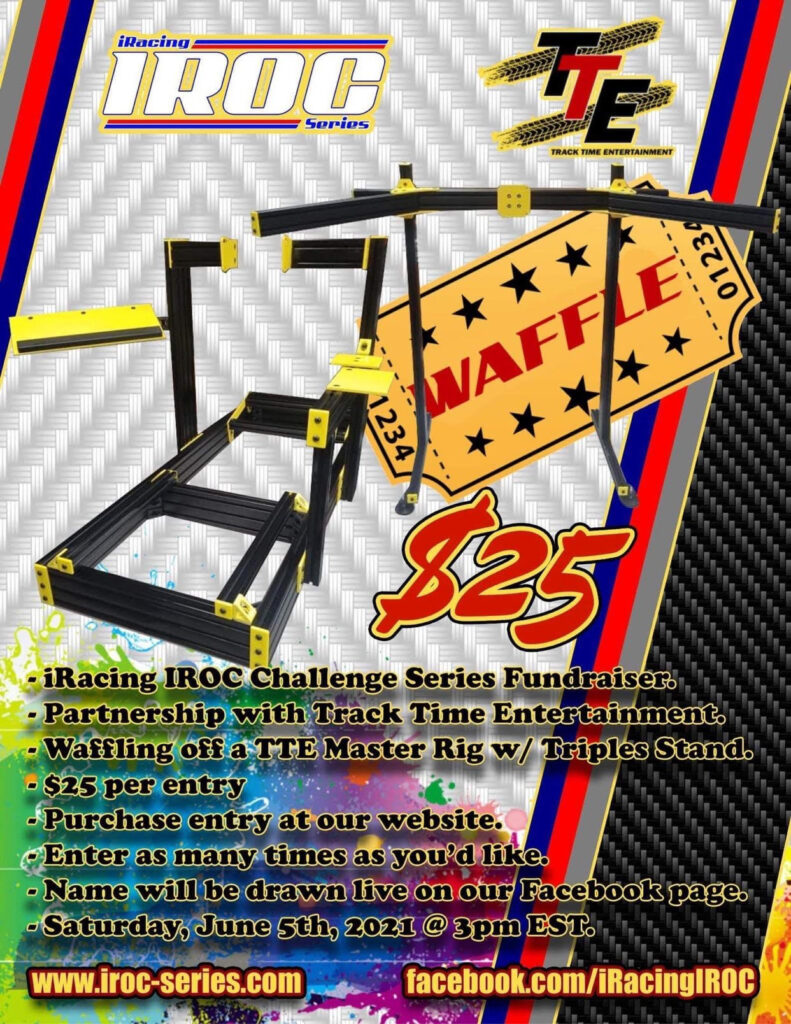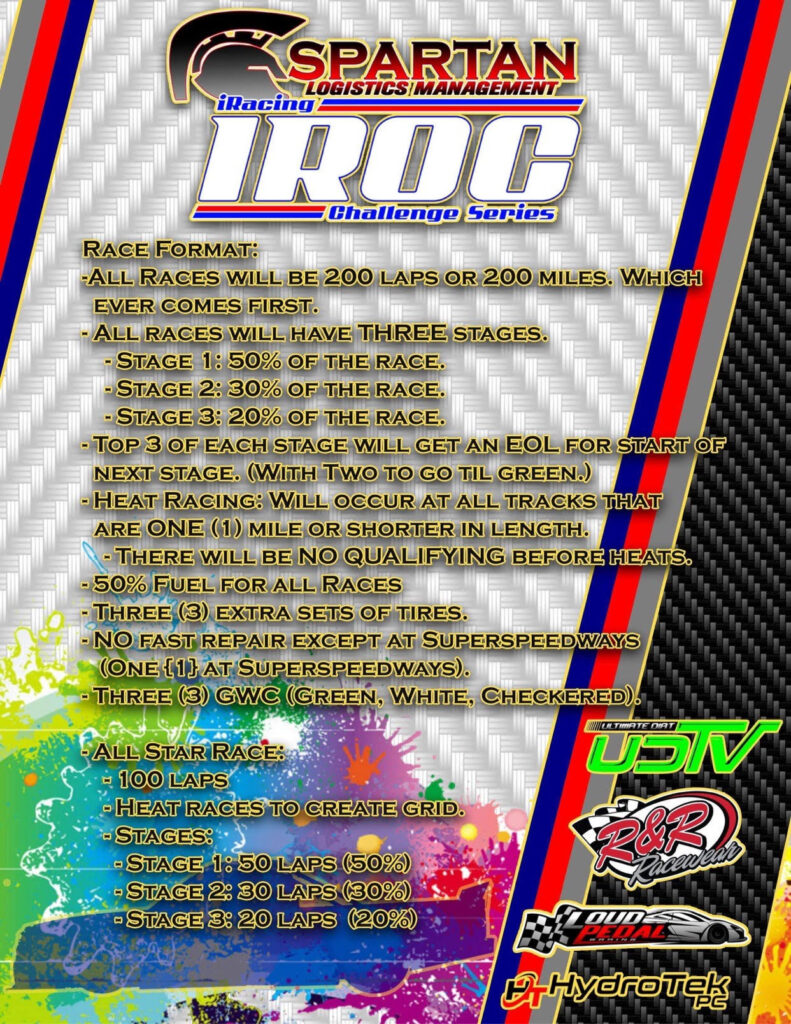 ---
---
Project K9 Hero 200 Charity Race [Tony]
Don't forget to sign up for the Project K9 Hero 200 Charity race at Michigan with the Cup and Xfinity cars. So Join us for a good cause and great racing on Friday, June 11th at 9:00 racetime.
Come Join Us for the Project K9 Hero 200
EVENT:
June 11th 9pm eastern
Michigan International Speedway
Practice opens 8pm
Drivers Meeting 9pm
Qualifying 9:10pm
200 Laps with iRacing Cautions
2 Classes A"Cup" & B"Xfinity"

HOW TO REGISTER:
Sign up at https://docs.google.com/…/1FAIpQLSePlN54…/viewform
Minimum $25 donation to the Project K9 Hero website https://projectk9hero.networkforgood.com/
Must Note: PK9H200 or Project K9 Hero 200
Then send us screenshot direct on Facebook, Discord or email of the confirmation by Thursday June 10th Midnight
All Participants will receive a T- Shirt ( select size in google Doc Registration )

PRIZES:
Each Class get its own prize for
Pole:A free paint from Yuhouse Racing Designs or $10 iRacing Credit
Winner: Spotlights from Midwest Simulations (https://midwestsim.com/)
Best Paint with Project K9 Hero Logo $10 iRacing Credit

Come Join us on:
Discord : https://discord.gg/pCDGEzru
---
---
Podcast Housekeeping
Aftermath Podcast – Get it!
New Website – Leave Comments https://www.iracerslounge.com/
for all you android people:
https://podcasts.google.com/feed/aHR0cHM6Ly9mZWVkcy5zb3VuZGNsb3VkLmNvbS91c2Vycy9zb3VuZGNsb3VkOnVzZXJzOjE0Nzc0MDg5Ny9zb3VuZHMucnNz
You've heard us talk about the Spotlights. Those of us that have them here at iRacers Lounge absolutely love them. So much, we have become an affiliate! With the roll out of their new Spotlights Pro. Here's your chance to check them out, you won't be disappointed. Enter coupon code: IRACERSLOUNGE for 10% off!!
https://www.facebook.com/1565571990374134/posts/2832513123680008/?d=n
---
We are in the regular rotation… (Mike)
https://performancemotorsportsnetwork.com/
---
Fantasy [Tony]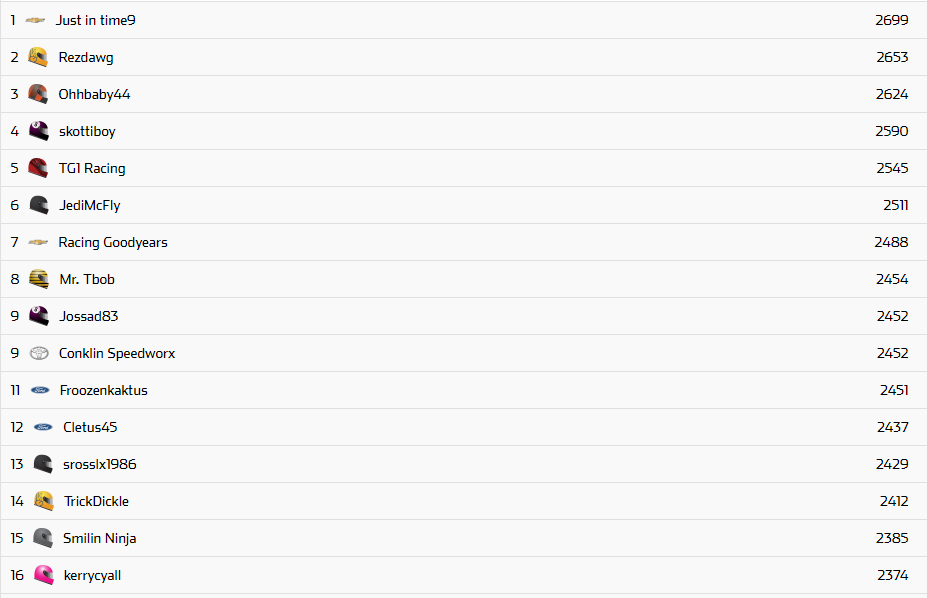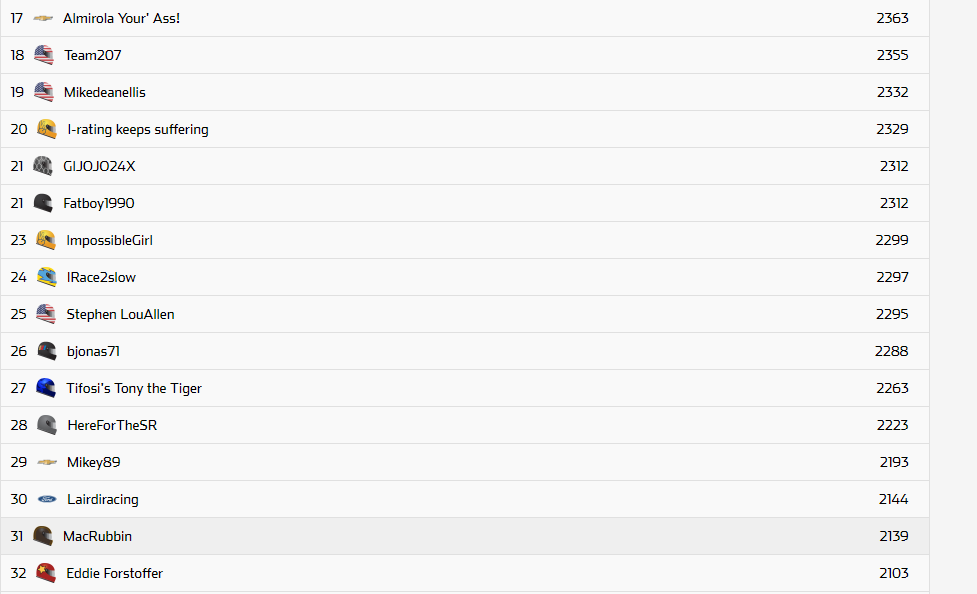 ---
---
Hardware/Software
---
Company Review [Mike]
Pure Sims has something for all of your sim racing needs from products from companies like Cube Controls, Sim-Lab, Simucube and more.
---
---
Invert Your Heusinkvelds [Hall]
Simseats are introducing the SR-X pedal attachment that allows for top or bottom mounts for your Heusinkveld pedals.
https://twitter.com/simseats/status/1395398483780292608?s=11
---
---
Why we Can't Have Nice Things [Brian]
The Sim Channel's Youtube video breaks down the pricing structure of the new Fanatec CSLDD and explains why having the standard power unit and the ability to upgrade to the higher power unit is a good thing, and nothing to be upset about.
https://www.youtube.com/watch?v=CS_ENxJWNLM&t=384s
---
---
Grid Engineering [Kyle]
Grid Engineering is a Canadian company that has wheel hubs, pedals button boxes and more.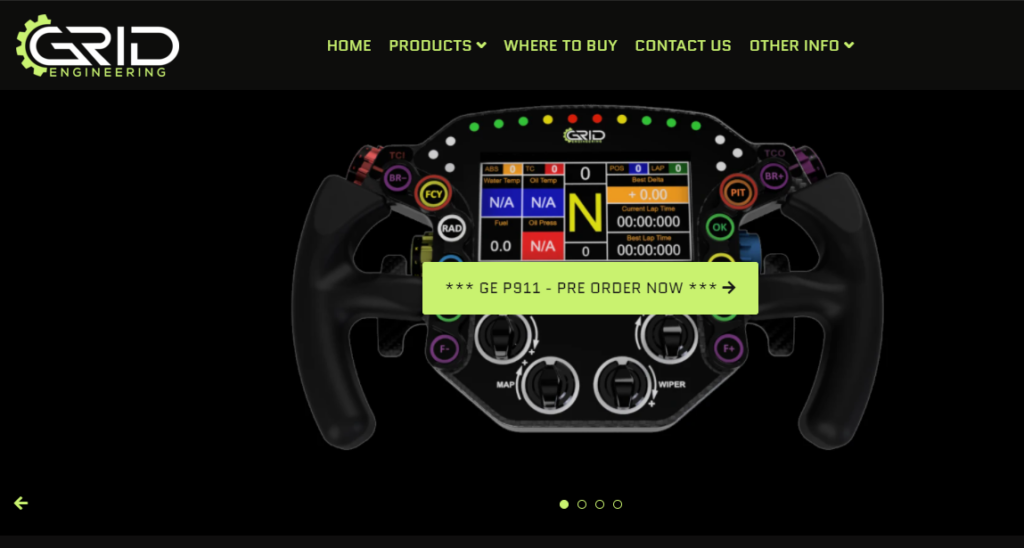 https://www.grid-engineering.com/
---
---
Rig Review [Tony]
Someone snapped a photo of a sim rig set up in the back of a car… Because, why not? Just pray for no rain.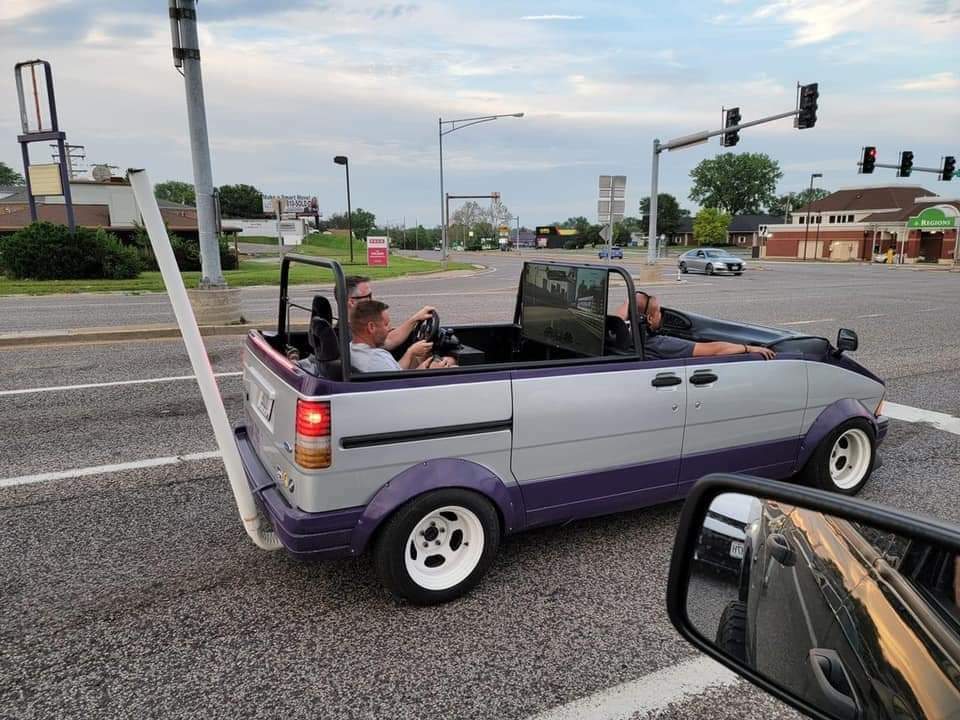 ---
---
Kfire Racing [Mike]
Kfire Racing is a Brazilian company that makes F1 inspired racing rigs.
https://www.instagram.com/p/CPMj4naN_ES/?utm_medium=share_sheet
---
---
45 Set Pedal Comparison [Hall]
Aaron Maspero is looking to replace his faltering pedals and for his research he's created a spreadsheet comparing 45 different sets of pedals broken down into multiple categories.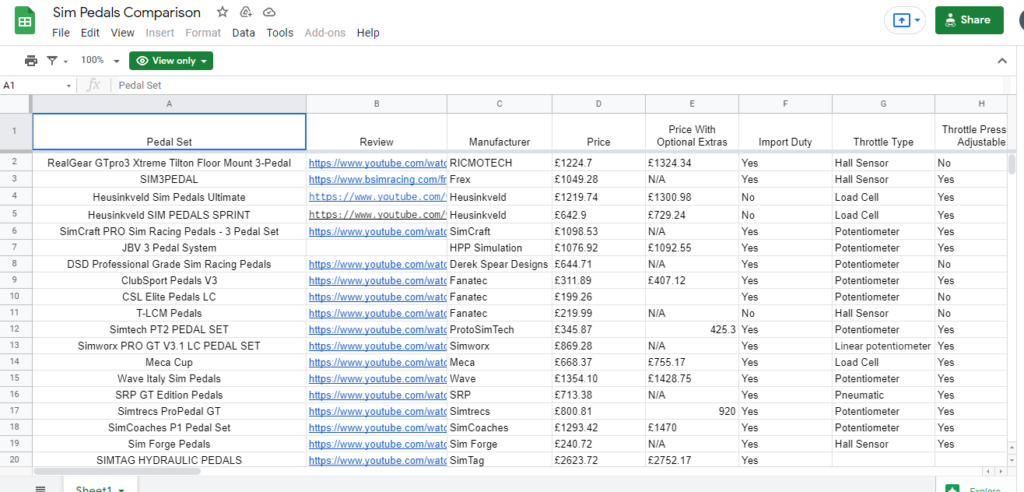 https://members.iracing.com/jforum/posts/list/3806264.page#12495926
---
---
Company Review and New Pedals [Brian]
Simrigs presents the SR Titan Pedal Set for $699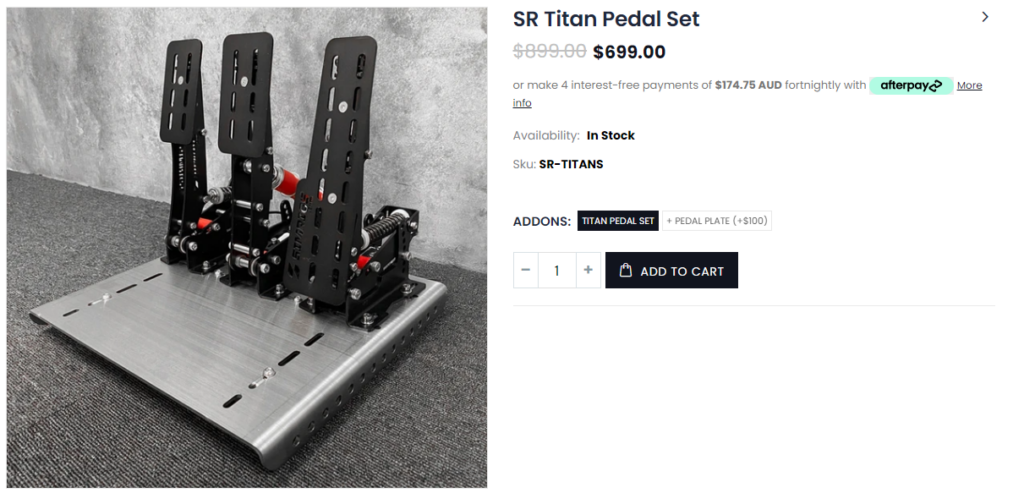 https://www.simrigs.com/collections/pedals/products/sr-pedals?variant=36507075805346
---
---
How To Pit Macro [Kyle]
Kendall Kerr asked in the forums if anyone can help me figure out how to set a keyboard shortcut for throw yellow, as well as, clear all black flags?? Staffer David Tucker posted links how to assign macro built into the sim.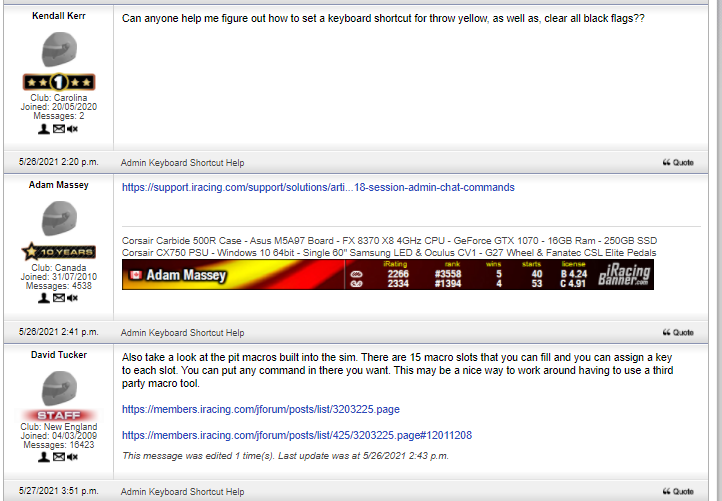 https://members.iracing.com/jforum/posts/list/3807070.page#12502189
https://members.iracing.com/jforum/posts/list/3807070.page#12502189
https://members.iracing.com/jforum/posts/list/425/3203225.page#12011208
---
---
The MS Exclusive [Mike]
The Motorsports Simulator's MS Exclusive is a full wrap around, full motion triple monitor sim cockpit for the enthusiast sim racer
http://motorsportsimulator.com/ms_exclusive.html
---
---
Results
NASCAR iRacing Series
Fri open: COTA
Greg – p8 Uneventful
Hall = P10, idiot free event
Sunday fixed

Mike -p11- started p4 but faded. Got a drive thru and finished w 20x
Greg – P5 Started p23 and drove to the front
Race: Charlotte
Wed Open:

Hall –p14, top split, 1 caution, gotta practice green flag stops
Kyle – P P-24 Started 4th and ran top 10 most of the race. Was running 6 and dove to avoid a wreck and nailed in the back end and the car was junk. I ran 10 more laps until the car was uncontrollable and slammed the outside wall out of turn 2 and then slammed the inside wall. So i raged quit at midnight and finished with a P-24
---
---
Official Series
Hall – P11 top split of non qual with slowest qualifiers
---
---
League / Hosted Races
Congratulations Tom Ogle #11 Winning The Aftermath Podcast Truck Series Race at the Charlotte Motor Speedway
Dwayne McArthur #97 Finished 2nd
Andrew Hess #54 Finished 3rd
---
---
Final Thoughts
---
---
Words Spoken in Closing Audio Clip -""Thank you for listening to the iRacers Lounge podcast make sure to go subscribe to us on iTunes, SoundCloud, or Google Play, Facebook & Twitter, See You On The Track ."
TITLE IDEAS
AeroNOTics- Episode 0281
.
.
Description
The iRacing Coke Series is back again this week at The Charlotte Motorspeedway and Evan Possoco will join us to break down all of the details including some post race controversy. Also, David sat down to interview a brand new iRacers Lounge Podcast partner… 
iRacers Lounge Podcast is available on iTunes and Apple's Podcasts app, Stitcher, TuneIn, Google Play Music, Spotify, Soundcloud, Podbean, Spreaker, Podbay, PodFanatic, Overcast, Amazon, and other podcast players.
Sponsors:
www.grid-finder.com
Hosts:
Mike Ellis – twitter.com/MikeDeanEllis
Tony Groves – www.twitch.tv/SirGroves
Chris Scales – twitter.com/JediMcfly
David Hall – www.twitch.tv/mixmage
Greg Hecktus – twitter.com/froozenkaktus – www.twitch.tv/froozenkaktus
Tony Rochette – twitter.com/TonyRochette
Adam Josselyn- twitter.com/Jossad83
Brian Maccubbin – www.twitch.tv/MacRubbinsRacin
Tom Dreiling –
Kyle Pendygraft – twitter.com/LoudPedalGaming
AJ Prichett –
Links:
Old Show Notes – bit.ly/2CFeArM
Facebook – www.facebook.com/iRacersLounge/
Twitter – twitter.com/iracerslounge
Instagram – instagram.com/iracersloungepodcast/
Web (New Show Notes) – iracerslounge.com/