6/3/2021 – Win-D City – Episode 0282
iRacers Lounge Podcast – Conversation Topics
Brought to you by:

Opening Audio Clip -"Your listening to the iRacers Lounge Podcast where we discuss everything iRacing, in a casual setting, enjoy."`
READ THIS AT THE TOP OF EACH SHOW!!!
Welcome to the iRacer's Lounge, I am your host "XXX". iRacer's Lounge is a podcast for the iRacer, where we talk all things iRacing in a casual setting.
Joining me are the usual characters, ————
---
---
Introduction
It's Chicago Week here in iRacing where we will cover the release of the new Chicago Street Circuit and the iRacing Pro Series inaugural race at the concept track as we start to get ready for the upcoming season 3 build.
And remember you can follow along with us on your mobile device in real time as you listen to the show and see for yourself all of the great topics and products we'll discuss by visiting iracerslounge.com and selecting show notes. Hope to see you there..
---
---
TITLE SPONSOR READ:
After a complete new build, Grid Finder 2.0 is here and better than ever. Along with a brand new look, Grid Finder has made league searching even easier and much more enjoyable by adding more search options for the driver and giving league owners a better way to promote their league features and making it easier to connect with drivers with the brand new "join now" button. Make sure to check out www.Grid-Finder.com and find your place on the grid
Visit www.grid-finder.com to find a league, or to upload your own!
Grid Finder – "The home of online sim racing leagues"
---
---
Topics
---
---
Season 2 Patch 7 Hotfix 1
Alex Gustafson from iRacing announces the dropping of another hotfix for Patch number 7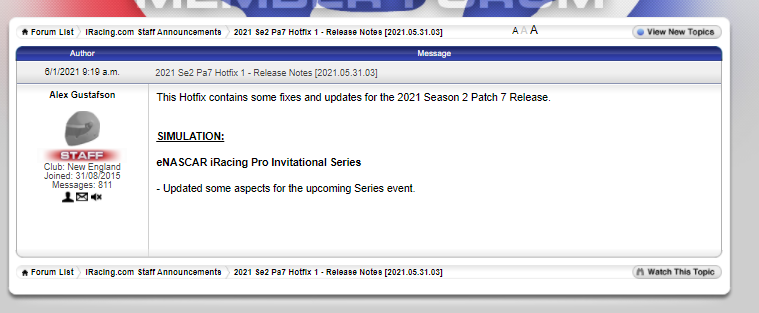 https://members.iracing.com/jforum/posts/list/3807538.page#12506101
---
---
Cecil Green Needs Help
The iRacing World is reaching out to it's members to create a short story with their names for a care card for fellow racer Cecil Green who has been hospitalized with any thoughts of your time together, or if he's helped you out while on the sim.
We want those who want to write a short story to sign their name if possible and send it to
picciottivincent@gmail.com
Also I'll need about 20-30 short story videos, mentioning who they are along with the story about a minute to two minutes long uncut. I am going to put together a short video to send to Cecil as well. I'm not the greatest editor but I think putting some faces to the names on their profiles would be awesome, it kind of ties everything together. We never see the faces we race against so I think it will add some personalization to it. Deadline for all this will be a week from this Saturday so that gives us 10 days to accumulate what we need then work on getting the card and video done
The videos can be sent to hap584@outlook.com
https://www.facebook.com/1241854792/posts/10226167725639908/?d=n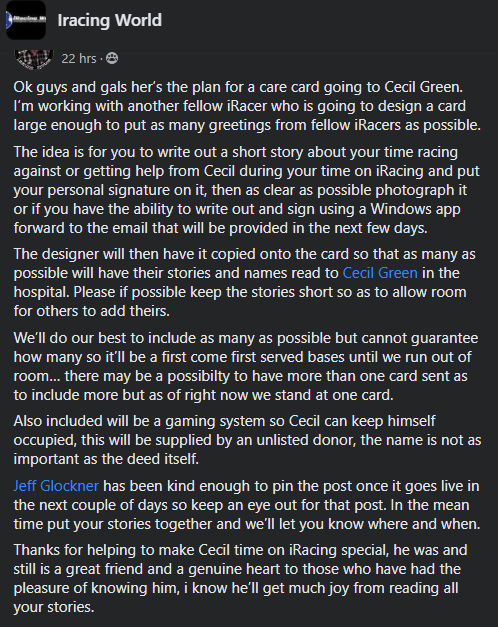 ---
---
NASCAR Pro Invitational – Chicago Street Course
Dale Earnhardt Jr took along some racing hardware with him to a Tennessee mountain retreat so as not to miss his spot in the iRacing Pro Invitational at the futuristic Chicago Street Course.
https://twitter.com/DaleJr/status/1400207390809767947
Lap Around Chicago
What does a lap around Chicago look like? Nascar tweeted a video of a hot lap around the futuristic, concept track on the proposed street course.
https://twitter.com/nascar/status/1400188652790165504?s=11
Chicago not Alone?
Adam Stern Tweeted that as Nascar is continuing talks with the city about possibly running a real-life race there, it's still unclear whether '22 or '23 would be the first event. But Chris Meyers also recently noted that a track at the LA Coliseum is also a possibility.
https://twitter.com/a_s12/status/1400214598842728460?s=11
Official Video Introduction
In conjunction with the Pro Invitational race at Chicago, iRacing announced, with an accompanying video, the official release of the Chicago Street Course for it's members.
https://twitter.com/nascar/status/1400271195283537926?s=11
Where's Jr and Meyers Chicago Edition
Looks like Dale Jr and Steve Myers have already been found. This time on a skyscraper in the Chicago Skyline.
https://twitter.com/nascar/status/1400254247619289091?s=11
James Davidson Dominates
Evan Posocco posted on his twitter account that James Davidson extended his lead in the iRacing Pro Series after Wednesday night's complete dominance at Chicago by 21 points over Timmy Hill in second and 38 points over Garrett Smithley in third.
https://twitter.com/evanposocco/status/1400293239865831425
---
---
iRacing at Charlotte
Jesse Iwuji stopped by the USO iRacing qualifying challenge at the Coke 600 fan experience and found himself on the leaderboard.
https://www.instagram.com/p/CPd4rYNllOo/?utm_medium=share_sheet
iRacing at Charlotte
Coke Series drive Jimmy Mullins also stopped by the qualifying challenge and, wouldn't you know it, found himself at the top of the leaderboard.
https://twitter.com/simseats/status/1398422239205330949?s=11
---
---
Operation Motorsport Needs Your Help
Have any functioning sim racing gear you aren't using? Operation Motorsports lets you help vets by donating your functioning iRacing gear to vets who can use them to join in the amazing iRacing service
https://twitter.com/beardedsimracer/status/1399386784354668548?s=11
https://operationmotorsport.org/
---
---
Sound of Gravel
Tom Burns posted in the forums that he's been missing some sounds in the sim, including some of the 'pop' upshifting in the Porsche 911 cup and the sounds of gravel hitting the underside of the cars. Aussie Greg Hill responded that he needs to set the particles to high under graphics.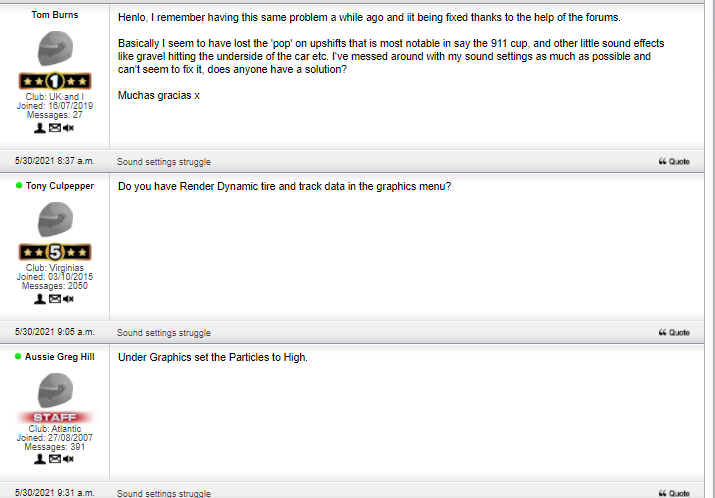 https://members.iracing.com/jforum/posts/list/3807328.page#12504733
---
---
Leaning into a Corner
iRacing tweeted a pole asking if driver lean into a corner when racing. their options were 'Yes, it helps with grip', or 'No, it looks ridiculous.'
https://twitter.com/iracing/status/1397945556530565123?s=11
---
---
Broken Chevy Backstory
Online racing magazine, Racer.com, has a story about how the Chevy drivers in the Coke Series realized there was a problem with the drafting model before the start of the race last Tuesday.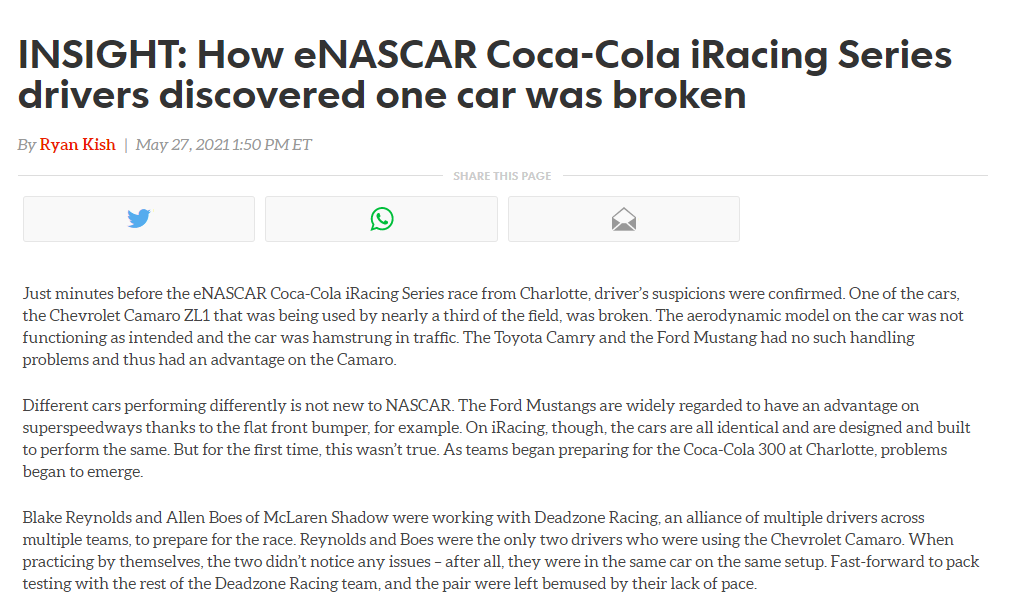 https://racer.com/2021/05/27/insight-how-enascar-coca-cola-iracing-series-drivers-discovered-one-car-was-broken/amp/
---
---
Danlisa Looking for New Owner
The very popular iRacing league scoring website danlisa is looking for new ownership as reported in the forums by Tim Fortner.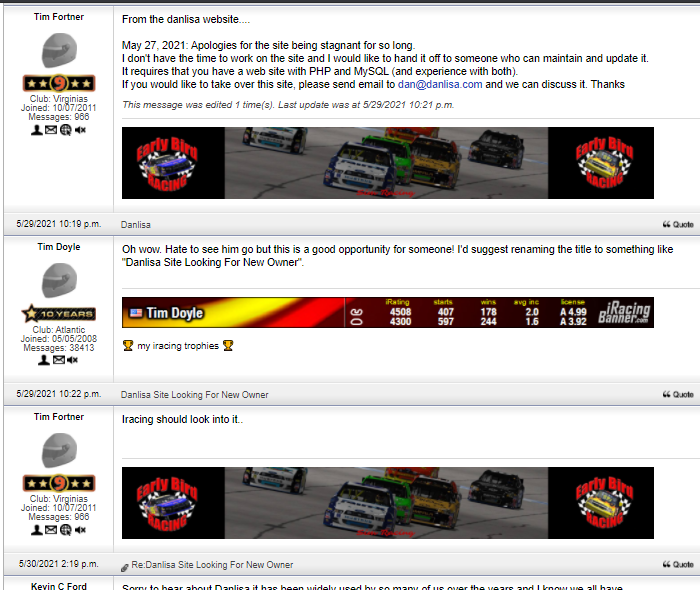 https://members.iracing.com/jforum/posts/list/3807310.page#12504607
---
---
DanLisa Alternative
Ironically, there is a new solution out there for leagues to use that just released about 30 days ago called Xtreme Scoring. All be it a paid version it does everything Danlisa does and a ton more. The widgets are amazing and scoring combinations are nearly limitless for Oval and Road. Past seasons can be imported for Danlisa users as well.
https://members.iracing.com/jforum/posts/list/3807310.page#12504916
https://www.ricmotech.com/xtreme-scoring
And Another Alternative
Another Danlisa alternative is MyLeague which gives you the ability registration management of Drivers, Teams, define your own Classes, Results, Standings, and League Articles.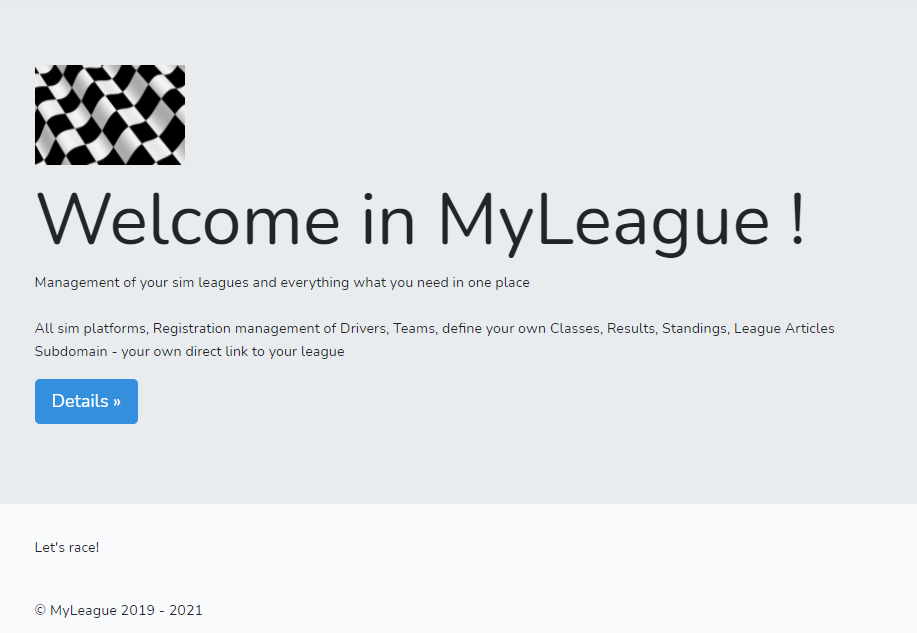 https://members.iracing.com/jforum/posts/list/3807310.page#12505326
---
---
IR18 AI Please
Some in the forums have started a thread asking if iRacing would offer AI racing in the car. And although it is something they're actively working on, according to staffer Alex Saunders, the IR18 is probably the single most complicated car on iRacing to put on AI thanks to all the different configurations, push-to-pass, and tire compounds.

https://members.iracing.com/jforum/posts/list/3794663.page#12412801
---
---
Poll – Live Admins
Jamie Bowling produced a poll in the forums saying that "I think iRacing should have some kind of admin or something in the public rooms to call who causes cautions and we wouldn't lose or SR or IR when it wasn't our fault!"

https://members.iracing.com/jforum/posts/list/3807171.page#12503286
---
---
Ty Majeski for the W
Ty Majeski has put his iRacing sponsored Late Model back into the winners circle, this time at Jefferson Speedway in Cambrige, Wisconsin.
---
---
Listener Scott Ross – Week 13 Races
Show listener Scott Ross will be setting up fun races on Monday, Tuesday and Wednesday during week 13 and is inviting everyone to join in. The races will be in the tour modifies with fixed setups on road courses at Charlotte Roval on Monday, Laguna Seca on Tuesday and Phoenix Road on Wednesday. Practices will open at 8:30pm et and races will begin at 9:30pm et.
https://members.iracing.com/jforum/posts/list/3807543.page
Scott Ross
to iracerslounge
Hi guys,
Enjoy the show. With week 13 coming up I want to do something fun with my participation credits. I really enjoyed the tour mods at watkins glen this past season and there were some great discussions about how it would do on free tracks. So I came up with 3 races Monday, Tuesday and Wednesday of next week. Monday is the Charlotte Roval ,Tuesday is Laguna Seca, and Wednesday is the Phoenix Road Course. All no pressure races for fun with fixed setups. Practice at 8:30pm et race at 9:30pm et. Hope to see you there
---
---
Formula Vee Intro Video
iRacing dropped on their youtube channel an official introduction video of the new Formula Vee rookie class open wheel road racing car to be available on the Season 3 build
---
---
Project K9 Hero 200
Don't forget to join us for the Project K-9 Hero at Michigan on Friday, June 11 at 9:00est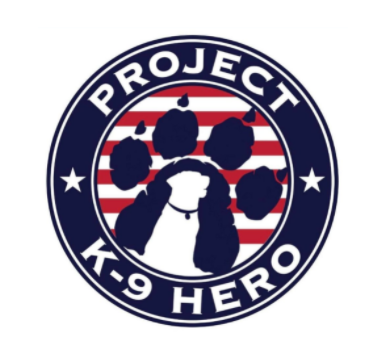 EVENT:
June 11th 9pm eastern
Michigan International Speedway
Practice opens 8pm
Drivers Meeting 9pm
Qualifying 9:10pm
200 Laps with iRacing Cautions
2 Classes A"Cup" & B"Xfinity"
How To Register
Sign up at
https://docs.google.com/forms/d/e/1FAIpQLSePlN54_nXtw0KclEef4rPknoVxDt81Uv1z-wNkk82LnKjB4Q/viewform
Minimum $25 donation to the Project K9 Hero website
https://projectk9hero.networkforgood.com/
Must Note: PK9H200 or Project K9 Hero 200
Then send us screenshot direct on Facebook, Discord or email of the confirmation by Thursday
June 10th Midnight
All Participants will receive a T- Shirt ( select size in google Doc Registration )
PRIZES
EachClass get its own prize for
Pole:$20 iRacing Credit
Winner: Spotlights from Midwest Simulations (https://midwestsim.com/)
Best Paint with Project K9 Hero logo get a free Paint job From Yuhouse Racing Designs
And just added $75 per class on most positions gained with no incidents. Thanks to Metro Ford
of Chicago from the OBRL
Come Join us on:
Discord : https://discord.gg/pCDGEzru
https://docs.google.com/forms/d/e/1FAIpQLSePlN54_nXtw0KclEef4rPknoVxDt81Uv1z-wNkk82LnKjB4Q/viewform
https://projectk9hero.networkforgood.com/
---
---
New Porsche
Also to be released is the Porsche 911 GT3 R
https://www.facebook.com/48224116084/posts/10159572661056085/?d=n
https://members.iracing.com/jforum/posts/list/3807776.page#12507803
---
---
Podcast Housekeeping
Aftermath Podcast – Get it!
New Website – Leave Comments https://www.iracerslounge.com/
You've heard us talk about the Spotlights. Those of us that have them here at iRacers Lounge absolutely love them. So much, we have become an affiliate! With the roll out of their new Spotlights Pro. Here's your chance to check them out, you won't be disappointed. Enter coupon code: IRACERSLOUNGE for 10% off!!
https://www.facebook.com/1565571990374134/posts/2832513123680008/?d=n
---
We are in the regular rotation… (Mike)
https://performancemotorsportsnetwork.com/
"OK TONY LETS TALK FANTASY…."
---
---
Fantasy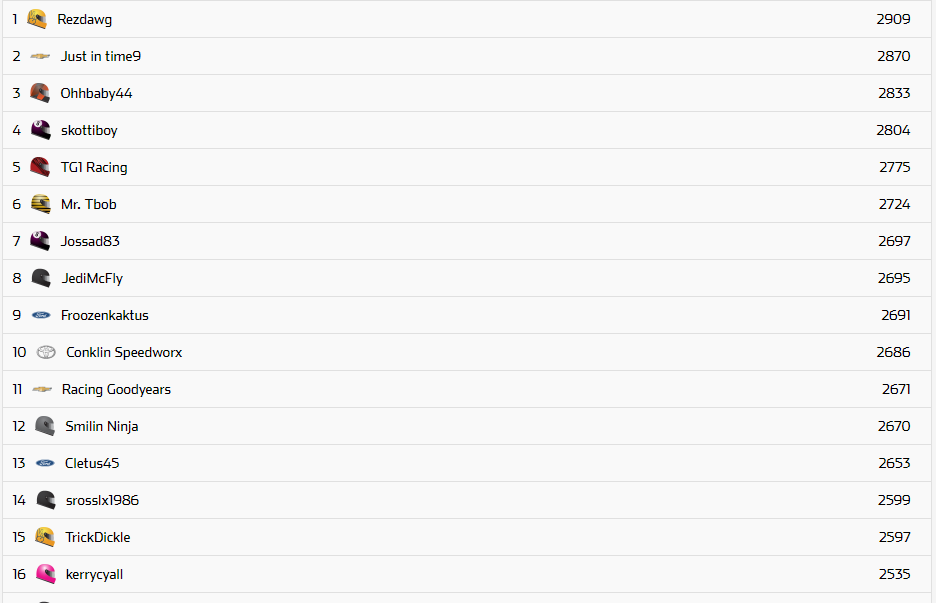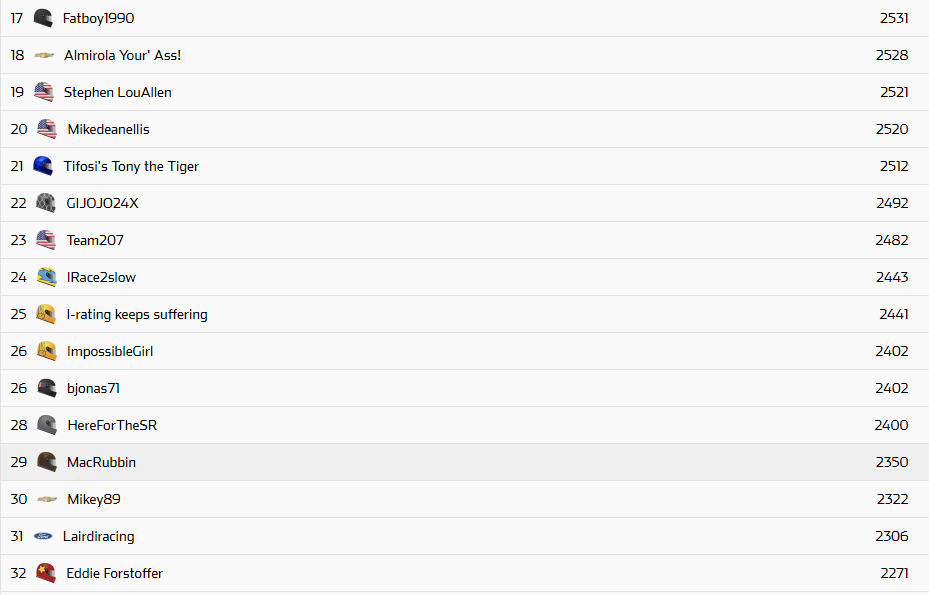 ---
Hardware/Software
---
Company Review and New Pedals
Simrigs presents the SR Titan Pedal Set for $699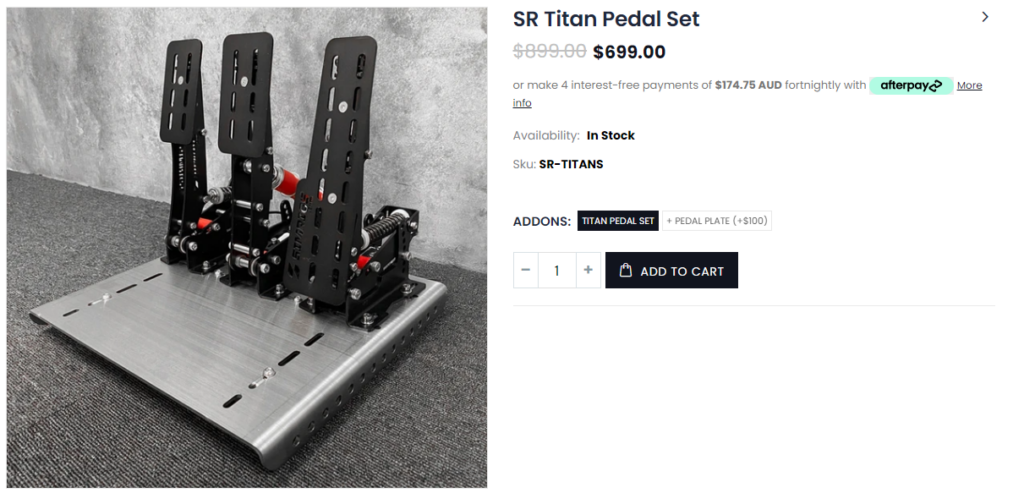 ---
---
How To Pit Macro
Kendall Kerr asked in the forums if anyone can help me figure out how to set a keyboard shortcut for throw yellow, as well as, clear all black flags?? Staffer David Tucker posted links how to assign macro built into the sim.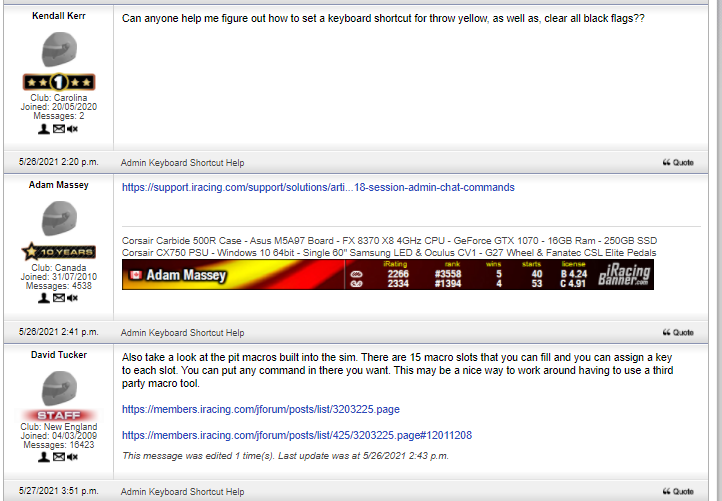 https://members.iracing.com/jforum/posts/list/3807070.page#12502189
https://members.iracing.com/jforum/posts/list/3807070.page#12502189
https://members.iracing.com/jforum/posts/list/425/3203225.page#12011208
---
---
The MS Exclusive
The Motorsports Simulator's MS Exclusive is a full wrap around, full motion triple monitor sim cockpit for the enthusiast sim racer
http://motorsportsimulator.com/ms_exclusive.html
---
---
VNM Shifter
The VNM Shifter V1 is from a Vietnamese Company that offers an H pattern shifter with multiple optional shifter plates and can be converted into a sequential shifter as well for $259.95
https://members.iracing.com/jforum/posts/list/3807339.page#12504872
https://us.sim-motion.com/collections/vnm-shifters-and-accessories/
https://www.youtube.com/watch?v=mT48k9M19b0
---
---
Cell Phone Holder
Simubox offers on Etsy a universal cell phone holder that mounts on a Fanatec DD1 or DD2 for less than $30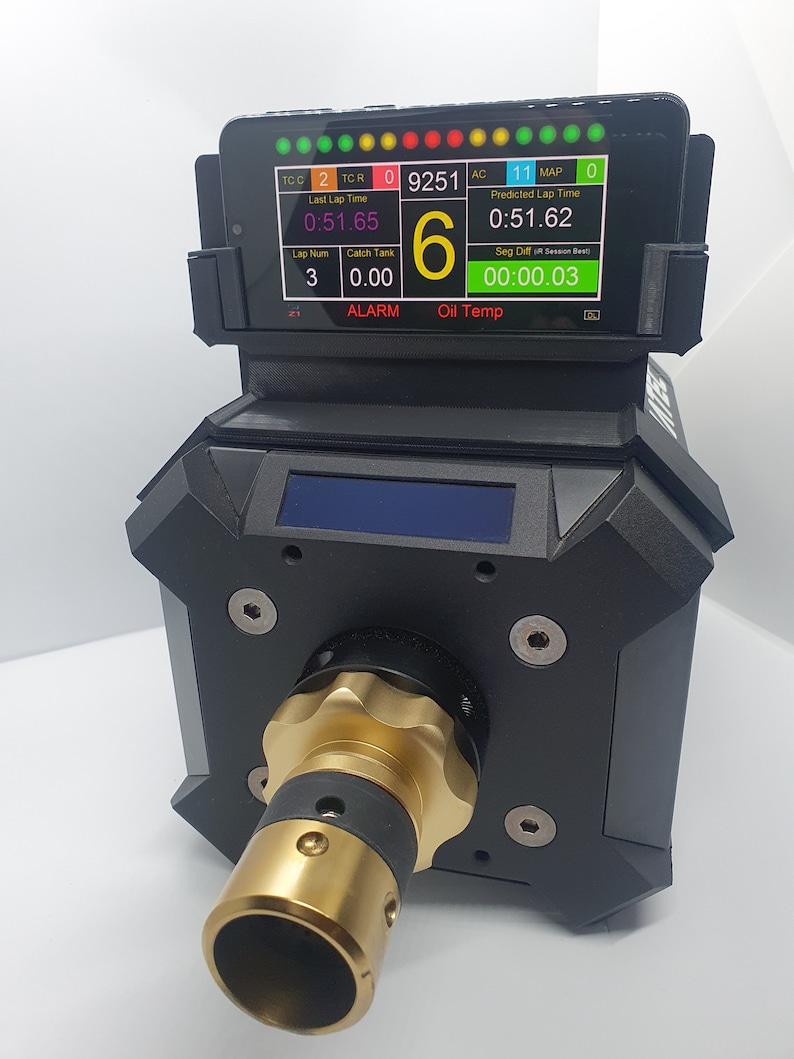 https://www.etsy.com/listing/886602644/fanatec-dd1-dd2-universal-phone-dash?fbclid=IwAR23hsEKvbkBOW4MuzUamre9uKd0s_3d0ja9lsHXLZLV-95OjgBItb-NbLw
---
---
New Paddle Shifters
The New SRM Gear shifter can be used on most wheels, including custom wheels, and Fanatec wheels with an adapter for 96 pounds.
https://members.iracing.com/jforum/posts/list/3807186.page#12503487
https://www.simracingmachines.com/WebShop/srm-gear-shifter-2
---
---
Sim Labs Steering Wheel QR
Sim Labs is offering the Zero Play steering wheel quick release for multiple bolt patterns for 49 pounds
https://www.instagram.com/p/CPawixAN_Xa/?utm_medium=share_sheet
https://sim-lab.eu/shop/product/xero-playtm-steering-wheel-quick-release-1255#attr=1983
---
---
BJ Pedals Review
Boosted Media reviews the B.J. Sim Racing Hydraulic GT Pedals for $861 USD
---
---
Results
NASCAR iRacing Series
Fri open: Charlotte
Ellis – – p14 – no practice had wrong wheel settings – the pit under gf had my tires unchecked – never recovered from it – hit the wall a thousand times but finished….
Greg – pwrecked
Hall = P out early, got loose my self running the high line, bounced off the wall several times doing my best to not collect anyone. Car would still run, but with a good finish already no limping around for 400 laps
Rochette P4 what a race. Definitely 1 of the fastest cars til my black cloud covered the sun and was wrecked 3 times and 2 of the 3 was nose damage.
Steve – pwreckedRunning 5th gaining on leader. Then got wrecked by a lapped car on new tires when I was side by side with the 4th place guy. On lap 317.
Sunday Open

Kyle – P P-6 Started back in P-17 and worked my way up to the top 5 within the first 18 laps. Ran a consistent top 10 through the race and even led 14. Gave up the lead for the first pit cycle. Stayed on the lead lap until after half way. Started losing time to the leader and after a few pit cycles ended up a lap down. After a few small brushes with the wall i was falling off pace and pit for the second to last cycle for tires, fuel and repairs. I fell 2 laps down and started to drive my way through the field and stayed out as long as i could for the final pit cycle and was able to catch a caution and only be 1 lap down. After pits i was sitting P-5 but smacked the wall out of 4 and started to lose time to the field and fell back to hold a P-6. Big shout out to Paul Donnelly2 for his outstanding performance. He led 249 laps and was untouchable.
Sunday fixed

Mike -pwrecked out had it missed but got ran over from behind
Race: Sonoma
Wed Open:

Hall -p14 one spin cost me 2 spots probably

Ellis – p11 – had a good 1st half ran as high as 7th – spun on my own right before and after half way – a couple of other spins – lucky to get what I got.
Rochette – P5. The road streak continue. Worse finish at a nis road has been 7th ran 5th 98% race where my i was dodging and praying to baby jebus that i dont get wrecked by Bottom splits very best. And i did with 0x!!!!!!!!!! That should be worth top split points alone. Im 1 and done at this stupid track on the the Project K9 Hero 200 next friday night 9pm eastern

Thurs Open

Hall – taken out on lap 1, guys gotta win and runs me over at the top of the hill as i'm littleral on the bumper of the car in front of me
---
---
Official Series
PDS Euro Sprint

Hall – WINS at Road America and Twin Ring Montegi
---
---
League / Hosted Races
FastTrack Sim Racing League –

Still recruiting – https://www.facebook.com/102107211726370/posts/203323564938067/?d=n

Greg p10
Mike – p 16 – started near the back worked my way up but was getting loose on center to exit and would slip, and loose my track position. Kinda pitted in between the popular strategies but the cautions didnt fall my way…
Tom D – P3. Dang. I thought I had the right pit strategy. I decided to stay out as long as I could. Caught a caution as I was about to pit. Should have pitted again with 1 to go. Ran as long as I could. Saved as much fuel as I could. What I would have given for 1 more gallon of gas.
Hall – p1 – capitalized on long run speed and staying mistake free
OBRL iRLP Aftermath Truck Series

? Congratulations Steve Thomson #67 Winning The Aftermath Podcast Truck Series Race at the Kentucky Speedway
Dwayne McArthur #97 Finished 2nd
Bob Fellenbaum #38 Finished 3rd
IROC Challenge: Daytona

– Brian P6 Finished the first stage in P3 and was given an eol. Avoided trouble thru stage 2 and a late wreck to find myself in P2 for a GWC. Was happy to push the leader on the bottom to the end but wobbled on the last turn and caused a wreck and limped home in 6th
---
---
Final Thoughts
---
---
---
Words Spoken in Closing Audio Clip -""Thank you for listening to the iRacers Lounge podcast make sure to go subscribe to us on iTunes, SoundCloud, or Google Play, Facebook & Twitter, See You On The Track ."
TITLE IDEAS
Win-D City
.
.
Description
It's Chicago Week here in iRacing where we will cover the release of the new Chicago Street Circuit and the iRacing Pro Series inaugural race at the concept track as we start to get ready for the upcoming season 3 build. So strap in and try to keep up with us on the iRacers Lounge Podcast.
iRacers Lounge Podcast is available on iTunes and Apple's Podcasts app, Stitcher, TuneIn, Google Play Music, Spotify, Soundcloud, Podbean, Spreaker, Podbay, PodFanatic, Overcast, Amazon, and other podcast players.
Sponsors:
www.grid-finder.com
Hosts:
Mike Ellis – twitter.com/MikeDeanEllis
Tony Groves – www.twitch.tv/SirGroves
Chris Scales – twitter.com/JediMcfly
David Hall – www.twitch.tv/mixmage
Greg Hecktus – twitter.com/froozenkaktus – www.twitch.tv/froozenkaktus
Tony Rochette – twitter.com/TonyRochette
Adam Josselyn- twitter.com/Jossad83
Brian Maccubbin – www.twitch.tv/MacRubbinsRacin
Tom Dreiling –
Kyle Pendygraft – twitter.com/LoudPedalGaming
Links:
Old Show Notes – bit.ly/2CFeArM
Facebook – www.facebook.com/iRacersLounge/
Twitter – twitter.com/iracerslounge
Instagram – instagram.com/iracersloungepodcast/
Web (New Show Notes) – iracerslounge.com/