6/17/2021 – On The (Air) Bubble – Episode 0284
iRacers Lounge Podcast – Conversation Topics
Brought to you by:

Opening Audio Clip -"Your listening to the iRacers Lounge Podcast where we discuss everything iRacing, in a casual setting, enjoy."`
READ THIS AT THE TOP OF EACH SHOW!!!
Welcome to the iRacer's Lounge, I am your host "XXX". iRacer's Lounge is a podcast for the iRacer, where we talk all things iRacing in a casual setting.
Joining me are the usual characters, ————
---
---
TITLE SPONSOR READ:
Grid Finder is your go to source for finding your next sim racing league. Currently home to over 450 leagues across all gaming platforms and across 10 different racing sims including over 80 iRacing leagues. Filter your search by racing sim, car class, race day and region. Finding a league to fit your schedule has never been this easy.
Visit www.grid-finder.com to find a league, or to upload your own!
Grid Finder – "The home of online sim racing leagues"
---
---
Show Introduction
On the show this week we work along with iRacing with a few Nashville Superspeedway issues that may be included in the first patch of the season 3 build. The '87 Legend Cars are in the news this week with classic events and thoughts in the community of the new update.
And remember you can follow along with us on your mobile device in real time as you listen to the show and see for yourself all of the great topics and products we'll discuss by visiting iracerslounge.com and selecting show notes. Hope to see you there..
---
---
Topics
---
---
Silverado Woes
David Schildhouse tweeted that there may be a problem with the Chevy Silverado fixed at Nashville similar to the one that plagued the Chevy Camero in the Coke series race several weeks ago. David claims the Chevy is put at a disadvantage due to the gear ratio being off.
https://twitter.com/schildhoused/status/1404619811116654596?s=11
Plot Twist
After the most recent patch, it turns out that the Ford F-150 and the Toyota Tundra were the ones that received a gearing update indicating that the Silverado was the one that was correct and the other two need the correction.
https://twitter.com/schildhoused/status/1404791837617844230
Release Notes – Patch 1 Season 3
iRacing posted the release notes for the first Season 3 Patch 1 release notes.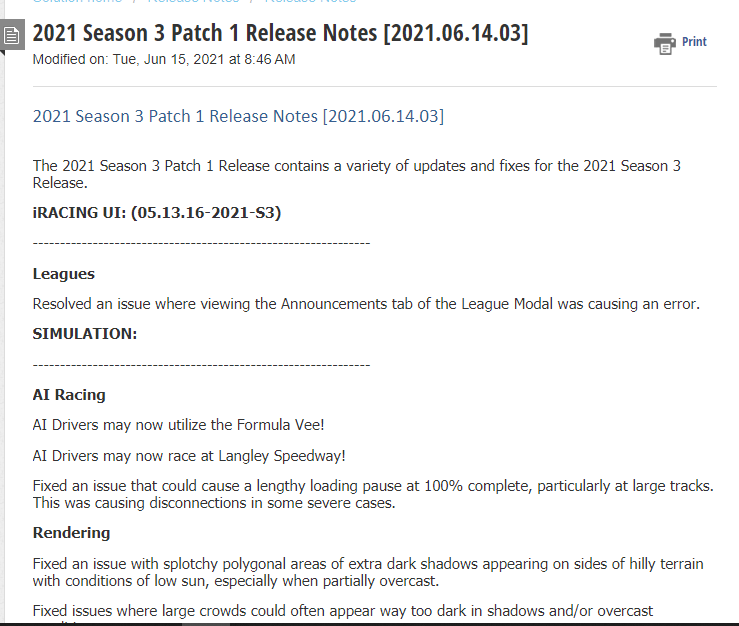 https://support.iracing.com/support/solutions/articles/31000161172-2021-season-3-patch-1-release-notes-2021-06-14-03-
---
---
Better Half Dash
McCall Gaulding, the better half of driver Zane Smith, won the Better Half Dash held last Thursday evening on FS1.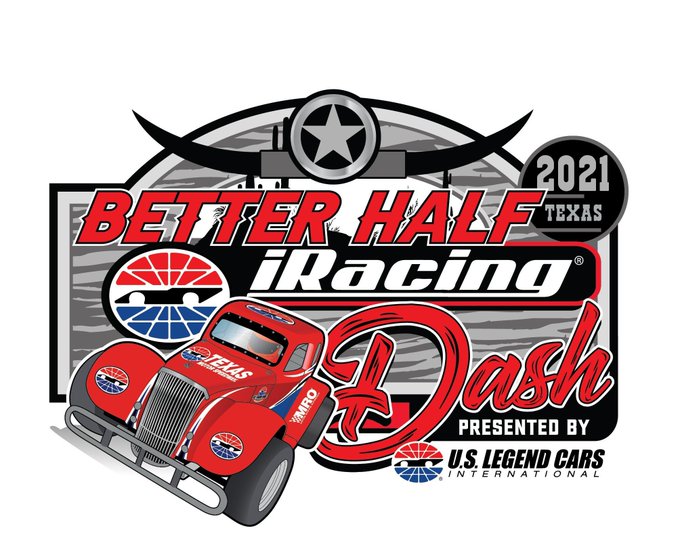 https://twitter.com/iracing/status/1403092804818059266?s=11
https://twitter.com/zanesmith77/status/1403124564121505797?s=11
---
---
24 Hr Race in Two Weeks?
iRacing posted the schedule for the VRS Global Endurance Series. A 24 hour racing series held every other week including tracks from around the world, including one in northeast France.
https://twitter.com/steviejb87/status/1402770564188708865?s=11
https://forums.iracing.com/discussion/758/2021-season-3-schedule
---
---
Nashville SS Wall a Bit Wonky
@JamesDeeGee03 posted a video on Twitter letting iRacing know that the walls at the new Nashville Super Speedway is a little wonky, and may be in need of a patch.
https://twitter.com/jamesdeegee03/status/1402763010486247426?s=11
https://forums.iracing.com/discussion/673/nashville-ss-wall-broken
---
---
Nashville SS Grip
There was a discussion in the forums regarding the new Nashville Super Speedway and the amount of grip. Some speculated that it's the cup car package, others the setups. Staffer Christian Challiner said, "It's none of the above. What you're currently driving on is essentially our 'defaults' for surface parameters." What you will have post-patch will be the specific parameters for that concrete surface. Jared Carr asked, "Then why was it released with the "wrong" track data if the data was available before release?" To which Challinger replied, "There was an error and It will be resolved in a patch next week as has already been mentioned. For what it's worth, it's impossible for a tester to spot/know this."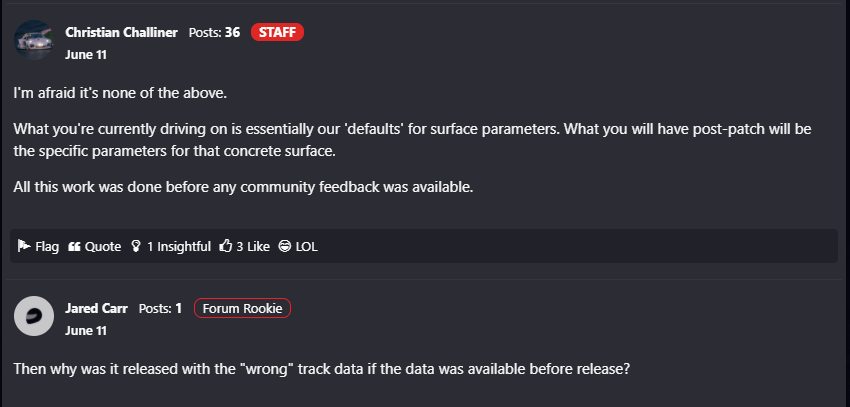 https://forums.iracing.com/discussion/comment/5311/#Comment_5311
---
---
Formula Vee Painting Fun
The Folks in the community are having a lot of fun painting the new Formula Vee with designs including pencils, ears of corn and 64 variety pack of Crayola "CrayVees".
https://www.instagram.com/p/CP_MREqgwvQ/?utm_medium=share_sheet
https://twitter.com/i_scott/status/1403378825908658180?s=11
Fun Racing in the Vee
iRacing posted a video of a driver going from 22nd to 4th at the start of a Formula Vee race at Summit Point in week 13 shenanigans.
https://twitter.com/iracing/status/1404846044630994949?s=11
https://twitter.com/TheDanRowe/status/1405229343350169600
---
---
iRacingTrophies.com updated for new forum
Craig Lager posted on the forums that iracingtrophies.com has been updated so that the Get Forum Signature button on your profile works with the new forum.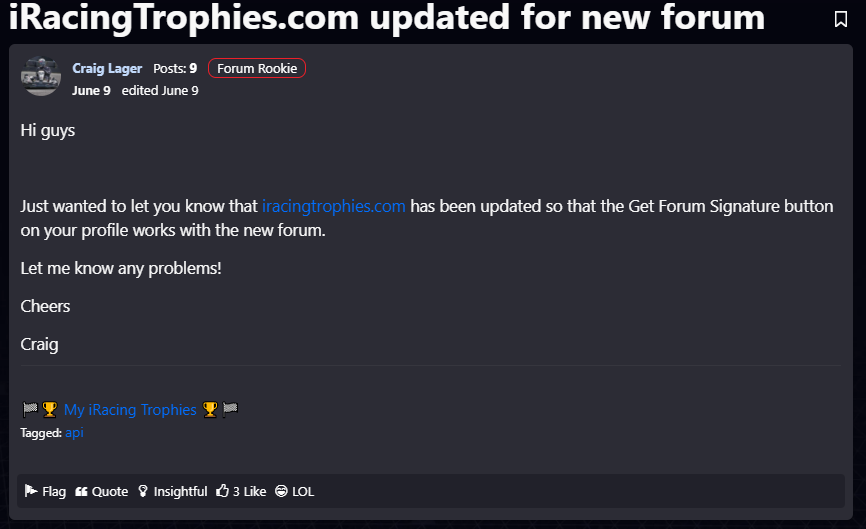 https://forums.iracing.com/discussion/744/iracingtrophies-com-updated-for-new-forum
---
---
Forum Fixes #Soon
Nicholas Bailey posted in the forums there may be some updates to the forums. he said, "I think we have something for this on Monday. Just need to test some things out with nested categories. Regarding the emails coming for every comment rather than just since you last visited, Vanilla is targeting a release in Q4 of this year for two new pieces of functionality.
Email digests
Batch notifications
Neither of these are exactly what we had before (only email since last visit), but both will allow grouping of various notifications into a single email. We hope to have more to share on that later this summer."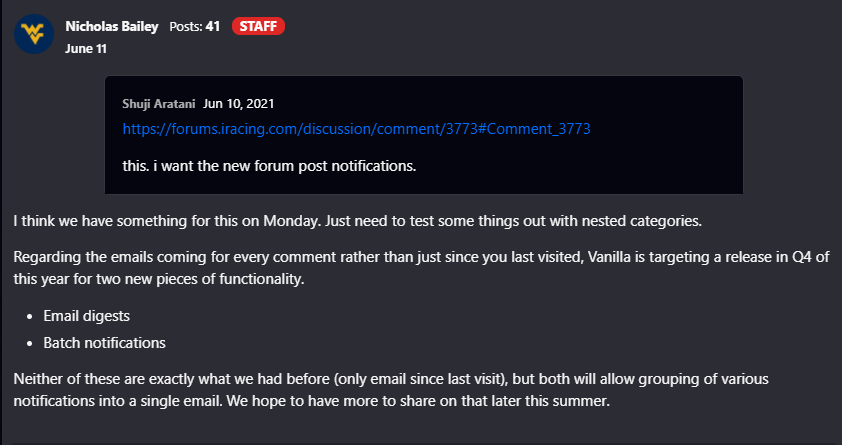 https://forums.iracing.com/discussion/comment/5747/#Comment_5747
---
---
Project K9 200
A special thank you to all of those who help make the Project K9 200 a big success! We had 34 drivers show up and the multiclass racing was a blast. Bob Fellenbaum and Dwayne Mcarthur won the Cup and Xfinity Poles. Team Tifosi lead the majority of the cup side while Eric Essary and Dwayne were hunting each other down on the Xfinity Side. We saw some long green flag runs in which Greg Heckus took home the checkered for Cup and Eric Essary nabbed the Xfinity prize. Eric also grabbed the Old Bastards Racing League & the Metro Ford Chicago clean driver awards. Grabbing both those awards on the Cup side was David Hall, and both David and Eric generously donated their winnings to Project K-9 Hero along with both pole winners. Thank everyone that participated and donated, we couldn't of done it without you and feel free to checkout www.obrl.net and www.eMetroford.com
https://www.youtube.com/watch?v=fj3AkSE7JLA
https://www.facebook.com/1045562694/posts/10222417455318951/?d=n
https://www.facebook.com/iRacersLounge/posts/2918416945089625
https://www.facebook.com/iRacersLounge/posts/2918422378422415
---
---
Firecracker 400
Landon Cassill mentioned in a post last Friday that the entry list for the Firecracker 400 has surpassed the 300 mark with three days left to register, at that time.
https://twitter.com/landoncassill/status/1403517782390628359?s=11
eRacr Goosebumps
eRacr tweeted out that they have goosebumps in anticipation of the accurately recreated classic Nascar event.
https://twitter.com/eracr_gg/status/1403399915225731073?s=11
https://twitter.com/eracr_gg/status/1405375308388306945?s=11
---
---
RTP Exhibition at Knoxville June 24th
Tyler D. Hudson Posts that on June 24th, iRacing will be doing an exhibition race at Knoxville. All series parameters will be set up exactly as Round 2, EXCEPT, this will be a fixed setup event. This will be an official series and count toward iR and SR. The purpose of this is to completely test the functionality to have a roster based series go off snake split into two races. It is extremely important that we get at least 36 participants so that the races will split in order to test this properly. If you're a driver in round 2, please participate in this event.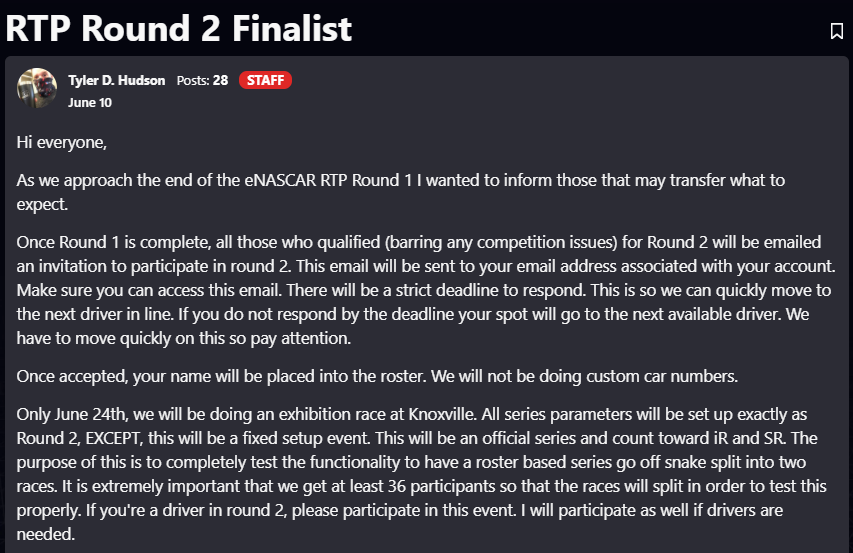 https://forums.iracing.com/discussion/924/rtp-round-2-finalist
---
---
Help Wanted
Greg West posted in the forums that iRacing has posted two new job openings for a Senior 3D Car Artist/ Assistant Outsource Manager and an Environmental Artists with job requirements and descriptions in the forums.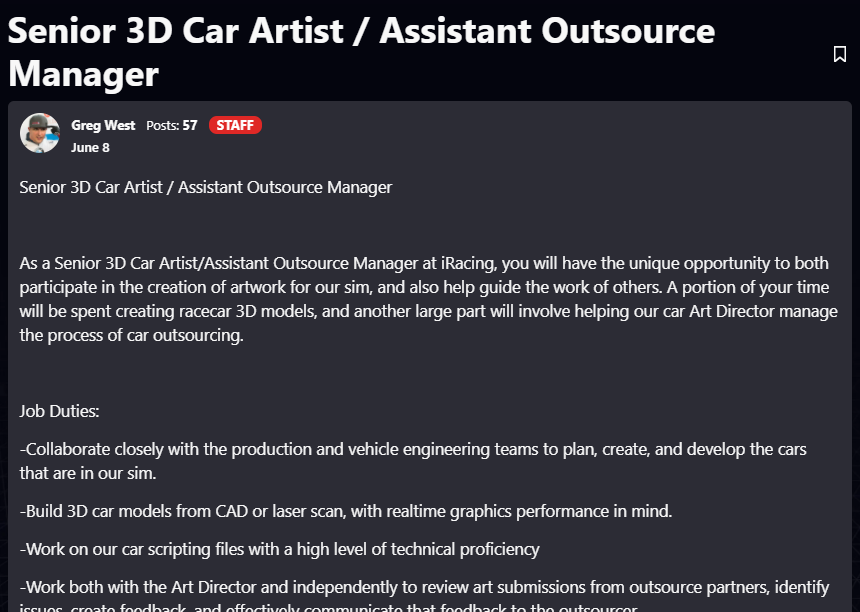 https://forums.iracing.com/discussion/495/senior-3d-car-artist-assistant-outsource-manager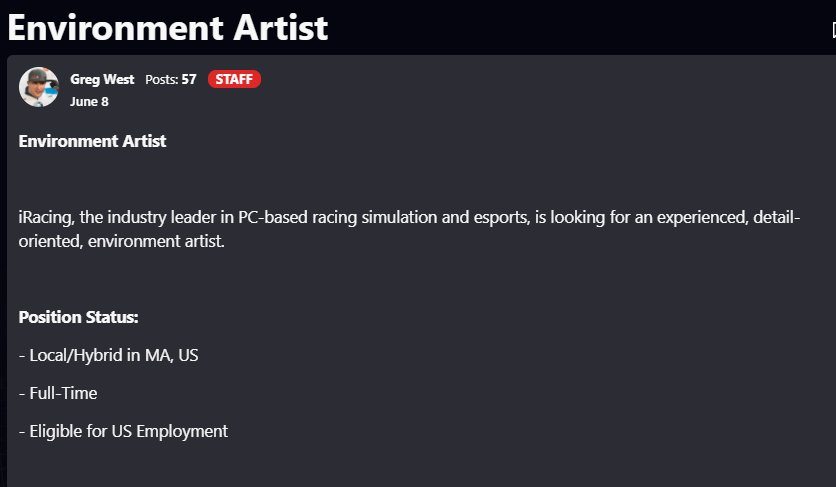 https://forums.iracing.com/discussion/494/environment-artist
---
---
New Blimp Tools – Game Changer
For those who love to do video editing within the sim, or just watching cool replays there is a new blimp tool.
Nick Neben Posts:

I have no idea what blimp radius is but that looks amazing. The blimp circles around at a set distance, you can change this distance, but before you could only go down to 100, which was still very large. This allows you to take it down to 1, so you can fine tune shots like those for corners. Essentially you can now make decent attempts at boom crane shots, or low drone shots, without the camera going clear on the other side of the track to get back around. (to access camera tools ctrl+f12)
https://forums.iracing.com/discussion/828/new-blimp-tools-game-changer
---
---
8 Cars in Certain Series
Greg West Posts in the forums that we will have 8 cars available in certain series. those are the European Sprint Series, IMSA, GT Sprint Series, the GT3 Fixed and the GT3 Endurance. The Creventic Endurance Series as well as Nurb Endurance Series will not change as they are already in progress.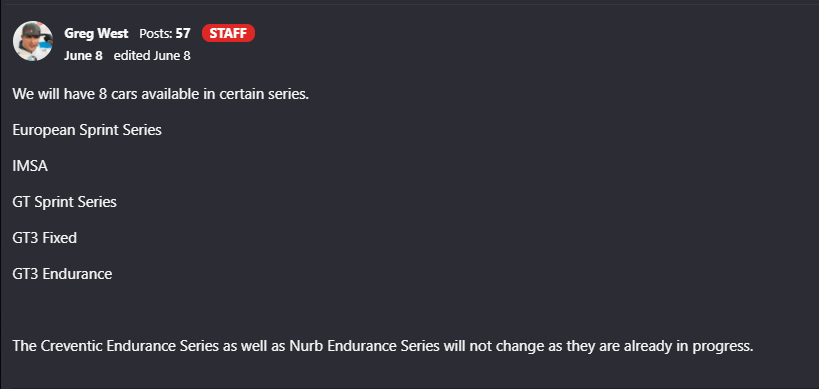 https://forums.iracing.com/discussion/comment/2003#Comment_2003
---
---
87 Update Thoughts
There have been several thoughts of the new '87 Update. Here's a few…
Cody Dutton Posts:
Michigan shows massive tire wear in just a few laps, Charlotte looks balanced. Going to require a lot of testing and practicing to see how good or bad this update is. Dale described this era as searching for front turn. I feel that now. Its pretty tight, feels like a big potato street stock that will never turn, and once you get it turned, you break the rear tires loose
https://forums.iracing.com/discussion/comment/2977/#Comment_2977
James A Allen Posts:

No more snap loose. Car is very fun to drive still though, actually requires braking unlike the contemporary cars. I might actually enjoy Daytona this time around! You can tell there is more downforce but not an egregious amount.
Car is slower overall (gets tight off if you get on the gas too early), but lap times are close to the real-life values (I looked up pole speeds on Racing Reference).
Tire conservation is going to be extremely important. You have to crank the wheel 90 degrees to the left (even on 12:1), like what's shown in the in-car videos from the time period.
Big fan so far. I think people are going to like the changes a lot.
https://forums.iracing.com/discussion/comment/3171/#Comment_3171
---
---
Crowds do not turn off at even more tracks now
Nick Neban posted that Chicago will join Southern National and Williams Grove as tracks that you cannot turn off the crowds.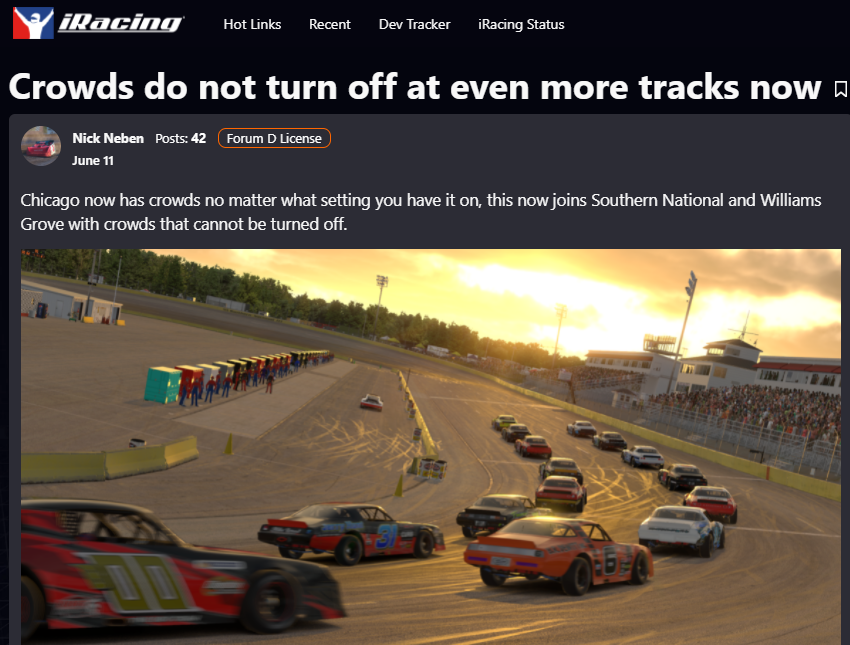 https://forums.iracing.com/discussion/1020/crowds-do-not-turn-off-at-even-more-tracks-now
---
---
Special Events: What to Expect for Joining & Registering
Francisco Scaramuzza Posts in the forums of what to expect when joining and registering for special events.
We've implemented a change to the registration processing that we expect will help this process. Once the main registration period closes, and splits are being made prior to events beginning to launch, the scheduler is simply not going to allow any additional members to register until all sessions have finished launching. This will give the scheduler unimpeded time to do its thing. Those who try to register during this time period will not be allowed to register. They'll receive a new error message that says, "Please wait, registration is temporarily closed while the session launches. You will be able to register once the session has fully started.". For members that registered for the session before the main registration period closed, nothing has changed. They will receive a "Join" button in the iRacing UI or a "Race" button on the Membersite or if they are in a Practice session, just as they normally would. This message will only be presented to members attempting to register to enter the session after the main registration window has closed and before the session has launched.
Additionally, we've identified and made improvements to data locking strategies and made physical changes to data structures to spread out data and reduce contention. We plan to continue making additional behind-the-scenes improvements, especially after we have more data from another special event.
As a reminder, please note that team registration and the declaring of drivers must still be completed entirely before the normal registration period ends.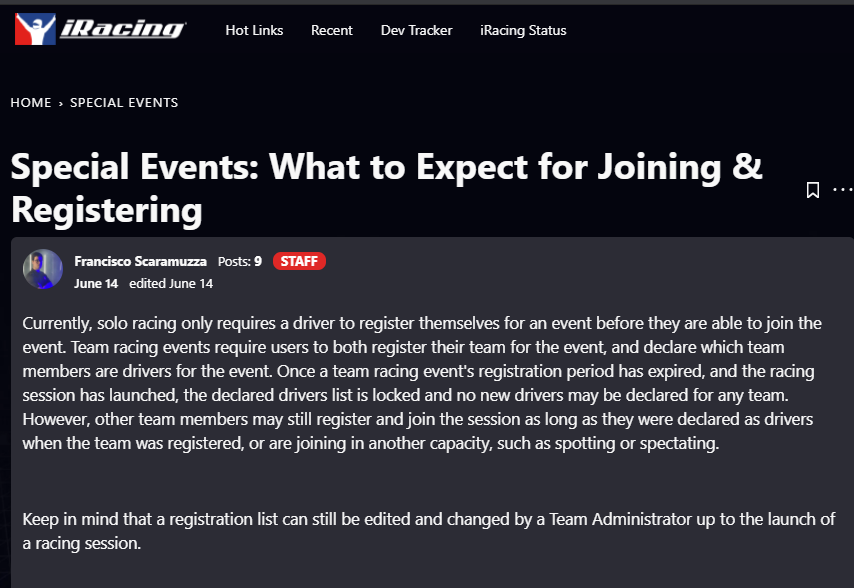 https://forums.iracing.com/discussion/1476/special-events-what-to-expect-for-joining-registering
---
---
iRacer Gary Corbett Go Fund Me
Our wonderfully kind and talented friend, keyboardist, Gary Corbett needs your help and support.
He's been struggling with health issues, and now we've heard that Gary has a very aggressive form of cancer- lung cancer that has metastasized to his brain & hip. ( The good news is IT IS TREATABLE)
As you know, most musicians don't have health insurance, or when they do, it's not that great. Due to the costs of treatment, Gary is on the verge of losing his home, and the medical bills are piling up alongside all the other bills.
He has completed a series of radiation therapy, is undergoing an aggressive series of chemo and immunotherapy, and is slated to start cognitive and occupational therapy soon.
Gary and his wife Lenora are desperate. They cannot afford to pay for his treatment and stopping it is not an option.
Here's a little about Gary you may not know:
Gary Corbett is best known for his work as the keyboardist for rock superstars KISS, and Cinderella.
He co-wrote the iconic #1 hit She Bop for Cyndi Lauper.
He has also played with Lou Gramm of Foreigner, Molly Hatchett, and Ronnie Wood.
He has conducted a live orchestra with pop idol Debbie Gibson, played piano with Whitney Houston, Lou Reed, and Taylor Dayne, played keyboards and produced reggae legends Damian and Stephen Marley, and has been seen most recently performing with Ted Nugent's original vocalist Derek St. Holmes.
He is an award-winning, multi-platinum songwriter, keyboardist, performer & producer.
His Emmy comes from a documentary he did pro bono work about and called Hunger In America.
He has done USO tours- even getting to fly in a fighter jet in South Korea, made wishes come true with the Make a Wish Foundation, and played at countless fundraisers. Gary never says no to anyone in need.
Now it's time to turn the generosity back to help our friend who is struggling to stay above water.
Whether it's $1.00 or $1000, every little bit will go directly to Gary's family to help cover the mounting bills and medical costs.
Thank you in advance for your generosity and please make sure to share this- Gary has helped so many, many will want to help him.
https://www.gofundme.com/f/our-friend-gary-corbett-needs-your-help-please
---
---
ARE THESE FIVE SIM RACING WORLD RECORDS UNBEATABLE?
Overtake, the online motorsports magazine, asks if these 5 five sim racing records are unbeatable. Three of these refer to iRacing including MARTIN KRÖNKE WINS EVERY RACE IN A SEASON in the iRacing World Championship Grand Prix Series back in 2017, A FIVE-TIME IRACING WORLD CHAMPION when Greger Huttu won 5 iRacing World Championship Grand Prix Series five times between 2010 and 2016, and COANDA WINS THE 24 HOURS OF DAYTONA SIX TIMES since the inception of the race in iRacing in 2015,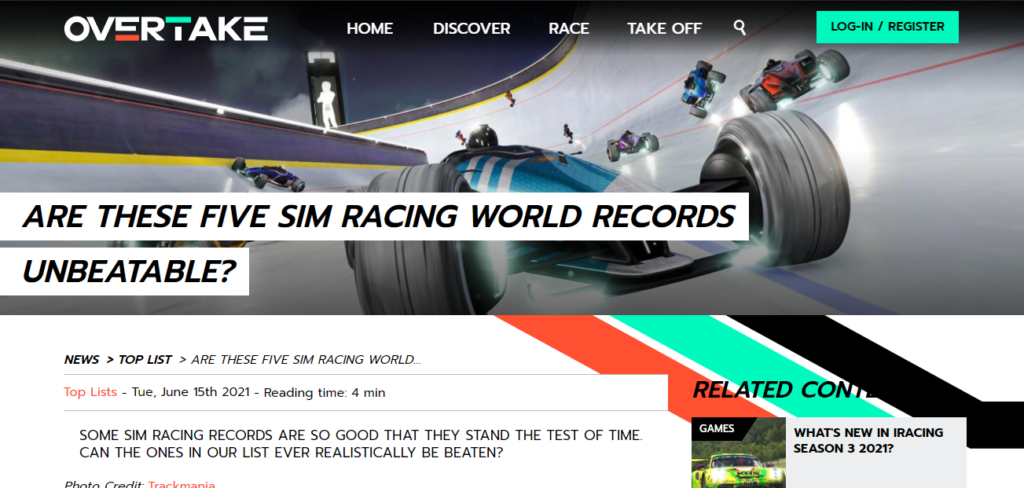 https://www.overtake.gg/news/4093-can-these-sim-racing-world-records-be-beaten?sf145840803=1
---
---
Podcast Housekeeping
Aftermath Podcast – Get it!
New Website – Leave Comments https://www.iracerslounge.com/
You've heard us talk about the Spotlights. Those of us that have them here at iRacers Lounge absolutely love them. So much, we have become an affiliate! With the roll out of their new Spotlights Pro. Here's your chance to check them out, you won't be disappointed. Enter coupon code: IRACERSLOUNGE for 10% off!!
https://www.facebook.com/1565571990374134/posts/2832513123680008/?d=n
---
We are in the regular rotation… (Mike)
https://performancemotorsportsnetwork.com/
"OK TONY LETS TALK FANTASY…."
---
---
---
Hardware/Software
---
Formula Wheel Integration
The new Thrustmaster Formula wheel SF1000 Edition is now natively integrated on iRacing.
https://twitter.com/tmthrustmaster/status/1403049465053954052?s=11
---
---
Thrustmaster Tease
Thrustmaster also teased a 400 watt peak power, T-Turbo with more to come on June 23rd.
https://twitter.com/tmthrustmaster/status/1403019261531013130?s=11
---
---
Sim Pedals Ultimate Now Available
Heusinkveld Tweeted that their fantastic Sim Pedal Ultimate's are now on sale
https://twitter.com/heusinkveldeng/status/1402936089480941570?s=11
---
---
MPI Shout-Out
MPI posted on their Facebook a special shout out to @beardedbreezyracing who … bought something we're not even technically selling. Yet. This Twitch streamer bought the very demo unit off our showroom floor and became the first unofficial owner of our new #maxpapisinnovations#MPI#simmax#simr…
https://www.facebook.com/groups/Iracingdriversworld/permalink/10158661880434205/
---
---
VNM Shifter
Darin Gangi posted in the forums that the VNM Shifter and accessories are now on sale for immediate shipment from Sim-Motion.com! We have them both in the U.S. and EU shops.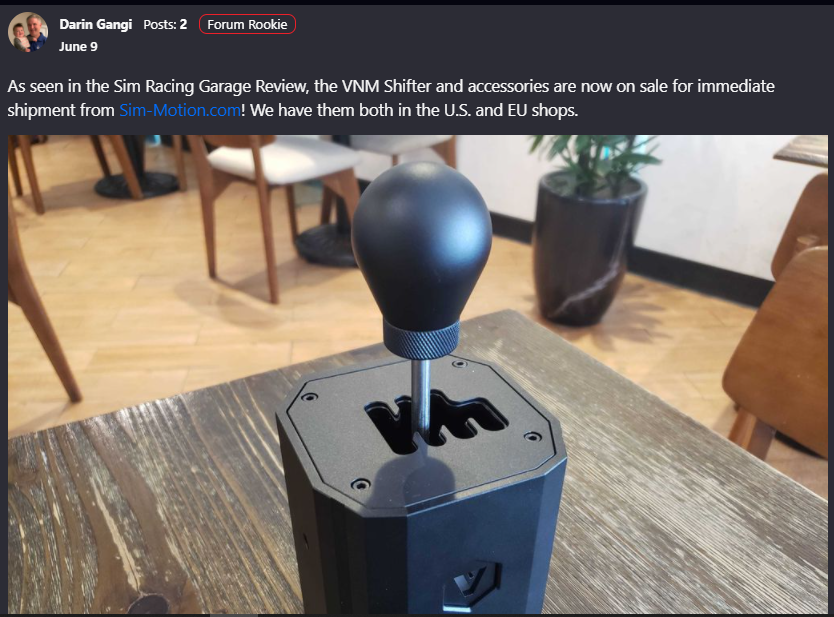 https://forums.iracing.com/discussion/699/vnm-shifters-at-sim-motion-com
https://us.sim-motion.com/collections/vnm-shifters-and-accessories/
---
---
New Pedals for Everyone
Ray Alfalla Tweeted that his, "VRS DirectForce Pro Pedals getting installed! It's all about the details"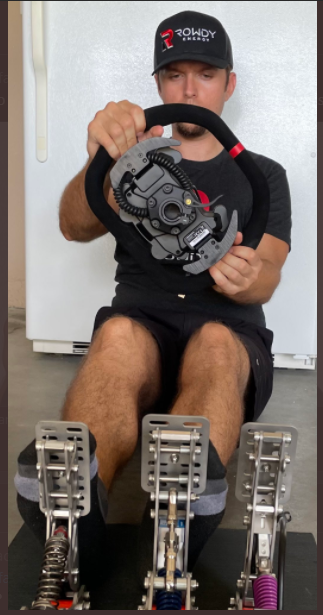 https://twitter.com/rayalfalla/status/1404178770651721737?s=11
---
---
New Misc Tab
iRacing now has new options to fine tune your LFE shakers
https://forums.iracing.com/discussion/60/lfe-bass-shaker-effects/p1
---
---
Tried and True Rigs
Carolina Sim Works offers new colors to their rigs
https://twitter.com/carolinasimworx/status/1405641681760882694?s=11
---
---
Results
NASCAR iRacing Series
Wed Open:

Hall -p load the damn RACE set, load the damn RACE set!
Kyle – P Wrecked Out
Ellis – pWrecked Out – Used my keyboard to shift, no issues with that really, unchecked my tires because I was thinking about stopping on 1st caution but didn't, so my 1st gf stop, it didn't give me tires so i stayed and got them. Fell back to 34th. Eventually i finally caught a caution restarted 11th got up to 3rd but cycled back to 11th before getting killed in a big wreck I could not miss – it blew up a bit later after another wreck i couldn't miss
Rochette – P5 horrible qual started in the 20s but made my way up to the top 5 within a run. Track is fun, even led some green flag laps. Probably would've had a top 3 if not a win if i got fresh tires on last caution, 3 of top 5 of us hung in there with the freshies
Stephen – Wrecked Out
Thurs Open

Hall – p11, side swiped on lap 20, got fixed, came back up through the field and some late cautions stole a couple of spots. Might have had a shot at top 10 with clean car
---
---
League / Hosted Races
FastTrack Sim Racing League –

Mike – Wrecked….
Greg p4 Hunting the win

Hall – wrecked out by dive bombing
Major's 24

P wrecked out after leading cause air bubbles/David

Premier Race Network Cup:
OBRL iRLP Aftermath Truck Series

? Congratulations Josh Robinson #23 Winning The Aftermath Podcast Truck Series Race at the Nashville SuperSpeedway
Tom Ogle #11 Finished 2nd
Dwayne McArthur #88 Finished 3rd in The Gary Corbett Tribute Paint Job with Gary's #88 on the Truck
---
---
Final Thoughts
---
---
---
Words Spoken in Closing Audio Clip -""Thank you for listening to the iRacers Lounge podcast make sure to go subscribe to us on iTunes, SoundCloud, or Google Play, Facebook & Twitter, See You On The Track ."
TITLE IDEAS
On The (Air) Bubble
.
.
Description
On the show this week we look at a few Nashville Superspeedway issues that may be included in the first patch of the season 3 build. The '87 Legend Cars are in the news this week with classic events and thoughts in the community of the new update. Take a load off and join us in the lounge!
iRacers Lounge Podcast is available on iTunes and Apple's Podcasts app, Stitcher, TuneIn, Google Play Music, Spotify, Soundcloud, Podbean, Spreaker, Podbay, PodFanatic, Overcast, Amazon, and other podcast players.
Sponsors:
www.grid-finder.com
Hosts:
Mike Ellis – twitter.com/MikeDeanEllis
Tony Groves – www.twitch.tv/SirGroves
Chris Scales – twitter.com/JediMcfly
David Hall – www.twitch.tv/mixmage
Greg Hecktus – twitter.com/froozenkaktus – www.twitch.tv/froozenkaktus
Tony Rochette – twitter.com/TonyRochette
Adam Josselyn- twitter.com/Jossad83
Brian Maccubbin – www.twitch.tv/MacRubbinsRacin
Tom Dreiling –
Kyle Pendygraft – twitter.com/LoudPedalGaming
Links:
Old Show Notes – bit.ly/2CFeArM
Facebook – www.facebook.com/iRacersLounge/
Twitter – twitter.com/iracerslounge
Instagram – instagram.com/iracersloungepodcast/
Web (New Show Notes) – iracerslounge.com/