6/24/2021 – Who's That Guy? – Episode 0285
iRacers Lounge Podcast – Conversation Topics
Brought to you by:

Opening Audio Clip -"Your listening to the iRacers Lounge Podcast where we discuss everything iRacing, in a casual setting, enjoy."`
READ THIS AT THE TOP OF EACH SHOW!!!
Welcome to the iRacer's Lounge, I am your host "XXX". iRacer's Lounge is a podcast for the iRacer, where we talk all things iRacing in a casual setting.
Joining me are the usual characters, ————
---
---
Introduction
After a 4 week hiatus, the Coke Series is back at the tricky triangle of Pocono, and we'll cover all of the action as well as the introduction of the new eNascar International Series.
And remember you can follow along with us on your mobile device in real time as you listen to the show and see for yourself all of the great topics and products we'll discuss by visiting iracerslounge.com and selecting show notes. Hope to see you there..
---
---
TITLE SPONSOR READ:
Grid Finder is your go to source for finding your next sim racing league. Currently home to over 450 leagues across all gaming platforms and across 10 different racing sims including over 80 iRacing leagues. Filter your search by racing sim, car class, race day and region. Finding a league to fit your schedule has never been this easy.
Visit www.grid-finder.com to find a league, or to upload your own!
Grid Finder – "The home of online sim racing leagues"
---
---
Topics
---
---
Coke Race [Mike]
· Last time out on track, we did the thing. Here is eNASCAR Charlotte Raydioactive: 51 Team
https://www.facebook.com/100057243408063/videos/2917601658513043
https://twitter.com/KligermanSport/status/1407412955621298178
https://twitter.com/KligermanSport/status/1407424306922070024
LAP 4: Most of the field is single-file behind @NickOttinger
Also, Chevy drivers are 1-4 , ottinger davies conti zalenski salas
LEAD CHANGE LAP 12: @bdavies_88 inside into turn one and rockets to the point.
Conti through to second also.
LAP 24: @BBryant53, @swilson3_, and @AshtonCrowder pit.
https://twitter.com/iRacing/status/1407518925303255046
32 to go: @znovak15 pits.
TROUBLE! @KeeganLeahy gets turned by Ashton! He bounces off the wall! @LoganClampitt_ has nowhere to go! CAUTION! 19 to go. Disaster for not only Leahy, but also for three Team Conti drivers, both @WBeSports_ drivers Ottinger and Clampitt, and @MikeConti5 also involved.
18 to go everyone pits – .@bobbyzalenski wins the race off of pit road.
https://twitter.com/caine_cook/status/1407534885170913281
Crazy two and 3 wide on the restart – all the way back-
Then TROUBLE! @bdavies_88 and others crash on the frontstretch! CAUTION! Manes gets into vincent on the front stretch Vincent gets Maleek
9 to go restart –@bobbyzalenski and @bschoon55 lead the field into turn 1. two 3 and even 4 wide –
https://twitter.com/NASCAR/status/1407526830572244993
8 to go – caution – Bussa was 3 wide on inside and turned himself off the nose of the guy in the middle
https://twitter.com/ModeMediaHouse/status/1407527119681376256
RESTART 4 to go: @bobbyzalenski and @AshtonCrowder lead the field into turn 1. fan out into 1 maybe even 5 wide – then Caution coming out of turn 2 – jake nichols again!
#eNASCAROT coming up.
Oh, by the way, @rayalfalla needs points. He's now P3
2 to go – restart – GREEN FLAG for overtime! OVERTIME RESTART 1: @bobbyzalenski and @MitchelldeJong1 lead the field into turn 1.
deJong tried to stay even for second! Alfalla is there!
Crash in the back! Double OT. CAUTION! @aburroughs62, @john_gorlinsky, @caine_cook and others crash!
OVERTIME RESTART 2: @bobbyzalenski and @MitchelldeJong1 lead the field into turn 1. and Crashing before they ever get to turn one! We'll try it one… more… time.
Trouble! @RyanDoucette77, @TDawgHurst, and more crash before the field even gets to turn 1! Caution.
CAUTION off turn one as @rayalfalla was looking inside for the win!
Race is official, field is frozen. @bobbyzalenski gets it done at @PoconoRaceway for his first win of the @NASCAR @CocaColaRacing @iRacing Series season, the 9th of his career, and becomes the 10th different driver to win in the 10 races so far this season.
This makes the playoff picture very complicated going forward.
Even with 10 different winners, @rayalfalla currently sits outside the Top 20 in points meaning his win at @CLTMotorSpdwy doesn't count towards playoff eligibility. So there may be a points spot still up for grabs.
https://twitter.com/justinmelillo/status/1407541637530718208
https://www.enascar.com/standings/
Shout out to Seth Eggert, Justin Melillo, Jacob Seelman, and Evan Posocco for contributing to our show notes via twitter…
---
---
eNascar International [David]
Nascar has announced the introduction of the all-new eNASCAR International series that will place a spotlight on the stars of its three international racing divisions across Europe, Mexico and Canada. The new series – entitled "the eNASCAR International iRacing Series" – will consist of three races at historic facilities – Brands Hatch, Circuit of the Americas, and the Daytona Road Course. The field will contain an even mix of drivers from the NASCAR Whelen Euro Series, NASCAR Peak Mexico Series, NASCAR Pinty's Series, and select drivers from NASCAR's 2021 Drive for Diversity class.
https://m.nascar.com/news-media/2021/06/18/enascar-unveils-new-international-racing-series/
Outside of a mid-race pit stop, nobody had anything to get by NASCAR Whelen Euro Series driver Simon Pilate in Wednesday night's eNASCAR International iRacing Series curtain-raiser from Brands Hatch. Pilate qualified three tenths of a second ahead of Paul Jouffreau, his closest competition, and went on to lead all but three laps on the Indy circuit to score the inaugural race win.
https://www.iracing.com/simon-pilate-dominates-enascar-international-iracing-series-opener-at-brands-hatch
https://www.forbes.com/sites/josephwolkin/2021/06/22/nascar-launches-new-international-iracing-series
---
---
Pro Qualifying Transfers [Brian]
Chris Overland tweeted out the unofficial top 70 transfers to the Pro Qualifying Series
https://twitter.com/ChrisOverland47/status/1405984787538526208
---
---
iRacing Goes to Nashville [Tony]
JR Motorsports unveils it's iRacing sponsored #8 Chevy Camaro for driver Josh Berry for last weekend's Nascar race at The Nashville Superspeedway.
https://www.facebook.com/100057704430952/posts/234867145113432/?d=n
Then on to Milwaukee [Chris]
Also sporting the iRacing paints for this weekend will once again be Late Model standout Ty Majeski who will be heading to Milwaukee.
https://twitter.com/tymajeski/status/1406283534243962881?s=11
---
---
?Saturday-100% Cup Series – Full distance League?[Mike]
The 100% Cup Series would like to invite you to put your race craft and setup knowledge to the test over the course of a full 36 race season. They are a competitive group of NASCAR enthusiasts and are looking to add sim racers that are searching for that 100% distance oval racing that's hard to find. Full NASCAR distance is the next level to the NiS with long races and a consistent core of competitors! Race Sessions will take place on Saturdays at 800pm/EST
https://forums.iracing.com/discussion/174/saturday-100-cup-series-full-distance-league
---
---
Seting up your car with Josh Rogers [David]
Overtake has posted a setup tutorial video with the two-times PESC Champion Joshua Rogers who gives you some tips & tricks to get faster. Josh will show you how to handle the Nordschleife using his championship-winning car, the Porsche 911 GT3 Cup as an example,
https://www.youtube.com/watch?v=5Z8iAyLYB2Y
---
---
Endo Flip [Chris]
On its official Instagram page, iRacing posted a video of Member Alejandro Fernandez who pulls off a end-over flip in his VW Beetle in a rallycross race.
https://www.instagram.com/p/CQRX8zkAU5m/?utm_medium=share_sheet
---
---
NASCAR Class A Cup – Setup Tips [Brian]
iRacing staff member Matt Holden posted a 'mini guide' in the forums to give drivers some setup tips for the upcoming season with the main topics being…
1) Don't re-invent the wheel!
2) Get the heights set first.
3) Rear spring split is your friend.
3a) Spring Split & RR Coil Bind
4) Ballast.
5) Ignore the wear. Temperatures are where it's at.
6) Don't ignore the shocks.
7) Keep adjustments SIMPLE.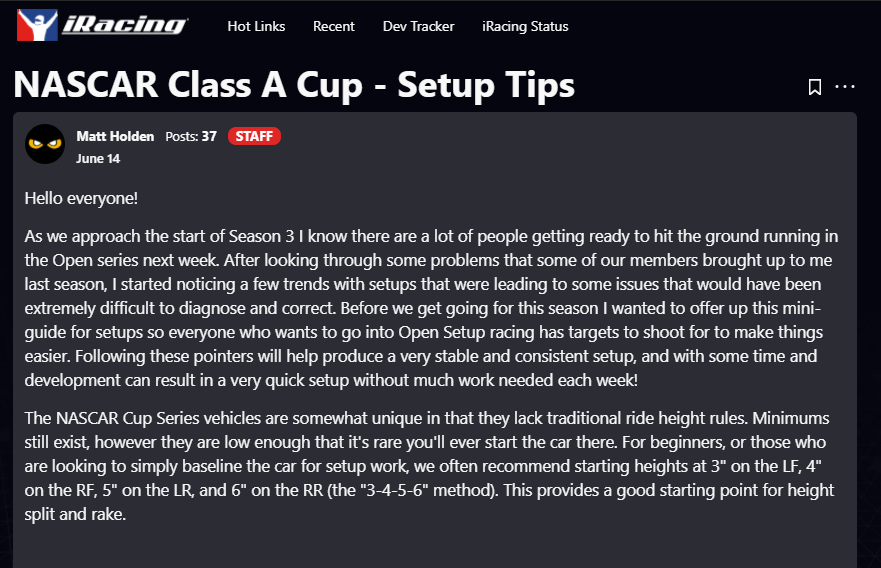 https://forums.iracing.com/discussion/1452/nascar-class-a-cup-setup-tips
---
---
Cup car has strange off throttle (engine braking) [Tony]
James Vining asked the community in the forums if anyone else has noticed that the Cup car has strange off throttle (engine braking). Go hit throttle quickly to say 7K and let off and notice how long it takes to drop back to Idle. Staff member Matt Holden said that it's something they will look at.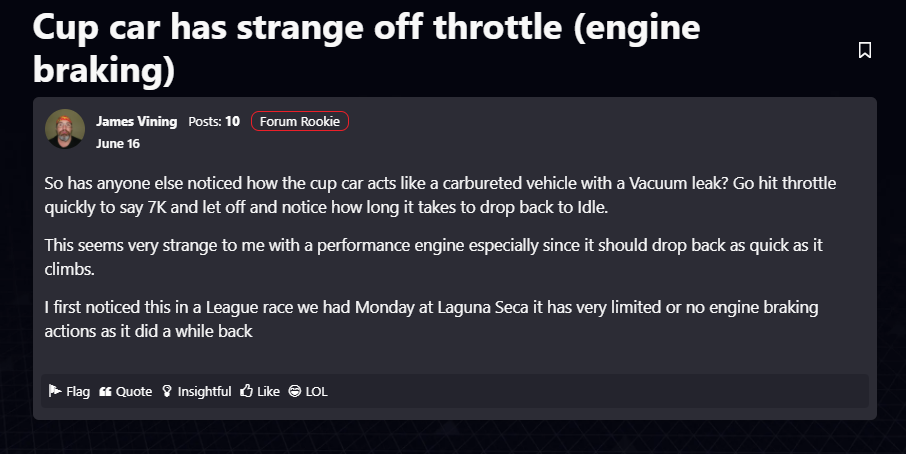 https://forums.iracing.com/discussion/1699/cup-car-has-strange-off-throttle-engine-braking
---
---
Mexican Ovals [David]
In a discussion on the iRacing Drivers World Facebook page there is a discussion asking when we start pushing for ovals from the peak Nascar mexico series? I know they look the same as some tracks from a top down but check out some video from the tracks they are very different from most of our tracks here stateside.
https://www.facebook.com/groups/Iracingdriversworld/permalink/10158683046604205/
---
---
Forum Updates [Mike]
Light Theme Has Arrived! Light and dark themes are now available based on your operating system preferences! To switch between light and dark simply change your device preference to the desired theme. See the bottom of this post find out how to do that on various operating systems.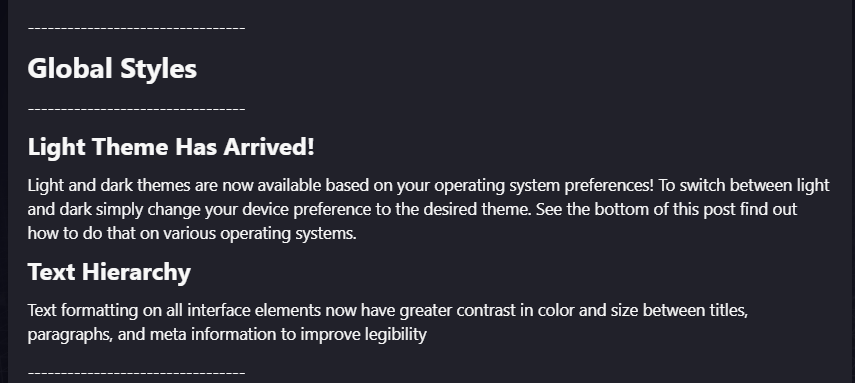 https://forums.iracing.com/discussion/2247/06-22-forum-update-release-notes/p1
---
---
RIP Old Forums [Brian]
Several of the iRacing Forum regulars bid a fond farewell to the now retired old style forums, including a well written reflection from Derek Speare who highlight the innovations of the sim racing hardware birthed in the forum, everything from direct drive wheels to wind simulators.
https://members.iracing.com/jforum/posts/list/25/3810064.page
https://members.iracing.com/jforum/posts/list/3810072.page#12516069
https://members.iracing.com/jforum/posts/list/3810071.page#12516058
It's my opinion that the iRacing hardware forums was the real birthplace of sim racing hardware innovation. Two examples come to mind: The direct drive wheel, courtesy of Philip Jensen van Rensburg aka "Beano" and hydraulic pedals from Emery Emond (taking Sam Maxwell's air pedals to the next iteration).
We've seen hundreds of other ideas along the way like Richard Macnaughtan's Wind Sim and the several virtual gauge/data screens. Three screen racing was really perfected as well. I think that if it is some piece of hardware that can be remotely used for sim racing someone has used it for sim racing!
The iRacing Hardware forums have become a veritable repository of the most complete body of knowledge for sim racing. It's a shame it has to close now. The new forums are a different experience, perhaps with a steep learning curve for some folks who are very accustomed to how things have been done. Hopefully the experience will be as valuable as this one has been for the many, many years it has been operating.
So long Old Forums! See everyone on the New Forums

https://members.iracing.com/jforum/posts/list/3810080.page#12516063
---
---
Content – What Is Next? [Tony]
Kyle A Noel Posts in the forums a reminder that NBC will be broadcasting 5 more races for eNASCAR iRacing Pro Invitational Series. They have artwork updates (Darlington/COTA), a new layout (Dirt Bristol), a whole new track (Chicago street), and a whole new car series released early (NextGen cars). It will be interesting to see what we get for second half with NBC broadcasting.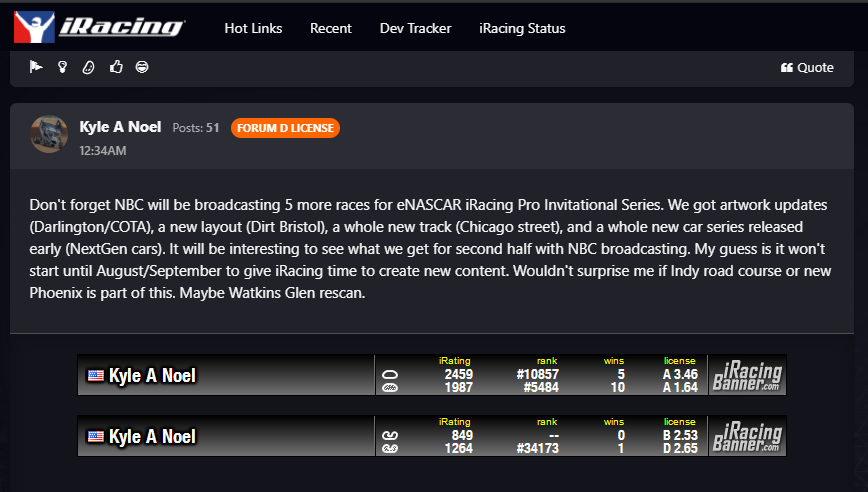 https://forums.iracing.com/discussion/comment/14064#Comment_14064
---
---
iRacer Gary Corbett Go Fund Me [Chris]
An update for the Go Fund Me page for fellow racer Gary Corbett who is fighting some serious health issues and substantial medical expenses in his battle.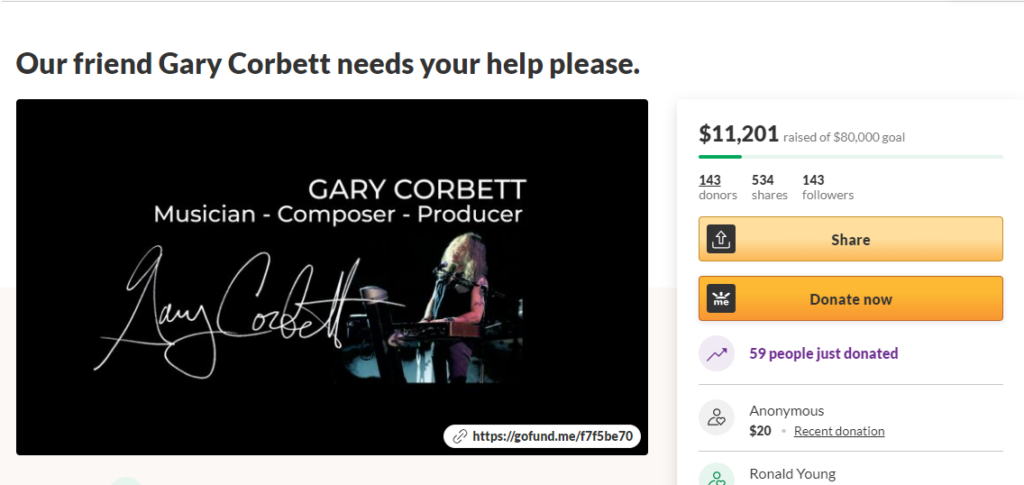 https://www.gofundme.com/f/our-friend-gary-corbett-needs-your-help-please
---
---
Podcast Housekeeping
Aftermath Podcast – Get it!
New Website – Leave Comments https://www.iracerslounge.com/
You've heard us talk about the Spotlights. Those of us that have them here at iRacers Lounge absolutely love them. So much, we have become an affiliate! With the roll out of their new Spotlights Pro. Here's your chance to check them out, you won't be disappointed. Enter coupon code: IRACERSLOUNGE for 10% off!!
https://www.facebook.com/1565571990374134/posts/2832513123680008/?d=n
---
We are in the regular rotation… (Mike)
https://performancemotorsportsnetwork.com/
"OK TONY LETS TALK FANTASY…."
---
Fantasy (Tony)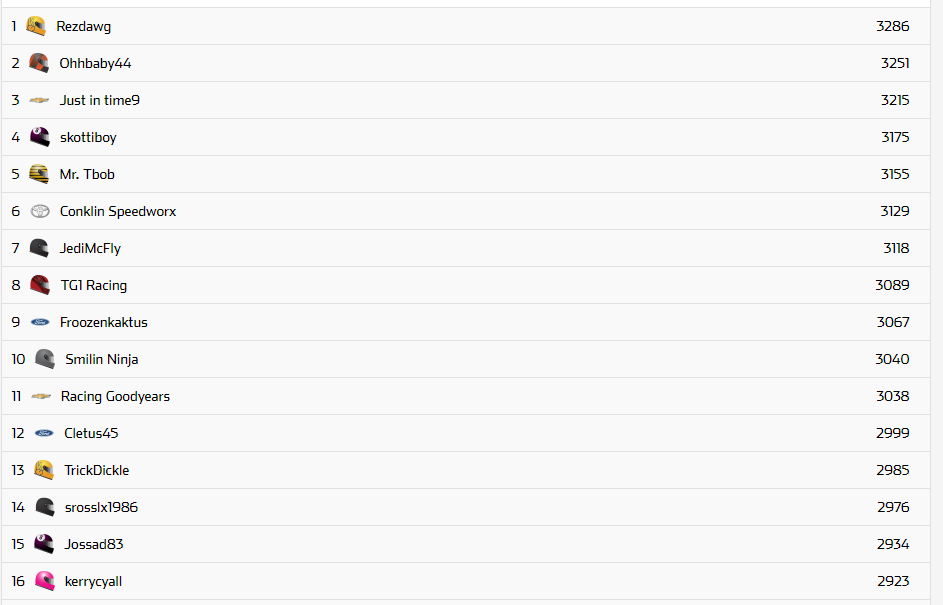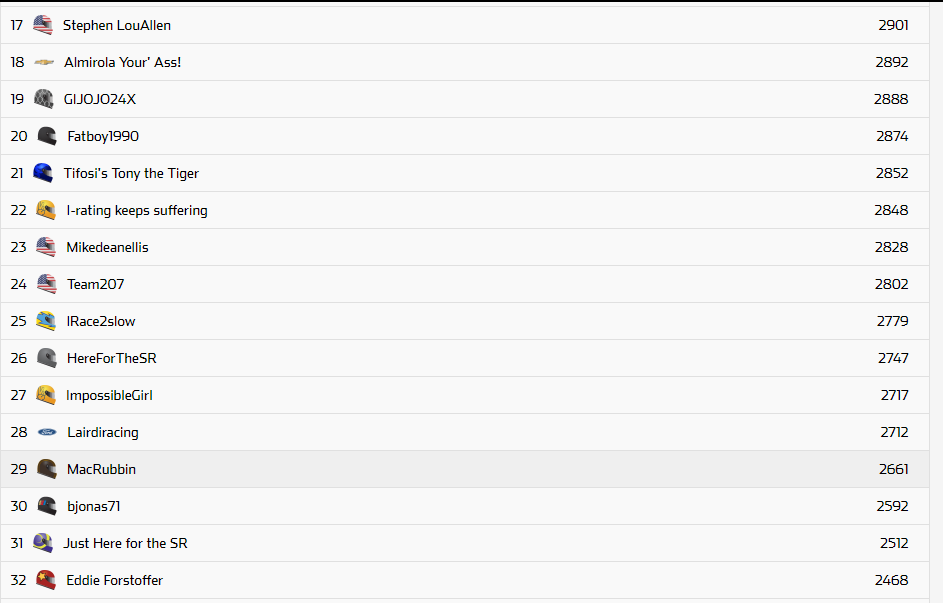 ---
---
Hardware/Software
---
Pro-Race V-2 Pedals [David]
Gridline Simracing is introducing their Pro-Race V-2 Hydraulic Pedal system for OBP Motorsports
https://www.instagram.com/p/CQLuLobNGqC/?utm_medium=share_sheet
---
---
SimMagic Official US Distributor [Brian]
Extreme Simracing is glad to provide its customers with the exceptional quality
of SIMAGIC products. As official resellers of SIMAGIC for the American market,
we are focused on bringing you the most complete and professional sim racing experience.
https://extremesimracing.com/collections/simagic
---
---
Sim Rig from Turkey [Tony]
Ortombo is a Turkish Company that offers a variety of sim racing products including its APEX PRO F-1/GT Yarış Simulatörü kokpit which you can have for 9.649,34 Turkish Lira (1,103 usd..I think)
https://www.instagram.com/p/CQSZZd9NArj/?utm_medium=share_sheet
https://www.instagram.com/ortombo/
---
---
EG Evolved GT-1 (South Africa) [Chris]
The EG Evolved GT-1 from South Africa is a racing sim rig with a solid Supawood/MDF base construction. The rig has an optionional Gear Shifter Mount and a Keyboard Table that easily moves out of the way. The finish is of high standard, wrapped with PVC foil, providing a durable and premium finish. The Racing Seat is Optional
https://www.instagram.com/p/CQTcTUDNN7T/?utm_medium=share_sheet
https://www.egsimrigs.co.za/index.php/shop/racing-sim-rigs/simulator-rigs/eg-evolved-gt-1-detail
---
---
Vive 2 Update – Uhhh [Brian]
The Vive 2 VR Headset has been delivered and early reviews have not been all great. Here's a few we found on the forums…
Brett McBurnie Posts:
Oh dear.
I just got my Vive Pro 2.
I am so disappointed. ?
The VP2 is very uncomfortable. I rests on my nose which hurts after a while.
As others have said the iRacing tracking issue is dreadful
---
Tony Rickard Posts:
A similar experience, I have returned mine, in favour of my G1.
I spent ages but couldn't get a comfortable fit, either for image quality or comfort. I even cut up foam to try to plug the gaps where the light gets in between the faceplate and my head, using several different VR covers.
---
Rusty Farris Posts:
I tried the VP2 for 2 days and it was dreadful. It really made me appreciate my G2's resolution and sound. VP2 is already on its way back.
https://forums.iracing.com/discussion/852/vive-pro-2-very-disappointing/p1
---
---
Rig Review – Sent in by Eric Whiting [Tony]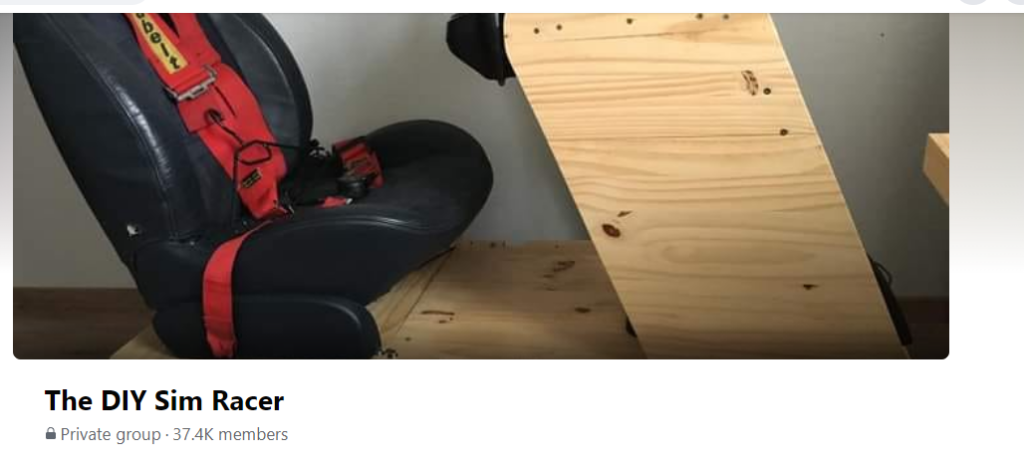 https://www.facebook.com/groups/thediysimracer/permalink/1501000680254029/
---
---
Virtual Race Car Engineer [David]
The Virtual Racecar Engineer is the first and only software package that takes the roll of your very own race engineer. VRCE fine tunes your existing baseline setup to get the most out of the car. Offering whole-lap and corner-specific advice, VRCE will get the very best out of your setup. In the process, the driver tailors the setup to his individual needs and feel. The end result is a comfortable, reliable, and fast race setup ready to challenge for top positions.
https://www.virtualracecarengineer.com/
---
---
Fanatec Bentley GT3 [Mike]
Fanatec has introduced their new Bentley GT3 wheel rim, but the release date and price has yet to be released.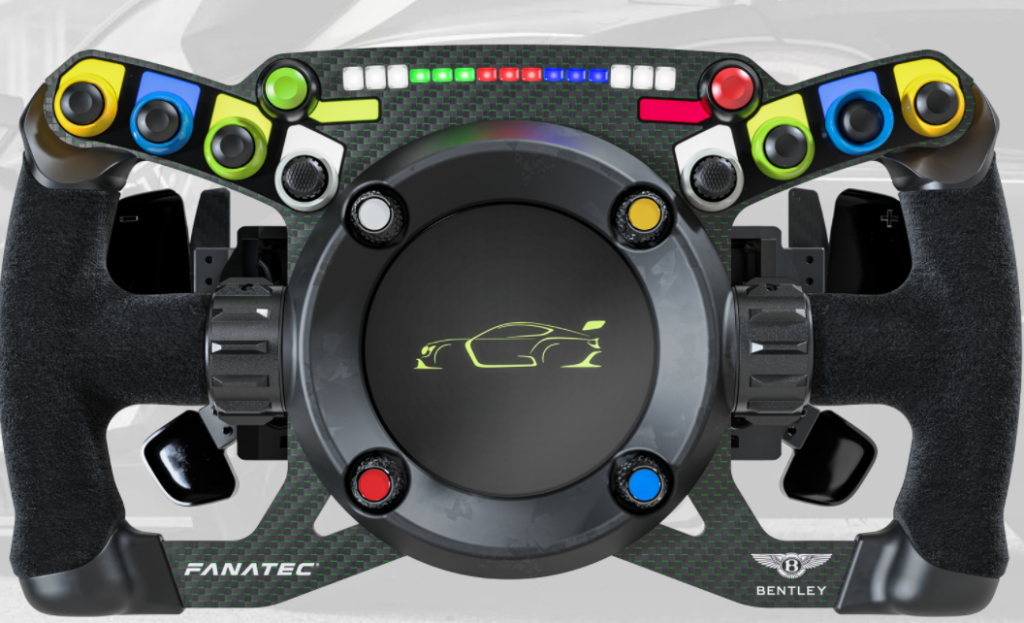 https://bentley.fanatec.com/?utm_source=Newsletter&utm_medium=newsletter&utm_campaign=Bentley
---
---
Some in the Fanatec Owner's Group are having a little fun with the new wheel announcement.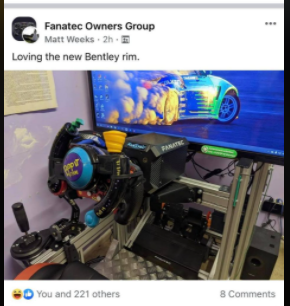 ---
---
Simplace [Brian]
The Simplace Limited Edition GT3 in now available for pre-order with a run of just 5 units.
https://www.instagram.com/p/CQY9sOWNhw6/?utm_medium=share_sheet
AVAILABLE FOR PRE-ORDER‼️
We will only be selling 5 of Simplace GT3 Limited Edition Steering Wheel.
Pre-order yours now at www.simplace.co?
---
---
Show Off Your Rig [Tony]
You can post pictures of your rig to the iRacing Official Twitter account and yours may be featured on the Coke Series Preview Show.
https://twitter.com/iracing/status/1407133747468718082?s=11
---
---
OBP Motorsport V2 2 Pedals [David]
OBP Motorsport has now launched our 2 pedal version of the eSports Pro-Race V2 Hydraulic Pedals
https://www.instagram.com/p/CPBUlapnmQK/
https://www.instagram.com/p/CQY2yIenZl9/?utm_medium=share_sheet
https://3de039e9-8339-4b5a-9793-4a64c0a7edde.filesusr.com/ugd/9c2cde_318ca02ae08042c3a647257e4bd11e9a.pdf
---
---
142 Pages of Ideas
https://members.iracing.com/jforum/posts/list/3525/2426.page#12515966
---
---
Simucube Teaser [Chris]
Simucube shared a teaser photo a few days back and the community took it's shots as to what's the suprise.
https://twitter.com/Simucube/status/1407318915026391043
---
---
The Ultimate Drivers Rig – Greaves 3d Engineering [Mike]
Greaves 3D Engineering has developed the Ultimate Drivers Rig, a supremely adjustable racing rig that easily conforms to all driver's sizes and hardware positioning preferences.
---
---
TK Special [David]
Indy Car champion / Indy 500 winner and avid sim racer Tony Kanaan in partnership with GSI are excited to release the Formula Pro Elite & GXL Pro "Kanaan Edition", a formula style wheel starting at $1250.00
https://www.instagram.com/p/CQeHtu0tRdg/?utm_medium=share_sheet
https://gomezsimindustries.com/
---
---
Results
NASCAR iRacing Series
Fri open: Nashville
Ellis – – p4!!! Started p23 was 16th by turn 1 as several cars piled up on the pace laps… Eventually raced my way forward and ran top 3 all night. In contention to win was 2nd caught the leader but just could never get around him. Ran my tires off trying then 3rd and 4th got me on the white…
Rochette P4 was good couple extra laps wouldve had it again
Steve – pdnf – stole his copper
Sunday Open
Rochette- P32 – found out what the fox says, weeeddeeedeeee. I don't know why I even

Kyle – P P-2. Started in P-12 got hit on lap one and pitted for repairs under caution. Dropped to the back and slowly worked my way forward. With around 50 to go i started to battle for P-2. just ran my laps until 10 to go and decided to make my move to take P-2.
Sunday fixed

Mike -pdnf – wrecked out lap 1 got snap loose into 2 and killed it

Brian – P SMH wreck at the drop of the green.

Tyler. P-Meatball in 28th. Ran well just around 10th the whole race. Late restart with 30 to go and spun on exit of 2 on cold tires. Spent about a full 30seconda flipping in the air as I over corrected it twice.
Wed Open:

Ellis – p19 – Was the first caution – I was thinking I dont trust this guy, he has wrecked me before, he is careless, and I let him go by on the inside, we got to the corner, coming off he used up all of his lane and mine and pushed me to the wall. Car was slowest out there after that so just rolled around and finished
Rochette – PPing Pong Dong hit every wall in the place than taken out with 8 to go
Thurs Open

Hall – p wrecked on lap 2, unavoidable

Rochette P6 just stayed out of trouble
---
---
Official Series
---
---
League / Hosted Races
OBRL iRLP Aftermath Truck Series

? Congratulations Steve Thomson in the #67 RideTV Toyota Winning The Aftermath Podcast Truck Series Race at the Pocono Raceway
Dwayne McArthur in the #97 Franks Red Hot Chevy Finished 2nd
Josh Robinson in the #23 MicroCenter Chevy Finished 3rd
OBRL ARCA series

Brian P7 Kentucky. Missed the start, but got lucky with an early caution. Made my way up thru the field. Trouble in the pits with my shifter. But salvaged a good finish.
---
---
Final Thoughts
---
---
Words Spoken in Closing Audio Clip -""Thank you for listening to the iRacers Lounge podcast make sure to go subscribe to us on iTunes, SoundCloud, or Google Play, Facebook & Twitter, See You On The Track ."
TITLE IDEAS
Who's That Guy?
.
.
Description
After a 4 week hiatus, the Coke Series is back at the tricky triangle of Pocono, and we'll cover all of the action as well as the introduction of the new eNascar International Series.. So strap in and try to keep up with us on the iRacers Lounge Podcast.
iRacers Lounge Podcast is available on iTunes and Apple's Podcasts app, Stitcher, TuneIn, Google Play Music, Spotify, Soundcloud, Podbean, Spreaker, Podbay, PodFanatic, Overcast, Amazon, and other podcast players.
Sponsors:
www.grid-finder.com
Hosts:
Mike Ellis – twitter.com/MikeDeanEllis
Tony Groves – www.twitch.tv/SirGroves
Chris Scales – twitter.com/JediMcfly
David Hall – www.twitch.tv/mixmage
Greg Hecktus – twitter.com/froozenkaktus – www.twitch.tv/froozenkaktus
Tony Rochette – twitter.com/TonyRochette
Adam Josselyn- twitter.com/Jossad83
Brian Maccubbin – www.twitch.tv/MacRubbinsRacin
Tom Dreiling –
Kyle Pendygraft – twitter.com/LoudPedalGaming
Links:
Old Show Notes – bit.ly/2CFeArM
Facebook – www.facebook.com/iRacersLounge/
Twitter – twitter.com/iracerslounge
Instagram – instagram.com/iracersloungepodcast/
Web (New Show Notes) – iracerslounge.com/