12/7/2023 – Food for Mike's Soul – Episode 0412
iRacers Lounge Podcast – Conversation Topics
---
---
On the show today we will take a look at the 2024 Season 1 build! Also we'll look at what you should expect from a direct drive wheelbase and what sim products you might want to avoid buying,
And if you join us at iRacersLounge.com and select show notes, you'll be able to see all of the great stories and products we'll be discussing on todays show. So log in, check it out and we'll see you there at iRacersLounge.com
---
---
TITLE SPONSOR READ:

---
---
Topics
---
---
Oval Refresh Pase 1
A more dynamic racing experience is on the way for Oval iRacers as part of 2024 Season 1. Phase 1 of iRacing's Oval Refresh hits the pavement as part of the new build, and as part of it, users will see much more contrast between surface grip levels as they relate to track temperature.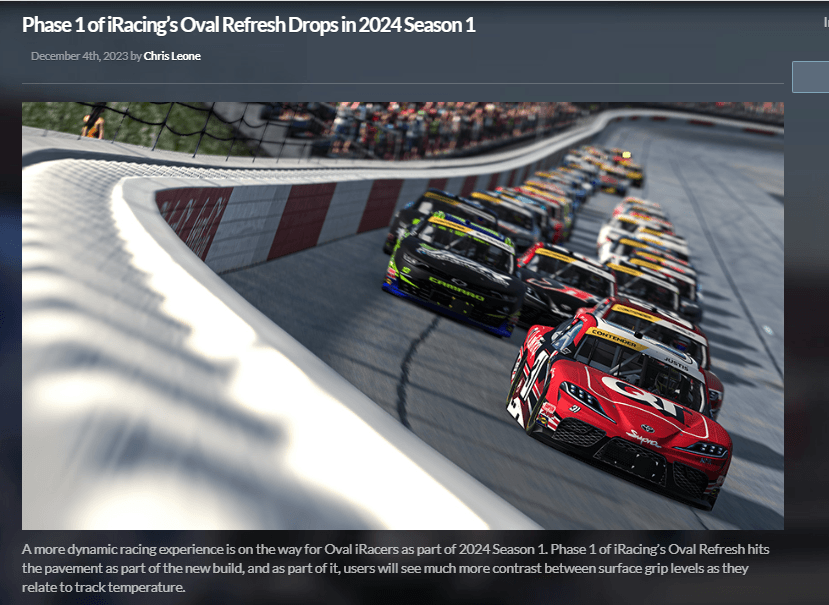 https://www.iracing.com/phase-1-of-iracings-oval-refresh-drops-in-2024-season-1/
---
---
Audi R8 LMS II Evo
The Audi R8 LMS EVO II GT3 is arriving with the iRacing 2024 Season 1 Release
---
---
Slinger and Kern
Slinger and Kern Speedways are are i the new update bringing new short track action to the sim
---
---
The Grass is Greener
iRacing shows off their new grass model in the Season 1 build
Okayama Update
iRacing posted a video of the newly updated Okayama Intenational Citcuit
---
---
The Ship Be Sinking
Mike Straw posted a story that eight more Motorsport Games employees have won their case against the company for unpaid wages ranging from late 2022 to mid-2023.
While he wasn't able to get a dollar figure, MSGM will be required to pay all of the back-pay wages as well as compensation for unused vacation time
Also, it seems that  the Motorsports game sitiation may have killed rFactor 2
---
---
How to Race with Max
DJ Yee J posted a video showing you the most likely way you might get to race with Max Verstappen
---
---
Lotos Nose-Stands
Josh Gardner shows how to do a nose-stand in the Lostus while cresting the hills at the Nurburgring
---
---
Where Did Logo Come From?
The forums delvs into the history of the iRacing logo, and someone may have found a match
https://forums.iracing.com/discussion/comment/443790/#Comment_443790
---
---
Turn 1 Sim Racing
TURN1 SIM RACING offers state-of-the-art simulators and cutting-edge technology that transport you to the driver's seat of high-performance race cars. Whether you're a seasoned racer or a beginner looking to kickstart your racing journey, our top-of-the-line equipment and professional-grade simulators cater to all skill levels. Located in Ontario.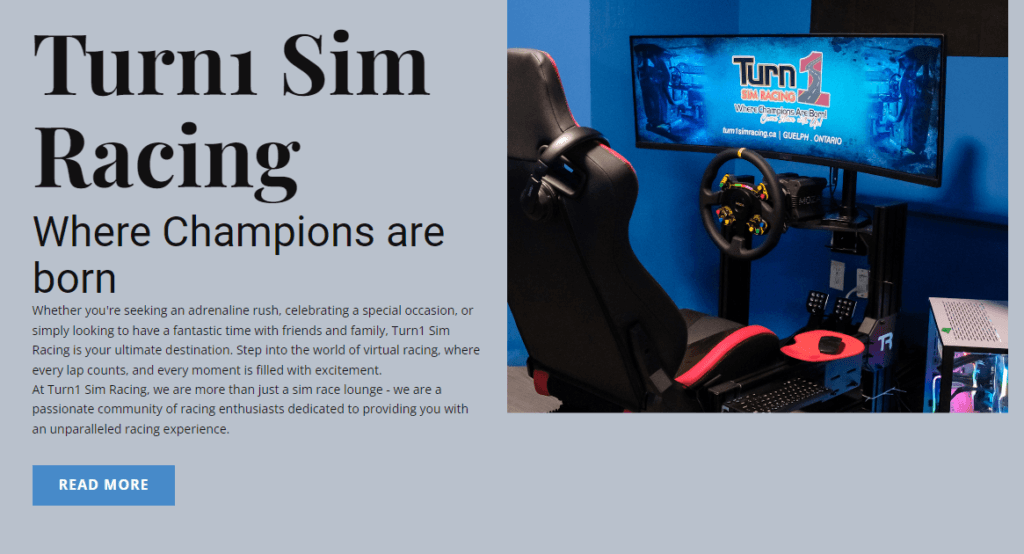 https://www.turn1simracing.ca/
---
---
VCO Simmy's
You can now vote in the 2023 VCO Sim Racing Awards
---
WoO Week 4
The Week 4 World of Outlaws Series visited Lincoln Speedway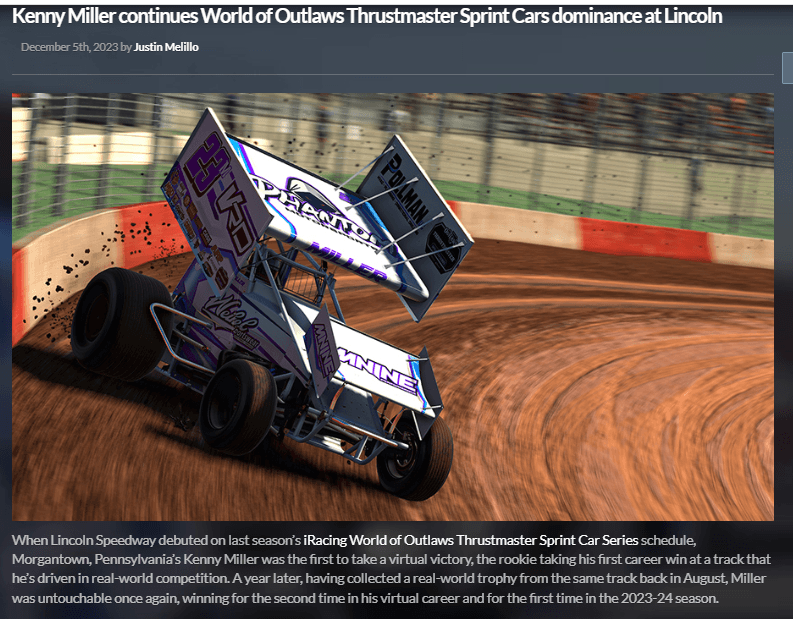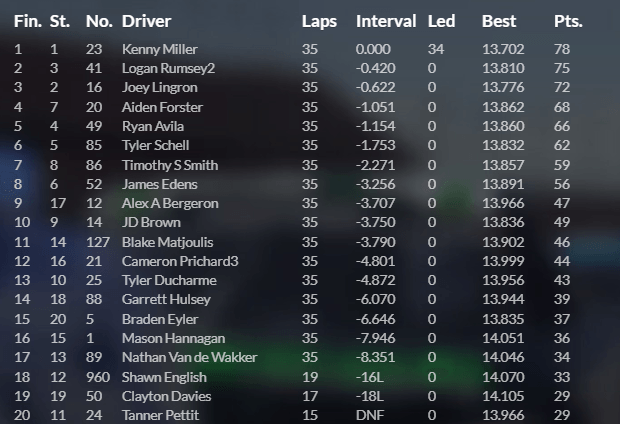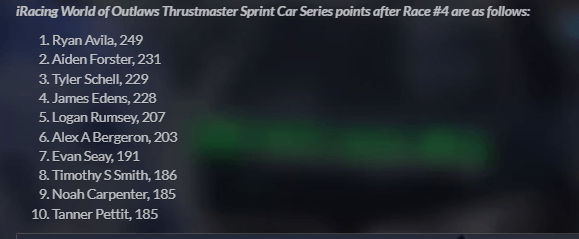 https://www.iracing.com/kenny-miller-continues-world-of-outlaws-thrustmaster-sprint-cars-dominance-at-lincoln/
---
---
Slinger Intro
---
---
HotKey for Weather, then Control K
There is a new hotkey for the radar that you will see when the Tempest Weather Model is released
---
---
Automated Driving Rules
iRacing has added an amendment to Section 8.1 of the Breech of Rules specifically pointing out Automated Driving Inputs, and the forums are asking why the change?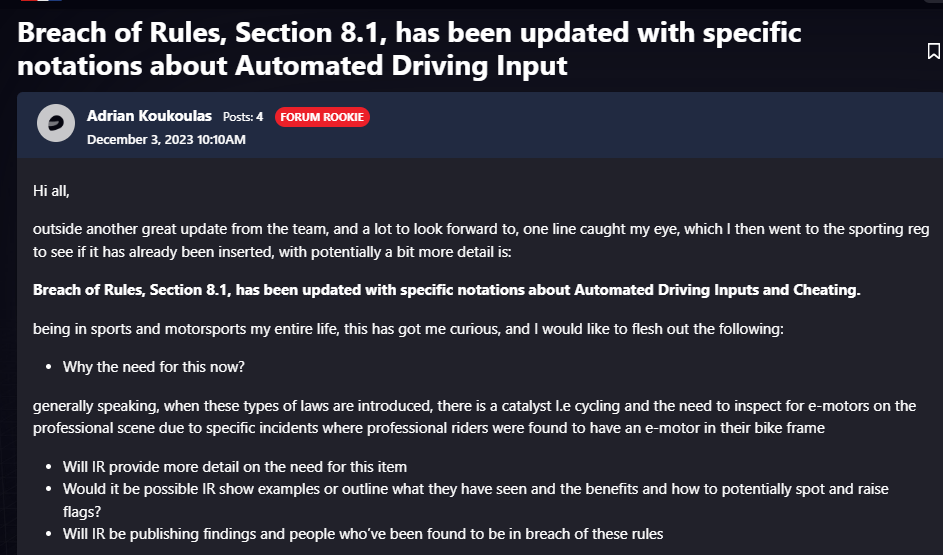 https://forums.iracing.com/discussion/51935/breach-of-rules-section-8-1-has-been-updated-with-specific-notations-about-automated-driving-input
---
---
Kamel GT is Dead, Long Live IMSA Vintage
The Kamel GT series has been renamed the IMSA Vintage Series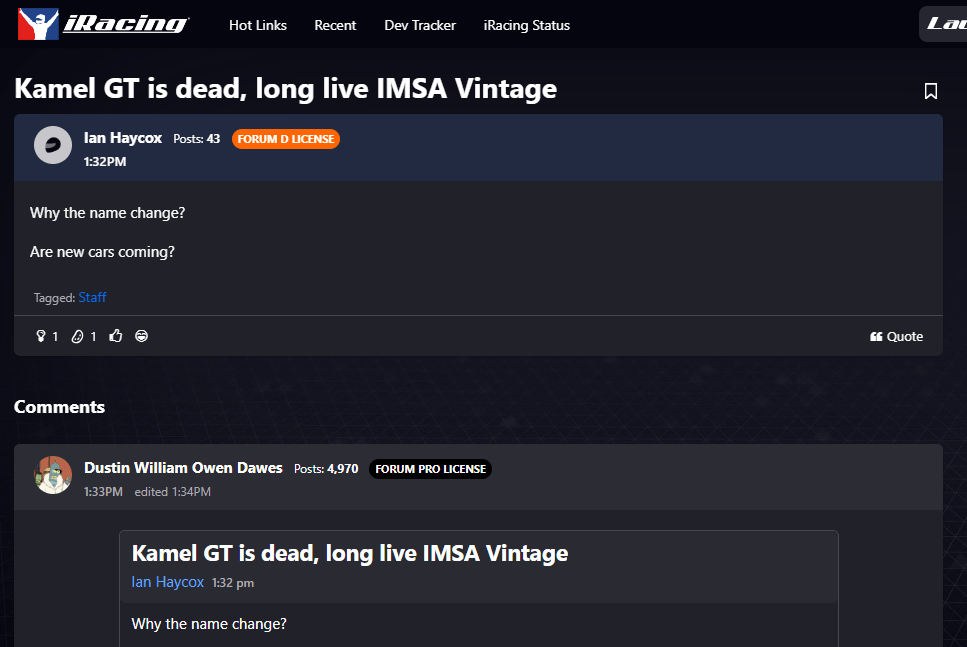 https://forums.iracing.com/discussion/comment/445117/#Comment_445117
---
---
2024 Season 1 Release Notes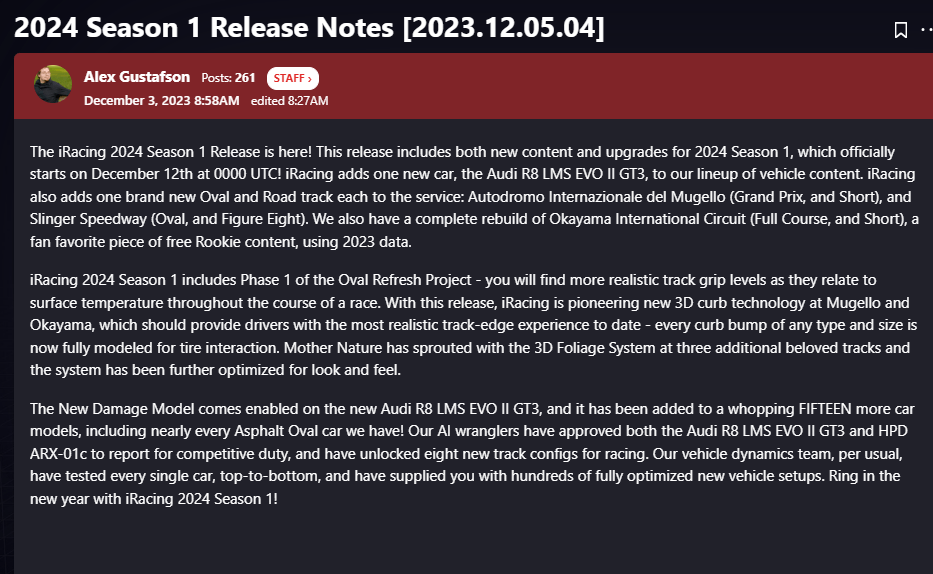 https://forums.iracing.com/discussion/51932/2024-season-1-release-notes-2023-12-05-04#latest
---
---
2024 Season 1 Preliminary Schedule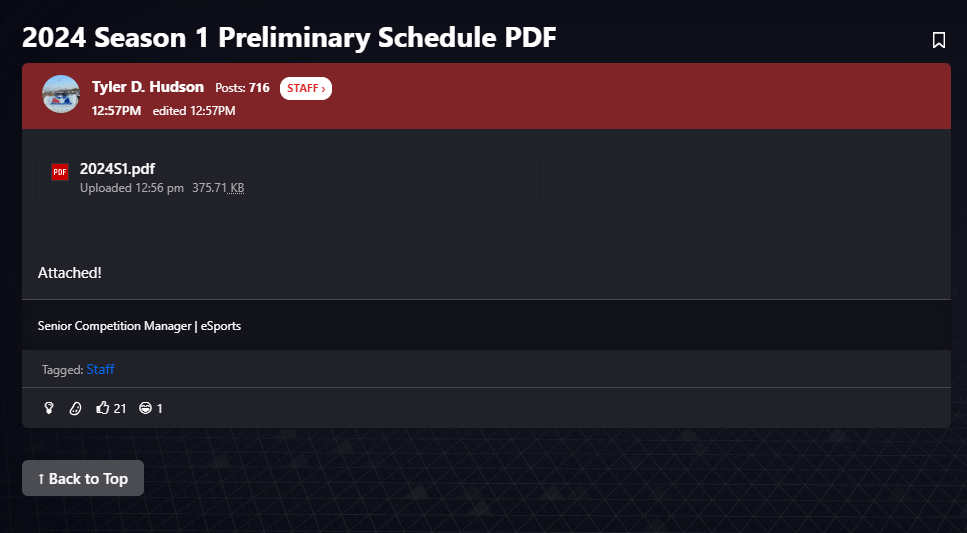 https://forums.iracing.com/discussion/52111/2024-season-1-preliminary-schedule-pdf
---
---
Holiday Sales Continued
iRacing is offering 50% off new memberships until January 5th
---
---
eNascar International
Invitational iRacing action featuring some of NASCAR's top drivers from around the world is set to return on December 12, as the eNASCAR International iRacing Invite waves the green flag at 6 p.m. ET. More than 25 racers, including representatives from the NASCAR Canada Series, NASCAR Mexico Series, NASCAR Whelen Euro Series, NASCAR Brasil Sprint Race, and NASCAR's three national touring series, will take on a doubleheader featuring the Los Angeles Coliseum and Brands Hatch's Indy layout, with a $5,000 prize on the line.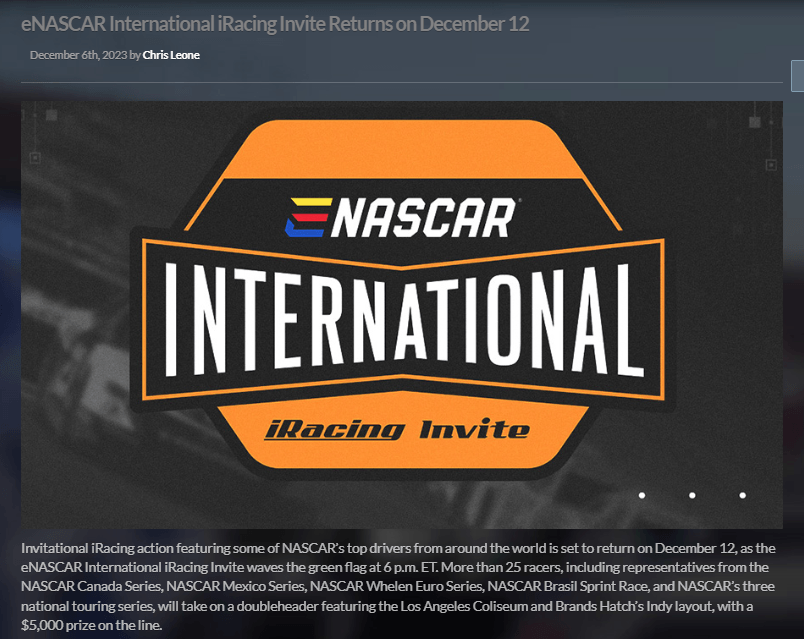 https://www.iracing.com/enascar-international-iracing-invite-returns-on-december-12/
---
---
IMSA Esports Open Challenge
IMSA, iRacing and VCO have something special in store for the final round of the IMSA Esports Global Championship: You can be part of the show!
https://www.iracing.com/imsa-esports-iracing-open-challenge-announced/
---
---
iRacing Weekly Challenge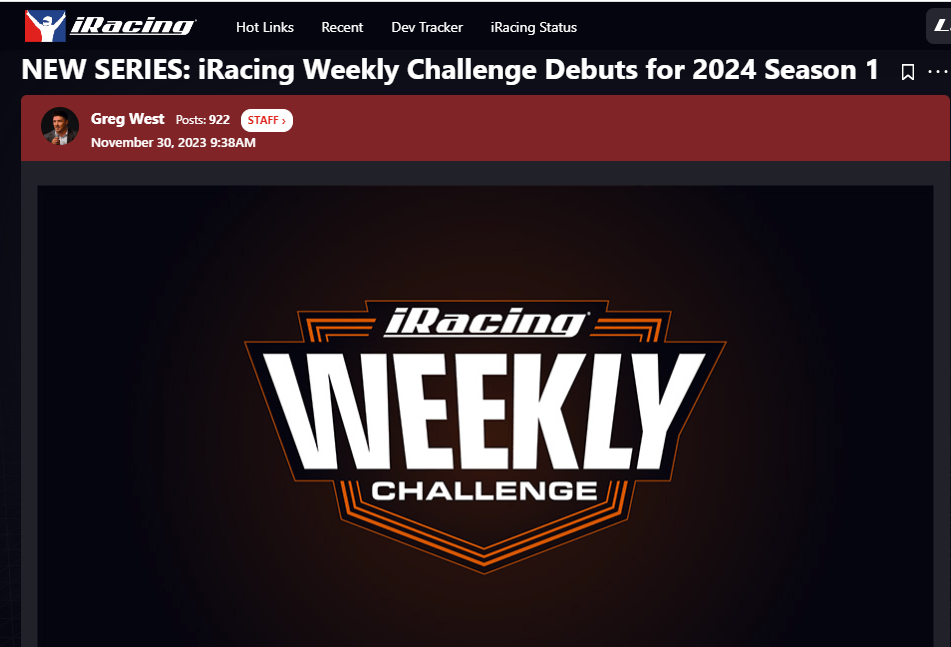 The 2024 Season 1 iRacing Weekly Challenge schedule is as follows:
GT4 class at WeatherTech Raceway Laguna Seca
Ray FF1600 at Oulton Park Circuit – Island
Porsche 911 GT3 Cup (992) at Autódromo José Carlos Pace (Interlagos) – Grand Prix
Skip Barber Formula 2000 at Virginia International Raceway – North
Toyota GT86 at Okayama International Circuit – Full Course
Dallara F3 at Suzuka International Racing Course – Grand Prix
Global MX-5 Cup at Road Atlanta – Full Course
Radical SR10 at Road America – Full Course
Street Stock at Watkins Glen International – Cup
Renault Clio at Lime Rock Park – Classic
GT3 class at Circuit de Spa-Francorchamps – Grand Prix Pits
Formula Vee at Rudskogen Motorsenter
https://forums.iracing.com/discussion/51779/new-series-iracing-weekly-challenge-debuts-for-2024-season-1#latest
---
---
Chili Bowl 2023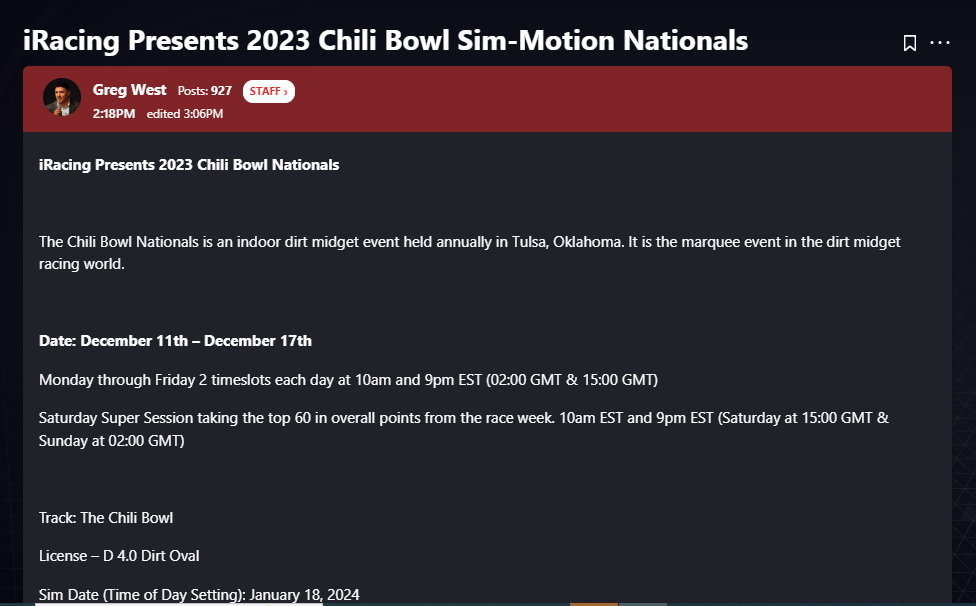 https://forums.iracing.com/discussion/52243/iracing-presents-2023-chili-bowl-nationals
---
---
eRacing Association Omega Cup
Registration for the eRacing Association Omega Cup Winter Bowl, eRA's final event of 2023 in its premier Omega Cup series, is open now. Racers can join eRA as a member and RSVP to compete in tournament-style racing from Phoenix Raceway in the NASCAR Cup Series Next Gen car, with $5,000 in prizes on the line for eRA members in the December 13 feature and a live broadcast of the feature airing across all official iRacing pages.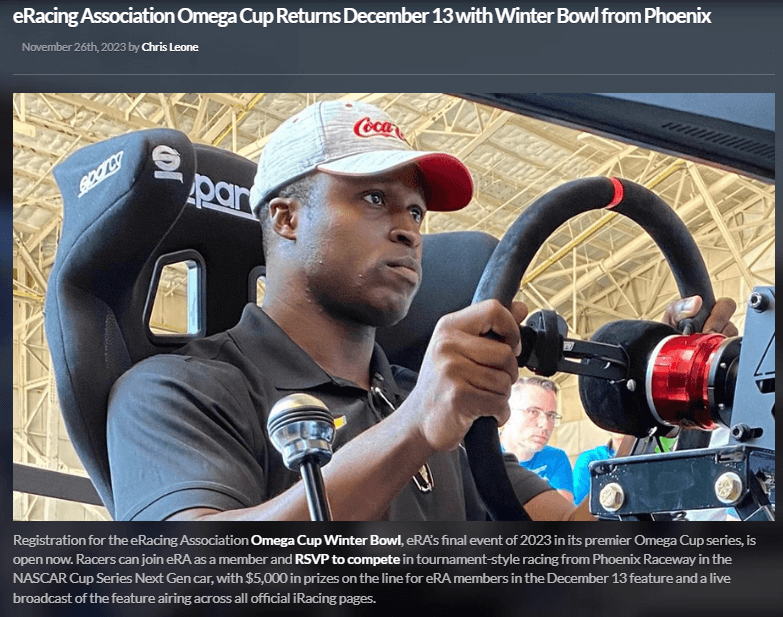 https://www.iracing.com/eracing-association-omega-cup-returns-december-13-with-winter-bowl-from-phoenix/
---
---
Shaun Timmerman Memorial Event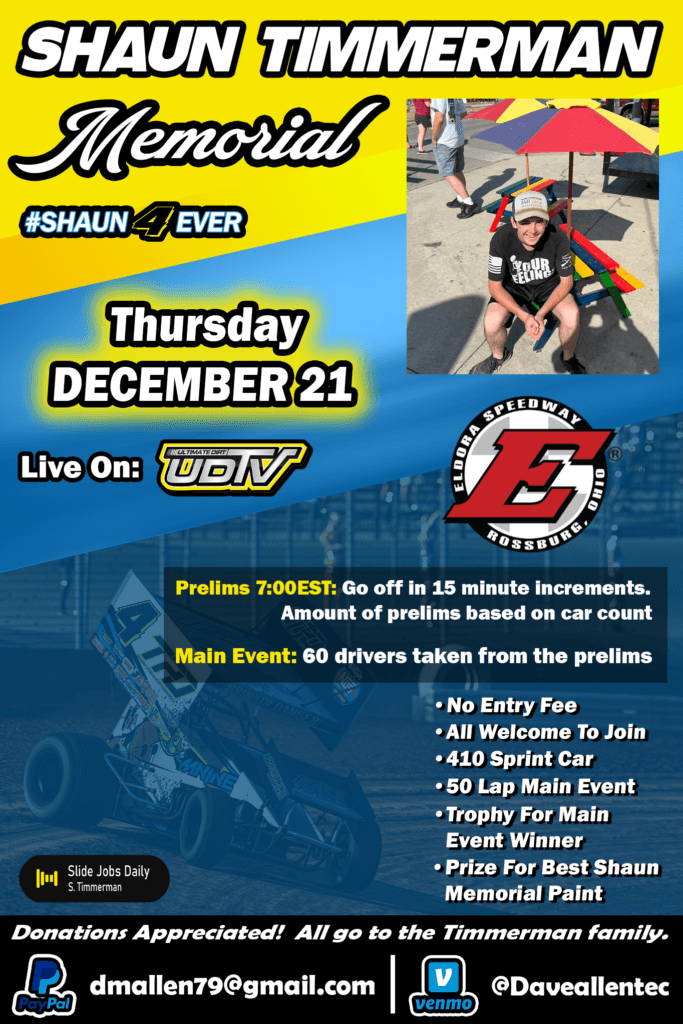 https://members.iracing.com/membersite/member/LeagueView.do?league=10010
---
---
Podcast Housekeeping
Leave us a review on your favorite podcast platform to make it easier for more listeners to find the podcast. Mention the podcast to your fellow drivers so they don't miss out, we would appreciate it.
Check out our Discord https://discord.gg/rvRas4DDqF
New Website – Leave Comments https://www.iracerslounge.com/
---
We are in the regular rotation… (Mike)
https://performancemotorsportsnetwork.com/
iRacers Lounge Merch!!!

You can now order fantastic looking merchandise for your favorite iRacing show, The iRacers Lounge Podcast!
Visit iRacerslounge.shop to get yours Today!
https://channelstore.roku.com/details/9d27a1e9dd15b92535d7cfe85407288e/the-sim-racing-channel
https://thesimracingchannel.com/watch-live/
---
---
Hardware/Software
---
Fanatec Issues
Sim Racing Corners had a bad experience with Fanatec support and reported it on his YouTube Channel
"They F****d me, they will f**k you…. Be careful out there…"
---
---
DimSimracing Button Box Pro
completely dismountable metal body
manual processing of parts before painting
powder-resistant painting
high-quality fasteners
3 sides for mounting
ability to change the direction of the USB cable output (useful for different types of installation)
electronics are compatible with PCs running Windows OS
the device is compatible with all simulators and games that support the simultaneous connection of more than 1 device (this is most modern and classic simulators)
equipped with a navigation pad made of aluminum plate.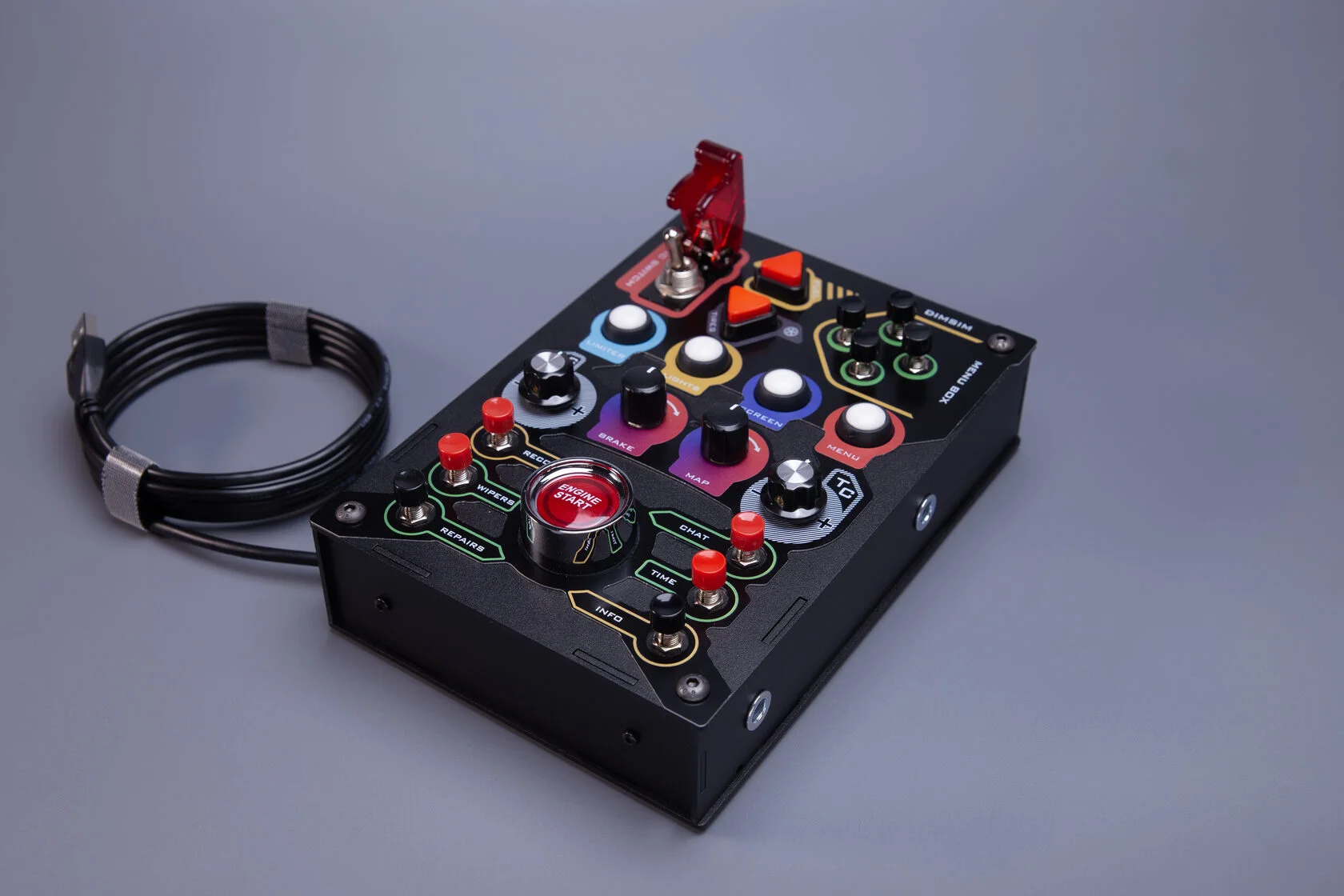 https://dimsimracing.com/tproduct/490529462-507548374541-buttonbox-pro
---
---
Simucube 2 Pro Review
Sim Racing Reviews gives his take on the Simucube 2 Pro
---
---
How much Torque
eRacing Acadamy asks what you shouldexpect from your force feedback wheel
---
---
T300 Overheating?
David Vivas from The DIY Sim Racer asked if you might be having overheating issues with your Thrustmaster T300. like he did
---
---
What to Avoid
Daniel Gray gives his opinion on 10 products you should avoid buying for sim racing
00:25 Custom G29 Rims 01:40 Folding Rigs 03:00 Playseat 04:08 NLR F-GT Rig 05:15 Trak Racer GT/Rally Seat 06:28 Integrated Monitor Stands 07:08 Thrustmaster Belt Driven 07:57 New Category 08:14 Thrustmaster DD 08:59 VRS Wheel Rim 10:04 Real Car Sim Rims
---
---
Results
---
---
Official Series
Ellis–
Pro trucks at irwindale figure eight – started in the back, p2 – 1st race back after rebuild
Dallara IR-18John P1. Started P14 and picked 'em off slowly. Behind P1 and P2 coming out of turn 3. Caught a draft and went to the outside and made it 3 wide at the finish. Won by .002.
---
---
League / Hosted Races
Winter Series –
David – P 8 Good long run speed, seemed to be able to run a line i haven't run in a long time
Mike- p P 22 ran about 12 most the race, but screwed myself on fuel and had to spit with five to go for a splash and go. First race back though since I rebuilt the rig and it's feeling pretty good to be back on track.z
Brad – P. Wrecked out.
Justin P19
---
---
Final Thoughts
---
---
Words Spoken in Closing Audio Clip -""Thank you for listening to the iRacers Lounge podcast make sure to go subscribe to us on iTunes, SoundCloud, or Google Play, Facebook & Twitter, See You On The Track ."
TITLE
Food for Mike's Soul
Description
On the show today we will take a look at the 2024 Season 1 build! Also we'll look at what you should expect from a direct drive wheelbase and what sim products you might want to avoid buying, So sit back, relax and join us on the iRacers Lounge Podcast.
iRacers Lounge Podcast is available on iTunes and Apple's Podcasts app, Stitcher, TuneIn, Google Play Music, Spotify, Soundcloud, Podbean, Spreaker, Podbay, PodFanatic, Overcast, Amazon, and other podcast players.
Sponsors:
Hosts:
Mike Ellis – twitter.com/MikeDeanEllis
David Hall – www.twitch.tv/mixmage
Greg Hecktus – twitter.com/froozenkaktus – www.twitch.tv/froozenkaktus
Brian Maccubbin – www.twitch.tv/MacRubbinsRacin
Kyle Pendygraft – twitter.com/LoudPedalGaming
Tony Rochette – twitter.com/TonyRochette
Tom Dreiling –
Donnie Spiker – twitter.com/Spikerman19
Bobby Jonas –
MacKenzie Stevens – https://twitter.com/MackStevens48
Justin Pearson – https://twitter.com/big7bang_
Links:
Facebook – www.facebook.com/iRacersLounge/
Twitter – twitter.com/iracerslounge
Instagram – instagram.com/iracersloungepodcast/
Web (Show Notes) – iracerslounge.com/