7/15/2021 – Essential Smells – Episode 0288
iRacers Lounge Podcast – Conversation Topics
Brought to you by:

Opening Audio Clip -"Your listening to the iRacers Lounge Podcast where we discuss everything iRacing, in a casual setting, enjoy."`
READ THIS AT THE TOP OF EACH SHOW!!!
Welcome to the iRacer's Lounge, I am your host "XXX". iRacer's Lounge is a podcast for the iRacer, where we talk all things iRacing in a casual setting.
Joining me are the usual characters, ————
---
---
Introduction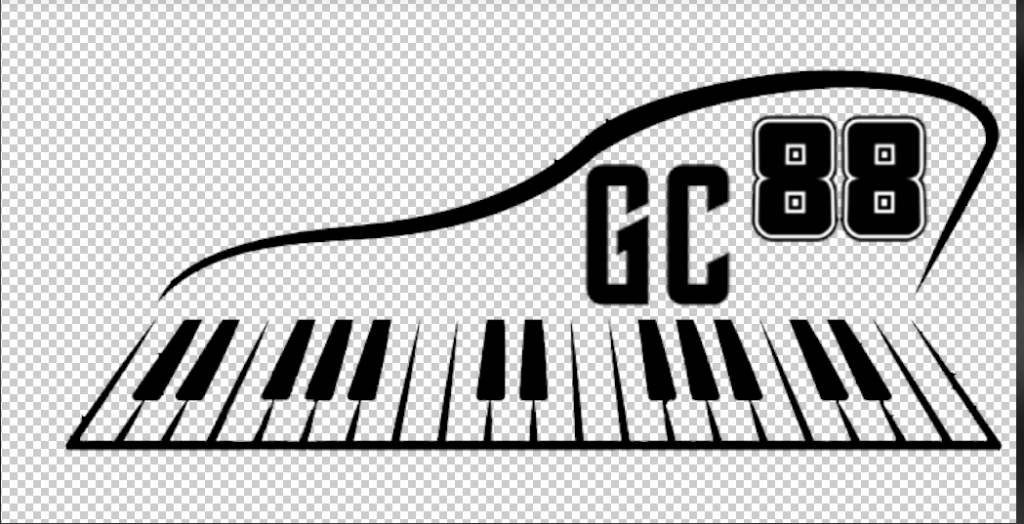 ---
---
TITLE SPONSOR READ:
Grid Finder 2.0 is bigger and better than ever with more ways to narrow your search for your next sim racing league. Featuring over 1000 leagues from over 25 racing sims across every platform, Your place on the grid is just a couple clicks away.
Visit www.grid-finder.com to find a league, or to upload your own!
Grid Finder – "The home of online sim racing leagues"
---
---
---
Topics
---
---
Coke Race
https://twitter.com/iracing/status/1414622679454339074?s=11
https://www.youtube.com/watch?v=-dggIABGsqE
@cshearburn and @KeeganLeahy lead the field
Early on, @cshearburn leads the field… most have gone single file early on.
CAUTION! LAP 24. @AshtonCrowder is involved, he has a ton of damage.
@NickOttinger, @john_gorlinsky and @MalikRayTTV are towards the back of the pack now with some decent damage.
LAP 53:Second caution at lap 52! @bschoon55 and @aburroughs62 tangle in the back!Conti takes the lead right before the yellow
Clampitt takes 2
RESTART LAP 57: @vicente_salas14 and @LoganClampitt_ lead the field into turn 1.
Track position currently paying off for @vicente_salas14, but @MikeConti5 on four tires is coming quick!
LAP 68: @MikeConti5 leans on @vicente_salas14 for the lead!SIDE BY SIDELAP AFTER LAP@vicente_salas14 will NOT let @MikeConti5 go!
Two tires not paying off anymore for
@LoganClampitt_ who gets the boot from the "Four-Time Champ", as Clampitt sarcastically said to @rayalfalla after the bump.
Caution #3 @swilson3_ (currently in playoffs on points in P10) gets tagged by
@GarrettManes and multiple cars are involved!
@MikeConti5 leads the entire field onto pit road.
Schoenburg stays out – salas stays out
56 to go: NEW LEADER, @RReSports' @jmullisracing
@znovak15 has some nose damage after a chop from @vicente_salas14 a few laps ago… Novak still P3 and closing in on the leaders though!
@jmullisracing takes the lead after @bschoon55 stayed out on old tires and the restart got jumbled up!
41 to go: BIG SLIDE for @DDuval42! He SAVES it!
Caution 4 is out, lap 121!
@FemiOlat_ tried to get back into line behind @caine_cook and just misjudged it, and sent the 15 spinning.
Going to have a shootout here to end it, 25 laps to go on the RS. Some guys have stayed out again!
RESTART 26 to go: @A_Boes21 and @swilson3_ stayed out and lead the field into turn 1.
3 4 and 5 wide – and the whole field wrecks!~
https://twitter.com/iRacing/status/1415135470040801282
@RyanLuza spun while they were 3, 4, and 5-wide.
@bobbyzalenski, @FemiOlat_, @vicente_salas14 and more among those involved.
https://twitter.com/NASCAR/status/1415135425988075520
RESTART 21 to go: @jmullisracing and @MikeConti5 lead the field into turn 1.
Another wreck but no caution this time they keep it going! – TROUBLE!
@swilson3_ gets sent into the wall!
@rayalfalla, @BBryant53, and @GarrettManes appear to have damage. NO CAUTION.
18 to go: CAUTION! @GarrettManes gets a bump from @DerekJustis and now it's less than 15 to go at the Magic Mile.
July 27 Tuesday Nashville – next gen – next race
RESTART 13 to go: @jmullisracing and @MikeConti5 lead the field into turn 1.
11 to go: CAUTION! @A_Boes21 spins… after contact with his @McLarenShadow teammate @blakereynolds66
. RESTART 6 to go: @jmullisracing and @MikeConti5 lead the field into turn 1.
Caution.
@mbussa75, @LoganClampitt_, @vicente_salas14, and @john_gorlinsky Crashed.
Can they make it to the end green? RESTART OVERTIME #1! Mullis conti nichols novak
CHECKERED FLAG! @RReSports' @jmullisracing wins at virtual @NHMS!
@jmullisracing makes it three straight @CocaColaRacing Series victories at virtual @NHMS!
Jake Nichols 2nd – career best –
3. @MikeConti5
4. @znovak15
5. @BowlinGraham
6. @bdavies_88
7. @rayalfalla
8. @MGuest33
9. @CVincent34
10. @MitchelldeJong1
GWC End of Race
https://twitter.com/KligermanSport/status/1415140471387664385
Move of the Race
https://twitter.com/NASCAR/status/1415142683476103168
https://danlisa.com/scoring/season_standings.php?season_id=13048
---
---
iRacing Top 10 Highlights – June 2021 [Hall]
iRacing dropped the Top 10 Highlight for the month of June on their YouTube Channel this week.
https://www.youtube.com/watch?v=l-CYkF4n6iw
---
---
Why iRacing can now afford to be choosy [Brian]
An article in Racer.com, the online motorsports magazine describes how successful iRacing's business model has become, essentially re-inventing how the model is done. Where as before, software companies would pay large amounts of money up front for licensing rights, to iRacing becoming a marketing tool for manufacturers to iRacing "super users" (die-hard iRacing fans) as described by Steve Myers. In the beginning iRacing had to plead their case and business model to manufacturers to join the sim. But now, they get more requests from manufacturers to join than they can accept because of it's success, and as such can now be choosey as to whom they bring into the sim.
https://racer.com/2021/07/08/why-iracing-can-now-afford-to-be-choosy/
---
---
She's just standing there… MENACINGLY!!! [Greg]
On the back straight on the Summit Point Motor a creepy, lone fan stands apart from all of the others in the bleacher stands oddly staring menacingly down the track towards turn 9.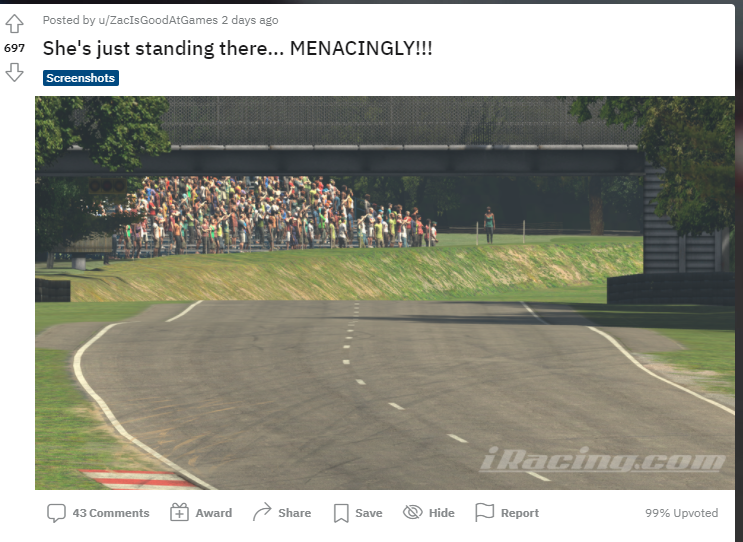 https://www.reddit.com/r/iRacing/comments/ohephw/shes_just_standing_there_menacingly/
---
---
Flying for the Win [Mike]
Jimmy Mullis is launched thru the trees after going off track at the Monza Oval, but recovers to claim victory.
https://www.instagram.com/p/CRHm3kOAASn/?utm_medium=share_sheet
---
---
eRacr Roval Racing Series [Hall]
The eRacr Roval Racing Series. A fun, challenging, multi-class series that takes place over 7 weeks using the Cup, Xfinity, and Truck series vehicles at underutilized Rovals on the iRacing service. Qualifying weekend starts Saturday. Races will include
Charlotte Roval
Texas [Legacy] – RC Combined
Indianapolis – Road Course
Pocono [Legacy] – International
New Hampshire – RC w/ North Oval
Auto Club – Competition
Homestead – Road Course B
https://twitter.com/eracr_gg/status/1413202329927516163?s=11
---
---
4 Hours of Charlotte Benefiting National MS Society [Brian]
Just a reminder to check out the 4 Hours of Charlotte charity race to benefit the Natonal MS Society which takes place on July 30-31st. You can visit http://ntlms.org/iracing to donate and register.
https://forums.iracing.com/discussion/3671/4-hours-of-charlotte-benefiting-national-ms-society
---
---
Thirty Minute Late Model guide [Greg]
Christopher Kimrey posted in the iRacing forums a comprehensive Late Model setup guide in Google Docs for you to check out and learn the Late model Car..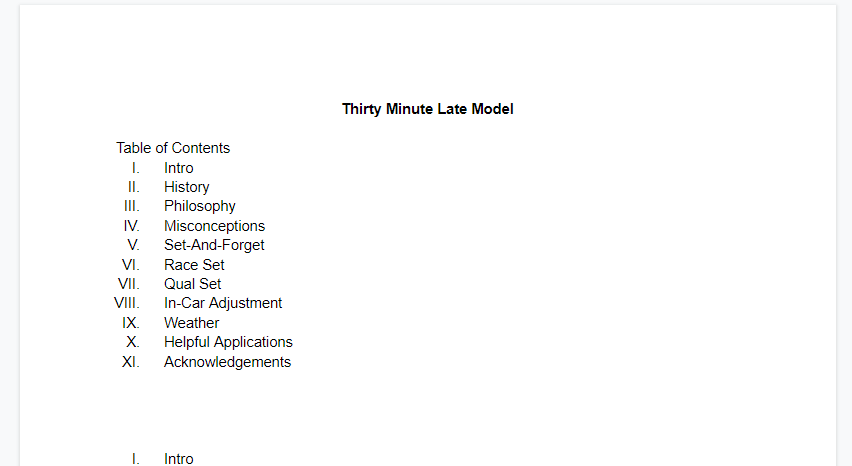 The link for the guide is here: https://docs.google.com/document/d/1ISrnAp05pMiK-6KZtGBydE_FjP3UckY_P3c2SD2M3v8/edit?usp=sharing
https://forums.iracing.com/discussion/comment/23679#Comment_23679
---
---
Pro Invitational Retrospective [Mike]
Traxion posted an article about the history, of the iRacing Pro Series from its prosperous beginnings to it's unceremonious end. What went wrong, what went right, and what could have been.
https://traxion.gg/retrospective-what-was-what-could-have-been-with-the-enascar-pro-invitational-iracing-series/
---
---
Motorsport Games Confirms NASCAR 21 [Hall]
IGN reported that Motorsport Games has confirmed a new NASCAR game will be ready for 2021, and it will not be a continuation of the Heat series. NASCAR 21 will represent a fresh start for NASCAR simulations from Motorsport Games and will be powered by Unreal Engine and Studio 397's acclaimed rFactor 2 physics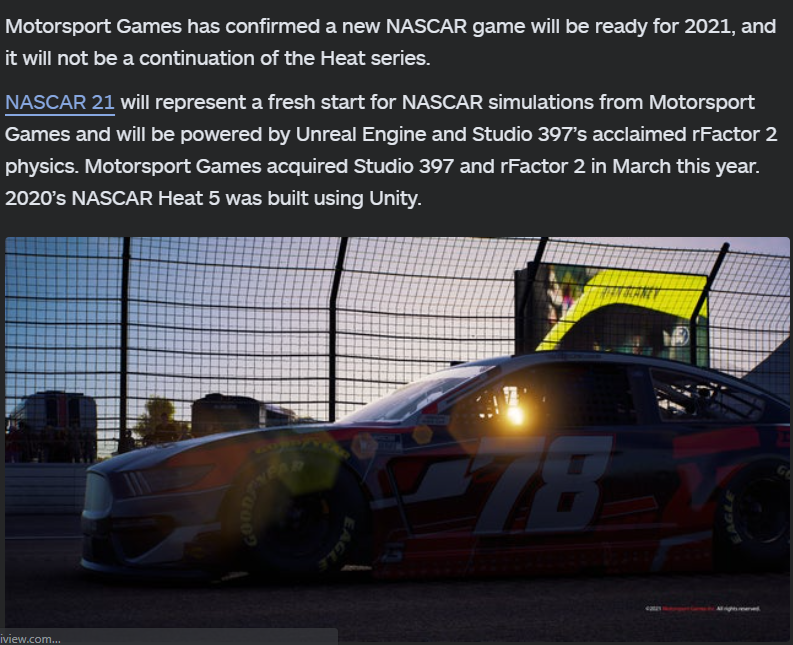 https://www.ign.com/articles/motorsport-games-confirms-nascar-21-new-engine-new-physics
---
---
Greatest iRacing Achievements [Brian]
On their Twitter page, iRacing asks members, what's your greatest iRacing achievements?
https://twitter.com/iracing/status/1414672550651699204?s=11
---
---
Steering Ratio is Now What? [Greg]
Steve Rada in the forums asked ,"I was wanting to find out, how does someone go about on finding what is consider the steering ratio on the Next Gen, and what do we have to do to get it where the current gen is, being 12.1,14.1, & 16.1." Staff Member Matt Holden replied that, "The NextGen uses a completely different steering system than the other cars, so the steering pinion controls the steering speed instead of the power steering box. Like Vern said it doesn't correlate directly to the steering box ratio, higher pinion numbers produce more movement for a given steering input and would be like running a lower-ratio, faster steering box."

https://forums.iracing.com/discussion/comment/25155#Comment_25155
---
---
2021 Season 3 Patch 3 Release Notes [Mike]
Alex Gustafson posts in the forums the 2021 Season 3 Patch 3 Release which contains a variety of updates and fixes for the 2021 Season 3 Release.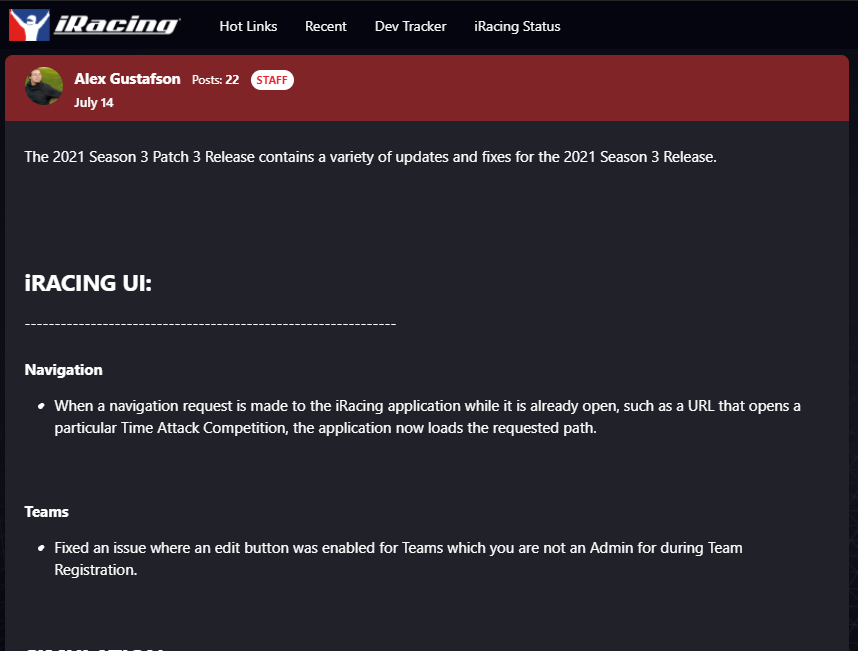 https://forums.iracing.com/discussion/4041/2021-season-3-patch-3-release-notes-2021-07-13-01
---
---
2022 Porsche TAG Heuer Esports Supercup [Hall]
Starting on July 31th, the qualifying series for the 2022 Porsche TAG Heuer Esports Supercup gets underway with a new qualification format that is open for all iRacing members. The virtual Porsche 911 GT3 Cup serves as the digital racing car and TAG Heuer has once again signed on as title sponsor.

Qualifying Series
31.07.2021 – Germany: Hockenheimring (18 laps)
07.08.2021 – Spain: Circuit de Barcelona-Catalunya (18 laps)
14.08.2021 – Austria: Red Bull Ring (20 laps)
21.08.2021 – USA: Road Atlanta (18 laps)
28.08.2021 – USA: Long Beach Grand Prix Circuit (26 laps)
04.09.2021 – Germany: Nürburgring Grand Prix Circuit (14 laps)
Contender Series
25.09.2021 – Germany: Hockenheimring (9/18 laps)
02.10.2021 – Spain: Circuit de Barcelona-Catalunya (9/18 laps)
09.10.2021 – Austria: Red Bull Ring (10/20 laps)
16.10.2021 – USA: Road Atlanta (9/18 laps)
23.10.2021 – USA: Long Beach Grand Prix Circuit (13/26 laps)
30.10.2021 – Germany: Nürburgring Grand Prix Circuit (7/14 laps)
(in brackets: Number of laps for sprint and main race)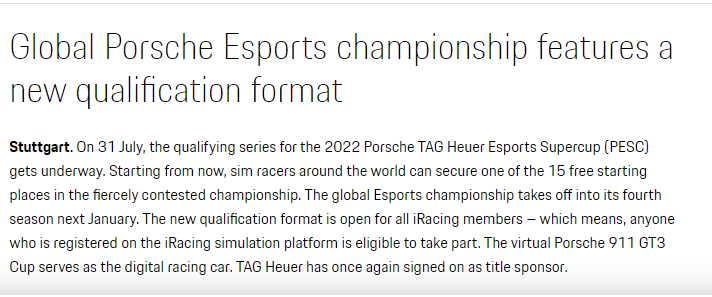 https://presse.porsche.de/prod/presse_pag/PressResources.nsf/Content?ReadForm&languageversionid=1229690
---
---
Sad Day for the iRacing Community [Brian]
Last night, in a post from his sister Lenora, we were informed of the loss of fellow iRacer, OBRL member and all around great guy as Gary Corbett passed after a hard foughgt battle with cancer.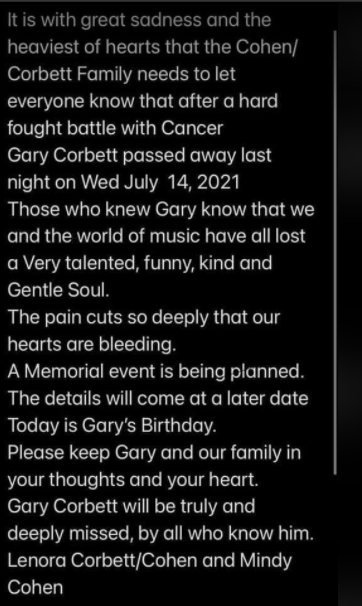 ---
---
Hall's in the Wall [Hall]
On iRacing's Instagram they posted David Hall posted Instagram how to take out the wall in the tricky pits at Pocono
---
---
Podcast Housekeeping
Aftermath Podcast – Get it!
New Website – Leave Comments https://www.iracerslounge.com/
Shout out to team mate and friend JOE OWEN – Going through some medical issues….We are with you bud, be strong…
You've heard us talk about the Spotlights. Those of us that have them here at iRacers Lounge absolutely love them. So much, we have become an affiliate! With the roll out of their new Spotlights Pro. Here's your chance to check them out, you won't be disappointed. Enter coupon code: IRACERSLOUNGE for 10% off!!
https://www.facebook.com/1565571990374134/posts/2832513123680008/?d=n
---
We are in the regular rotation… (Mike)
https://performancemotorsportsnetwork.com/
"OK, LETS TALK FANTASY…."
---
Fantasy [Brian]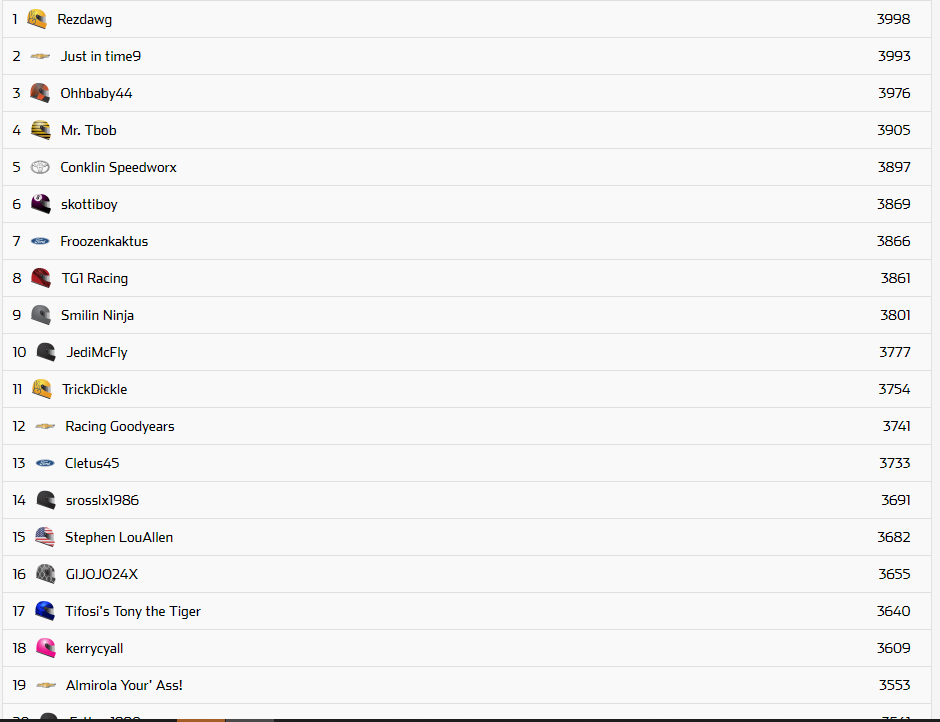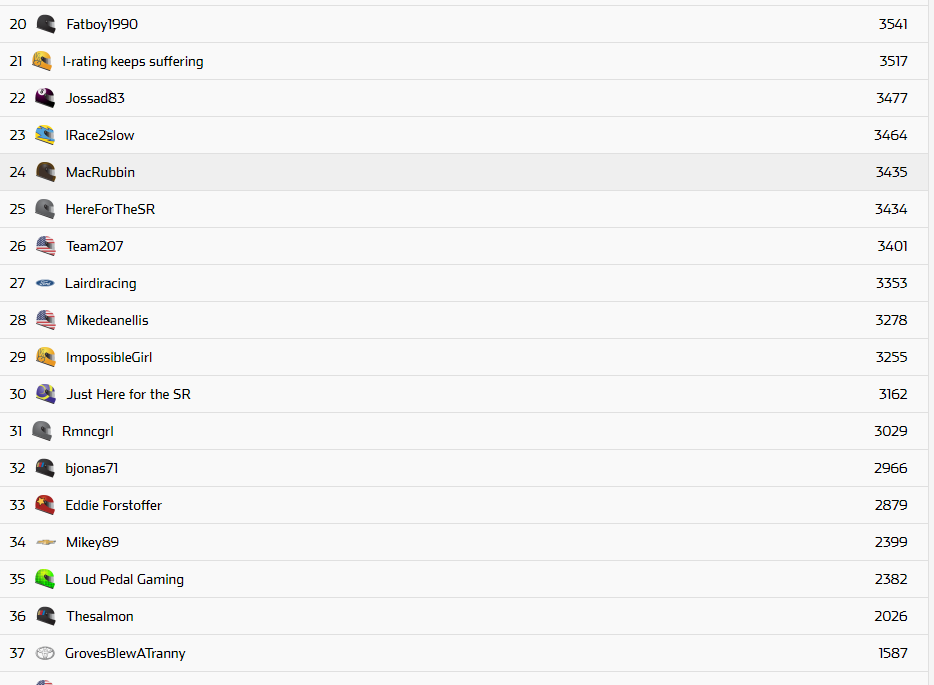 ---
---
Hardware/Software
---
Simrigs eXodus MAX Sim Racing Cockpit [Hall]
The Simrigs eXodus MAX simracing cockpit is their heavy duty extruded aluminum cockpit prices at $1399.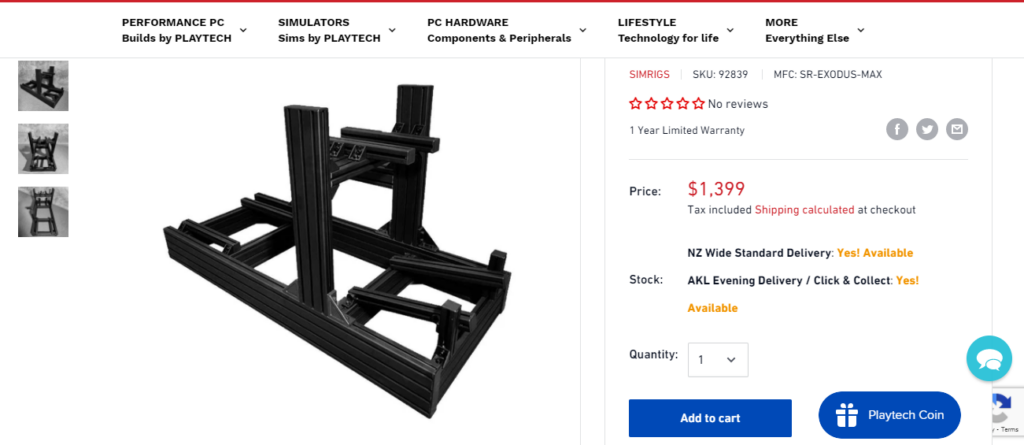 https://playtech.co.nz/products/simrigs-exodus-max-sim-racing-cockpit?_pos=1&_sid=90b4e02d3&_ss=r
---
---
Racewerk Pedals [Brian]
After 2 years of development, Racewerk unveiles their latest revision of the S1 pedals which were designed, machined and built in house at Wittlich, Germany at Racewerk.com with full quality control over the whole process. Starting at €840,00 excl. VAT as a limited offer. We are confident that these are the smoothest pedals on the market .S1 Pro still has the Tilton 78 endurance racing master cylinders. GRAB THEM WHILE YOU CAN. Two and three pedal variants are now available. Black is on stock and we have a limited quantity of Racewerk Orange pedals coming in 2 weeks time.
https://www.facebook.com/groups/SimRacingDrivers/permalink/2411877708956150/
---
---
Sim Racing Setup [Greg]
On an Instagram post on Sim Racing Setup they show off their motion rig .
https://www.instagram.com/p/CRD__mWoicr/?utm_medium=share_sheet
---
---
RS Simulation [Mike]
The Sector One eSport is the newest from the Sector One series of open wheel orientated rigs. We brought all our professional expertise to create the perfect machine for you to perform on the racing platforms. The immersion experience of the eSport Sector One will set new standards on the market.
https://www.instagram.com/p/CRECuaXtnQ0/?utm_medium=share_sheet
---
---
Lovely Stickers [Hall]
Lovelystickers are happy to announce that they are almost ready to have available on their website the set of Charles Leclerc/Ferrari stickers for a Playseat Formula cockpit.
https://www.instagram.com/p/CROzeHENQIo/?utm_medium=share_sheet
Lando Norris-McLeren [Greg]
Lovely Stickers also makes for the Playseat Formula, a Lando Norris/McLaren themed stickers
https://www.instagram.com/p/CRRJv0ft9fX/?utm_medium=share_sheet
---
---
Gran Turismo-Branded Fanatec Direct Drive Wheel [Mike]
on GTPlanet's website, images that seem to reveal Fanatec's promised PlayStation 5 Direct Drive wheel have surfaced on different social media sites over the weekend, and it looks set to be an official Gran Turismo product too.
https://www.gtplanet.net/fanatec-ps5-dd-gt7-20210712/
---
---
Car Guy Candles [Brian]
If you're missing that one last piece of racing immersion, Car Guy Candles has race car inspired scented candles to get your rig room smelling like you're actually at the track, with scents like Racing Fuel, Exhaust and Burt Rubber.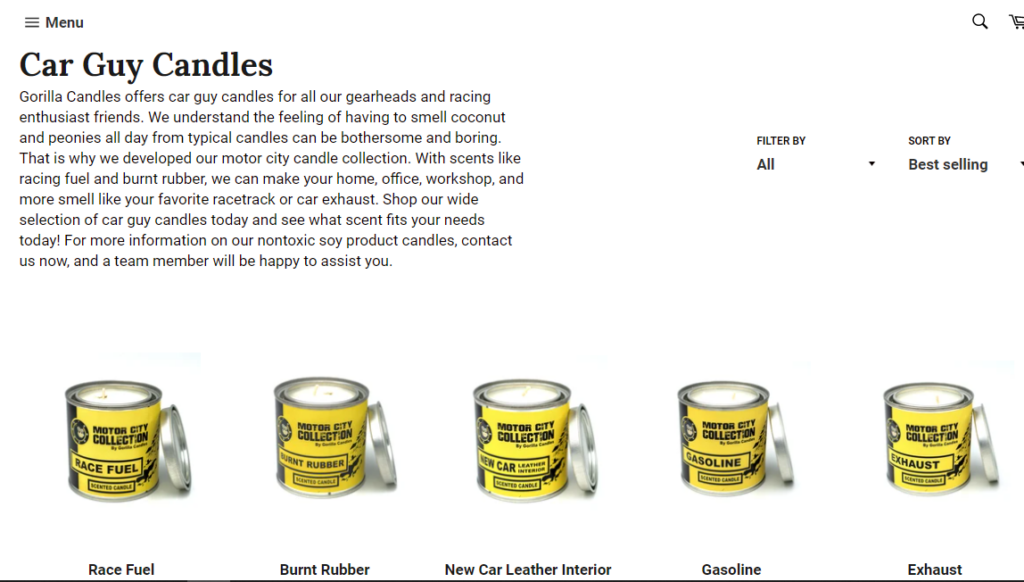 ---
---
Revealing of Motion 1 [Hall]
The time has finally come! Redefine your gaming experience with Motion 1 – The revolutionary haptic chair from Cooler Master and D-BOX designed specifically for gamers who want the most from their favorite games. D-box mentioned the price will be around $2000 usd.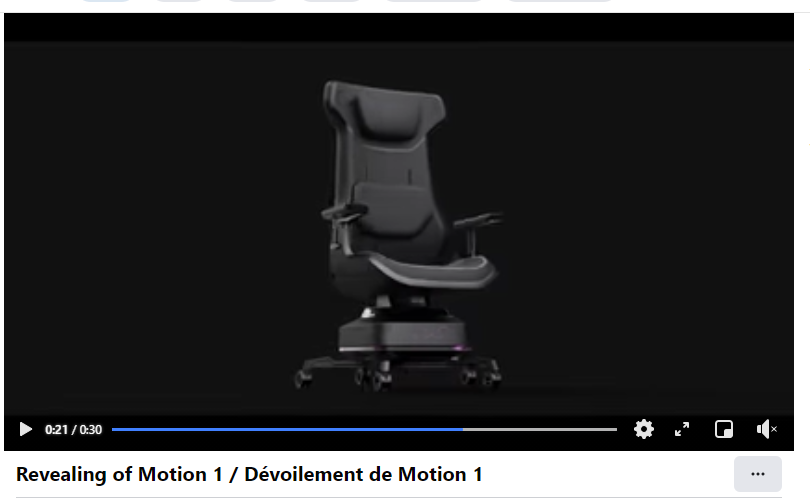 https://www.facebook.com/watch/?v=1121823038341714
---
---
Results
NASCAR iRacing Series
Fri open: Atlanta
Ellis – pdnf – Got wrecked going straight down the back strectch – got hooked into wall hard, no caution, steering is 90 degrees turned – soldier on as I am getting lapped i brush the wall a bit trying to stay high and the leader runs over me p i am then toast up against the wall smoking and 5 cars later someone else piles in

Josh quote after watching replays – "You got hooked on back stretch. That's not on you. And you stayed right to wall with blown motor.
The hitting wall while being lapped, sucks but we have all been in that situation and it wasn't intentional and you were struggling with damage."

Greg – PWas running p5 till I noticed I didn't have enough fuel for some reason on a 55 lap run. Must have not filled it for some reason. P21 finish
Hall = P 14, green to green, shuffled back to 30ths early on from evading a near wreck, was 25th when pit cycles started, neted up to 14th, some of the 20 lap fresher tires behind me stopped gaining on me after their laps were 20 laps old.
Rochette Pdnf got caught in other peoples BS. Forgot to mention I am now proclaiming myself the 2021 Tifosi NiS Road Kingahhhhh
Chris- pdnf
Sunday Open

Stephen – p1
Rochette- P2 Stayed clean and made it a Tifosi 1-2 with Stephen Louallen. If it was Chris Scales leading i would've wreck his ass "smiley face"
Kyle – P P-3 Started P-8. Had to deal with some early race cautions and about lap 50 Was the last restart and run top 3. Took the lead and held it for 16 laps until i pitted with 23 to and then raced my way up to a P-3 and was running down the leader. If i had another 5 laps i would of regained the lead as i had 25 lap fresher tires then the leader but just ran out of laps.
Sunday fixed

Mike -pwrecked out – missed the first 3 cautions but didnt miss the 4th – totally wrecked out couldnt miss it
Greg – P13 wrecked on gwc going for the win
Brian – P What more could go wrong…
Stephen – p
Kyle – P
Tyler. P-6 Started in the back and just worked my way up thru the field.
Race: New Hampshire
Wed Open:

Hall -p wrecked, failed to avoid a wreck, a lot of cautions, one of em got me
Ellis – DNF – Went to the outside of a guy on the inside down the straight and he came up and pushed us both to the wall – not clear

Kyle = dnf blew pu after stacking up at start

Thurs Open

Hall – p 10 Got caught up in a late wreck, but more other cars got worse damage, plus the EOL bug, higher position than I probably would have gotten.
Ellis – p.
Rochette P #88 for the keys. I suck at Land of the Hamsters dodged some wrecks and finished 8th…. Rest in Heaven Gary
---
---
Official Series
A Open

Hall P 1! Finally after being so close all week. Took some luck, was gonna finish 2nd by stretching fuel cause the guy that was gonna win caught me on the fresh, but caution comes out for a 2 lap, restart p9, finish p1.
Kyle P P-UNO Started P-9 and kept myself out of a handful of wrecks and was able to maintain myself in the top 5. Late race caution allowed me to to gain 2 spots on pit road and then i just got myself to the lead after the restart and just ran away with the lead. Led 14 laps and then took the checkered flag. It sure does feel great to win again after a long dry streak.
Hall – p1 First attempt at Monza, the alien got a speeding penalty
FastTrack Sim Racing League –

Still recruiting – https://www.facebook.com/102107211726370/posts/203323564938067/?d=n
Adam p
Greg p2
Mike – p .14 – 1 stop run was a lap short first run – ran 50% throttle 2nd run to make it – didnt work out great.
Tom D – P
Hall – p.1 greg and I both saved fuel. I had to save more after the stop, which had a side effect of saving my tires. Also literally let him pass be back when there were still many laps to avoid giving up the draft to save fuel
---
---
League / Hosted Races
FastTrack Sim Racing League –
Greg p2
Mike – p .14 – 1 stop run was a lap short first run – ran 50% throttle 2nd run to make it – didnt work out great.
Tom D – P
Hall – p.1 greg and I both saved fuel. I had to save more after the stop, which had a side effect of saving my tires. Also literally let him pass be back when there were still many laps to avoid giving up the draft to save fuel
OBRL ARCA Series

Brian P More shifter problems…
OBRL iRLP Aftermath Truck Series

? Congratulations Tom Ogle #11 in the White Claw Chevy The Aftermath Podcast Truck Series Race at the New Hampshire Speedway
Steve Thomson In the RideTv #67 Toyota Finished 2nd
Josh Robinson #23 in the Microcenter Chevy Chevy Finished 3rd
---
---
Final Thoughts
---
---
Words Spoken in Closing Audio Clip -""Thank you for listening to the iRacers Lounge podcast make sure to go subscribe to us on iTunes, SoundCloud, or Google Play, Facebook & Twitter, See You On The Track ."
TITLE IDEAS
Essential Smells
.
.
Description
On a somber day on the iRacer's Lounge Podcast we dedicate the show to our fellow racer and friend Gary Corbett. There's still lots to cover in the world of iRacing and so we plow ahead with heavy hearts. So thanks for joining us on the iRacers Lounge Podcast.
iRacers Lounge Podcast is available on iTunes and Apple's Podcasts app, Stitcher, TuneIn, Google Play Music, Spotify, Soundcloud, Podbean, Spreaker, Podbay, PodFanatic, Overcast, Amazon, and other podcast players.
Sponsors:
www.grid-finder.com
Hosts:
Mike Ellis – twitter.com/MikeDeanEllis
Tony Groves – www.twitch.tv/SirGroves
Chris Scales – twitter.com/JediMcfly
David Hall – www.twitch.tv/mixmage
Greg Hecktus – twitter.com/froozenkaktus – www.twitch.tv/froozenkaktus
Tony Rochette – twitter.com/TonyRochette
Adam Josselyn- twitter.com/Jossad83
Brian Maccubbin – www.twitch.tv/MacRubbinsRacin
Tom Dreiling –
Kyle Pendygraft – twitter.com/LoudPedalGaming
Links:
Old Show Notes – bit.ly/2CFeArM
Facebook – www.facebook.com/iRacersLounge/
Twitter – twitter.com/iracerslounge
Instagram – instagram.com/iracersloungepodcast/
Web (New Show Notes) – iracerslounge.com/