7/8/2021 – RIP Atlanta – Episode 0287
iRacers Lounge Podcast – Conversation Topics
Brought to you by:

Opening Audio Clip -"Your listening to the iRacers Lounge Podcast where we discuss everything iRacing, in a casual setting, enjoy."`
READ THIS AT THE TOP OF EACH SHOW!!!
Welcome to the iRacer's Lounge, I am your host "XXX". iRacer's Lounge is a podcast for the iRacer, where we talk all things iRacing in a casual setting.
Joining me are the usual characters, ————
---
---
Introduction
On the show this week, we'll discuss what coming new to Atlanta Motor Speedway, and what's been announced with iRacing's involvement. We'll cover the series finale of the eNascar International Series and in topics we'll ask how the new Windows 11 might effect iRacing and it's peripherals
And remember you can follow along with us on your mobile device in real time as you listen to the show and see for yourself all of the great topics and products we'll discuss by visiting iracerslounge.com and selecting show notes. Hope to see you there..
---
---
TITLE SPONSOR READ:
Grid Finder 2.0 is bigger and better than ever with more ways to narrow your search for your next sim racing league. Featuring over 1000 leagues from over 25 racing sims across every platform, Your place on the grid is just a couple clicks away.
Visit www.grid-finder.com to find a league, or to upload your own!
Grid Finder – "The home of online sim racing leagues"
---
---
Topics
---
---
New Atlanta
After the July 11th Quaker State 400, Atlanta Motor Speedway will begin to break ground on a historic project to create the next generation of Atlanta Motor Speedway and a first-of-its-kind, all-new race experience in 2022.
https://twitter.com/iracing/status/1412464826031513605?s=11
https://www.iracing.com/atlanta-motor-speedway-bringing-in-next-generation-with-track-reprofile/
https://twitter.com/amsupdates/status/1412457520556396550?s=11
---
---
iRacing's Early Involvement
According to Nascar reporter Bob Pockrass, Atlanta worked with different widths of racing surface on the iRacing Simulator before deciding on it's finalized specifications.
https://twitter.com/bobpockrass/status/1412454468197683200?s=11
https://twitter.com/amsupdates/status/1412449013568262151?s=11
---
---
Denny Hamlin Weighs In
Denny Hamlin weighs in with his thoughts of the team that has reconfigured Texas, Kentucky and Bristol and has now reconfigured Atlanta.
https://twitter.com/dennyhamlin/status/1412591869045915650?s=11
---
---
Pro Invitational Discontinued
Adam Stern announced on his Twitter page that Nascar is informing the industry that they are discontinuing the iRacing Pro Invitational Series for the remainder if 2021, though it could return in the future special events.
https://twitter.com/a_s12/status/1410987916990599168?s=11
---
---
Project Alien
From the creators of the Majors Garage, Project Alien is the "out of this world" offspring of sim racing and "The Voice". A reality TV style show that aims to discover and create the next Alien… maybe you. You can apply on the Project Alien website.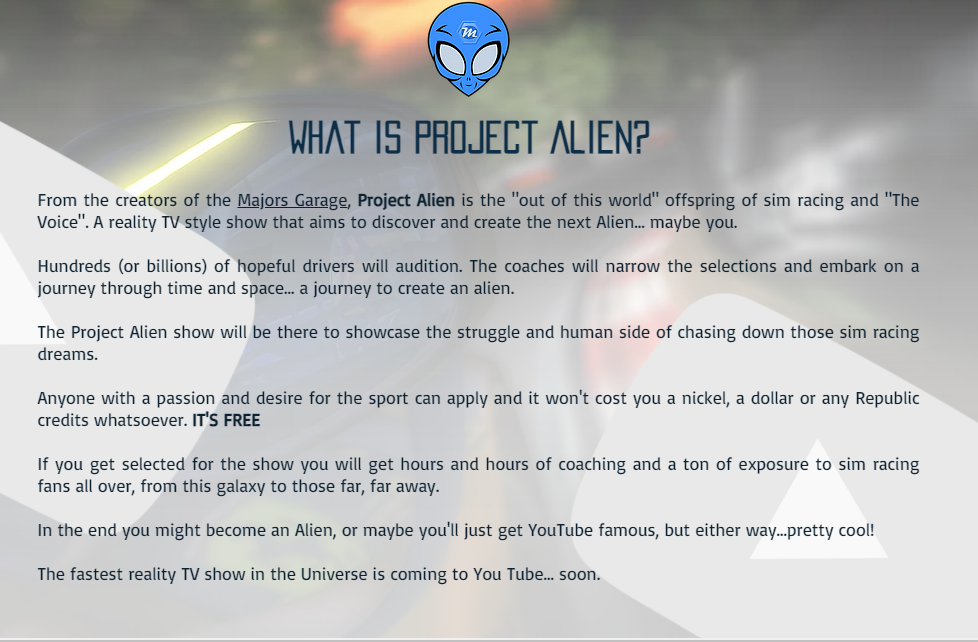 ---
---
Dear iRacing
Racing line Australia posted a cinematic look at iRacing on their Youtube channel they entitled "Dear iRarcing"
https://www.youtube.com/watch?v=dTfVtTbx2Qw
---
---
Nitro Circus League
The Nitro Circus League Summer Series is here from July 6th to august 3rd with the Stock Car Challenge and the Pro 2 Road Racing. You'll have chances to win 2021 You Got This Tour tickets or iRacing credits PLUS random prize drawings every week for all participants!
https://twitter.com/iRacing/status/1412081201687449605
---
---
NextGen- Experimental We Hope
When referring to racing in the Next Gen Car, Tyler C Green asked in the forums, "What is going on with this car? Getting into the Next Gen Ford results in almost ZERO force feedback with settings turned way way up (in sim FFB set up to 10.0). Power steering exists on plenty of other iRacing cars and not a single one of them have such a numb disconnected type of feedback." Others echoed the sentiment until staffer Matt Holden chimed in that, "NASCAR wants a low amount of steering weight for the NextGen cars and we built the cars to reflect the change. I believe what we have is slightly stronger than the real car, but it is in line with the data and requirements for the car.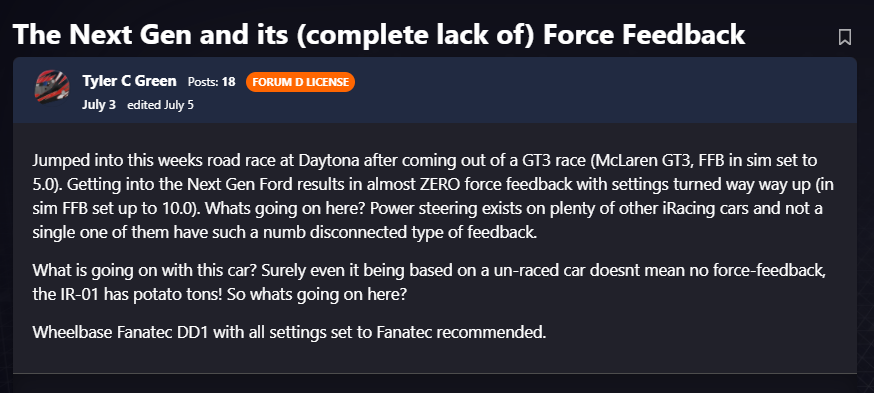 https://forums.iracing.com/discussion/comment/21391/#Comment_21391
---
---
Stream to End MS
Stream to End MS is hosting the 4 Hours at Charlotte Charity Race on July 31st to benefit those with Multiple Sclerosis with the likes of Steve Meyers, Chad Knaus and Nick Ottinger.
https://twitter.com/streamtoendms/status/1410669020534263808?s=11
---
---
PAX Arena Almost Pro $5,000/€5,000 Events!
You can now join the PAX Arena Almost Pro Time Attack and attempt to qualify into our two final events! The Top 30 eligible NA drivers and the Top 30 eligible EU drivers in the Time Attack when the qualifier ends(July 11th) will move on to the final events on July 16th. The 30 EU drivers will compete for their share of €5,000 and the 30 NA drivers will compete for their share of $5,000!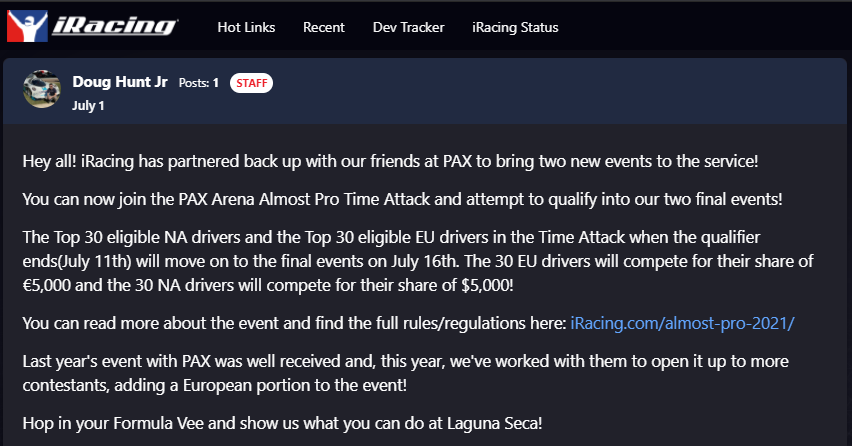 https://forums.iracing.com/discussion/3070/pax-arena-almost-pro-5-000-5-000-events
---
---
24hr Le Mans Questions
There were a few questions in the forums regarding the 24Hour race at Sarthe this weekend and Andy Saunders replied with the answers,
There are three session times.
2021-07-10 7:00 UTC (Saturday)
2021-07-10 18:00 UTC (Saturday)
2021-07-11 14:00 UTC (Sunday)
Registration will open either 30 or 60 minutes prior to each session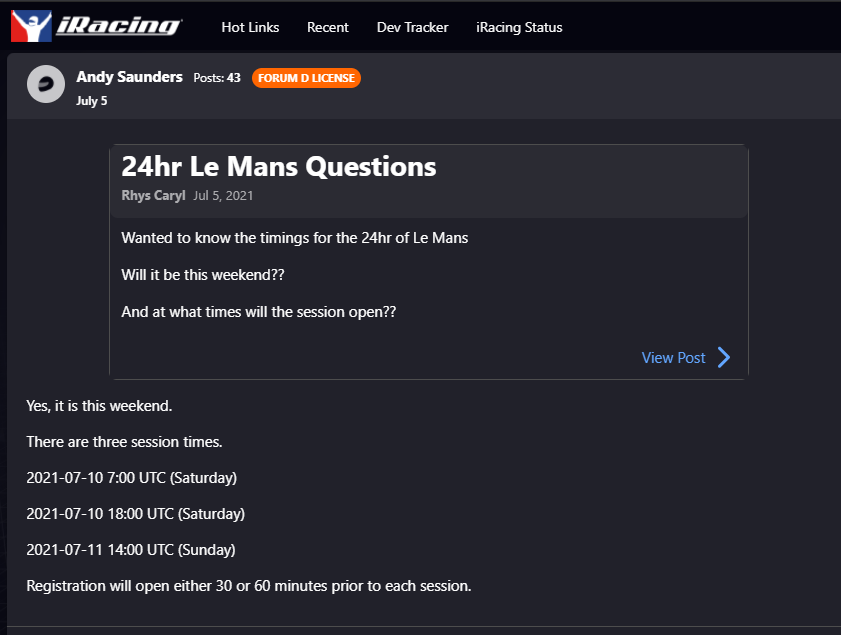 https://forums.iracing.com/discussion/3338/24hr-le-mans-questions
---
---
International NASCAR
Argentinian driver Leonel Pernia takes the win in Wednesday's Nascar International series finale race at The Daytona Road with a late-race pass over Mexican racer Victor Barrales Jr.
https://twitter.com/evanposocco/status/1412917455681318913?s=11
https://traxion.gg/enascar-international-pernia-takes-victory-in-series-finale/
---
---
Remove ghosting in Pitlane
Robert Crisdale pleaded his case on the forums asking, "Can we please get rid of ghosting in pitlane where everyone drives thru everyone – why do we need it? So what if there's 55 cars in server …that's part of the strategy of racing and keeps this SIM like real life."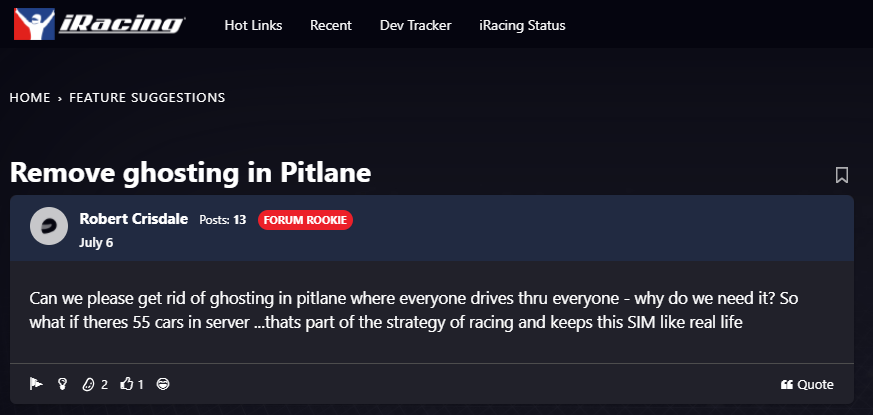 https://forums.iracing.com/discussion/3483/remove-ghosting-in-pitlane
---
---
Who Follow's Who
Dylan Connolly posted an all encompassing graph on Twitter showing which Coke Series Drivers follow whom on social media.
https://twitter.com/dconn24/status/1412991487864975362?s=11
---
---
Pollard 2 Pollard
Former NFL Player and new Nascar Fan, Nascar Ambassador and iRacer, Bernard Pollard has a new podcast show called 'Pollard 2 Pollard'.
https://www.youtube.com/watch?v=j2eM3epcKZ4
…And watch out. Mr Pollard has started figuring out his force feedback setting to the point that his car control is getting substantially better.
https://twitter.com/crushboy31/status/1413212751921655813?s=11
---
---
Podcast Housekeeping
Aftermath Podcast – Get it!
New Website – Leave Comments https://www.iracerslounge.com/
You've heard us talk about the Spotlights. Those of us that have them here at iRacers Lounge absolutely love them. So much, we have become an affiliate! With the roll out of their new Spotlights Pro. Here's your chance to check them out, you won't be disappointed. Enter coupon code: IRACERSLOUNGE for 10% off!!
https://www.facebook.com/1565571990374134/posts/2832513123680008/?d=n
---
We are in the regular rotation… (Mike)
https://performancemotorsportsnetwork.com/
"OK TONY LETS TALK FANTASY…."
---
Fantasy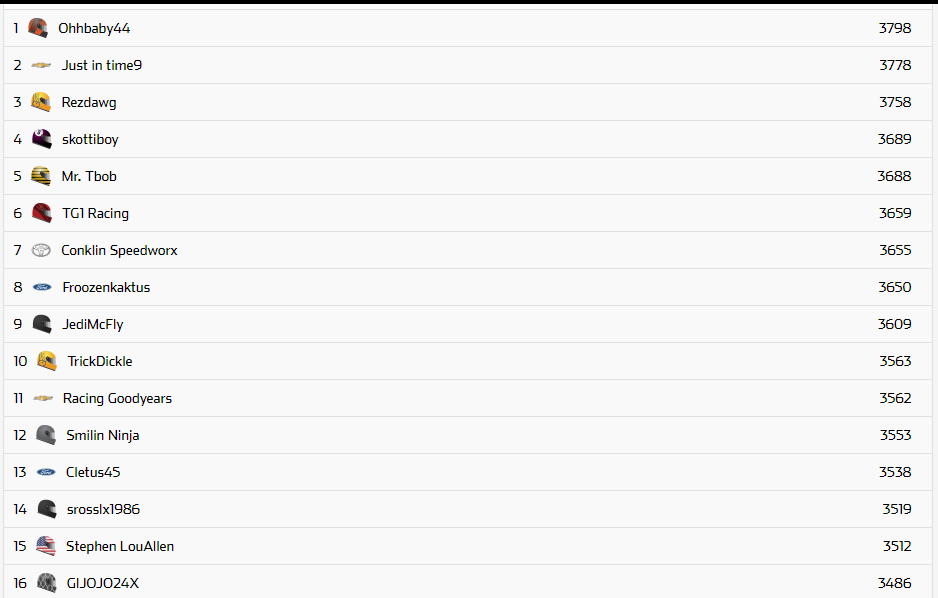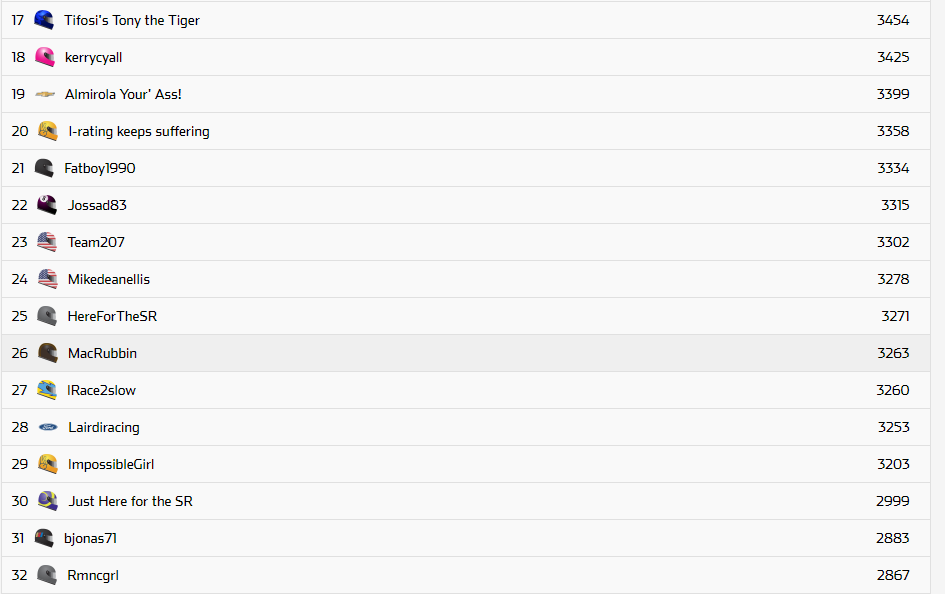 ---
---
Hardware/Software
---
6DOF Motion Platform
Nisch posted on his Youtube Channel his latest 6DOF motion platform running No Limits 2 Roller Coaster Simulator.
https://www.youtube.com/watch?v=_erBzthv3Wk
---
---
Rig Review
Williams F1 driver George Russell shows off on his Instagram Page his Simlabs P1-X setup.
https://www.instagram.com/p/CQ1Vqa_tnAq/?utm_medium=share_sheet
---
---
Luso Motors Formula Rig RCC
Luso Motors unveiled the new Formula RIG RCC which is the base model for a new line of products that will be for sale in about two months time. This particular setup is sold complete with seat and sliding structure and padded headrest. The RIG can be purchased with or without the monitor support. A three monitor support will be available too. The structure is made using 80×40 aluminum profiles bolted to aluminum sub structures, becoming a very rigid and structural sound design. This design is original with the ergonomically thought layout and uses our RCC-MK8-XL seat. The package is in pre-sale starting now, for a special and introductory price of 659 euros, (or 759 euros including the monitor support ). Prices do not include VAT or transport. First units will be available to be sent starting at the first days of September. These special prices are valid for two months. After that, prices will start at 999 euros (plus VAT). Benefit from an early purchase, saving a direct 340 euros or more. You can contact lusomotors@lusomotors.com for details.
https://www.instagram.com/p/CQ6b0n4tOAK/?utm_medium=share_sheet
---
---
Simagic P2000 Pedals Available
The Simagic P200 Pedals are now available for pre-order at Sim Motion. For all Pre-Orders, you can get 5% off by using the promo code P2000!! Place your order here at https://us.sim-motion.com/collections/simagic-pedals!
https://forums.iracing.com/discussion/3144/simagic-p2000-pedals-available-for-pre-order-now-sim-motion
---
---
Adaptive Adjustments
David Tucker Postsed in the forums that he put in a new hidden [Adaptive] section in the app.ini file for us to use as a way to experiment with iRacing to hopefully make it better for everyone here. The first item I put in is the ability to change the color of the racing lines.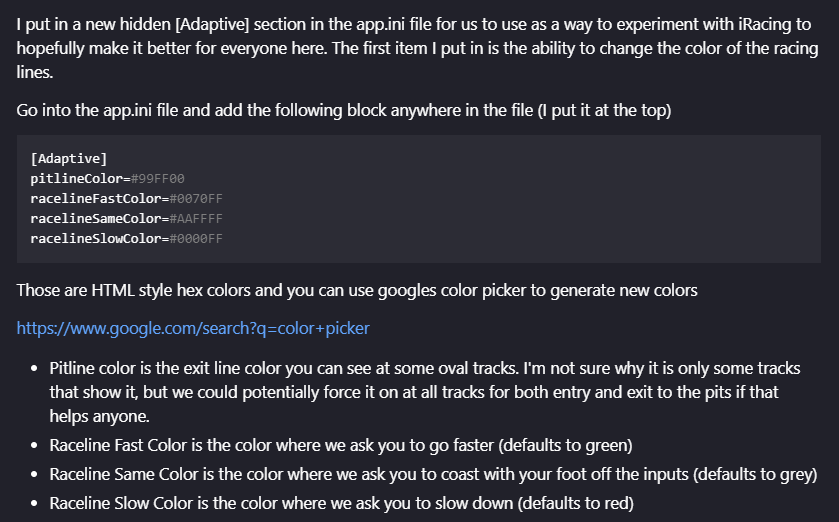 https://forums.iracing.com/discussion/2145/adaptive-adjustments
---
---
Ignition Controls
Ignition Control Original SANWA Arcade Buttons are Light, precise, super quick and fun to use! I comes with six Rotary Encoders with a total of 32 inputs retailing for $225.95.
https://www.ignitioncontrols.com/PC-Button-Box-Controller-p/0075.htm
---
---
DSD Mini Max
Derek Spears Designs offers their new Mini Max Button Controller that comes with 5 Push Buttons, 4 Two-Way Rotary Encoders, 5 Two-Way Momentary Toggles; USB connection on side of device for the price of $119.75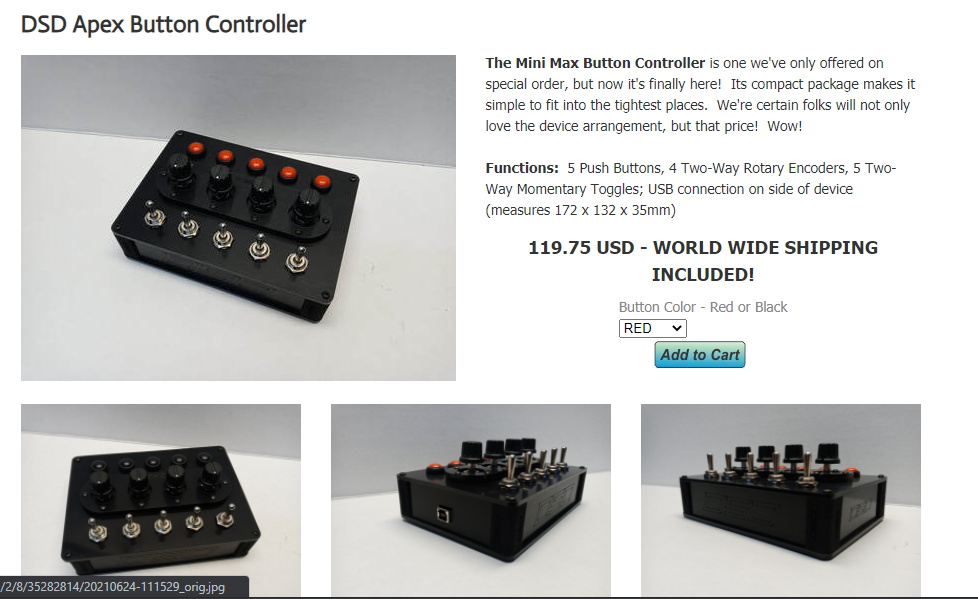 ---
---
Windows 11
With the upcoming release of Widows 11, many in the community have questions. Will Sutton Postsed in ther forums that he's, "going to put it on my other PC as Insiders Club Member in about 6 – 8 weeks ( translation: guinea pigs). Its going to be a free upgrade and the big main thing will be 'How does it play with iRacing?'"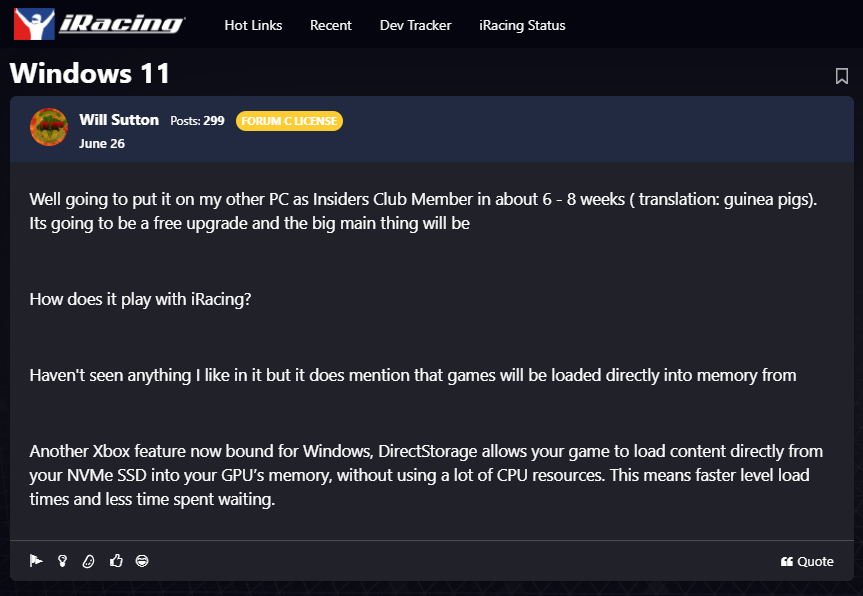 https://forums.iracing.com/discussion/2574/windows-11
Pawel Kusmierek Posted on the forums that he has the Insiders Preview pushed 11 on his computer. and that," iRacing-wise, I see no difference really. I tried to turn on the WMR option which starts WM for Steam whenever WMR Portal starts, but it screwed things up. But in game I noticed no change so far, for better or for wors.".
https://forums.iracing.com/discussion/2574/windows-11/p3
---
---
Gyro View
Robert Valley posted in the forums that he watched a YouTube video that basically said his driving view settings were all wrong. Our own Mike Ellis replied with his setting for Robert to try saying that he runs an unconventional view, with triples, I call it the gyro view.
Roll=0
Pitch=0
NeckMotion=25
Rotate w vel=100
Try it! I think it allows you to see the chassis movements visually as your view is locked to horizon and the chassis is moving under you, visually…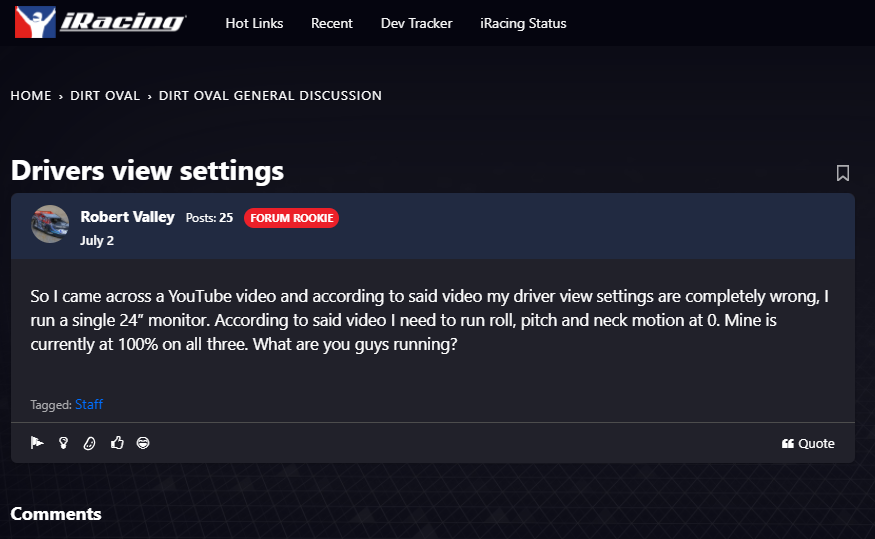 https://forums.iracing.com/discussion/comment/22935/#Comment_22935
---
---
Rig Review
Mike McCormick posted a pic of his newly upgraded rig in his new house
https://forums.iracing.com/discussion/comment/12266/#Comment_12266
---
---
Results
NASCAR iRacing Series
Fri open: RA
Ellis –  p9 – qualified p5 and lots of issues one guy doored me to the wall hard had 1 minute damage – was 13th going into stops was 7th coming out – had lots of self spins and drive thru for 17x, but I will take a top ten on a road course hell ya!!!
Greg – Pwrecked
Hall = P mistakes
Sunday Open

Hall – p wrecked my self out spinning under braking
Race: Hotlanta
Wed Open:

Hall -p 22,  lost the coin toss on cautions.  Great long run set, went for 1 stop strat, caution came in the 10 lap window that I was down a lap.  Had to start 28th with 8 lap older tires.  Passed all the other guys on old tires and even caught some guys with newer tires to crawl to 22nd.  Racing was really clean with just one self spin.
Kyle – P-19 Started P-13 and snuck my way to the top 5. Lap 33 i took the lead on a restart and held the lead for 53 laps. Pitted with a +4.0 Second lead. After pit cycle I was working my way back up the field and got taken out by a lap down car who bounced off turn 1 wall and that set me back 10 laps. Got a wave around and a lucky dog and was able to squeak out a P-19.
Ellis – p24 – wrecked on my own about halfway – 1 minute 30 damage – never recovered – self spun a few times….
Rochette – P9

Greg – Pwrecked from 7th with 2 to go
Thurs Open  

Hall – p 12, caught in the big one.  Engine damage, but still good speed and a lot of dead cars.
---
---
Official Series
---
---
League / Hosted Races
OBRL iRLP Aftermath Truck Series

? Congratulations josh Robinson #23 in the Miata Team Winning The Aftermath Podcast Truck Series Race at the Atlanta Motor Speedway
Steve Thomson #67 In the Ride TV Toyota Finished 2nd
Andrew Hess in the 54 Hess Gas Chevy Finished 3rd
---
---
Final Thoughts
---
---
---
Words Spoken in Closing Audio Clip -""Thank you for listening to the iRacers Lounge podcast make sure to go subscribe to us on iTunes, SoundCloud, or Google Play, Facebook & Twitter, See You On The Track ."
TITLE IDEAS
RIP Atlanta
.
.
Description
On the show this week, we'll discuss what coming new to Atlanta Motor Speedway, and what's been announced with iRacing's involvement. We'll cover the series finale of the eNascar International Series and in topics we'll ask how the new Windows 11 might effect iRacing and it's peripherals So strap in and try to keep up with us on the iRacers Lounge Podcast. 
iRacers Lounge Podcast is available on iTunes and Apple's Podcasts app, Stitcher, TuneIn, Google Play Music, Spotify, Soundcloud, Podbean, Spreaker, Podbay, PodFanatic, Overcast, Amazon, and other podcast players.
Sponsors:
www.grid-finder.com
Hosts:
Mike Ellis – twitter.com/MikeDeanEllis
Tony Groves – www.twitch.tv/SirGroves
Chris Scales – twitter.com/JediMcfly
David Hall – www.twitch.tv/mixmage
Greg Hecktus – twitter.com/froozenkaktus – www.twitch.tv/froozenkaktus
Tony Rochette – twitter.com/TonyRochette
Adam Josselyn- twitter.com/Jossad83
Brian Maccubbin – www.twitch.tv/MacRubbinsRacin
Tom Dreiling –
Kyle Pendygraft – twitter.com/LoudPedalGaming
Links:
Old Show Notes – bit.ly/2CFeArM
Facebook – www.facebook.com/iRacersLounge/
Twitter – twitter.com/iracerslounge
Instagram – instagram.com/iracersloungepodcast/
Web (New Show Notes) – iracerslounge.com/