10/14/2021 – Coke Cup Cunuck – Episode 0301
iRacers Lounge Podcast – Conversation Topics
Brought to you by:

Opening Audio Clip -"Your listening to the iRacers Lounge Podcast where we discuss everything iRacing, in a casual setting, enjoy."`
READ THIS AT THE TOP OF EACH SHOW!!!
Welcome to the iRacer's Lounge, I am your host "XXX". iRacer's Lounge is a podcast for the iRacer, where we talk all things iRacing in a casual setting.
Joining me are the usual characters, ————
---
---
Introduction
On today's show we'll cover the crowning of a new iRacing Nascar Coke Series Champion with the voice of eNascar Evan Posocco as we recap the final race of the season at Texas Motor Speedway. I continue with more talk and pics of my fantasy cockpit build, plus lots more great topics.
And remember you can follow along with us on your PC or mobile device in real time as you listen to the show and see for yourself all of the great topics and products we'll discuss by visiting iracerslounge.com and selecting show notes. Hope to see you there..
---
---
TITLE SPONSOR READ:
Grid Finder 2.0 is bigger and better than ever with more ways to narrow your search for your next sim racing league. Featuring over 1000 leagues from over 25 racing sims across every platform, Your place on the grid is just a couple clicks away.
Visit www.grid-finder.com to find a league, or to upload your own!
Grid Finder – "The home of online sim racing leagues"
---
---
Topics
---
---
Coke Race – Finale at Texas
Bobby ""If I'm side-by-side with Clampitt, and one of his teammates is in third, he's going to push him by me. That's a scenario, or I could have one of my friends behind me and they could push me by for the championship. It's kind of like a mix between your typical intermediate and Daytona…."
https://traxion.gg/inside-the-minds-of-the-enascar-coca-cola-iracing-series-championship-4/
@MitchelldeJong1 takes the pole with a 28.899 second lap time.
@KeeganLeahy will start alongside.@bobbyzalenski will start 9th and
@LoganClampitt_ is 31st.
The virtual engines have been fired at the virtual @TXMotorSpeedway
courtesy of a command from @DaleJr!
https://twitter.com/NASCAR/status/1448093024295301121
Seven laps on the board. They've all been led by @MitchelldeJong1
Like a hot knife through butter, @LoganClampitt_ is cutting through the field, up 10 spots after 12 laps, currently P21.
Meanwhile, @bobbyzalenski is sitting tight in seventh after 17 laps. He's up only two spots since the start.
LAP 25: @GarrettLowe_6, who entered 13-points above the relegation line, runs 40th, 6 laps down. Not sure what happened to him, but that might push him into relegation for the off-season. Connection issues for Lowe.
@MitchelldeJong1 has still led them all. @KeeganLeahy is lurking.

Here comes @BowlinGraham!He's sizzlin' as he moves to the bumper of the No. 32 for 2nd place.
LAP 43: All of the @eNASCARCocaCola #iRacing Series Championship 4 drivers are now inside the top-10.
Move @LoganClampitt_ into eighth and around @bobbyzalenski for third in the championship as they run.
LAP 57: @bobbyzalenski and others pit.
LAP 58: @MitchelldeJong1 and @KeeganLeahy pit.
LAP 59: @LoganClampitt_ pits.
https://twitter.com/iRacing/status/1448103348746469382
LAP 68: @MitchelldeJong1 has cycled back to the lead.
This is the closest these two have been all race for the lead. A few lapped cars on slightly fresher tires went and took their laps back, allowing Leahy to close in
@LoganClampitt_ is the fastest man on the track, now in the Top 5 at lap 88.
LAP 94: NEW LEADER, @KeeganLeahy
54 to go: @LoganClampitt_ pits.
53 to go: @MitchelldeJong1 pits.
51 to go: @bobbyzalenski pits.
https://twitter.com/iRacing/status/1448110791639642119
41 to go: @lyonschoice crashes on pit road.
Move @LoganClampitt_ around @swilson3_ and effectively into second.Now he will try and chase down @KeeganLeahy with 40 laps to go.
38 to go: @LoganClampitt_ has closed the gap to @KeeganLeahy down to just under 2 seconds.
32 laps to go.@KeeganLeahy leads by 1.5 seconds over @LoganClampitt_
29 to go: @GarrettLowe_6 is TIED with @JakeNichols73 for the final stop to avoid relegation. And I believe Nichols has the tiebreaker.
https://twitter.com/iRacing/status/1448114454474985474
Just over 20 laps to go.@KeeganLeahy has half a second over @LoganClampitt_. Clamp has CAUGHT Keeg all on green flag racing. What a RUN!
17 laps to go… was @KeeganLeahy saving a little for the end while @LoganClampitt_ had to push to get there? Does Clamp have anything left in the tank?
As the field catches the leaders, @KeeganLeahy is starting to pull away… and look who is back in the conversation! @MitchelldeJong1 he here! FIVE LAPS TO GO!
THE NEW CHAMPION! @KeeganLeahy WINS THE 2021 #eNASCAR Coca-Cola @iRacing Series CHAMPIONSHIP!!!
https://twitter.com/XfinityRacing/status/1448117851588423680
https://twitter.com/NASCAR/status/1448117241816522754
@rayalfalla made the climb from outside to move inside the Top 20, but it was at the expense of Garrett Lowe, who had connection issues early.
---
---
Roval Changes Coming?
NASCAR will remove six sets of six yellow and black rumble strips from the Charlotte Motor Speedway Roval layout ahead of Sunday's NASCAR Cup Series Bank of America ROVAL 400 after consulting with drivers and Charlotte Motor Speedway.
Details: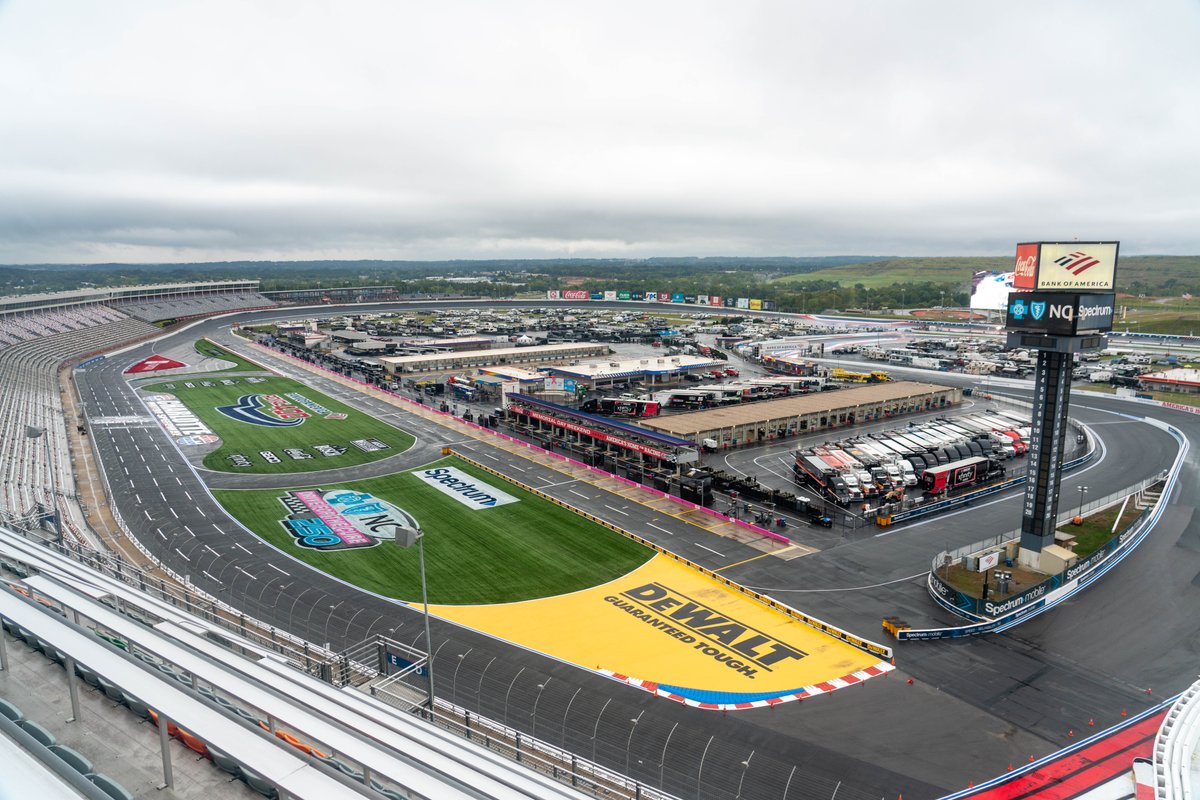 ---
---
IRX World Championship
Jon Robertson takes the win in round 3 of the IRX World Championship at Iowa ahead a stellar field of Porsche, Coke and Sprint Car drivers.
https://twitter.com/apexracingteam/status/1446555752903102466?s=11
---
---
5 Ways To Avoid Sim Racing Burnout
Chris Haye from Chris Haye Sim Racing put out a video on his You Tube Channel with 5 different ways to avoid sim racing burnout
https://www.youtube.com/watch?v=2twMJmjE6K0
---
---
Force Dynamics Dallara Grand Prix Highlights | Monza
Peter Berryman took the checkered flag on week 3 of the Force Dynamics Dallara Grand Prix at at Monza/Interlagos, a race in which he claimed sole possession of the points lead.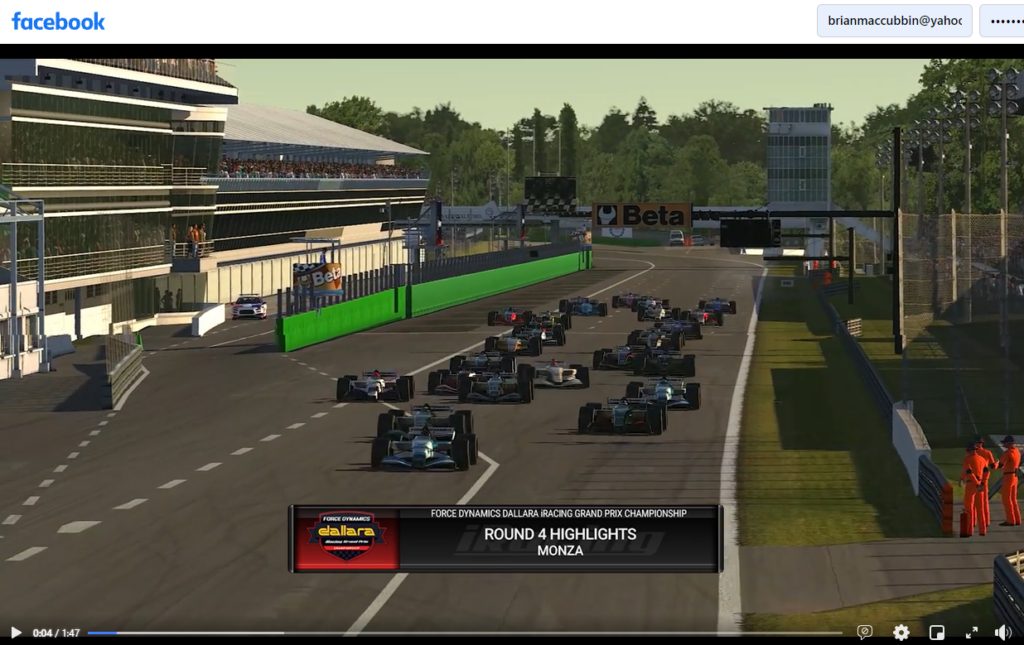 https://www.facebook.com/watch/?v=603825237643519&extid=NS-UNK-UNK-UNK-IOS_GK0T-GK1C
---
---
Steering Wheel Whoes
The Street Stoch cars have been having a glitch where everyone's steering wheel pops thryu the roof of the car. Our own Mike Ellis has witnessed the annomoly.
---
---
iRacing Top 10 September 2021 – Best of the Rest
iRacing added the 10 'Best of the Rest' of September to add to their usual top ten,
https://www.youtube.com/watch?v=DBEkZqUKd6I
---
---
Brazil's Stock Car Pro Series Cars Coming to iRacing in 2022
iRacing is pleased to reveal an agreement with Brazil's Stock Car Pro Series to produce its vehicles in the coming months. The Stock Car Pro Series Chevrolet Cruze and Toyota Corolla are planned for release on the service during a 2022 build.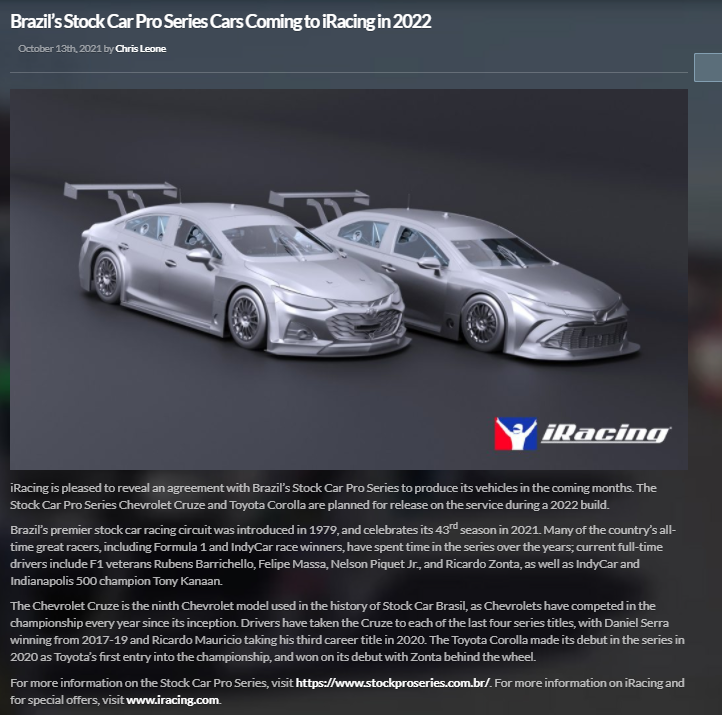 https://twitter.com/iracing/status/1448382591703425024?s=11
https://www.iracing.com/brazils-stock-car-pro-series-cars-coming-to-iracing-in-2022/
---
---
2021 Season 4 Patch 2 Hotfix 1 Release Notes
Alex Gustafson posted the notes in the forums for Hotfix 1, Patch 2 for the 2021 season 4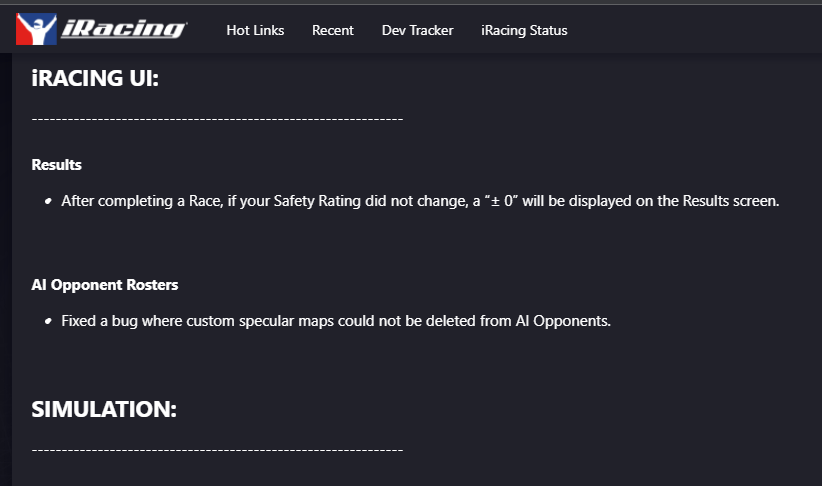 https://forums.iracing.com/discussion/10007/2021-season-4-patch-2-hotfix-1-release-notes-2021-10-08-01
---
---
Red Bull Ring Masters
Red Bull Ring Masters is looking for Canada's fastest sim racer.
https://twitter.com/redbullcanada/status/1448318310370717696?s=11
https://www.redbull.com/ca-en/events/ring-masters-canada
---
---
Cup of Nations [Mike]
https://twitter.com/iRacing/status/1447547651440971778
---
---
iRacing Presents the Suzuka 10 Hours
The details of the iRacing 10 Hours of Suzuka iRacing Special Event has been posted in the forums.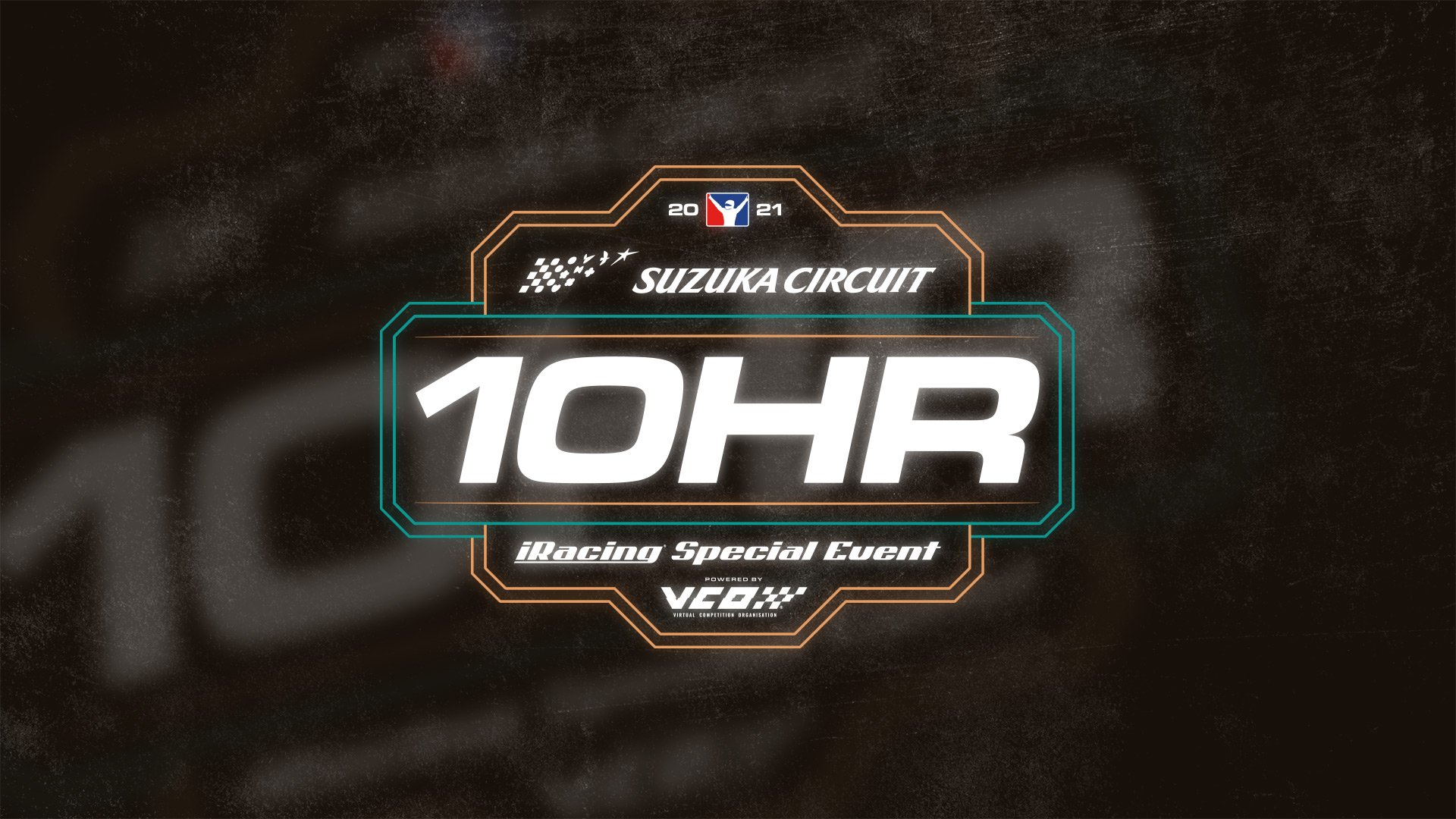 The Suzuka 10 Hours is the oldest automobile race in Japan dating back to 1966. This annual event is held at the Suzuka International Racing Course, Mie Prefecture, Japan. Formerly a 1000km event, it changed to a 10 hour event in 2018.
Date: November 5-7
Timeslot #1 – Friday 22:00 GMT
Timeslot #2 – Saturday 07:00 GMT
Timeslot #3 – Saturday 12:00 GMT
Timeslot #4 – Saturday 16:00 GMT
Track: Suzuka International Racing Course
License – D 4.0 Road
Sim Date (Time of Day Setting): August 22nd, 2021
Sim Start Time (Time of Day Setting): 9:20 AM
Session
Warmup: 30 Minutes
Qualifying: 8 min/ 2 laps
Race: 10 Hours
Weather: Dynamic
Sky: Dynamic
Qualifying: Attached
Splits By: iRating
Team Event: Yes (minimum 2 drivers and maximum 16)
Stop and Go Limit: 40 incs and every 20 after
DQ Limit: None
Field Size : 45
Cars
GT3's
Audi R8 LMS
BMW M4 GT3
Ferrari 488 GT3 Evo 2020
Ford GT GT3
Lamborghini Huracán GT3 EVO
McLaren MP4-12C GT3
Mercedes AMG GT3
Porsche 911 GT3 R
---
---
60+ Racing Adventures – Season 20 Info & Results
The 60+ Racing adventures league is looking for serious sim drivers 60 years young and over for their 20th season in the league formed in 2016.
https://forums.iracing.com/discussion/9627/%F0%9F%9F%A2%F0%9F%9F%A2%F0%9F%9F%A2%F0%9F%9F%A2-60-racing-adventures-season-20-info-results
---
---
---
Podcast Housekeeping
Aftermath Podcast – Get it!
New Website – Leave Comments https://www.iracerslounge.com/
---
We are in the regular rotation… (Mike)
https://performancemotorsportsnetwork.com/
Fantasy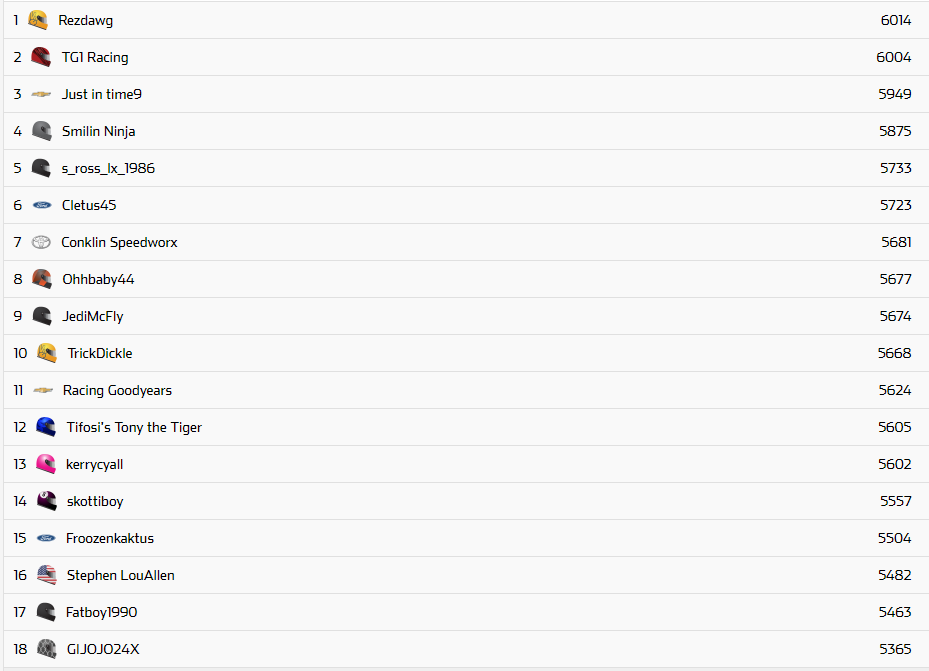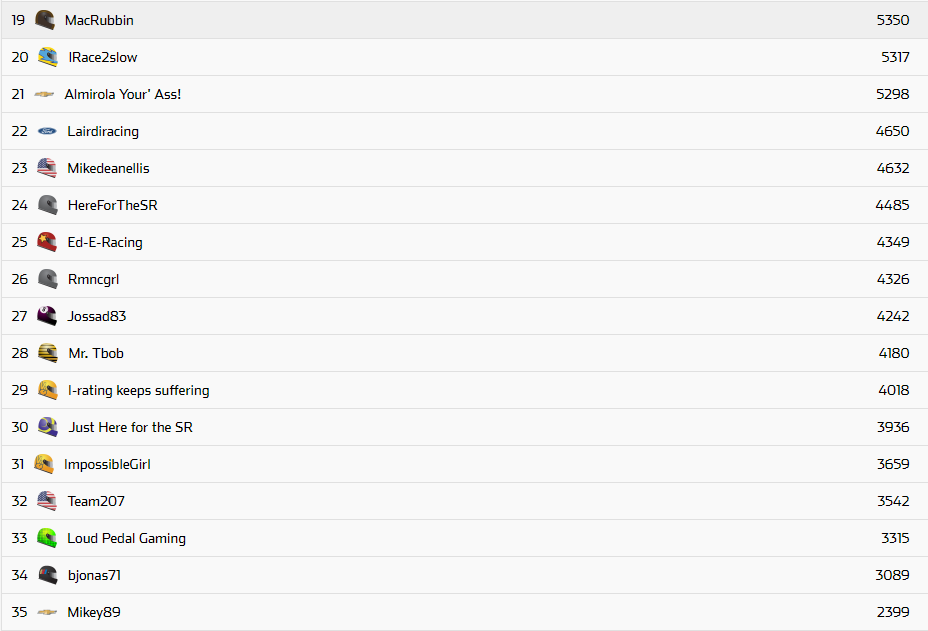 Charlotte Roval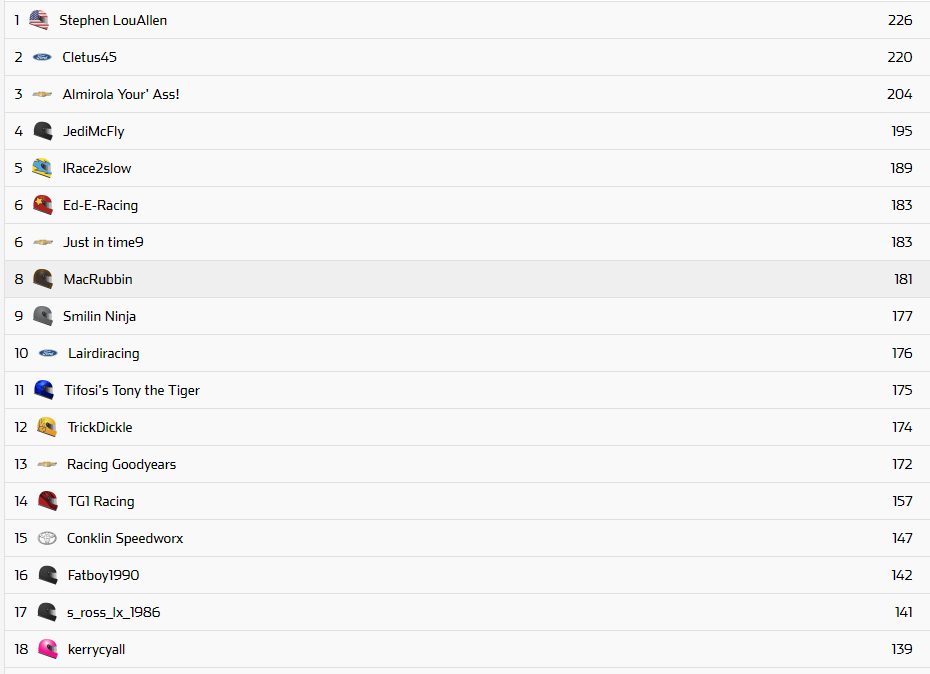 ---
---
Hardware/Software
---
---
The HeMy New Cockpit Build Thread – The iRacers Lounge Edition
Well today's focus would be the pedal system mounting.
I really struggled with getting the old mounts off the stainless steel rod. There's a little bit of rust and slight imperfections and one side was really really stuck. I ended up putting the stainless rod into the vice put my feet on it and yanked like crazy until it came off.
now to get the new mounts on we're just as hard. I managed to get three of the four on eventually but the fourth one just won't go onto the rod. I even took a drill to it to try to open it up a little bit and I was getting close to getting it on but made the fatal mistake of shoving a screwdriver through the screw hole to help twist it and it broke it.
Made a trip to Ace Hardware to see if they have one of course they do not.
so I placed another McMaster order, ugh.
So I got the shifter and mouse pad mounted very easily. Rock solid too.
Now moving on to the integrated triple monitor mount. Right off the bat I'm concerned it's too close to the wheel to have my cell phone a top it. So I put the uprights on the far two slots.
Then the vario VESA adapters. These come in 1 million pieces and initially was daunting to try to figure out I sorted the pieces in the different piles before I figured out how to do it.
So got the xero play triple pivot adapters installed. Vero vesa adapters are just awesome. It's a really neat design that allows you to really dial in the alignment of the monitors. Money well spent for sure.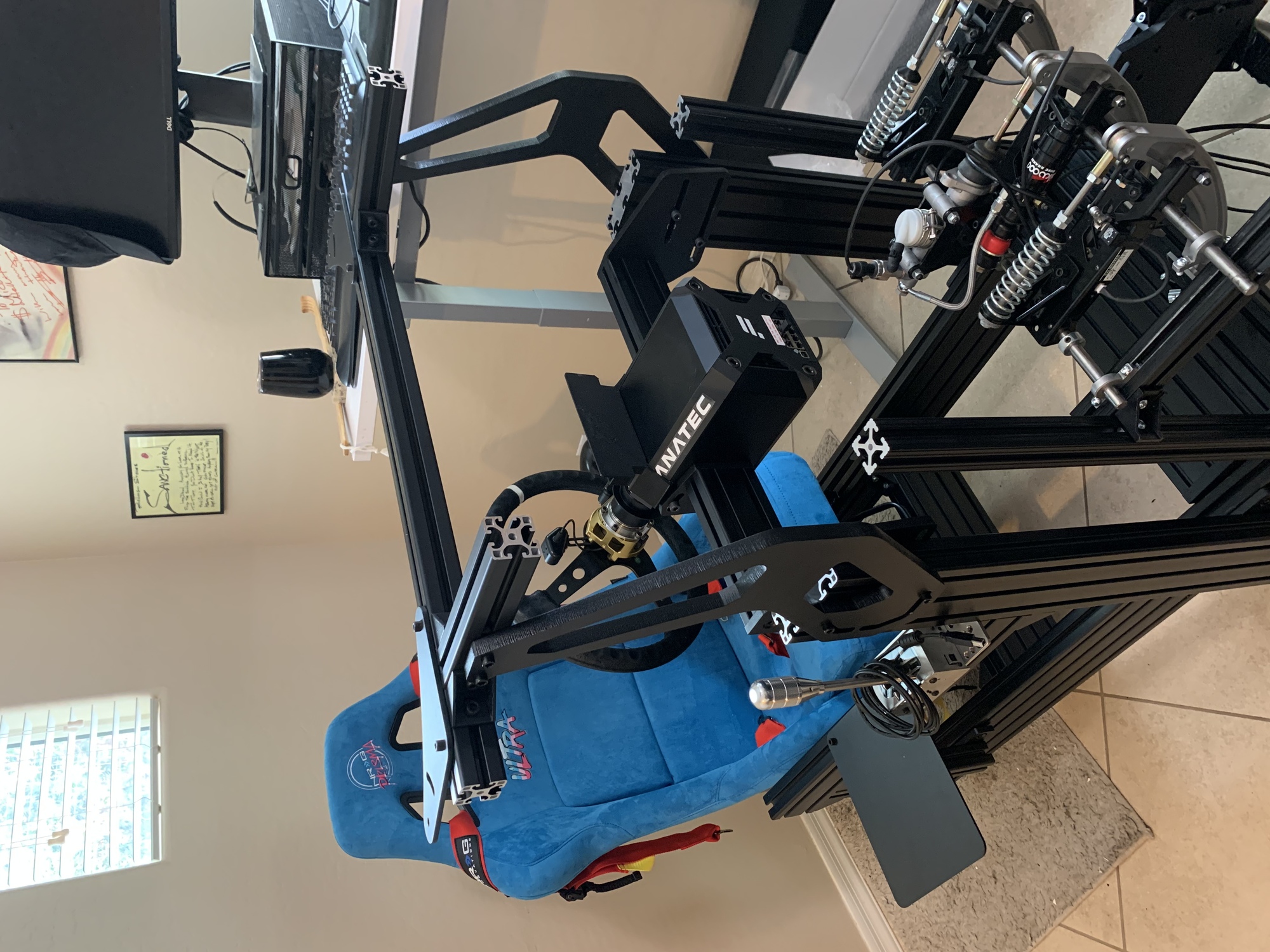 So another day off today as I dig into trying to finish it up. The emergency button I used zip ties and put it below the mouse pad.
Headphone hook is under the keyboard, and power supply on the outside bottom lower left.
Then the pedals. I got the replacement part that I broke yesterday, I didn't even try to put it on I put it in the vise and drilled it out a bit of course it wasn't that easy I had to drill it out more than I thought and I went back-and-forth maybe five or six times before I was able to get it on.
Finally the couplers three of the four went on I had to drill out one of them again it took me about 10 different tries before I got it open enough to take that rod.
Then the awesome computer tray from advanced Sim racing.
This worked for me because I didn't bolt them on the regular uprights I put them on the uprights that I extended above the custom pedal mount I went 2 feet up instead of one on two of the sides…
Then I mounted the Altec Lansing speakers and the Philips hue light strip using zip ties…
Then I went about removing the old cockpit and doing cleanup that hasn't been done in 7+ years. It was too hard to move so it didn't.
Then after cleanup I created what I call a network station with my network hub and my Philips Hue Gateway. I then got a metal hook with zip tied three cables for strain relief power network and audio. These coil together and make a snake running to the rig. There's also a strain relief Velcro hook at the computer… this makes it easy to unplug the entire thing with three plugs coil the snake away and I can roll it around the room easily…
Wiring is complete except for the new power strip I put an old one in there for now.
Next up we're gonna do a spot check and turn everything on and see how it works before doing cable cleanup.
I took the day off from work tomorrow to finish the project. Most of tomorrow will be fine tuning and adjustments. Cable cleanup. And really figuring out what to do with all the crap that I took out of my office I basically made a huge pile outside and a huge pile in the dining room. Likely that it'll just be shoved into boxes and put in the garage to deal with later since I'm so tired.
I still need to install the candy dish and figure out a place for my cell phone and a cup holder.
and I'm pretty sure I'm gonna get a front mounted to the motor button box sooner rather than later.
So today I worked on getting the alignment right I had to move the heel Plate up much higher and closer to the seat. I didn't move the entire pedals forward about 4 inches. Then the integrated monitor mount had a slight lean to it. So after considerable effort we got that straightened out. All wiring is in place except for the power strip I'm awaiting delivery of that next. Then cable cleanup.
I also spent a good part of the day with my wife's assistance cleaning the office out from top to bottom removing a lot of clutter as well they have a much more open space.
I also mounted the chocolate holder.
Then I installed the new power strip and did the cable clean up and did the fine-tuning of the alignment of the monitors.
first road test driving, the gearshift is too far away I could probably live with it but it needs to be 4 inches closer maybe five.
My son came over to help a bit and he took one look at it and said it's called the "Superman Sim"… The colors on the seat mostly blue with red and a touch of yellow….
So it's pretty much done I'm going to move the shifter, I got to put the end caps on, but this is it… with lights on. Going racing at some point tonight for sure.
My eyeball is dead center of the monitors top to bottom and left right. I can't tell you how much of a value it is to pay extra for those special vesa mounts. They made alignment a breeze.
I got the shifter moved. Ran some AI racing first.
And get volume level set nice and loud…
I then ran a Hosted Street stock at Southern national. And then a Hosted Daytona prototype at old Texas oval in the dark. And I won! First win in the new Superman cockpit!
This morning, hammered in the end caps either the rubber mallet. I am glad I bought that tool as it would've been really hard to do without it.
Spent about an hour cleaning up the Obutto revolution cockpit.
it's now officially for sale, you must pick up, 500 bucks. Gilbert AZ. Please someone come get it…
I did place an order today for the ignition controls button box, which will be the final piece of the puzzle. That will conclude the project and so far so good it's quite comfortable but will still take some getting used to.
Lessons learned: Went over budget a lot. Lol. I use to be a project manager so I am trained professionally to not do that but, oh well it's only money. My point of reconcile is when I decided I to not worry about the cost I am finishing the project regardless, I only want to do it once, so buy the best you can get.
Wheels. This simple add-on is my favorite feature. I can unhook the snake and sit and spin it in circles. It is so cool that it is self contained and easily movable.
Seat and Belts. Yeah it's a bit over the top with a stationary rig, but it works well and I think will actually improve my driving. It also gives it color against the black framing which makes it pop.
Phillips Hue strip. The pics and ambiance speak for itself.
---
---
The Heusinkveld Engineering Sim Rig GT
Heusinkveld is entering the sim rig market with a 80/20 sim rig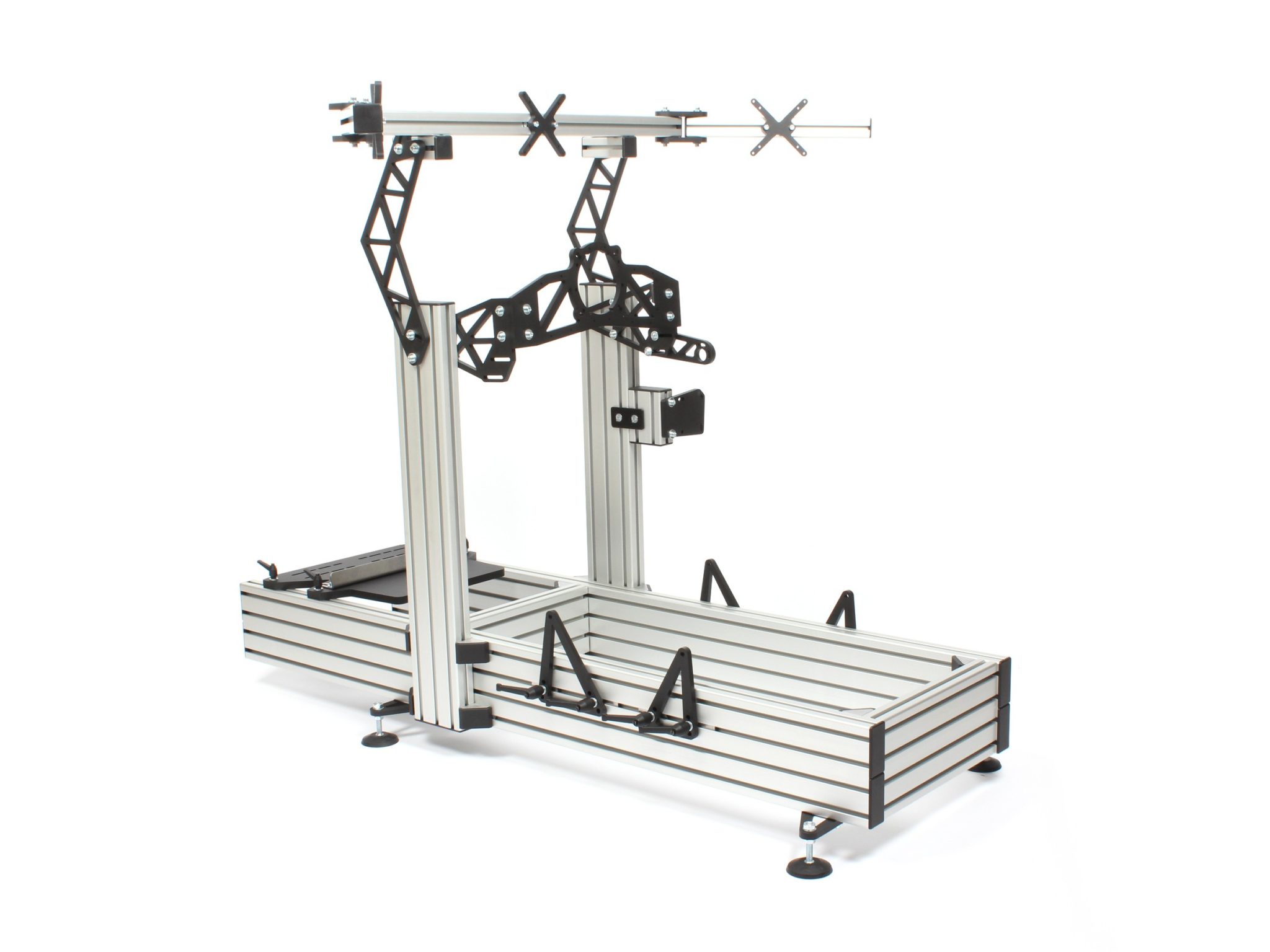 https://heusinkveld.com/shop/sim-rigs/sim-rig-gt/
https://www.youtube.com/watch?v=4JbO3Z2JDso
---
---
Install & First Drive with D-Box Motion in my Sim Rig!
Will Ford at Boosted Media reviews the D-Box Motion system on his rig.
https://www.youtube.com/watch?v=5pWOaGsWXnA
---
---
FORMULA POSTURE RIG
ConsPit introduces their near horizontal Formula Posture Rig
http://conspit.com/info/cfp.html
---
---
Sim Racing Studio Hurricane Wind Sim Review
Karl Gosling reviews on his YouTube channel the Sim Racing Studio Hurricane Wind Simulator
https://www.youtube.com/watch?v=6hOi4sxHGJI
https://www.simracingstudio.com/product-page/srs-hurricane-power-wind-package
---
---
Grid Engineering Ferrari 488 GE FGT3
Grid Engineering offers a Ferrari 488 GE FGT3 formula wheel rim
https://www.instagram.com/p/CUpJtCrNI4z/?utm_medium=share_sheet
---
---
iMarshal
iMarshal is an iracing app for IOS that lets you manage and view your iRacing career.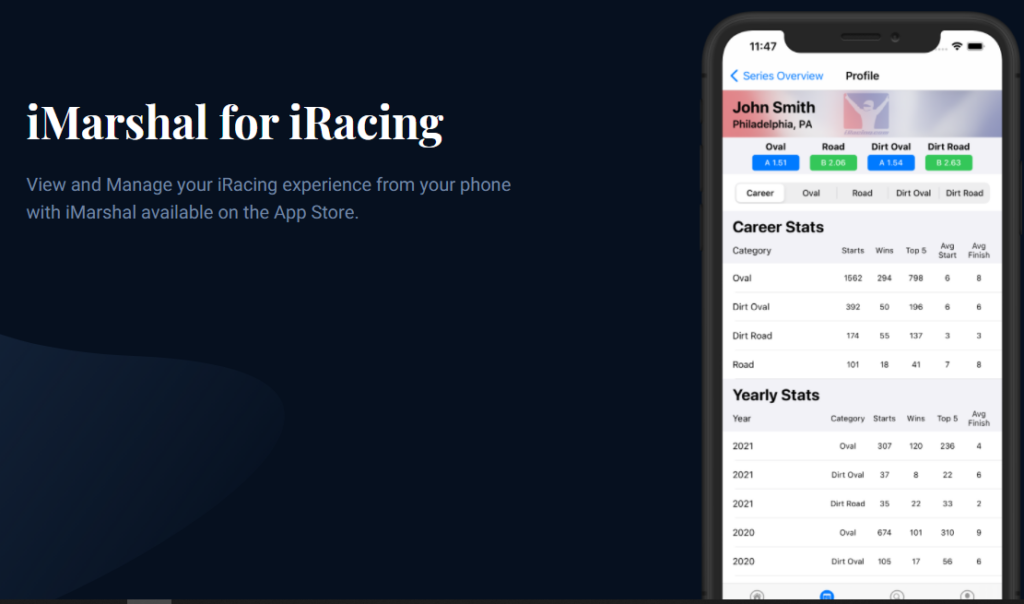 https://apps.apple.com/us/app/imarshal/id1545837350
---
---
CSL DD vs DD1
Random Callsign posted a video on his You Tube channel a comparison between the CSL DD vs DD1 as to which one will be best for you.
---
---
Results
NASCAR iRacing Series
Roval
Sunday Open

Kyle – P. P5. started P14 and just worked my way up to to top 5 in the first 3 laps and then just held strong. Hit head on a couple of times into Turn 1 but didnt hurt it to bad. Fell 2 laps down but was able to race for a lap back on a 2 pit strategy. Came back and finished a strong P5.

Hall – p 13 couple of mistakes others made around me dinged the car up, but I don't think actually cost any positions.
Sunday fixed

Mike -p 14 – Started P 22 pretty uneventful race I did a two stopper I really chewed up the tires on the first run I got 16 X by the end of the race. But I'll take it my first official race back with new rig.

Kyle – P P3. Started outside pole. Lap 1 i slid into the back bus stop and hit another car and got spun down out of the groove and sat there for a bit for traffic to go by. Dropped back to P23 and just started working my way towards the front. Had a guy decide he was gonna try to beat me to the front bus stop and ended up basically T-boning me. But continued on and race my way to a P3 on a 1 stop strategy.
Wed Open:

Hall –p7 Stole a few spots in a GWC
Ellis – p6 – Got wrecked in a caution could not miss it – had a bit of damage and down on horsepower but not too bad -did 2 GF stops and cautions come out after both – really set me back both times, both times did a wave around, but I will take a p6…
Rochette P4 was good on the long run led 11 laps. Just not enough laps to get to that sweet sweet spot of Turn 1 and 2. 21st top 5 in all of NiS puts be 3rd on the list 5 more and il have 2nd in that spot
Rochette P10 had issues with spotlights not working so messed with that for the first few pit stops. Ended up making my self a little too tight for the final 30 laps
---
---
Official Series
Hosted –

Ellis – Street stock at Southern Nationals
DP at Texas in Dark – WIN!
Mazda Cup at Bristol
---
---
League / Hosted Races
FastTrack Sim Racing League –
David – p 10 was gonna be 7th and spun it on last lap
Mike – pHarvicked into t1 as I was watching Tony behind me comin – I was actually starting to sweat and immediately started thinking oh crap where will I mount a fan and boom into the wall. I wasnt doing too bad but 3 or 4 times I got ran over from behind. Got a drive thru but never had to come down. Then they wreck under caution and I plowed into that…
OBRL ARCA Series

Scales –
Groves-
Brian Indy P8 was running in the top 6 for the first green flag run. Yellow came out 5 laps later. Stayed out and most of the cars behind me got tires. Lost position to the new tire cars. Had a great three way battle for 6th.
OBRL Aftermath Truck Series
Dwayne McArthur #97 Wins The iRacers Lounge The Aftermath Podcast Nascar Truck Series at Texas MotorSpeedway
Steve Thomson #67
Josh Robinson #23
---
---
Final Thoughts
---
---
---
Words Spoken in Closing Audio Clip -""Thank you for listening to the iRacers Lounge podcast make sure to go subscribe to us on iTunes, SoundCloud, or Google Play, Facebook & Twitter, See You On The Track ."
TITLE IDEAS
Coke Cup Cunuck
.
.
Description
On today's show we'll cover the crowning of a new iRacing Nascar Coke Series Champion with the voice of eNascar Evan Posocco as we recap the final race of the season at Texas Motor Speedway. Mike continues with more talk and pics of his fantasy cockpit build, plus lots more great topics. So strap in and try to keep up with us on the iRacers Lounge Podcast.
iRacers Lounge Podcast is available on iTunes and Apple's Podcasts app, Stitcher, TuneIn, Google Play Music, Spotify, Soundcloud, Podbean, Spreaker, Podbay, PodFanatic, Overcast, Amazon, and other podcast players.
Sponsors:
www.grid-finder.com
Hosts:
Mike Ellis – twitter.com/MikeDeanEllis
Tony Groves – www.twitch.tv/SirGroves
Chris Scales – twitter.com/JediMcfly
David Hall – www.twitch.tv/mixmage
Greg Hecktus – twitter.com/froozenkaktus – www.twitch.tv/froozenkaktus
Tony Rochette – twitter.com/TonyRochette
Adam Josselyn- twitter.com/Jossad83
Brian Maccubbin – www.twitch.tv/MacRubbinsRacin
Tom Dreiling –
Kyle Pendygraft – twitter.com/LoudPedalGaming
Links:
Old Show Notes – bit.ly/2CFeArM
Facebook – www.facebook.com/iRacersLounge/
Twitter – twitter.com/iracerslounge
Instagram – instagram.com/iracersloungepodcast/
Web (New Show Notes) – iracerslounge.com/