10/21/2021 – The Last Starfighter
iRacers Lounge Podcast – Conversation Topics
Brought to you by:

Opening Audio Clip -"Your listening to the iRacers Lounge Podcast where we discuss everything iRacing, in a casual setting, enjoy."`
READ THIS AT THE TOP OF EACH SHOW!!!
Welcome to the iRacer's Lounge, I am your host "XXX". iRacer's Lounge is a podcast for the iRacer, where we talk all things iRacing in a casual setting.
Joining me are the usual characters, ————
---
---
Introduction
On todays show we'll take a behind the scene look at the Coanda drivers leading up to the Coke Series Championship race last week. iRacing hires a key new member to it's engineering team, and you can learn how to change your name…in iRacing that is.
And remember you can follow along with us on your PC or mobile device in real time as you listen to the show and see for yourself all of the great topics and products we'll discuss by visiting iracerslounge.com and selecting show notes. Hope to see you there..
---
---
TITLE SPONSOR READ:
Grid Finder 2.0 is bigger and better than ever with more ways to narrow your search for your next sim racing league. Featuring over 1000 leagues from over 25 racing sims across every platform, Your place on the grid is just a couple clicks away.
Visit www.grid-finder.com to find a league, or to upload your own!
Grid Finder – "The home of online sim racing leagues"
---
---
Topics
---
---
Coke Championship Round
Coanda Simsport posted on their YouTube channel a video with their drivers in the leadup to last week's championship race.
https://www.youtube.com/watch?v=c0Lv-9v47u4
---
---
The man behind rFactor
Race Sim Central announced on Twitter that Terence Groening, the man behind the PC physics for multiple racing games has joined iRacing. Race Sim Central also has an interview with the sim racing engineer on his history in gaming and him joining the iRacing team.
https://twitter.com/racesimcentral/status/1449040870360195074?s=11
https://racesimcentral.net/an-interview-with-terence-groening-master-of-physics/
---
---
Repair-a-Thon
E.J. O'Rourke posted what might be a record for required repairs.
https://twitter.com/ejorourke41/status/1448476541072052226?t=cPzht-15ZqsRY9FkL2gjUQ&s=07
---
---
Lyon Bows Out
Nathan Lyon announced on his Twitter that he will not return for the eNascar 2022 season.
---
https://twitter.com/lyonschoice/status/1448712191193108483?s=11
---
---
Force Dynamics Dallara iRacing Grand Prix Championships
Martin van Loozenoord takes the win for the 2nd week in a row and third time this season in the Force Dynamics Dallara iRacing Grand Prix Championship round 5 at Silverstone. iRacing posted a video highlight on their Twitter page of the intense battle for the lead with 5 laps to go.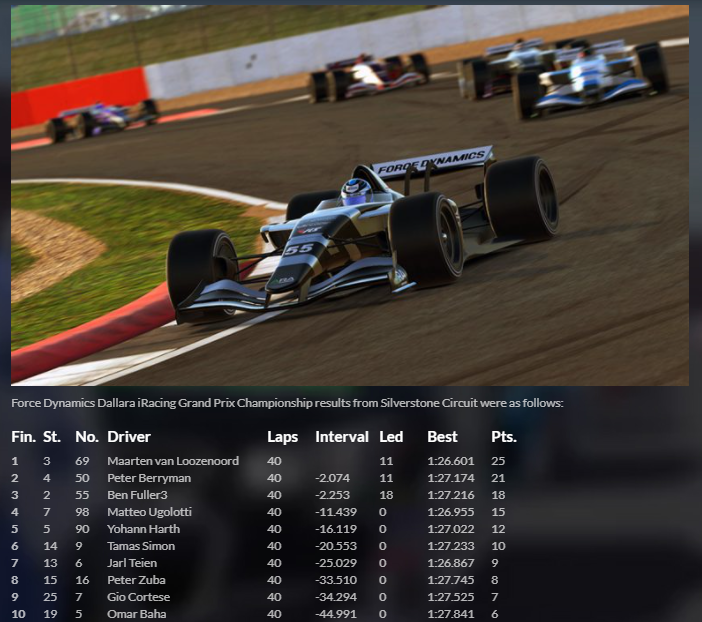 https://twitter.com/iracing/status/1449017221871767555?s=11
---
---
Meyers and Mercedes
Steve Myers posted on Twitter how he's impressed with the effort Mercedes is putting into developing the W12.
https://twitter.com/iracingmyers/status/1449386601960853509?s=11
---
---
Racing Line Slows You Down?
Git Gud posted on his YouTube channel an explanation of how the iRacing racing line can actually slow you down when it come s to gaining speed on the track.
https://www.youtube.com/watch?v=HYSPV3WkQCU
---
---
Sporting Code Deep Dive
Traxion posted an article with an in depth look at the iracing sporting code.
https://traxion.gg/an-in-depth-look-at-iracings-sporting-code/
---
---
Drives Like Poo
Davin@Drivethrough played an extensive session in Nascar 21 and posted his thoughts on his Twitter page.
https://twitter.com/drivethrough_/status/1450306666184990722?s=11
---
---
iRacing Setup Stream
iRacing had another setup training stream on Twitch working on their Audi RS3 LMS
https://twitter.com/iracing/status/1450488867317075972?s=11
---
---
Name Changes – How To and Rules
iRacing will now allow users to change their names for the service in certain circumstances and Kim Berry showed how in the forums.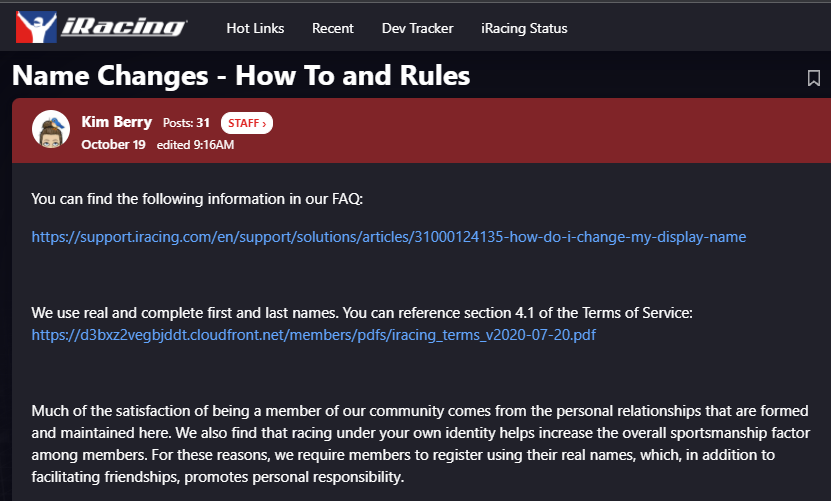 https://forums.iracing.com/discussion/10343/name-changes-how-to-and-rules
---
---
Hosted Kids Event
iRacing Drivers World will be hosting a especial event jst for kids.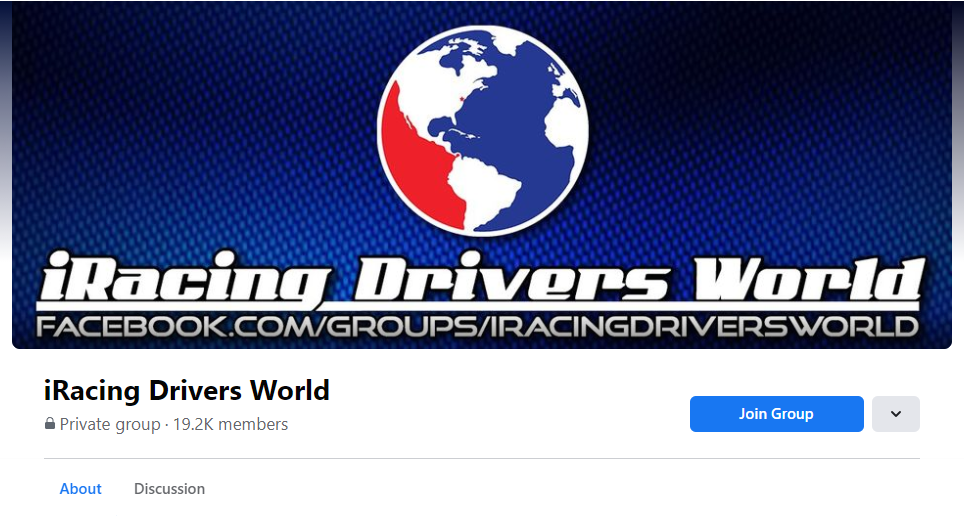 https://www.facebook.com/groups/Iracingdriversworld/permalink/10158911789679205/
---
---
Monday Night Rowdy
Monday Night Racing announced that Kyle Busch will run full time for the 2021-22 season 4 campaign.
https://twitter.com/MonNightRacing/status/1450854392882683906
---
---
IRX World Championship
Tommy Hallman took the win for the second time this season in the iRacing IRX World championship round 5 at Barcelona. Jon Roberson holds a narrow 11 point lead in the series with 4 races to go in the series.
https://twitter.com/iracing/status/1450837891945537538?s=11
---
---
IMSA, iRacing Extend Partnership through 2023
Imsa announced that they were excited to announce a renewal of their partnership with iRacing and the IMSA iRacing Pro Series
https://twitter.com/imsa/status/1451203710667788290?s=11
https://www.imsa.com/news/2021/10/21/imsa-iracing-extend-partnership-through-2023/
---
---
iRacing on Campus
On Thursday, October 21, the Force Dynamics Dallara iRacing Grand Prix Championship will broadcast live from the newly opened Ball State Esports Center.
https://ballstatesportslink.com/2021/10/20/iracing-speeds-onto-campus/
---
---
Phoenix Raceway – Fully Updated for 2021 – Coming Soon!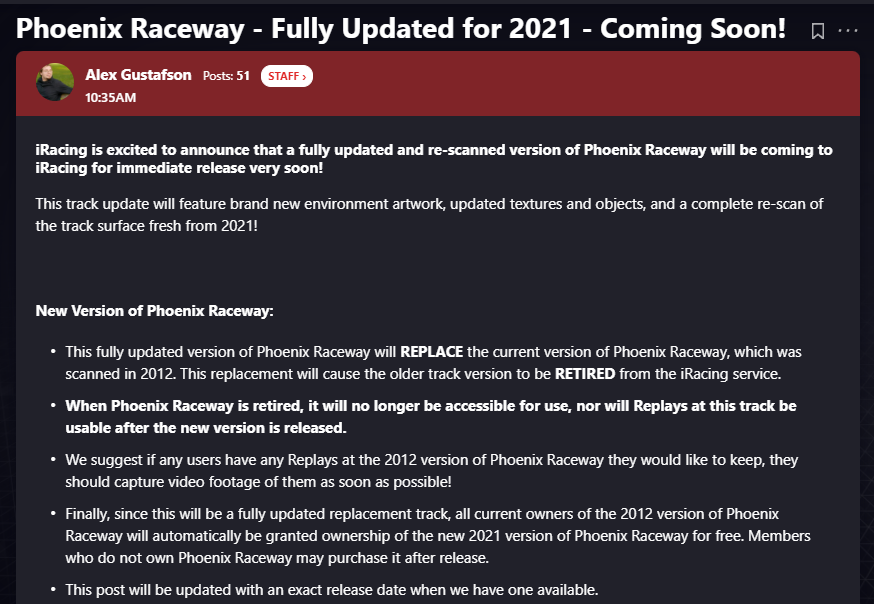 iRacing is excited to announce that a fully updated and re-scanned version of Phoenix Raceway will be coming to iRacing for immediate release very soon!
This track update will feature brand new environment artwork, updated textures and objects, and a complete re-scan of the track surface fresh from 2021!
New Version of Phoenix Raceway:
This fully updated version of Phoenix Raceway will REPLACE the current version of Phoenix Raceway, which was scanned in 2012. This replacement will cause the older track version to be RETIRED from the iRacing service.
https://forums.iracing.com/discussion/10447/phoenix-raceway-fully-updated-for-2021-coming-soon#latest
---
---
iRacer Wins Championship
Max Cookson is an iRacing regular and won the PASS (Pro All Star Series) mods championship. He started in go karts at the age of 4. Then he wrecks in a legends car and quit real racing for a while, He said in an interview, "I raced Karts from the time I was four until I turned 11 or 12, then took a few years off. I got pretty heavy into sim racing, and got to where I was pretty skilled in the iRacing leagues." In a few years of iRacing he tallied $10,000 in winnings and used it to buys a PASS modified in 2020 and ran a few races. He focused on the PASS series in 2021 and won 6 races, and (even after loosing 100 points for a DQ) wins the championship in his rookie season.
---
---
AA Esports 400
AA eSports is hosting the AA eSports 400 Super Late Model. The winner will receive one of the most unique trophies in the real or virtual world, a custom Nashville guitar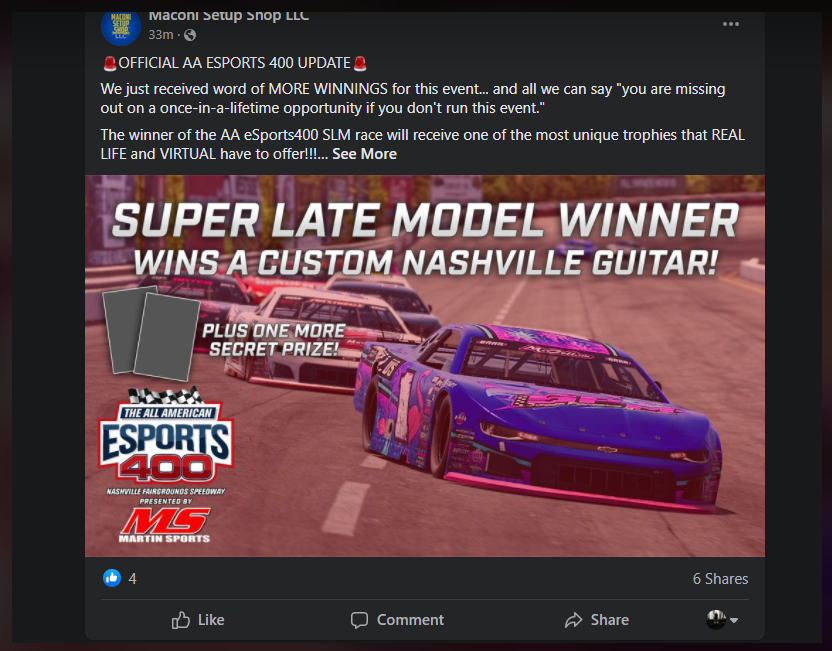 ---
---
iRacing Presents the Suzuka 10 Hours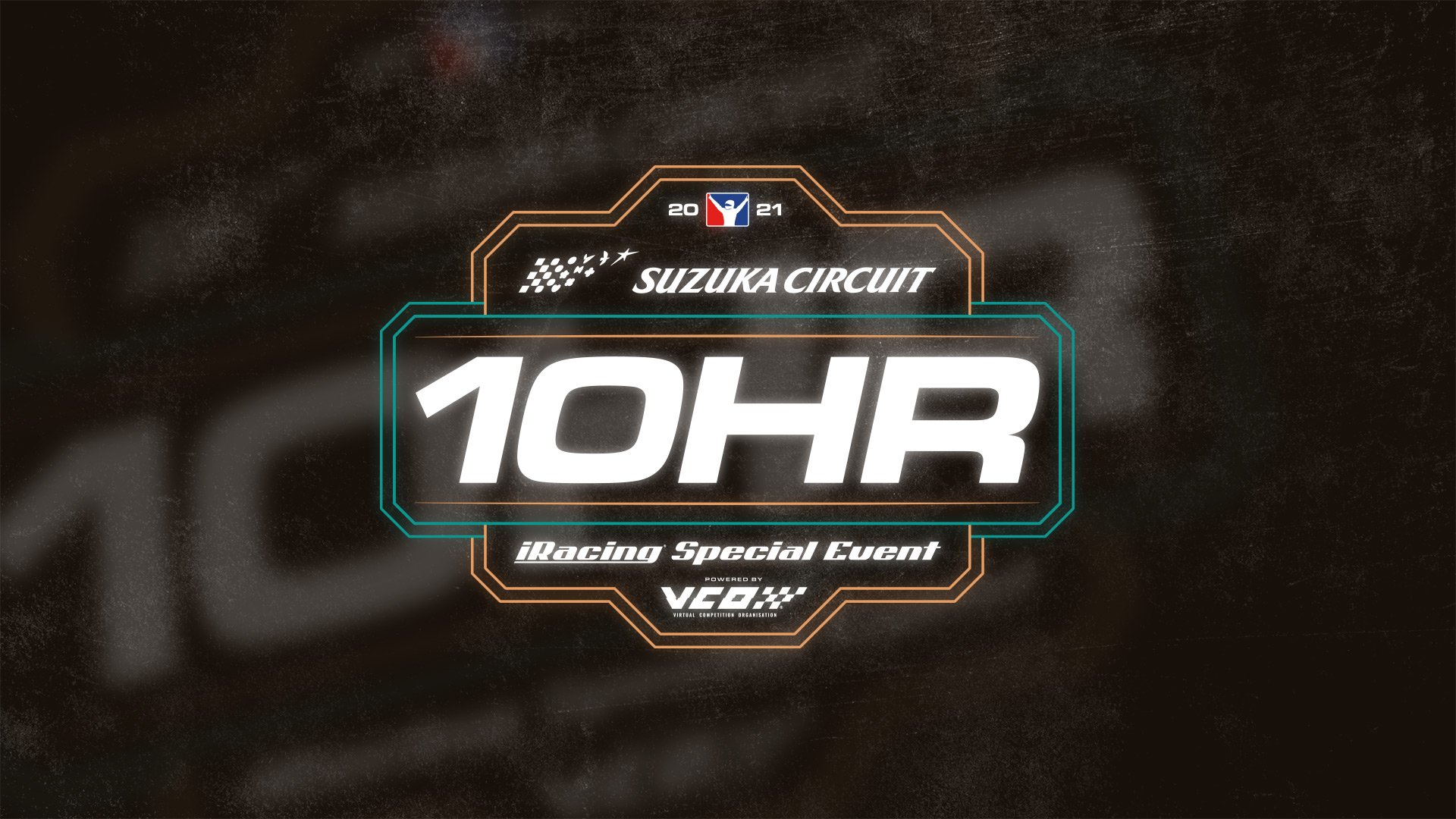 Date: November 5-7
Timeslot #1 – Friday 22:00 GMT
Timeslot #2 – Saturday 07:00 GMT
Timeslot #3 – Saturday 12:00 GMT
Timeslot #4 – Saturday 16:00 GMT
https://forums.iracing.com/discussion/9873/iracing-presents-the-suzuka-10-hours#latest
---
---
Man Cave After Dark Truck Series
We will kick this season off wherever we end up on the schedule whenever we get enough drivers signed up! We are aiming for 15 drivers to start the series with and grow from there!We hope we have captured the old school feel when the Craftsman Truck Series was just starting to go to speedways but was still frequenting the local grass roots short tracks across the country.Race lengths may be adjusted to give our drivers the best experience.(All Times US Eastern)Session starts: 9:00pm EasternQualify: 9:45pmGrid: 10:00pmIf you think this is something you'd like to participate in, please register through this link: https://forms.gle/Zsy1nhk8D6KuQgKcA
https://www.facebook.com/UltimateConquestRacingLeague/posts/2033359470168217
---
---
Podcast Housekeeping
Aftermath Podcast – Get it!
New Website – Leave Comments https://www.iracerslounge.com/
---
We are in the regular rotation… (Mike)
https://performancemotorsportsnetwork.com/
Fantasy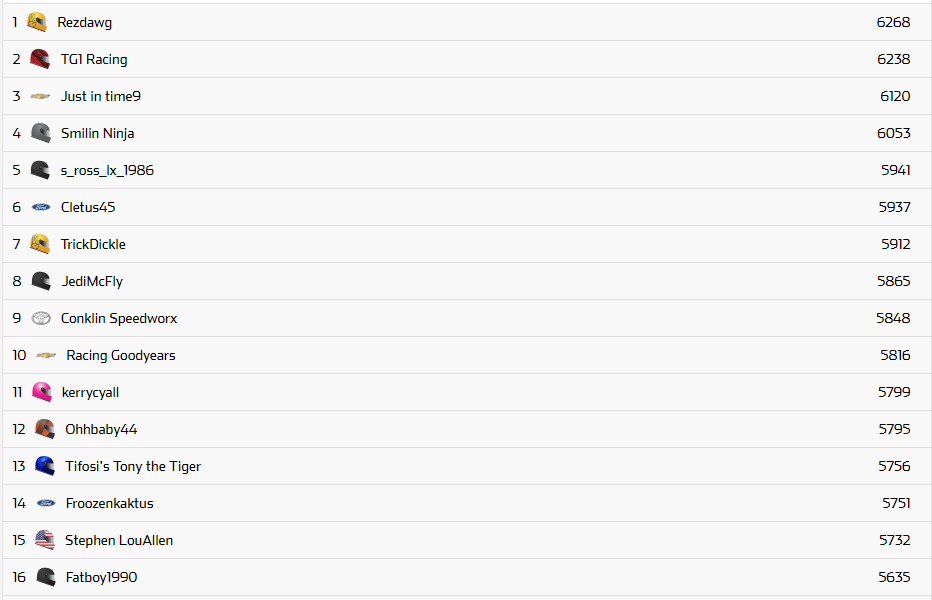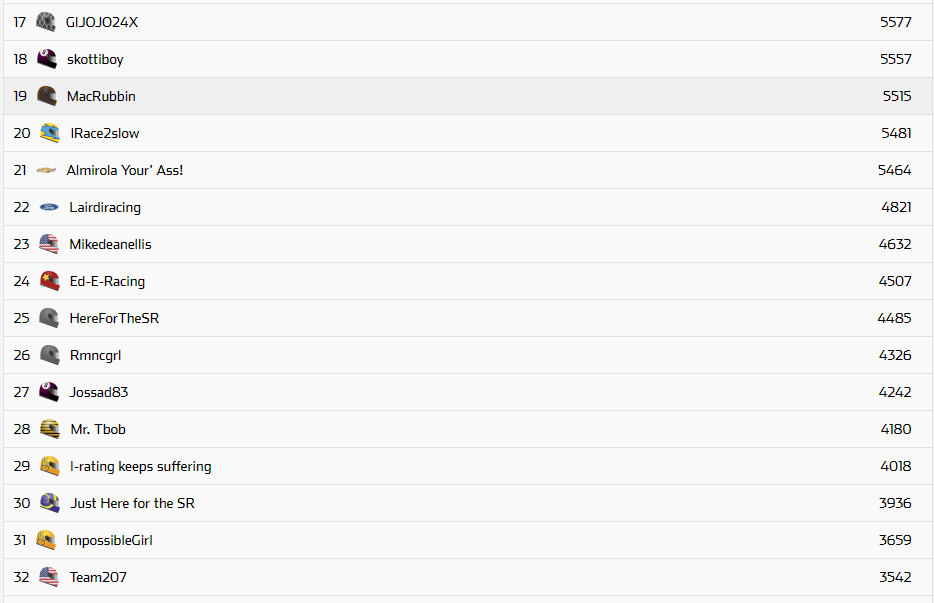 Texas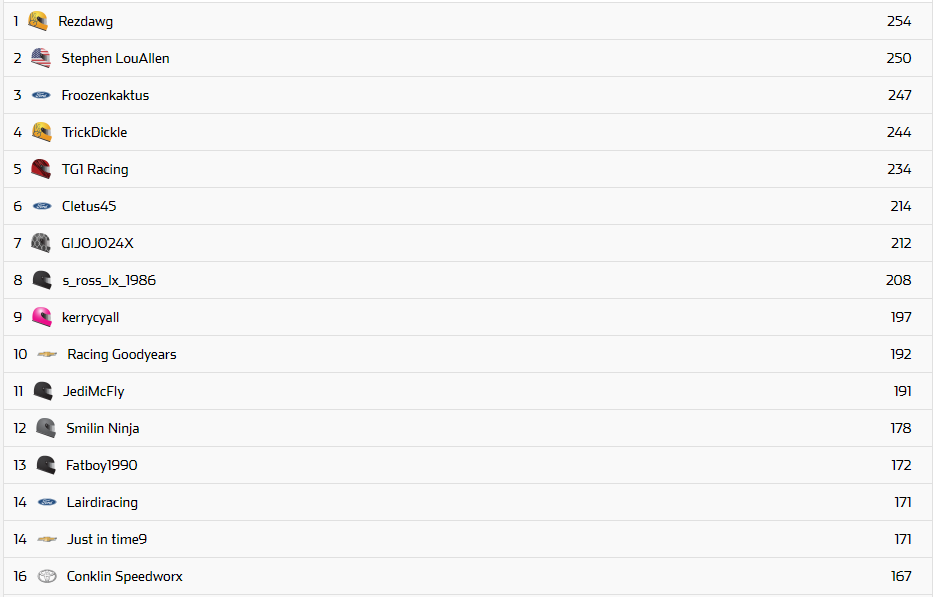 ---
---
Hardware/Software
---
The Best way to setup v3 Pedals
Gamer Muscle Videos posted a YouTube Video where he shows the best way to set up your Fanatec V3 Pedals.
---
---
SAVE BIG on Simagic Flagship Alpha
The Simagic's flagship 15nm Alpha Wheel Base is on sale for a limited time only until the end of the year for $1000 usd/ 900eur.
https://www.instagram.com/p/CU15KhvsxvJ/?utm_medium=share_sheet
---
---
HRS Xero-Play 120X Chassis Mount
The Xero-Play 120X Chassis mount offers 80 degrees of total adjustment, reverse mounting option, plus lots more! It's specifically designed for the Simlab P1-X, but of course it can be used on a number of Sim Chassis
https://www.instagram.com/p/CUzmU0tvZAG/?utm_medium=share_sheet
---
---
PRO+ Hydraulic Sim Pedals
Valezquez Engineering offers their Pro+,Hydraulic sim pedals which feature the Tilton 600 series floor mounted pedal assembly which is one of the most popular pedal assemblies used in real race cars! All of the hydraulics are handled by high quality Wilwood master and Speedway slave cylinders. Priced at $1950
https://velazquez-engineering.com/collections/plug-play-sim-pedals
---
---
DIY 3D Printed Racing Sim Sequential Shifter
Beavis Motorsports shows you how to 3D print and build your own sequential shifter.
https://www.beavismotorsport.com/sim-racing/diy-sequential-shifter/
https://forums.iracing.com/discussion/9858/beavis-3d-printed-sequential-shifter#latest
---
---
Simucube Online Store
Simucube now offers the option to buy from the manufacturer itself and you can find on their online store other manufacturers to complete a whole cockpit (simrig) using different components. Their launch week included a free delivery promotion from oct 7- 14th.
https://boxthislap.org/simucube-new-store-is-already-open/
Simucube Wheel Rim
https://www.youtube.com/watch?v=fHWr7Kqo598
https://www.youtube.com/watch?v=vTElcuuRjGQ
---
---
FOV Advice
Andy Symonds posted that e may need some FOV advice for his triples setup.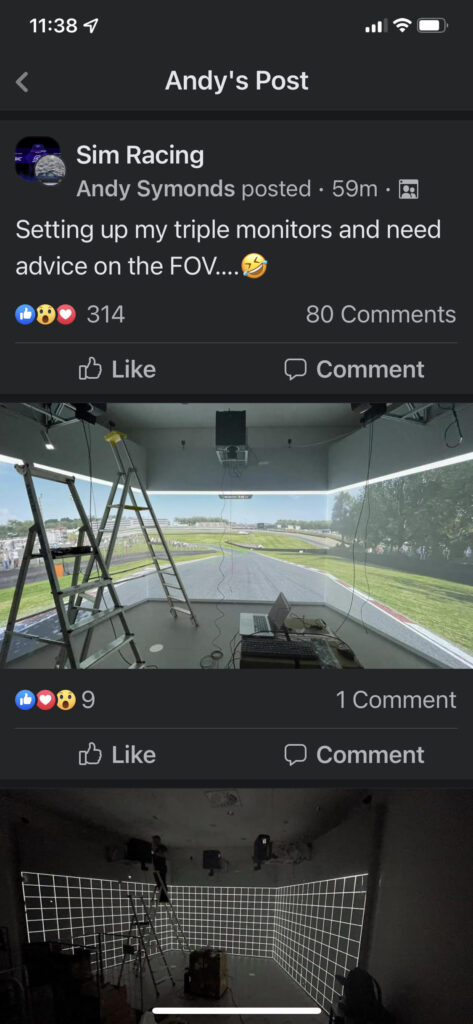 ---
---
Fanatec SQ V1.5 Short Shifter Shaft Mod
Kevin Sheck sells on Ebay a Fanatec V 1.5 short shifter shaft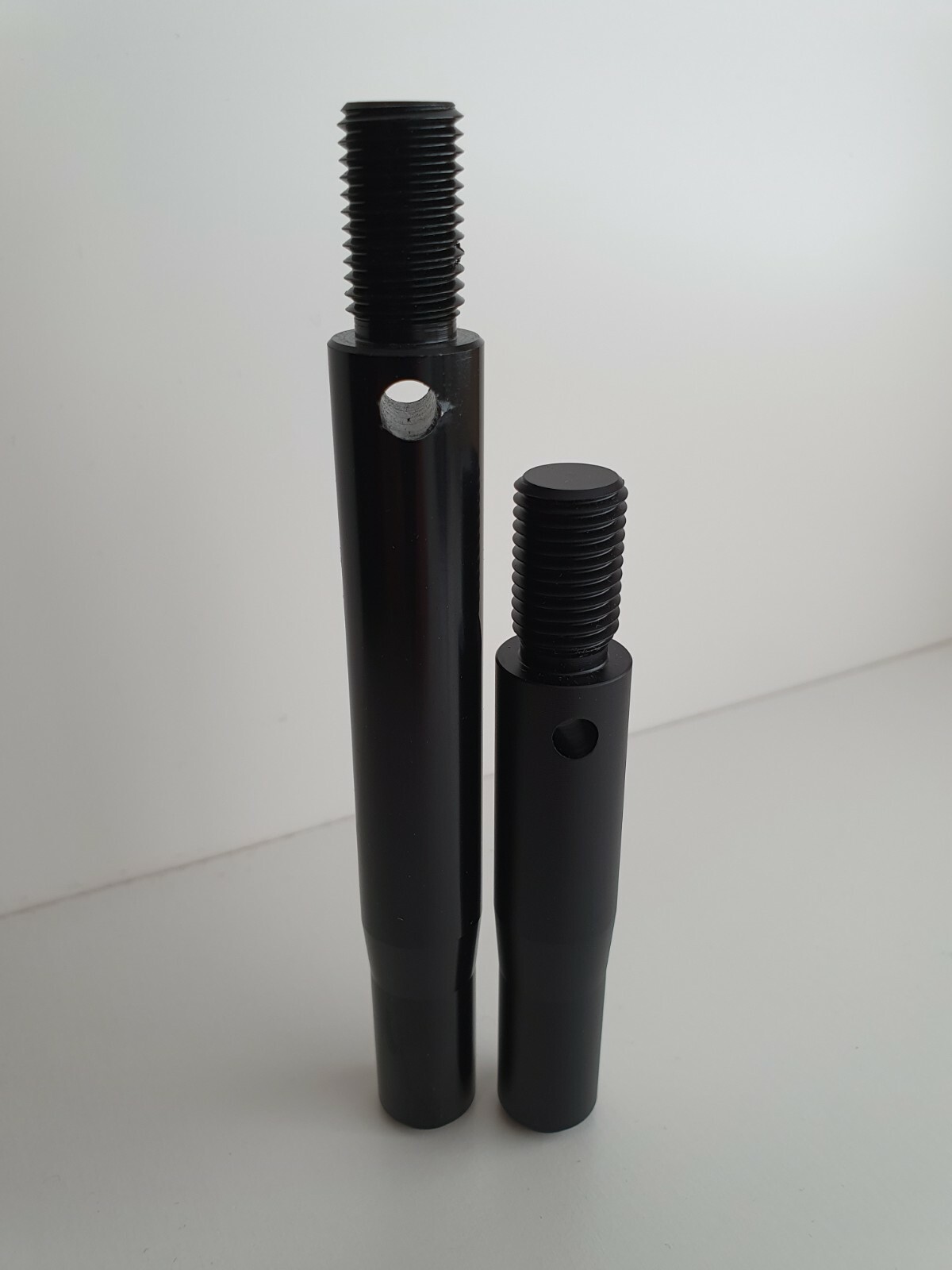 https://www.ebay.co.uk/itm/265360994562?mkevt=1&mkcid=16&mkrid=710-127635-2958-0&fbclid=IwAR0xwKQKrrHksKDwUQDbXk3nx-0EoCBCIN5C4YdswCNGypwuMwKLAz95Fao
---
---
Simagi Alpha Mini Unboxing

pandesaldrift posted on Instagram the unboxing of the Simagic Alpha Mini bought from simracingpros
https://www.instagram.com/p/CVGDq6Olzz6/?utm_medium=share_sheet
---
---
Results
NASCAR iRacing Series
Fri open: T EXAS
Ellis – p12 – Was going forward first run had a gf stop then a caution. Had to take a wave around. At one point i faded hard had hit the wall a couple of times… at one point there is a wreck i cannot miss… pretty much rode it home from there
Sunday Open

Kyle – P. P-8 started on the pole. But quickly fell back when i got loose off of 2 on lap 2. Couldn't keep the back end of the car straight most of the race. But was able to work my way back up to the front and stay in the top 5. 26 to go and caution comes out. Pit for fresh tires and just over drove it and ended with a P-8.

Hall – p 20 had a good car, got taken out by a car who came all the way from the wall to the inside lane on the front stretch.
Sunday fixed

Mike -p 6 – Went from back to the front multiple times – got wrecked once and was dead last at one point. Kept screwing up on pit road not having tires ready.
Wed Open:

Hall –p 5, hope the slide is over
Ellis – p wrecked out – screwed myself on a gf stop by not having my tires checked – lost all my track position… Then a wave by with a caution got us back – but then a big wreck i couldnt miss – just driving it home from here – ended up netcode w a lapper and wrecked again
Kyle P – P-14 started P14 and fell like a rock fighting a tight car. After a pit stop I adjusted the car and it came to life. Got up to 5th with less then 20 but drove to hard to hang with the top 5 and the front tires just fell off and fell back to 14th.
Ellis – p.wrecked out – i was usually moving forward, 20th to 7th, the there is a guy we couldnt get by I ended up driving to the outside of him getting in and he couldnt hold it and put us both in the wall. The guy ended up causing every caution 4 actually…The last one I couldnt miss at all and got the engine blown
---
---
Official Series
Dirt 305 Sprint – Lanier

Mike – p11 – Just getting laps trying to learn the wing with the new buttons
---
---
League / Hosted Races
FastTrack Sim Racing League –
David – p13 slump
Mike – p17- Picked the wrong strategy
Hosted –

Ellis – Chris Macguire

IR 18 Old Indycar at Michigan – p5
Dp at Bristol
OBRL ARCA Series

Scales –
Groves-
Brian Watkins Glen P6 started in 6th kinda was in limbo most of the race with no one especially close ahead or behind. Stayed clean solid run.
OBRL Aftermath Truck Series
Dwayne Mcarthur Wins The iRacers Lounge Aftermath Podcast Nascar Truck Series at Kansas Speedway
Tom Ogle Finished 2nd
Dale Copeland Finished 3rd Congrats Dale on your first OBRL Podium
---
---
Final Thoughts
---
---
---
Words Spoken in Closing Audio Clip -""Thank you for listening to the iRacers Lounge podcast make sure to go subscribe to us on iTunes, SoundCloud, or Google Play, Facebook & Twitter, See You On The Track ."
TITLE IDEAS
The Last Starfighter
.
.
Description
On todays show we'll take a behind the scene look at the Coanda drivers leading up to the Coke Series Championship race last week. iRacing hires a key new member to it's engineering team, and you can learn how to change your name…in iRacing that is. So strap in and try to keep up with us on the iRacers Lounge Podcast.
iRacers Lounge Podcast is available on iTunes and Apple's Podcasts app, Stitcher, TuneIn, Google Play Music, Spotify, Soundcloud, Podbean, Spreaker, Podbay, PodFanatic, Overcast, Amazon, and other podcast players.
Sponsors:
www.grid-finder.com
Hosts:
Mike Ellis – twitter.com/MikeDeanEllis
Tony Groves – www.twitch.tv/SirGroves
Chris Scales – twitter.com/JediMcfly
David Hall – www.twitch.tv/mixmage
Greg Hecktus – twitter.com/froozenkaktus – www.twitch.tv/froozenkaktus
Tony Rochette – twitter.com/TonyRochette
Adam Josselyn- twitter.com/Jossad83
Brian Maccubbin – www.twitch.tv/MacRubbinsRacin
Tom Dreiling –
Kyle Pendygraft – twitter.com/LoudPedalGaming
Links:
Old Show Notes – bit.ly/2CFeArM
Facebook – www.facebook.com/iRacersLounge/
Twitter – twitter.com/iracerslounge
Instagram – instagram.com/iracersloungepodcast/
Web (New Show Notes) – iracerslounge.com/