12/16/2021 – How The West Was Won – Episode 0310
iRacers Lounge Podcast – Conversation Topics
Brought to you by:

Opening Audio Clip -"Your listening to the iRacers Lounge Podcast where we discuss everything iRacing, in a casual setting, enjoy."`
READ THIS AT THE TOP OF EACH SHOW!!!
Welcome to the iRacer's Lounge, I am your host "XXX". iRacer's Lounge is a podcast for the iRacer, where we talk all things iRacing in a casual setting.
Joining me are the usual characters, ————
---
---
Show Introduction
On todays show we are very happy to welcome special guest, iRacing Associate Producer Greg West to the show. We'll delve back into the Mercedes W12 F1 car as the stories and reviews come in, and we will show you how you can vote for the best paint job of the year.
And remember you can follow along with us on your PC or mobile device in real time as you listen to the show and see for yourself all of the great topics and products we'll discuss by visiting iracerslounge.com and selecting show notes. Hope to see you there..
---
---
TITLE SPONSOR READ:
SimCoaches offers the realistic sim racing equipment you need to win more races online…. It is designed for real racers… Hydraulic construction makes them feel just like the real thing. High-Quality Construction, 100% Leak Proof, and Lifetime Warranty are the key features with these pedals. And, they look absolutely amazing… Check out simcoaches.com and use the coupon code IRACERSLOUNGE to get 10% off your purchase. Simcoaches.com is your ticket to feel like your actually sitting behind the wheel of a car. Drive harder and stay on the limit longer…
https://simcoaches.com/?fbclid=IwAR1pJASM3C_nV3wFACEHJrHitf8TOQWro4yp-Etaio1zU8Enbojap2Xff5w
---
---
Special Guest
Guest Name
General Questions:
What brought you to iRacing and how did you hear about it?
Which series do you normally run?
What type of hardware do you use? (Wheels, Pedals, ect.)
Software

What gear did you use when you first started iRacing?

Do you run Monitors or VR?

How many monitors?
What VR headset are you running?

Are you part of a team?
Do you participate in any leagues or is it just official racing?
What is your most memorable iRacing moment?
Guest Specific Questions:
---
---
Topics
---
---
Why iRacing's Factory-Supported Mercedes F1 Car Is Such a Big Deal for Sim Racing
In an article from Car Bible they talk about why iRacing's Factory-Supported Mercedes F1 Car Is Such a Big Deal for Sim Racing saying that, "It is the very first current F1 car to be released on a true simulator in general (the F1 series does not count), and one of a few F1 cars in sim racing to be developed with heavy assistance and technical support from the racing team that constructed it."
https://twitter.com/carbibles/status/1468983662989430794?s=11
https://www.carbibles.com/why-iracings-factory-supported-mercedes-f1-car-is-such-a-big-deal-for-sim-racing/
https://www.youtube.com/watch?v=c5jrKExXZzw
Will Ford at Boosted Media produced a YouTube video in which he races in the new Mercedes W12 F1 car asks is the new Mercedes W12 1 car is Too Fast???
https://www.youtube.com/watch?v=XxlDWIAbIkc
Beau Albert on his YouTube channel BiauAlbert Simracing tested the tires on the new Mercedes W12 F1 car after the conclusion of the F1 Series finale at Abu Dhabi and the tire differences that ultimately decided the World Championship.
https://www.youtube.com/watch?v=qgmhlESHevU
---
---
Porsche Tag Heuer Esports Supercup
The fourth season of the Porsche Tag Heuer Supercup series is set to begin on February 5th.
https://twitter.com/porscheraces/status/1469351211941785601?s=11
---
---
2022 Season 1 Hotfix 2 Release Notes
Alex Gustafson posted the release notes for the second hotfix for season 1 of the 2022 year/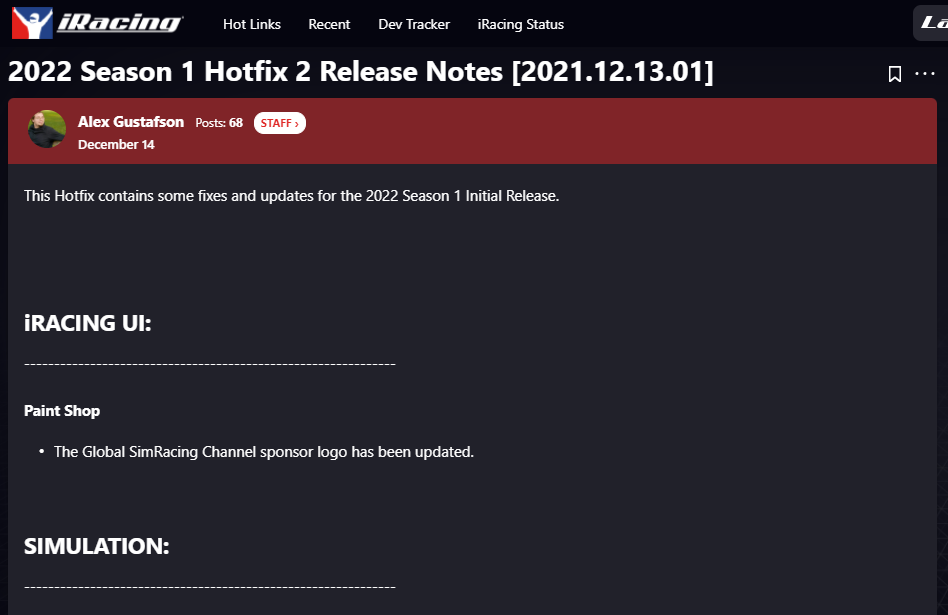 https://forums.iracing.com/discussion/13657/2022-season-1-hotfix-2-release-notes-2021-12-13-01
---
---
LMP3 on the horizon?
AAron Webb asked in the forums of there's any chance the LMP3 car will be released in time. Greg West responded to the thread that, "Sorry Aaron but we do not have an LMP3 in our current production plans."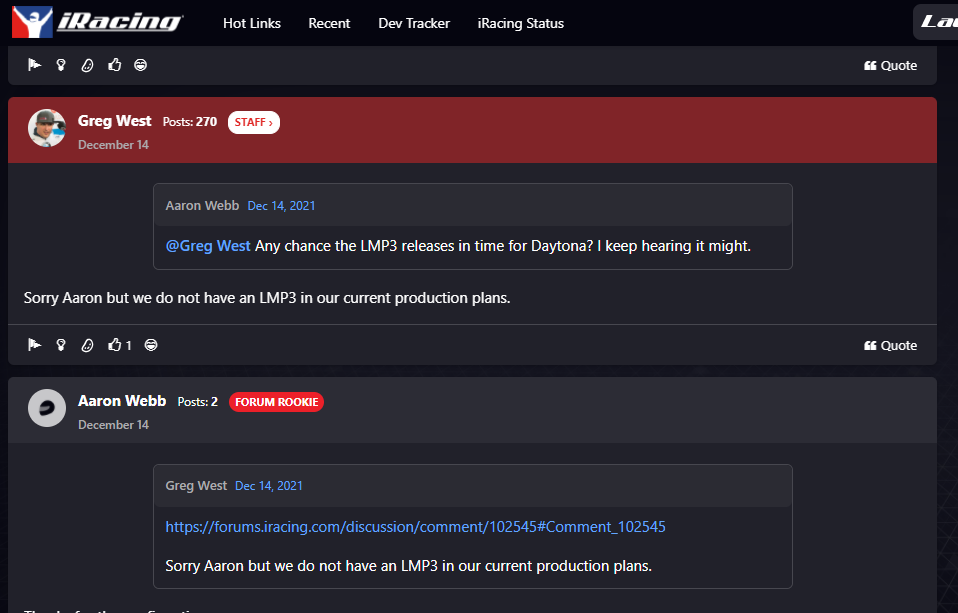 https://forums.iracing.com/discussion/comment/102548/#Comment_102548
---
---
Front Row Paints Livery
The Front Row Motorsports livery has been added to Trading Paints and is now available for upoading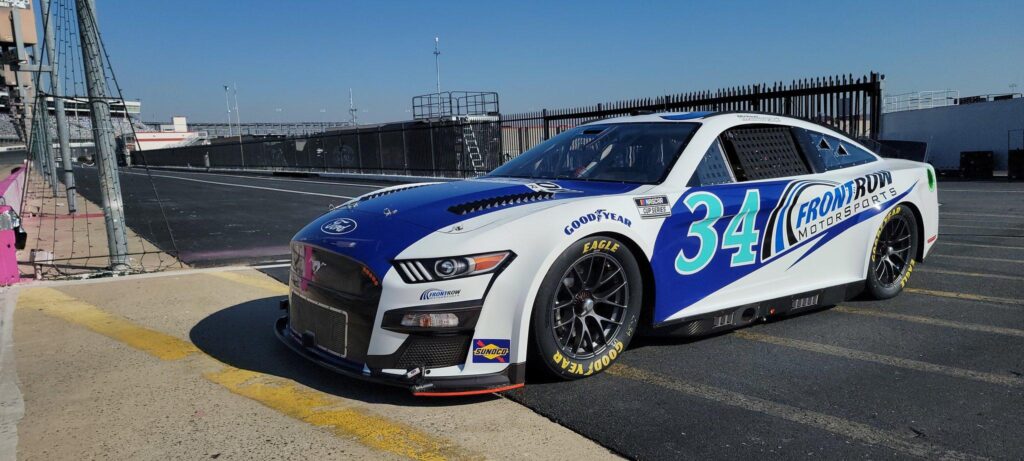 https://www.tradingpaints.com/profile/693322/Front-Row-Motorsports
---
---

Golden hour at Knockhill
Some breathtaking views of the new Knockhill Racing Circuit at the 'Golden hour' as the sun sets on the race track.
https://www.instagram.com/tv/CXeOJHajfPT/?utm_medium=share_sheet
---
---
Paint of the Year
Throughout December, vote in matchups from this year's 48 Paint of the Week winners we selected throughout the year on Twitter. The winner will be crowned the 2021 Paint of the Year!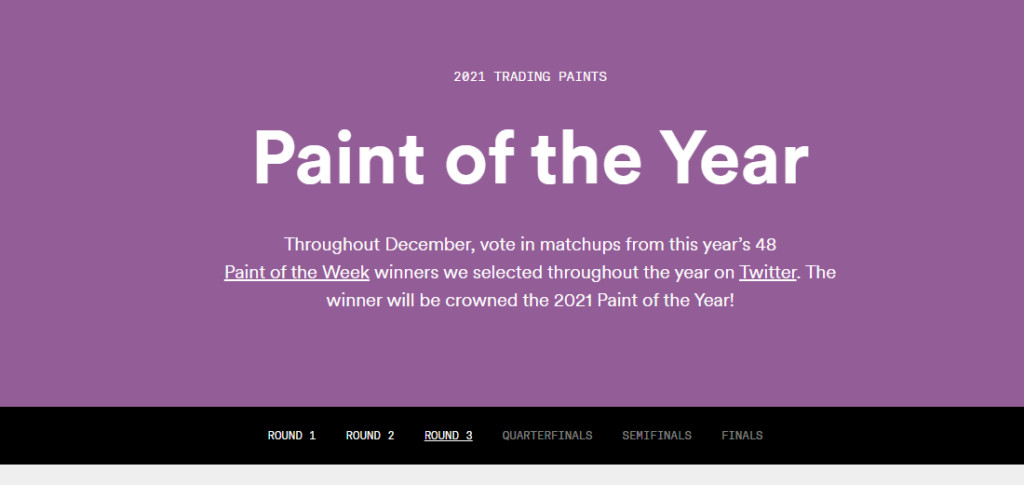 https://www.tradingpaints.com/poty
---
---
iRacing Expanding to Motorsports Development
Kickin' The Tires had an online article describing iRacing's expanding roll in motorsports development including topics such as Racecar Development, NASCAR Next Gen car R&D, Track and Car Debuts, and Track Design.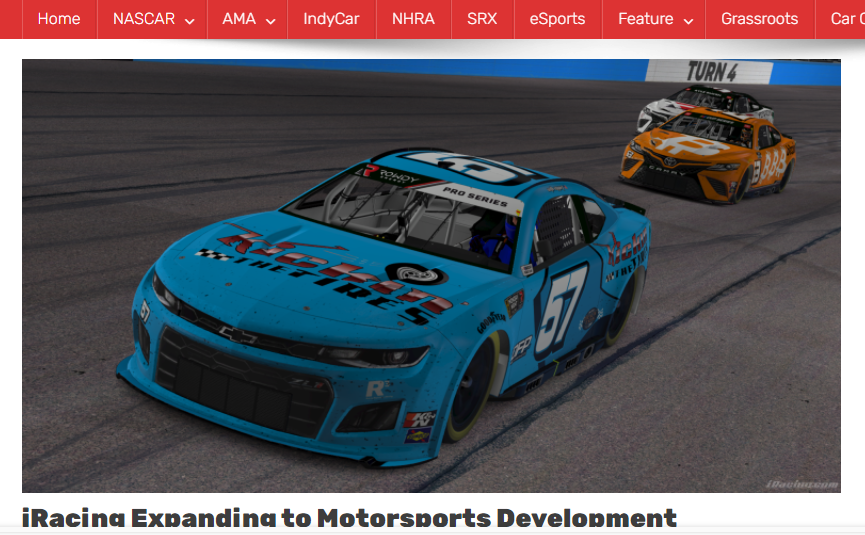 https://kickinthetires.net/esports/iracing-expanding-to-motorsports-development-kickin-the-tires/
---
---
Favorite Rookie Cars
iRacing asked members on Facebook what is your favorite rookie car?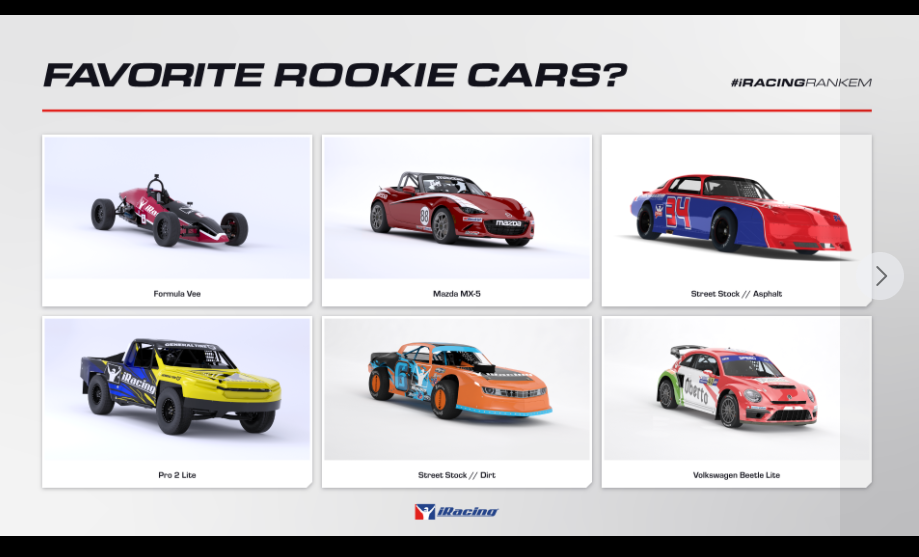 ---
---
Camera tips and tricks
Traxxion posted an article describing tips and tricks for the iRacing camera tool.
---
---
World of Outlaws Week 5
Pennsylvania's own Braden Eyler posted fast time in qualifying and won heat number 1 to take pole in the feature. New series points leader James Edens wins heat 3 to start in P3.
But just before the feature start James Edens gets struck by the disconnect bug and is only able to rejoin until after being a lap down. This after series leader from last week Alex Bergeron was disconnected in the feature and dropped him to 4th in the standings.
A large crash early in the feature near the front of the field takes out multiple drivers including Hayden Cardwell, which may have ended his hope of a series championship.
Cameron Merriman Takes the lead from Eyler early, but Eyler is able to work in the high line, reclaim the lead and hold on for his second career seres win with Merriman second and another Pennsylvania driver, Logan Rumsey finishing third.
Through sheer consistency, Cameron Merriman takes over the series lead with Alex Bergeron bouncing back to second and James Edens falling to third after the disconnect.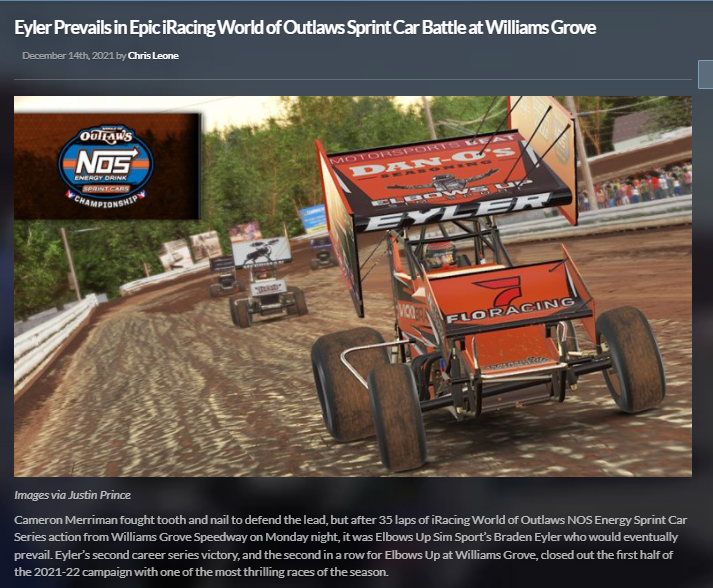 ---
---
iRacers Lounge / Aftermath NYE Race
Don't have a date for the clock striking midnight? Why not hang out with the guys of the iRacers Lounge Podcast and Aftermath and run some fun races. Check out the iRacers Lounge discord races will start around 8pm est
---
---
Endometriosis x RevolutionSimRacing – 24 Hours of Daytona Endurance Race
The event we are participating in will be a 24-hour race which will be held on the iRacing race simulation platform on Saturday 22nd Jan 2022 @ 2pm.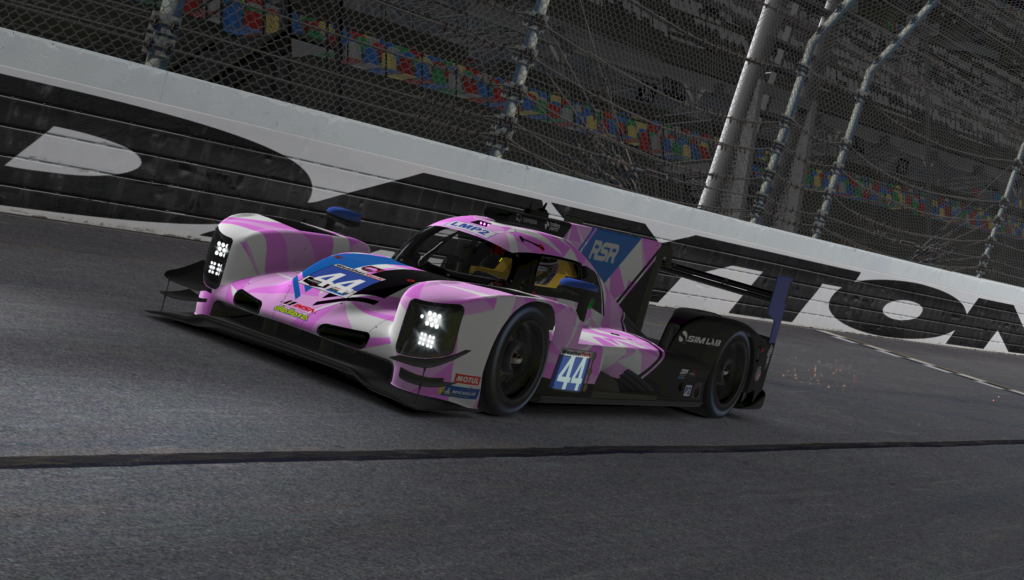 https://www.justgiving.com/fundraising/joe-zarkos
---
---
New Year New Chance 250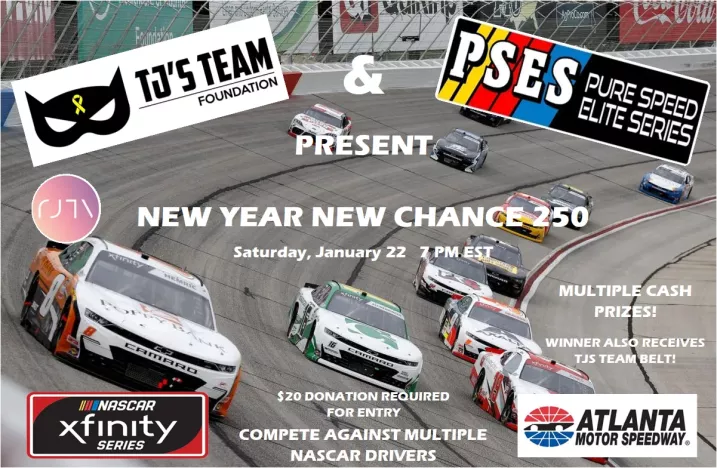 250 miles, 167 laps
– we will have a donations contest where the top donations made for a driver will get that drive an autographed #3 Dale Jr. Oreo elite diecast
– we will give away two diecasts during the race to fans in the chat.
– we will raffle off two tickets to a future Nascar race. tickets will be 25 bucks for 1 raffle ticket or 50 for 3.
---
---
10th Annual WINSTEL 400 – January 16th
The WINSTEL 400 returns once again for its 10 Annual race which was formerly known as the I've Got Ballz 400 for the biggest and longest running event at Daytona 2007 here on iRacing and all events will be LIVE on FTF.GG. Once again Emily Howe and @BrandonCruzDFS have joined on to sponsor the race, bringing this year's total purse to $1,250 and NO ENTRY FEE. This year's race will utilize the 2021 NASCAR Cup Series cars at Daytona 2007. Below you can find all of the info for the race, rules and how to register.
Date: January 16th, 7:30 PM ET
https://forums.iracing.com/discussion/12328/10th-annual-winstel-400-1-250-purse-january-16th-registration-info-rules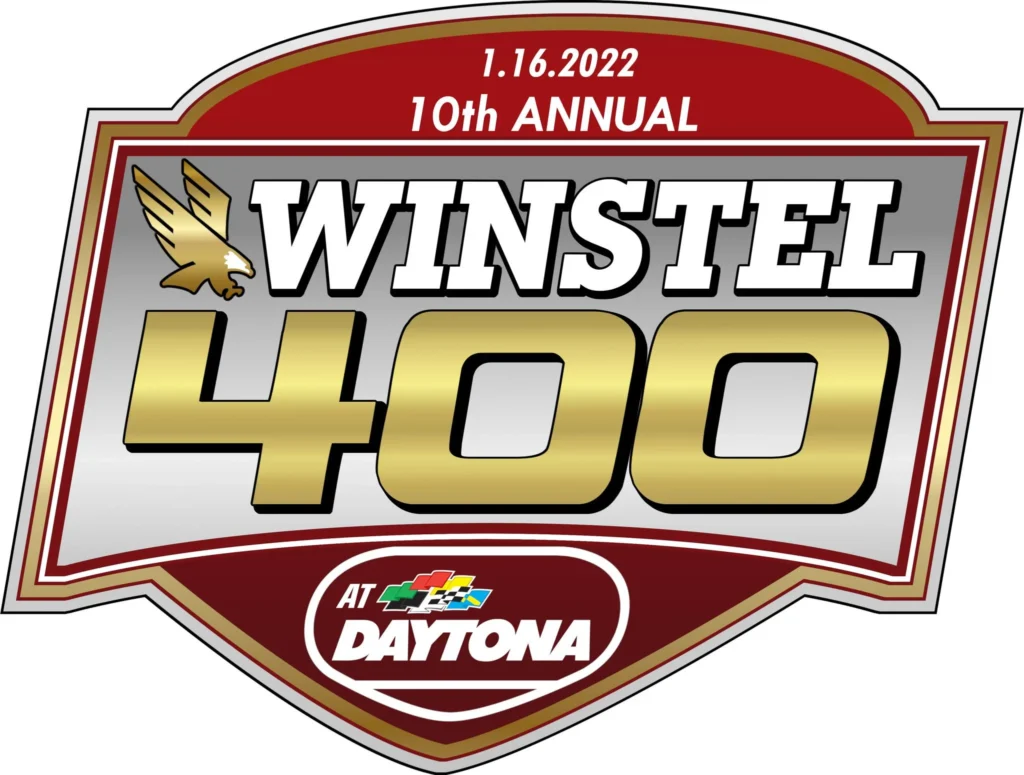 ---
---
6 Hours at Daytona, Diabetes Charity Race
I want to announce a new charity event that will be put on by Freeky Fast Broadcasting. This charity event is to help raise awareness, and hopefully donations, for juvenile type-1 diabetes. The event will be a 6 hour endurance race at the Daytona Road Course, with the cars used in the iRacing Official 24hr race. this event will be held on January 7th, 2022 at 8PM EST. Additional information can be found at the links below.
Sign Ups: https://docs.google.com/forms/d/e/1FAIpQLSc61NlAzJA9FgJdYWlJ-q0bSfrKQAjWjtTITgWeJWyGy6reIw/viewform?usp=sf_link
Event details: https://docs.google.com/document/d/1BOhcj-gj8xRtV92mKujNxbMiZNTwFSoyjGdm37AuipA/edit?usp=sharing
Discord: https://discord.gg/eGnPEyj4z8
https://forums.iracing.com/discussion/12522/6-hours-at-daytona-diabetes-charity-race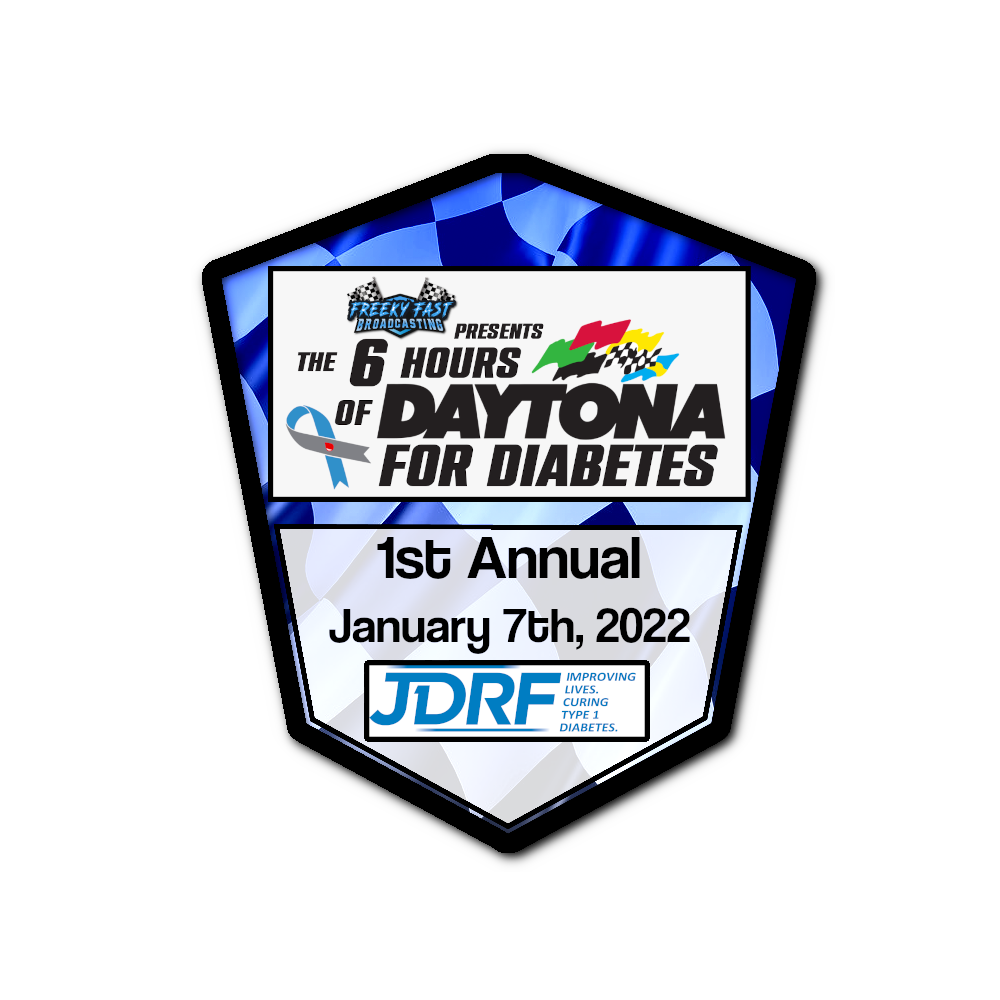 ---
---
GZR Daytona 6h Charity/Practice Race 15/01/2022
Donation link: https://gofund.me/2b47b1db
Here's what you need to know!
– Date: 15 January 2022, 18:00 GMT
– Cars: 2022 IMSA roster (LMP2 + GT3)
– Track: Daytona Road Course
– Event Format: 30m practice, 30m open qualifying and a 6 hour race.
GZR Daytona 6h for QUIET Netherlands Charity/Practice Race! Saturday January 15th, GZR will host a charity practice race at Daytona. It's an ideal opportunity for your team to practice for the upcoming iRacing Daytona 24h! And best of all, entry to the event is completely FREE! We do run this race for charity, and we've set our goal at $250! Please donate as all proceedings will go to charity!
About QUIET Netherlands QUIET is an organization located in The Netherlands that fights poverty all over the country, by using their and local businesses' assets to organize things for people that don't have a lot to spend. You can help their cause, by donating anything you can miss.
Event Information: https://docs.google.com/spreadsheets/d/1WP5FY3o_bnV8JsiOoHeTKaMMyrVkcqTUYAnWH_tGMfA/edit?resourcekey=null#gid=1618128775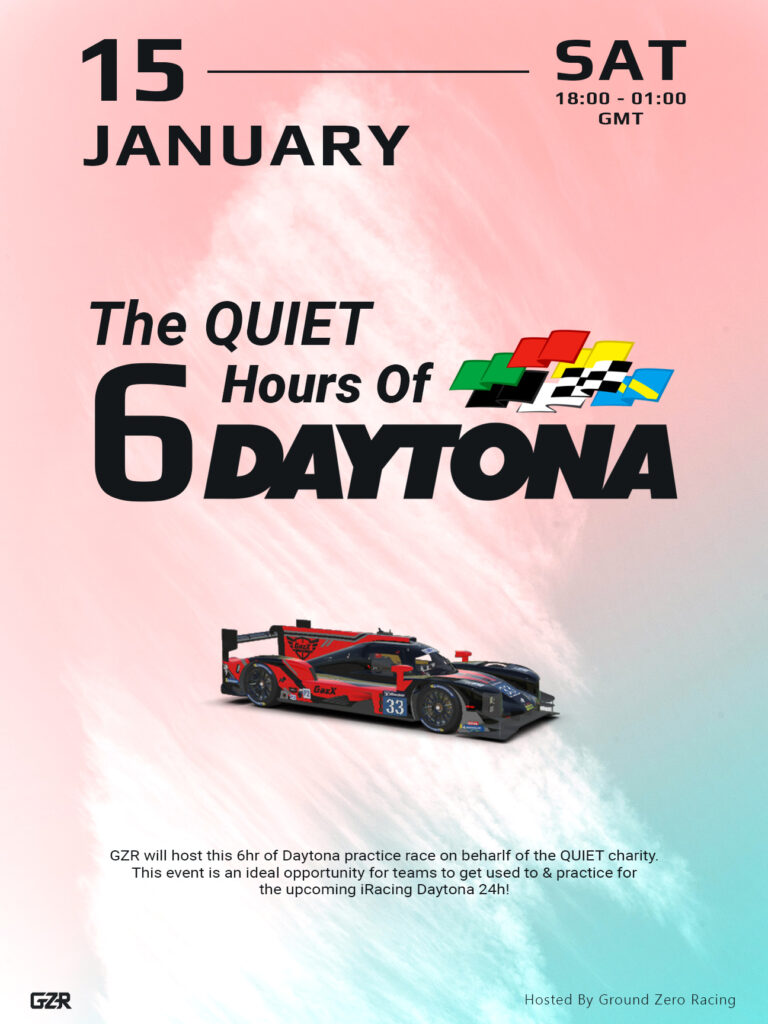 https://forums.iracing.com/discussion/12365/gzr-daytona-6h-charity-practice-race-15-01-2022
---
---
Podcast Housekeeping
Aftermath Podcast – Get it!
New Website – Leave Comments https://www.iracerslounge.com/
---
We are in the regular rotation… (Mike)
https://performancemotorsportsnetwork.com/
Fantasy
---
---
Hardware/Software
---
Company Review – Racetech
Racetech is an online store selling components for your sim, or real, cockpit including seats, belts and other products.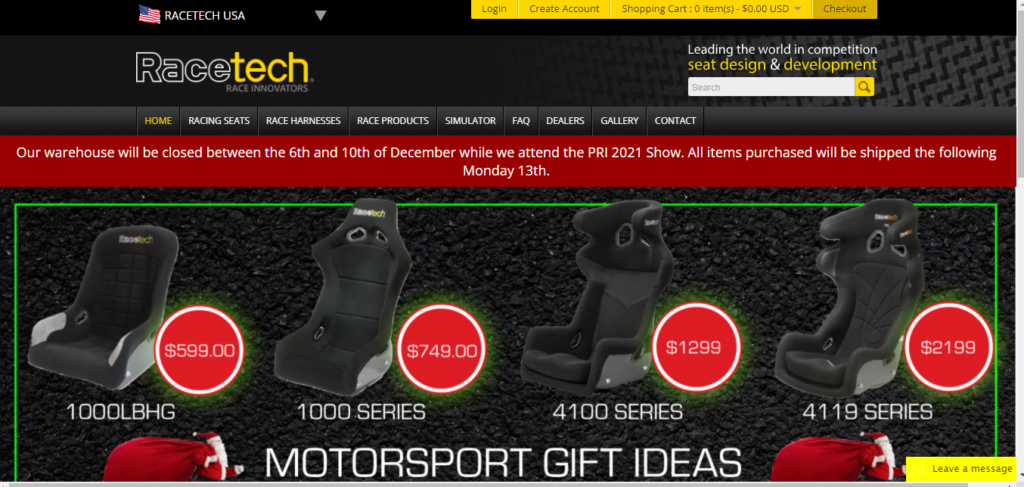 https://racetech-usa.com/shop/index.php?route=common/home
---
---
OBP Motorsports Pedal System
OBP' new Motorsport Pedal System will be coming soon
https://www.instagram.com/p/CW5oD-vMhjE/?utm_medium=share_sheet
---
---
KRE Win Pv3 sim racing pedals
Now available for pre order are the KRE Win Pv3 sim racing pedals to be released in Jan/Feb starting at 360 euros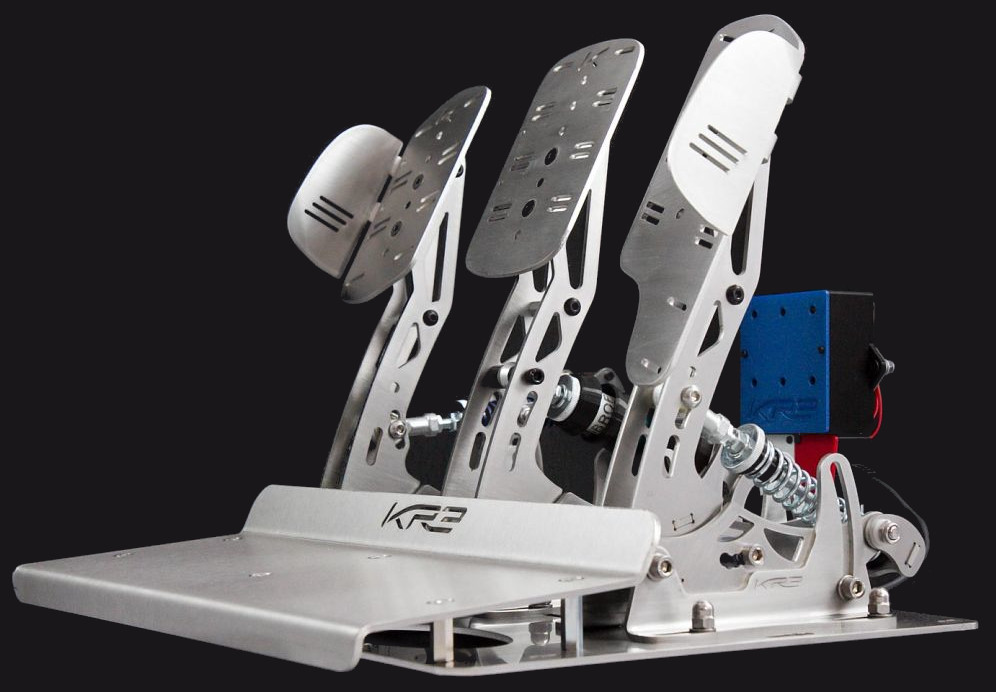 https://www.kre-sim.eu/kre-win-pv3-sim-racing-pedals/
---
---
Listener Eric Whiting Sends In – DIY Mega
From listener Eric Whiting is the eRacing-Lab DIY Mega motion actuator system for $2650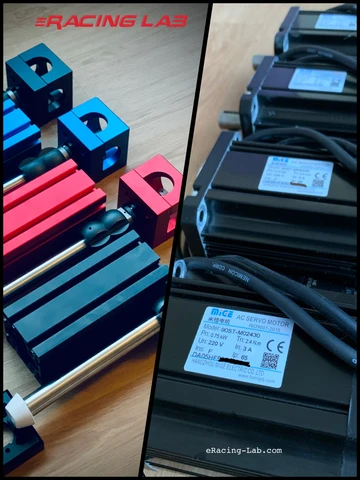 https://eracing-lab.com/products/diy-mega-1
---
---
Sim Racing Studio Hurricane Wind Kit Review
Barry Rowland reviews the Sim Racing Studio Hurricane Wind Kit
https://www.youtube.com/watch?v=Zv8QT0_pb-Q
https://www.simracingstudio.com/
---
---
Sim Lab Vario Vesa Mount Review
The Sim Pit Youtube Channel reviews the Vario Vesa Mount
https://www.youtube.com/watch?v=98A4gPvNtqU
---
---
Heusinkveld LED Neon Sign
Heusinkveld now is offering in their merch shop a neon 'Heusinkveld' sign to light up your sim room/ mancave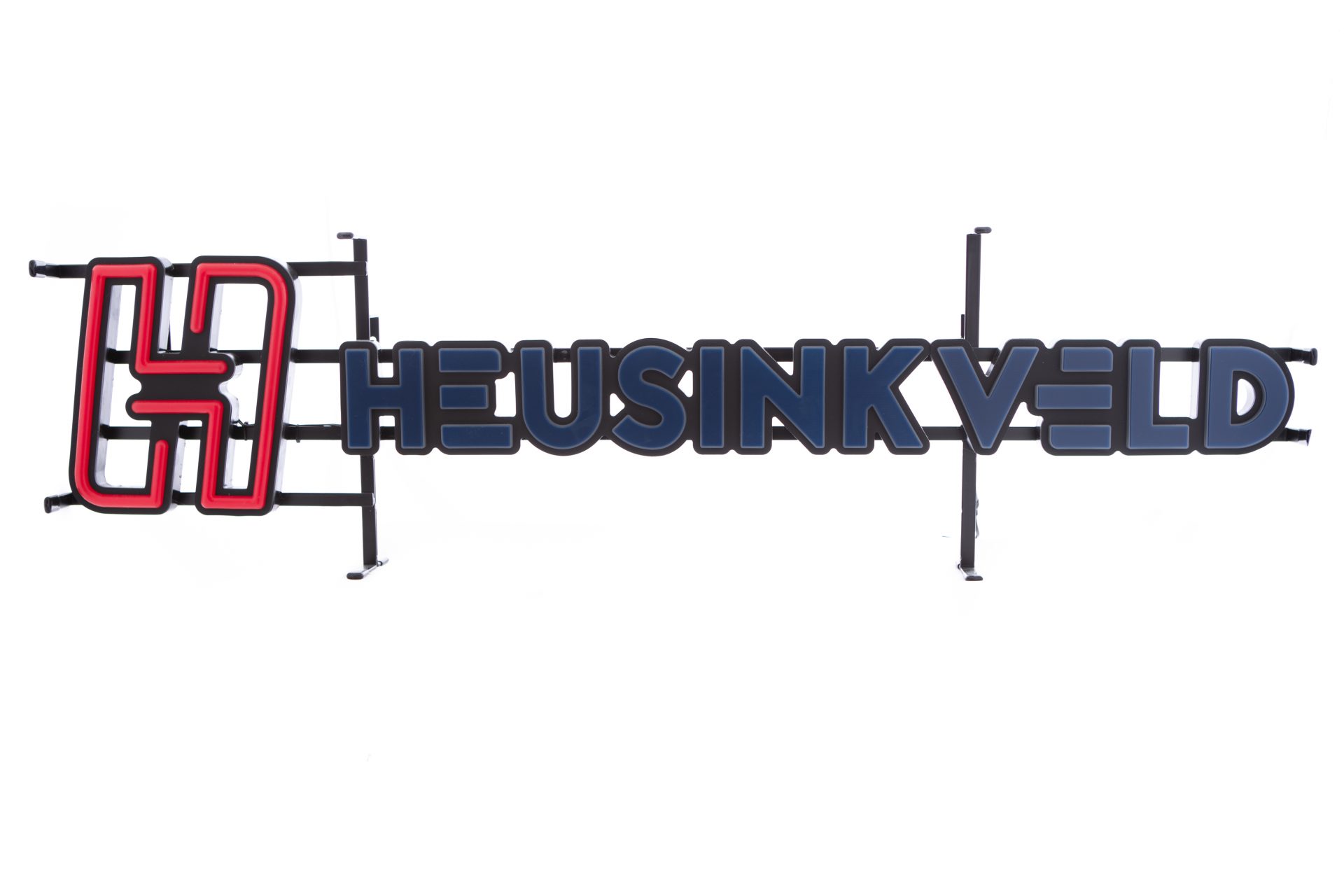 https://heusinkveld.com/shop/merchandise/led-sign/
---
---
Sim Racing Builds
Sim Racing Builds are building a 3D Printed full size 1:1 RedBull RB16 Simulator at Full Sail University with their awesome students in the Simulation & Visualization B.S. Degree Program.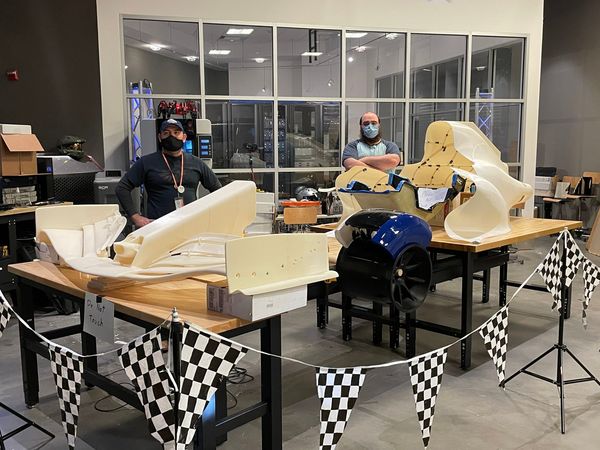 https://www.facebook.com/groups/simracingbuilds/permalink/1336683983455615/
---
---
In-Car Sim Rig
Simracing Setup posted on their Instagram page a sim racing rig in the passenger seat of a real car.
https://www.instagram.com/p/CXRODNVNpOf/?utm_medium=share_sheet
---
---
The APEX Formula
The APEX Formula is a tubular, full motion rig in a formula style cockpit
https://www.instagram.com/p/CXRoVJVl–o/?utm_medium=share_sheet
---
---
FANATEC DD KILL SWITCH MOUNT
Sim Makerz sells a Fanatec DD Kill switch to munt on your 80/20 profile rig.

https://www.simmakerz.com/fr/accueil/46-122-fanatec-dd-kill-switch-mount.html
---
---
Results
---
---
Official Series
Fri open: Tally
Ellis – pI'm embarrassed. It's weird I can start anywhere in the field and get to the front with a couple laps but when I get to the very front I'm so fricking loose I can't stand it
Rochette P
Greg – pwrecked
Hall – P 19. Top split Taken out at end as a innocent bystander, but inexperience with the car at that track was what kept me in the wrong place to start.
Mike –

Thurs and Fri Night – F1 at Hockenheim
GT3's Charlotte Oval
Radicals at Spa
Pro 4 – figure 8 at irwidale
360's at Eldora
Street Stocks at USA Dirt
The Wednesday, trade off dallara dash and pickup cup
Brian P18 Michigan Probably top 5 speed, but got a passing under yellow black flag when a car blew up in front of me
---
---
League / Hosted Races
Hall – p8, fighting for p5, made a mistake on last lap trying to get back behind p5 before p7 got to my outside and knocked him loose. We both recovered but I cost him 2 spots.
Saturday – SIM 500 eSports Racing League Throwback ARCA Series

Arca Car at Atlanta

Mike -p2 – caution at 20 of 80 me and Hamih allagher pitted for our only set of tires – went green from there, good to go on fuel by 1.5 laps, just couldn't catch hamish but still a great finish after my embarrassment the night before.
Chris Scales -p got doored laps down
OBRL ARCA Series

Brian- North Wilkesboro P9 had some decent speed, but self spun recovered to a top 10
OBRL Aftermath Truck Series
Brian P 4 Had a good run. Tried a different pit strategy than the leaders but wound up evening out.
iRacing IROC Challenge Series Season 4
Kyle P- Tonight we Visit the Last Great Colosseum.
---
---
Final Thoughts
---
---
Words Spoken in Closing Audio Clip -""Thank you for listening to the iRacers Lounge podcast make sure to go subscribe to us on iTunes, SoundCloud, or Google Play, Facebook & Twitter, See You On The Track ."
TITLE
How the West was won
Description
On todays show we are very happy to welcome special guest, iRacing Associate Producer Greg West to the show. We'll delve back into the Mercedes W12 F1 car as the stories and reviews come in, and we will show you how you can vote for the best paint job of the year. So sit back, relax and join us on the iRacers Lounge Podcast.
iRacers Lounge Podcast is available on iTunes and Apple's Podcasts app, Stitcher, TuneIn, Google Play Music, Spotify, Soundcloud, Podbean, Spreaker, Podbay, PodFanatic, Overcast, Amazon, and other podcast players.
Sponsors:
Hosts:
Mike Ellis – twitter.com/MikeDeanEllis
David Hall – www.twitch.tv/mixmage
Greg Hecktus – twitter.com/froozenkaktus – www.twitch.tv/froozenkaktus
Brian Maccubbin – www.twitch.tv/MacRubbinsRacin
Kyle Pendygraft – twitter.com/LoudPedalGaming
Tony Groves – www.twitch.tv/SirGroves
Adam Josselyn- twitter.com/Jossad83
Chris Scales – twitter.com/JediMcfly
Tony Rochette – twitter.com/TonyRochette
Tom Dreiling –
Links:
Old Show Notes – bit.ly/2CFeArM
Facebook – www.facebook.com/iRacersLounge/
Twitter – twitter.com/iracerslounge
Instagram – instagram.com/iracersloungepodcast/
Web (New Show Notes) – iracerslounge.com/