12/30/2021 – I'll Have The Chicken Dinner
iRacers Lounge Podcast – Conversation Topics
Brought to you by:

Opening Audio Clip -"Your listening to the iRacers Lounge Podcast where we discuss everything iRacing, in a casual setting, enjoy."`
READ THIS AT THE TOP OF EACH SHOW!!!
Welcome to the iRacer's Lounge, I am your host "XXX". iRacer's Lounge is a podcast for the iRacer, where we talk all things iRacing in a casual setting.
Joining me are the usual characters, ————
---
---
Show Introduction
After a week of for the holidays, we're back with all of the info you've come here for. We'll see how iRacing is supporting their highest tech race car ever, the Mercedes W12 F1 car. We'll see how Dale Earnhardt Jr. is spending his time in iRacing and hardware products that may be just what you're looking for.
And remember you can follow along with us on your PC or mobile device in real time as you listen to the show and see for yourself all of the great topics and products we'll discuss by visiting iracerslounge.com and selecting show notes. Hope to see you there..
---
---
TITLE SPONSOR READ:
SimCoaches offers the most realistic sim racing equipment you need to win more races online…. It is designed for real racers… Hydraulic construction makes them feel just like the real thing. High-Quality Construction, 100% Leak Proof, and Lifetime Warranty are the key features with these pedals. And, they look absolutely amazing… Check out simcoaches.com and use the coupon code IRACERSLOUNGE to get 5% off your purchase. Simcoaches.com is your ticket to feel like your actually sitting behind the wheel of a car. Drive harder and stay on the limit longer…
https://simcoaches.com/?fbclid=IwAR1pJASM3C_nV3wFACEHJrHitf8TOQWro4yp-Etaio1zU8Enbojap2Xff5w
---
---
Special Guest
Guest Name
General Questions:
What brought you to iRacing and how did you hear about it?
Which series do you normally run?
What type of hardware do you use? (Wheels, Pedals, ect.)
Software

What gear did you use when you first started iRacing?

Do you run Monitors or VR?

How many monitors?
What VR headset are you running?

Are you part of a team?
Do you participate in any leagues or is it just official racing?
What is your most memorable iRacing moment?
Guest Specific Questions:
---
---
Topics
---
---
How to MGU
iRacing posted a video on their YouTube channel explaining the hybrid electrical system in the new Mercedes W12 F1
https://www.youtube.com/watch?v=eR8qlW8X28A
---
---
How To Start
Next, they posted another video explaining how to launch with the F1 clutch system
https://www.youtube.com/watch?v=YrV3gLhoA3M
---
---
How To Setup The Car
Finally iRacing covers on their YouTube Channel what you need to know about setting up the Mercedes AMG W12 F1 car.
https://www.youtube.com/watch?v=7Bz4m8it1bw
https://forums.iracing.com/discussion/14256/season-spotlight-videos-manual-mercedes-amg-f1-w12-e-performance#latest
---
---
Mercedes-AMG F1 W12 E Performance Manual
An all encompassing User Manual for the F1 car was also released so you can learn the ins and outs of iRacing's most advanced race car.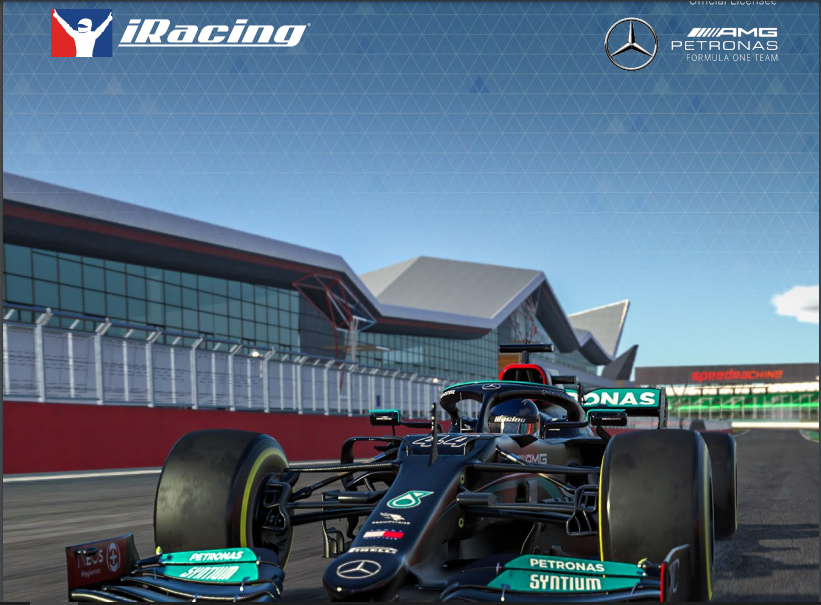 ---
---
Simracing is not just a game for Max Verstappen
In an interview on YouTube, F1 World Champion Max Verstappen was asked what he does when he not in the car, and his answer was Sim Racing. He talks about his Red Line racing Team and working with technique and setups in sim racing.
https://www.youtube.com/watch?v=4ayE2KPPT78
---
---
How to Make iRacing MORE FUN!
Wil Ford at Boosted Media posted a video of how to make iRacing Way More Fun. From etiquette to learning from faster drivers and racing smarter to learning the limitations of the software itself.
https://www.youtube.com/watch?v=sdyrcD-5y1I
---
---
Wrecked by Dale Jr and I Love It!
Who's ever excited to be wrecked out in an iRacing session? We'll that depends on who is doing the wrecking. Well, it made Chris Palmer happy when he was taken out by a wrecking Dale Earnhardt Jr.
https://www.youtube.com/watch?v=Eq3GFEhXpgQ
---
---
15th to 4th run in the final 2 laps
iRacing posted a video on Twitter of Dale Earnhardt Jr going on a wild ride from 15th to 4th in the last 2 laps of the Firecracker 400 hosted by eRacer_gg.
https://twitter.com/iracing/status/1473698166042210311?s=11
---
---
Dale Jr Gets Framed
What do you do when you lose to Dale Earnhardt Jr in a photo finish? You blow up a photo of it and give it to your grandparents according to @UltraRacingPhil
https://twitter.com/ultraracingphil/status/1474452654726209550?s=11
---
---
NASCAR will ditch the 550
To the cheers of many, Bob Pockrass reports that Nascar will ditch the 550HP package in favor of a new 670HP package. Many iRacers await an update.
https://twitter.com/bobpockrass/status/1471879237070172161?s=20
https://m.nascar.com/news-media/2021/12/21/cup-series-2022-next-gen-rules-configuration/?linkId=100000097353236
---
---
Sim For Injured Dirt Sprint Driver Daison Pursley
Daison Pursley has begun his return to racing after a serious spinal cord injury during a USAC midget race at Arizona Speedway thanks to Chad Wheeler and Johnathan Davis and WR1 Racing Simulators.
https://twitter.com/ShawndaPursley/status/1473089619101204483?t=TkZ6l_q4i3hgUuw8S1eeTQ&s=07
---
---
New Commercial
iRacing produced a new commercial and unveiled it on their Twitter channel
https://www.instagram.com/tv/CXwWKlZjBW5/?utm_medium=share_sheet
---
---
Wanna Give Up Some iRating?
Robby Swan III posted his thoughts and experiences of the asphalt sprint cars and why it may be the most overlooked car in the sim.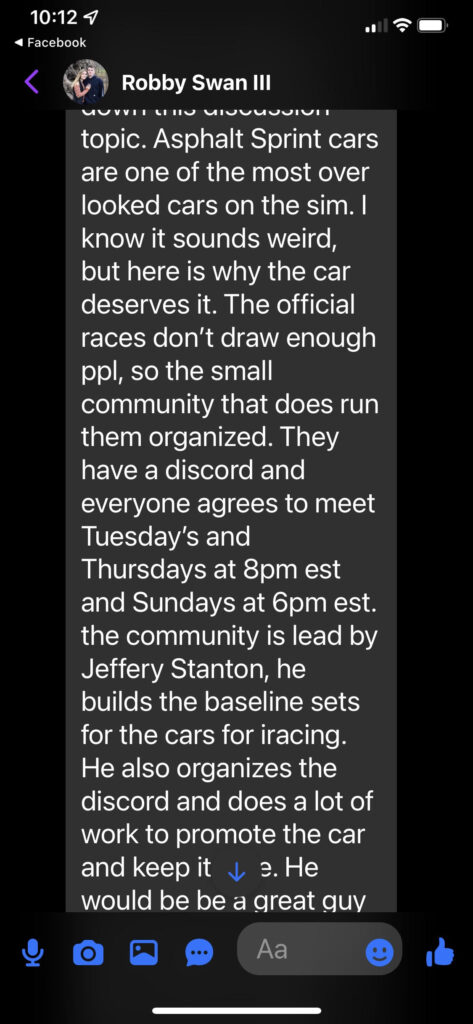 ---
---
iRacing Acquires Orontes Games – Developer of Racing Game DRAG and Proprietary Game Engine
iRacing announced on Dec 22.d the acquisition Orontes Games founded by Christian and Thorsten Folkers in 2016, Orontes Games released an Early Access version of their game DRAG in 2020, on the digital game distribution site Steam. Built upon their proprietary game engine, this online racing game features high fidelity next generation graphics and advanced vehicle physics.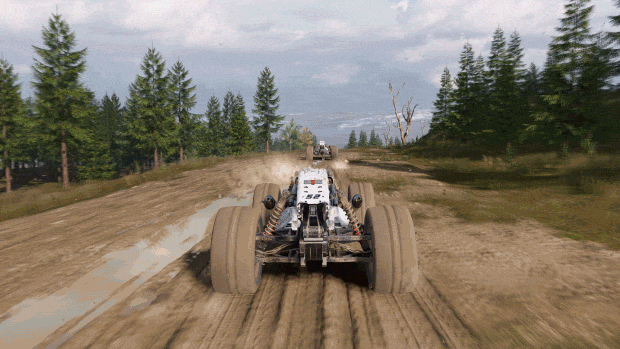 https://www.iracing.com/iracing-acquires-orontes-games-developer-of-racing-game-drag-and-proprietary-game-engine
https://store.steampowered.com/app/773840/DRAG/
---
---
Pro Series Concludes
Kollin Keister will return to the iRacing eNascar Coke Series by winning the Road to Pro Contender series Championship. He will be joined by Elliott Sadler eSports driver, and soon tot be series newcomer Liam Brotherton.
https://twitter.com/kollinkeister/status/1473498902045376513?s=11
https://twitter.com/sadleresports/status/1473729040729190407?s=11
---
---
Winter NiS Kudos
Coke Series driver Matt Bussa shows off the video of his photo finish win in the 1987 Winter iRacing Series.
https://twitter.com/mbussa75/status/1473798452484227080?s=11
---
---
Fun league idea
iRacing proposed on their Twitter account a fun league idea, the old school Riley DP 's on oval tracks.
https://twitter.com/iracing/status/1474060289620463622?s=11
---
---
#Soon
Mercedes AMG Pertonas F1 Team shows the firing for the first time of the new 2022 F1 car.
https://twitter.com/mercedesamgf1/status/1474036575331889152?s=11
---
---
Championship Perks
More perks for the 2021 Coke Series champion, a Coca Cola cooler showed up for the holidays.
https://twitter.com/KeeganLeahy/status/1474113508224737281?s=20
---
---
Spa v2?
Circuit de Spa is getting some updates for the new race season.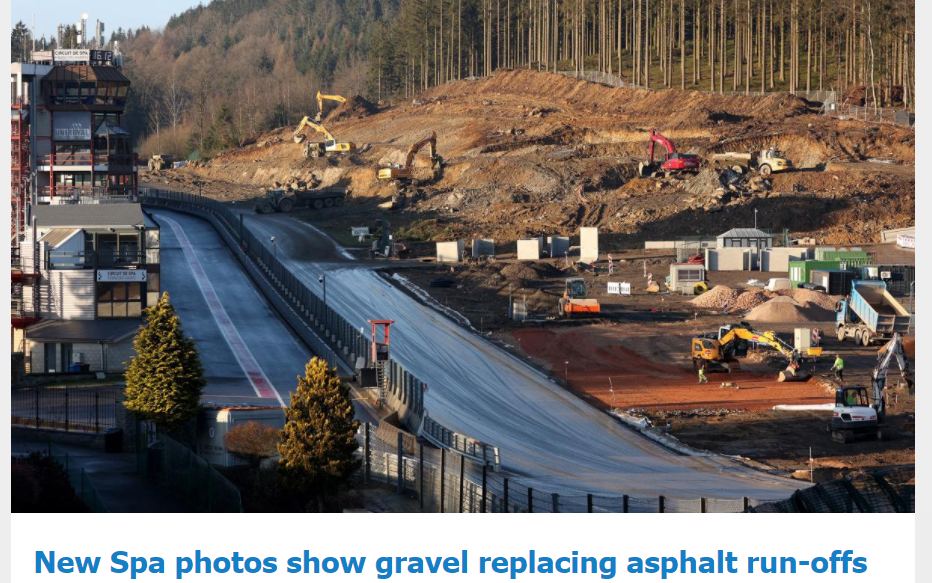 https://www.racefans.net/2021/12/23/new-spa-photos-show-gravel-replacing-asphalt-run-offs/?fbclid=IwAR32CLzTzTxnh1ynvEa3cfvsmsMCcUtyJv8jceg4ze9lK64X7rv78-LqrMs
https://www.racefans.net/2021/12/23/new-spa-photos-show-gravel-replacing-asphalt-run-offs/
---
---
'Twas the Racing Sim Before Christmas
'Twas the Racing Sim Before Christmas a simracing themed poem for the holiday season.(original poem by Clement Clarke Moore)
'Twas the night before Christmas, when all through my nest,
Not a sim was playing, not even Wreckfest;
The wheelbases were all left turned off and bare,
In hopes that a new wheel soon would be there.
It's probably time to retire to my bed,
But ideas for setup tweaks are dancing in my head;
As mamma looks at statements, her finger does tap,
You reminder her it came out of a bonus; "I promise, no cap";
From force feedback clipping, there arose such a clatter,
I hit the Escape key, to see what was the matter.
Into the settings, my cursor flew like a flash,
I would get a DD, if I only had the cash.
I mapped ECU buttons, to change on the go,
What that actually does, I only pretend to know,
When, what to my sim racing eyes should appear,
A heavy square box, but what type is not yet clear,
A new Simucube wheel sure would be slick,
Or a DD2 base, those things are sick.
But my expectations will still need to be tame,
Because my gift might actually be something lame;
With new gear across the finish line I would fly,
Up high on my podium, to the rookies I'd say bye,
I'd feel so cool, with gear shiny and new,
Come to think of it, I might need racing gloves too.
Thinking of tin tops, yes cars with a roof
I can't focus on dinner, my attention is aloof.
Dreaming of my RSR driving round and round,
There is nothing better, than that sweet Porsche sound.
A nice racing boot would look nice on this foot,
But if none are coming, then my socks will stay put;
On Boxing Day, the Nordschleife I'll attack,
Using cars I bought, in a DLC pack.
Driving a stickshift will someday be merry,
But learning to blipshift sure can be scary!
What's the best looking sim car, I do not know,
But it definitely isn't the GT4 X-Bow;
Simming an F1 car can be so much work,
Each time it oversteers, the steering gets a jerk,
What's my next piece of sim gear, who really knows,
So with that said, I'll bring this poem to a close;
May your new sim gear be clean as a whistle,
May your car on track be fast as a missile.
May your holiday sim racing be full of delight,
HAPPY CHRISTMAS TO ALL, AND TO ALL A GOOD-NIGHT!
https://www.racedepartment.com/news/twas-the-racing-sim-before-christmas.352/
---
---
What 2021 sim racing accomplishment are you most proud of?
At the close of the year, iRacing asks what sim racing accomplishment are you most proud of?
https://twitter.com/iracing/status/1476217861794369543?s=11
---
---
Here is a closer look at our #WilliamsEsports Lounge!
The Williams eSport Lounge shows some closer look photos of their eSport facility.
https://twitter.com/williamsesports/status/1476153318191808517?s=11
---
---
My first Official F1 race
AJ Henderson posted on his Twitter a video of his first F1 race with an Xbox controller
https://twitter.com/iajhenderson/status/1476318894256185344?s=11
---
---
World of Outlaws Week 6-Knoxville
Alex Bergeron wins qualifying, heat one and the feature to take his first victory of the season and the points lead over Trevor Merriman.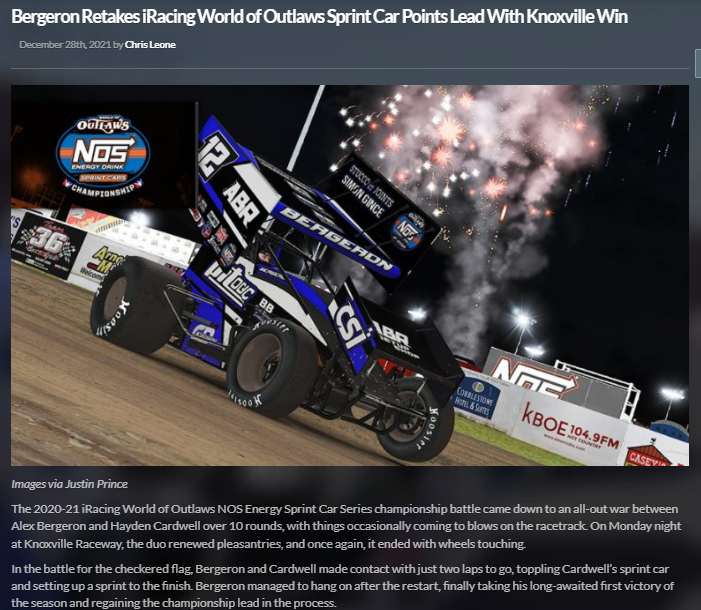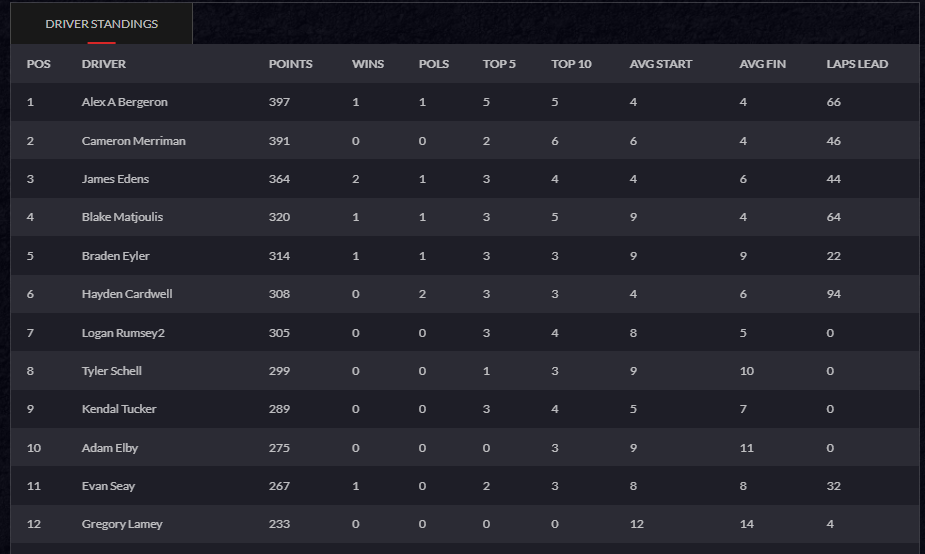 ---
---
iRacing Chili Bowl Nationals
Ethan Uy takes the win in the 2021 iRacing Chili Bowl Nationals, the final special event of the calendar year. ooo yee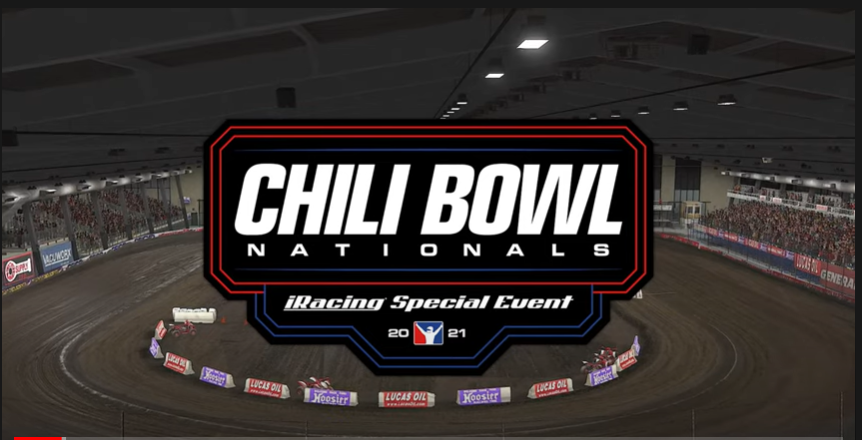 ---
---
The 6 Hours of Daytona for Diabetes (01/07/22)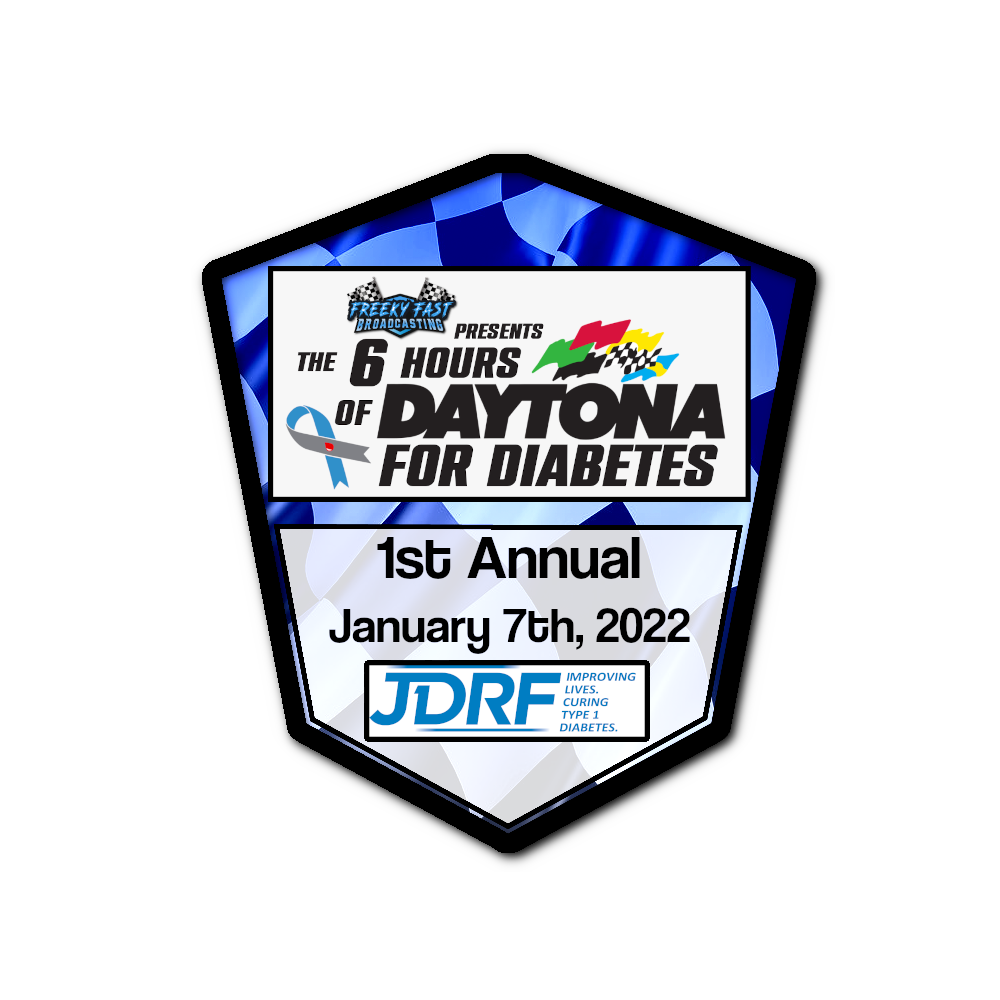 Just under 2 weeks til Freeky Fast Broadcasting will be hosting a charity event at Daytona. This charity event is to help raise awareness, and hopefully donations, for juvenile type-1 diabetes. The event will be a 6 hour endurance race at the Daytona Road Course, with the cars used in the iRacing Official 24hr race. this event will be held on January 7th, 2022 at 8PM EST. Additional information can be found at the links below. We are at 30 of the 60 possible teams signed up with 13 days before the race.
Sign Ups: https://docs.google.com/forms/d/e/1FAIpQLSc61NlAzJA9FgJdYWlJ-q0bSfrKQAjWjtTITgWeJWyGy6reIw/viewform?usp=sf_link
Event details: https://docs.google.com/document/d/1BOhcj-gj8xRtV92mKujNxbMiZNTwFSoyjGdm37AuipA/edit?usp=sharing
Discord: https://discord.gg/eGnPEyj4z8
https://forums.iracing.com/discussion/14522/the-6-hours-of-daytona-for-diabetes-01-07-22
---
---
iRacing Presents the iRacing Roar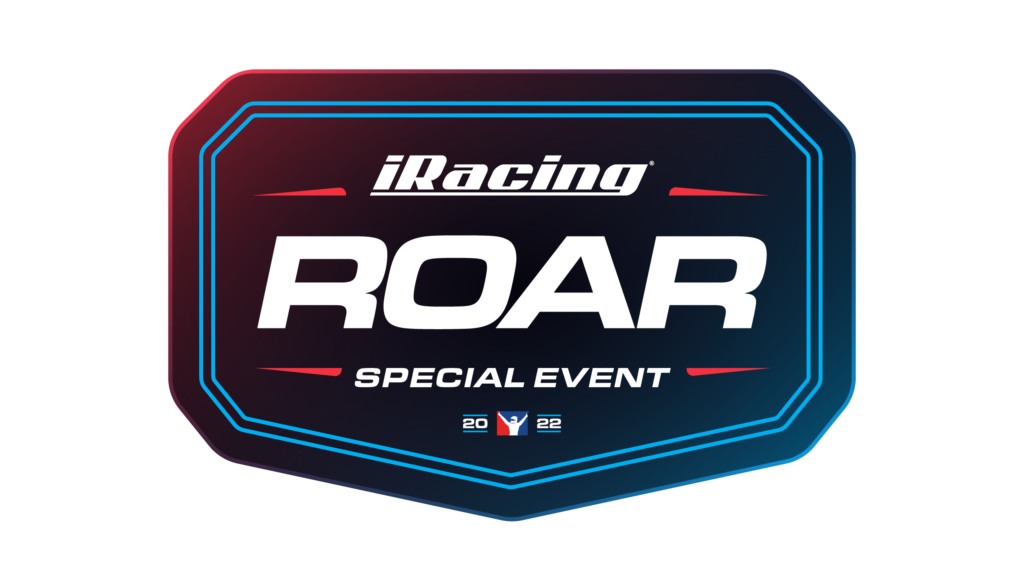 The iRacing Roar is back for 2022 as a solo endurance event to kick off the 2022 special events calendar. This 2.4 hour event will feature GT4's, Touring Cars, and the Global MX-5.
Date: January 14-16
https://forums.iracing.com/discussion/14164/iracing-presents-the-iracing-roar
---
---
iRacing Presents The Daytona 24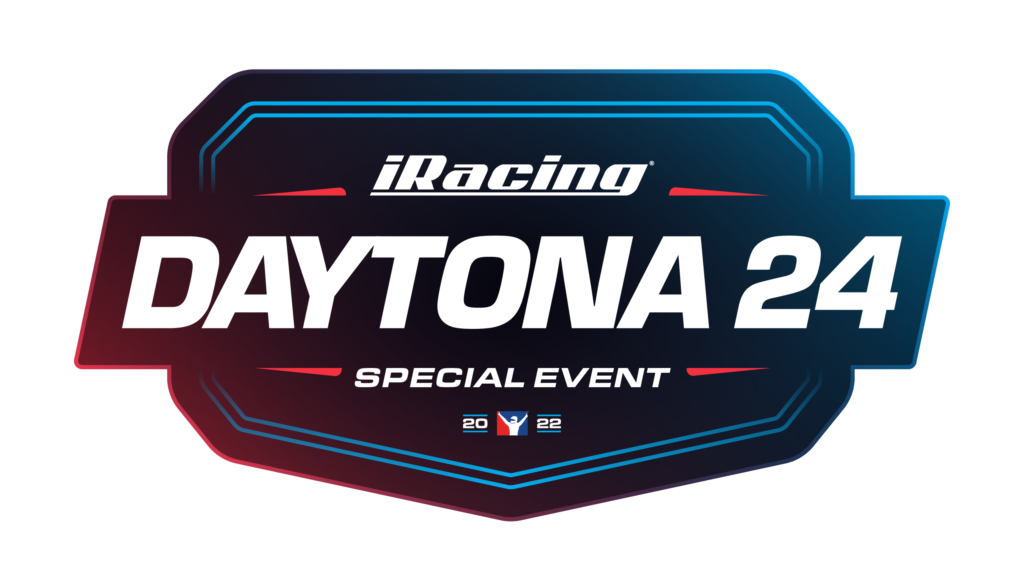 The Daytona 24 is a 24 Hour endurance race held at Daytona International Speedway in Daytona Beach, Florida.
Date: January 21-23rd
Timeslot #1 – Friday 22:00 GMT
Timeslot #2 – Saturday 07:00 GMT
Timeslot #3 – Saturday 12:00 GMT
Timeslot #4 – Saturday 16:00 GMT
https://forums.iracing.com/discussion/14765/iracing-presents-the-24-hours-of-daytona
---
---
iRacer's Lounge New Years Bash
So so far we will have a gen 5, arca, cot and Xfinity 20 lapper at old daytona and a 20 lapper figure 8 with some multi class cars
Podcast Housekeeping
Aftermath Podcast – Get it!
New Website – Leave Comments https://www.iracerslounge.com/
---
We are in the regular rotation… (Mike)
https://performancemotorsportsnetwork.com/
Fantasy
---
---
Hardware/Software
---
---
Company Review ToyoSim
Toyo Sim offers shifters, handbreaks and more for your rigs.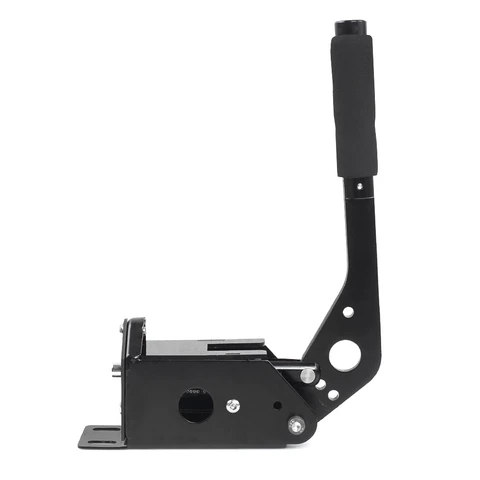 https://toyosim.com/products/annx-sim-racing-handbrake-pc
---
---
ButtKicker – How To
Scott Valez sent in a message to the show with his input into the bass shaker setup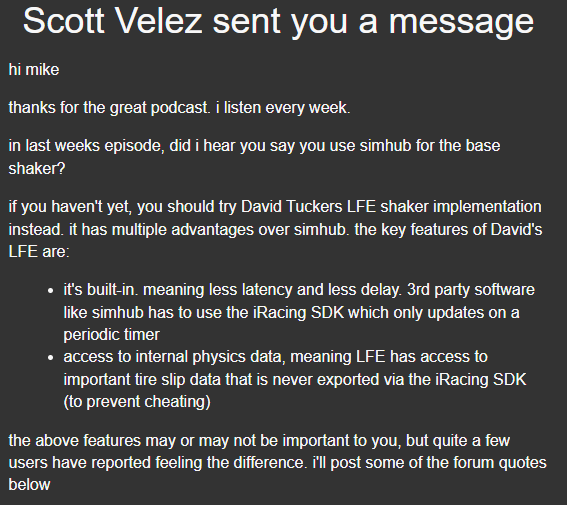 ---
---
Podium Steering Wheel BMW M4 GT3
Fanatec reveals its new BMW M4 GT3 Podium hub which, sold out in minutes after its introduction.
https://fanatec.com/us-en/steering-wheels/podium-steering-wheel-bmw-m4-gt3
Fanatec's Podium BMW M4 GT3 wheel sells out in minutes
https://traxion.gg/fanatecs-podium-bmw-m4-gt3-wheel-sells-out-in-minutes
---
---
Results
NASCAR iRacing Series
---
---
Official Series
Fri open: N wilkesboro Ellis – p15 – I was fast and was able to move forward and eventually took the lead and lead some laps. I was involved in several of the cautions though and my incident count was high. 30 to go I did my last stop for tires while others stayed out. As I was coming back up through the field with about 10 to go I got wrecked again and had to do a drive-through penalty.
Hall – P. 8, ran well, had trouble early with SRA not beeping, lost a lap as a result, got it back, lost again after getting caught up in wreck, got it back. Raced to 8th
Ellis – Trade off dallara dash at charlotte and pickup cup at daytona, most of the day, saw kyle busch in one race
---
---
League / Hosted Races
Winter League

Hall – p17 caught up in late wreck, but was never higher than 12th

2nd week p16, caution free, had to claw just to stay in 16th
OBRL ARCA Series
OBRL Aftermath Truck Series
OBRL CUP Series–

Brian P3 Probable my best run of the week. great pit stops terrible car for restrictor plate races
---
---
Final Thoughts
---
---
Words Spoken in Closing Audio Clip -""Thank you for listening to the iRacers Lounge podcast make sure to go subscribe to us on iTunes, SoundCloud, or Google Play, Facebook & Twitter, See You On The Track ."
TITLE
I'll have the Chicken Dinner
Description
After a week of for the holidays, we're back with all of the info you've come here for. We'll see how iRacing is supporting their highest tech race car ever, the Mercedes W12 F1 car. We'll see how Dale Earnhardt Jr. is spending his time in iRacing and hardware products that may be just what you're looking for. So sit back, relax and join us on the iRacers Lounge Podcast.
iRacers Lounge Podcast is available on iTunes and Apple's Podcasts app, Stitcher, TuneIn, Google Play Music, Spotify, Soundcloud, Podbean, Spreaker, Podbay, PodFanatic, Overcast, Amazon, and other podcast players.
Sponsors:
Hosts:
Mike Ellis – twitter.com/MikeDeanEllis
David Hall – www.twitch.tv/mixmage
Greg Hecktus – twitter.com/froozenkaktus – www.twitch.tv/froozenkaktus
Brian Maccubbin – www.twitch.tv/MacRubbinsRacin
Kyle Pendygraft – twitter.com/LoudPedalGaming
Tony Groves – www.twitch.tv/SirGroves
Adam Josselyn- twitter.com/Jossad83
Chris Scales – twitter.com/JediMcfly
Tony Rochette – twitter.com/TonyRochette
Tom Dreiling –
Links:
Old Show Notes – bit.ly/2CFeArM
Facebook – www.facebook.com/iRacersLounge/
Twitter – twitter.com/iracerslounge
Instagram – instagram.com/iracersloungepodcast/
Web (New Show Notes) – iracerslounge.com/