2/3/2022 – Wet Wood – Episode 0316
iRacers Lounge Podcast – Conversation Topics
Brought to you by:

Opening Audio Clip -"Your listening to the iRacers Lounge Podcast where we discuss everything iRacing, in a casual setting, enjoy."`
READ THIS AT THE TOP OF EACH SHOW!!!
Welcome to the iRacer's Lounge, I am your host "XXX". iRacer's Lounge is a podcast for the iRacer, where we talk all things iRacing in a casual setting.
Joining me are the usual characters, ———— 
---
---
Show Introduction
This week on the show, the final unsigned Coke Series drivers find their home. We recap the final race of the iRacing World of Outlaws season and crown a series champion. And is the Next gen cup car worse than it was before?
And remember you can follow along with us on your PC or mobile device in real time as you listen to the show and see for yourself all of the great topics and products we'll discuss by visiting iracerslounge.com and selecting show notes. Hope to see you there..
---
---
TITLE SPONSOR READ:
SimCoaches offers the realistic sim racing equipment you need to win more races online…. It is designed for real racers… Hydraulic construction makes them feel just like the real thing. High-Quality Construction, 100% Leak Proof, and Lifetime Warranty are the key features with these pedals. And, they look absolutely amazing… Check out simcoaches.com and use the coupon code IRACERSLOUNGE to get 10% off your purchase. Simcoaches.com is your ticket to feel like your actually sitting behind the wheel of a car. Drive harder and stay on the limit longer…
https://simcoaches.com/?fbclid=IwAR1pJASM3C_nV3wFACEHJrHitf8TOQWro4yp-Etaio1zU8Enbojap2Xff5w
---
---
Topics
---
---
Coke News
Letarte eSports return to the Coke Series with two new drivers, Brian Mercurio and Dylan Ault
https://twitter.com/steveletarte/status/1487161070531796995?s=11
Elliot Sadler eSports announced the acquisition of driver Liam Brotherton. Also, they announced that they will be partnering with Next Level Racing as their exclusive sim chassis provider.
https://twitter.com/sadleresports/status/1487893421284990977?s=11
More from Elliot Sadler eSports in that they will be returning with Driver Garrett Manes and also they have formed a driver development program with Kaulig Racing in 2022
https://twitter.com/sadleresports/status/1487923610551414784?s=11
23XI Racing holds with their two drivers from last year, returning champion Keegan Leahy and top rookie, Mitchell deJong
https://twitter.com/23xiracing/status/1488225384747483136?s=11
Spacestation racing will be returning with Kyle Peddle and Allen Boes
https://twitter.com/ssgracing/status/1488308946100178945?s=11
Kyle Long's Mode Media House will have drivers Cody Byus and Matt Busa.
https://twitter.com/modemediahouse/status/1488542936165928966?s=11
---
---
Coke Series Clash
Casey Kirwan wins the Coke iRacing Clash at the Colosseum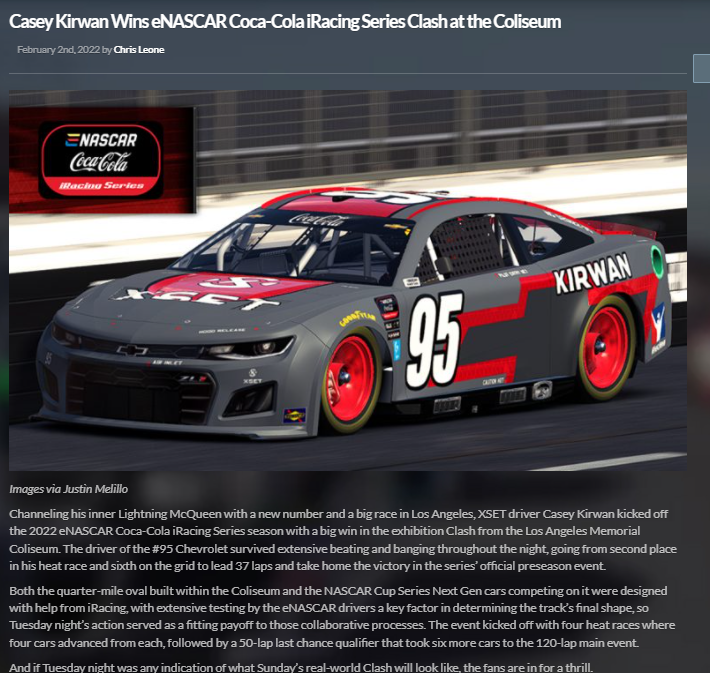 https://www.iracing.com/casey-kirwan-wins-enascar-coca-cola-iracing-series-clash-at-the-coliseum/
---
---
2022 Daytona 24 Stats
Rob Crouch posted the stats for the 2022 24 Hours of Daytona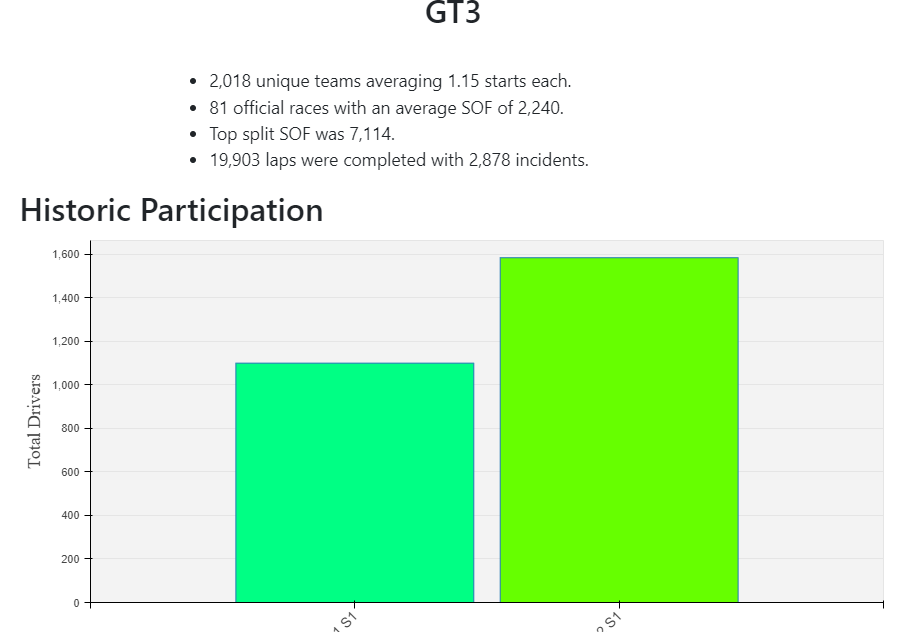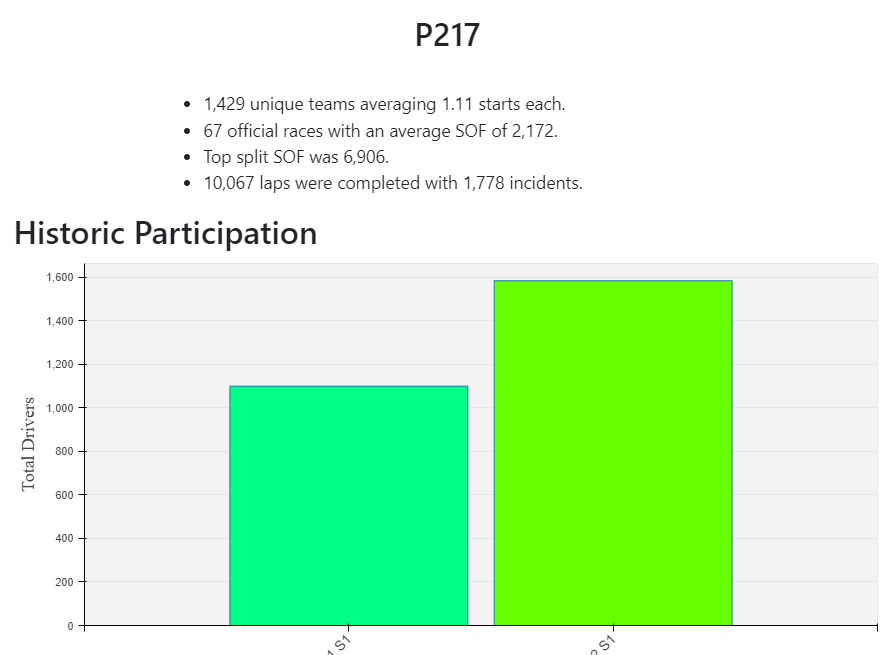 https://iracingreports.com/stats/22s1-Daytona_24-P217.html
https://iracingreports.com/stats/22s1-Daytona_24-GT3.html
https://forums.iracing.com/discussion/17007/2022-daytona-24-stats
---
---
Porsche Supercup Series
The Tag Heuer Porsche Supercup Series will return this Saturday, February 5th at the Hockenheimring with $200,000 prize pool.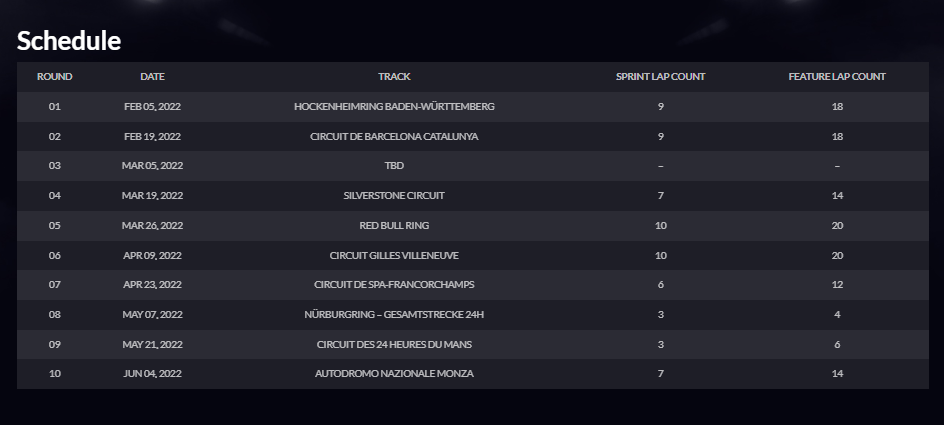 https://www.instagram.com/tv/CZZ0-yDBxkI/?utm_medium=share_sheet
---
---
Reason #437 To Not Use The Beta UI
iRacing posted a Tweet recognizing that there is a know issue with the UI not allowing races to show up and direct user to use the website until the issue is resolved.
https://twitter.com/iRacingSupport/status/1488136398750236679
---
---
It's even worse now
Nick Neebon posted a video on his YouTube Channel criticizing the next gen car noting the snappy loose conditions that are prevent in mile and a half tracks.
https://www.youtube.com/watch?v=uEMjQdp55yI
---
---
Poor Next Gen Braking Performance
iRacing member Isaac Lockhert noticed while racing the Next gen Cup car at the Charlotte roval course that he actually had to back up his break points compared to to Gen 6 car and blamed poorer brake performance. Staffer Matt Holden posted a reply with his explanation of why this is.
There's a lot behind the "curtain" that has to be considered between the two cars. First and foremost, the NextGen brakes do provide more stopping power at their peak than the Gen 6 car, but there's other stuff going on. Mason is right that the Master Cylinders are intentionally set to be larger than optimum, which basically means you can go to 100% brake pedal travel without lockup on initial braking. This helps with people who are more arrive-and-drive since front lockups tend to be harder to recover from than just a softer brake pedal. Reducing MC size will increase line pressure and cause the brakes to bite harder, but can more easily lock up.
Also, NextGen cars have the temperature system enabled on the brakes while the Gen 6 did not. This basically means the G6 brakes are always at optimum temperature, the NG brakes start too cold, thus don't have as much power as they could, and will start fading with excessive heat. It's actually quite difficult to get all four rotors to run in the optimum temp range (usually the front rotors overheat when the rears are optimum), so brake performance can suffer slightly. There's also some engine braking differences between Gen 6, but all-in-all we've gotten feedback from the real drivers that the performance is accurate on the NextGen. The most common thing I heard from real drivers was that the Gen 6 brakes were way too powerful than the real things.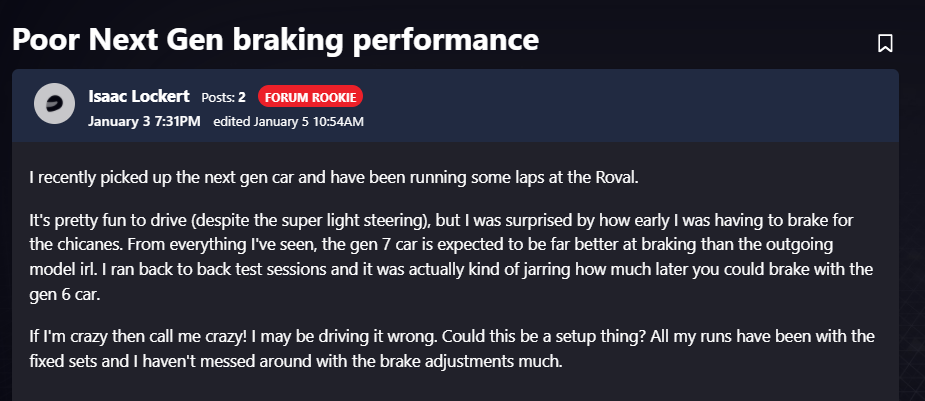 https://forums.iracing.com/discussion/comment/113609/#Comment_113609
---
---
BrokeA$$ $imra¢ing
Broke A$$ $imracing posted a series of videos using some imaginative ways to replace a steering wheel.
https://www.tiktok.com/@douglasthompsonofficial/video/7052738900158205189
https://www.tiktok.com/@douglasthompsonofficial/video/7056437359432420655
https://www.tiktok.com/@douglasthompsonofficial/video/7059369599812341039
https://www.tiktok.com/@douglasthompsonofficial/video/7059373048469687598?is_copy_url=1&is_from_webapp=v1
---
---
iRacing was on site scanning Kern County Raceway
The iRacing track scanning vehicle was spotted at Kern County Raceway Park a half mile oval in Bakersfield California that hosts the Whelen All American Series and K&N Pro Series West. It also sports a 1/3 mile clay track in it's facilities.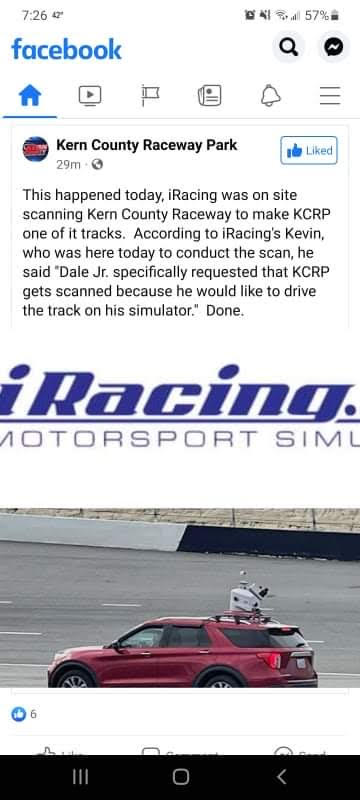 https://www.facebook.com/kernraceway/posts/7092951954080757
---
---
Reminder – Yes we have F1
iRacing Posted on their YouTube Channel a video of member Jarl Teien posting a 1;23.65 in the Mercedes Formula 1 Car at Suzuka
https://www.youtube.com/watch?v=AVwTRwDAhk4
---
---
World of Outlaws Week 10 [Brian/Mike]
The iRacing Nos Energy Drink World of Outlaws Sprint Car series closed out Monday at the Dirt Track at Charlotte. Coming into the race Cameron Merriman held a 13 point lead over 3 time returning champion Alex Bergeron with James Edens 19 points back, third in the points.
Blake Matjoulis was fast in qualifying and won heat number one and earned the feature pole. Merriman was second fastest in qualifying, won his heat and would start on the outside of the front row for the feature.
Meanwhile Bergeron did not have great qualifying effort. Bergeron qualified 21st, started 6th in his heat, and managed only to make his way to third meaning he would start in the fifth row of the feature.
That put Merriman in great position since Bergeron would need to finish at least 5 spots ahead of him to take the championship.
After the flag dropped, Merriman was able to get by Matjoulis 6 laps into the race running the high line around the track. He stayed comfortably ahead of the field while Bergeron charged all the way up to p5.
With the race staying green, the only way he could loose the championship is of he made a major mistake like happened at Fairbury. But no, Merriman stays clear of lap traffic and take his only race win of the season and claiming the 2022 Championship and the $10,000 prize.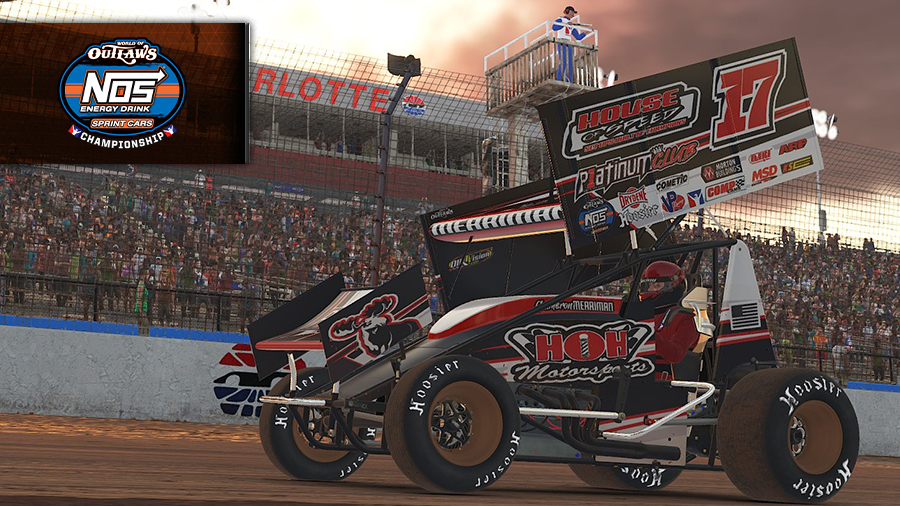 https://www.iracing.com/cameron-merriman-wins-2021-22-iracing-world-of-outlaws-title-with-charlotte-victory/
---
---
EasyAntiCheat (EAC) Update
Alex Gustafson posted in the forums that the iRacing partners at EasyAntiCheat (EAC) recently released a new client-side version update that needs to be present in order for you to join Races. Many of you may have received this update automatically, but if you have been unable to join events lately, these steps might solve your problem: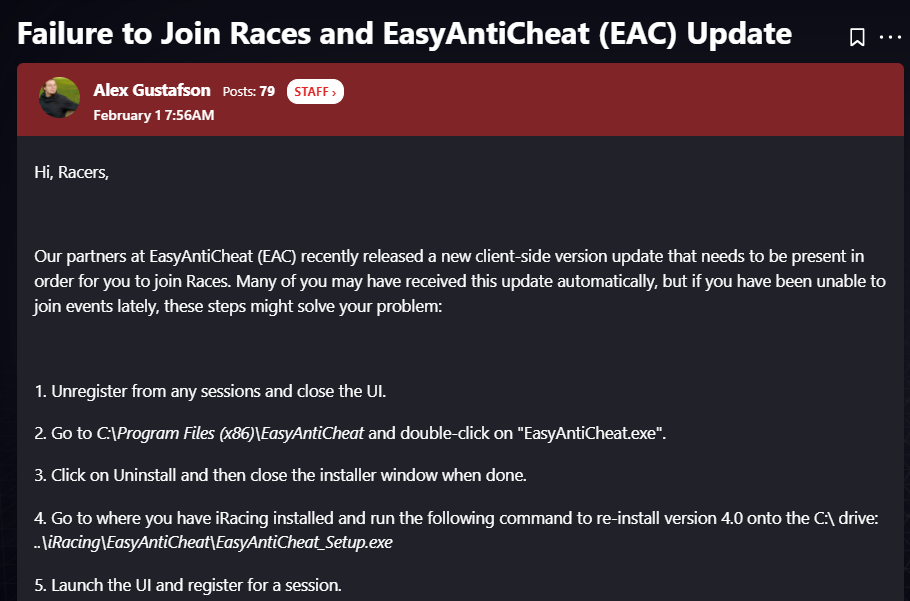 https://forums.iracing.com/discussion/17139/failure-to-join-races-and-easyanticheat-eac-update
---
---
Do you have the same sim racing bad habit as me? [Hall]
Dave Cam on his YouTube Channel was shocked to see that he was turning faster times at Bell Isle with one foot for throttle and braking than with two. After checking his telemetry, he figured out his mistakes and asks if you might be having this habit as well.

https://www.youtube.com/watch?v=rfZjEPiDKuU
---
---
Story Title
f
---
---
Story Title
f
---
---
Story Title
f
---
---
Story Title
f
---
---
Monday Night Racing Pro Series Finale
The Rowdy Energy Monday Night Racing Pro Series Finale Presented by Market Rebellion will be brought to you LIVE at the Carolina Esports Hub for a first of its kind event featuring the best real life & sim drivers alike.
https://www.eventbrite.com/e/rowdy-energy-mnr-pro-series-finale-presented-by-market-rebellion-tickets-253478901217
---
---
Hyundai N e-Festival Global League
https://twitter.com/racespottv/status/1486059463559856130?s=11
---
---
2022 Bathurst 12 Hour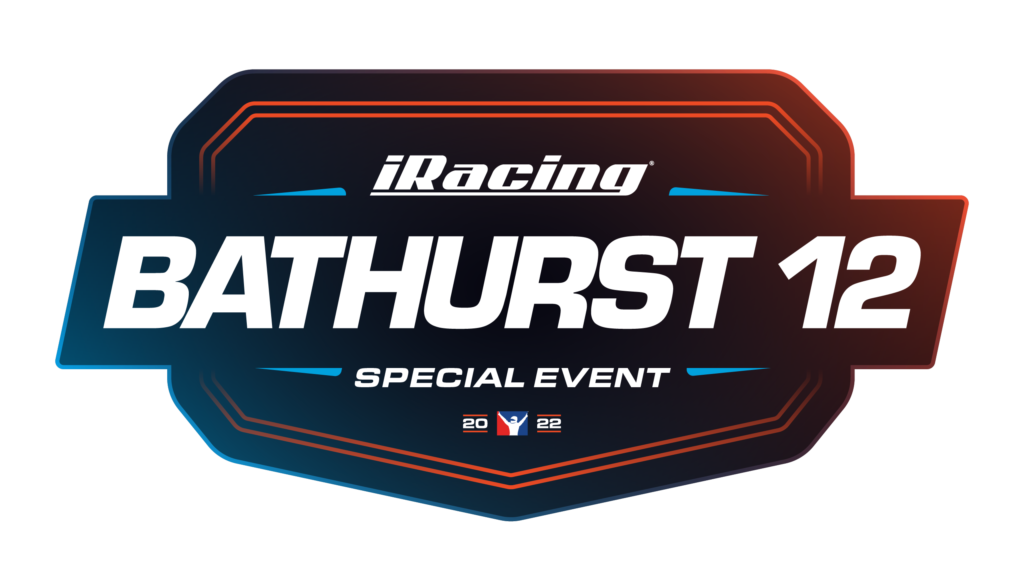 Date: February 11-13
(Registration opens 1 hour prior to the event)
Timeslot #1 – Friday 22:00 GMT
Timeslot #2 – Saturday 7:00 GMT
Timeslot #3 – Saturday 12:00 GMT
Timeslot #4 – Saturday 16:00 GMT
https://forums.iracing.com/discussion/16630/2022-bathurst-12-hour
---
---
Podium 500
The Podium 500 returns with the next gen cars on Feb 13th
https://twitter.com/podiumesports/status/1479815153076084740?s=11
---
---
Prelude to the Daytona 500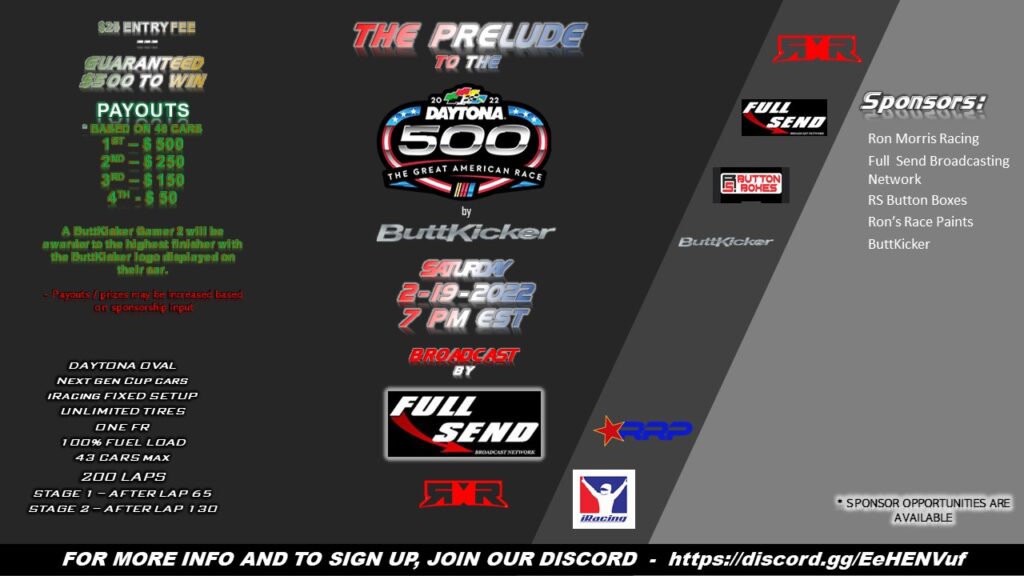 ---
---
Podcast Housekeeping
Aftermath Podcast – Get it!
New Website – Leave Comments https://www.iracerslounge.com/
Buy our NFT! https://ftx.us/nfts/token/397094821527779177
Join our Discord – https://discord.gg/fEmQ2Awaps
---
We are in the regular rotation… (Mike)
https://performancemotorsportsnetwork.com/
Fantasy
---
---
Hardware/Software
---
Samsung Odssey Ark
Samsung posted a video on TikTok of the Samsung Odssey Arc monitor.
https://www.tiktok.com/@newegg/video/7053517595286375727
---
---
GRID DDU-5 Display [Brian]
Grid Sim Lab offers their DDU-5 wheel-base mounted LCD display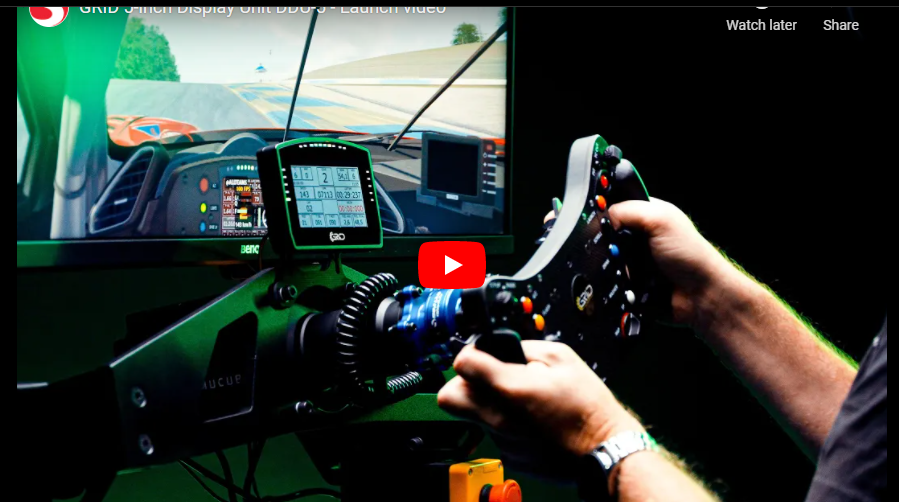 https://gridbysimlab.com/shop/product/grid-display-ddu-5-3619?category=167#attr=2878
---
---
Rise Sim Engineering
RISE Sim Engineering offers button boxes, iFlags, displays and and oval wheel button cluster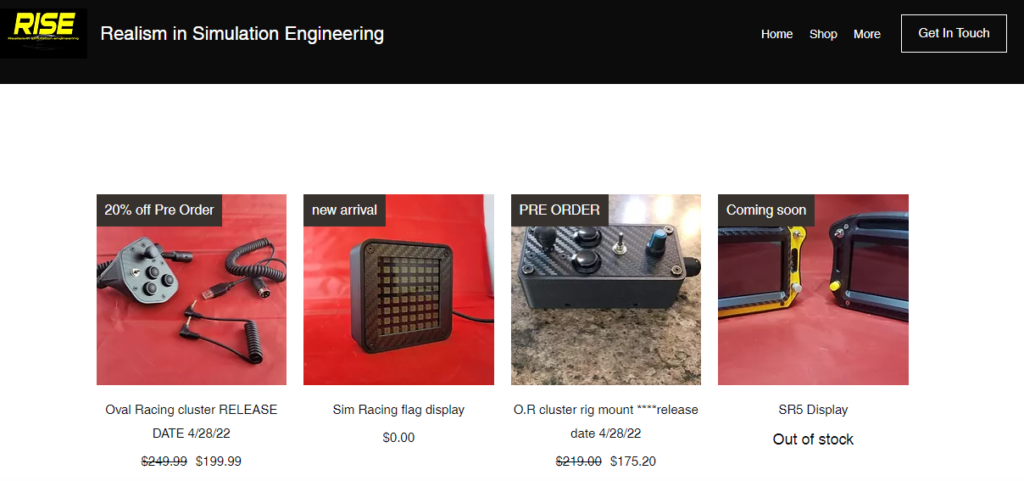 https://www.risesimengineering.com/shop
---
---
The DSD uBox Button Controller
Derek Speares Designs offers their new uBox Button Controller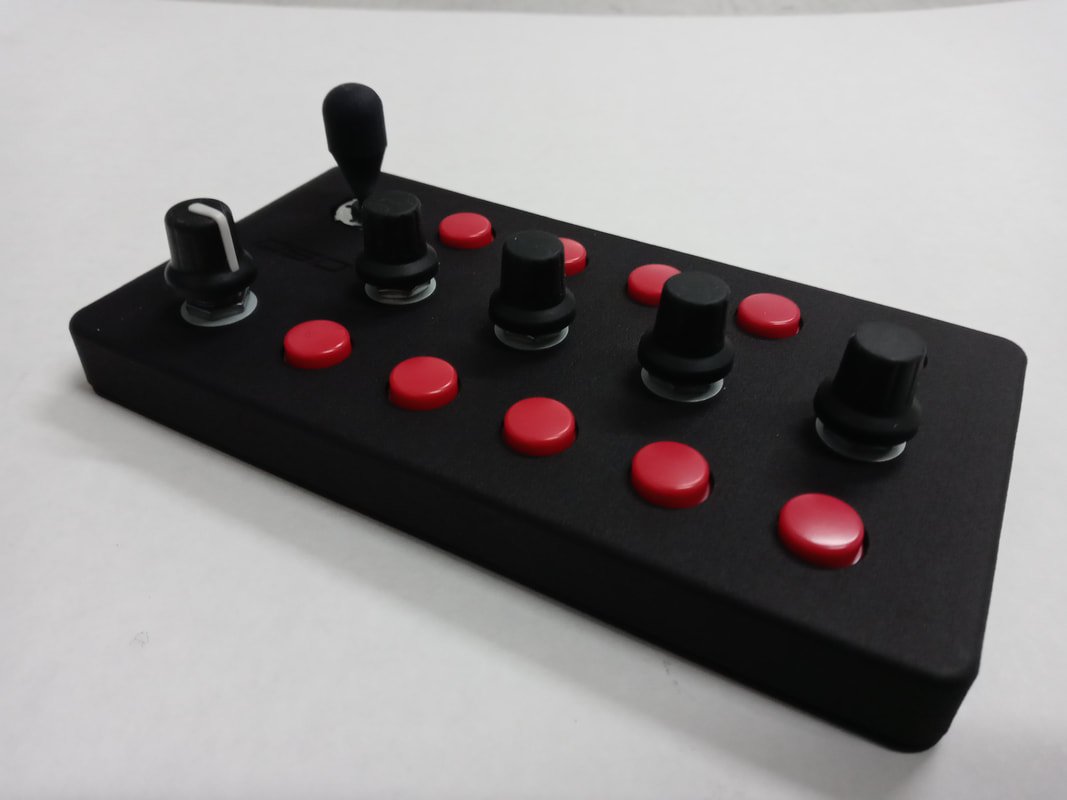 https://derekspearedesigns.com/ubox12.html
---
---
Why I Ditched My Triple Screen Sim Racing Setup
Chris Haye Simracing posted on his YouTube Channel the reasons he ditched his triple screen setup for a single monitor. Most of his reasoning revolved around video performance and video capturing, budgeting for 4k triples
https://www.youtube.com/watch?v=RO5YOttZqbE
---
---
Rig Review
itchie.diz posted a short video on TikTok of his 80/20 composite rig that features an enclosed hood and roof complete with window netting
https://www.tiktok.com/@itchie.diz/video/7058254212567780609?is_copy_url=1&is_from_webapp=v1
---
---
P1 Pro Cylinders are leak-proof
Sim Coaches have managed to engineer the first purpose built hydraulic cylinder for sim racing. where they have added more o-rings and tightened the tolerances from other brands to ensure that they are completely leak proof.
https://www.instagram.com/reel/CZciBgnFrx-/?utm_medium=share_sheet
---
---
RaceKit Simulators
RaceKit Simulators will sell the plans and instructions to build plywood simulators from $25. Designed and developed in New Zealand.
https://racekit-simulators.myshopify.com/
---
---
Results
---
---
Official Series
PDS Euro Sprint Series

Hall – P1 at Suzuka. Unusual win. Was close at first, then started to pull away from 2nd as tires got warm. I GTE gets loose beside me and pops for what would be 5 seconds damage. Didn't hurt the car except for long straights. Held on as Long as I could lost the lead a few laps before pit window. Pitted and fixed 5 seconds, cycled out later to 5 seconds behind lead. Catch him, and he's as fast as me on the long straights, but weak in the S's, i finally setup a pass on the out side of the final left hander and pull away.
---
---
League / Hosted Races
David – p1, stayed in top 4 for whole race with pole. Took lead on 2nd to last restart, big wreck. Final restart to few cars out side line couldn't form up. 2nd place car tried to lay back so I let off to limit his run. Took win.
Bobby – Wrecked Out
Mike – Wrecked out – Tifosi front row Q – We ran up front until i got hooked.
Hosted

Ran supercars at Michigan hosted Chris McGuire end up wrecked getting on the pit Road.
Tried several carb cups at Daytona Friday got wrecked out early in each one

Winter League

Ellis – pDNF – Ran about two thirds of race was just slow and bored, tired. So parked it.
Hall – p wrecked out, not of my own doing, disappointed end to season. Finished 8th in points.
Saturday – SIM 500 eSports Racing League 87 Car

Mike -p17 – Charlotte – hit the wall hard 3 times and through the grass once, was enough to lose my track position to the back, gained back a few spots through attrition. GF stop at half way then caution right after put me and others down a lap fighting for lucky dog. I held it for the first part of the run but lost it eventually because I never caught that next caution
---
---
Final Thoughts
---
---
Words Spoken in Closing Audio Clip -""Thank you for listening to the iRacers Lounge podcast make sure to go subscribe to us on iTunes, SoundCloud, or Google Play, Facebook & Twitter, See You On The Track ."
TITLE
Wet Wood
Description
This week on the show, the final unsigned Coke Series drivers find their home. We recap the final race of the iRacing World of Outlaws season and crown a series champion. And is the Next gen cup car worse than it was before? So sit back, relax and join us on the iRacers Lounge Podcast.
iRacers Lounge Podcast is available on iTunes and Apple's Podcasts app, Stitcher, TuneIn, Google Play Music, Spotify, Soundcloud, Podbean, Spreaker, Podbay, PodFanatic, Overcast, Amazon, and other podcast players.
Sponsors:
Hosts:
Mike Ellis – twitter.com/MikeDeanEllis
David Hall – www.twitch.tv/mixmage
Greg Hecktus – twitter.com/froozenkaktus – www.twitch.tv/froozenkaktus
Brian Maccubbin – www.twitch.tv/MacRubbinsRacin
Kyle Pendygraft – twitter.com/LoudPedalGaming
Tony Groves – www.twitch.tv/SirGroves
Adam Josselyn- twitter.com/Jossad83
Chris Scales – twitter.com/JediMcfly
Tony Rochette – twitter.com/TonyRochette
Tom Dreiling –
Links:
Old Show Notes – bit.ly/2CFeArM
Facebook – www.facebook.com/iRacersLounge/
Twitter – twitter.com/iracerslounge
Instagram – instagram.com/iracersloungepodcast/
Web (New Show Notes) – iracerslounge.com/