2/10/2022 – Chubby Birb – Episode 0317
iRacers Lounge Podcast – Conversation Topics
Brought to you by:

Opening Audio Clip -"Your listening to the iRacers Lounge Podcast where we discuss everything iRacing, in a casual setting, enjoy."`
READ THIS AT THE TOP OF EACH SHOW!!!
Welcome to the iRacer's Lounge, I am your host "XXX". iRacer's Lounge is a podcast for the iRacer, where we talk all things iRacing in a casual setting.
Joining me are the usual characters, ———— 
---
---
Show Introduction
On the show this week we'll be welcoming Pro Painter and hardware developer Brandon Yuhouse to the show. We'll cover the first race of the Porsche Tag Heuer Supercup Series, while iRacing announces another World championship Series and we'll look at iRacing's involvement in the development of the Clash at the Colosseum.
And remember you can follow along with us on your PC or mobile device in real time as you listen to the show and see for yourself all of the great topics and products we'll discuss by visiting iracerslounge.com and selecting show notes. Hope to see you there..
---
---
TITLE SPONSOR READ:
SimCoaches offers the realistic sim racing equipment you need to win more races online…. It is designed for real racers… Hydraulic construction makes them feel just like the real thing. High-Quality Construction, 100% Leak Proof, and Lifetime Warranty are the key features with these pedals. And, they look absolutely amazing… Check out simcoaches.com and use the coupon code IRACERSLOUNGE to get 10% off your purchase. Simcoaches.com is your ticket to feel like your actually sitting behind the wheel of a car. Drive harder and stay on the limit longer…
https://simcoaches.com/?fbclid=IwAR1pJASM3C_nV3wFACEHJrHitf8TOQWro4yp-Etaio1zU8Enbojap2Xff5w
---
---
Special Guest
Brandon Yuhouse
Guest Specific Questions:
---
---
Topics
---
---
iRacing Off-Road Championship Series
iRacing will stage its first-ever professional sim racing series for short course off-road trucks in the summer of 2022. The iRacing Off-Road Championship Series will kick off on Wednesday, June 22 and feature the Pro 4 Stadium Truck competing in premier short course venues across America, with a $25,000 purse on the line and $10,000 to the champion.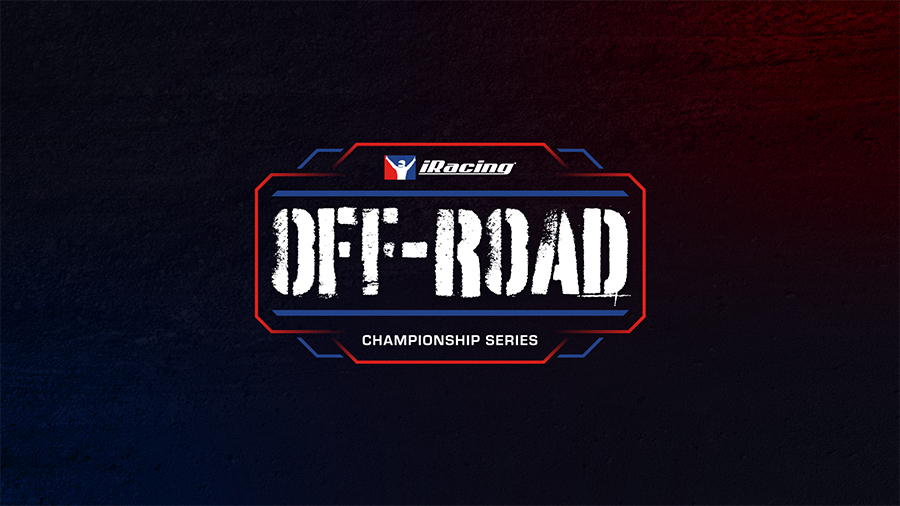 https://www.iracing.com/iracing-to-introduce-pro-4-off-road-truck-championship-series-in-summer-2022/
---
---
Daytona Solo
Haydon Gullis posted a video of the completion of his solo 24 Hours of Daytona
https://www.tiktok.com/@haydon6gullis/video/7056381377838664965
---
---
Got confetti for finishing with class
Sent in by listener Eric Whiting we have a YouTube video of a Skip Barber crashing into a tire barrier and just watch what happens
https://www.youtube.com/watch?v=KkicOmiXYBk
---
---
Talladega Alt
Moonhead posted a video of a cup race at Talladega, with a twist. Drivers are able to drive thru pit road as part of the racing surface, and let the carnage begin
https://www.tiktok.com/@itsmoonhead/video/7060736059176635694
---
---
BL's Offline Real World Replica Rosters
Brendon Langlois decided to start a thread to share the real world replica rosters he's created over the last year or so. He's put tons of time into each one of these rosters to try to make them as accurate to real life as possible, and is sharing them with the community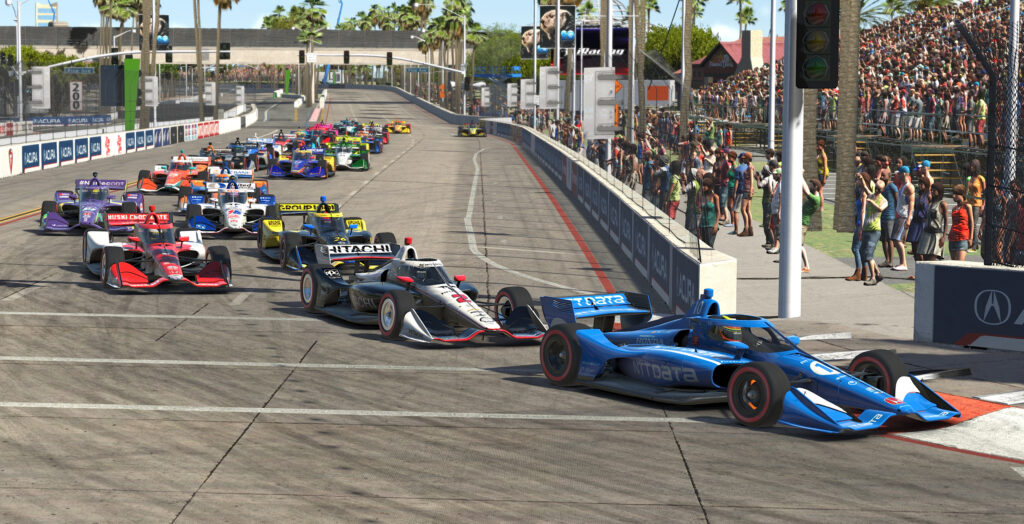 https://forums.iracing.com/discussion/15998/bls-offline-real-world-replica-rosters#latest
---
---
Graphical Updates Delay
Tyler Hudson posted in the forums that the graphical updates for the new spoiler on the next gen cup cars will be released later. They wanted to get the car physics released asap for testing, NIS and Coke Series.

https://forums.iracing.com/discussion/comment/124940/#Comment_124940
---
---
LA Coliseum Feedback
Jalopnick.com posted an article with their thoughts of the new LA Colosseum while Zach Sturniolo writing for Frontstretch.com explored how iRacing played a pivotal role in the success of the Clash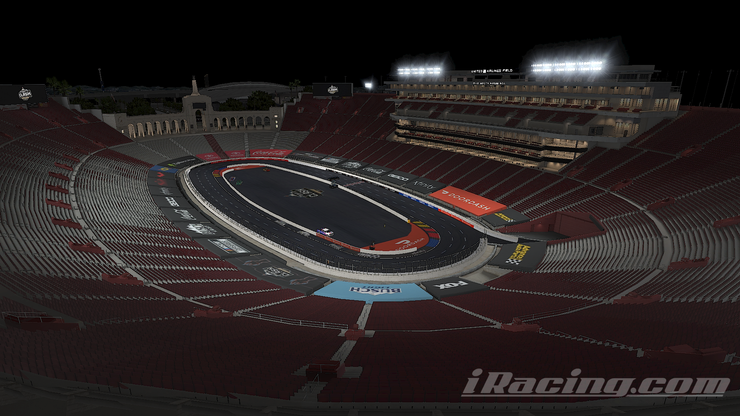 https://jalopnik.com/i-raced-iracings-la-coliseum-so-you-dont-have-to-1848486458
"iRacing has been tremendous in helping us create this track and really put it together," Kennedy said Friday while standing atop the fresh asphalt off turn 4. "I have to give Steve Myers and Greg Hill and the entire team over there a ton of credit. We sent them a CAD file of what this track would look like in the fall of last year. They put it on their service, they built a couple of different variations of it. We played with banking a little bit, played with track with a little bit, played with different rumble strips in the corners, and [we] got a ton of great data and feedback from our Cup drivers and the professional eSports drivers that jumped on there."
Would NASCAR be as willing to take these bold risks so quickly without the advantage of iRacing's resources?
"Probably not," said Earnhardt Jr., who also serves as an analyst for NBC Sports. "I think that iRacing being able to build this track and then let their really, really good, talented iRacers vet the track and give their feedback is an incredible scenario. It's very lucky for NASCAR, especially with the position that NASCAR is in with this sort of new ambitious thought process of street courses."
"I think iRacing opens up the possibilities, right?" Earnhardt Jr. said. "They [NASCAR officials] go into the projects with so much more confidence being able to build a virtual rendition of the track and being able to actually have competitors compete on that virtual track. You can make a render. You have an artist create a render or draw something, but you can't race that render. You can't put competitors on that render and let them go after it and see what they think.
"With the iRacing software and that component, it really opens up the possibilities of what NASCAR can do and how creative they can get."
https://www.frontstretch.com/2022/02/06/zachs-turn-iracing-plays-pivotal-role-in-clash-success/
---
---
Fake iRacing Store
iRacing posted on Twitter that they are investigating a fake iRacing Store scam and remonds everyone to only make purchase from iRacing.com, the members.iracing.com or thru Steam. And you should never share your iRacing login info
https://twitter.com/iracingsupport/status/1490713575358357505?s=11
---
---
Monday Night Racing Live
Taylor Burris Tweeted a pic of the stage in preparation of the Rowdy Energy Drink Monday Night Racing finale live
https://twitter.com/irdtaylor45/status/1490741833043005443?s=11
Monday Night Racing posted from their Twitter a video of the action as the laps count down
https://twitter.com/MonNightRacing/status/1490879098440527872
And congratulations to Adam Cabot for his victory. Noah Lewis posted a video of Adam's trophy presentation.
https://twitter.com/Noah_Lewis1/status/1490882510053462018
---
---
iRacers Pay Tribute – Lotus 49 Community
The Lotus 49 Community paid tribute to their fallen friend Colin Bentley and iRacing posted the video on their YouTube page.
https://www.youtube.com/watch?app=desktop&v=8Xl1nSPcN_0&feature=youtu.be
---
---
2022 Season 1 Patch 3 Release Notes
iRacing and Alex Gustafson posted the release notes for 2022 Season 1 patch 3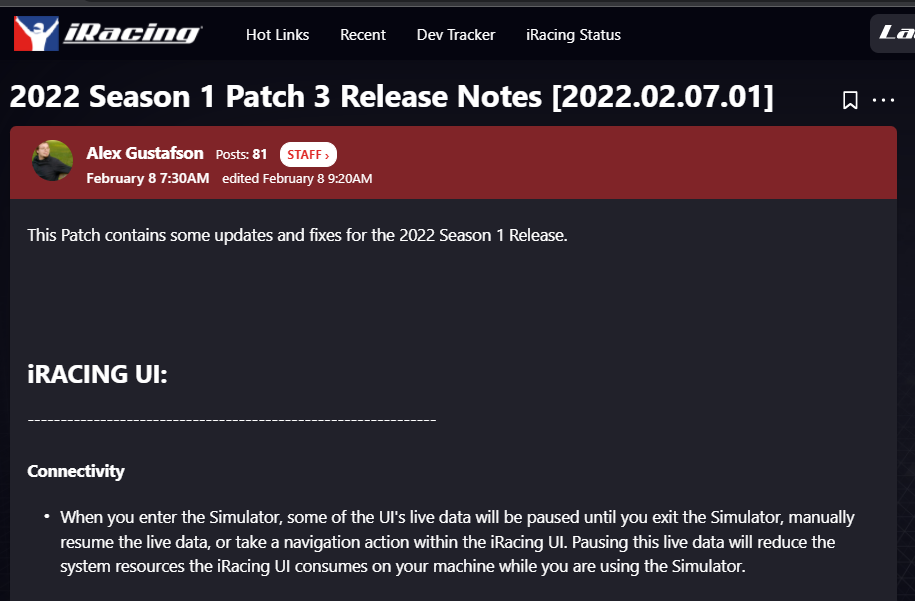 https://forums.iracing.com/discussion/17548/2022-season-1-patch-3-release-notes-2022-02-07-01
---
---
Exciting news coming up
Carquest Auto Parts Tweeted that if you love iRacing give us a follow for some exciting news coming up. Drop your iRacing channel below in the comments so people can find you.
https://twitter.com/carquest/status/1491079381892096001?s=11
---
---
Porsche Supercup Week 1 Hockenheim
Ayhancan Guven took the victory in the first race of the 2022 Season of the Porsche Tag Heuer Supercup Series at Hockenheim. Graham Carroll finished second and Jeremy Bouteloup finshed third.
In the All-Star race preceding the Supercup action, Porsche junior driver Laurin Heinrich passed defending series champion Emily "Emree" Jones on Lap 6 and lead the final 10 laps of the race.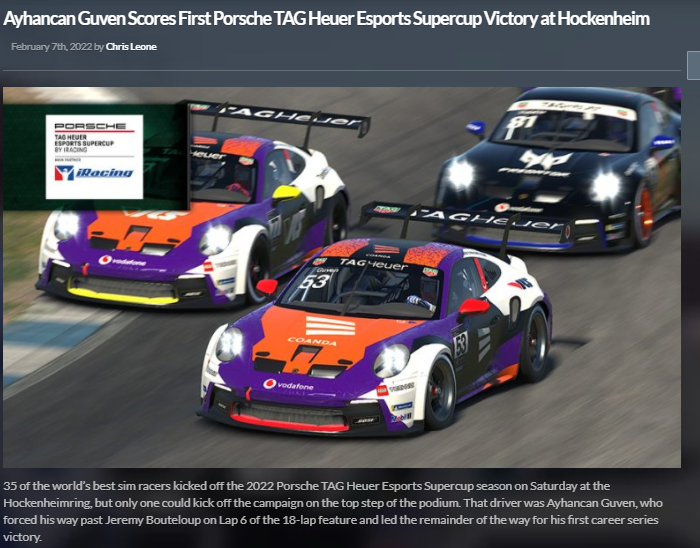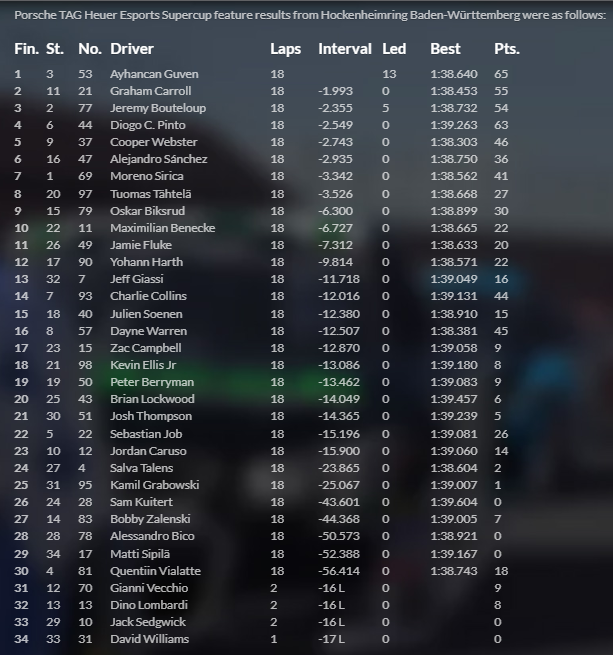 ---
---
2022 Porsche Sprint Challenge Canada series
The 2022 Porsche Esport Sprint Challenge Canada series begins on March 17th
https://twitter.com/porschecanada/status/1490686882946203652?s=11
https://www.iracing.com/pescc/
---
---
2022 IndyCar iRacing Series Schedule
iRacing has announced that the IndyCar iRacing Series will be back for 2022. This 16 event schedule kicks off the week of February 22nd at Sebring and runs through September at Laguna Seca. New for this season (and available after the March Release so not Sebring) we will have an updated rule set that will require the use of multiple compounds for road course events for a bit more strategy.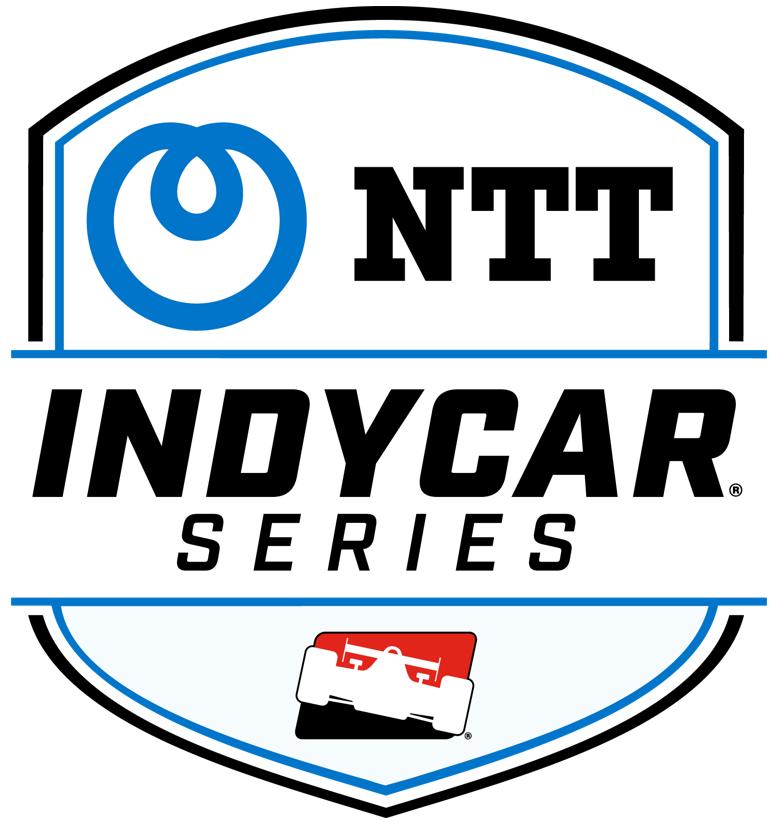 Please see the rest of the year long series details below:
Timeslots
Timeslot #1 – Thursday 01:00 GMT
Timeslot #2 – Friday 18:00 GMT
Timeslot #3 – Saturday 13:00 GMT
Timeslot #4 – Sunday 18:00 GMT
Timeslot #5 – Monday 1:00 GMT
https://forums.iracing.com/discussion/17342/2022-indycar-iracing-series-schedule#latest
---
---
2022 Bathurst 12 Hour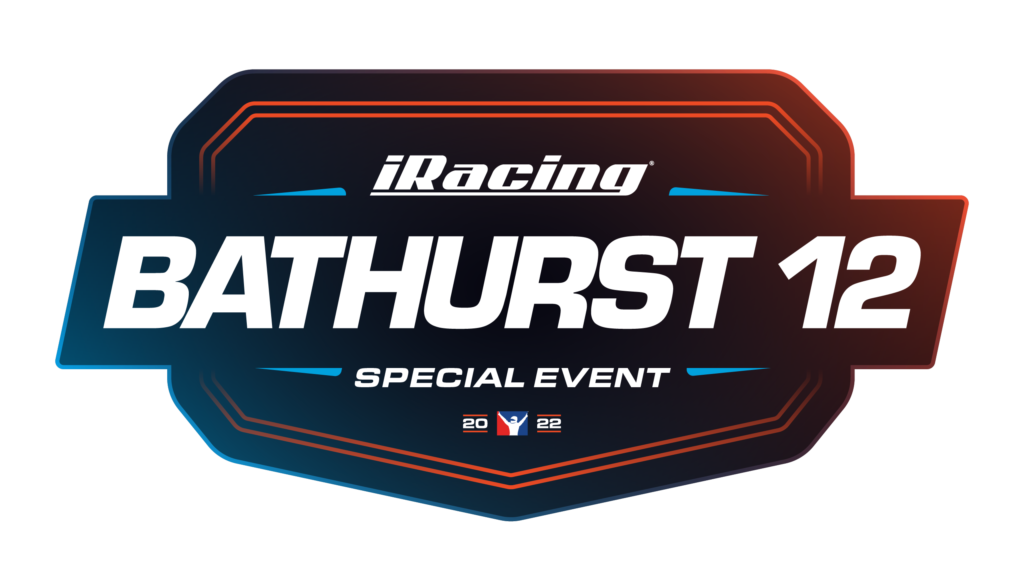 Date: February 11-13
Timeslot #1 – Friday 22:00 GMT
Timeslot #2 – Saturday 7:00 GMT
Timeslot #3 – Saturday 12:00 GMT
Timeslot #4 – Saturday 16:00 GMT
https://forums.iracing.com/discussion/16630/2022-bathurst-12-hour
---
---
Podium 500
The Podium 500 returns with the next gen cars on Feb 13th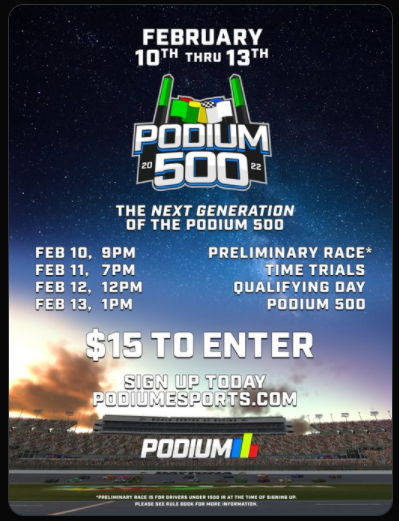 https://twitter.com/podiumesports/status/1479815153076084740?s=11
---
---
Tony Rochette's New Paints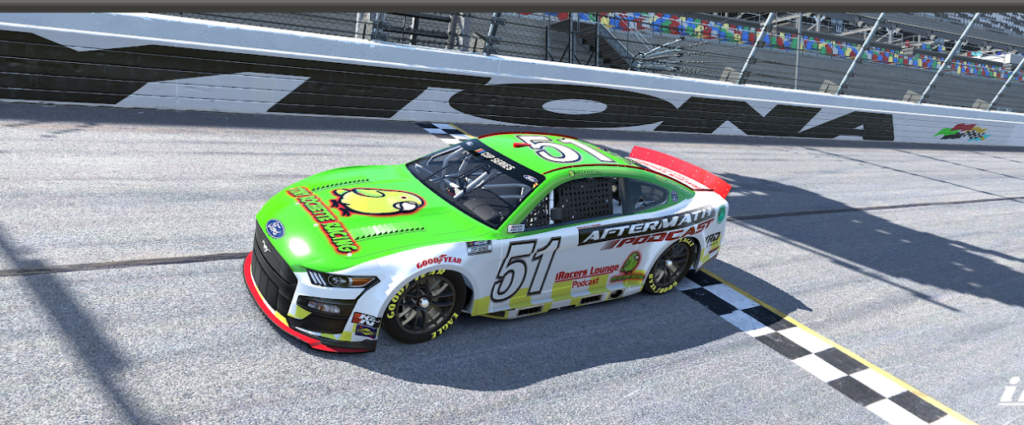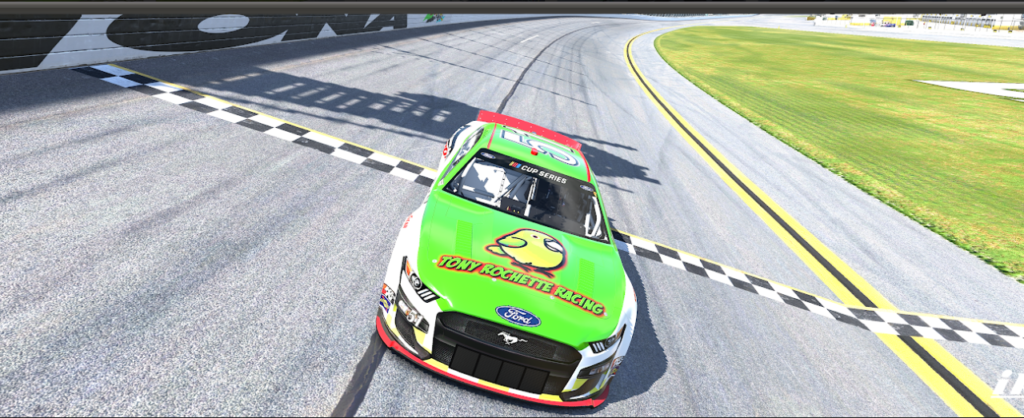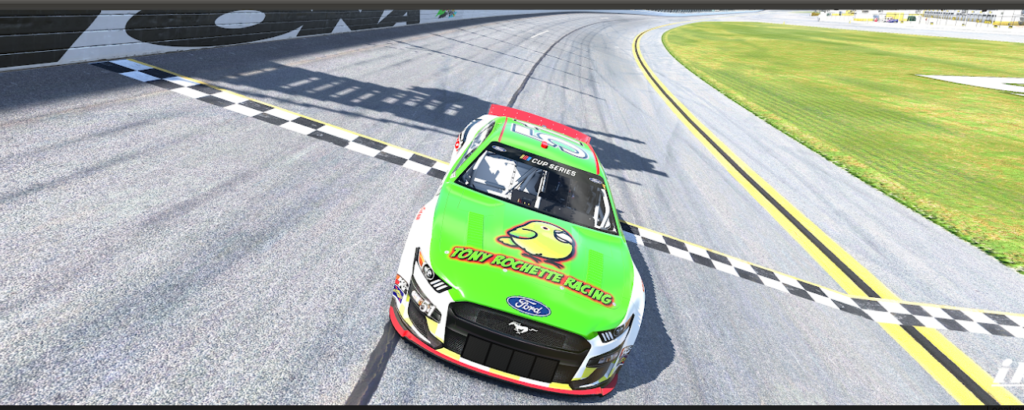 Podcast Housekeeping
Aftermath Podcast – Get it!
New Website – Leave Comments https://www.iracerslounge.com/
---
We are in the regular rotation… (Mike)
https://performancemotorsportsnetwork.com/
Fantasy
Tony Groves announces the return of the 2022 iRacers Lounge Podcast and Aftermath Show Nascar Fantasy League.
---
---
Hardware/Software
---
Carolina Sim Shop is coming later this year
Carolina Sim Shop is coming later this year! They have already started making and building iRacing Spotlights, and in the coming months they will be looking for people to help with beta testing the products they are making. Comment or Message if you're interested! This product was created by Midwest Simulations, and they are no longer creating it. The goal is to have products on the market in Q3 2022!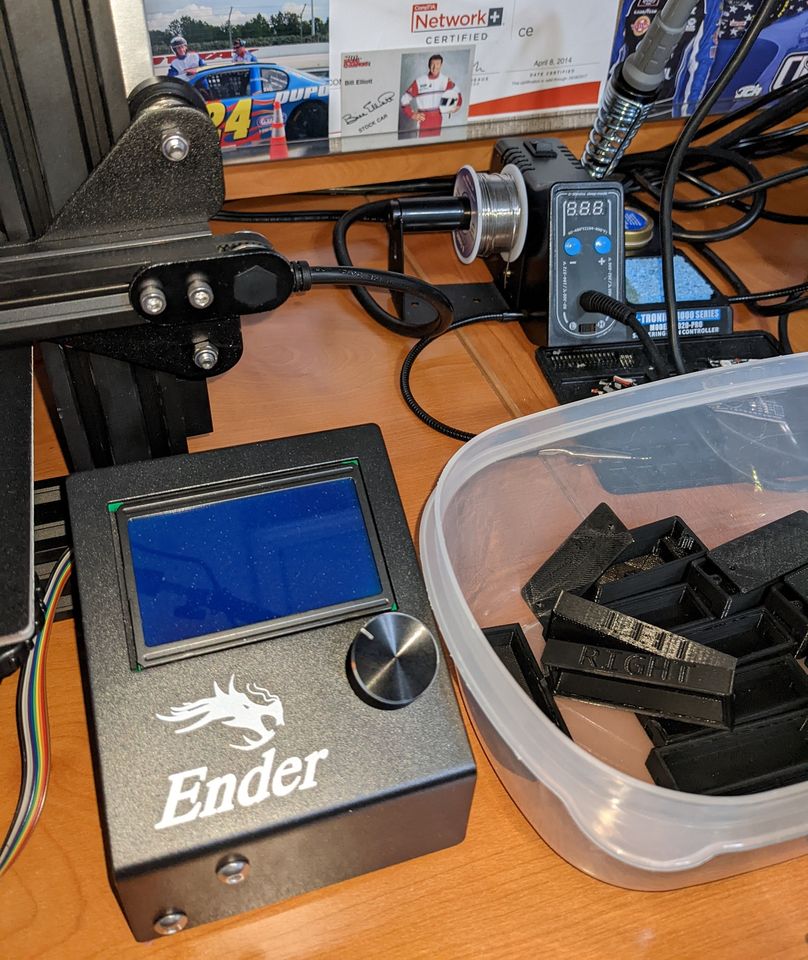 https://www.facebook.com/184085205126228/posts/1947944218740309/?d=n
---
---
Rig Review
This rig was posted by Ryan Haines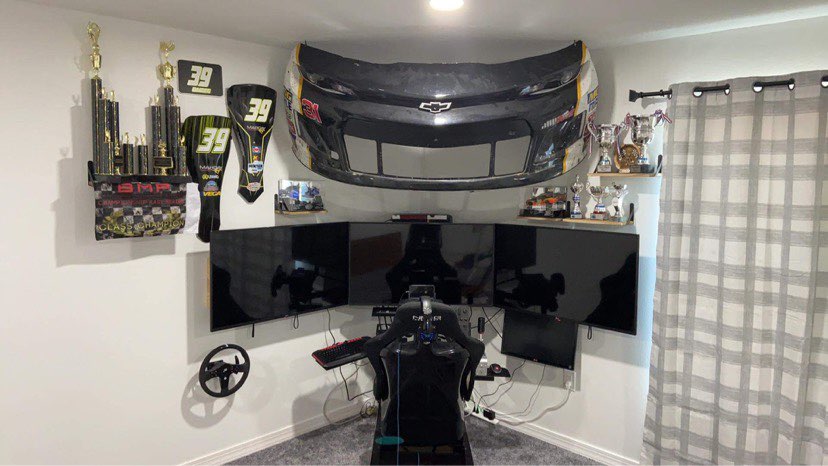 Ryan Haines
I still have more stuff to hang but I just moved it into our converted garage room.
---
---
iRaceControl (Race Control, Stewarding)
This is a race control program for iRacing. It is being developed by Richard Hibbs and myself. It is still in a alpha state, and under development.
Main features:
Live track positions of cars (Map if available, circle otherwise), with yellow highlight if driver is off track.
Live timing with laps, sector times, last and best lap times.
Sector and Lap times are logged for each driver.
Incident-logging for review and giving penalties, or no action. Can also enable public or private notification in the iRacing chat of incident review results.
Can give post-race time penalties (Only affects exports from iRaceControl, not iRacing)
Playback control.
Random yellows. Can set timeslots for random yellows, with a given probability.
Auto Steward. Can give drivers warning/drive-though/stop-go/dsq at set inc-counts. Can also throw full course yellows if the total inc-count exceeds a set value during the 1st lap, the last 10 seconds, or in total.
Pace car controls; Send out (throw a full course yellow), call in, add/reduce laps to be run.
Buttons for closing and opening of the pit entry.
Button for advancing to next session.
Start control: Buttons for initiation of race start, or to postpone it.
Clocks for both session time remaining and session/race run time.
CSV export of race results in same format as iRacing website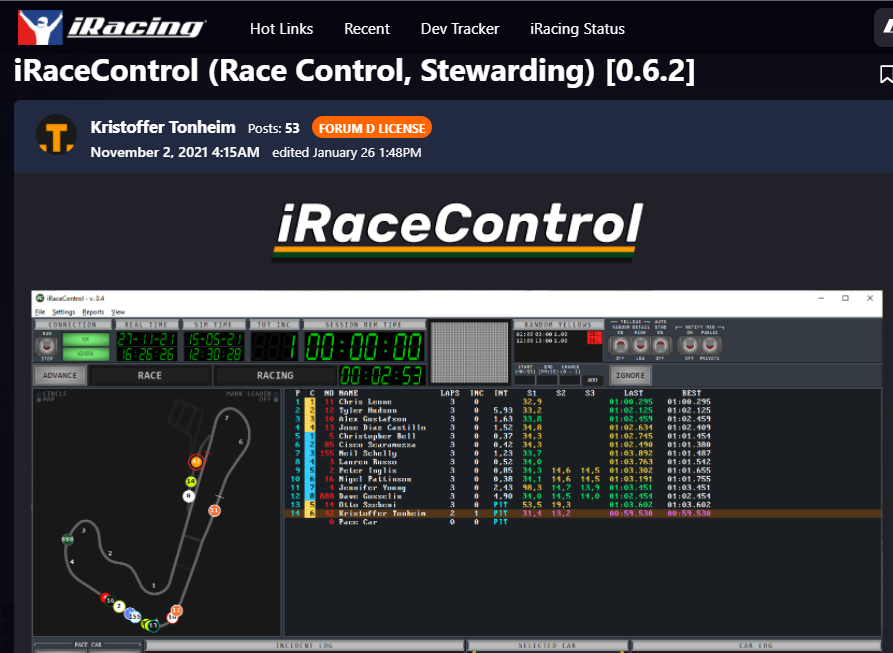 https://forums.iracing.com/discussion/11055/iracecontrol-race-control-stewarding-0-6-2/p1
---
---
PreOrder Asetek Simsports Invicta Pedals
This is a free & no obligations pre-order opportunity for the Asetek SimSports Invicta Sim Racing Pedals – Brake & Throttle.

This pre-order guarantees that you can get the highly discounted introduction pricing for this product and priority shipment. Once the pedals are available for immediate dispatch across North America (late March or early April 2022), the Advanced SimRacing team will contact you to confirm your order.
Introduction pricing : 759.99$ USD / 995.99 $ CAD
Regular pricing (After February 28) : 899.99$ USD / 1195.99 $ CAD
https://www.advancedsimracing.com/products/asetek-sim-sports-invica-sim-racing-pedals-brake-throttle
---
---
JRT is the App That Keeps On Giving
Click the right side of any timing screen to get to red box, take PHOTO… Viola!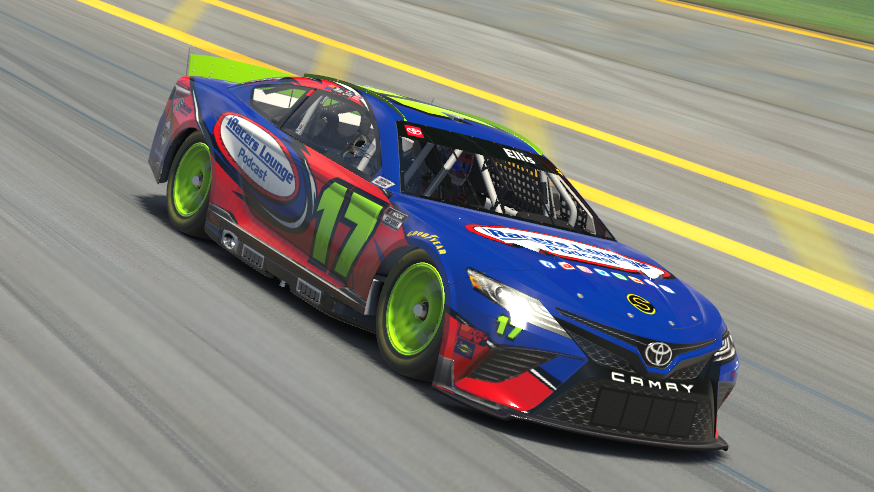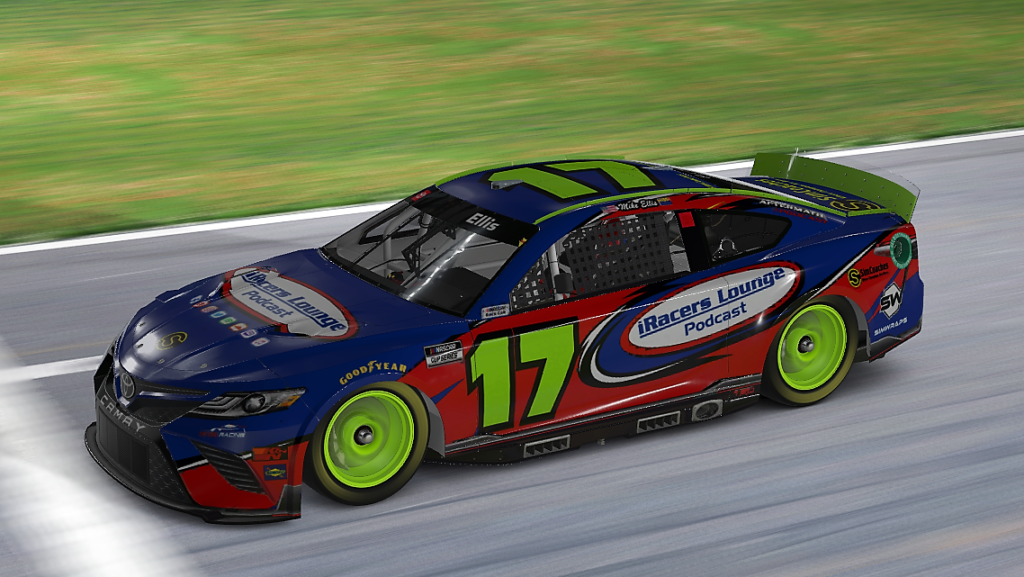 ---
---
Gen 7 MOTEC Workbook and Jargon
So with the Next Gen, some of the newer telemetry outputs have seemed to not quite work properly with some older workbooks, which means that some work has had to be done to update them. Kyle L Steinwand is offering up an updated version of the old MoTeC Project 2015 Gen6 created by Peter Chamberlain (it's original creator), titled MoTeC Project 2022 Next Gen. This book has some updated information to better match the newer telemetry outputs we have available.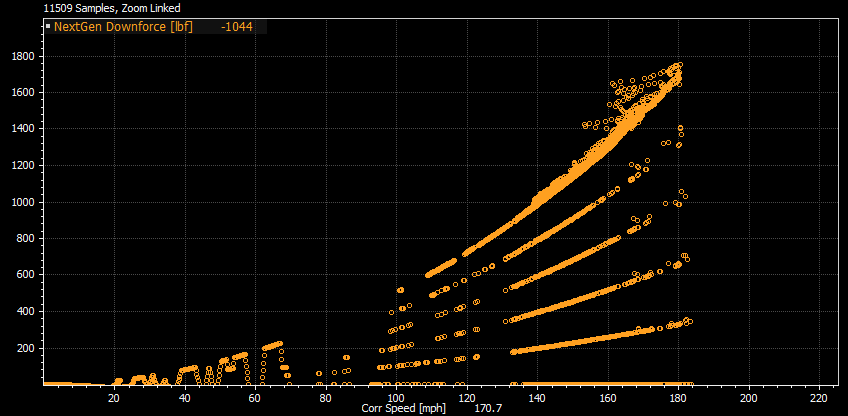 https://forums.iracing.com/discussion/15825/next-gen-telemetry-workbook-for-motec#latest
---
---
ClubSport Steering Wheel F1® Esports V2
Celebrating our partnership with Formula 1 as official provider of the F1 Esports Series, the ClubSport Steering Wheel F1® Esports V2 is designed for driving Formula 1 cars at the limit. The V2 comes with magnetic shifters, customizable RGB LEDs, revised electronics, and an exchangeable quick release.
https://fanatec.com/us-en/steering-wheels/clubsport-steering-wheel-f1-esports-v2
https://www.youtube.com/watch?v=gB8BGJcOtrI
---
---
Results
NASCAR iRacing Series
---
---
Official Series
A Fixed

Rochette P8 @ Kentucky first time running updated NG package
---
---
League / Hosted Races
Hosted –

Ellis -The Kia at Talladega and then the old cop car at Talladega, then the DP at Texas.
FastTrack League

David – p3 lost my help, but went from 20th to 4th in 2 laps. I love the package https://www.youtube.com/watch?v=o1NijLF_WDY

Greg p Hooked
Mike – 14 – But on the white was pushing david to the win but got hooked from behind. Great run, most of the race the 3 of us lined up near the front.
Man Cave After Dark Thursday Night Truck League
Mike – lucas oil raceway – twice someone spun in front of me and i had to take massive action to avoid. I end up at the back because of it, eventually lapped. But caution then got the lucky dog. Then I ended up spinning on my own and killed the left front on the inside wall for 3 and half minutes damage. But it was a short track and didnt lose much speed, but later got ran over from behind and dumped basically.
Saturday – SIM 500 eSports Racing League 87 Car Wilkesboro

Mike -p10 – Got involved in a lot of early incidents that weren't my doing, but this car is a tank and it seemed to be just fine with a minute and a half damage. Turn it up taking tires on a lab 35 but then we had a long green run and I got lapped. Missed out on the lucky dog opportunity near the end so I just brought it home.
Chris p12?
OBRL Aftermath Truck Series
OBRL CUP Series
---
---
Final Thoughts
---
---
Words Spoken in Closing Audio Clip -""Thank you for listening to the iRacers Lounge podcast make sure to go subscribe to us on iTunes, SoundCloud, or Google Play, Facebook & Twitter, See You On The Track ."
TITLE
Chubby Birb
Description
On the show this week we'll be welcoming pro painter and hardware developer Brandon Yuhouse to the show. We'll cover the first race of the Porsche Tag Heuer Supercup Series, while iRacing announces another World championship Series and we'll look at iRacing's involvement in the development of the Clash at the Colosseum. So sit back, relax and join us on the iRacers Lounge Podcast.
iRacers Lounge Podcast is available on iTunes and Apple's Podcasts app, Stitcher, TuneIn, Google Play Music, Spotify, Soundcloud, Podbean, Spreaker, Podbay, PodFanatic, Overcast, Amazon, and other podcast players.
Sponsors:
Hosts:
Mike Ellis – twitter.com/MikeDeanEllis
David Hall – www.twitch.tv/mixmage
Greg Hecktus – twitter.com/froozenkaktus – www.twitch.tv/froozenkaktus
Brian Maccubbin – www.twitch.tv/MacRubbinsRacin
Kyle Pendygraft – twitter.com/LoudPedalGaming
Tony Groves – www.twitch.tv/SirGroves
Adam Josselyn- twitter.com/Jossad83
Chris Scales – twitter.com/JediMcfly
Tony Rochette – twitter.com/TonyRochette
Tom Dreiling –
Links:
Old Show Notes – bit.ly/2CFeArM
Facebook – www.facebook.com/iRacersLounge/
Twitter – twitter.com/iracerslounge
Instagram – instagram.com/iracersloungepodcast/
Web (New Show Notes) – iracerslounge.com/