2/17/2022 – The Podidumb 500 – Episode 0318
iRacers Lounge Podcast – Conversation Topics
Brought to you by:

Opening Audio Clip -"Your listening to the iRacers Lounge Podcast where we discuss everything iRacing, in a casual setting, enjoy."`
READ THIS AT THE TOP OF EACH SHOW!!!
Welcome to the iRacer's Lounge, I am your host "XXX". iRacer's Lounge is a podcast for the iRacer, where we talk all things iRacing in a casual setting.
Joining me are the usual characters, ———— 
---
---
Show Introduction
Well, the Coke Series is back at Daytona this week and we're very excited to have Series announcer Evan Posocco back to cover all of the exciting action. Another big Daytona iRacing event doesn't go off quite as well. All that plus a look at one of the nicest formula and GT wheels on the market.
And remember you can follow along with us on your PC or mobile device in real time as you listen to the show and see for yourself all of the great topics and products we'll discuss by visiting iracerslounge.com and selecting show notes. Hope to see you there..
---
---
TITLE SPONSOR READ:
Want to swap to hydraulic pedals but you're worried about leaks?
We want to take a moment to tell you about Sim Coaches P1 Pro Pedals…
Their proprietary no-leak technology ensures all fluids stay inside where they belong.
They completely re-designed the hydraulic cylinders found on typical pedals and made them spec for sim racing.
Designed, machined and assembled right here in the USA. You can have confidence what you'll get is quality.
Backed by their lifetime warranty, there's no reason not to give them a look.
Head over to Simcoaches.com and use code IRACERSLOUNGE at checkout to save 10% off your total order.
Go do it now!
https://simcoaches.com/?fbclid=IwAR1pJASM3C_nV3wFACEHJrHitf8TOQWro4yp-Etaio1zU8Enbojap2Xff5w
---
---
Topics
---
---
Coke Race
Coke Race – Daytona – 13th season
Got Alan Cavanna and Ben Kennedy on…Pike and Blake joining in…. Playseat and Wendy's as new sponsors.
LAP 4: There's about a 10-car pack a second behind the lead pack, led by @TDawgHurst, although they're closing back in.
TROUBLE! Lap 6!
Contact between @BriarLaPradd and @BigDogBowden sent the 69 into his @eRacr_gg teammate @Dard2121. That collected about 7 or 8 cars.
A lot of big names are hurt very early in the going of this event.
Up front, not much is happening. The field is two by two and both @NickOttinger and @MikeConti5 continue to swap the lead back and forth. Most of the aggression is in the back currently.
Lap 25/80 Trouble for Kyle Peddle! He lost it all on his own! Looked like he was trying to cut quick to the bottom and it just went around! HARD LICK! NO CAUTION!
LAP 40: Green flag pit stops are underway.
37 to go -OH NO, TEAMMATES!!!! THEY WRECKED FOR THE LEAD!!!
Contact between @LoganClampitt_ and @NickOttinger send Clampitt's No. 97 around. @KeeganLeahy was also involved.
Back to green – then another quick caution for Casey Kirwin
He came down from top to button and wasn't quite clear, and turned himself off someones bumper – no one else involved.
CAUTION! 22 to go. @DerekJustis spins on the backstretch.
CAUTION! 7 to go. @NickOttinger is among those involved. CAUTION! Nick Ottinger spins trying to avoid Ray Alfalla! Brian Mercurio is involved! We're getting a late race restart at Daytona!
RESTART 3 to go: @MalikRayTTV and @FemiOlat_ lead the field into Turn 1.
TROUBLE! @MalikRayTTV gets turned! 2 to go. We're going to overtime.
PHOTO FINISH! @FemiOlat_ WINS AT DAYTONA!!!!!! THREE WIDE AT THE LINE WITH @swilson3_ AND @GarrettManes!
https://twitter.com/iRacing/status/1493791572806320128
https://twitter.com/justinmelillo/status/1493791363955052564
https://www.iracing.com/enascar/standings/
---
---
The Podidumb 500
The prestigious Podium 500 was held this past weekend and finished with much controversy.
Hours Later They Strip the Win, Manes is Winner
https://twitter.com/PodiumeSports/status/1492979005020123136
Next Day, Change Minds Again, Peterson Wins
https://twitter.com/PodiumeSports/status/1493078951438266368
https://twitter.com/PodiumeSports/status/1493353085967777798
Fleeing The Sinking Ship
Immediately following the rulings Podium eSports had a bunch of negative feedback and even resignations within the organization.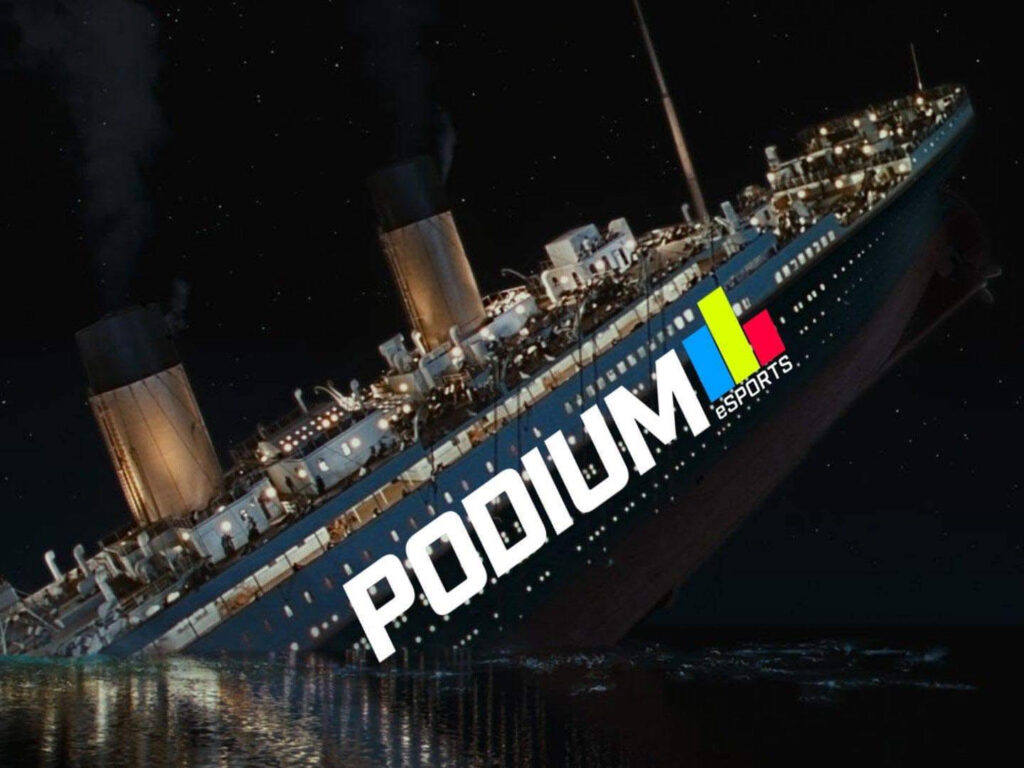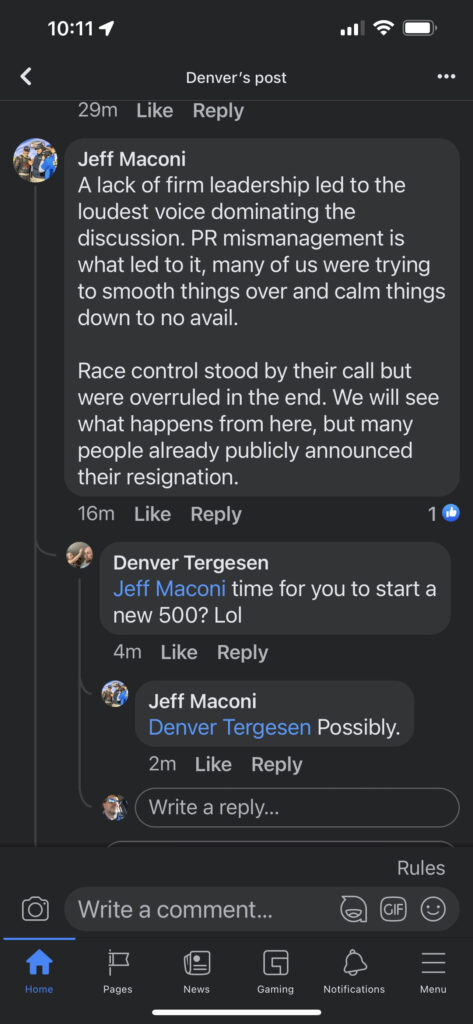 https://twitter.com/TerryRadford4/status/1492996102878109696
https://twitter.com/JamesVPike/status/1493366951464390661
---
---
The Vees in the Rain
Greg Hill posted in iRacing's twitter page a couple of formula vee's racing in the rain at Imola. He says that they're making great progress on the upcoming rain system.
https://twitter.com/greghi11/status/1492229207321157634?s=11
https://traxion.gg/hill-iracing-team-making-tremendous-progress-on-future-rain-system/
---
---
iRacing Top 10 Highlights – January 2022
iRacing posted the January edition if the top 10 on their YouTube channel
https://www.youtube.com/watch?v=NpqUlErUTDM
---
---
Wore my watch to check heartrate
Porsche Supercup Driver Sebastian Job demonstrated why fitness is important in racing (even in sim racing) by wearing his heartrate monitor watch.
https://twitter.com/g2sebi/status/1491771019094372358?s=11
---
---
Vehicle Production Associate
iRacing posted another job opening in the forums this time for a Vehicle Production Associate
Job Title:
Vehicle Production Associate
Position Status:
Full-time position
Description:
iRacing.com, the industry leader in PC-based racing simulations, is looking for an experienced and successful sim racer with knowledge of vehicle dynamics and ability to create and tune car setups to join the development team. This Vehicle Production Associate would regularly test content and systems with a keen eye, and provide critical feedback for improvement. Through written reports, one-on-one conversations, and meticulous data analysis, the Vehicle Production Associate aims to ensure the highest level of user satisfaction, and will have the details to prove it. This person would regularly work closely with our vehicle engineers, and also with the ALPHA Test Team for team and group testing, as well as with our Quality Assurance Team to help manage and report bugs.
https://forums.iracing.com/discussion/17757/vehicle-production-associate
---
---
Now What
Streamer Jimmy Broadbent posted a video of a race where he has a little wheel trouble
https://www.tiktok.com/@jimmybroadbent/video/7063762144117984518
---
---
Bathurst 12 Hours
Coke Driver Vicente Salas along with teammate Garrett Manes teamed up for a top split win at the Bathurst 12 hours
https://twitter.com/vicente_salas14/status/1492593566475952128?s=11
Bathurst Goes Nuclear
---
iRacing posted a video on their Twitter of a video of a car at Bathurst running into a dead end when a car is stopped right in front of him.
https://www.instagram.com/p/CZ-OeHdDVU1/
---
---
Sim Party Racing
Craig Gregory from the UK gave the Lounge shout-out mentioning that he and his teammates Rob and Tayma from Sim Party Racing finished 8th in their split, the first time they raced together.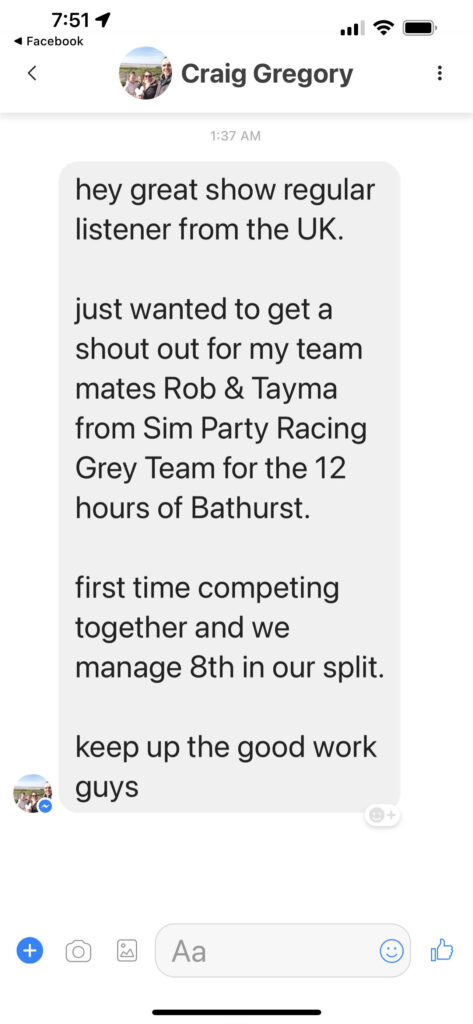 ---
---
5 Practice Pro Tips for iRacing
Streamer Matt Maline posted a youtube video on his channel of 5 tips for practicing in iRacing
0:10 Ghost Car Offset
1:33 Watch/Ghost/Spot
3:56 AI
8:59 School Track Config
10:28 Opposite Lines
https://www.youtube.com/watch?v=fzSX4yvV7ZY
---
---
Sim Racing Stats
Sim Racing Stats is a website that will show you stats of participation broken down by series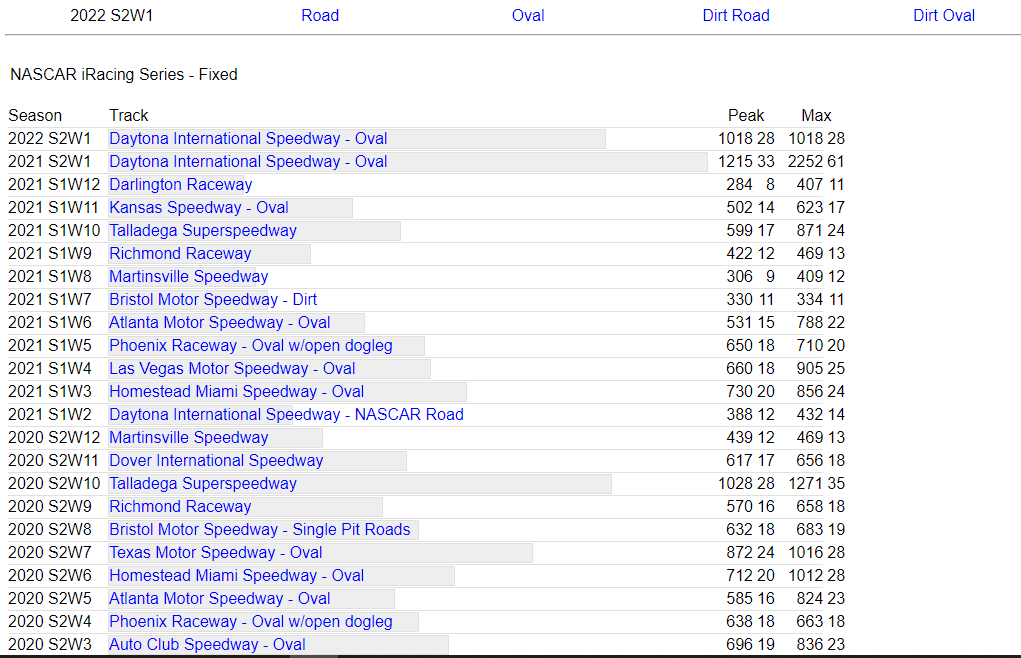 https://www.simracingstats.com/index.html
---
---
Dude is living in 3022
Alex Wiederhold posted a link of am extreme car crash simulator in action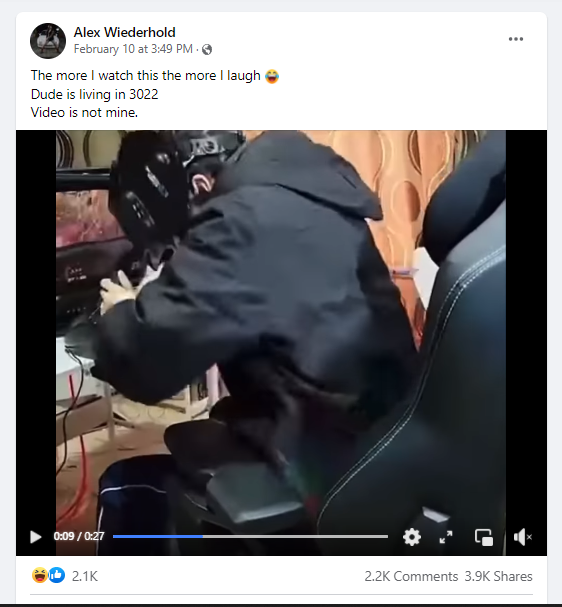 https://www.facebook.com/100000026784809/posts/5291134650897375/?d=n
---
---
2022 Season 1 Patch 4 Release Notes
iRacing staffer Alex Gustafson posted the release notes for season 1 patch 4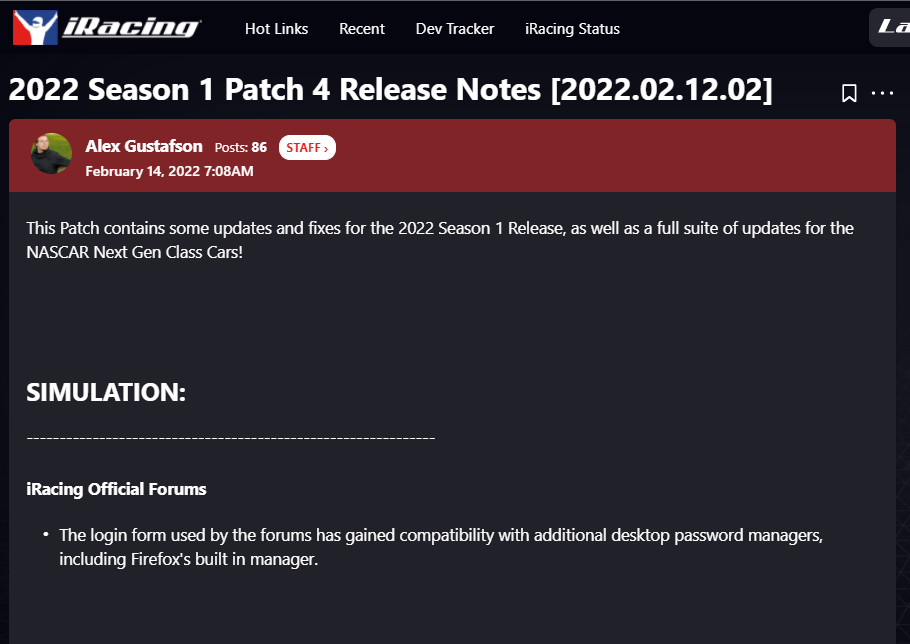 https://forums.iracing.com/discussion/17910/2022-season-1-patch-4-release-notes-2022-02-12-02
---
---
The Best it's Ever Been
Dale Jr Knows two thigs as well as anyone. Restrictor plate racing and iRacing, and says the current superspeedway package may be the best it's ever been.
https://twitter.com/dalejr/status/1493669388234502149?s=11
---
---
eNASCAR College iRacing Series
NASCAR and iRacing have partnered with NACE Starleague to create the eNASCAR College iRacing Series, bringing the excitement of top-tier sim racing to college students across the United States and Canada this spring. The top 32 eligible drivers in three separate time attacks will qualify to represent their universities in races at the virtual Daytona International Speedway, Charlotte Motor Speedway, and Watkins Glen International over a three-month span. Additional events will be announced in conjunction with the fall semester to bring the total prize pool to $50,000 in scholarships.
https://www.iracing.com/enascar-college-iracing-series-announced-50000-in-scholarships-available-to-college-students-in-2022/
https://www.nascar.com/news-media/2022/02/15/nascar-and-nace-starleague-bring-sim-racing-to-college-campuses-nationwide/
---
---
Junior Graphic Designer
Another iRacing job posted became available this week. This one is for a Junior Graphics Designer.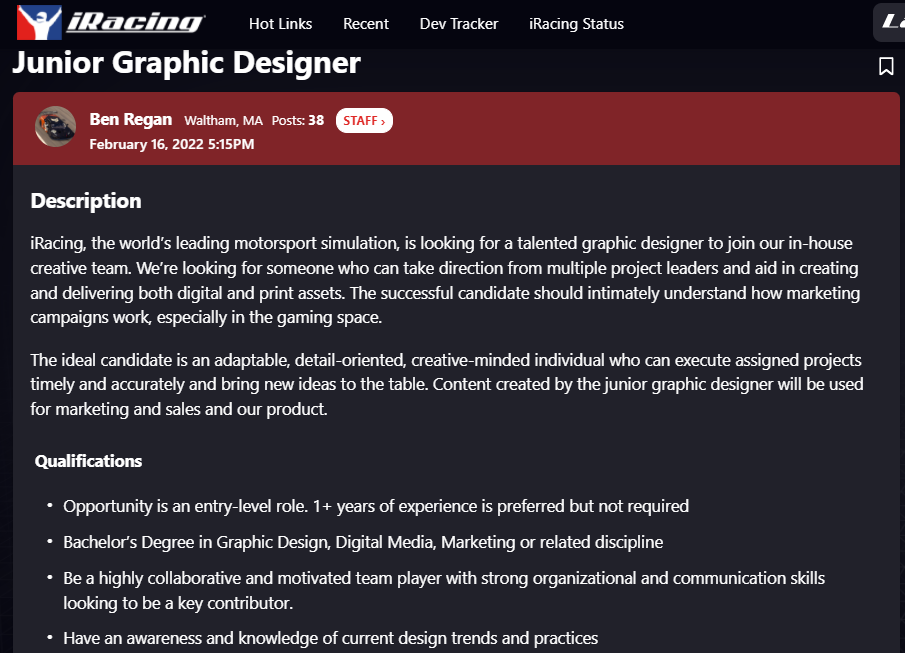 https://forums.iracing.com/discussion/18081/junior-graphic-designer
---
---
Buick Base Design
Dale Jr Tweeted out a poll asking which base design should be applied to the new '87 Buick Lesabre
https://twitter.com/dalejr/status/1494443483955929091?s=11
---
---
Don't Leave Home Without It
On an interview on TikTok F1 World Champion Max Verstappen mentions he won't leave home without his iRacing simulator.
https://www.tiktok.com/@iracingofficial/video/7065333070412696879?is_copy_url=1&is_from_webapp=v1
---
---
Podcast Housekeeping
Aftermath Podcast – Get it!
New Website – Leave Comments https://www.iracerslounge.com/
---
We are in the regular rotation… (Mike)
https://performancemotorsportsnetwork.com/
Fantasy
Fantasy starts this week!!! So, get in your picks or even better Join us for the most fun fantasy league in the business!
---
---
Hardware/Software
---
Light and Color effects in SimRacing Philips Hue Super Realistic Light

Didier Canetta posted in his Youtube channel his Phillips Hue Lighting system
---
---
Cube Controls F-Pro
The new Cube Controls F-Pro will be available for pre orders in late April and run 860 euros
https://www.youtube.com/watch?v=IFR_mHRs_W0
https://www.cubecontrols.com/product/f-pro/
https://www.youtube.com/watch?v=JEuHZmZ720A
---
---
Full test using Thanos AMC + SRS in VR
Kawasaki Ninja posted a YouTube video of his test in the DIY Mega motion system from eRacing Labs
https://www.youtube.com/watch?v=P6trTk4iIMY
https://eracing-lab.com/products/rs-mega-plus
---
---
GSI GT-Max32
The GSI GT-<ax 32 is the most advanced sim steering wheel they have made to date! It's the first GT steering wheel in sim racing to feature a total circumference carbon frame. 3 funky switches, 500 gram force programmable LED buttons, LED rotaries and 5 inch LCD touch screen. Pre-orders begin today
https://twitter.com/gomezsimracing/status/1493221594331852801?s=11
https://gomezsimindustries.com/shop/p/gt-max-32
---
---
Sim Lab Price Increase
Sim Labs is feeling the inflationary crunch with the rest of us, and regret to announce a price increase to the P1X by about 15%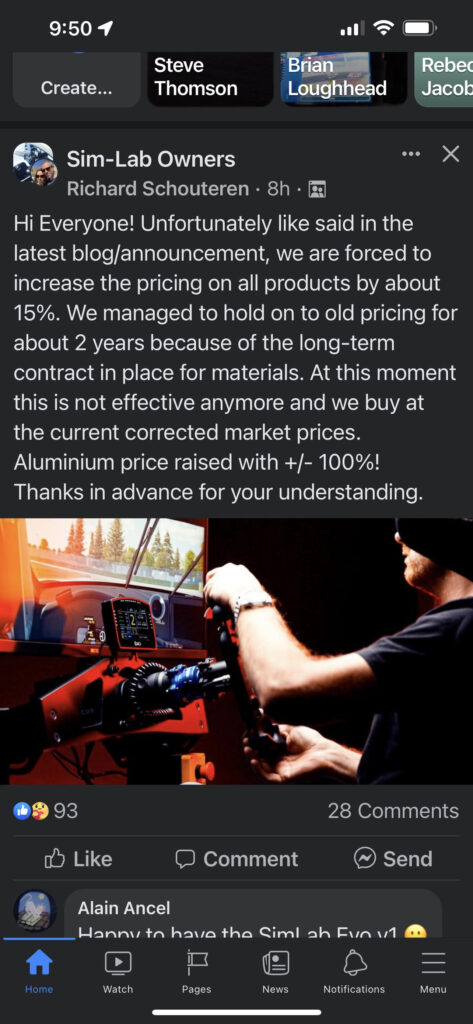 ---
---
Results
NASCAR iRacing Series
Wed Fixed

Rochette– P35 taken out on lap 9 from dips going 3 wide. Fate is making sure that i race bottom split with Groves Friday night

Wed Open:

Hall –p 9, ran top 5 all race. Was in 4 car brake away and a lap car got into with the 4th place car with 5 to go. I took tires knowing they could be huge. Was in good position and net code took me out.
Ellis – p DNF – Had just gotten myself to the lead a four second breakaway lead pack runnin 2nd the pushing car lap 60, teammate chris scales was a lap down and with the leaders so I got him in front of me so he was on tail end, and as soon as he got in front of me he shifted from 4th to 3rd, i plowed in and it wrecked the field…

Tyler – Wrecked Out Early
Greg Pwrecked myself with the best car
---
---
Official Series

Ellis – Carb cup – Charlotte – Twice and wrecked myself out, super hard to drive
---
---
League / Hosted Races
FastTrack League Duels

David – p10, caught up in late wreck, ran well-

Greg p – Bobby and Greg were leading lined up on the bottom the top was coming they pulled up but then aborted, lost the lead at that point stuck on the bottom…
Mike – Wrecked Out when Adam Self Spun- Was not running great…
Adam – Wrecked Out

Hosted –

Ellis -The Kia at Talladega and then the old cop car at Talladega, then the DP at Texas.
Man Cave After Dark Thursday Night Truck League
Mike – Missed it didn't own the track Nashville Fairgrounds
OBRL Aftermath Truck Series
---
---
Final Thoughts
---
---
Words Spoken in Closing Audio Clip -""Thank you for listening to the iRacers Lounge podcast make sure to go subscribe to us on iTunes, SoundCloud, or Google Play, Facebook & Twitter, See You On The Track ."
TITLE
The Podidumb 500
Description
Well, the Coke Series is back at Daytona this week and we're very excited to have Series announcer Evan Posocco back to cover all of the exciting action. Another big Daytona iRacing event doesn't go off quite as well. All that plus a look at one of the nicest formula and GT wheels on the market. So sit back, relax and join us on the iRacers Lounge Podcast.
iRacers Lounge Podcast is available on iTunes and Apple's Podcasts app, Stitcher, TuneIn, Google Play Music, Spotify, Soundcloud, Podbean, Spreaker, Podbay, PodFanatic, Overcast, Amazon, and other podcast players.
Sponsors:
Hosts:
Mike Ellis – twitter.com/MikeDeanEllis
David Hall – www.twitch.tv/mixmage
Greg Hecktus – twitter.com/froozenkaktus – www.twitch.tv/froozenkaktus
Brian Maccubbin – www.twitch.tv/MacRubbinsRacin
Kyle Pendygraft – twitter.com/LoudPedalGaming
Tony Groves – www.twitch.tv/SirGroves
Adam Josselyn- twitter.com/Jossad83
Chris Scales – twitter.com/JediMcfly
Tony Rochette – twitter.com/TonyRochette
Tom Dreiling –
Links:
Old Show Notes – bit.ly/2CFeArM
Facebook – www.facebook.com/iRacersLounge/
Twitter – twitter.com/iracerslounge
Instagram – instagram.com/iracersloungepodcast/
Web (New Show Notes) – iracerslounge.com/