3/17/2022 – Moist Eggs – Episode 0322
Brought to you by:

Opening Audio Clip -"Your listening to the iRacers Lounge Podcast where we discuss everything iRacing, in a casual setting, enjoy."`
READ THIS AT THE TOP OF EACH SHOW!!!
Welcome to the iRacer's Lounge, I am your host "XXX". iRacer's Lounge is a podcast for the iRacer, where we talk all things iRacing in a casual setting.
Joining me are the usual characters, ———— 
---
---
On the Show today, we'll review an exciting Coke Series race at the Atlanta Motor Speedway with the voice of eNascar Evan Posocco. We'll show you how to get racing tips from Coke Series Driver and previous champion, Nick Ottinger and look at ways for iRacing to make improvements.
And remember you can follow along with us on your PC or mobile device in real time as you listen to the show and see for yourself all of the great topics and products we'll discuss by visiting iracerslounge.com and selecting show notes. Hope to see you there..
---
---
Title Sponsor Read
Want to swap to hydraulic pedals but you're worried about leaks?
We want to take a moment to tell you about Sim Coaches P1 Pro Pedals…
Their proprietary no-leak technology ensures all fluids stay inside where they belong.
They completely re-designed the hydraulic cylinders found on typical pedals and made them spec for sim racing.
Designed, machined and assembled right here in the USA. You can have confidence what you'll get is quality.
Backed by their lifetime warranty, there's no reason not to give them a look.
Head over to Simcoaches.com and use code IRACERSLOUNGE at checkout to save 10% off your total order.
Go do it now!
https://simcoaches.com/?fbclid=IwAR1pJASM3C_nV3wFACEHJrHitf8TOQWro4yp-Etaio1zU8Enbojap2Xff5w
---
---
Coke Series – Atlanta
https://twitter.com/23xiracing/status/1503803553927860230?s=11
https://twitter.com/ssgracing/status/1503762949206261760?s=11
(39 drivers tonight, no Kyle Peddle in the field)
Pre race interviews with real life drivers Retzlaff and Honeycutt
Nick Ottinger is 3 for 3 for poles this season.
GREEN FLAG: @NickOttinger and @mbussa75 lead the field into Turn 1.
Early trouble at Atlanta! Lap 4 or so… @RFKracing teammates get the worst of it!
CAUTION! @KadenWHoneycutt, @Dard2121, and others are around in Turn 4. Lap 5.
RESTART LAP 9:
@NickOttinger and @bobbyzalenski lead the field into Turn 1.
Interview w mode motorsports Kyle Long – talks about his new rig and love of iracing
LAP 32: With how strung out the field is, passing is going to be at a premium until the next round of pit stops.It's not impossible, but will be difficult with the momentum of the high line.
Kevin King says "1 groove. Bottom is junk."
the topside has more off-corner speed, but the bottom allows for tire saving. Ottinger is able to run low and save some while Bussa runs in cleaner air on the top.
Man, it's like virtual gridlock rn
LAP 43: @GarrettManes and others are on pit road. Green flag pit stops are underway.
LAP 49: @NickOttinger pits from the lead.
PENALTY: @KollinKeister, speeding on pit road.
42 to go: @NickOttinger takes the net race lead.
As we wait for @ssgracing's @A_Boes21 to pit, the battle for the eventual lead has shifted from @BriarLaPradd to @NickOttinger and @bobbyzalenski
CAUTION! DEREK JUSTIS GETS THE APRON TRANSITION TRYING TO LET LEADERS BY HE COLLECTS LUZA, CONTI, BOURDEAU AND MORE BOES IS THE LEADER!
https://twitter.com/iRacing/status/1503913199388745730
@rayalfalla leads, he stayed out @bobbyzalenski is alongside on fresh tires
@A_Boes21 catches a HELL of a break and will be third.
@NickOttinger who has DOMINATED will be fourth.
29 to go: @vicente_salas14 takes 2nd from @NickOttinger
28 to go: Contact in the back, looked like @GarrettManes just got sent into the grass.
POWER MOVE! @swilson3_ cuts through the traffic and is up to 3rd place. 27 laps to go.
20 to go: @NickOttinger is back up to 2nd.
14 to go: 3-wide for the lead! @BowlinGraham, @swilson3_, @bobbyzalenski! NEW LEADER, Bowlin!
15 to go: NEW LEADER! @SHR_eSports' @swilson3_ after a battle for the lead!
14 to go: 3-wide for the lead! @BowlinGraham, @swilson3_, @bobbyzalenski! NEW LEADER, Bowlin!
10 to go – bowden zalenski wilson ottinger bussa kirwin lapradd femi guest mullis
https://twitter.com/justinmelillo/status/1503915042357624836
7 to go: @NickOttinger moves back into 2nd.
CAUTION! BUSSA GETS SPUN BY KIRWAN WITH FIVE LAPS TO GO! HE SAVES IT! A PERFECT 360! WE'RE GOING TO OVERTIME!!!!!!!
Top 6 stay out rest have tires
CAUTION! @DonovanStrauss gets turned!
So. Close. @swilson3_ nearly took the white flag, as the leader.
OVERTIME RESTART 2: @BowlinGraham and @swilson3_ lead the field into Turn 1.
Nick ottinger coming hard on the outside has a huge run! Wilson is in the middle but moves up to block Nick, nick touches the wall loses the momentum.
Nick gets touched by bussa as they fight for the middle but recovers then gets shuffled and slid a bit – Wilson leading moves up to block bowlin so bowlin then pushes wilson a bit just getting bowlin clear as bowlin and lapradd who came out of nowhere collide with bussa they all wreck behind him
@swilson3_ WINS HIS FIRST CAREER @eNASCARCocaCola SERIES RACE!!!
Graham A. Bowlin was leading on the final lap. He winds up 12th.
Femi Olatubosun goes FLYING across the line and finishes 14th.
https://twitter.com/iracing/status/1503920365571092482?s=11
---
---
'87 Buick Two-for-One
Dale Earnhardt Jr Tweeted that he has updated the '87 Buick Template to include the Oldsmobile from JS Racing61 including two headlight configurations
https://twitter.com/dalejr/status/1502711454755135489?s=11
---
---
7 Ways to Improve iRacing
Streamer Matt Malone posted a YouTube video on his channel listing 7 ways to improve iRacing
https://www.youtube.com/watch?v=_HlSDC1ZYFk
---
---
Big Announcement from CarQuest
CarQuest sent a Tweet saying that if you love iRacing, You're going to want to follow them for a big announcement before the end of this week
https://twitter.com/carquest/status/1503357847601651713?s=11
---
---
The Reason for the Drama
Race Beyond Matter posted another YouTube video discussing the drama that arose after last week's series of sarcastic Sim Racing addictions.
https://www.youtube.com/watch?v=7bb-6arquac
---
---
Kvapil Takes iRacing to the Winners Circle
Newly announced JR Motorsports Late Model Driver Carson Kvapil has already took his iRacing sponsored car to the winners circle at The Old North State Nationals for a $3,000 prize.
https://twitter.com/jrmotorsports/status/1503175849989845001?s=11
---
---
Eggs in iRacing?
Alex Duclos asked in the forums that him and his mate are having a discussion, He thinks there's probably a farmers market advertisement at a dirt oval track, but I don't own them all. Can anyone settle our debate? Is there any mention of eggs in iracing? Or an image of an egg? Thanks.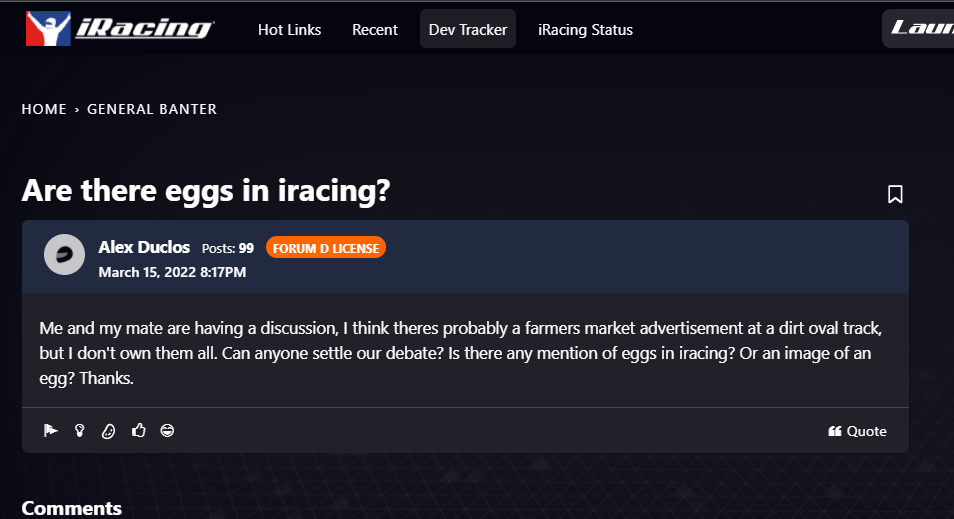 https://forums.iracing.com/discussion/19919/are-there-eggs-in-iracing
---
---
2022 Season 2 Patch 1 Release Notes
Alex Gustafson posted the updates for the Season 2 Patch 1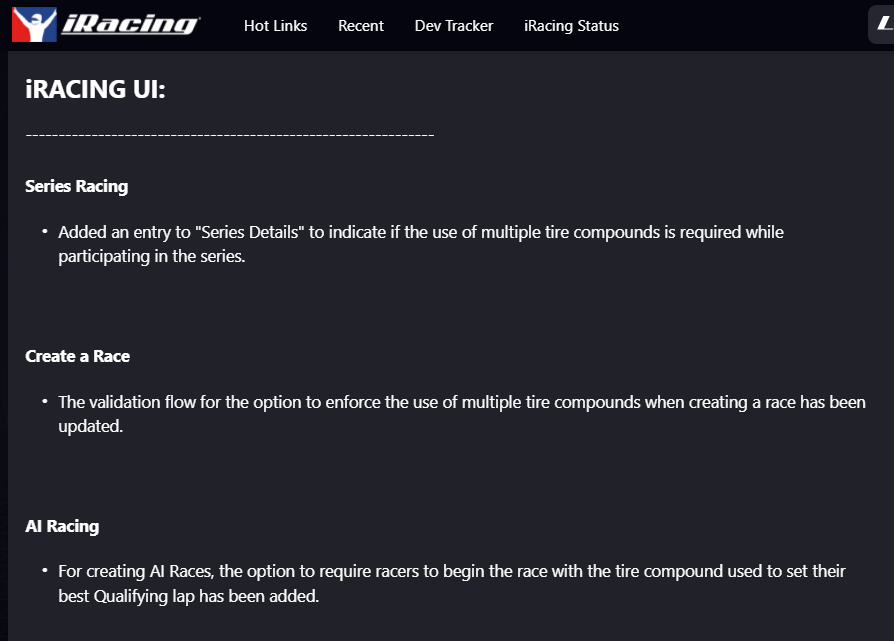 https://forums.iracing.com/discussion/19934/2022-season-2-patch-1-release-notes-2022-03-15-01
---
---
ButtKicker Goes to the Late Models
The World of Outlaws Late Model Championship had picked up ButtKicker as a new title sponsor
https://twitter.com/woolatemodels/status/1504179076571013123?s=11
---
---
Cup Cars Go Trophy Truck
On Instagram, iRacing posted a video of the cup cars bouncing thru the tri-oval grass at Atlanta
https://www.instagram.com/tv/CbK-MzJjmxZ/?utm_medium=share_sheet
---
---
Learn Racing from Ottinger
TSM FTX posted a video Tweet from Coke Series champion Nick Ottinger showing you how to become a sim racing master
https://twitter.com/TSM/status/1503816378213560322
---
---
Spotlight – StockCar Brasil
iRacing's YouTube page posted a season Spotlight video of the new StackCar Brasil Series
https://www.youtube.com/watch?v=azo8jDHj8GU
---
---
Season 2 Build Highlights Video
iRacing posted a video of the Season 2 build in a highlight video on their YouTube page.
---
---
Creventic Endurance Series
Greg West Posts:
iRacing CREVENTIC Endurance Series Returns for Four-Race 2022 Season
The iRacing CREVENTIC Endurance Series, a four-round team racing championship that sees iRacers team up to take on a series of 12-hour endurance events at some of the world's premier road racing circuits, will return for the 2022 season with a new lineup of both cars and tracks. Headlined by the additions of Imola, the Porsche 911 GT3 Cup (992), and additional GT4 and Touring Car entries, the new series kicks off with a return to Circuit de Spa-Francorchamps on April 2.
2022 marks the second year of iRacing's partnership with CREVENTIC, the organizers of the real-world 24H Series and iRacing's NEO Endurance league. The union brings the strength of CREVENTIC's organizational capabilities to a series that is open to all iRacing members. The four track selections represent some of the most legendary circuits in the world, while the eight eligible vehicles feature many of racing's most iconic brands and competitive GT and touring cars.
The full CREVENTIC Endurance Series schedule is as follows:
· April 2: Circuit de Spa-Francorchamps
· June 4: Hockenheimring Baden-Württemberg
· August 6: Autodromo Internazionale Enzo e Dino Ferrari (Imola)
· October 22: Sebring International Raceway
The full CREVENTIC Endurance Series vehicle lineup is as follows:
· GT3 Cup: Porsche 911 GT3 Cup (992)
· GT4: Aston Martin Vantage GT4, BMW M4 GT4, Porsche 718 Cayman GT4 Clubsport
· Touring Car: Audi RS 3 LMS, Honda Civic Type R, Hyundai Elantra N TC, Hyundai Veloster
---
---
Nürburgring 24 Special Event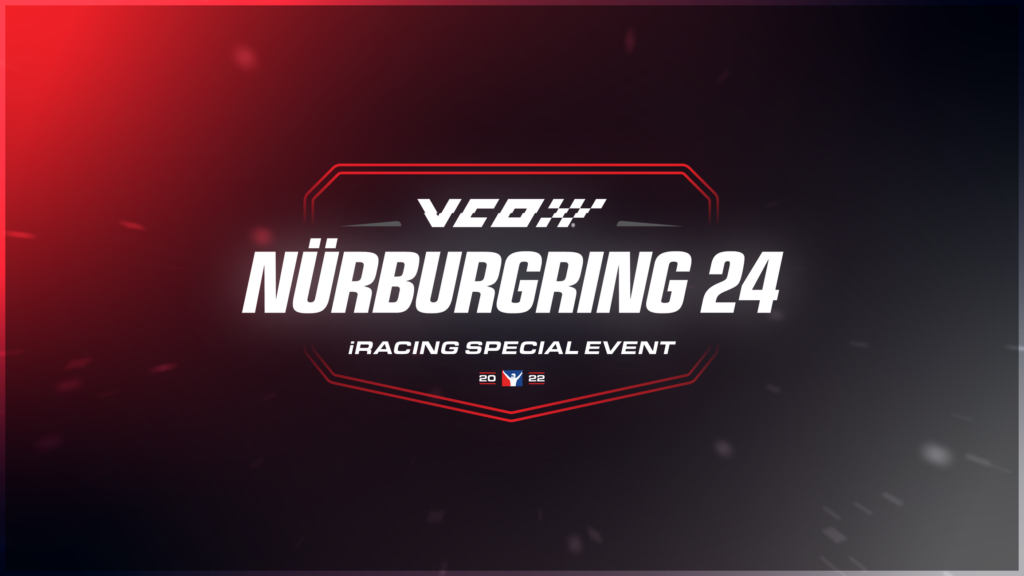 he 24 Hours of Nürburgring (ADAC 24h Rennen Nürburgring) is a 24-hour endurance event held on the Nordschleife of the Nürburgring in Nürburg, Rhineland-Palatinate, Germany. It also utilizes part of the GP-Strecke course to form a total lap length of 16.1 miles (25.9 km).
Date: April 8-10, 2022
Timeslot #1 – Friday 22:00 GMT
Timeslot #2 – Saturday 7:00 GMT
Timeslot #3 – Saturday 12:00 GMT
Timeslot #4 – Saturday 16:00 GMT
---
---
Podcast Housekeeping
Aftermath Podcast – Get it!
New Website – Leave Comments https://www.iracerslounge.com/
---
We are in the regular rotation… (Mike)
https://performancemotorsportsnetwork.com/
Fantasy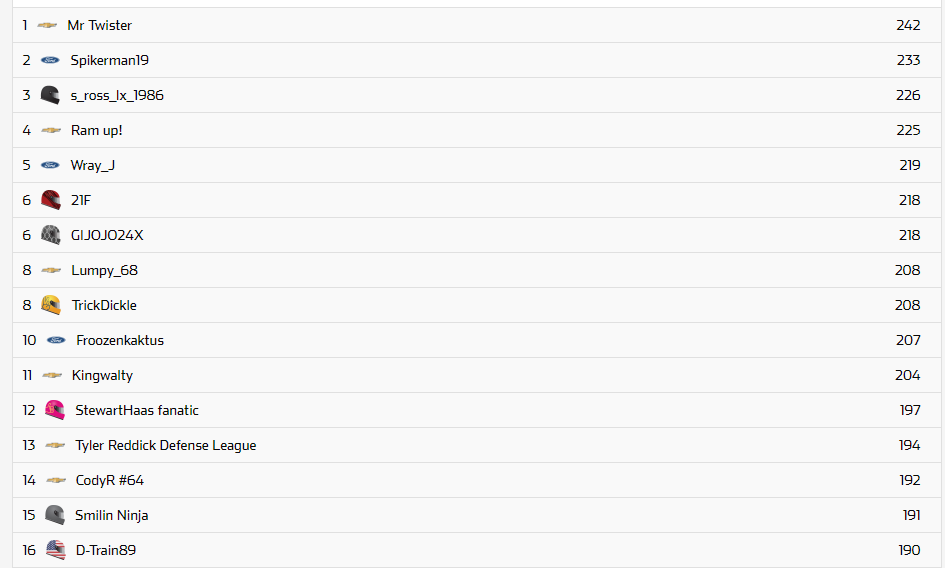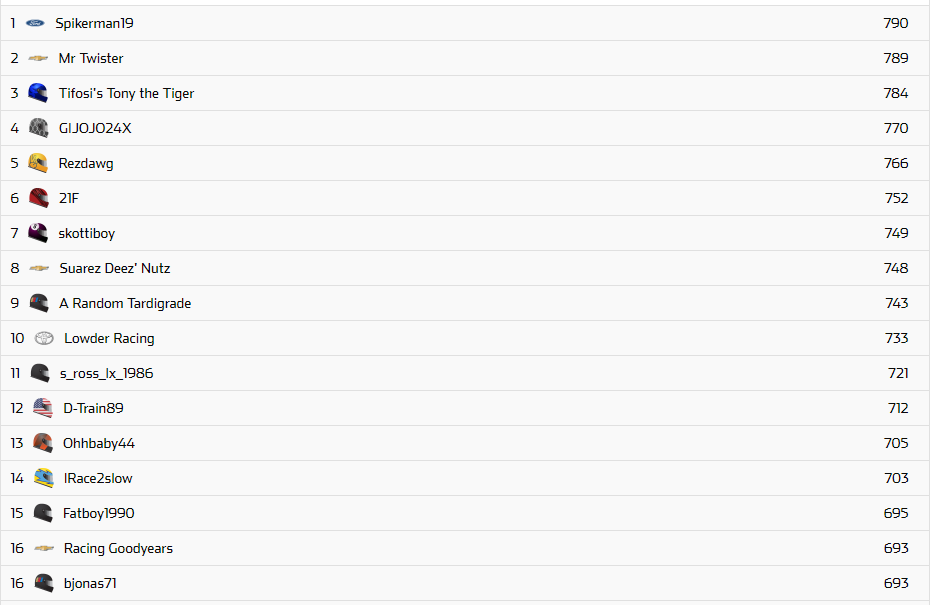 ---
---
Hardware / Software
---
Fanatec Price Increase
Fanatec announced this week that Starting March 17th 2022, several products across our CSL, ClubSport, and Podium lines will increase in price. However, we are keeping the changes to a minimum, and many products will stay the same – for example we are retaining the basic pricing for the core component in our ecosystem: the Wheel Bases.
Following a reassessment of our price structure, we have also been able to lower the price of a small number of products, and these changes have already been applied. We wanted to give you a heads-up before we apply the price increases next week.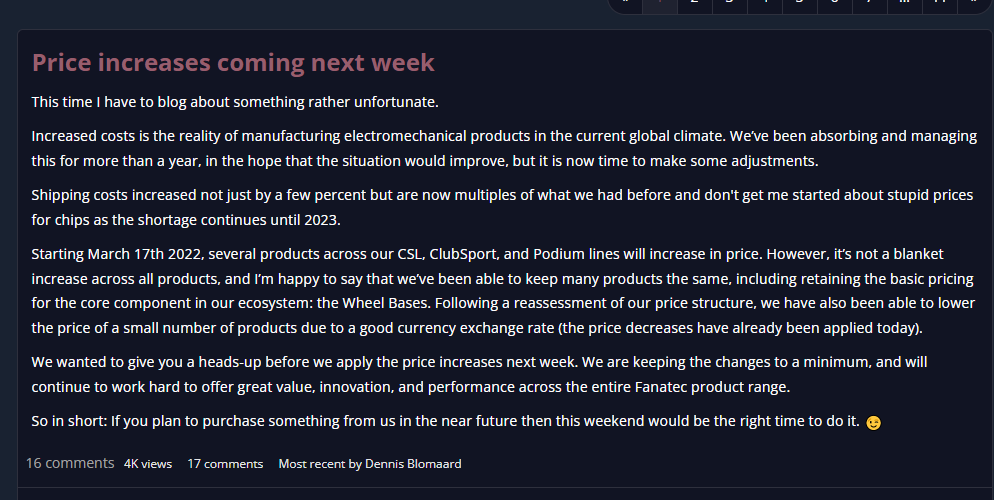 https://mailchi.mp/fanatec/price-increases-coming-next-week?e=511738d246
https://forum.fanatec.com/categories/blog
---
---
Ultimate Sim Rig Even Better!
Will Ford at Boosted Media posted a video of how he made his ultimate triple 65″ 4K setup
https://www.youtube.com/watch?v=RJnbUK1Clvg
---
---
Moza R9 DD Base and Wheel [Greg]
Moza is releasing their new R9 DD base at a price of $439 + vat as well as their GS formula style steering wheel for $499 +vat
https://mozaracing.com/wheel-base-r9
https://www.facebook.com/MOZARacing/videos/253678480302475/?extid=NS-UNK-UNK-UNK-IOS_GK0T-GK1C
https://mozaracing.com/news/moza-racing-launched-2-new-products
https://traxion.gg/moza-racing-launches-new-gs-steering-wheel-and-r9-direct-drive-wheel-base/
---
---
SRM Fanatec Emulator
SimmRacing Machines offers their Fanatec emulator for 95 pounds
https://www.simracingmachines.com/WebShop/srm-emulator-for-fanatec-wheel-base
---
---
Fanatec Wheel Button Pods
From Thingiverse you can 3D print Fanatec Wheel button pods for the Nascar Wheel Hub.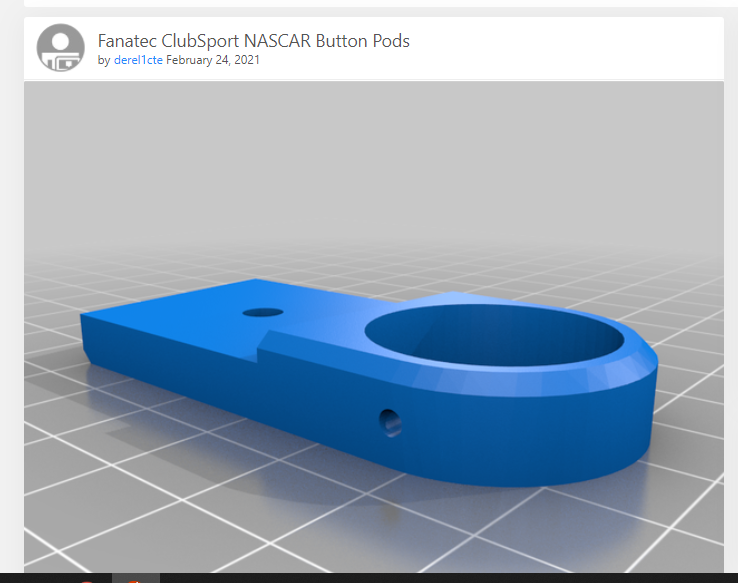 https://www.thingiverse.com/thing:4773113
---
---
Project Doppler DIY hydraulic high-end pedal build
Beano van Rensburg show off his high end hydraulic pedals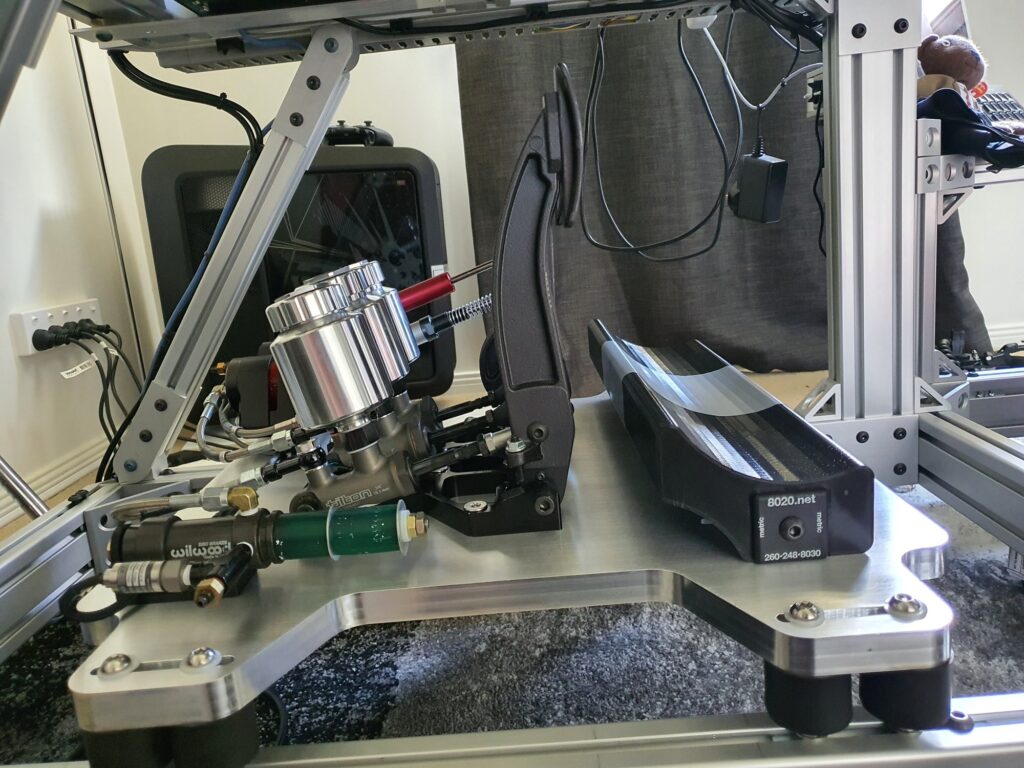 https://forums.iracing.com/discussion/17949/project-doppler-diy-hydraulic-high-end-pedal-build-continuation-from-the-old-forums#latest
---
---
Moza R9 DD Review
Shawn Cole on the Simpit YouTube Channel review the newly announced Moza R9 DD Wheel Base
https://www.youtube.com/watch?v=0ecODazM9zo
---
---
Results
NASCAR iRacing Series
Fri open: Phoenix
Ellis – p9- Came from 13th then it ran top five most of the race ended up getting loose as the race got closer to the end and lost it with 32 to go and lost all my track position. This was even more bittersweet than Wednesday night because the guy who won was actually crashed out Wednesday night and I had nothing for him. I really feel like that was an opportunity to win that I let slip it hurts.
Tom D – P5 – started in the rear. Was able to work my way up to the top 10 most of the race. I was better on a long run. Unfortunately we had a few cautions at the end of the race. Was able to scrap to top 5. I'll take it. Time for a little vacation. Will be back Wednesday for more fun and games.
Rochette- Phoenix hates me race ended early with a ass losing it out of 2 missing the put barrels and right into me on the wall was early on so went to play some Horizon Forbidden west
Brian P8 Avoided a lot of the carnage that has been finding me on a regular basis, just couldn't manage speed thru turns 3&4…or is it 1&2?
Groves – P wrecked out, phoenix sucks. Got loose and some bonehead decided it would be fun to drive through me
Stephen-p
Adam -p wrecked out- Top 10-5 speed last night, went from 22nd to 10th running down the next 5 cars in front me.. couple cautions and my cars gear wasn't great for 3-4 laps and I fell back to 16th got frustrated busted my ass in turn 1 and smoked the wall. I was rolling center better than all the cars around me too
Rochette- Phoenix still hates me BURN THE DOGLEG DOWN jackass lost it in the dogleg and shot right into me against the front stretch wall with 14 to go and in 8th. Cant ever catch a break at Phoenix and we will not ever speak of Phoenix ever again stricken from my record
Sunday fixed

Mike –p3!- A record 21 caution of 86 laps of yellow. I got taken out a couple times went not a lot of damage and recovered well.

Tyler – P12. Phoenix sucked! Really wasn't a good race, got caught up in a few wrecks with other guys and even caught up in a wreck with my teammate. Had 20 incident point where maybe 4 of them were my fault. Caution fest with 21 cautions. Net coded with a guy where we touched rear tires and sent him spinning as we avoided a wreck. Gives me a nice 4x door hit under caution. Wasn't a good night.
Brian – p
Race : Atlanta
Wed Open:

Hall –p. Wrecked, divebombed by the same driver that dive bombed several team mates monday.
Ellis – p13-Ran pretty good got up to P2 had bad luck with the way the cautions fell cautions come out right after I stopped under green flag not once but twice lost all my spots eventually I spun out and hit the wall pretty hard for 3 1/2 minutes damage and just brought it home

Tyler – P15 finished 2 laps down. Ran a solid race but missed pit entry on my final fuel lap. Ended up running out of gas coasting to pit road. Got loose in turn 2 and was taken out by a car who had their brake bias down in the 30s and couldn't stop. Was able to get repaired and keep up with the top 8. Felt good to finally be fast. My luck will turn around.

Rochette P1 Hey yo…. what ya get when you get a pole, led the most and fastest laps? Ya get a Chubby Birb in victory lane for a 3rd time in 9 nis starts. What a way to have a send off for old Atlanta and redemption for my 2nd places last year. Dominate car all race except on old tire restarts. But the birb frankly didn't give a damn by setting Atlanta and was Gone with the Wind
Bobby -p
Tom D – P2 – Started 17th. Was running between 5th and 10th most of the race. Got caught once after green flag stops a lap down. I was able to make my way to a top till there was a restart with 12 to go. I decided to pit. Restarted 4th. Was just a little too loose on the restart. Made the pass for 2nd going to the line. I'll take a top 5 and look forward to Sunday
Thurs Open

Ellis – p12 – got the steering ratio right but still sucked and would get loose in the middle of 1 and 2 and then pound the outside wall – maybe 6 or seven times. Not a bad finish for sucking so bad.
---
---
Official Series
Groves – P1 – Took the lead right before a green white checker. Leader had been going on green all day, I decided to go early and get the jump and it worked. The set made all the difference
Ellis – Fixed Ferrari Challenge – Spa – 3 starts, 1 finish not great but not bad… Cant wait for my wheel…
---
---
League/Hosted Races
FastTrack League – Phoenix

David – p got taken out again by someone who didn't hold his line..

Greg p – p destroyed via flying car early on with no hood recovered to P3.
Mike – p18 – ran as high as tenth but was more like a 15th the 20th Pl. car especially on older tires. Cautions play in my favor I would gain track position. One incident I missed my breaking mark by a few feet and locked them up and slid into the admin of the league luckily we didn't wreck. Got dive bombed by a guy and almost wrecked again I heard his name almost every time a caution came out… The final restart they all wrecked and I kind of drove through it but I got too many incidents in a black flag otherwise I might've had a top 10.
Adam – got wrecked going for the win on the outside when the leader lost it and rec the field.
Hosted –

Ellis – p1 – Supercars at Michigan! – Chris MacGuire Hosted –
Saturday – SIM 500 eSports Racing League 87 Car

Mike -p Wrecked – Talladega – Lap8 the guy leading on the outside gets loose. That's why used to happen to me all the time lol.
OBRL Aftermath Truck Series
1. Jason Higginbotham
2. Thomas Ogle
3. Eddie Jones
---
---
Final Thoughts
---
---
Words Spoken in Closing Audio Clip -""Thank you for listening to the iRacers Lounge podcast make sure to go subscribe to us on iTunes, SoundCloud, or Google Play, Facebook & Twitter, See You On The Track ."
TITLE
Moist Eggs
Description
On the Show today, we'll review an exciting Coke Series race at the Atlanta Motor Speedway with the voice of eNascar Evan Posocco. We'll show you how to get racing tips from Coke Series Driver and previous champion, Nick Ottinger and look at ways for iRacing to make improvements. So sit back, relax and join us on the iRacers Lounge Podcast.
iRacers Lounge Podcast is available on iTunes and Apple's Podcasts app, Stitcher, TuneIn, Google Play Music, Spotify, Soundcloud, Podbean, Spreaker, Podbay, PodFanatic, Overcast, Amazon, and other podcast players.
Sponsors:
Hosts:
Mike Ellis – twitter.com/MikeDeanEllis
David Hall – www.twitch.tv/mixmage
Greg Hecktus – twitter.com/froozenkaktus – www.twitch.tv/froozenkaktus
Brian Maccubbin – www.twitch.tv/MacRubbinsRacin
Kyle Pendygraft – twitter.com/LoudPedalGaming
Tony Groves – www.twitch.tv/SirGroves
Adam Josselyn- twitter.com/Jossad83
Chris Scales – twitter.com/JediMcfly
Tony Rochette – twitter.com/TonyRochette
Tom Dreiling –
Links:
Old Show Notes – bit.ly/2CFeArM
Facebook – www.facebook.com/iRacersLounge/
Twitter – twitter.com/iracerslounge
Instagram – instagram.com/iracersloungepodcast/
Web (New Show Notes) – iracerslounge.com/