11/10/2022 – Nuts On The Floor – Episode 0356
iRacers Lounge Podcast – Conversation Topics
Brought to you by:

---
---
Opening Audio Clip -"Your listening to the iRacers Lounge Podcast where we discuss everything iRacing, in a casual setting, enjoy."`
READ THIS AT THE TOP OF EACH SHOW!!!
Welcome to the iRacer's Lounge, I am your host "XXX". iRacer's Lounge is a podcast for the iRacer, where we talk all things iRacing in a casual setting.
Joining me are the usual characters, ———— 
---
---
Show Introduction
And remember you can follow along with us on your PC or mobile device in real time as you listen to the show and see for yourself all of the great topics and products we'll discuss by visiting iracerslounge.com and selecting show notes. Hope to see you there..
---
---
TITLE SPONSOR READ:
SimCoaches offers the realistic sim racing equipment you need to win more races online…. It is designed for real racers… Hydraulic construction makes them feel just like the real thing. High-Quality Construction, 100% Leak Proof, and Lifetime Warranty are the key features with these pedals. And, they look absolutely amazing… Check out simcoaches.com and use the coupon code IRACERSLOUNGE to get 10% off your purchase. Simcoaches.com is your ticket to feel like your actually sitting behind the wheel of a car. Drive harder and stay on the limit longer…
https://simcoaches.com/?fbclid=IwAR1pJASM3C_nV3wFACEHJrHitf8TOQWro4yp-Etaio1zU8Enbojap2Xff5w
---
---
Special Guest
Mike Watts
General Questions:
What brought you to iRacing and how did you hear about it?
Which series do you normally run?
What type of hardware do you use? (Wheels, Pedals, ect.)
Software

What gear did you use when you first started iRacing?

Do you run Monitors or VR?

How many monitors?
What VR headset are you running?

Are you part of a team?
Do you participate in any leagues or is it just official racing?
What is your most memorable iRacing moment?
We understand that you purchased a New Maverick from our Sponsor Metro Ford. How was that experience?
---
---
Topics
---
---
Casey Kirwan Crowned in Phoenix
---
---
Evan Seay Gets The Check
Evan Seay is Crowned and receives his check at the WoO Late Model Event in Charlotte.
---
---
What are you worst iRacing Purchases?
Mt Washington
W12 F1 Car
Martinsville
iRacing SuperSpeedway
Dallara IR 01 Jetcar
---
---
iRacing Black Friday Sale is Back!
https://www.iracing.com/blackfriday/
---
---
Ray Alfalla is Going Real Racing
---
---
Iracing is not good for my relationship
---
---
---
---
Podcast Housekeeping
Leave us a review on your favorite podcast platform to make it easier for more listeners to find the podcast. Mention the podcast to your fellow drivers so they don't miss out, we would appreciate it.
Check out our Discord https://discord.gg/rvRas4DDqF
New Website – Leave Comments https://www.iracerslounge.com/
---
We are in the regular rotation… (Mike)
https://performancemotorsportsnetwork.com/
https://channelstore.roku.com/details/9d27a1e9dd15b92535d7cfe85407288e/the-sim-racing-channel
https://thesimracingchannel.com/watch-live/
Fantasy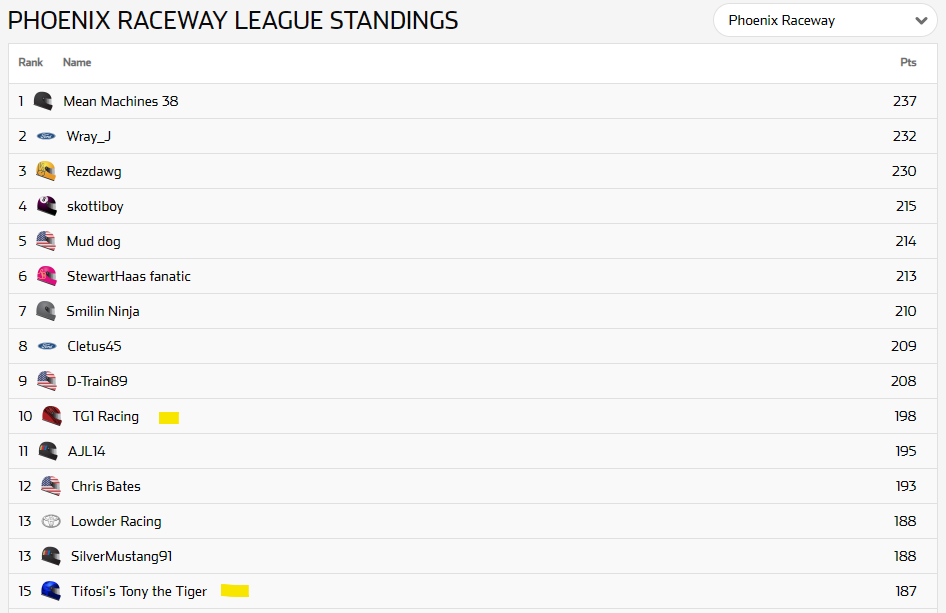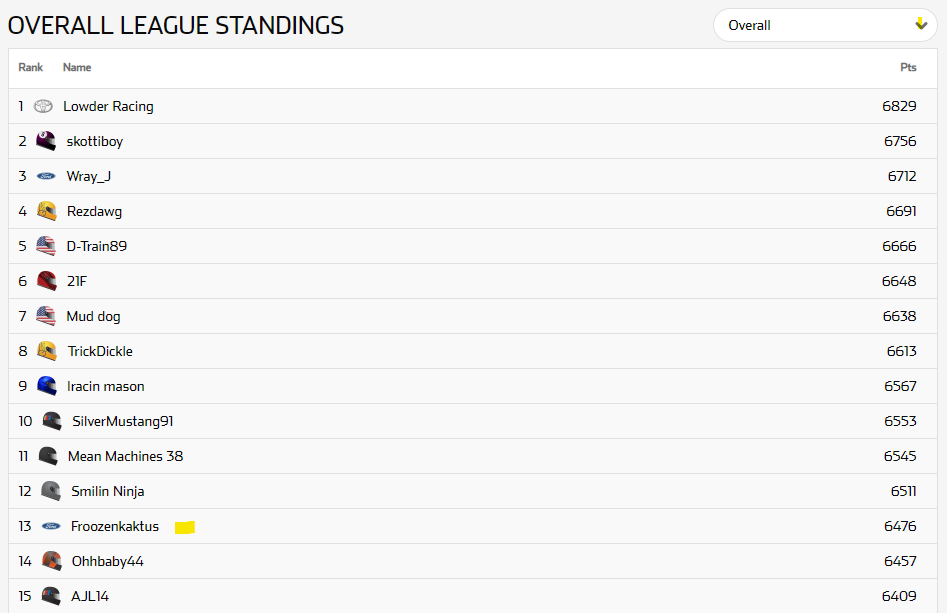 ---
---
Hardware/Software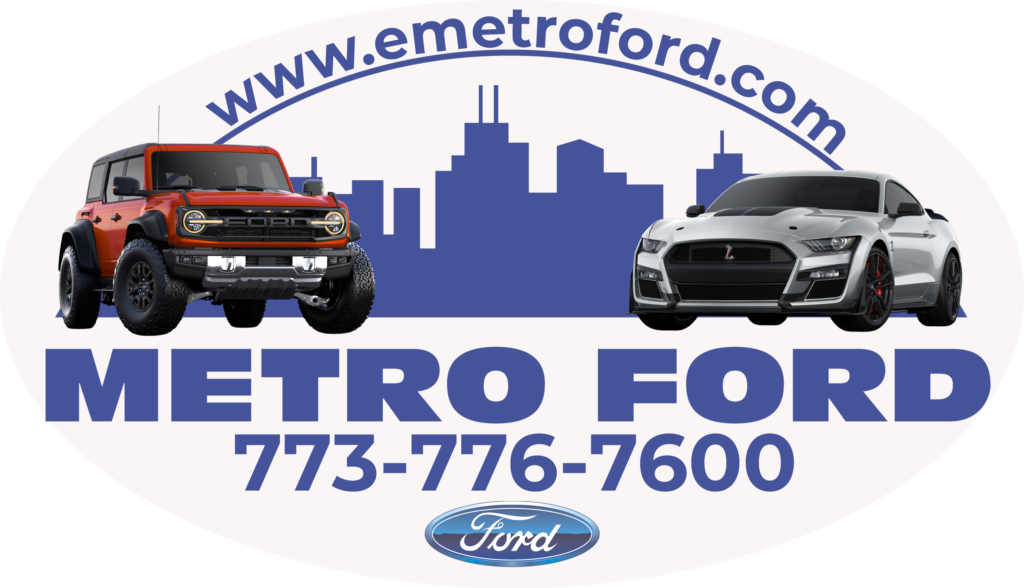 ---
iRacing Extensions , Addons, Overlays Megathread
Mike Dobrowney posted in the forum a thread with links to a ton of third party apps to get the most out of iRacing all in one spot.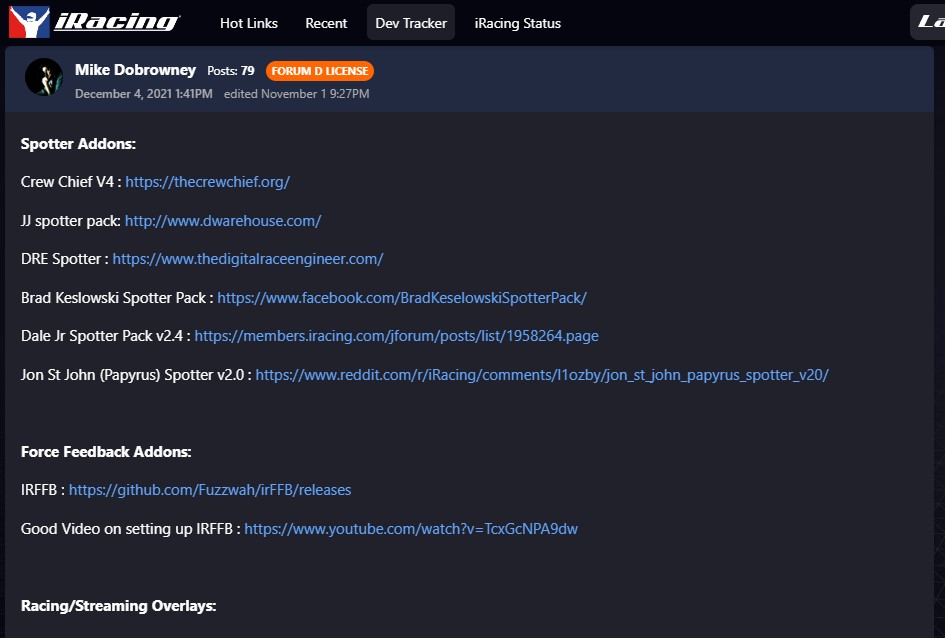 https://forums.iracing.com/discussion/12664/iracing-extensions-addons-overlays-megathread
---
---
Logitech G PRO Racing Wheel Review
"The best ffb i've ever had… performance was outstanding… It's kinda ugly…. but yeah.
https://www.logitechg.com/en-us/products/driving/pro-racing-wheel.html
---
---
6Sigma Sim Racing 6S-160
OC Racing posted a video to their Youtube channel of 6Sigma Sim Racing's 6S-160. Is this the best aluminum profile cockpit?
https://www.6sigmasimracing.com/collections/simracing-chassis/products/6s-160-simracing-chassis?variant=42386849628406
---
---
Hydraulic sim pedals are the best
Sim Coaches posted a new video to their Youtube Channel providing more details about their Hydraulic Pedals. The difference between standard mount and inverted mount. Lawrence address some the most frequent question he receives about the pedals and reiterates Sim Coach pedals ship with a lifetime guarantee.
---
---
REVIEW – Venym Atrax & Black Widow Sim Racing Pedals
Driving experience is good, but there are concerns about reliability… The feel like a 1st generation product… Build issues, sharp edges…
---
---
The F-CORE is Coming!
---
---
Two Forces Unite!
https://gomezsimindustries.com/shop/p/gsi-x-simucube-formula-pro-elite
---
---
iRacing Setup Comparison Tool
iRacing SetupDiffer
https://svappslab.com/iRacing/SetupDiffer
---
---
Podium Racing Wheel F1® at a reduced price for a limited time!
https://forum.fanatec.com/categories/blog
QR2 – this is a fundamental change to the ecosystem and our opportunity to make major improvements to the quick release. While we (and BMW) are satisfied with our QR design currently being used on the M4 GT3 race car, it has been a challenge to bring this design to mass production for our full range of steering wheels and wheel bases (including a 'Lite' version for our CSL Series). The extended development time has ensured the best possible future for the Fanatec quick release. The latest pre-production samples are performing great, but we will only provide release dates and pricing information when we are ready.
Wheel Base production – many of you have noticed we have been 'sold out' of some of our wheel bases for some time. The demand has been very high, and our production has been stalled by component shortages. We will continue to work hard to address this bottleneck, but the effect of the semiconductor crisis continues to be felt across the industry, and I can confirm that the CSL DD will not be available again until Q1 2023.
Podium Steering Wheel Bentley GT3 – the development of this wheel has also been affected by the chip shortage. Although this product was already used very effectively in the Pikes Peak Hill Climb, and its mechanical and structural design is well-proven, we were unsatisfied with the performance of the display, and we have used the extra time to completely re-engineer the electronics. We now plan to launch the wheel in the first half of 2023.
Now for the best news of the day. Despite the supply delays, we were recently able to secure all components for the Podium Racing Wheel F1, and run the production line at full capacity. Because we know it will be difficult to get your hands on our entry-level bases until next year, we decided to offer the Podium Racing Wheel F1 at a reduced price for a limited time. (We would like to offer this price until the CSL DD returns, but we expect a high demand, so let's say 'while stocks last'.)
https://mailchi.mp/fanatec/podium-racing-wheel-f1-at-a-reduced-price-for-a-limited-time-2089880?e=511738d246
https://fanatec.com/us-en/racing-wheels-wheel-bases/racing-wheels/podium-racing-wheel-f1
Podium Racing Wheel F1®
---
---
SimUcube2 Pro Wheelbase Review
The Sim Pit provides his review of the Simucube Pro 2.
---
---
Nothing is Impossible
This DIY Rig from this TikTok video shows off an incredible, one of a kind build.
---
---
MOZA RS v2 Steering Wheel Review
---
---
Injuries Anyone?
Are you brave enough to enter this cock pit.
---
---
OpenXR Tool Kit
iRacer Paul Gallen posted to the forums his experience with the OpenXR Tool Kit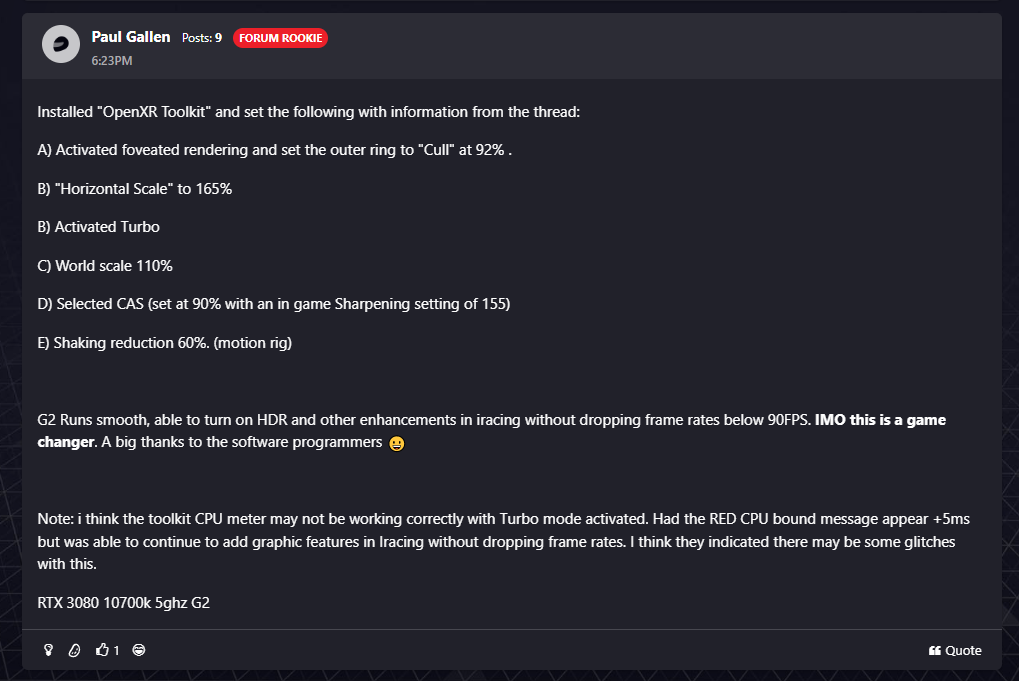 ---
https://forums.iracing.com/discussion/28040/openxr-toolkit-developer-looking-for-feedback-from-wmr-users-running-openxr-in-iracing#
https://apps.microsoft.com/store/detail/openxr-for-windows-mixed-reality/
https://mbucchia.github.io/OpenXR-Toolkit/
https://github.com/BuzzteeBear/OpenXR-MotionCompensation/releases/tag/v0.1.7-alpha
---
CSL Steering Wheel P1, now in a V2 version
---
---
4 SIM RACING CENTERS TO VISIT TO TRY D-BOX HAPTIC SIMULATORS
https://www.d-box.com/en/blog/4-sim-racing-centers-to-visit-to-try-dbox-haptic-simulators
---
---
Results
NASCAR iRacing Series
---
---
Official Series
---
---
League / Hosted Races
---
---
Final Thoughts
---
---
Words Spoken in Closing Audio Clip -""Thank you for listening to the iRacers Lounge podcast make sure to go subscribe to us on iTunes, SoundCloud, or Google Play, Facebook & Twitter, See You On The Track ."
TITLE
Nuts On The Floor
Description
Off season is upon us, we talk with special guest Mike Watts, Black Friday deals are here, you'll get our thoughts on the Simucube wheel base and as usual we have tons of other hardware topics. Take a load off and join us in the lounge.
So sit back, relax and join us on the iRacers Lounge Podcast.
iRacers Lounge Podcast is available on iTunes and Apple's Podcasts app, Stitcher, TuneIn, Google Play Music, Spotify, Soundcloud, Podbean, Spreaker, Podbay, PodFanatic, Overcast, Amazon, and other podcast players.
Sponsors:
Hosts:
Mike Ellis – twitter.com/MikeDeanEllis
David Hall – www.twitch.tv/mixmage
Greg Hecktus – twitter.com/froozenkaktus – www.twitch.tv/froozenkaktus
Brian Maccubbin – www.twitch.tv/MacRubbinsRacin
Kyle Pendygraft – twitter.com/LoudPedalGaming
Tony Groves – www.twitch.tv/SirGroves
Adam Josselyn- twitter.com/Jossad83
Tony Rochette – twitter.com/TonyRochette
Tom Dreiling –
Donnie Spiker – twitter.com/Spikerman19
Bobby Jonas –
Links:
Facebook – www.facebook.com/iRacersLounge/
Twitter – twitter.com/iracerslounge
Instagram – instagram.com/iracersloungepodcast/
Web (Show Notes) – iracerslounge.com/