3/16/2023 – You Can Mount Anything – Episode 0374
iRacers Lounge Podcast – Conversation Topics
Brought to you by:
---
---
Opening Audio Clip -"Your listening to the iRacers Lounge Podcast where we discuss everything iRacing, in a casual setting, enjoy."`
READ THIS AT THE TOP OF EACH SHOW!!!
Welcome to the iRacer's Lounge, I am your host "XXX". iRacer's Lounge is a podcast for the iRacer, where we talk all things iRacing in a casual setting.
Joining me are the usual characters, ———— 
---
---
Show Introduction
On the show tonight, we talk about everything AltantaDega, the new Dallara Dash and Gen 4 series, and an absolute massive amount of hardware/software to pick through. Pull up a chair on join us in the lounge…
And remember you can follow along with us on your PC or mobile device in real time as you listen to the show and see for yourself all of the great topics and products we'll discuss by visiting iracerslounge.com and selecting show notes. Hope to see you there..
---
---
---
---
Topics
---
---
Coke Race – AtlantaDega
REMINDER: Darik Bourdeau (@Dard2121) is NOT on track tonight after the events at The Milwaukee Mile 2 weeks ago.
After maybe 10 pace laps we finally get the race started . –
@RyanLuza leads Lap 1 by 0.001 seconds over @MalikRayTTV
Big pack racing 3 wide lap after lap 8 deep, top 3 break away a bit – luza boes conti – center lane eventually disentigrates, 2 wide now for the pack, breakaway gaining though.
LAP 6: @KeeganLeahy breaks loose! @BowlinGraham is on the apron! 4-WIDE! And they SAVE IT!
LAP 11: There's 2 distinct packs, the lead pack and a 2nd one about 2.5 seconds behind led by @KadenWHoneycutt
.Lap 12 – @A_Boes21 takes the lead with help from @MalikRayTTV
LAP 16: NEW LEADER, @GarrettManes
LAP 24: @MalikRayTTV takes the lead.
Still green at Atlanta, we've hit the quarter race mark at lap 25. @MalikRayTTV leads after a push from @CaseyKirwan23
A third of the race is gone. @DDuval42 has control of the top. @BigDogBowden leads the bottom. Things look chill for the moment. When will pits be?
For Derek Justis and Matt Bussa fans – The pair had lost the main pack and were working together, and at lap 31, the #31 went around… no caution but they are both screwed without a yellow.
Lap 48 – another close call! Somehow they all saved it here but Jimmy Mullis gets the worst of it – He's now down multiple laps.
Past halfway and @DDuval42 has been leading for a while – the bottom hasn't been able to prevail for some time now. Pit stops are imminent. 27 in lead pack at this point
36 to go: Green flag pit stops are underway. Looks like about 6 or 7 cars ducked onto pit road.
These pit entrances are CHAOTIC.
Commercial breaks right during Greenflag stops – like timing couldn't of been worse…
After stops – 17 car pack up front 30 to go – duval bowden ray, kirwin lowe lopez jr lowe leahy manes wilson leahy
CAUTION! 25 to go. @BigDogBowden is around! Collin Bowden, Ryan Luza, Kaden Honeycutt involved!!!
RESTART 21 to go: @JBeavereSports' @MalikRayTTV and @GarrettLowe_6 lead the field into Turn 1.
Crazy restart 3 and 4 wide –
CAUTION! 19 to go. @KollinKeister has crashed.
RESTART 15 to go: @swilson3_ and @JordyLopezJr lead the field into turn 1.
CAUTION! 14 to go. It's the big one! 11 parker white got pushed into the middle faded back but kirwin was getting pushed by olat up the middle hit parker and it was on…
RESTART 10 to go: @swilson3_ and @JordyLopezJr lead the field into Turn 1.
CAUTION! 5 to go! That's the 2nd big one of the night.
23 went from bottom to middle guy behind went up above to a higher middle they touch and its one big wreck….
GWC #1 – wilson lowe salas lopez jr bowlin guest leahy cosey jr keister duval
Garret Lowe the leader goes to block on salas but it's too late and he gets turned caution!!
OVERTIME RESTART 2: @swilson3_ and @JordyLopezJr lead the field into Turn 1.
Bottom looking good on the restart outside fades they make it to the white –
Second line coming, they go 3 wide – kiester looks he cant do it WILSON wins!
CHECKERED FLAG! @swilson3_ wins at the virtual @ATLMotorSpdwy
.🏁 @swilson3_ holds off @KollinKeister by 0.035 seconds for the inaugural #eNASCAR @iRacing Series win at the new @ATLMotorSpdwy The 3rd-year driver is already a 5-time race winner, good enough for 9th on the all-time wins list alongside @pjs_57 and @jmullisracing
---
---
User Guide: The Future of iRacing and iRacing Web
For 2023 Season 2, the iRacing team made significant updates to our user interface. As iRacing continues to evolve, our Legacy Membersite will be sunset in the coming months in favor of an all-new iRacing Web experience, which preserves certain core functionalities of the iRacing interface within a browser for users who would like to access information on computers without an active iRacing installation.
Moving forward, we'll be using the following terms:
iRacing: This is the interface that allows you to join races, paint cars, launch replays, and more. Formerly known as the iRacing UI.
iRacing Web: The web browser version of iRacing that allows users to interact with the parts of our interface that don't require an active iRacing installation, such as managing teams and leagues.
iRacing Simulation: Your experience at the virtual racetrack.
Classic Membersite: The web browser version of iRacing currently accessible at members.iracing.com. This will be replaced by iRacing Web in the coming months.
https://www.iracing.com/user-guide-the-future-of-iracing-and-iracing-web/
---
---
Dallara Dash and the IR-01
Beginning with Season 2 , next week, the Dallara Dash will feature the newly updated iR-01 and it's oval package. The schedule has been updated and can be seen here: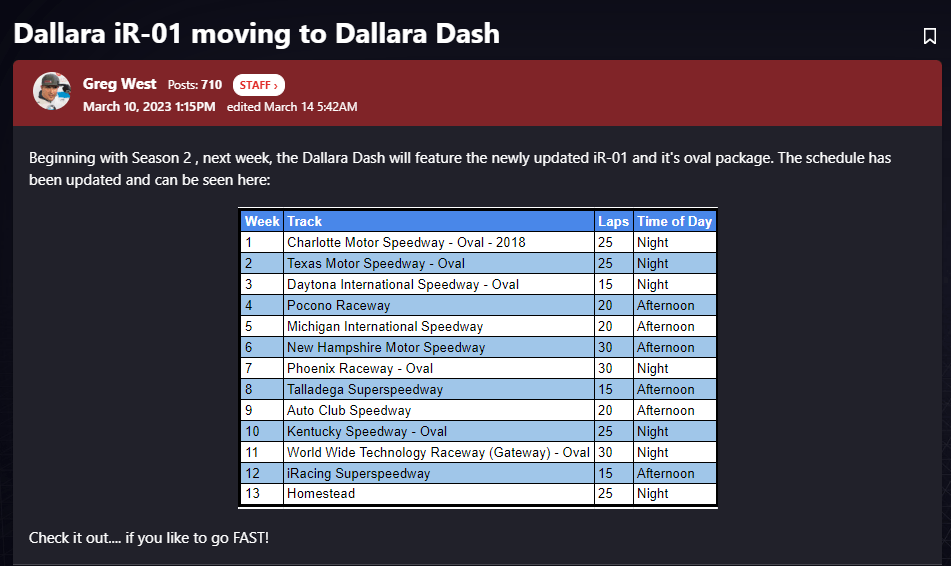 https://forums.iracing.com/discussion/38553/dallara-ir-01-moving-to-dallara-dash#latest
https://forums.iracing.com/discussion/38919/dallara-ir01-suggestions#latest
---
---
Season 2 Patch 1
This Patch includes updates and fixes for the 2023 Season 2 Release, as well as the official release of the Gen 4 Cup Car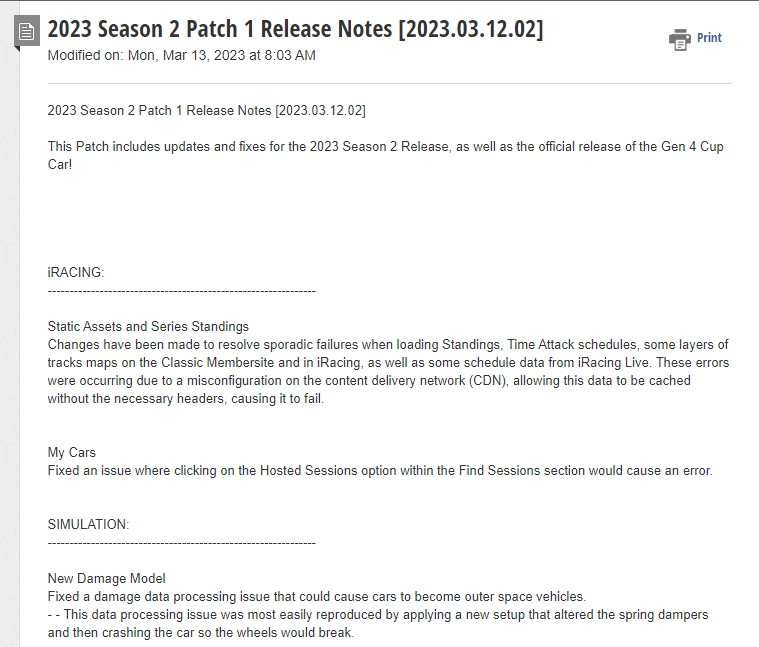 https://support.iracing.com/support/solutions/articles/31000169444-2023-season-2-patch-1-release-notes-2023-03-12-02-
---
---
2023 Cup Rules
Andrew Benagh asked in the forums, "Can we please bring back the 2003 cup series rules for the Gen 4 series? Lap cars to the inside, no lucky dog, and racing back to the yellow.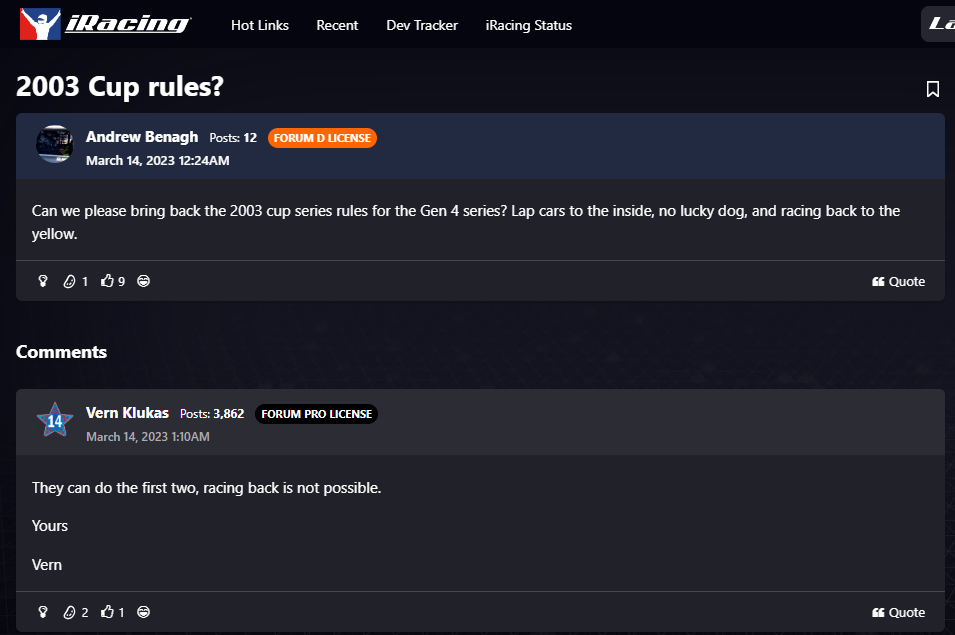 https://forums.iracing.com/discussion/38849/2003-cup-rules#latest
---
---
Season 2 Contests
Season 02 2023 brings with it great opportunities to win great prizes from companies like Buttkicker, SIMAGIC, MOZA RACING, Extreme Simracing, Ricmotech, Falken Tyre, DOF Reality, NEXT LEVEL RACING, Pure Driving School, and Sim-Lab!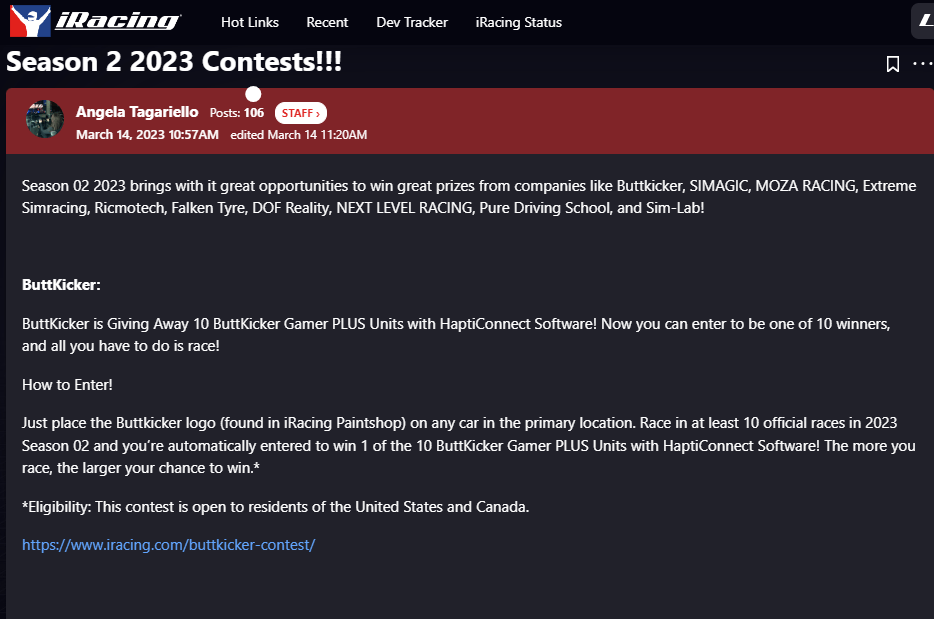 https://forums.iracing.com/discussion/38866/season-2-2023-contests
---
---
Atlanta Pit Road
Anthony Alfredo Tweeted that the new entrance to pit road at Atlanta will be very interesting
---
---
Sprint Car Love
Nick Neebons is looking for some love with the sprint car and is asking for racers to join him on Tuesday nights
---
---
Sim racing VS Real racing
Real world Formula Ford driver Brendon Leigh says the iRacing version if the Formula Ford feels like the real thing.
https://www.iracing.com/insight-max-esterson-on-the-ray-ff1600/
---
---
Cheating in Sim Racing
DrOrzy —
Jimmy Broadbent ask, " is iRacing seriously the only legit Sim out there currently? I know we can easily be pegged as Fan Boys but just look at the facts. Sure iRacing had its own "Cheating" scandal through Daytona but that was actual drivers and teams doing unethical things it wasn't people/cheats opening up a 3rd party app to gain more grip or a physics advantage over other non cheating competitors 🤷🏽‍♂️ I know iRacing isn't perfect but do know they are pretty stringent with Anti-cheat. I hope they use all this current crap as a heads up and even focus harder on this side of things and keep the cheats out 🤞🏽
Is the massive prize money that's on offer these days the only cause and is it just going to get worse? Do we end up with a scenario where every Joe blow is opening up a 3rd party app tripping over each other to buy cheat hacks instead of setups before joint a race
Kristoffer Dahlstrand —
Prize money is not a major motivator for cheating. All competitive games have cheating problems, real world and digital. When winning becomes more important to a person than how strong their love for the game is when people will cheat. The sad reality of the matter is that the problem is that the world is full of cheaters. It has to do with character and integrity, cheaters gonna cheat.
One good thing that iracing has going for them is their monetization model.
We pay for the subscription which ensure that they have enough staff and resources to take care of our needs.
We also invest more in our accounts so there is more on the line for us both when it comes to racing clean but also when it comes to competing clean.
---
---
Pro 4 Off Road Championship
---
---
Off Road Championship Series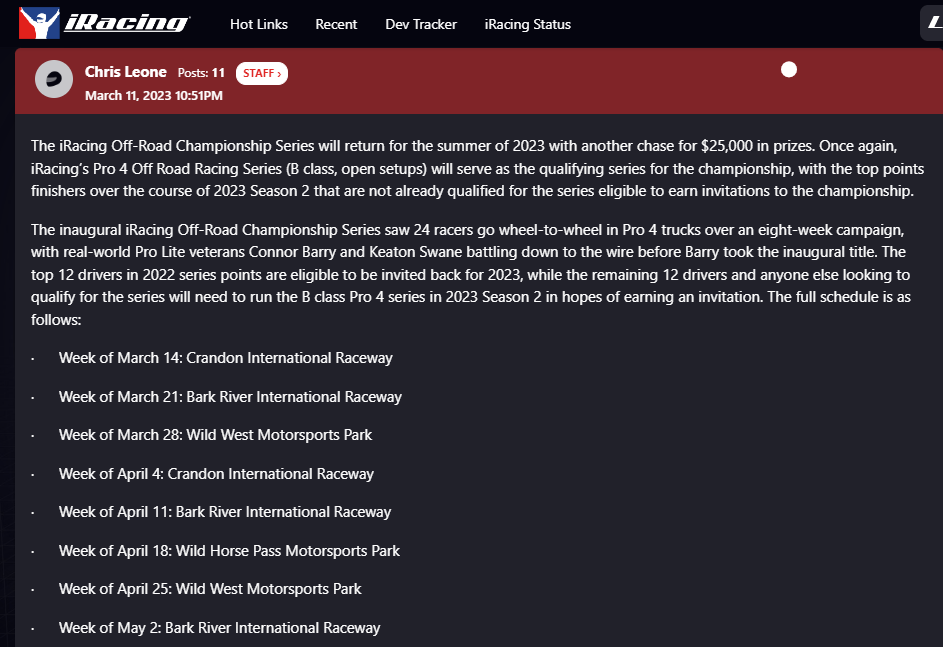 https://forums.iracing.com/discussion/38652/qualifying-for-2023-iracing-off-road-championship-series-launches-this-week
---
---
2023 Sebring 12 presented by VCO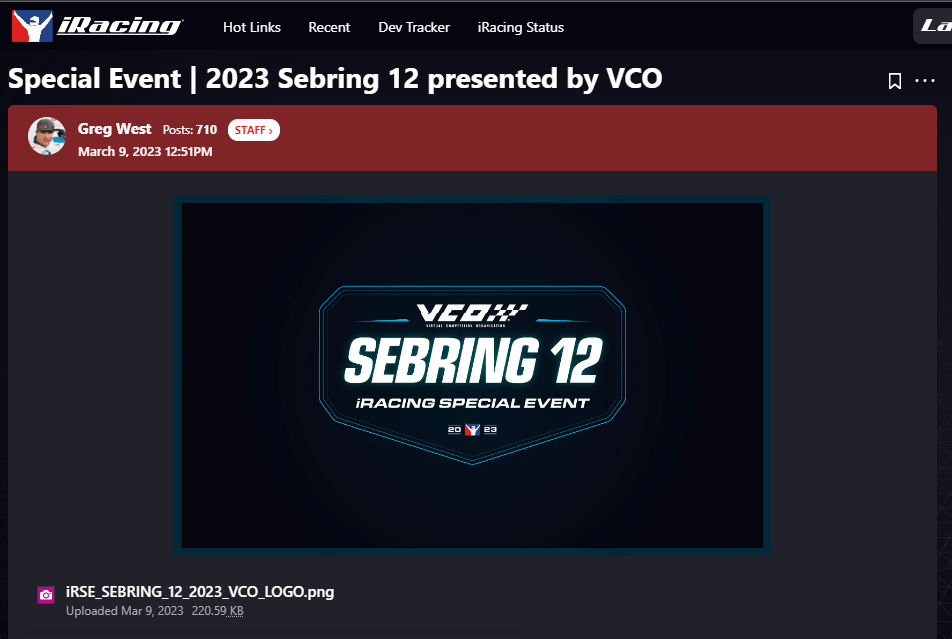 https://forums.iracing.com/discussion/38462/special-event-2023-sebring-12-presented-by-vco#latest
---
---
Podcast Housekeeping
Leave us a review on your favorite podcast platform to make it easier for more listeners to find the podcast. Mention the podcast to your fellow drivers so they don't miss out, we would appreciate it.
Check out our Discord https://discord.gg/rvRas4DDqF
New Website – Leave Comments https://www.iracerslounge.com/
---
We are in the regular rotation… (Mike)
https://performancemotorsportsnetwork.com/
https://channelstore.roku.com/details/9d27a1e9dd15b92535d7cfe85407288e/the-sim-racing-channel
https://thesimracingchannel.com/watch-live/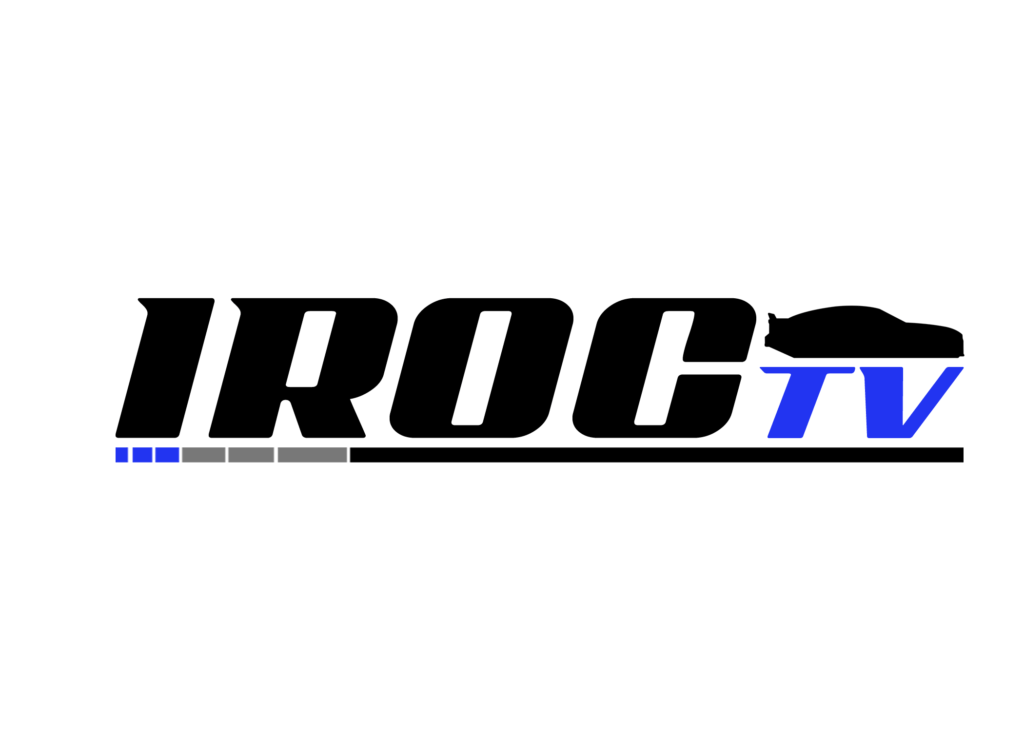 Fantasy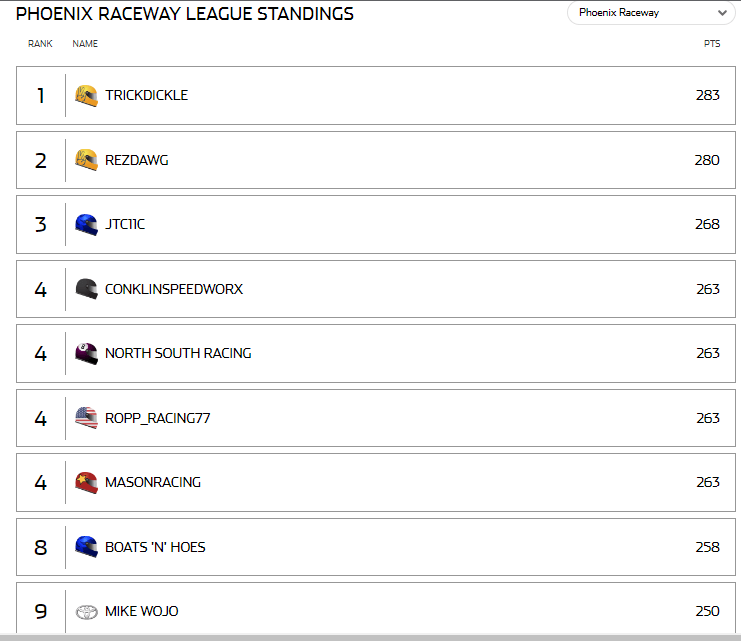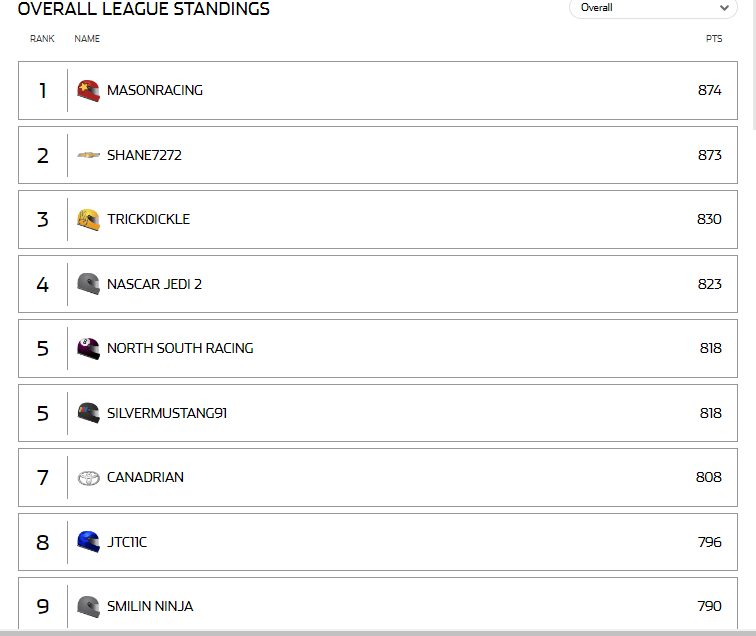 ---
---
Hardware/Software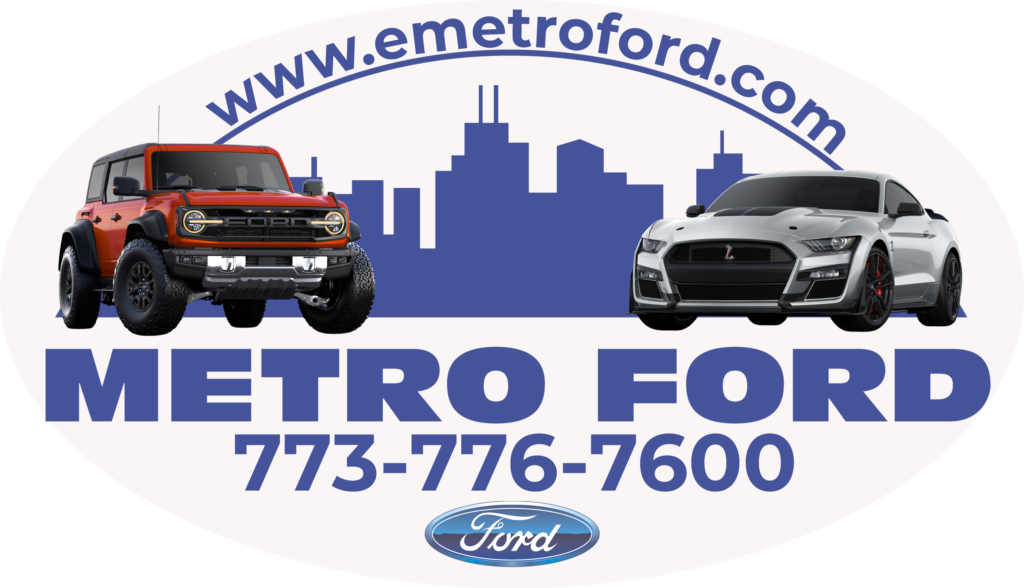 ---
Cube Controls SP01 Reveal
---
---
Asatek Forte F1 Wheel
The sim Circuit reviews the Asatek Forte F1 Wheel
Amazing wheel, loving it… solid wheel really liked it… A bit disapointed about the color schemes, as the early versions shown had more color then what was shipped.
Looks great…
Fit and finish – quality product…
Performance – OUTPERFORMS Simucube Pro…. Dave Cam is ready to buy it…
---
---
Caravangoes GT steering wheel
---
---
Simucube Pedal Tips
Simucube posted an Instagram video with quick tips on their new Active pedal system. They also unveiled their new baseplate with Heusinkveld pedal adapter kit
---
---
Hybrid Racing Stream Deck
Hybrid Racing Simulations offers their new Stream Deck being sold as a DIY kit
---
---
Meca Evo 1 Hydraulic Pedals
Karl Gosling reviews on his YouTube channel the Meca EVO1 Hydraulic Pedals
---
---
Force Feedback Update Explained
Staffer David Tucker explains the 360hz Force Feedback update from the new build.

https://forums.iracing.com/discussion/comment/313619/#Comment_313619
---
---
Advanced Sim Racing ASR 4 Sim Racing Cockpit Review
Will Ford revied the Advanced Sim Racing ASR $ cockpit on hi s Boosted Media YouTube Channel
---
---
Eau Rouge EVO
Following the success of Eau Rouge Carbon for Fanatec Podium Series, CSE introduces Eau Rouge EVO.
Like the other button boxes made by Custom Sim Engineering, it is fixed directly to the wheel base for motion and static sim rigs. This is particularly suitable for rigs with limited space where standard button boxes can't be used. CSE button boxes are also designed for the most demanding drivers who want the buttons close to the wheel, easily and quickly accessible.
https://www.customsimengineering.com/product-page/eau-rouge-evo
---
---
MPI Oval Wheel
MPI has a Oval Sim Wheel with quick release and buttons available from Sim Seats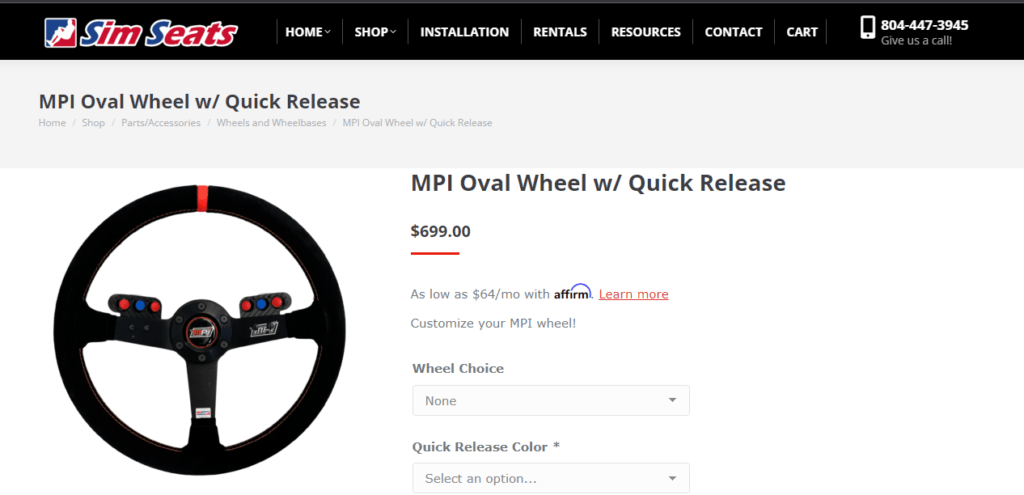 https://sim-seats.com/shop/custom-oval-wheel-w-quick-release/
---
---
Almiun Arospace AMU SR
Almiun Arospace offers their AMU SR formula racing wheel
---
---
Bridgemoto GT-S Seat
The BridgemotoGT-S has a reclinable racing seat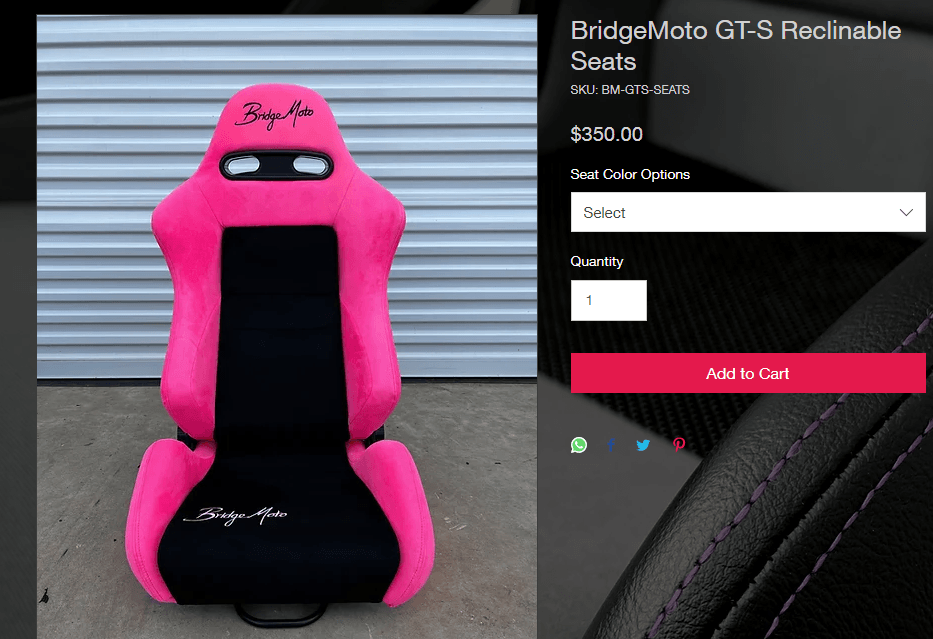 https://www.bridgemoto.com/product-page/bridgemoto-gt-s-reclinable-seats
---
---
Simutrack 01
Simutrack is offering a racing simulator that takes real world driving data from your own Porsche Racecar or Porsche Roadcar to get you as close as possible to your own real world racing experience, so when you get back to the real race track, all of the virtual training will pay off in racing performance improvements.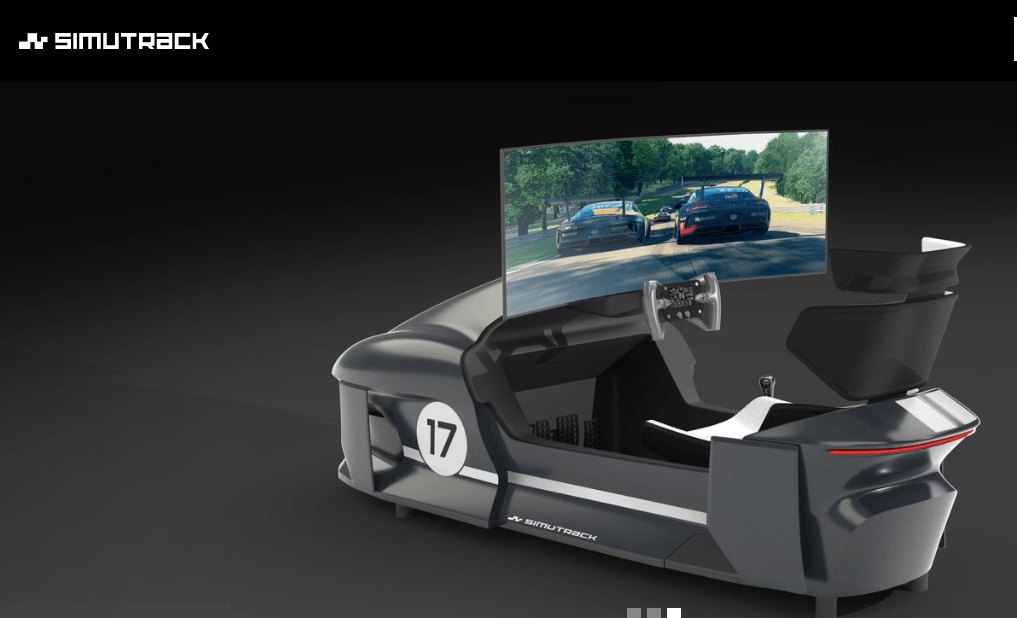 ---
---
Bash Pro Active H-Shifter
The Bash Pro Active H-Shifter is the first active sim racing shifter using a gate locking feature powered by real time in-game telemetry data.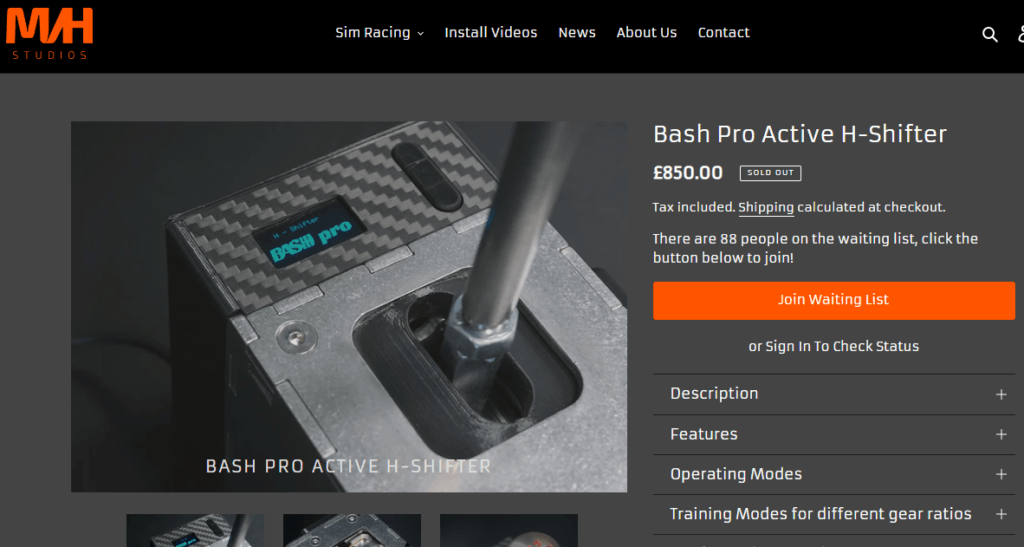 https://mvhstudios.co.uk/products/bash-pro
---
---
DSD Spring Blowout Sale
Derek Spears Designs is having a Spring 2023 Blowout sale on button boxes and wheels
---
---
---
Results
NASCAR iRacing Series
Friday Open – Phoenix
Mike -. P 3- I had a great car ran second most of the race got cycled back on pitch strategy and got wrecked but no damage was on a different tire structure strategy then the leader there were too many cautions at the end for me to get back up there I got up to pee three but didn't have enough laps to catch him.
Rochette- P5 had a good car. Missed just a caution fest
Greg- p2
Donnie – P29, Q5 DNQ
Justin -started p35th, Raced with tyler, team member. i think the very first run we can a 20 run and that was about the lost stint, caution after caution. Mid race, the hooked took front end damage but still had speed. 1 lap down didn't take long to get on the lead lap. Took all 3 green/white/checkers to finish 11th
Sunday Open
Rochette -P4 man that was probably the most fun ive ever had at phoenix. Ean in VR for the first time since middle of last year. Didnt have my spotter sound set up so had to pit from 4th on the first caution. Slowly made my way back up front to where i did the only stop i had for tires on lap 90. Ended up leading some laps. Just about everyone pitted about 15 laps after i did and i stayed out. Led some more laps and had a couple of guys pass me on fresh but towards the end of the race i was gaining and passing em back. That was fun. Was fighting for 2nd and 3rd at the end.but screwed up passing em when i mis judged where a car was on my rear and stayed alittle too high not knowing if i was clear or not. That would've been for a podium. Good clean racing today now i have 4 top 10s in my nis open at phx in the last 5 years
Tom D – p5. Was able to work my way up after starting 25th. Late cautions hurt me as everyone does that land rush restart. But I'll take 2 top 5s this week
Donnie – P10, Q12 2X
Justin- started p18 ran half the race mid pack trying to stay out of trouble but the dog leg bit me locked it up and hit the LF not too hard 3min of damage steering wheel was a little at 11 o'clock still had speed. There were so many cautions everything did get repaired. There were 19 cautions all together with pit cycles that got me up to 6th on the g/w/c. That actually ran clean and stayed in the same spot. Finished 6th
Mackenzie – P 16 ran pretty well in this race but had a lot of accident problems, worked my way back to the lead lap p11 for the final restart but got rear ended on it and got the black flag for too many incident points
Sunday Fixed
Mike – p6- ran top-five pretty much all day as high as second could never get to the leader had old tires at the end and faded a bit.
Mackenzie – p11 – was running in the top 5 most of the race, got to the last 15 laps and got wreaked, finished the race down 10 laps but p11
Wednesday Open: AtlantaDega
Rochette -P8 man what a shit show i like Superspeedway racing and i like mile Nd halfs but this bastard of a track was not fun
Started 5th ended up getting screwed on a restart behind 2nd and fell to the back when he didnt go and i got a train ran on me. Couldnt make it back up front because no one knew how to draft. At the end with 15 to go we had greeen flag stops and i stayed out and bam caution in P3. A wrecked car was slowly taking his time and i had to avoid pit road and try to avoid a BFlag but had to pit under closed and still got a bf.. got it served and another caution came out. With 2 to go on the green was stuck behind lapped cars so never had a shot for a top 10 til the field wrecks at the checkered
Justin- Started P3 stayed in the top 5 about half the race then coming going along the front stretch i was the out side line and the guy that was in p3 threw a really late block caused a bunch of damage 2 laps down 21st
Mike- p wrecked out. Took it easy running top 10 all race I eventually took the lead on 30 to go. We're just riding on the outside with the guy pushing on the bottom floated up into the top lane and destroyed the pack.
McKenzie- p13 – took the pole to start the race, lead the first 25 laps then ran top 3 until around lap 60 when i got hip checked and pushed down to the inside wall to get 5 mins req damage, ran back to p13 by the end of the race
David – p3. Got in a little trouble early as a guy moved up then changed his mind and came down across my nose. It didn't seem to cause any damage though, got separated from main pack but a 2nd line formed well and caught them, was running 22nd. After green stops, I came out 12th. Good thing I practiced them. Then with 17 to go the caution fest started. Each time I kept surviving or just flat out gaining positions. Then had to throw a block to protect p3 at the end.
---
---
Official Series
Ellis–
Gen 4 at Homestead. Started 19 got to 11th by the end of the first run 30 laps of an 80 lap race. We're running top 10 near the end there was a wreck in front of me. Somebody didn't check up and ran underneath me and knocked me up in the air finished P 15.
IRO4 at Virginia rocked out first lap I suck
SPIKER
GEN 4 CUP – Miami P17, Q15
GEN 4 CUP – Miami P9, Q7 Nascar C OPEN – Atlanta P13, Q5
---
---
League / Hosted Races
Hosted
Late model stock at Lanier. Got wrecked near the end.
Ellis – GEN four at Michigan – start a 22nd finished P4.
De LaraDash at Charlotte- ran the last time Sunday night with the old car as a sendoff and of course got wrecked out
Dilara Dash at Charlotte with the new car It's pretty crazy. What is the tires warm-up it sticks in the corners. You only have to breathe the throttle a bit. I spoke with Kevin McCarthy, who is been the king of the series for many years what he thought about it, and he said it was certainly a surprise, but he's up for the challenge. Qualified with a 22.93 on Pole lead the most laps finished P4.
The Laura Dash at Charlotte. Started fifth I took the lead on lab seven and was able to keep it in, won the race.!
---
---
Final Thoughts
---
---
Words Spoken in Closing Audio Clip -""Thank you for listening to the iRacers Lounge podcast make sure to go subscribe to us on iTunes, SoundCloud, or Google Play, Facebook & Twitter, See You On The Track ."
TITLE
Description
So sit back, relax and join us on the iRacers Lounge Podcast.
iRacers Lounge Podcast is available on iTunes and Apple's Podcasts app, Stitcher, TuneIn, Google Play Music, Spotify, Soundcloud, Podbean, Spreaker, Podbay, PodFanatic, Overcast, Amazon, and other podcast players.
Sponsors:
Hosts:
Mike Ellis – twitter.com/MikeDeanEllis
David Hall – www.twitch.tv/mixmage
Greg Hecktus – twitter.com/froozenkaktus – www.twitch.tv/froozenkaktus
Brian Maccubbin – www.twitch.tv/MacRubbinsRacin
Kyle Pendygraft – twitter.com/LoudPedalGaming
Tony Groves – www.twitch.tv/SirGroves
Adam Josselyn- twitter.com/Jossad83
Tony Rochette – twitter.com/TonyRochette
Tom Dreiling –
Donnie Spiker – twitter.com/Spikerman19
Bobby Jonas –
Links:
Facebook – www.facebook.com/iRacersLounge/
Twitter – twitter.com/iracerslounge
Instagram – instagram.com/iracersloungepodcast/
Web (Show Notes) – iracerslounge.com/