3/9/2023 – Oops, I made a Gen 4 – Episode 0373
iRacers Lounge Podcast – Conversation Topics
---
---
Opening Audio Clip -"Your listening to the iRacers Lounge Podcast where we discuss everything iRacing, in a casual setting, enjoy."`
READ THIS AT THE TOP OF EACH SHOW!!!
Welcome to the iRacer's Lounge, I am your host "XXX". iRacer's Lounge is a podcast for the iRacer, where we talk all things iRacing in a casual setting.
Joining me are the usual characters, ———— 
---
---
Show Introduction
Its build week everyone, and we're gonna take you thru all of the goodness of the new content. The iRacing Skip Barber formula Series wrapped up and which iRacer will get a shot a fully funded ride. And did iRacing accidentally make the best oval car in the service?
And remember you can follow along with us on your PC or mobile device in real time as you listen to the show and see for yourself all of the great topics and products we'll discuss by visiting iracerslounge.com and selecting show notes. Hope to see you there..
---
---
Topics
---
---
2023 Season 2 Release Notes [Pre-Release Version]
First up on week 13 was the pre-release notes posted in the forums by Alex Gustafson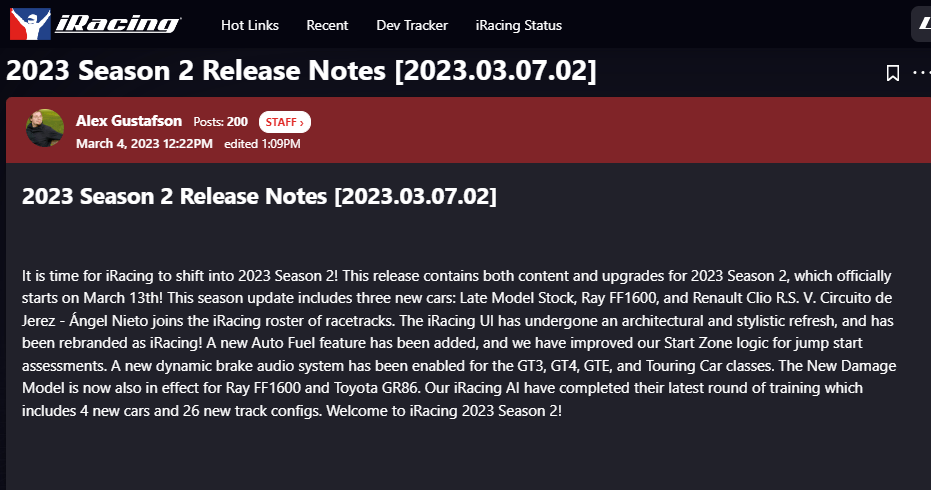 https://forums.iracing.com/discussion/38063/2023-season-2-release-notes-pre-release-version#latest
https://www.iracing.com/iracing-2023-season-2-is-here/
Late Model Stock: Used in the CARS Late Model Stock Tour, iRacing's newest stock car comes straight from the championship-winning stable at JR Motorsports.
Renault Clio R.S. V: Used around the world in the Renault Clio Cup, this fun, agile FWD machine carries the heritage of decades of single-make racing powered by Renault.
Ray FF1600: The machine of choice for up-and-comer Max Esterson in one of the world's most historic entry-level racing formulas, the Ray FF1600 is the latest addition to iRacing's open-wheel ladder.
Circuito de Jerez–Ángel Nieto: Former home to both the Spanish and European Grand Prix, Jerez features two configurations and becomes the latest European road course on the sim.
New Damage Model: The Ray FF1600 debuts with the NDM enabled, while the Toyota GR86 also gets an NDM update!
AI Racing: Not only does all of this season's new car and track content come AI-ready, but the Mercedes-AMG W13 E Performance and tracks like Barcelona, Suzuka, and Zandvoort also have all their layouts unlocked. In addition, the new Atlanta oval, LA Coliseum, Pocono, and Darlington headline a deep list of oval unlocks.
Auto Fuel: A new refueling option uses your lap data to calculate fuel settings and help you take just enough fuel to make it to the finish, or determining how much you'd like to spare.
Car Parameter Updates: The NASCAR Cup Series Next Gen cars have received tire and drafting parameter updates, while the Dallara iR-01's aerodynamics have been updated to aid in oval racing.
Dynamic Brake Audio System: GTE, GT3, GT4, and Touring Cars will all produce different sounds under braking depending on brake temperature and pressure.
iRacing (UI) Visual Refresh: Enjoy a new, modern look for the iRacing application! Various fixes and improvements to modernize the user experience have also been added.
---
---
Release Notes for iRacing Companion App
Next up was the Release notes for the Companion App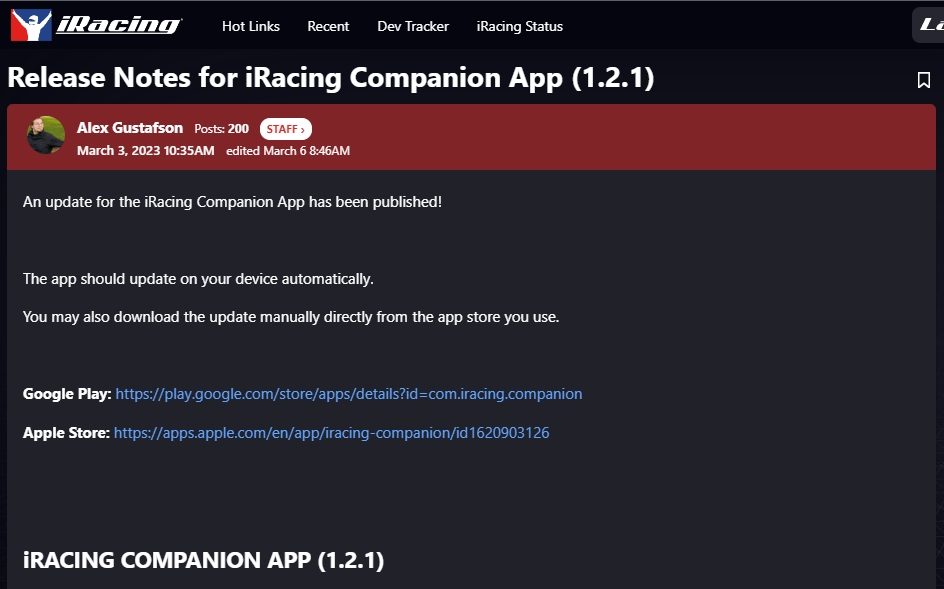 https://forums.iracing.com/discussion/38003/release-notes-for-iracing-companion-app-1-2-1#latest
---
---
Skip Barber Formula iRacing Series
Diogo Pinto Earns 2023 Skip Barber Formula iRacing Series Title, Splits Wins With Wheldon at Road America
Final Skip Barber Formula iRacing Series points are as follows:
Diogo Pinto, 301
Harley Haughton, 288
Brandon Hawkin, 246
Josh Thompson, 244
Michael Janney, 241
Matt Caruana, 233
Sebastian Wheldon, 231
Michael Romanidis, 208
Przemyslaw Marek Lemanek, 202
Matthew Zeis, 193
https://www.iracing.com/pinto-earns-2023-skip-barber-formula-iracing-series-title-splits-wins-with-wheldon-at-road-america/
---
---
5th Digit Acquired (Quik Hit)
Casey Kirwain joins the short list of iRacers topping the 10K Oval iRating
---
---
Screen to Speed At Vegas
The all-female Screen to Speed sponsored by Penzoil made its way tp the Las Vegas Motor Speedway
---
---
---
---
11K iRating Road (Quik Hit)
Sven-Ole Haase became the second iRacer to ever reach 11K iRating in Road (or any) series.
---
---
NIS Rap
Jacob Kline was in a NIS race when, under caution, he decided to have some fun with ChatGPT to have it create an NiS ChatGPT Rap. Here's the conversation.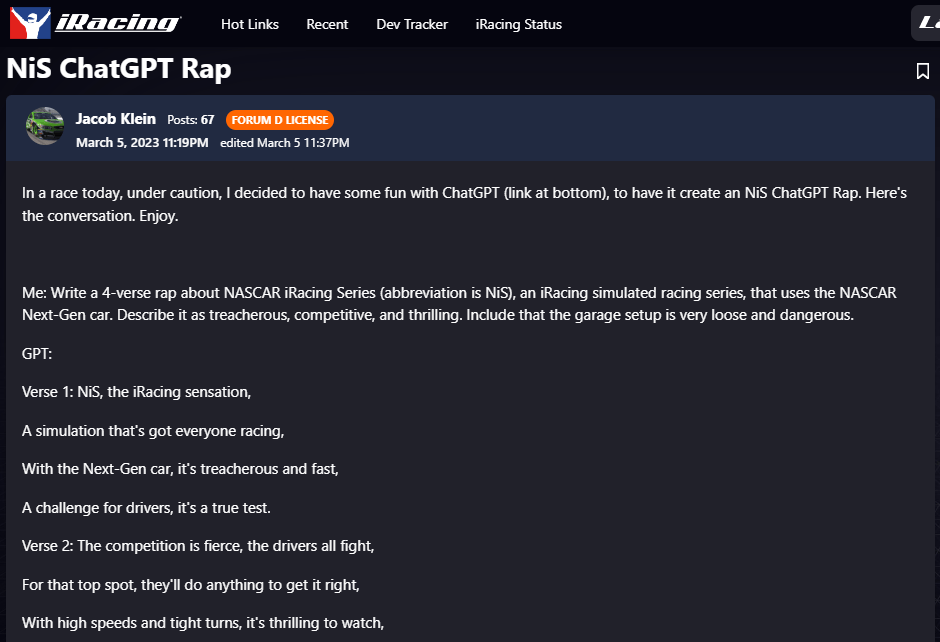 https://forums.iracing.com/discussion/38143/nis-chat-gpt-rap#latest
---
---
Teasers (Quik Hit)
---
---
Malone and the All-Stars
Content creator Matt Malone posted the start to his Porsche All-Star race at Long Beach
https://www.iracing.com/sebastian-job-returns-to-top-of-porsche-tag-heuer-esports-supercup-podium-at-long-beach/
---
---
Porsche Supercup Round 3
Sebastian Job takes the victory in a tough Tag Heuer Porsche Supercup Race at Long Beach.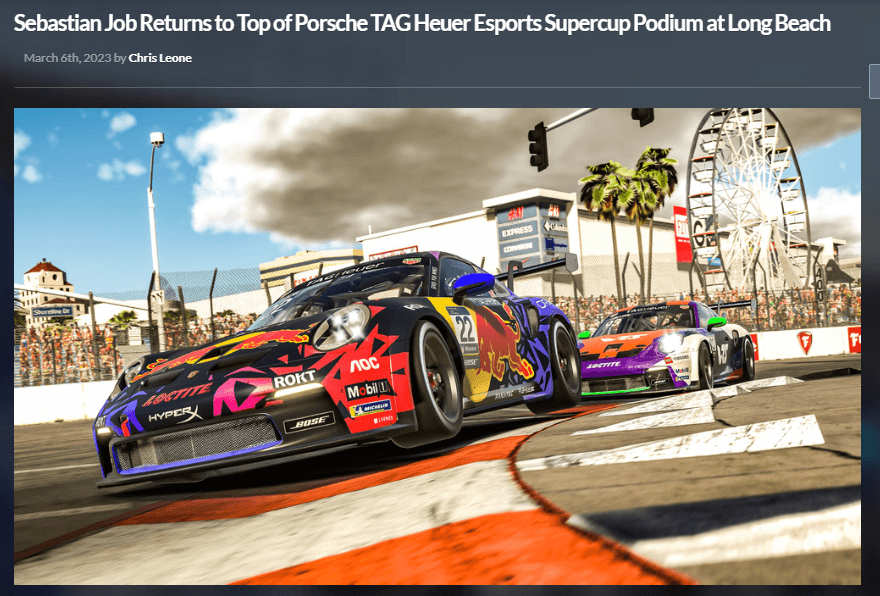 | | | | | | | | | |
| --- | --- | --- | --- | --- | --- | --- | --- | --- |
| Fin. | St. | No. | Name | Laps | Interval | Led | Best | Pts |
| 1 | 2 | 22 | Sebastian Job | 26 | 0.000 | 26 | 1:19.257 | 64 |
| 2 | 4 | 93 | Charlie Collins | 26 | -0.436 | 0 | 1:19.138 | 61 |
| 3 | 7 | 12 | Jordan Caruso | 26 | -0.815 | 0 | 1:19.052 | 62 |
| 4 | 9 | 37 | Cooper Webster | 26 | -1.116 | 0 | 1:19.036 | 49 |
| 5 | 3 | 90 | Yohann Harth | 26 | -4.345 | 0 | 1:19.368 | 49 |
| 6 | 11 | 77 | Alessandro Bico | 26 | -4.923 | 0 | 1:19.246 | 41 |
| 7 | 8 | 27 | Simone Maria Marcenò | 26 | -5.307 | 0 | 1:19.172 | 53 |
| 8 | 13 | 10 | Christopher Dambietz | 26 | -17.037 | 0 | 1:19.661 | 34 |
| 9 | 15 | 81 | Quentiin Vialatte | 26 | -17.183 | 0 | 1:19.597 | 30 |
| 10 | 1 | 83 | Bobby Zalenski | 26 | -17.886 | 0 | 1:19.691 | 35 |
Porsche TAG Heuer Esports Supercup points through three rounds are as follows:
Charlie Collins, 197
Jordan Caruso, 194
Diogo Pinto, 146
Sebastian Job, 146
Cooper Webster, 120
Long Beach Lament
Porsche Supercup driver Kevin Ellis Jr was not too happy with the decision to race at the Long Beach Street circuit.
---
---
IR-18 Season 2 Schedule
Greg West posted the 2023 Season 2 iRacing schedule for Open and Fixed steups for the Dallara IR-18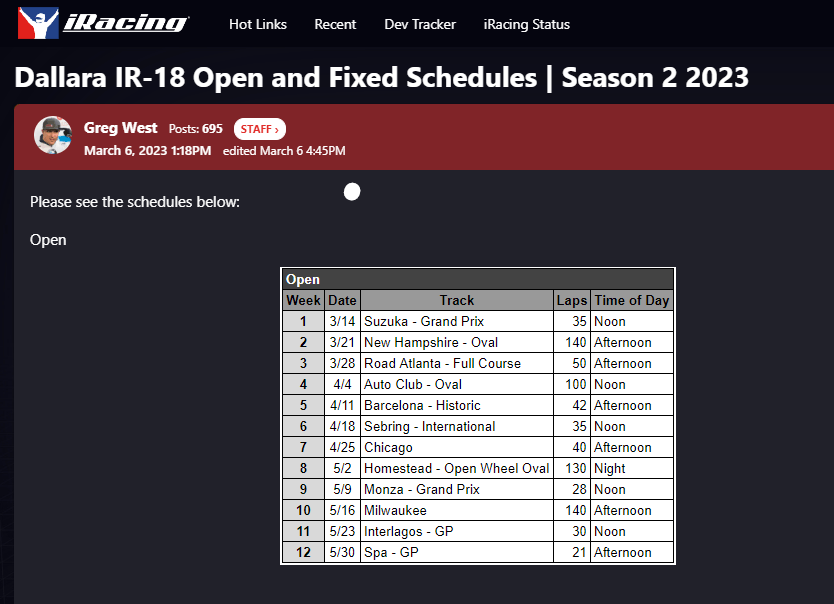 https://forums.iracing.com/discussion/38168/dallara-ir-18-open-and-fixed-schedules-season-2-2023
---
---
Late Model Stock – Broken or Super Grip?
SEEN in DISCORD – Listener Ryan Carwile asked Landon Huffman, real world late model driver "cars are way too gripped up right?", and Landon replied "Yes, bad…"
---
---
SimdyCar – The new Dallara iR01 Oval Package
---
---
Ops, I Made a Gen 4 – The Big Story
So the build came out Tuesday, by Tuesday night we are hearing word of mouth through the community, hey, go try the ARCA car… Long story short, iRacing mistakenly, according to Greg West, removed the limiter on the ARCA car causing the engine to go from a high of 7000 rpm up to 9700 rpm… Word spread quickly and hosted races popped up organically…
https://forums.iracing.com/discussion/38314/arca-hp/p1
https://twitter.com/PFrisch_/status/1633293205809553409
https://twitter.com/Dr_Bob41/status/1633335638404603904
https://twitter.com/ChrisOverland47/status/1633331148947443713
https://twitter.com/kneebon5/status/1633321490732011520
https://twitter.com/TMCSJonathan/status/1633319062091751424
https://twitter.com/FemiOlat_/status/1633333832396034048
https://twitter.com/nate_stewart4/status/1633337249680039939
Word spread via social media fast, with lots of very positive input on the car and the situation of this is only temporary until the next patch when they fix it… I could not find anyone with anything negative to say about the situation. It was also perhaps the most interest and genuine enthusiasm for a 'new car' in iracing, that I have ever seen. It probably has more to do with the nostalgia of really good racing in those days, where it was 190 on the straights and 160 in the corners…
iRacing Big Wig Greg Hill gives confirmation that he hears the crowd…
https://twitter.com/greghi11/status/1633536028676874246
Race lengths for the new Gen 4 Cup – Fixed series will match the race lengths of the C Open Series (Trucks). 80 laps on 1.5 milers, 60 laps at Autoclub, Etc. Schedule will be posted soon with race lengths.
https://twitter.com/tdhudson001/status/1633560734914211840
By popular demand, iRacing is happy to announce we are introducing a variant of the ARCA car built to Gen 4 specs next week. This car, which will be included for all customers that own the ARCA car, will debut in a new series at the class C license level; the Gen 4 Cup- Fixed. Please note that we will also be including a reversion of the ARCA car physics in a patch scheduled for Monday, to keep the class D ARCA series intact.
Moving forward, we are looking to update the iRacing ARCA car to a modern version as well as update the Gen 4 car, in the future, to our current standards.
The schedule for the Gen 4 Cup – Fixed is as follows:
Homestead Miami Speedway – Oval
Richmond Raceway
Charlotte Motor Speedway – Oval – 2018
Bristol Motor Speedway
Daytona International Speedway
Auto Club Speedway
Dover Motor Speedway
Atlanta Motor Speedway – Oval – 2008
Talladega Superspeedway
Nashville Superspeedway
Darlington Raceway
[Legacy] Texas Motor Speedway – 2009
https://forums.iracing.com/discussion/38385/you-wanted-it-you-got-it-gen-4-cup-coming-to-iracing-next-week#latest
---
---
Motorsports Games – Getting The Job Done
Allen Bailey posted on Twitter that Motorsports Games has shut down their Nascar Heat servers
---
---
LA Rush Hour
What do you get when you have a 60 car field in the new Renault car at the LA Colosseum? Nick Neebon found out. It's LA Rush Hour
---
---
Can We Scan This?
Historic Racetrack Arials Tweeted a picture of the track located on the roof of the Fiat Factory. We need this in iRacing!
---
---
Beta UI – Lipstick on a Pig?
Nick Broyles asked in the forums what you think of the new UI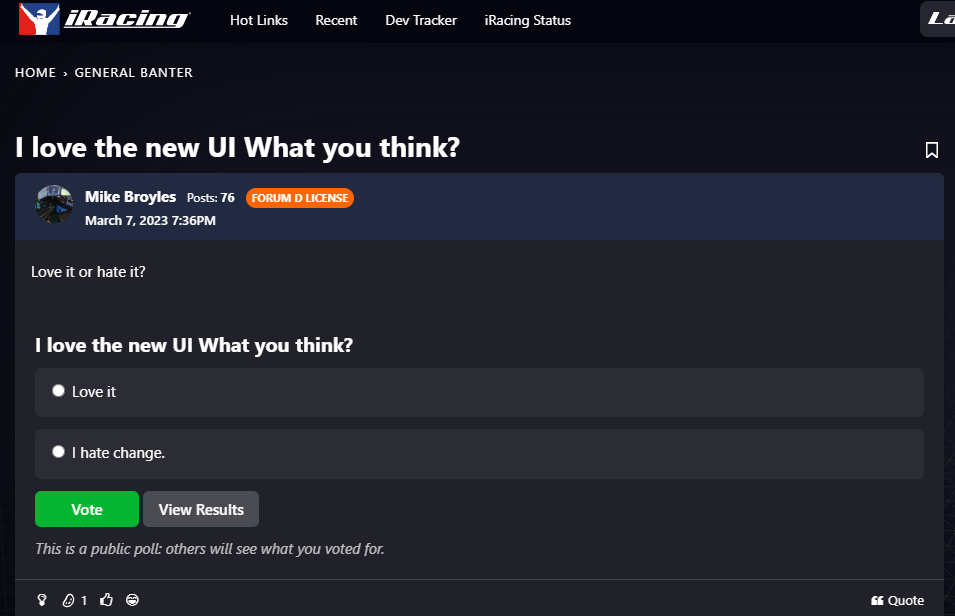 https://forums.iracing.com/discussion/38292/i-love-the-new-ui-what-you-think#latest
---
---
iRacing RAGE! "#1 car syndrome" Don't be this guy…
iRacing Rage! posted clips from an A Cup race with drivers with a big difference of opinion
---
---
2023 Season 2 Preliminary Schedule
The Prliminary Seasn 2 Schedule has been posted in the Forums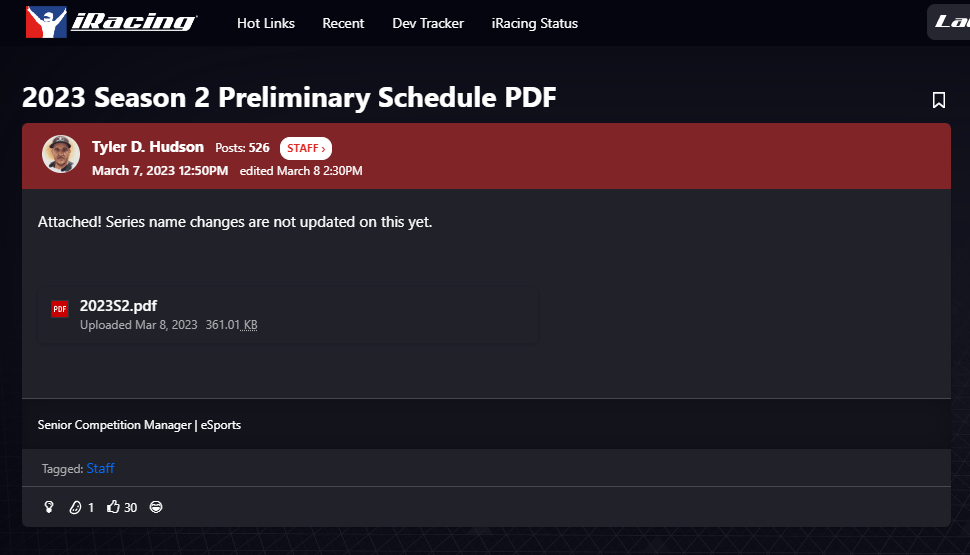 https://forums.iracing.com/discussion/comment/315414#Comment_315414
---
---
Podcast Housekeeping
Leave us a review on your favorite podcast platform to make it easier for more listeners to find the podcast. Mention the podcast to your fellow drivers so they don't miss out, we would appreciate it.
Check out our Discord https://discord.gg/rvRas4DDqF
New Website – Leave Comments https://www.iracerslounge.com/
---
We are in the regular rotation… (Mike)
https://performancemotorsportsnetwork.com/
Fantasy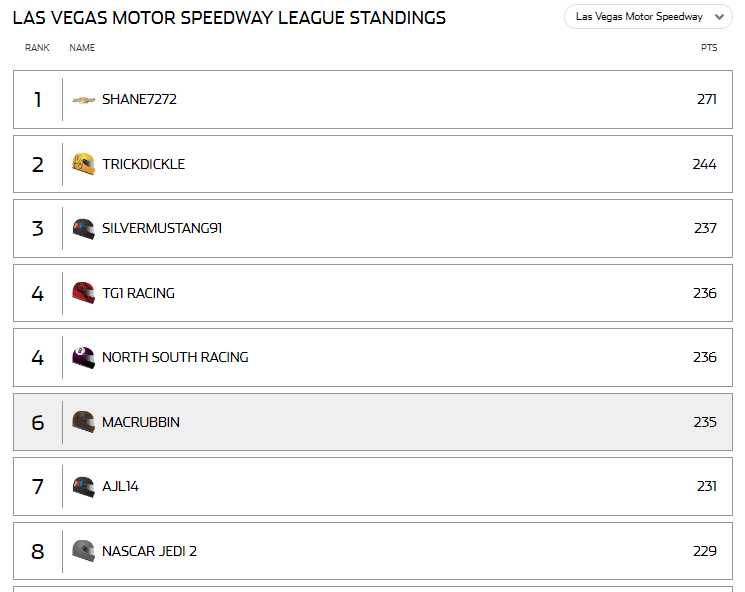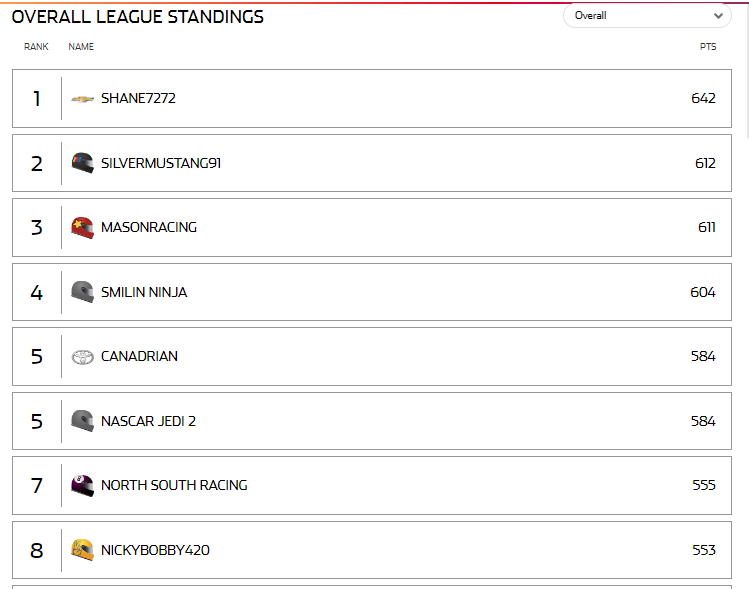 https://fantasygames.nascar.com/live/league/iracers-lounge-podcast-fantasy-league
---
---
Hardware/Software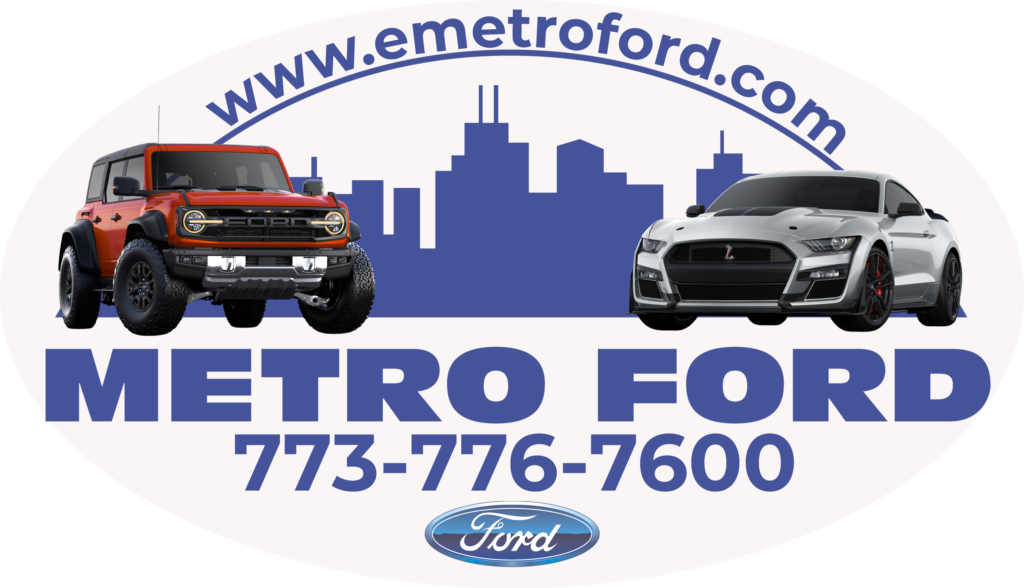 ---
Simucube Extension
Sim Racing Bay has a extension for the Simucube 2 Wheel Bases
Length 130mm (replace original hub and adds 80mm extra lenght)
Compatible with Simucube 2 systems (Sport, Pro and Ultimate)
CNC machined from Automitive grade aluminium
Weight 365g
Included SQR Adapter – 6x70mm
https://www.simracingbay.com/product/extension-for-simucube-2/
---
---
NJMotion Compact-R Base
The NJ Motion Compact-R Base is a motion system for your seat
https://www.njmotion.com/en/motion-systems/39-compact.html
---
---
Playseat Trophy Logitech G Edition review
9To5 Toys reviewed the Playseat Logitech G Edition
---
---
Best Lights for Sim Racing Streamers
Anthony Alfredo says the Logitech Litra Beem is the the best lighting for Sim Racing Streamers, and the one he uses.
https://www.logitech.com/en-us/products/lighting/litra-beam.946-000006.html
---
---
Mike's Been Told They Are Not Messy
The Sim3D Pedal Rumble Kit review
https://www.sim-3d.co.uk/product/pedal-rumble-motor-kit/6
---
---
DBox Setup
Anthony Alfredo shows the ease of setup of the Dbox Platform motion rig
https://www.d-box.com/en/blog/hf-l4-universal-haptic-platform-rseat-dbox
https://www.rseat-europe.com/rseat-hf-l4-d-box-gen-5-haptic-system
---
---
Hands on Performance
Hands on Perfomance's HC1. Brake / Accelerator Sim Racing Hand Control gives you throttle and break controls with your hands.
---
---
Results
NASCAR iRacing Series
Friday Open – Las Vegas
Mike -. P running about 10 or so. Got spun by a guy coming. I've been to be no damage restart the body to lab 66. Later on I got spot again end of the wall with 30 second shot required in three minutes off. I ended up fixing one minute and staying on the lead lap. Interestingly, I was able to drive it up to the top five fairly quickly and was restart fifth with 20 to go. Was running really good and then all of a sudden the car got hospital wobble loose, and I fell all the way to 18 right at the end of the race.
David – p3, 15th after 2 green flag stops, caution with 25 to go, and was able to haul it. Oddly at this track I'm better short run, if I know I don't have to save.
Justin – started 34th, was the 34, car chose not to qualify, worked his way to 17th coming to green flag stops and that's when it went downhill from there caught speeding on pit road went 2 laps down and couldn't catch up after that. P 24
Sunday Open
Brian – P4 Adjusted my car from practice to get the car more stable. Wasn't super fast early, but had really good long run speed. Lead a few laps along the way. Had a caution with about 15 to go. Lost a few spots on the restart and gained them back on the long run for a P4.
Sunday Fixed
Justin- started 8th, made it to green flag pit stops running 4th. Then after the field halfway cycled through their pit stops, a yellow flag flew which caused me to be a lap down. Luckily I had the luck dog to put me back on the lead lap. Took it easy for a few laps, another quick caution flew and gained a couple stops on pit road to put me 11th. Then the final green/white/checkered went from 11th to 8th. So finally had a positive NIS
Wednesday Open: Phoenix
Greg -P wrecked out
Mike- p 6 – had a fast car and we drive forward on most runs. I finally pitted it under green on a long run and sure enough the Caution came out while I was on pit road I was able to take a wave around and stay on the lead lab and drive forward, but I could never really recover from that finished P6.
Tom D – p4 – started last (of course I didn't qualify). Was able to work my way up to the top 10 after two long green runs. Got involved in some bumping a little bit later as I like the high line. A few late yellow and I'll take my 3rd top 5 of the season.
McKenzie- wrecked out early
David – p9, spun early, took 2 cautions to get LD, then cars just kept dying around me. Survived for p9
Thursday Open Ellis – started 14th car number 30. Would move forward on the short run but on the long run with fade hard because it was snappy loose ended up P 11 and realize that I had ran the qualifying set. I'm a stupid fool.
---
---
Official Series
Ellis–
Pick up Kup at Phoenix. Got wrecked out.
Carburetor cup at IRacing superspeedway.
Pick up cup at Phoenix finish P4
---
---
League / Hosted Races
OBRL Cup
Brian -P.34 Started in tenth. Car was super loose after about 10-12 laps. Had to run high the whole time. Stayed in the top 15 until midway when I taped a car exiting turn 2. Made it back into the top 12 after a few cautions. Had a couple of scary moments with getting loose until finally, with about 25 laps to go lost it and didn't recover.
1 Joshua A Robinson
2 Greg McDaniel
3 Eric Essary
---
---
Final Thoughts
---
---
Words Spoken in Closing Audio Clip -""Thank you for listening to the iRacers Lounge podcast make sure to go subscribe to us on iTunes, SoundCloud, or Google Play, Facebook & Twitter, See You On The Track ."
TITLE
Oops, I made a Gen 4
Description
Its build week everyone, and we're gonna take you thru all of the goodness of the new content. The iRacing Skip Barber formula Series wrapped up and which iRacer will get a shot a fully funded ride. And did iRacing accidentally make the best oval car in the service? So sit back, relax and join us on the iRacers Lounge Podcast.
iRacers Lounge Podcast is available on iTunes and Apple's Podcasts app, Stitcher, TuneIn, Google Play Music, Spotify, Soundcloud, Podbean, Spreaker, Podbay, PodFanatic, Overcast, Amazon, and other podcast players.
Sponsors:
Hosts:
Mike Ellis – twitter.com/MikeDeanEllis
David Hall – www.twitch.tv/mixmage
Greg Hecktus – twitter.com/froozenkaktus – www.twitch.tv/froozenkaktus
Brian Maccubbin – www.twitch.tv/MacRubbinsRacin
Kyle Pendygraft – twitter.com/LoudPedalGaming
Tony Groves – www.twitch.tv/SirGroves
Adam Josselyn- twitter.com/Jossad83
Tony Rochette – twitter.com/TonyRochette
Tom Dreiling –
Donnie Spiker – twitter.com/Spikerman19
Bobby Jonas –
Links:
Facebook – www.facebook.com/iRacersLounge/
Twitter – twitter.com/iracerslounge
Instagram – instagram.com/iracersloungepodcast/
Web (Show Notes) – iracerslounge.com/