3/2/2023 – Coke Rage – Episode 0372
iRacers Lounge Podcast – Conversation Topics
Brought to you by:

---
---
Opening Audio Clip -"Your listening to the iRacers Lounge Podcast where we discuss everything iRacing, in a casual setting, enjoy."`
READ THIS AT THE TOP OF EACH SHOW!!!
Welcome to the iRacer's Lounge, I am your host "XXX". iRacer's Lounge is a podcast for the iRacer, where we talk all things iRacing in a casual setting.
Joining me are the usual characters, ———— 
---
---
Show Introduction
On the Show this week, we'll recap an action packed Coke series race at the Milwaukee Mile. The iRacing Formula Skip Barber Series is heading down to the wire with a full ride in the real Skip Barber Series on the line. We are getting more peaks as to what Season 2 will offer, and we'll look at what is the fastest single lap in the history of iRacing.
And remember you can follow along with us on your PC or mobile device in real time as you listen to the show and see for yourself all of the great topics and products we'll discuss by visiting iracerslounge.com and selecting show notes. Hope to see you there..
---
---
Topics
---
---
Coke Race – Milwaukee
Jimmy Mullis reveals he is covid positive but ready to race tonight.
Ryan Luza tells us about his experience at the Snowball Derby
Colin Bowden said – No Milwaukee pic, we spent the week on a bender at Mardi Gras, not worried about practice because our fits were 💯 momma raised a G so we'll be fine
iRacing got a title sponsor DBox – Adam has got a great intro video right before Evan's intro…
One driver did not show up: Femi Olatunbosun
Incredible save by @BigDogBowden after contact with Luza here.
Through 16 laps, @NickOttinger continues to lead from the pole.
Another amazing save in this race! @CoseyJr got a *boop* from Kevin King and took a tour through the grass.
LAP 24: @JoeyBrown is currently the biggest mover, up 10 spots from 28th to 18th.
LAP 40: @JoeyBrown is still the biggest mover, up 13 spots from 28th to 15th.
Lap 44 – Caution Colin Bowden wrecks from the back -Another case of "you pinch, you pay" where Collin Bowden has found out across the nose of Michael Cosey Jr. – they all pit – Honeycutt missed his box
RESTART LAP 47: @NickOttinger and @CodyByus lead the field into Turn 1.
A quick caution #2! Timmy Holmes gets sent off the nose of Tyler Garey! HARD CONTACT!
And another quick caution – Manes dive bombs bourdeau which brings out the caution – cars slow but derek goes after manes but hits vicente salas and spins him out under caution… then eventually goes onto hit manes after passing several cars under caution… No apparent penalty.
RESTART 45 to go: @NickOttinger and @JordyLopezJr lead the field into Turn 1.
CAUTION! @jmullisracing slides. 44 to go.
RESTART 39 to go: @NickOttinger and @JordyLopezJr lead the field into Turn 1.
NEW LEADER! @MalikRay Edges Nick Ottinger Right before CAUTION! @jmullisracing spins contact w Joey Brown and others infront of him
OK we must be watching Fox because we cant get a replay of the only lead change of the race….
RESTART 33 to go: @MalikRayTTV and @NickOttinger lead the field into Turn 1.
CAUTION! 30 to go. @DonovanStrauss is involved. Got hip checked down to the inside by cosey jr
RESTART 26 to go: @MalikRayTTV and @NickOttinger lead the field into Turn 1.
CAUTION! 25 to go. That's the big one! Duvall went 3 wide kirwin and jordy lopez get together then manes plows through and then its a parking lot…
Per the booth, @iRacing officials are opting to change to single-file restarts. 👀
Malik misses a shift and Conti Takes the Lead on the restart! 19 to go
Discussion about how guys who took tires lost lots more track position due to the sudden change by race control… is it fair
With 16 to go, @NickOttinger returns the earlier favor from Malik to take back P2. He's now looking to chase down Conti. Conti has more than a second lead!
CAUTION! 10 to go. @vicente_salas14 spins.
RESTART 5 to go: @MikeConti5 leads the field into Turn 1.
3 to go ottinger is right with Conti… 2 to go manes gets to third –
CHECKERED FLAG! @MikeConti5 wins at The Milwaukee Mile!
---
---
More Build Teasers
iRacing has been giving up more teasers for new content in the upcoming Season 2
---
---
Is iRacing still worth it in 2023?
Our iRacing expert Emily Jones is playing the game for many many years now and she still get's the same question: Is iRacing still worth it, even in 2023? So she made up this video for you, so there will be no open questions about the status of the game in 2023. Do you think iRacing is still worth it in 2023 or not?
---
---
Season 2 Road Series Updates
Greg West posted in the forums that in the release of season 2, iRacing has some exciting new content entering the ecosystem as well as some changes to existing series.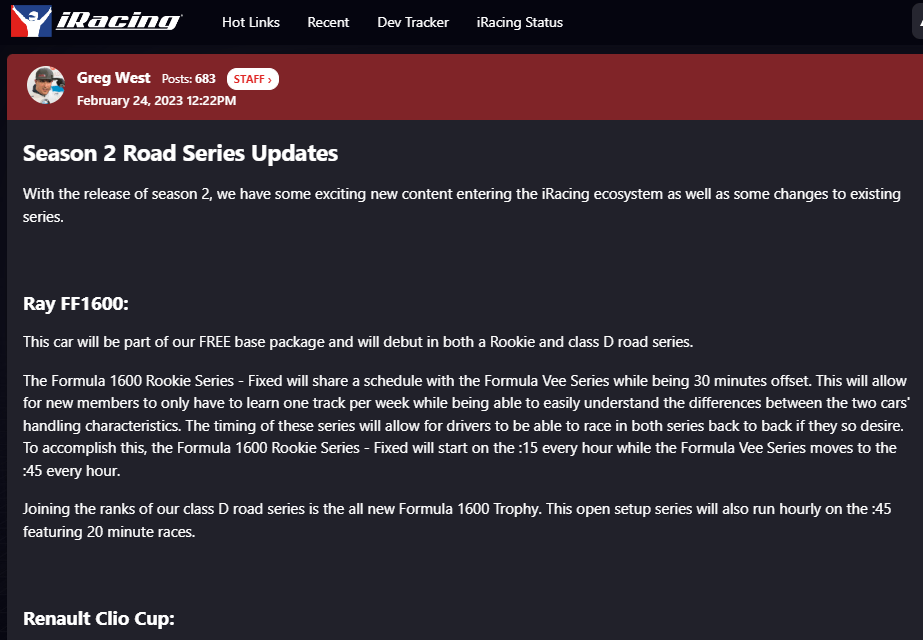 Ray FF1600:
This car will be part of our FREE base package and will debut in both a Rookie and class D road series.
The Formula 1600 Rookie Series – Fixed will share a schedule with the Formula Vee Series while being 30 minutes offset. This will allow for new members to only have to learn one track per week while being able to easily understand the differences between the two cars' handling characteristics. The timing of these series will allow for drivers to be able to race in both series back to back if they so desire. To accomplish this, the Formula 1600 Rookie Series – Fixed will start on the :15 every hour while the Formula Vee Series moves to the :45 every hour.
Joining the ranks of our class D road series is the all new Formula 1600 Trophy. This open setup series will also run hourly on the :45 featuring 20 minute races.
Renault Clio Cup:
Joining our tin tops at class D will be the all new iRacing Clio Cup – Fixed. This single make series will have 15 minute races starting on the hour every hour.
The Renault Clio Cup will also debut in the Production Car Challenge replacing the VW Jetta. This will give the car both fixed and open setup series to participate in.
Dallara Formula iR:
This series is undergoing a series structure revamp for Season 2 with the switch to 20 minute races using fixed setups. This change is in concert with a tire and aero update that addresses many of the complaints about how the car handled. Give it a whirl!
Supercars – Fixed:
This series is switching back to open setups while keeping the shorter race distances.
https://forums.iracing.com/discussion/37636/season-2-road-series-updates/p1
---
---
Wheldon, Romanidis Split Skip Barber Formula iRacing Series Wins at VIR
Sebastian Wheldon and Micheal Romanidis took feature wins in the Skip Barber Formula iRacing Series at VIR. The series finale will wrap up at Road America with points leader Diogo Pinto looking to hold off Harley Haughton, who trails by just one point.
https://www.iracing.com/wheldon-romanidis-split-skip-barber-formula-iracing-series-wins-at-vir-pinto-haughton-set-for-title-showdown/
---
---
We are talking about adding a UTV to the service
Steve Myers posted some tweets about iRacing looking into adding UTV's to the service to bolster their dirt road content.
---
---
Next Gen Top Split AI Settings
I've been testing out the AI in the Next Gen with specific settings. After a few races at certain tracks I've gotten the settings down to where it's top spilt competitive and very fun. The settings for each track are below. Please keep in mind to add the correct day and time as well. I start in the back and each race is around 30 minutes with no green flag pit stops and no yellows. I also use the fixed set as well for each track.
Here's the car set I use (adjust ratings as accordingly as I know it may be a little biased haha): Collections – Trading Paints
Daytona 2/19 2:30PM 35 Laps Skill-120-125%
Auto Club 2/26 3:30PM 40 Laps Skill-63-68%
Las Vegas 3/5 3:30PM 55 Laps Skill-68-73%
Phoenix 3/12 3:30PM 65 Laps Skill-82-87%
COTA 3/26 3:30PM 15 Laps Skill-85-90%
Richmond 4/2 3:30PM 80 Laps Skill-80-85%
Bristol (asphalt) 4/9 7:00PM 100 Laps Skill-55-60%
Martinsville 4/16 3:00PM 90 Laps Skill-98-103%
Talladega 4/23 3:00PM 35 Laps Skill-120-125%
Dover 4/30 2:00PM 70 Laps Skill-101-106%
Kansas 5/7 3:00PM 55 Laps Skill-103-108%
Charlotte 5/28 6:30PM 55 Laps Skill-63-68%
Michigan 8/6 2:30PM 40 Laps Skill-103-108%
Texas 9/24 3:30PM 55 Laps Skill-94-99%
Homestead 10/22 2:30PM 55 Laps Skill-95-100%
https://forums.iracing.com/discussion/36537/next-gen-ai-settings#latest
---
---
iRacing Classic Membersite Postponed
The sunsetting of the Membersite may have been delayed as iRacing continues to work out the kinks in the Member UI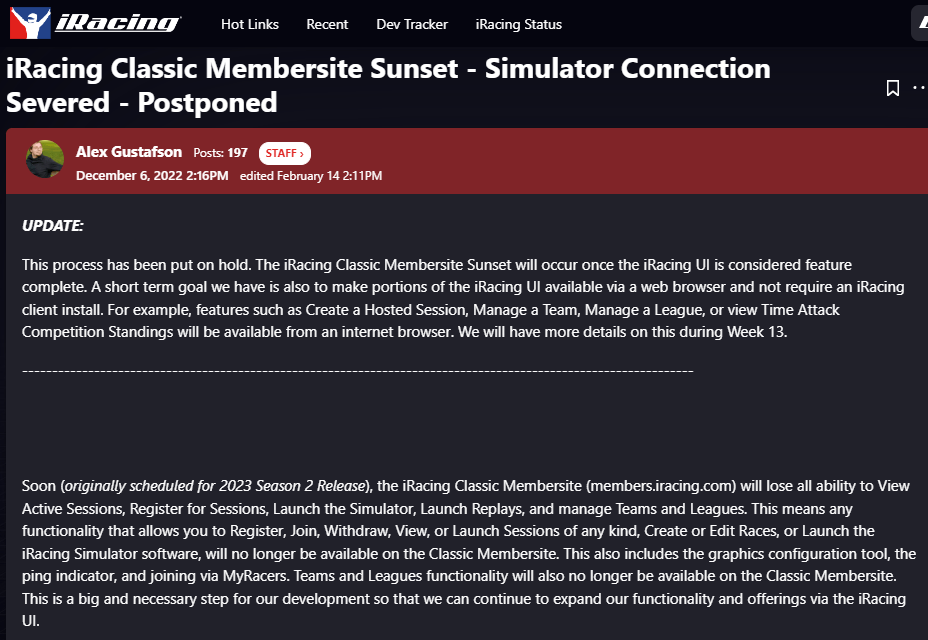 Listener Wesley True alerted us to an old post that got updated with the word 'postponed' added to the title as well as an update about it.
Alex Gustafson Posts:
UPDATE:
This process has been put on hold. The iRacing Classic Membersite Sunset will occur once the iRacing UI is considered feature complete. A short term goal we have is also to make portions of the iRacing UI available via a web browser and not require an iRacing client install. For example, features such as Create a Hosted Session, Manage a Team, Manage a League, or view Time Attack Competition Standings will be available from an internet browser. We will have more details on this during Week 13.
https://forums.iracing.com/discussion/32798/iracing-classic-membersite-sunset-simulator-connection-severed-postponed
---
---
Celebrity Rig Review
Pro Sim Rigs shows off on Instagram the custom rig they made for F1 driver Lando Norris.
---
---
The Fastest Lap in Sim Racing History

DJ Yee-J posted a YouTube video trying to set the fastest single lap in iRacing history
---
---
Introducing E-Class: A Modest Proposal
Michael Barry has made a proposal of an new E series liscensing ladder that might clean up the variety of cars in the road side, especially after the upcoming release of new content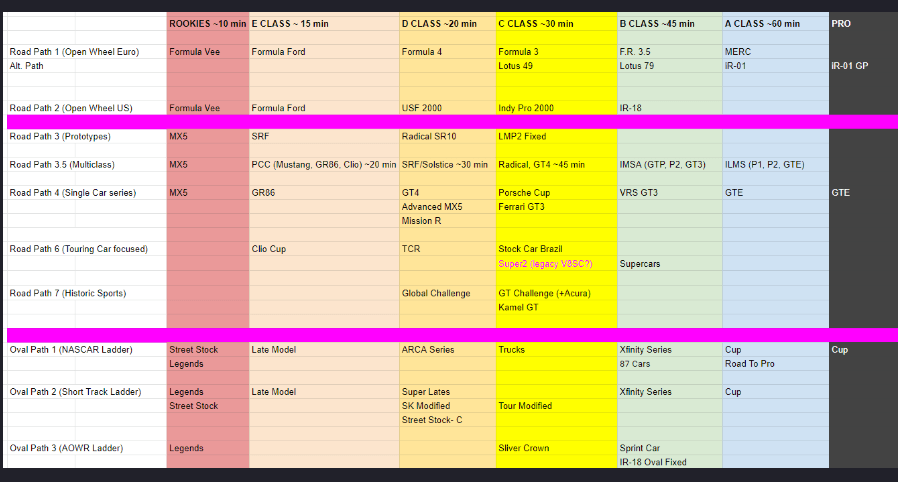 https://forums.iracing.com/discussion/37652/introducing-e-class-a-modest-proposal#latest
---
---
Short Track Rant
Nick Neebon posted a video of a rant about the lack of new vehicle content on the short track oval side and added some ideas pf what could be added.
https://forums.iracing.com/discussion/37813/short-track-content#latest
---
---
New Nascar Rules
Nascar made some new rule changes for road courses and short racks which include a 2-inch spoiler (from the current 4-inch spoiler) and the removal of three diffuser strakes and engine panel strakes. The changes are expected to lead to a 30% reduction in downforce.
---
---
Hail Mellon Sighting on iRacing
Bill Nolan JR posted in the iRacing Community posted that Nascar Driver Ross Chastain was on the service, possibly practicing for Las Vegas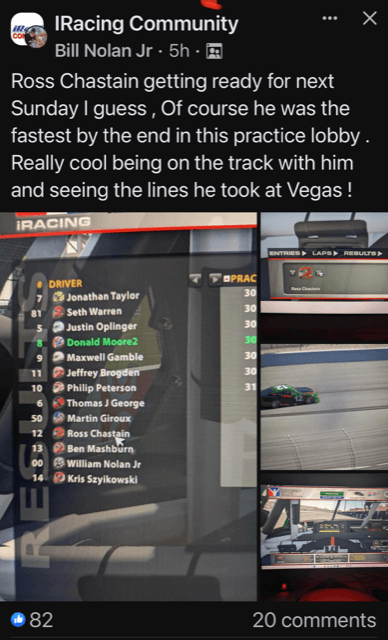 ---
---
"That's Gotta Be 30 F'ing Cars!"
Moonhead Tweeted the video of their race at Talladega where at least 30 cars were involved in a massive white flag lap melee.
---
---
iRacing Highlights of the Week
---
---
Week 13 Downtime Schedule
Alex Gustafson posted in the forums the scheduled downtime for the Season 2 build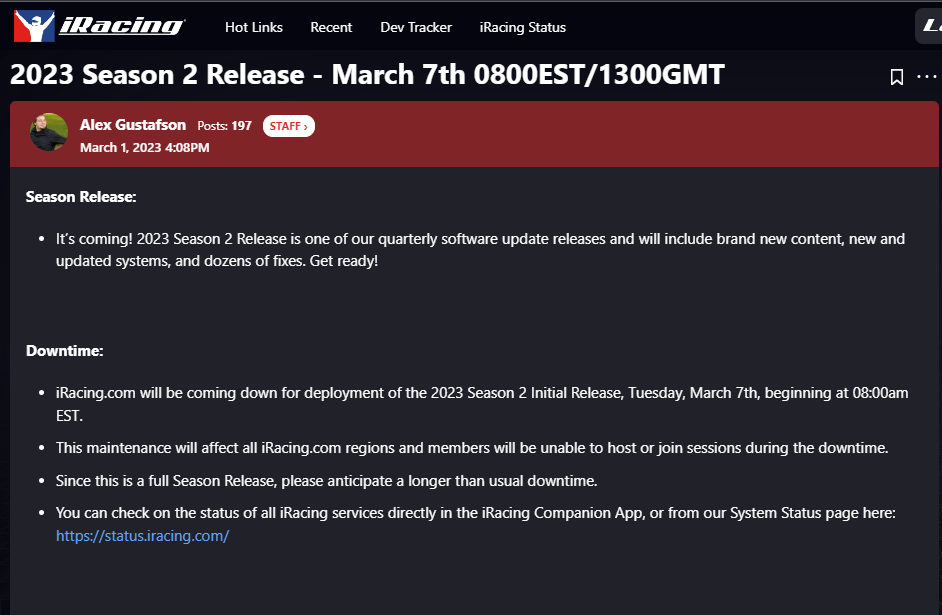 https://forums.iracing.com/discussion/37936/2023-season-2-release-march-7th-0800est-1300gmt
---
---
Looking for Commentators
Racespot TV is looking for simracing commentators and producers to be added to their options for 2023 and beyond
---
---
Story Corrections
Rick Lockwood —
@1.) Jerez is far from a dead track, anyone that follows MotoGP will know that 2 weeks ago they had GT and formula cars with some prototypes for a winter series. WEC races over at Portimao in the Algarve area of Portugal, 3 hrs from Jerez.. Jerez is pronounced in english as "Ha-Reth".. Nice track and facilities also a nice Jack Nicklaus golf course next door.
Nicky Bobby —
https://mozaracing.com/product/moza-quick-release-adapter Currently listening to this weeks show and you mention that MOZA does not allow 3rd party rims. But they do. I've seen several videos of people using other company's rims. The quick release they use is a NRG v2 style. There's even videos of people putting their drift car rims directly onto a Moza r9. The only thing they don't support is the buttons through the base so you will need to connect the electronics of the wheel via usb, Bluetooth, etc. I'm planning on going to a moza R9 and use my thrustmaster sparco wheel with an adapter I found on the VRS website
scott velez — regarding the asetek wheel topic and how good it is, a lot of that comes from the fact that asetek licensed the intellectual property (IP) of the simucube hardware and software. the asetek product is literally based on what many called the best FFB wheel available (simucube). so while many wheel manufactures had to create their designs and software from scratch, asetek did the smart thing (trading cash and stock) and jump started their product right onto the top shelf with an IP deal with simucube it's no wonder it's a top tier wheel
Darren F — Correct @scott velez but its not just a copy and paste, they still need to source the hardware and then base the software around the IP they brought so it wasnt just buying some code and shipping a wheel. There has been a lot more to it than that. There is also other parts that no one has really picked up on, like the 5 port hub on the back. That can be used for anything I currently have my 2 flags, streamdeck, pedals and wind sim all plugged into the base keeping 1 simple wire for each at the wheelbase and sending it through the base. I only have the Wheelbase and Mic now going off the rig and into the PC, for some people with MoBo that is limited on ports thats a game changer in its own right !! Something that Simucube doesnt have.
1.) Mike Ellis — How much does simucube make each time asetek sell a base?
scott velez — i agree @Darren F. they bought IP (likey electronic designs and firmware), not the actual hardware or end user software.
Mike Ellis from what was posted in the iRacing and GD forums, it sounds ilke it was a one time deal for cash and asetek stocks, not ongoing licensing fees. but it was a private deal, so we may never know the details.
---
---
Late Model Update
iRacing's updated Late Model Stock is based on JR Motorsports' CARS Late Model Stock Tour entry. Weighing in at 3100 pounds, the Late Model Stock produces more than 400 horsepower and features fiberglass body panels designed to take the abuse of wheel-to-wheel short track racing. Dale Earnhardt Jr., iRacing executive director and owner of both JR Motorsports and the CARS Tour, was hands-on in the development of the car, spending hours testing and giving feedback to help tune the car to match its real-world counterpart.
https://www.iracing.com/all-new-late-model-stock-cars-late-model-stock-tour-coming-to-iracing-in-2023-season-2/
---
---
iRacing Creventic Endurance Series
The full CREVENTIC Endurance Series schedule is as follows:
March 11: Circuit de Spa-Francorchamps
May 27: Autodromo Nazionale Monza
August 12: Circuit de Barcelona-Catalunya
December 2 : Virginia International Raceway (Full)
The full CREVENTIC Endurance Series vehicle lineup is as follows:
GT3 Cup:
Porsche 911 GT3 Cup (992)
GT4:
Aston Martin Vantage GT4
BMW M4 GT4
McLaren 570S GT4
Mercedes-AMG GT4
Porsche 718 Cayman GT4 Clubsport MR
Touring Car:
Honda Civic Type R
Hyundai Elantra N TC
https://forums.iracing.com/discussion/37632/iracing-creventic-endurance-series-returns-for-four-race-2023-season
https://www.iracing.com/iracing-creventic-endurance-series-returns-for-four-race-2023-season/
---
---
Podcast Housekeeping
Leave us a review on your favorite podcast platform to make it easier for more listeners to find the podcast. Mention the podcast to your fellow drivers so they don't miss out, we would appreciate it.
Check out our Discord https://discord.gg/rvRas4DDqF
New Website – Leave Comments https://www.iracerslounge.com/
---
We are in the regular rotation… (Mike)
https://performancemotorsportsnetwork.com/
https://channelstore.roku.com/details/9d27a1e9dd15b92535d7cfe85407288e/the-sim-racing-channel
https://thesimracingchannel.com/watch-live/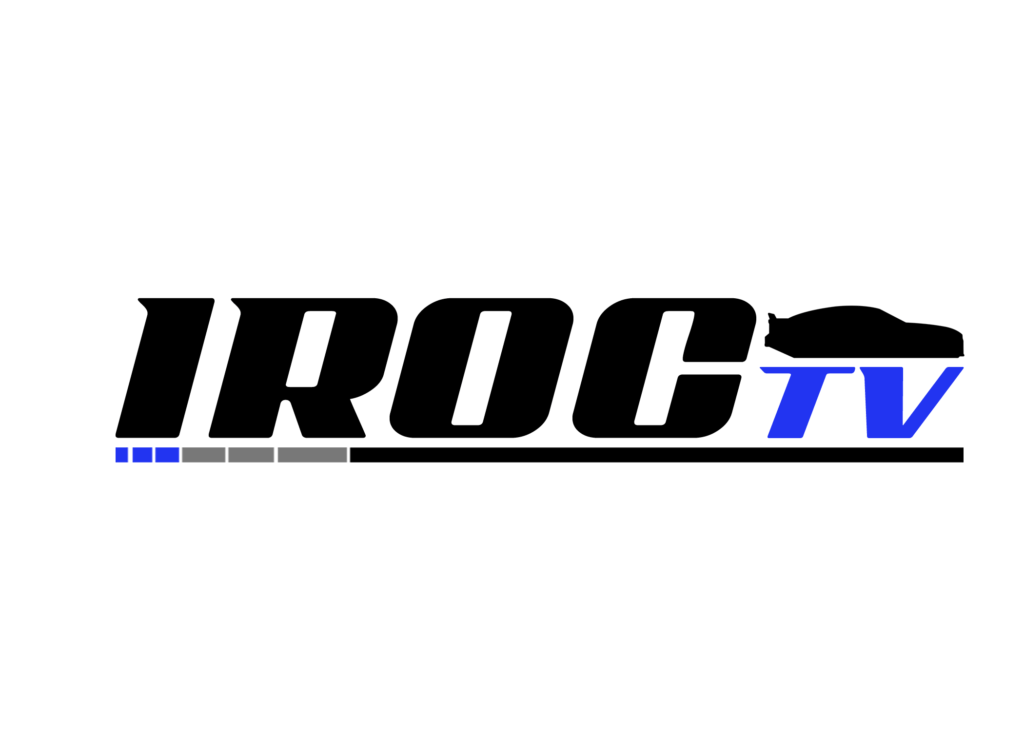 Fantasy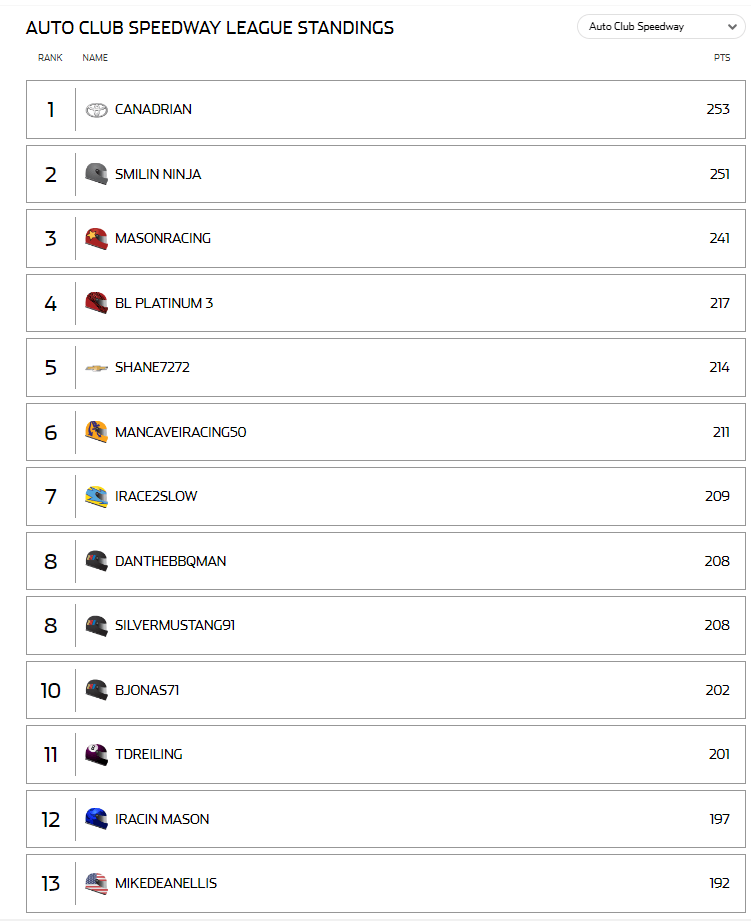 Overall Standngs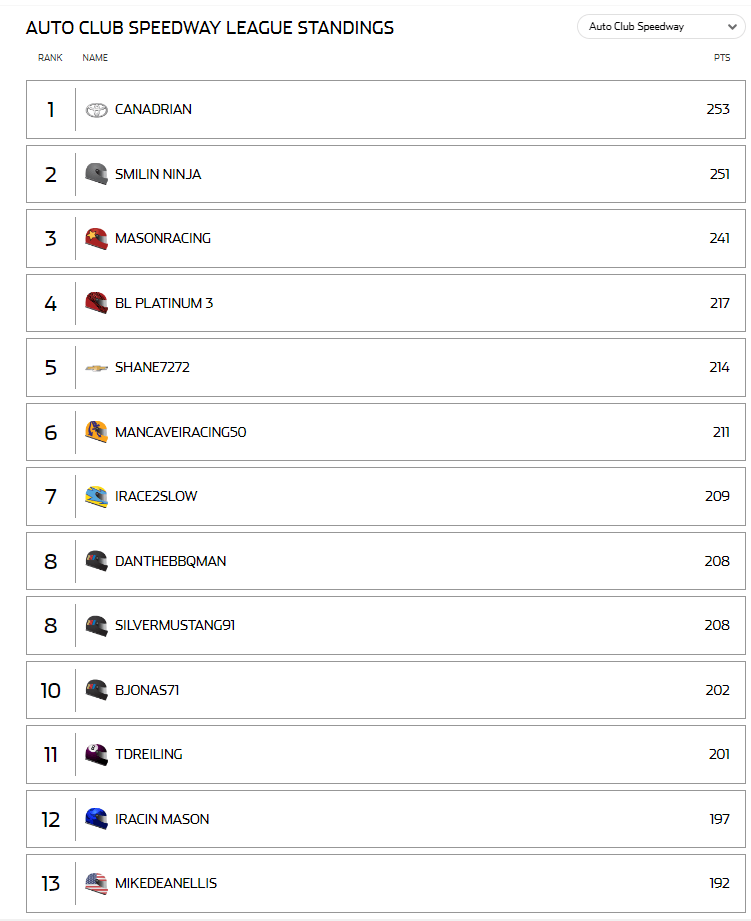 ---
---
Hardware/Software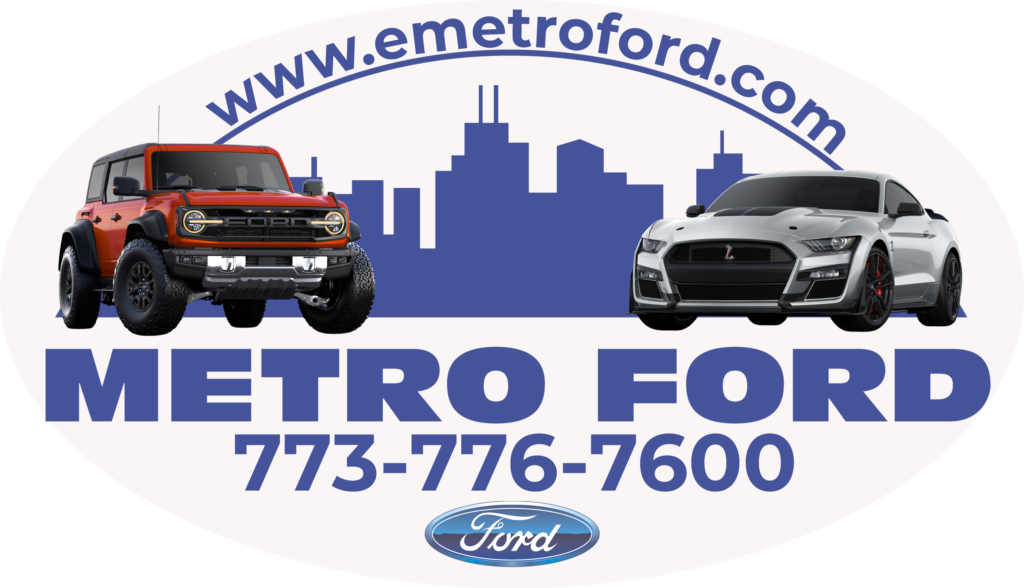 ---
New Bundle for the Fanates CSL DD
The best deal in sim racing? Get a complete set with a Direct Drive Wheel base, steering wheel, and pedals with our NEW BUNDLE: CSL DD Race Ready Bundle P1. Available for pre-order now.
https://fanatec.com/eu-en/detail/index/sArticle/1749
---
---
PNEUMATIC Pedals – Hot Air or Genius?
Dan Suzuki reviews the SRP-GT-R 3Pc Black Edition hydraulic pedals.
https://www.simracing-pro.com/product/srp-gt-r-3p-black-edition/
amazing finish, no play or sway
---
---
Cube Controls Wheel in real Mercedes Benz
Cube Controls with their colaberation with Mecedes shows that you can use their sim wheek in a real AMG-GT2
https://customerracing.mercedes-amg.com/en/vehicles/mercedes-amg-gt2.html
---
---
Results
NASCAR iRacing Series
Friday Open – AAA
Mike -. P6. Got hit a couple times had a little bit of damage decided to pit I probably shouldn't have was far back as 22nd drove clear up to second, but the leader was eight seconds in front of me. At that point I couldn't catch a caution and had driven the tires off and faded back to P6.
David – p15, had a better car, cautions fell and lost the coin toss on the fresh tire timing
Rochette- P
Donnie – P8. Started P7, Car felt great and fast along the high line. Tire wear felt different during this week than it had all week long. Good Run gaining confidence.
Sunday Open

Brian – P.12 Started 8th had fun running the high line, but really made a lot of passes on the bottom. Made my way to first for a while, but was caught up in a wreck at the front of the field. Not too much damage, and was able to stay close to the front.

Rochette -P8 as the end credits scroll on the Auto Club speedway in Fontana so does its official racing. Just like a lack luster mid credit scene in a medicore marvel movie so was my last run at the 2 mile track. Had a long 65 lap run on the start where i was hanging in the top 5. But cautions after cautions killed my long run greatest and with a track tighter than i had all week i was wasn't coming or going just like the I5 on a friday afternoon.
Hall – p16, car 37 in top split, might have stolen a better position with fuel milage
Tom D – p20. Got spun on lap 5, got a lot of front end damage and no yellow. Fell about a lap down. Was able to work my way from last to 20th during a caution free race. Will miss the big track at California. On to Vegas

Mackenzie – P 23, had a very fast car, was running around 15th and got turned sideways and crashed into the wall getting 4 min in damage, went 2 laps down. Gained one lap back and was running up behind the 9th car 1 lap down and got turned again, e
Sunday Fixed
Mike – got wrecked out on lap nine where the guy in front of me got ran over from behind and he got turned and I T-bone them 11 minutes damage. Knock the right front completely off.
Wednesday Open: Vegas
Groves –
Rochette -P15 Rolled the dice and lost was super loose in the start of the race so ended up falling in the back trying to get it adjusted right. Got caught in other peoples door banging and got spun and saved it. With my wheel at 2 o clock i ended up going from the back to the top 10 just to get hit and spun again. At the end just couldnt get around the super aggressive guys making it 4 wide in the corners.
Donnie – P17. This race started terribly as the team set was crazy loose. Made some pit stop adjustments that made the car enjoyable. But for two weeks in a row, my wheel base was failing. With the loose set up, the lack of any FFB, I had zero faith in entering any corner with competence. Vegas was one of my worst track performance, I am encouraged by the progress.
Mike- p wrecked. Ouch was doing pretty good without cautions I short pitted, but then the caution came out had to take a wave around was running 15th the 20th basically got a caution and drove it up through there. I was riding minding my own business on the top, and the guy drift it up in the band, took us all out.
Tyler – P25, set was extremely loose early on and struggled quite a bit till the first caution around first green flag stops. That was the only caution for the day and just never felt comfortable with the set. Ran the middle lane as I saw others ripping the bottom. Just was not happy the entire race.
Mackenzie – p30, had a very loose car and was fighting to keep it driving straight around the corners, was running around 20th on lap 95 but then a car went sideways in front of me and I t boned him getting 8 mins in damage, repaired the damage and went 10 laps down to finish 30th
Thursday Open Ellis – I started till I took the lead by lab 17 it stayed green until green flag pitstops I put it on lot 54 coming out of the pitch and one and two as I was trying to go from 2nd to 3rd I somehow shifted the first and spa in the car out coming up on the track bring out the caution ended up 30th one lap down for the next restart. On the next run drove like hell to get the lucky dog and I got it 12 laps later. I ran hard from dead last up two nights before a guy slowed in front of me causing me to spin out causing a Caution. No damage restarting for the restart P 12. The very next restart I'm headed to the front. I go three wide to the outside. The guy in the middle panics and drives me to the wall and five minutes damage. I soldier on staying on the lead lap, but near the end, I get sideswiped again off the high side, and hit to the wall and wrecked DNF.
---
---
Official Series
Ellis–
Indy pro F 2000.
USF 2000- yeah USA qualify 10th out of 15 ran as high as eight fell back to 10th, but was some late trouble I climbed up to seventh
US F 2000 at Watkins glen started P6 out of 13 got to pee for by the end of last one had a good battle all the way through the end it was able to keep a podium finish P3
Stevens
C class trucks at Auto club speedway – p8, #22 car started 13th, ran a great race was up to 5th with about 10 to go but used too much tire too early and lost 3 positions to finish 8th, ran the whole 30 lap race with no cautions
---
---
League / Hosted Races
OBRL Cup Brian -P.15 Started in the back half P23 with a bad qualifying. On Lap 8 was clipped in the left rear as a car came up the track while wrecking. Not too much damage, but went to the back. Had to be careful because of the incident limit, but was able to move up thru the field, much thru attrition.
---
---
Final Thoughts
---
---
Words Spoken in Closing Audio Clip -""Thank you for listening to the iRacers Lounge podcast make sure to go subscribe to us on iTunes, SoundCloud, or Google Play, Facebook & Twitter, See You On The Track ."
TITLE
Coke Rage
Description
On the Show this week, we'll recap an action packed Coke series race at the Milwaukee Mile. The iRacing Formula Skip Barber Series is heading down to the wire with a full ride in the real Skip Barber Series on the line. We are getting more peaks as to what Season 2 will offer, and we'll look at what is the fastest single lap in the history of iRacing. So sit back, relax and join us on the iRacers Lounge Podcast.
iRacers Lounge Podcast is available on iTunes and Apple's Podcasts app, Stitcher, TuneIn, Google Play Music, Spotify, Soundcloud, Podbean, Spreaker, Podbay, PodFanatic, Overcast, Amazon, and other podcast players.
Sponsors:
Hosts:
Mike Ellis – twitter.com/MikeDeanEllis
David Hall – www.twitch.tv/mixmage
Greg Hecktus – twitter.com/froozenkaktus – www.twitch.tv/froozenkaktus
Brian Maccubbin – www.twitch.tv/MacRubbinsRacin
Kyle Pendygraft – twitter.com/LoudPedalGaming
Tony Groves – www.twitch.tv/SirGroves
Adam Josselyn- twitter.com/Jossad83
Tony Rochette – twitter.com/TonyRochette
Tom Dreiling –
Donnie Spiker – twitter.com/Spikerman19
Bobby Jonas –
Links:
Facebook – www.facebook.com/iRacersLounge/
Twitter – twitter.com/iracerslounge
Instagram – instagram.com/iracersloungepodcast/
Web (Show Notes) – iracerslounge.com/