6/1/2023 – Smells like Willow Springs – Episode 0385

iRacers Lounge Podcast – Conversation Topics
Brought to you by:
---
---
Opening Audio Clip -"Your listening to the iRacers Lounge Podcast where we discuss everything iRacing, in a casual setting, enjoy."`
READ THIS AT THE TOP OF EACH SHOW!!!
Welcome to the iRacer's Lounge, I am your host "XXX". iRacer's Lounge is a podcast for the iRacer, where we talk all things iRacing in a casual setting.
Joining me are the usual characters, ———— 
---
---
Show Introduction
On the show today, we review the eNacsar Coke Series Race at Charlotte, We get a sneak peak at new content for the upcoming build and look at iRacing vs the Real World
And remember you can follow along with us on your PC or mobile device in real time as you listen to the show and see for yourself all of the great topics and products we'll discuss by visiting iracerslounge.com and selecting show notes. Hope to see you there..
---
---
Topics
---
---
Coke Race
https://www.iracing.com/tucker-minter-scores-second-career-enascar-win-in-coca-cola-150-at-charlotte/
---
---
The Grass is Always Greener
Willow Springs proved to be an excellent testbed for a rebooted foliage system that we've been working on for several months now. The variety of plants and grasses really put this system to the test and let us find the limits of the system as well as a balance between aesthetics and performance
Greg Hill Posts:
I shared some of this info elsewhere, but folks here might appreciate some insight into this project if you didn't happen to see it.
Willow Springs was a challenging yet fun project for our team. Due to the unique characteristics of the landscape, the track couldn't have been recreated to the quality we wanted with our existing shaders. There's just such variety there… sandy patches of ground, areas where there's a bit more gravelly sand, some red clay, a variety of grasses, rocky bits, and soil that's been eroded away. This really pushed our team to innovate and work with engineering to advance our rendering engine and tooling pipeline. While we've been using multi-material shaders for some time now (these let us blend one texture with another in an advanced depth-based way), we realized we needed twice as many layers to get an adequate appearance.
Willow also proved to be an excellent testbed for a rebooted foliage system that we've been working on for several months now. The variety of plants and grasses really put this system to the test and let us find the limits of the system as well as a balance between aesthetics and performance. Just like with the textures, the requirements of this track really demanded this new feature and improvement to do it justice, so we were happy to debut it here.
We have also been long dissatisfied with our off-track ground appearance, which is what we call the "terrain". What I mean by that is the ground outside the track walls that you don't drive on. We have tried new approaches over the last couple of seasons and made some incremental improvements, but nothing revolutionary. For Willow, getting nearby terrain and roads to blend in with the track, given that there are often not even walls, was really important. We put one of our most technical artists on the task and paired him up with a lead rendering engineer. They overhauled the whole process, from the modeling and texture application to the mapping and blending. What we ended up with is a shader that stands up to close scrutiny and gets us close to visual parity between the bits you drive on, and the bits you don't. This will be great for camera placement, replays, and for the broadcast team, who will be able to show more of the scene than in the past.
Unrelated to Willow but also of interest when it comes to the upcoming June build: our tree implementation received a complete overhaul fixing significant lighting and shading issues present in the former model.
Our whole team contributed towards this result, from our multi-decade veterans to our amazing new hires who have brought so much energy to the company. This work will pay dividends at all new tracks going forward, and older tracks we revisit. There are also many more tooling, pipeline, and rendering improvements in the works for the future, including some near-term enhancements to the sky and horizon model that will be ready soon.
https://forums.iracing.com/discussion/comment/352881/#Comment_352881
---
---
Ligier JS P320
Brand new race car coming in the next build, the Ligier JS P320
https://www.iracing.com/new-content-ligier-js-p320/
---
---
Should iRacing Add Monaco
Noel Marjanovic polled the forums if Monaco should come to iRacing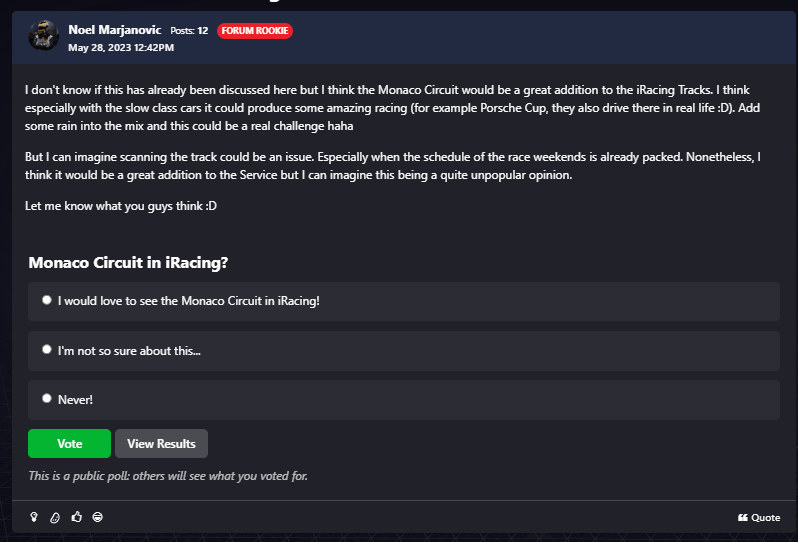 https://forums.iracing.com/discussion/42418/monaco-circuit-in-iracing#latest
---
---
How to Become a Pro
The Sim Pit posted a video tips of how to become a pro sim driver
Develop your passion, skills, and knowledge
Communities and competing in leagues and tournaments
Building your brand and networking
Drive, Drive, Drive, practice and racing
Continuous improvement, adaptability and knowledge
Pick a sim, join a team
---
---
Where Da Ovals
Jason Winter asked in the forums, "whatever happened to his oval racing every hour? Not showing up anymore."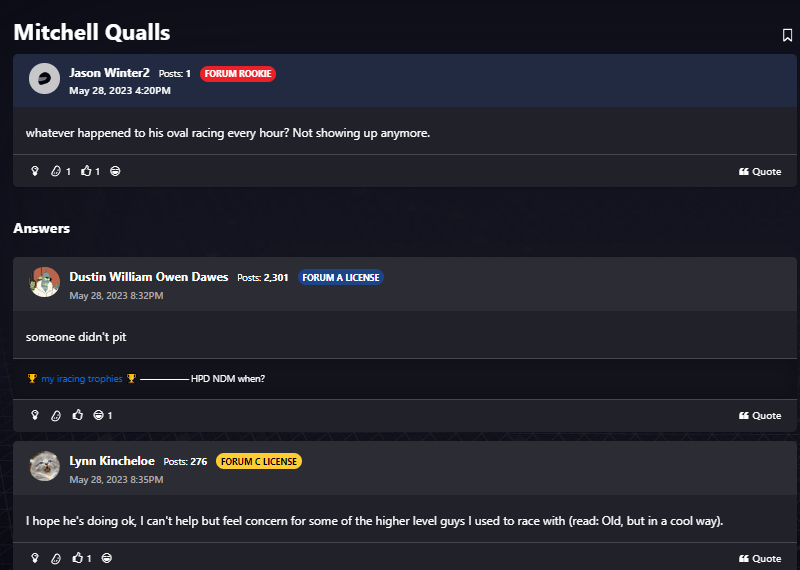 https://forums.iracing.com/discussion/42423/mitchell-qualls#latest
---
---
More Mooncar!
Another crazy finish for the Mooncar Guys!
---
---
iRacing and FIA Formula 4
iRacing announced an official partnership with the Federation Internationale de l'Automobile (FIA) to bring a licensed FIA Formula 4 experience to iRacing!
https://www.iracing.com/iracing-to-partner-with-fia-for-authentic-formula-4-experience/
https://forums.iracing.com/discussion/42500/iracing-to-partner-with-fia-for-authentic-formula-4-experience#latest
---
---
Willow Springs
New track announcement, Willow Springs
---
---
New Barcelona
Lewis Hamilton remarks on the new configuration of the Barcelona F1 Track
---
---
Is it Real, or is it iRacing
Real world driver Daniel Morad compares real life vs iRacing
---
---
Pit Lane Hack
TP Sim Racing on his You Tube Channel shows how to gain a little extra time in pit lane
---
---
Seven Time on the Sim
Jimmie Johnson Tweeted that he was excited to make it to his rookie orientation/sim session
---
---
Prodigy Racing League
https://www.iracing.com/racing-prodigy-announces-prodigy-racing-league-real-world-prodigy-week-competition-for-top-sim-racers/
---
---
BMW M SimCup at the Glen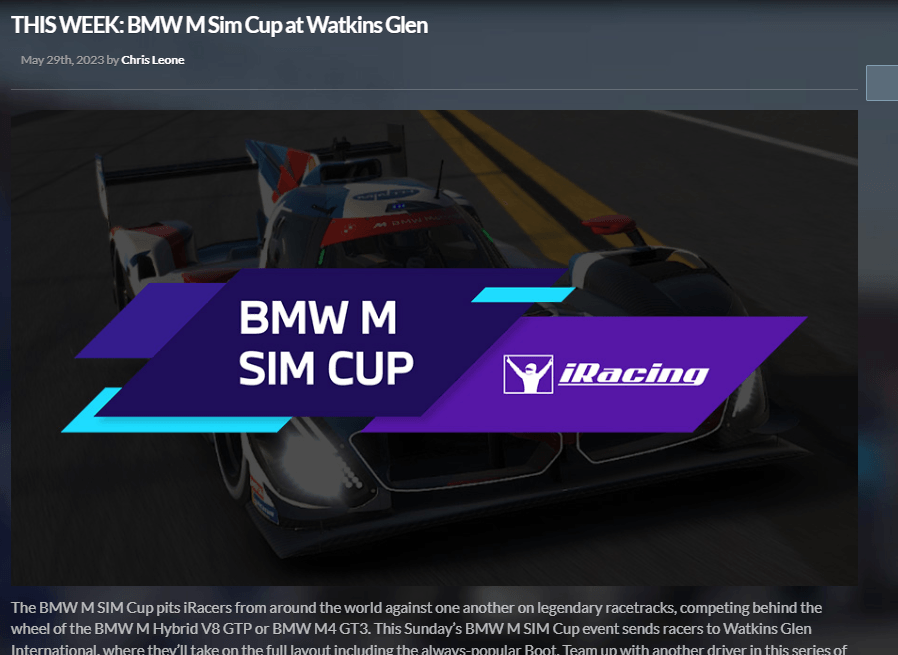 https://www.iracing.com/this-week-bmw-m-sim-cup-at-watkins-glen/
---
---
2023 Watkins Glen 6 Hours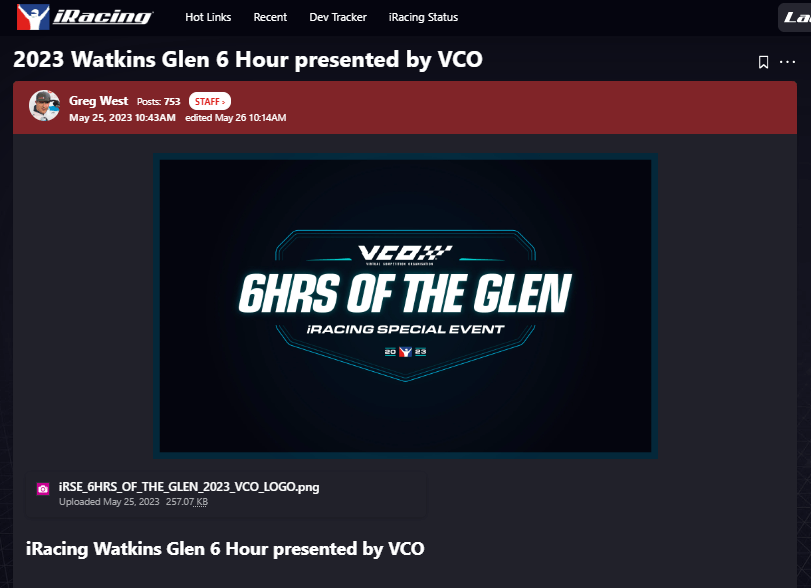 https://forums.iracing.com/discussion/42301/2023-watkins-glen-6-hour-presented-by-vco/p1
---
---
Podcast Housekeeping
Leave us a review on your favorite podcast platform to make it easier for more listeners to find the podcast. Mention the podcast to your fellow drivers so they don't miss out, we would appreciate it.
Check out our Discord https://discord.gg/rvRas4DDqF
New Website – Leave Comments https://www.iracerslounge.com/
---
We are in the regular rotation… (Mike)
https://performancemotorsportsnetwork.com/
https://channelstore.roku.com/details/9d27a1e9dd15b92535d7cfe85407288e/the-sim-racing-channel
https://thesimracingchannel.com/watch-live/
Fantasy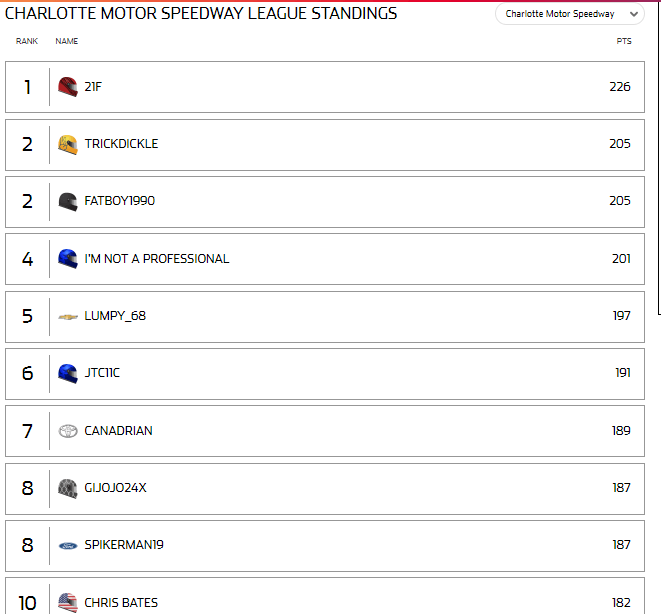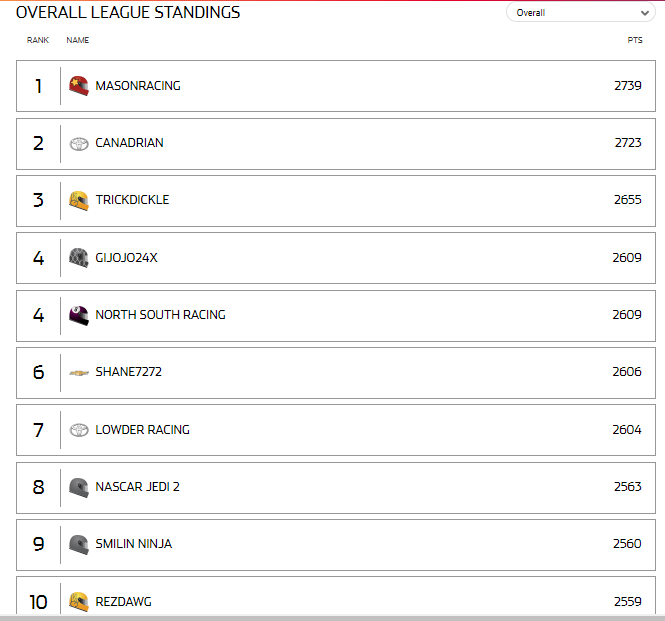 ---
---
Hardware/Software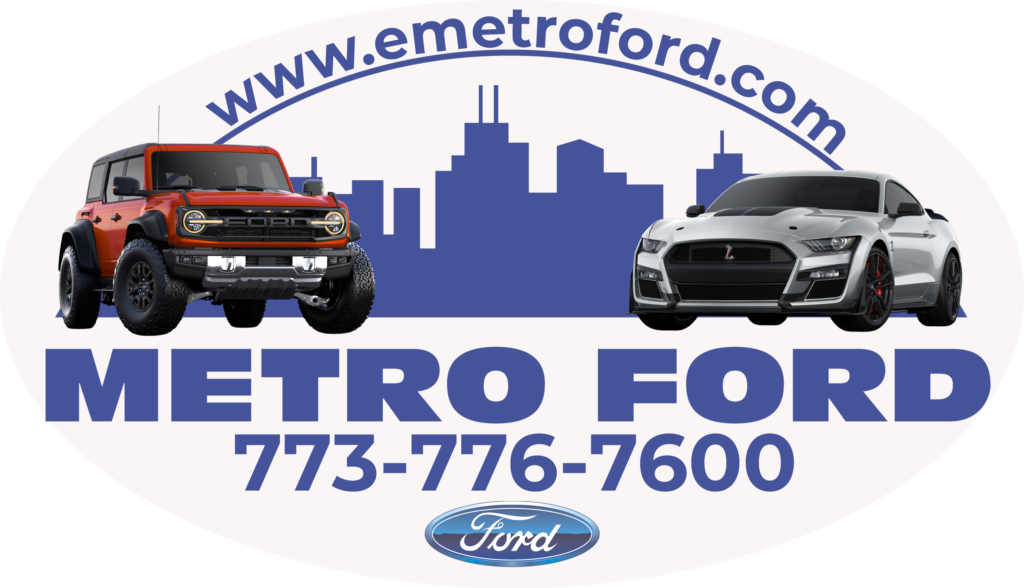 ---
No Regrets
OC Racing posted a video of the top 7 pieces of hardware they regret not buying sooner
➤ All Gear Mentioned in Video Keyboard Tray: https://trakracer.com/products/alumin… Mouse Tray: https://trakracer.com/products/comput… Bezel Free Kit: https://geni.us/ZaT6dD Integrated Monitor Stand: https://trakracer.com/products/integr… Fanatec H-pattern shifter: https://bit.ly/3Vnmqwa Cheaper Logitech H-pattern shifter: https://geni.us/bk3FyU Cable Velcro Straps: https://geni.us/FhS09O1 Powerstrip Box: https://geni.us/AxdjQ Aluminum Profile Cable Clips: https://trakracer.com/products/10-set…
---
---
Make Aluminum Better
Alan Quan shows the versatility and customizability of aluminum profile rigs
---
---
Qubic Systems QS-220-PL
Will Ford reviews the Qubic Systems QS-220-PL 3DOF Motion System
https://www.raceanywhere.co.uk/products/qs-220-pl-extended-set?sca_ref=2412423.JehQhmjktc
---
---
MME Sim Sport
Boosted Media also reviews the MME Sim Sports line of shifters and handbrakes
http://www.mme-motorsport.com/en/sim-racing
---
---
iCue Link
---
---
Results
NASCAR iRacing Series
Friday Open – Charlotte
Mike -. P10. The race took four hours and 45 minutes 19 cautions most of them happened in the last hundred laps Was involved in an early Caution, which took out Justin only had a minute and a half damage. At one point through the middle of the race, I cycled to the lead but pretty much ran top five. Was running really good near the end as high as third where the guy forced me to the grass which gave me over the incident limit so I had to do a drive-through penalty. The guy ended up wrecking the leader to win as well. What a loser. I told him don't be proud of that win.
Rochette- P15 started super loose ended up short pitting twice and ended up 3 laps down with a 178 lap run eventually got it stable and ended up just a lal down
David – P wrecked out, self spin into inside wall, took no one with me and kept it from bouncing.
Mackenzie – p
Sunday Open
Rochette -DNF so started 3rd but leader blinked out right before GF so got to start the race, led some laps and car passed me and was right behind him as he slowed up in a corner got in his rear and wrecked us both. Ugghhhh
Greg – P8 Was Damaged by a guy that was acting like denny hamlin at gateway
David – P dumped on lap 2 "HE THOUGHT I WAS GIVING HIM THE LANE"
Sunday Fixed
Justin- p forgot to check my work tires. Dnf.
Wednesday Open: gateway
Mike- p 17 – had a good run going till about lab 30 and got sideswiped by a guy in over four minutes damage got most of it fixed. It was about 40 to go to my last of the tires. I kept getting involved in different incidents and just had to survive.
MacKenzie- P7 – started 10th, ran about 10 laps then on the caution my vr went funny and I was looking out the side of the car, I pulled to the side to stay out of the way and got sent to the back for driving onto pit road exit. On the restart the car that was supposed to pass me was no where to be seen so I got a black flag penalty and had to hold for 50 seconds, luckily a caution came out as I was doing that so I only went 2 laps down, fought my way back and started p6 on the gwc but couldnt do anything with it. The only x's i got were 1x for off track when my vr went funny and a 4x when someone ran into me from behind while pacing
David – p13 mid pack car
Kyle P P4 after a long break and silently been doing a few races lately. I Had a YoYo race. Started outside pole and stayed there until about lap 30 and my tires were junk and nosed the outside wall and just fell back. After a mid race caution I pitted for tires and repairs. And just Went back and forth through the teens and 20's after a final repair and new tires with about 20 to go I made my march to the front. After a late race caution with 12 to go I went in for my last set of tires and away I went. Restarted 8th and just didn't let anyone get near me. Made some bold moves for position and was able to bring home a P4. Felt good to get a good NIS Finish as my last several races have been junk.
Thursday Open
Ellis -P got pole position. They did pretty quick on the short run. Made it to the second set of tires by the time they got old I was sliding around and spun myself down to the inner wall and smashed the left front hard and couldn't steer it.
David – dn
---
---
Official Series
Trucks at Talladega was leading on the way coming to the check her out at four and got turned by the guy behind me.
GEN four at Michigan start a 21st finished P3.
GEN four at Texas. P12
Mackenzie
Ran 2 late model races started 10th in one and 5th in the other. Finished both races 3rd with no incident points gained .73 safety rating and 119 irating between the 2 races, I love running this car
---
---
League / Hosted Races
---
---
Final Thoughts
---
---
Words Spoken in Closing Audio Clip -""Thank you for listening to the iRacers Lounge podcast make sure to go subscribe to us on iTunes, SoundCloud, or Google Play, Facebook & Twitter, See You On The Track ."
TITLE
Smells like Willow Springs
Description
On the show today, we review the eNacsar Coke Series Race at Charlotte, We get a sneak peak at new content for the upcoming build and look at iRacing vs the Real World. So sit back, relax and join us on the iRacers Lounge Podcast.
iRacers Lounge Podcast is available on iTunes and Apple's Podcasts app, Stitcher, TuneIn, Google Play Music, Spotify, Soundcloud, Podbean, Spreaker, Podbay, PodFanatic, Overcast, Amazon, and other podcast players.
Sponsors:
Hosts:
Mike Ellis – twitter.com/MikeDeanEllis
David Hall – www.twitch.tv/mixmage
Greg Hecktus – twitter.com/froozenkaktus – www.twitch.tv/froozenkaktus
Brian Maccubbin – www.twitch.tv/MacRubbinsRacin
Kyle Pendygraft – twitter.com/LoudPedalGaming
Tony Groves – www.twitch.tv/SirGroves
Adam Josselyn- twitter.com/Jossad83
Tony Rochette – twitter.com/TonyRochette
Tom Dreiling –
Donnie Spiker – twitter.com/Spikerman19
Bobby Jonas –
MacKenzie Stevens – https://twitter.com/MackStevens48
Justin Pearson – https://twitter.com/big7bang_
Links:
Facebook – www.facebook.com/iRacersLounge/
Twitter – twitter.com/iracerslounge
Instagram – instagram.com/iracersloungepodcast/
Web (Show Notes) – iracerslounge.com/