5/25/2023 – Nine Years Later – Episode 0384
iRacers Lounge Podcast – Conversation Topics
Brought to you by:
---
---
Opening Audio Clip -"Your listening to the iRacers Lounge Podcast where we discuss everything iRacing, in a casual setting, enjoy."`
READ THIS AT THE TOP OF EACH SHOW!!!
Welcome to the iRacer's Lounge, I am your host "XXX". iRacer's Lounge is a podcast for the iRacer, where we talk all things iRacing in a casual setting.
Joining me are the usual characters, ———— 
---
---
Show Introduction
Coming up on the show today, after Nascar's first time back at Nort Wilksboro since it's revival, we'll see how iRacing's version compares to real life. We reminisce about the event that should have been this week, look what we would like to see in the future of iRacing and more strange wheels
And remember you can follow along with us on your PC or mobile device in real time as you listen to the show and see for yourself all of the great topics and products we'll discuss by visiting iracerslounge.com and selecting show notes. Hope to see you there..
---
---
Topics
---
---
North Wilksboro a Bit Off
Bill Nolan Jr posted that. according to Kylae Larson after the Truck race, iRacing's version of North Wilksboro is nothing like the real version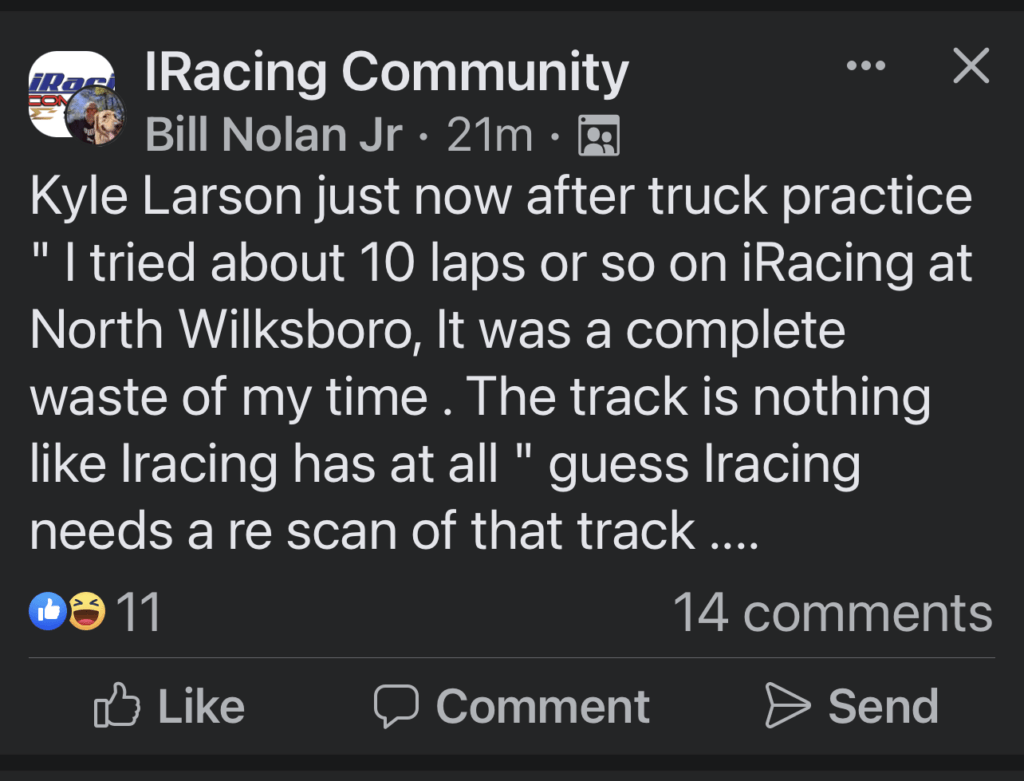 ---
---
Clio Cup Carnage
A tweet from iRacing shows driver Arthur Thurtle missing carnage in the Clio Cup
---
---
iRacing Flight Sim
Bobby Zalenski takes his car for a high altitude ride
---
---
Porsche Supercup
Harth scores first Porsche TAG Heuer Esports Supercup win at Circuit des 24 Heures du Mans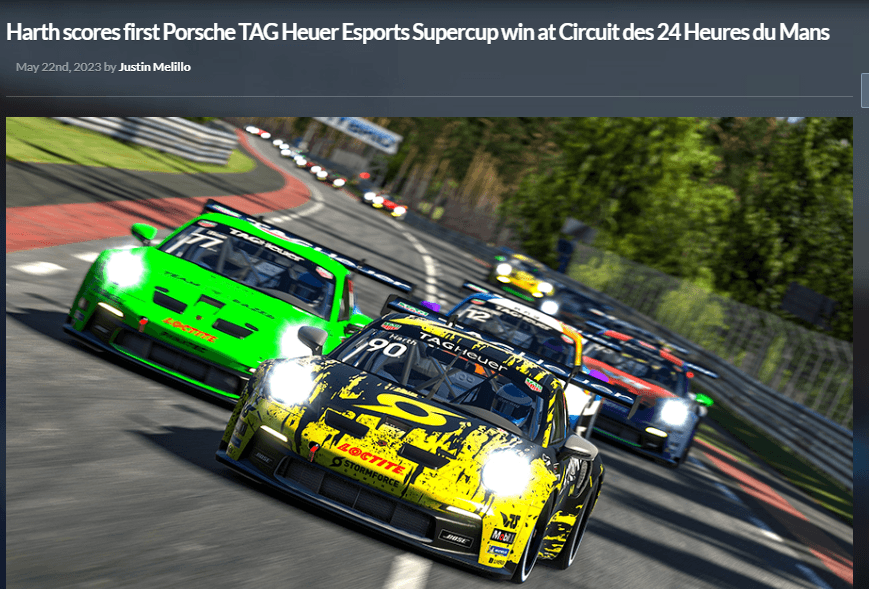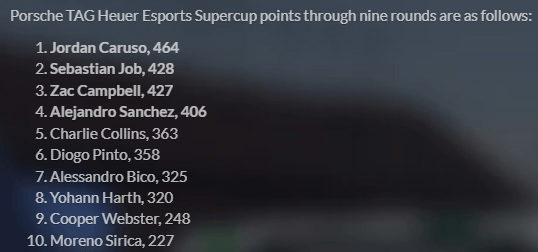 https://www.iracing.com/harth-scores-first-porsche-tag-heuer-esports-supercup-win-at-circuit-des-24-heures-du-mans/
---
---
Missing the 500
Team I5G reminded us all that this week would've been the Indy 500 week, and asks followers talk about thier favorite 500 memories
---
---
All I Want for Patch day is……
The members of the Lounge discuss their Wishlist for iRacing.
---
---
2023 Watkins Glen 6 Hour
Date: June 16-18
Timeslot #1 – Friday 22:00 GMT
Timeslot #2 – Saturday 7:00 GMT
Timeslot #3 – Saturday 12:00 GMT
Timeslot #4 – Saturday 16:00 GMT
Track: Watkins Glen International – Boot
License – D 4.0 Road
Session Start Time (Time of Day Setting): June 25, 2022 10:00 AM
Session
Warmup: 30 Minutes
Qualifying: Attached & Solo – 8 Minutes for 2 Laps
Race: 6 Hours
Weather: Dynamic
Splits By: iRating
Team Event: Yes (min 2 drivers and max 16)
Stop and Go Limit: 35 incs and every 20 after
DQ Limit: None
Field Size : 50
https://forums.iracing.com/discussion/42301/2023-watkins-glen-6-hour-presented-by-vco
---
---
Ricmotech Ring Meister
---
---
Creventic Endurance Series
The iRacing CREVENTIC Endurance Series, one of iRacing's longest-standing team racing challenges, returns this Saturday, May 27 with a visit to Autodromo Nazionale Monza. In partnership with CREVENTIC, the organizers of the real-world 24H Series and iRacing's 24H Series Esports Endurance League, this series of 12-hour endurance events brings a full slate of GT and touring cars to some of the world's most iconic tracks.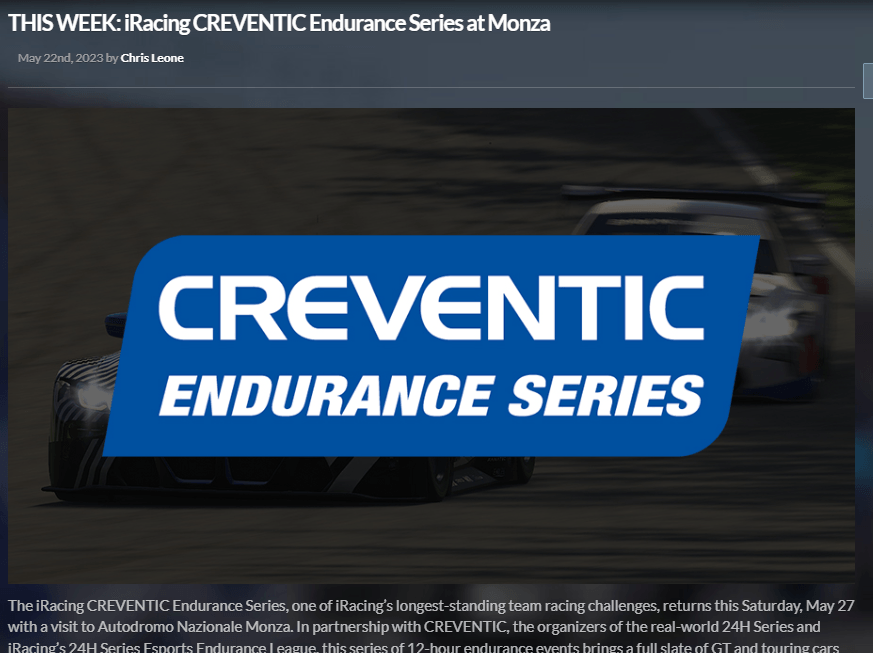 https://www.iracing.com/this-week-iracing-creventic-endurance-series-at-monza/
---
---
Majors 24 Le Mans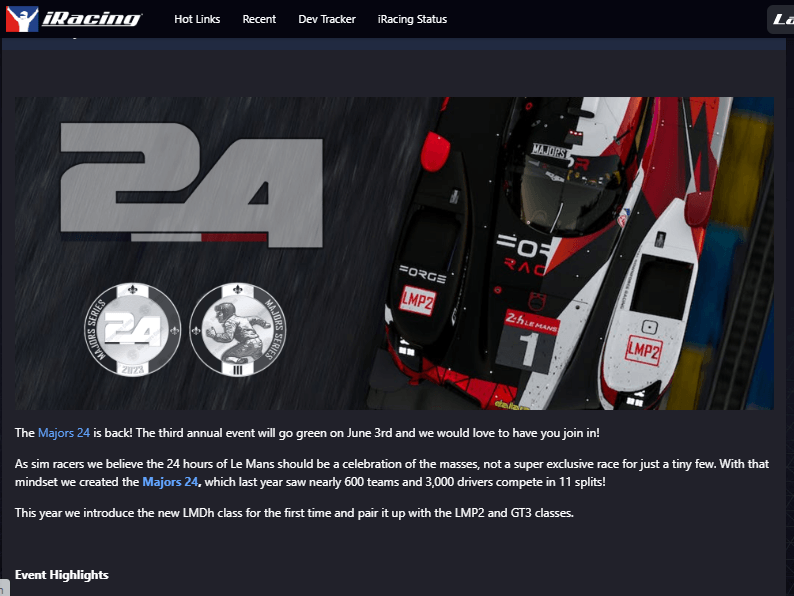 https://forums.iracing.com/discussion/comment/348614#Comment_348614
---
---
Podcast Housekeeping
Leave us a review on your favorite podcast platform to make it easier for more listeners to find the podcast. Mention the podcast to your fellow drivers so they don't miss out, we would appreciate it.
Check out our Discord https://discord.gg/rvRas4DDqF
New Website – Leave Comments https://www.iracerslounge.com/
---
We are in the regular rotation… (Mike)
https://performancemotorsportsnetwork.com/
Fantasy
---
---
Hardware/Software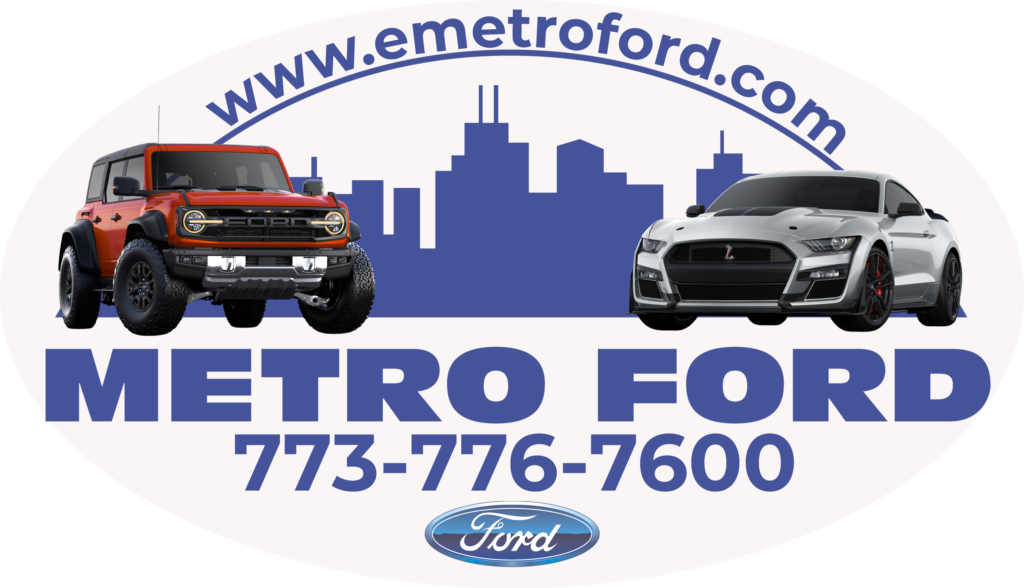 ---
Open Tower
Michael Charles asks, "to PC case or not PC case"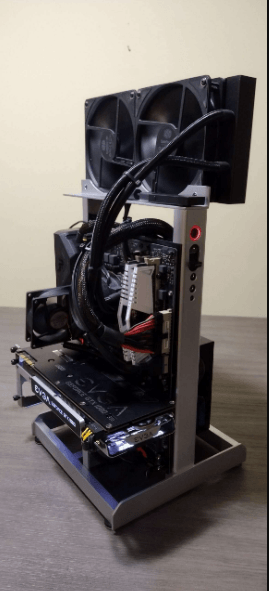 https://forums.iracing.com/discussion/41907/to-pc-case-or-not-to-pc-case/p1
---
---
Strange Wheels Pt2
Douglas Thomas follows up this week with more unusual wheels and asks to pick your favorites
---
---
Simucube Reviews
Karl Gosling rewies the Simucube 2 Ultimate and Pro wheel bases on his Youtube channel
---
---
Evil Racing Densu Flag 2.5
Ameer from The Sim Pit reviews his favorite addon, the Evil Racing Densu Flag V2.5
---
---
Asetek QR w/ Electronic
Asatek tweeted the end user version of their quick release with integrated electronics
---
---
Playseat Formula Red Bull
https://www.playseatstore.com/product/playseat-formula-red-bull-racing?utm_source=IGShopping&utm_medium=Social
---
---
Bash Pro Active Shifter
Race Beyond Matter reviews Bash Pro Active H Shifter
https://mvhstudios.co.uk/products/bash-pro
---
---
Beano's Sim Chat
Beano updates his Youtube channel to a full blown review channel
---
---
Rig Review
Phillipp Geppl tours his full motion triple screen sim
---
---
Ascher F64 V3
Boosted Media revies the over 100 function Acher Racing F64 V3 wheel
---
---
Gomez Sim Industries
The lines between sim racing and "in real life" racing continue to be blurred on a daily basis. At GSI we are honored to be working with Indy Car, F1 and GT drivers to supply sim equipment that lives up to real world expectations and in some areas find ways to improve on it. Thank you to Tony Kanaan the team at Mclaren for inviting us to imagine what is possible and envision a day where we all share the same equipment across the highest levels of motorsport both in real life and in the sim. the wheel was not used on track…. YET!
https://m.facebook.com/story.php?story_fbid=pfbid02pBrMbnMUEZe53rmRU4TiDuJhizoimiLqhBq24kgf1vdS9zqvuJvKEq781ZbMFrLal&id=100037579932484&mibextid=qC1gEa
---
---
Nvidia Price Drop
Techspot announces Nvidia Price Drop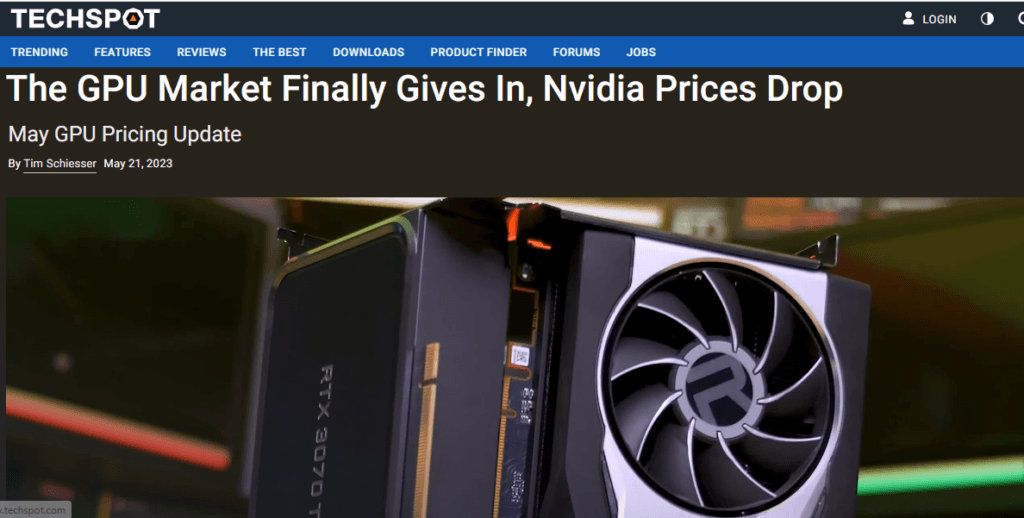 https://www.techspot.com/article/2684-gpu-pricing-update/
---
---
Tran Hoan
The Tran Hoan Motion rig's final version will be available in June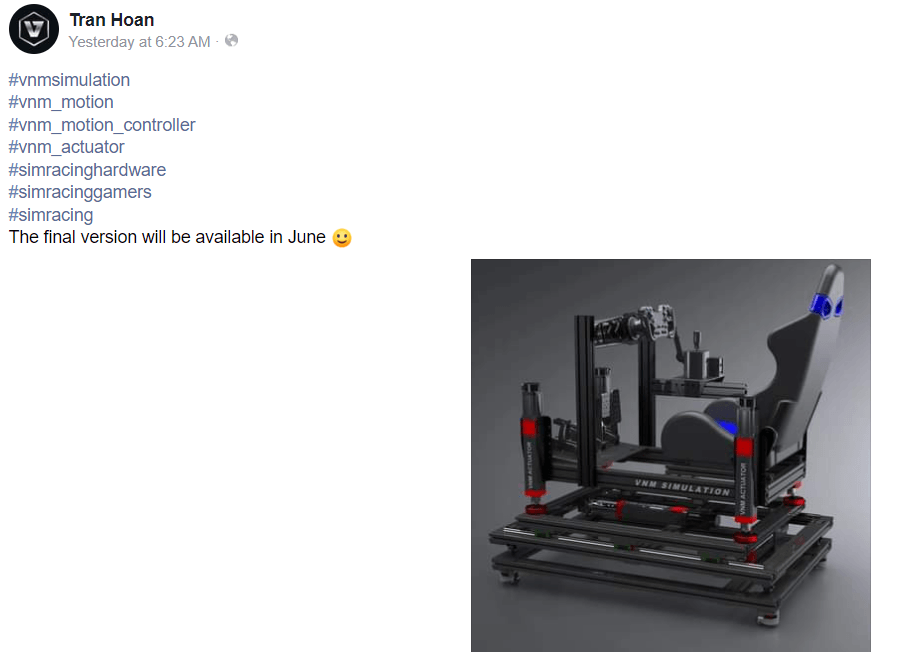 https://m.facebook.com/story.php?story_fbid=pfbid02sWcCFVTgobBSX64GXph4CSN1KsewZJFZWeVQT4VBbdyf6hEQSqewcRqGgSxuxgbvl&id=100049858610731&mibextid=qC1gEa
---
---
Simucube Throttle
Simucube offers a new 'non active ' pedal to compliment the active brake
https://simucube.com/en-us/simucube-throttle/
---
---
Lovely Dashboard 2.0
Dan Sizuki reviews the Lovely Dashboard 2.0
https://www.youtube.com/watch?v=U8RXtRjPCuE
https://ko-fi.com/lovelysimracing/tiers
---
---
Results
NASCAR iRacing Series
Wednesday Open: Charlotte
Mike- p was involved in the first caution or I got spun by a guy and 30 seconds. Optional work my way back up to the front got 8X and two laps just buy barely touching cars on the front stretch with no incident Then wrecked out on lap 115 a blinker was completely gone for like half a lab. He came back briefly I stayed hi but it wasn't enough. I got turned dumped and recked.
David – p10. Sped during green flag stop. Caution came out with with my tires 20 laps old and 1 lap down. Several times the caution came out in the middle of green flag stops, I kept having to wave around and race on older tires getting as low as 2 laps down or as high as lead lap. Finally with 40 to go, I take the wave around while in 8th place and get a caution to put me back even. The some of the most fun tight but not wrecking racing i've ever been in to survive for a lucky 10th. Several times I got squeezed into the wall, but managed not to bounce off of the wall and or wreck the squeezer.
Justin – P5, nothing went right in the beginning until the last half of the race. Lap down the entire time. Last 100 lap finally got on the lead lap just stayed out of trouble.
---
---
Official Series
Ellis–
Gen 4 at Darlington. P11. Brad is highest fourth we got run over from a dive bomber. Continue to get run over from the various people four or five times and lost track position. Why can't people hold their line and get by without touching you I don't get it.
---
---
League / Hosted Races
Hosted
Ellis-
Dw12 at Pocono posted Chris Maguire. Wrecked out.
87 cars at Talladegastart a 37 out of 43 wrecked out
Truck at Dega wrecked out
Old Indy car at Michigan.
Super late models at Southern National. Once I got to the top five they kicked me out.
Old INDYCAR at old Phoenix, got wrecked out
---
---
Final Thoughts
---
---
Words Spoken in Closing Audio Clip -""Thank you for listening to the iRacers Lounge podcast make sure to go subscribe to us on iTunes, SoundCloud, or Google Play, Facebook & Twitter, See You On The Track ."
TITLE
Nine Years Later
Description
Coming up on the show today, after Nascar's first time back at Nort Wilksboro since it's revival, we'll see how iRacing's version compares to real life. We reminisce about the event that should have been this week, look what we would like to see in the future of iRacing and more strange wheels. So sit back, relax and join us on the iRacers Lounge Podcast.
iRacers Lounge Podcast is available on iTunes and Apple's Podcasts app, Stitcher, TuneIn, Google Play Music, Spotify, Soundcloud, Podbean, Spreaker, Podbay, PodFanatic, Overcast, Amazon, and other podcast players.
Sponsors:
Hosts:
Mike Ellis – twitter.com/MikeDeanEllis
David Hall – www.twitch.tv/mixmage
Greg Hecktus – twitter.com/froozenkaktus – www.twitch.tv/froozenkaktus
Brian Maccubbin – www.twitch.tv/MacRubbinsRacin
Kyle Pendygraft – twitter.com/LoudPedalGaming
Tony Groves – www.twitch.tv/SirGroves
Adam Josselyn- twitter.com/Jossad83
Tony Rochette – twitter.com/TonyRochette
Tom Dreiling –
Donnie Spiker – twitter.com/Spikerman19
Bobby Jonas –
MacKenzie Stevens – https://twitter.com/MackStevens48
Justin Pearson – https://twitter.com/big7bang_
Links:
Facebook – www.facebook.com/iRacersLounge/
Twitter – twitter.com/iracerslounge
Instagram – instagram.com/iracersloungepodcast/
Web (Show Notes) – iracerslounge.com/